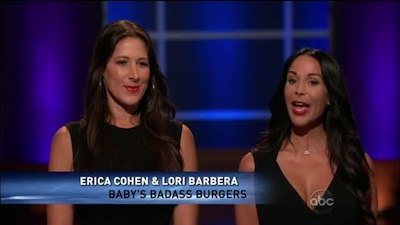 #1 - May 10, 2013 8.24
Season 4 - Episode 24
Teaching kids how to ride a bike that doesn't have pedals; a movie about motorcycle racing; a hot-pink food truck run by beautiful women; fun photo booths.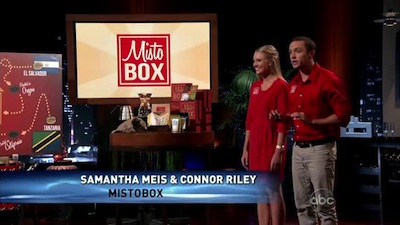 #2 - May 3, 2013 8.22
Season 4 - Episode 23
Frozen concentrated gumbo brick; a bird feeder that shocks squirrels; artisan coffee subscription business; wooden home and kitchen items; ECreamery update.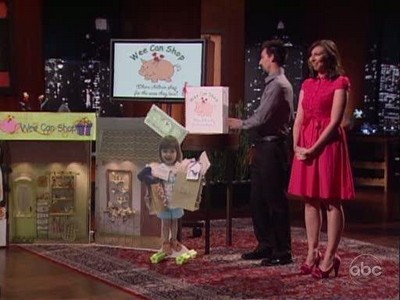 #3 - The Factionist 8.17
Season 1 - Episode 12
Two Texas bicyclists have an idea for a hand degreaser; a college student is passionate about his environmentally friendly clothing line; the sharks find out if lifelong entrepreneur Cactus Jack lost at least 35 pounds to seal a deal.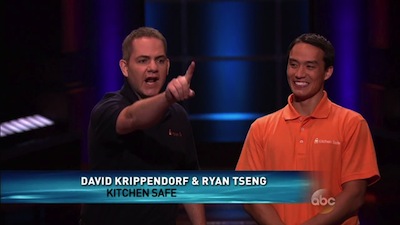 #4 - Week 9: Kitchen Safe, Off the Cob, Magic Cook, Earth-Log 8.16
Season 6 - Episode 10
GoPro CEO Nick Woodman is a guest on the panel. Pitches include a farmer's healthier tortilla chip made from fresh-picked sweet corn, and the manufacturer of scented fire logs. Also: an update on Robert Herjavec's Season 5 investment in a company that sells ugly Christmas sweaters.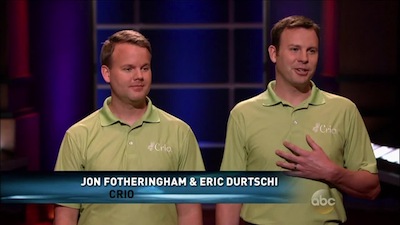 #5 - Crio Bru, Rugged Races, Cerebral Success, Mo's Bows 8.11
Season 5 - Episode 26
An 11-year-old who handcrafts bow ties; a hot beverage made from roasted cocoa beans; nutritional supplements; a 5K obstacle course race.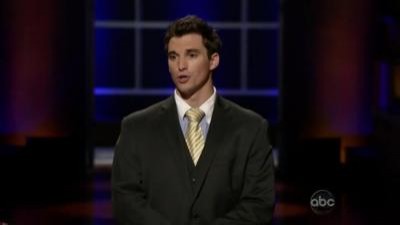 #6 - Cougar Energy 8.11
Season 3 - Episode 15
The sharks fight for a chance to go into business with an inventor; two fitness trainers pitch their idea for a unique home gym; a young man seeks an investment in his age-defying products; rapper Pitbull endorses a business.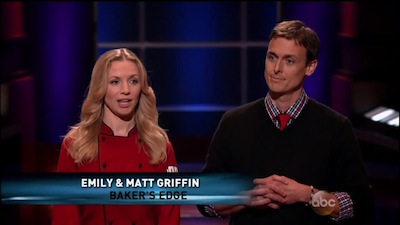 #7 - May 16, 2014 8.10
Season 5 - Episode 29
Reusable storage box; reinvented cookware; an iPad app that measures foot sizes; a solution to tying water balloons; follow-ups on past entrepreneurs.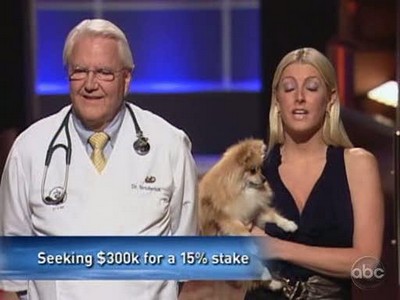 #8 - Chill Soda 8.08
Season 1 - Episode 9
A veterinarian's product claims to prevent cancer in pets; virtual arcade; a Texas designer pitches a line of fashionable clothing for women.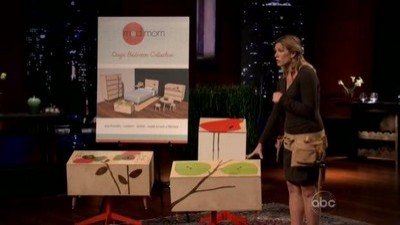 #9 - Mod Mom Furniture 8.08
Season 2 - Episode 3
Children seek a backer for an idea spawned during a family trip; the sharks fight for a piece of a mother's furniture business; a personal trainer thinks he has the next trend in fitness equipment.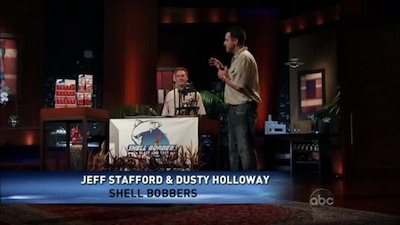 #10 - April 26, 2013 8.07
Season 4 - Episode 22
A fishing bobber made from a shotgun shell; homemade cupcakes in a jar; generating electricity through walking; a belt with no holes; a fitness-based dance program.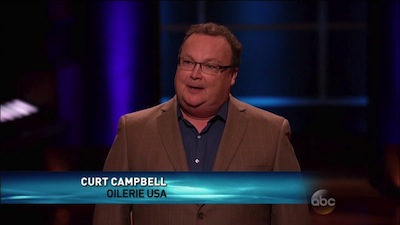 #11 - Week 5: Oilerie USA, Honeyfund, EmergenSee, Beatbox Beverages, Jimmy Kimmel 8.07
Season 6 - Episode 6
An olive oil bar where one can sample oils before purchasing; unique wedding registry idea; a product that can turn a smartphone into a personal security device; boxed wine geared toward millenials; a follow-up on Breathometer.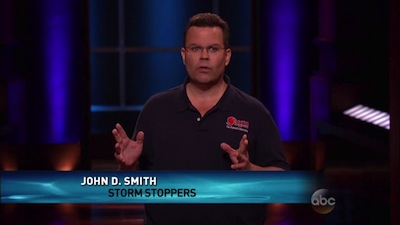 #12 - Week 8, The 100th Episode: Storm Stoppers, Pipsnacks, Squatty Potty, Heidi Ho 8.07
Season 6 - Episode 9
The Sharks celebrate 100 episodes with a look back at their favorite memories, plus they reveal why they participate on the show, as well as take part in a cake-cutting ceremony and a champagne toast. Also: a mother and son who are concerned with healthy bowels; a plywood alternative for storm protection; organic mini-popcorn created by siblings from Brooklyn; a dairy-free line of plant-based cheeses; and an update on the Living Christmas Company invested in by Mark Cuban during Season 5.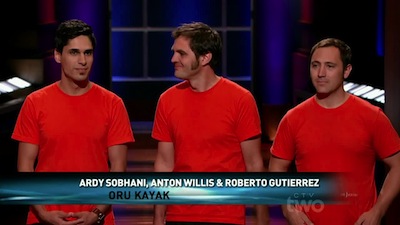 #13 - May 9, 2014 8.06
Season 5 - Episode 28
Lighter, healthier wine alternative; deep-sea treasure hunting business; collapsible kayak; decadent cinnamon rolls with a twist; an update on a lobster roll food truck business.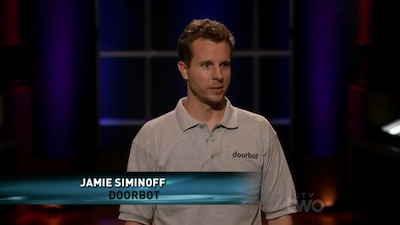 #14 - DoorBot, Magic Moments, SLAWSA, Surprise Ride 8.02
Season 5 - Episode 9
An entrepreneur is brought to tears in recounting how she got to the tank debt-free, and during another pitch, Shark Robert Herjavec loses his cool.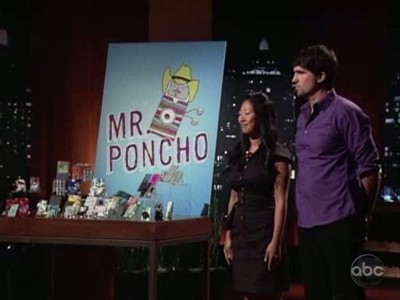 #15 - The Bobble Place 8.01
Season 1 - Episode 10
A man wants an investment from the sharks to create an extension of his already successful business; a urologist has an unusual business proposal.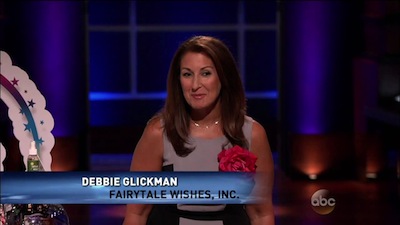 #16 - Fairytale Wishes, Freeloader, Kook'n Kap, Rapid Ramen 7.98
Season 5 - Episode 3
Aromatherapy sprays to help kids afraid of the dark; a carrier for toddlers; protecting hair from cooking fumes; a cooking tray for ramen noodles.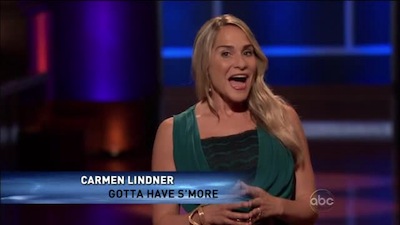 #17 - February 15, 2013 7.98
Season 4 - Episode 16
Kevin O'Leary makes a $1 million offer; six young inventors aged 12 to 18 present their unsafe-driving detector; a mini-muffin that is a twist on s'mores; an online chat therapy business.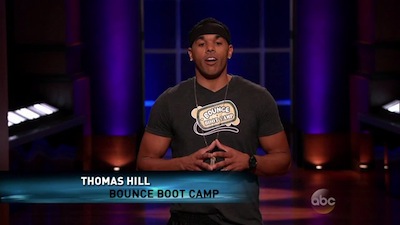 #18 - Bounce Boot Camp, Wall Rx, Eyebloc, GrooveBook 7.98
Season 5 - Episode 13
Mobile fitness company for kids; a way for fixing holes in walls; a solution for photos stacking up on smartphones; webcam privacy shield; Nuts N More update.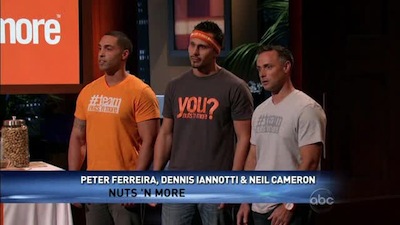 #19 - March 1, 2013 7.97
Season 4 - Episode 18
Fortified, sugar-free nut butters; an acupressure wrist band; an at-home tattoo removal device; an update on inventors who created surf-inspired fitness equipment.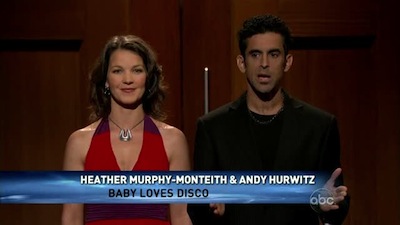 #20 - March 8, 2013 7.97
Season 4 - Episode 19
A workout program that teaches people how to exercise in their heart rate zone; throwing dance parties for kids with a traveling disco van; a damage-proof cell phone case; an update on The Painted Pretzel.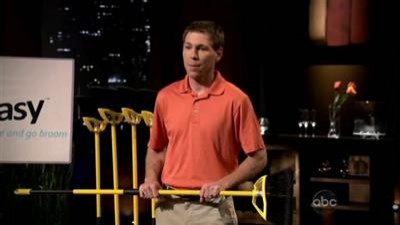 #21 - Hot Mama Gowns 7.96
Season 2 - Episode 5
An entrepreneur presents a line of luxury maternity gowns; a woman tries to impress the sharks with her homemade cakes; the sharks fight over a stay-at-home dad's product.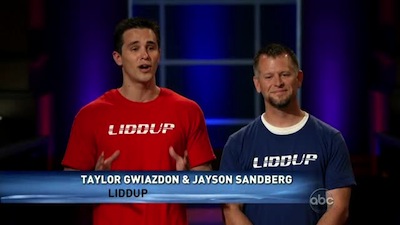 #22 - April 5, 2013 7.96
Season 4 - Episode 21
Gourmet meat business; a cooler with interior LED lighting; full-body spandex suit; an advance filter water bottle; follow up on a play and party space for kids from season 4.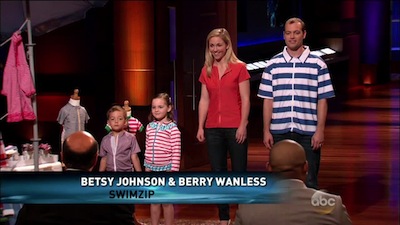 #23 - SwimZip, FitDeck, LifeCaps, Freshly Picked 7.96
Season 5 - Episode 15
Stylish baby shoes; emergency food-replacement pill; children's swimwear with sun protection; custom playing cards for exercise; Daisy Cakes follow-up.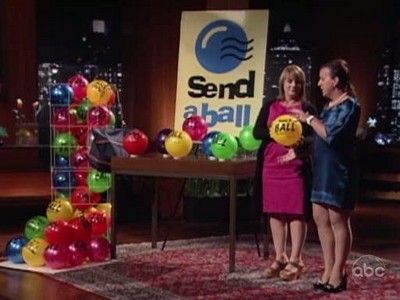 #24 - Send A Ball 7.96
Season 1 - Episode 14
A woman begins her presentation with shoe fashions; sisters from Chicago present a hilarious pitch; a man from Florida reinvents the umbrella.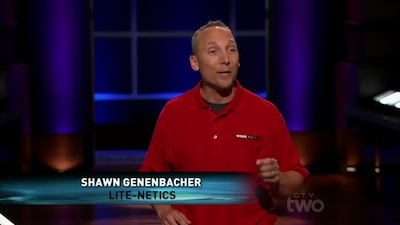 #25 - Cashmere Hair, The Hanukah Tree Topper, Tipsy Elves, Line-Netics 7.95
Season 5 - Episode 12
Solving a holiday headache with colorful, magnetic strands; an item to bridge the gap for interfaith families; a fun, new take on traditional Christmas sweaters; luxurious clip-in hair extensions.