The Best Episodes of Naruto Shippuden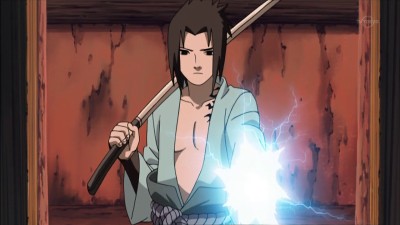 #1 - The Serpent's Pupil
Season 6 - Episode 1
Orochimaru's body has reached its limit and the time for the ritual has come. Sasuke has other plans, however, and seeks to target a bedridden Orochimaru.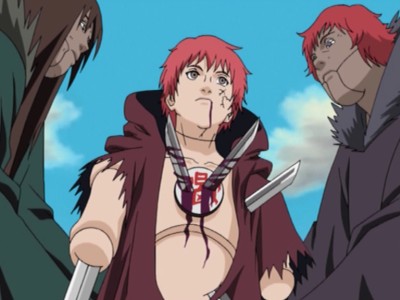 #2 - The Dream That Couldn't Come True
Season 1 - Episode 27
It's the final stand against Sasori, and Chiyo reveals the flaw in Sasori's "immortality". As Sasori breathes his last breaths, he rewards the two kunoichi for his defeat by providing them some valuable information. In ten days, they will have the opportunity to meet with one of his spies who can provide them with information on Orochimaru, and Sasuke as well.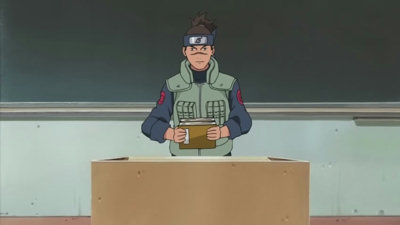 #3 - Rookie Instructor Iruka
Season 9 - Episode 1
In the aftermath of the destruction of the Leaf Village, Iruka thinks back to the time when the Third Hokage first gave him the task of being Naruto's homeroom teacher at the Academy, since no one else would take him in.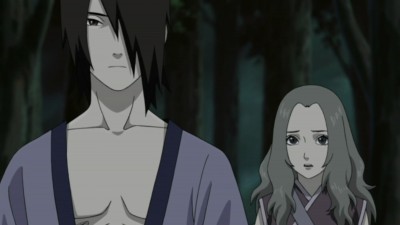 #4 - The Wanderer
Season 7 - Episode 1
After failing to bring back Sasuke, the Leaf ninja start heading back to the Hidden Leaf Village. Tsunade, however, sends Katsuyu to inform them that the barrier of Mount Katsunagi of the Tsuchigumo Clan, which holds a powerful forbidden jutsu, is broken. While Kakashi and Team 8 head back to the Leaf Village, Team 7, lead by Yamato, must check out what events are taking place.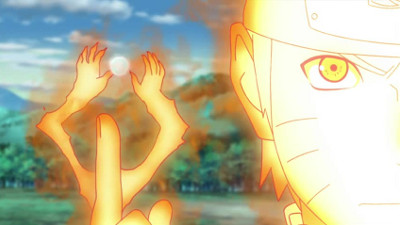 #5 - Naruto Enters the Battle
Season 14 - Episode 1
With Naruto and B cleared to enter the war, the duo rush to the battlefields and quickly encounters transformed members of the White Zetsu Army. Quickly turning the tides of the war, the powerhouse duo make short work of the opposition thanks to Naruto's new ability. Naruto sends several clones to the battle fronts. Naruto and B then arrive just to save Musai and Nonata from a reincarnated Toroi, who is promptly sealed. Meanwhile, the Logistical Support and Medical Division's compound is at a standstill with no one allowed to go near the central tent where Shizune and Sakura were conducting their autopsy. Through research they were able to gather more information which they pass along to HQ. Elsewhere on the Fourth Division's battlefield, the reincarnated Kage draw ever closer to Gaara and Ōnoki's location. Alerted by Mū, that two persons were approaching, the Kage are greeted by an enormous torrent of sand which the Second Mizukage animatedly comments about. Believing it to be the work of Shukaku, the Fourth Kazekage quickly stops the sand using his Gold Dust, causing the Third Raikage to acknowledge him as a Magnet Release kekkei genkai wielder. Shocked to not see the beast before him but actually his son, three of the four Kage are captured by sand arms created by Gaara. Mū who was able to avoid capture, is however soon set upon by Ōnoki using the Dust Release: Detachment of the Primitive World Technique to which the previous Tsuchikage responds in kind, the effects of which leaves a giant crater in the middle of the battlefield. Questioning his son as to where the One-Tail was. as the rest of the Fourth Division lingered a ways back awaiting the signal, Gaara informs his father that he was no longer the jinchūriki he had made him.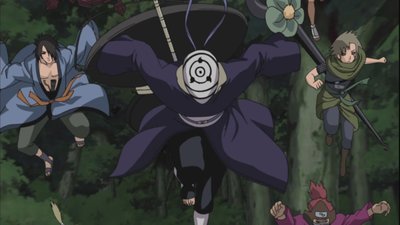 #6 - Reinforcements Arrive
Season 15 - Episode 1
White Zetsu's ability to mimic people's appearances has wrought confusion and distrust within the Allied Shinobi Forces. Naruto arrives to assist, and using his sensory powers, he identifies all the disguised White Zetsu clones, changing the tide of the battle.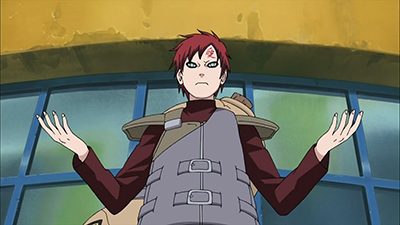 #7 - For My Friend
Season 13 - Episode 1
Kabuto mobilizes his undead army and Tobi mobilizes his 100,000 White Zetsus underground. Anko Mitarashi tells her teammates to leave her and relay the intel to the Allied Shinobi Forces. However, she is attacked by Kabuto who manages to incapacitate her. Meanwhile at the Hidden Cloud Village, ninjas from different villages started arguing each other. Gaara starts his speech, telling that despite the pain and hatred he had it was Naruto who changed him and accepted him as a friend. He also states that they will stand as one shinobi, protecting Naruto from Akatsuki. The argument stops, ninjas start forgiving each other and everyone praise Gaara. After the speech, the Allied Shinobi Forces now mobilize towards the enemy.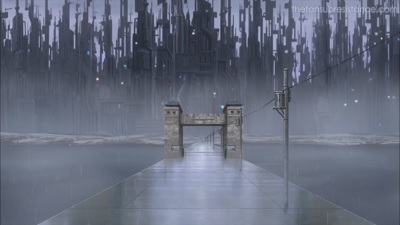 #8 - A New Chunin Exam
Season 18 - Episode 1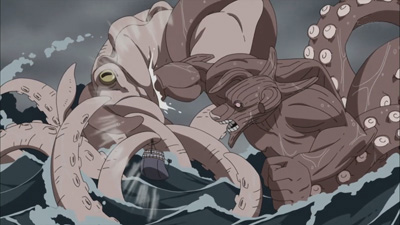 #9 - Land Ahoy! Is this the Paradise Island?
Season 12 - Episode 1
After a long voyage at sea, Naruto's ship finally arrives at the island of its destination. Before everyone can rejoice, a giant squid attacks the ship. Fortunately, the crew is saved by Killer Bee, the Eight Tails' jinchuriki host.
Directors: Hayato Date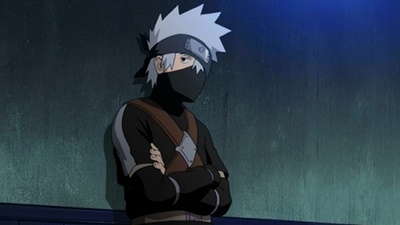 #10 - The Mask That Hides the Heart
Season 16 - Episode 1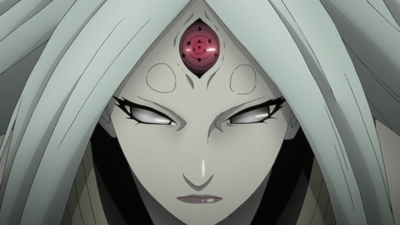 #11 - She of the Beginning
Season 22 - Episode 1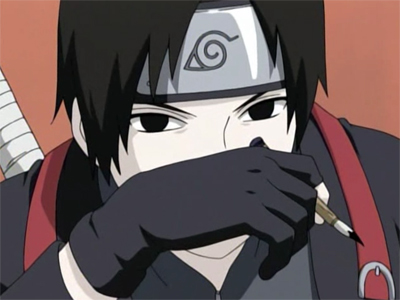 #12 - The New Target
Season 2 - Episode 1
Teams Kakashi and Guy return home to Konoha. As Kakashi rests in the infirmary, Sakura tells Tsunade about the information Sasori gave her as a reward for defeating him. Sasori had a meeting scheduled with a spy from within Orochimaru's ranks in 10 days. 4 days have passed since Sakura received this information, and now Naruto and Sakura need to recruit a new team member to go and investigate. As Naruto searches Konoha for a willing recruit, he meets some of his old friends. Just as Choji agrees to help, Shikamaru, Choji and Naruto are attacked by a Konoha shinobi unknown to them, Sai.
Directors: Hayato Date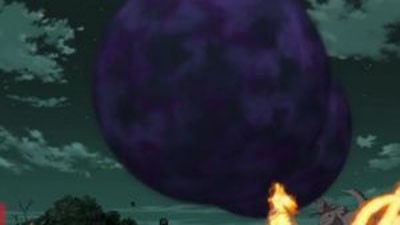 #13 - Kakashi's Resolve
Season 17 - Episode 1
After hearing Obito and Madara's discussion, a Naruto's clone angrily moves to attack them with a Super Mini-Tailed Beast Ball. Madara, however, blocks the attack and defeats the clone. Then, he manages to capture the Eight and the Nine-Tails. Kakashi uses this opportunity to question his old friend about what happened to him and Obito remember about when he attacked Konoha and confronted by his former sensei, also making him have a flashback of his first encounter with his team and then states that he no longer cared about this world. Meanwhile, Naruto declares to Madara that he was Fourth Hokage's son and would not be overpowered by him. Madara then creates an enormous wood dragon, which he notes had been used by Hashirama Senju in the past to bind the Nine-Tails. This forces Naruto to use Tailed Beast Mode to fight it. Kakashi continues to ask Obito why he chose to follow someone like Madara, but the Uchiha notes that he had nothing left to say to him and that this is their final fight. Continuing their battle, Obito leaves an attack with many shuriken, but is stopped by Kakashi's wall of earth. As Obito slips through the wall, Kakashi continues to ask him if the reason was related to Rin, to which Obito sharply retorts telling "this scum" to shut up. Obito then warps Kakashi to the other dimension, but Kakashi soon returns with the same technique. In the meantime, the Wood Dragon begins absorbing Kurama's chakra, causing Naruto on the verge of breakdown. The legendary Uchiha also uses Wood Release to bind Killer B and Might Guy, then begins to activate his Susanoo to finish things up on the battlefield. Disregarding this, Naruto notes that the Uchiha's ideals annoyed him and, by creating a shadow clone, he is able to stop both Obito's shuriken and Madara's Susanoo Sword from killing Kakashi, Guy and Gyūki respectively. Hearing Naruto's words that he would protect his friends, Kakashi and Guy both spring into action with the former using Lightning Cutter to destroy Obito's other shuriken and Guy using Daytime Tiger to attack Madara. Turning to his former comrade, Kakashi tells Obito that he still remembered what he had taught him in the past and what he could still do now, is protect Naruto, which awakens Guy. Seeing this, Gyūki notes that all Konoha-nin liked to act tough before taking advantage of the loosened grip of its wooden restraints, warning Naruto that the Wood Release binding could suppress a tailed beasts power. Sometime later, Obito uses his wood technique in an attempt to restrain Naruto while he attacks Kakashi, but Naruto intercepts him with a powerful head-butt, which sends him reeling. Gyūki then decides to attack the Demonic Statue of the Outer Path before the Ten-Tails could revive when noticing the crack of barrier. Naruto then declares that he can see Obito's suffering face, though Obito counters by saying it is Kakashi who is truly suffering. As Naruto notes that he had to do something for Kakashi, who was worn out, Kurama switches places with Naruto, and throws the Copy Ninja at Obito, who warps him away, leaving a shocked Naruto. With no time to linger over this occurrence as Obito attacks, using Kamui to avoid Naruto's attack; he surprisingly starts to cough up blood. Kurama then reveals that Kakashi was attacking Obito from the other dimension and that it had given the shinobi some of its chakra when touching his hand. As Kakashi returns to the real world thanking Kurama, Naruto and Killer B both combine their massive sphere, firing Demonic Statue far way. After the explosion, they note that the statue's chakra vanishes, causing them to question whether this is the end. However, when the smoke clears, the revived Ten-Tails appears, prompting Obito and Madara to begin their plan.
#14 - Life is Born, Life Dies
Season 21 - Episode 1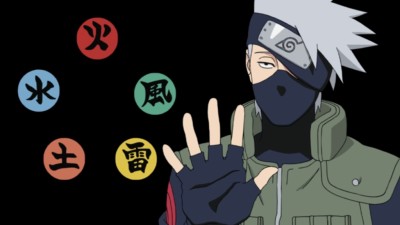 #15 - Wind
Season 3 - Episode 2
Kakashi is released from the hospital and begins Naruto's training program. Naruto learns that he has Wind-style chakra. Yamato helps by setting up the training field with his special jutsu. Naruto also learns that he can use his Multi Shadow Clone jutsu to speed up his training, since whatever the clones learn, the original user learns upon the clone's dispersal. Naruto and his mass of clones each take a leaf and attempt to slice it in half with wind chakra as the first step to creating his new jutsu.
#16 - The World of Dreams
Season 20 - Episode 1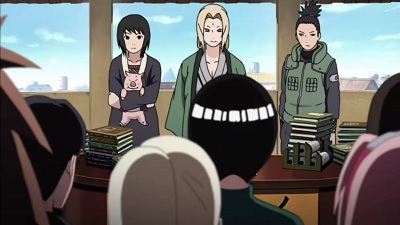 #17 - Feelings Entrusted to the Future
Season 19 - Episode 1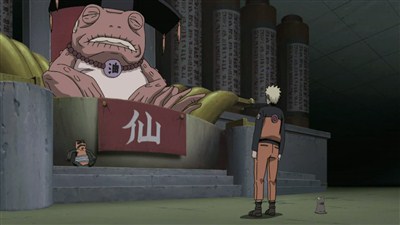 #18 - Prophecy of the Great Lord Elder
Season 11 - Episode 2
At Mount Myōboku, Gerotora remembers Jiraiya's words and asks the Great Toad Sage if he should do as he said. The sage says to bring Naruto to him. At the Akatsuki hideout, Sasuke begins to recover from his transplant. In Konoha Tsunade recovers by eating food and tells Shizune to call a war meeting after she is finished. Shikamaru attends the war meeting and says to his father that he will remember every last detail. Fukasaku reverse summons Naruto to Mount Myōboku and takes him to see the Great Toad Sage so he could tell him his future. The great sage gives Naruto two predictions, the first being that he will meet an octopus, and the second that he will fight a young man with powerful eyes. The sage tells Gerotora to give Naruto the key to the Nine-Tails' seal. Gerotora asks Naruto to put his hand on the release square, Naruto hesitates.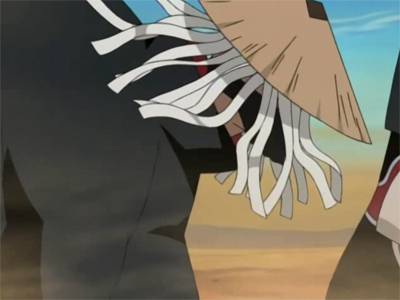 #19 - Akatsuki, Makes A Move
Season 1 - Episode 2
As Naruto gets back into the swing of things and meets back up with what is left of Team 7, Kakashi and Sakura, Jiraiya has something important to tell them. It seems a shinobi group known as Akatsuki is on the move. The things they are after are the tailed beasts like the one inside of Naruto, the Kyubi. Is Naruto prepared to defend himself from this group of Shinobi?
Directors: Hayato Date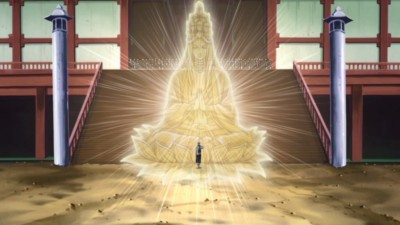 #20 - Akatsuki's Invasion
Season 4 - Episode 2
Naruto proceeds to the next step of his training, the cutting of a waterfall. Hidan and Kakuzu reach the Fire Temple and fight Chiriku, so as to obtain the bounty on his head. After defeating him, they move out to claim the bounty and thereafter target the Nine Tails Jinchūriki Naruto.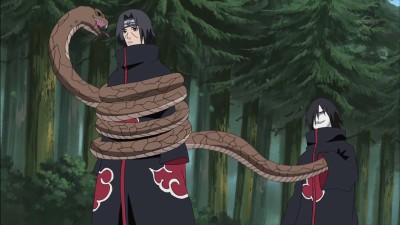 #21 - The Eye of a Hawk
Season 6 - Episode 2
Orochimaru reveals the true, hideous form his body has taken from years of experimenting on his body. Can Sasuke defeat this menacing form, or does Orochimaru still have a few tricks up his sleeves?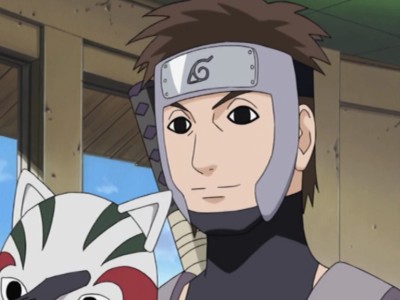 #22 - Formation! New Team Kakashi
Season 2 - Episode 2
Naruto, Choji and Shikamaru attempt to capture and interrogate Sai, but Sai withdraws after insulting Naruto. Shortly afterward, Ino appears. Concerned that the demon fox could fall into Akatsuki hands, the village elders challenge Tsunade's plan to send Naruto out of the village without the still bedridden Kakashi. Tsunade promises to protect Konoha with her own life if Naruto is captured, but is still forced to compromise with Danzo by adding Sai to Team Kakashi. She also temporarily replaces Kakashi with ANBU member Yamato and warns him to keep an eye on Sai. Naruto and Sakura finally meet their new team members, and Naruto is immediately angered upon Sai's appearance.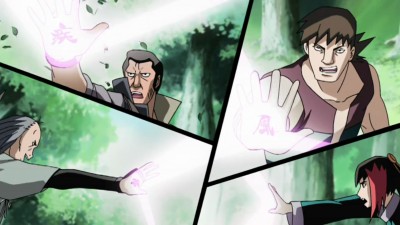 #23 - Successor of the Forbidden Jutsu
Season 7 - Episode 2
Naruto, Sai, and Yamato escort Hotaru to the hidden village of the Tsuchigumo Clan. Upon arriving, however, the villagers don't seem so happy to see Hotaru. Elsewhere, after Utakata reflects upon the time he spent with her, he comes face to face with Akaboshi and his group.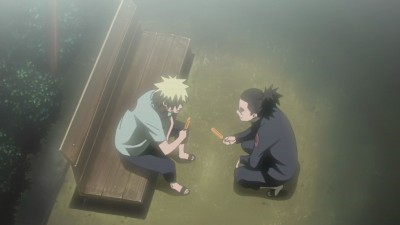 #24 - Following the Master's Shadow
Season 8 - Episode 2
Shikamaru tries to decipher the dying message Jiraiya left before his death but cannot figure out what it says. Shikamaru asks for Naruto's help, thinking he might know the code. Can the saddened Naruto decipher Jiraiya's dying message?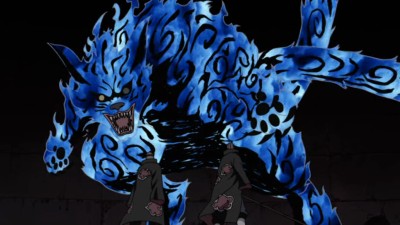 #25 - Silently Approaching Threat
Season 4 - Episode 1
Asuma apologizes at the grave of the Third Hokage for not understanding his advice concerning what the "king" of the Fire Country is. At the hospital, Naruto and Sai recover, despite Naruto's desire to resume his training. Tsunade receives a report from Kakashi that Akatsuki is on the move. Elsewhere, Yugito Nii, the Two Tails Jinchūriki, struggles against Hidan and Kakuzu and unleashes the Two Tails, but is defeated and captured. Hidan and Kakuzu then turn their attention to the Fire Country for their next target.