The BEST Episodes of Kathy Griffin: My Life on the D-List
Every episode ever - ranked by fan votes!
Last Updated: Mar 4, 2021
Welcome to the world of Kathy Griffin, the ultimate D-List celebrity. In Hollywood, where everything is list-oriented, Kathy has made a name for herself by making fun of A-List celebrities (like Nicole Kidman, Renee Zelwegger, Julia Roberts, and Cameron Diaz). In her new, behind-the-scenes show, where she does everything she can to make publicity for herself, Kathy exposes the evils, and the downright hilarious, aspects of Hollywood culture, as well as her surprisingly busy life. Whether attempting to redesign her "A-List" worthy home with her live-in gay visionary Mike Nielsen, all the while trying to get free furniture for the home, trying to organize a fundraiser, or struggling to sell DVDs, you can bet that Kathy Griffin will make you laugh. Despite her "low" status, Kathy has a core support group of family and friends, including her parents, John and Maggie, husband Matthew Moline, and best friends Tony Tripoli and Dennis Hensley, Kathy proves that you can still have fun while living life on the D-List.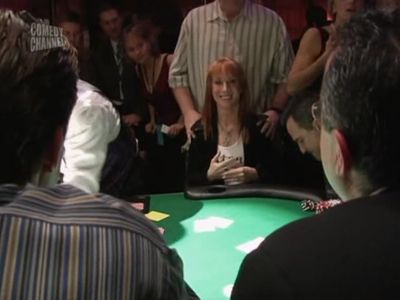 #1 - Hot to Tot
Season 1 - Episode 2 - Aired Aug 10, 2005
The always-busy Kathy takes on as much as she can handle before her big Toys for Tots fundraiser, including shopping for more furniture, getting a next-to-free custom-made sofa, flying to Oregon for a celebrity poker tournament, going to Las Vegas to film a commercial for the Billboard Awards, and still finding time to plug her upcoming DVD, Allegedly, on Extra. Later, Kathy tries to find some time to relax while catering to the needs of lots of celebrities, like Andy Dick, Nestor Carbonell, Jenny McCarthy, Jamie-Lynn Discala, James Denton, and even Ray Romano! What a weekend!
1 votes
Writers: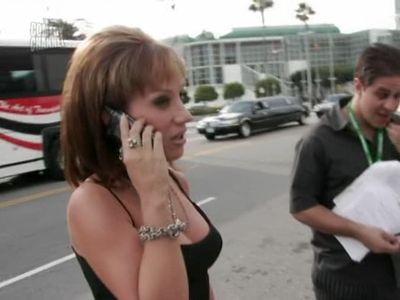 #2 - High Brow
Season 1 - Episode 4 - Aired Aug 24, 2005
Kathy gets the opportunity she's been waiting for - to work the red carpet at the Grammys for the E! Channel. But she finds that she may be in over her head when she discovers how packed her schedule is - besides having to perform in her hometown (where she reunites with her biggest fan/stalker) and go to a homecoming party where no one shows up, she has to put up with a bitchy stylist, find a dress to fit her "challenging" figure in order to stay off the Worst Dressed lists, sell more DVDs, get her hair and makeup done, and get her Botox shots! Can she pull it off?
1 votes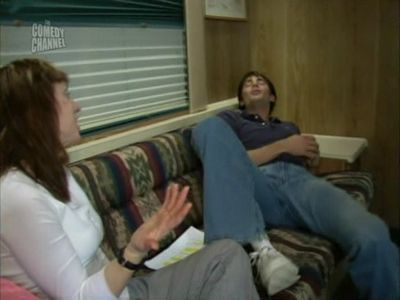 #3 - From A to D
Season 1 - Episode 5 - Aired Aug 31, 2005
Kathy receives an unexpected surprise from one of Hollywood's top A-Listers: Renee Zelwegger. After putting the flowers in a vase, Kathy starts thinking about what she did to deserve the roses. Then she starts thinking about her past acts and realizes that she's called Renee a "sweaty, puffy, coke whore" before. Are the flowers a silent warning? Or a sign that Mrs. Zelweggar has a good sense of humor? Kathy puts that question on the back burner as she goes to Houston, Texas to shoot a bit part in a movie, where Kathy plays a she-Elvis, as well as do a breif radio tour publicizing her standup act in the city. Throughout her trip, Kathy caves under the pressure of what Renee's flowers mean, and finally realizes that Zelweggar's got her beat.
2 votes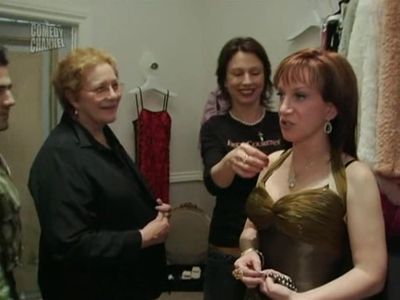 #4 - Magic Carpet Ride
Season 1 - Episode 6 - Aired Sep 7, 2005
Because of her success at the Grammys, Kathy gets the job patrolling the red carpet at the Oscars from the "media bridge" as part of E!'s Live At The Red Carpet special. However, tempers flare and tears loom when she cannot find her credential that is needed to get on the red carpet. While she comes close to spoiling her big chance, eventually it all works out, and Kathy remains the energetic and hilarious comedienne that she will forever be known as.
2 votes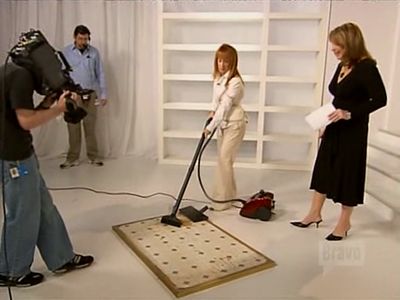 #5 - What I Won't Do For A Buck
Season 3 - Episode 4 - Aired Jun 26, 2007
Following her tragic family loss, Kathy begins to ponder her legacy and wishes to resolve all her relationship issues. In the meantime, she is also offered a gig on a home-shopping network, hosts a performance in her hometown Chicago, and reconnects with an old high-school love.
3 votes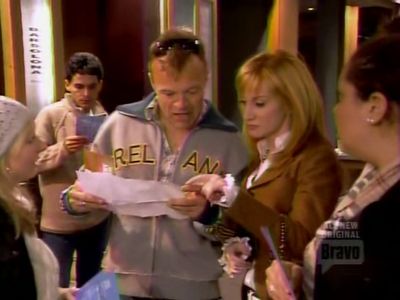 #6 - Kathy Goes to London
Season 3 - Episode 6 - Aired Jul 17, 2007
Kathy and her posse journey to jolly old England for some D-list (mis)adventure and to promote the UK run of "Kathy Griffin: My Life on the D-List."
3 votes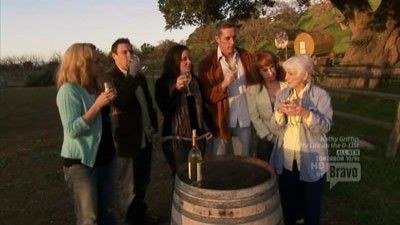 #7 - Maggie's Bucket List
Season 5 - Episode 5 - Aired Jul 6, 2009
Kathy decides to write a tell-all book; Kathy grants Maggie a series of wishes.
30 votes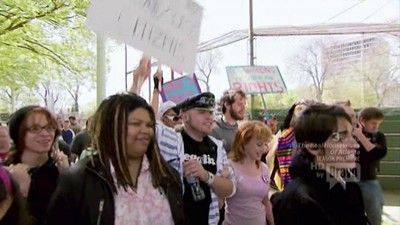 #8 - Norma Gay
Season 5 - Episode 8 - Aired Jul 27, 2009
Kathy joins in the protest for gay rights as she travels to Sacramento. She meets up with Melissa Etheridge who has a new nickname for her.
1 votes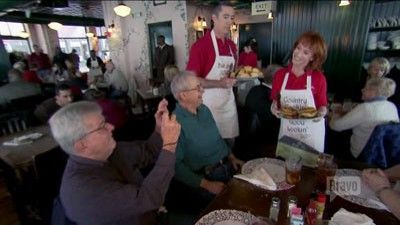 #9 - Grammy Shmammy
Season 5 - Episode 3 - Aired Jun 22, 2009
The Grammy's are finally here and it's time to see if all Kathy's hard work has paid off. When things don't go as planned, Kathy heads to Georgia in order to put her disappointment behind her.
31 votes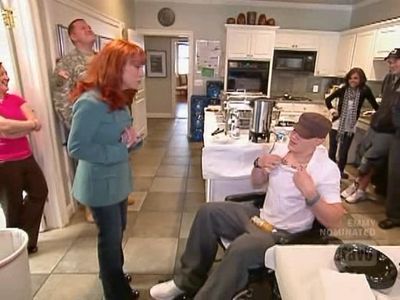 #10 - Red, White and Don't Be Blue
Season 4 - Episode 10 - Aired Aug 14, 2008
Kathy jets off to New York where she performs for some members of the armed forces who have been injured in combat.
3 votes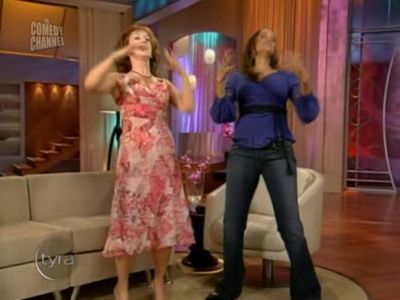 #11 - Going, Going Gone
Season 2 - Episode 1 - Aired Jun 6, 2006
Kathy addresses her breakup with husband Matt, goes on a "Red State" stand-up tour and auctions off a weekend stay for one at her house for charity. She also finds time to appear on "Jimmy Kimmel Live" and "The Tyra Banks Show."
5 votes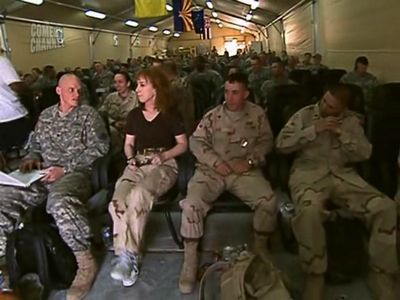 #12 - Iraq
Season 2 - Episode 3 - Aired Jun 20, 2006
With fellow comic Michael McDonald and actress Karri Turner in tow, Kathy departs for Iraq to perform for the troops. While Michael ends up wowing the audience of soldiers, Kathy does not, at least at first. Also, Kathy discovers that military-issue food might be good for her figure.
5 votes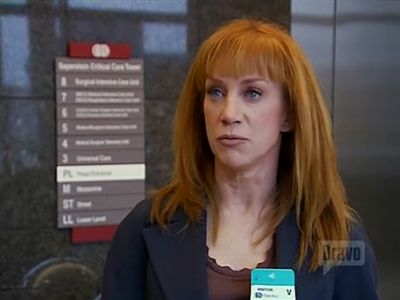 #13 - The Show Must Go On
Season 3 - Episode 3 - Aired Jun 19, 2007
Kathy is ready to set out on Rosie O'Donnell's lesbian cruise, but soon realizes that she must adjust her comedic material to captivate the lesbian audience. To do so, she enlists assistance from "Work Out" star Jackie Warner. However, and to her dismay, Kathy's comedy is not her only impediment, as she receives horrible news that may shake the entire course of her life from this point forward.
5 votes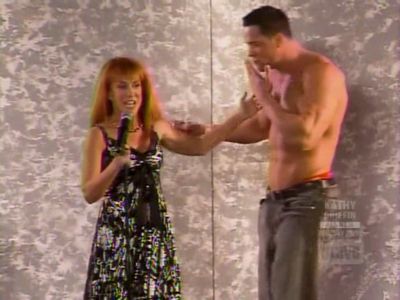 #14 - Prison + Porn = Fun For Everyone
Season 3 - Episode 5 - Aired Jul 10, 2007
Kathy gears up to host a gay adult-video awards gala. She also prepares to perform her comedy act in front of prisoners at a state penitentiary in Arizona.
4 votes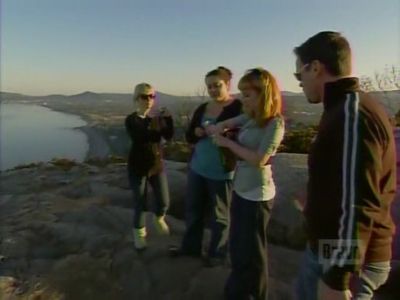 #15 - Back To My Irish Roots, Literally
Season 3 - Episode 7 - Aired Jul 24, 2007
In the third-season finale, Kathy scores an award from Irish America magazine. The recognition inspires Kathy to connect with her Irish roots, so she journeys with her posse to Dublin, where she offers a sweet gesture in memory of her father.
4 votes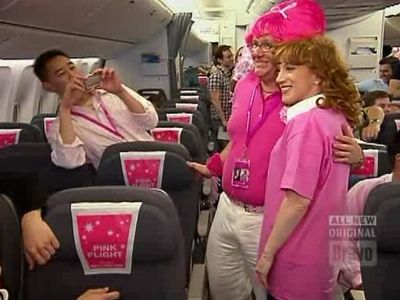 #16 - Fly the Super Gay Skies
Season 4 - Episode 3 - Aired Jun 26, 2008
Kathy's gay fan base has reached international proportions and it's time to travel to the land down under to receive the love (and publicity) that she so richly deserves (and craves). And what better time of year to visit Oz and the Emerald City than during Gay Mardi Gras? For the Mardi Gras parade, Kathy will be riding on top of a float through downtown Sydney. But before she can go down under, she has to go up, up and away on one of her craziest D-List gigs yet -- she'll be the hostess of Air New Zealand's Pink Flight from San Francisco to Sydney (you don't see Chris Rock having to take gigs like this). This special flight features a bevy of flight attendant drag queens and gay themed in-flight entertainment including a stand up performance by Kathy over a PA system at 35,000 feet. Kathy will be beside herself with a captive audience that is ready to party for 15 hours straight. And by straight, we mean gay.
4 votes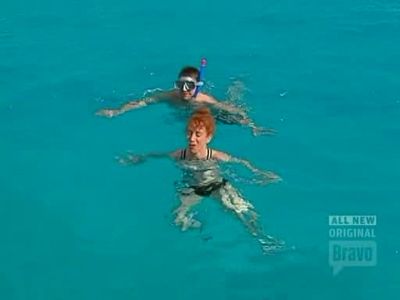 #17 - Busted in Bora Bora
Season 4 - Episode 7 - Aired Jul 24, 2008
Kathy Griffin heads to Bora Bora to perform stand up and to greet fans. Also she attempts to get her mother to leave her house and move to a retirement home.
2 votes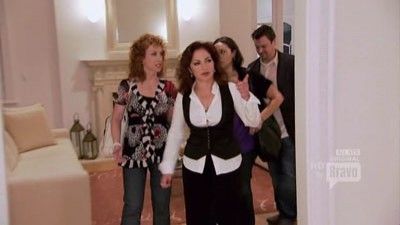 #18 - Rosie and Gloria and Griffin… Oh My!
Season 5 - Episode 6 - Aired Jul 13, 2009
Kathy is looking for a second home and Star Island seems to be the perfect location. Kathy meets up with some fellow celebrities and also works in a hotel.
2 votes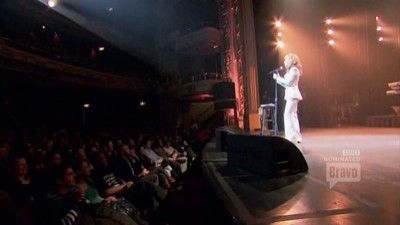 #19 - Kathy at the Apollo
Season 5 - Episode 7 - Aired Jul 20, 2009
Kathy tries to bring in a new audience by appearing at the Apollo Theatre, and she meets Katt Williams.
2 votes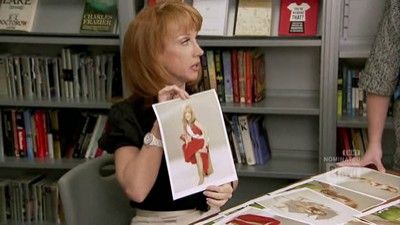 #20 - Official Book Club Selection
Season 5 - Episode 9 - Aired Aug 3, 2009
Kathy's gets her hopes up about getting out of her D list status once she hears a lifelike model of her is in the works. She also works on her book by meeting famous famous authors and going to a photo shoot for the cover.
2 votes
Writers: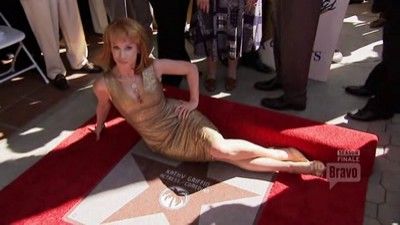 #21 - Kathy Is a Star... Kind Of
Season 5 - Episode 10 - Aired Aug 10, 2009
Kathy visits Suzanne Somers' home and gets a star on the Palm Springs Walk of Stars.
2 votes
Writers: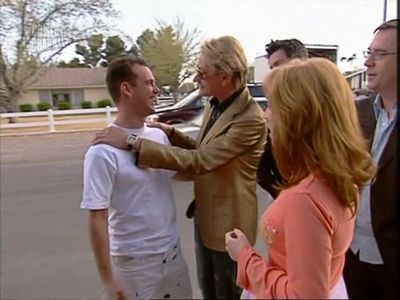 #22 - Vegas, Baby!
Season 2 - Episode 6 - Aired Jul 18, 2006
In the second season finale, Kathy and her assistant, Jessica, journey to Las Vegas, where Kathy gets up bright and early to host a buffet event. Later, she chills out by getting ice-skating tips from Olympian Johnny Weir. Also, Kathy appears on the TV show "Queer Eye for the Straight Guy."
3 votes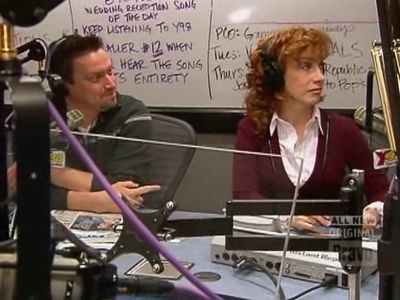 #23 - Home Is Where The Profit Is
Season 4 - Episode 2 - Aired Jun 19, 2008
Kathy's assistant's assistant, Tiffany, and her tour manager, Tom, are here to stay -- but what do we really know about them? Kathy may be starting her staff background checks a year late, but you never can be too careful about employees found on MySpace or those who have been so quickly promoted from dog-walker/roommate to tour manager. Kathy's decided that the best way to really get to know her new staff is to visit their hometowns. Kathy's booked two stand up gigs -- one in Tom's hometown of St. Louis, Missouri, and one in Tiffany's hometown of Tracy, California. She will meet their families and milk her own publicity machine by throwing them into the local media spotlight. Tom and Tiffany better work the "local hero" angle to sell tickets. Kathy meets Tom's beat cop brother, Bill, and the mayor of St. Louis, who declares it "Tom Vize Day?" And what about sweet, giggly Tiffany? Tickets aren't exactly moving for Kathy's show in the sleepy cow town of Tracy, so Tiffany is going to have to hustle. Kathy's Emmy win has given her award fever so she decides to go for a Grammy. Hell, if Obama, Clinton, and even Woz can win one, they must be giving them away. So Kathy makes plans to record a live CD of her stand up. Kathy also meets with Bon Jovi's cousin, who is an expert in merchandising, to discuss why t-shirts sales are so low at her performances. Safe to say, it's going to involve Team Griffin hustling like they never have before in order to get those sales up.
3 votes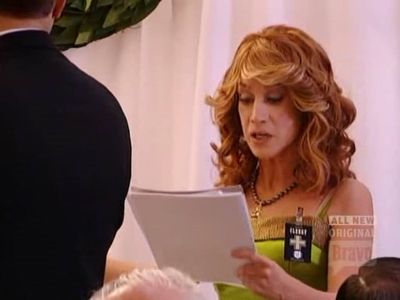 #24 - Speak Now or Forever Hold Your Peace
Season 4 - Episode 4 - Aired Jul 3, 2008
Kathy is performing at Madison Square Garden - SOLD OUT!!! But Kathy's been re-banned from the "The View" because of a harmless joke about Barbara Walters. It's fine to be sold out, but without press such an achievement seems wasted. Luckily, she's found a perfect way to get publicity. There is a quirky Jewish couple in Queens whose dream wedding includes Kathy serving as their minister. She could probably get Page 6 and maybe the local news to cover it. All it requires is that she gets ordained on the Internet. A trip to New York also means she'll have chance to see her pal, Rosie O'Donnell. Jessica and Tiffany are dying to play in Rosie's craft room. And just to make things extra fun, Kathy's hooking up with old friends Molly Shannon and Megan Mullally while she's in town.
3 votes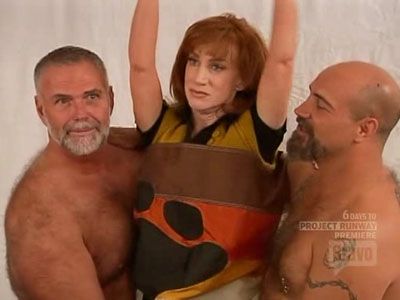 #25 - Otters, Cubs and Bears... Oh My!
Season 4 - Episode 5 - Aired Jul 10, 2008
After last week's oh-so-A-List sold-out show at Madison Square Garden, Kathy was back "on the D-L" this week. Not that kind of D-L, as in Down-Low, but Kathy's kind of D-L: D-List. You can't get more D-List than being the special guest at the International Bear Roundup in San Francisco or getting your assistants a teaching gig at the Learning Annex.
3 votes