The Best Episodes of Dragon Ball Z Abridged
#1 - Looks Like the Z-Fighters are Blasting Off Again! 9.22
Season 2 - Episode 1
Now that Vegeta's gone, there's only the small matter of reviving everyone killed in the battle. A task made somewhat harder by Piccolo (and by extension Kami) being dead too. Thankfully (?) Mr. Popo arrives to tell them about Namek, give them a space ship and generally freak everyone out. That sorted, all that's left is for Gohan, Krillian and Bulma to get going. But Chi-Chi has other ideas.
#2 - A Rose By Any Other Namek 8.86
Season 2 - Episode 2
Gohan, Bulma and Krillian reach Namek! Sorta. Meanwhile, KaiserNeko learns first hand the dangers of editing video for far too long.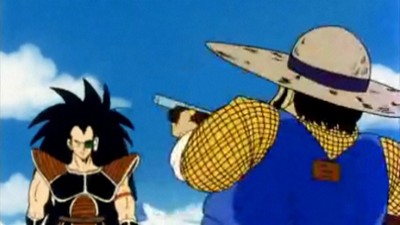 #3 - The Return of Radditz!…Wait… 8.18
Season 1 - Episode 1
The episode opens on a peaceful farm when a spacepod crashes down onto Earth into a farmer's marijuana patch. Piccolo is interrupted by the alien, who confused him for someone named "Kakarot." At Kame House, the alien arrives and explains to Goku that he is actually part of an alien race called the Saiyans and that they are brothers. Raditz, the Saiyan, requests Goku to join him and destroy everyone on the planet. Goku declines so Raditz takes Gohan and flies away. Cast MasakoX – Goku, Roshi Lanipator – Piccolo, Radditz, Krillin, Vegeta Vegeta3986 – Radditz, Yamcha, Oolong, Gohan Hbi2k – Farmer with Shotgun Megami33 – Bulma, Puar Takahata101 – Nappa KaiserNeko – SpacePod Songs Morgenstemning by Edvard Hagerup Grieg Cha-La-Head-Cha-La by Kageyama Hiranobu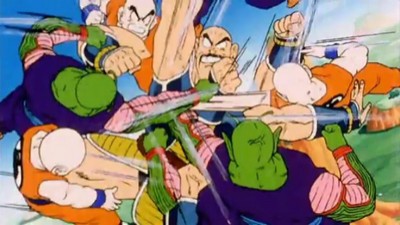 #4 - Nappa's Best Day Ever 8.11
Season 1 - Episode 8
At Kame House Master Roshi and Bulma watch on TV as Yamcha is killed by a Saibaman. Nappa steps onto the battle field and attack Tien, removing his hand. Tien escapes, making Nappa think he wants to play tag. Chiaotzu hops onto Nappa's back and uses self-destruct. Chiaotzu's death was in vain, as Nappa has barely a scratch on him. Tien uses a final attack on Nappa, using up all of his energy and causing his death. Cast: MasakoX – Gohan, Roshi Lanipator – Piccolo, Vegeta, Krillin, Saibamen, Aquaman Takahata101 – Nappa Megami33 – Chaotzu, Bulma Vegeta3986 – Raditz, Oolong Ganxingba – Tenshinhan Hbi2k – Reporter 1/"Mr. Kent", Reporter 2 KaiserNeko – Saibamen FEATURING: Cheeseman as Reporter 2/Jimmy Antfish as Fighter Pilots Songs: Fighting and Fanfare by Nobuo Uematsu Peewee's Pocket Circus Adagio of Life and Death II by Joe Hisaishi Cha-La-Head-Cha-La by Hironobu Kageyama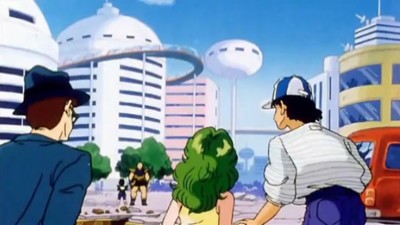 #5 - Saiyans? On My Planet? (It's More Likely Than You Think) 8.00
Season 1 - Episode 7
Nappa and Vegeta land on Earth and fly off toward the strongest power level. Piccolo senses the approach of the Saiyans as Krillin arrives. Nappa explains to Piccolo that Piccolo is a Namekian.Vegeta decides to plant the Saibamen explaining that each is as powerful as Raditz. Cast: MasakoX – Goku, Gohan Lanipator – Piccolo, Vegeta, Krillen, Mr. Popo, Saibamen Takahata101 – Nappa Megami33 – Chaotzu Vegeta3986 – Yamcha, Oolong Ganxingba – Tenshinhan Hbi2k – Reporter 1/"Mr. Kent" KaiserNeko – Random Guy, Crowd Foley FEATURING: Cheeseman as Reporter 2/Jimmy Songs: Team America – The Team America March Cha-La-Head-Cha-La by Hironobu Kageyama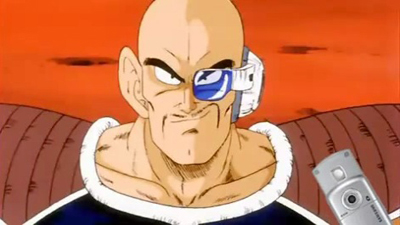 #6 - Vegeta: Kills Bugs Dead 8.00
Season 1 - Episode 5
Goku finally reaches the end of Snake Way and jumps over to King Kai's planet. King Kai agrees to train Goku. Vegeta and Nappas top on planet Arlia to keep Nappa busy. They introduce themselves to the Arlian King, killing all of the elite guards. Vegeta destroys the planet and they continue their trip to Earth. On Earth, Piccolo begins his training with Gohan. Meanwhile, the superfriends conceder their options in dealing with the Sayians. Superman quickly shoots down Aquaman's plan to use Whales. Cast: MasakoX – Goku, Gohan Lanipator – Piccolo, Vegeta, Arlian Prisoner, Aquaman Takahata101 – Nappa, Arlian King, Guru Vegeta3986 – Arlian Prince, Bojack Hbi2k – Nail, Superman, Bubbles KaiserNeko – King Kai, Gregory, Batman FEATURING: LittleKuriboh as Narrator Songs: The Way We Were – Barba Streisand What Shall We Die For – Hanz Zimmer Cha-La-Head-Cha-La by Hironobu Kageyama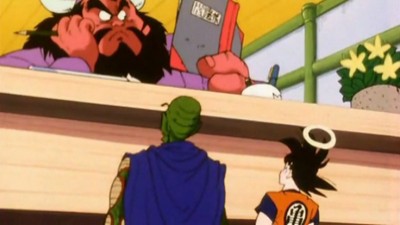 #7 - Happily Ever Afterlife 7.88
Season 1 - Episode 3
Nappa and Vegeta overhear Master Roshi talking about the dragon balls over Raddit'z scouter. Piccolo tells Gohan that he will train him. In the afterlife Kami tries to convince Yemma to let Goku travel on Snakeway to King Kai's planet to recieve training to battle the Saiyans coming to Earth. Cast: MasakoX – Goku, Gohan, Roshi Lanipator – Piccolo, Vegeta, Krillin, Mr.Popo, Malchior People Takahata101 – Nappa Vegeta3986 – Radditz, Kami Megami33 – Bulma KaiserNeko – SpeakerGuy and Ambiguously Gay Demon FEATURING: GanXingBa as King Yemma KrisRix as ChiChi Kirbopher15 as Ox King Songs: Psycho Soundtrack – The Murder Cha-La-Head-Cha-La by Hironobu Kageyama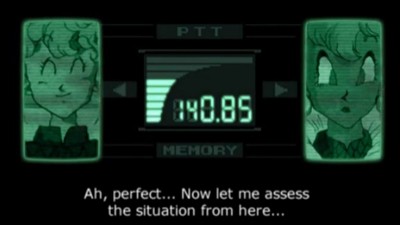 #8 - Snakeway to Heaven 7.88
Season 1 - Episode 4
Goku runs over Snake Way and falls off into Hell meeting two ogres named Goz & Mez. Goku tricks them into telling him how to escape and get back on Snake Way. On Earth, Kami assigns Mr. Popo to train Earth's warriors. Mr. Popo knocks Krillin off of the look-out when Krillin dares to ask a question. Cast: MasakoX – Goku, Gohan Lanipator – Piccolo, Vegeta, Krillin, Mr.Popo, Goz Takahata101 – Nappa Vegeta3986 – Kami Megami33 – Sailor Moon Hbi2k – Mez and Reporter FEATURING: LittleKuriboh as Narrator Lord Quadros as Princess Snake and Servent http://www.youtube.com/user/lordquadros Songs: Pac-Man Theme Donkey Kong – Paula is Kidnapped Norihiko Hibino – Encounter Shunsuke Kikuchi – Prologue Cha-La-Head-Cha-La by Hironobu Kageyama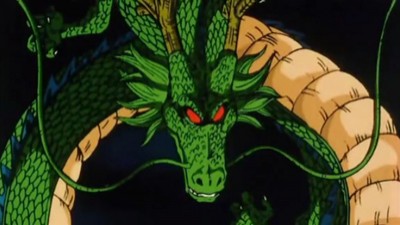 #9 - No One Ever Listens to the Magical Dragon 7.57
Season 1 - Episode 6
Mr. Popo takes the Z-Fighters and teleports them to another dimension. Meanwhile, King Kai promises Goku that he will commence their training. The magical dragon, Shenron, is summoned and brings Goku back to life. Cast: MasakoX – Goku, Gohan, Roshi Lanipator – Piccolo, Krillen, Mr. Popo, Shenron Takahata101 – Bardock Frolegend – Chaotzu Megami33 – Bulma Vegeta3986 – Yamcha, Kami, Bojack Ganxingba – Tenshinhan Hbi2k – Bubbles KaiserNeko – King Kai, Gregory FEATURING: LittleKuriboh as Narrator Kirbopher15 as Spraut Tomamoto as Bruzzel Songs: Akira Yamaoka – Downtime Justice League Theme Cha-La-Head-Cha-La by Hironobu Kageyama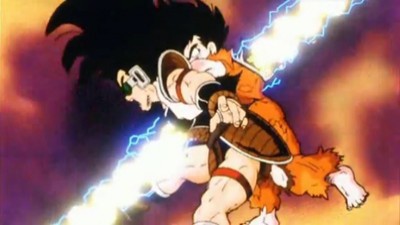 #10 - And They All Lived Happily Ever… Oh… 7.00
Season 1 - Episode 2
Piccolo and Goku catch up to Raditz and challenge him to a fight. After he notices they are getting stronger from removing clothing, he begins to get naked until Goku informs him that they are just wearing weighted clothing. Radditz, embarassed and angered, attacks Piccolo and Goku. Goku dies. Piccolo then grows his arm back and flies off with Gohan. Cast: MasakoX- Goku, Gohan, Roshi Lanipator- Piccolo, Krillin, Phil Ken Sebben, Mountain Climber Vegeta3986- Radditz Megami33- Bulma KaiserNeko- Ambiguous Voice Songs: The Atonement by Michiru Oshima Cha-La-Head-Cha-La by Hironobu Kageyama