The Best Episodes of Devious Maids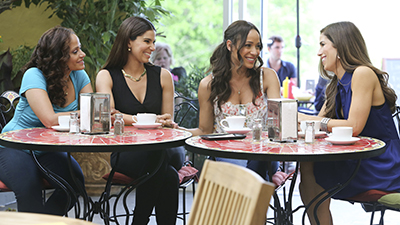 #1 - Totally Clean 8.27
Season 1 - Episode 13
The mystery surrounding Flora's death comes to a head.
Directors: Larry Shaw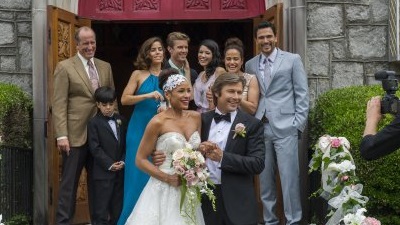 #2 - Look Back in Anger 8.23
Season 2 - Episode 13
When Nick finally admits his secret to Marisol, she convinces him to make things right with all those involved. Carmen meets a handsome stranger who offers to help her with her music career. As Zoila waivers between Pablo and Javier, she gets some shocking news. Valentina is offered the opportunity of a lifetime. Spence and Rosie decide to tie the knot.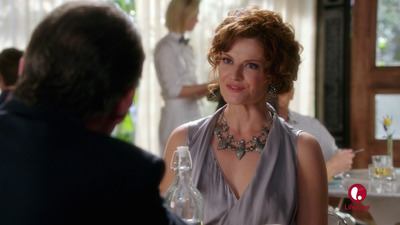 #3 - Anatomy of a Murder 8.20
Season 3 - Episode 13
The maids put their own lives at risk and unmask a killer.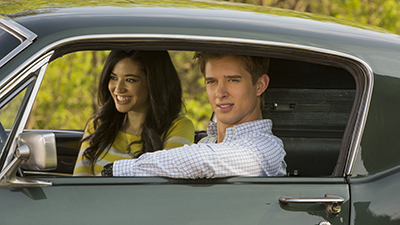 #4 - Getting Out the Blood 8.18
Season 1 - Episode 12
Marisol puts herself in harm's way as she digs deeper into Flora's murder. Peri goes through great lengths to get Rosie to forgive her. Carmen rekindles her relationship with Sam after seeing how lonely Alejandro is, despite his fame. Zoila continues to disapprove of Genevieve and Phillipe's relationship. Remi makes a major decision, putting Valentina in a difficult position.
Directors: Larry Shaw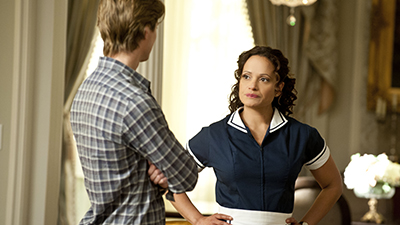 #5 - Walking the Dog 8.14
Season 1 - Episode 6
Zoila's job is jeopardized when Genevieve has financial troubles; Marisol makes a discovery at the Powell house; Carmen is jealous when Sam starts dating; Valentina worries about Remi's erratic behavior.
Directors: Tawnia McKiernan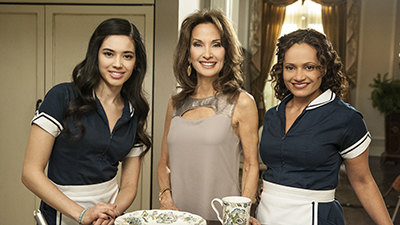 #6 - Minding the Baby 8.11
Season 1 - Episode 8
Genevieve lies to her new boyfriend about her age, much to Zoila's dismay. Rosie begins working at the Powells. Carmen learns Odessa is hiding something. Marisol goes with Taylor to a fertility clinic.
Directors: Tara Nicole Weyr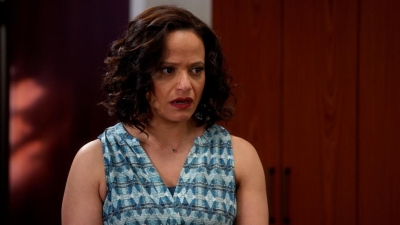 #7 - Grime and Punishment 8.07
Season 4 - Episode 10
Zoila discovers a huge secret that finally helps Rosie get to the truth about Peri's murder. Carmen and Danni find themselves in a dangerous situation. Genevieve makes a new friend and Marisol attempts to get closure with Peter. Adrian has big news to share, bringing Evelyn one step closer to finalizing the divorce she's always wanted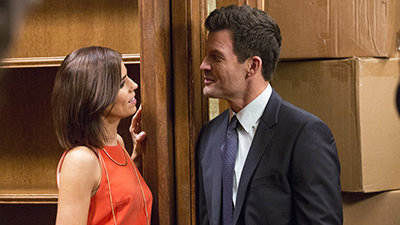 #8 - The Dark at the Top of the Stairs 8.06
Season 2 - Episode 2
Carmen feels threatened by an old flame from Alejandro's past and goes to great lengths to insure that her career isn't in jeopardy; Zoila helps Valentina with her job but ignores problems at home; Rosie begins a new job with a dysfunctional family; Marisol tries to make peace with Opal; Peri threatens Spence so he will stay in their marriage; Adrian copes with a home invasion but fails to protect Evelyn in a dangerous situation.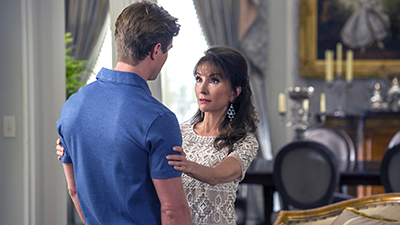 #9 - The Visit 8.04
Season 2 - Episode 9
Reggie moves forward with his plans to tear apart the Miller household. Genevieve is surprised when her estranged mother shows up at her door. Marisol deals with a gossipy new hire at the Deering mansion. Ty's obsession with Carmen takes a violent turn. Adrian begins to suspect that Tony may not be who he claims to be.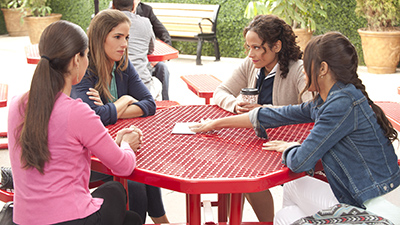 #10 - Taking a Message 8.04
Season 1 - Episode 7
Marisol is at risk of blowing her cover when an ex-student recognizes her in front of Rosie. Valentina discovers the cause of Remi's mood swings and reluctantly turns to Zoila for help. Carmen and Sam have some disagreements about their relationship.
Directors: Tawnia McKiernan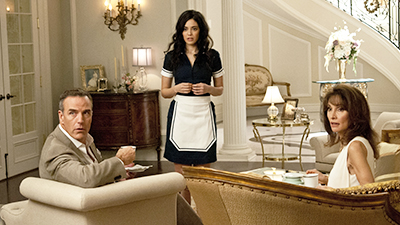 #11 - Making Your Bed 8.03
Season 1 - Episode 4
The arrival of Genvieve's brother, Henri, complicates matters for Zoila, whose heart he broke years before. Rosie vows to help Spence with his marriage. Tensions between Carmen and Odessa are at an all-time high when Alejandro allows Carmen to be a guest at the party he's hosting while Odessa works in her place. Marisol offers to work a fundraiser at the Powell house in order to uncover more information about Flora's murder.
Directors: David Warren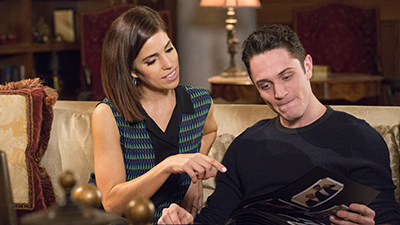 #12 - Dangerous Liaisons 8.02
Season 2 - Episode 3
Marisol discovers some shocking news about her fiancé Nicholas and Opal. Dissatisfied with the doctor that Didi's provided for Kenneth, Rosie takes Kenneth to a specialist who provides them newfound hope. Carmen prepares for her performance debut in front of industry bigwigs, but when reality hits she struggles to perform. Genevieve tries to show her support by inviting Zoila to a luncheon. Increasingly wary of Adrian's behavior, Evelyn finds comfort elsewhere. Valentina struggles to get over Remi.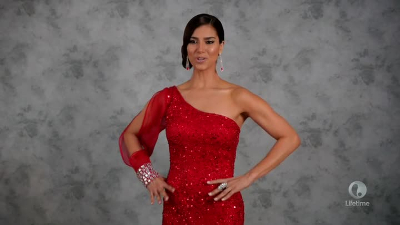 #13 - Proof 8.01
Season 2 - Episode 12
When Nick refuses to divulge his secret past, Marisol sets off on a quest to find out the truth. Zoila struggles with her feelings for Javier and Pablo. Carmen must play babysitter to Spence's son. Rosie recruits Lucinda and Didi to work together to rescue Kenneth and put a stop to Reggie's financial thievery. Valentina tells the police what she knows about Ethan and his crew.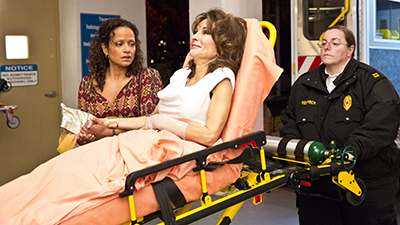 #14 - Wiping Away the Past 8.01
Season 1 - Episode 3
Michael's ex-wife drops a bomb about Taylor's past; Adrian tries to cheer up his friend; Valentina and Genevieve try to get Remi to notice Valentina as more than a friend; Spence offers to help Rosie; Carmen gets a meeting with a music producer.
Directors: Rob Bailey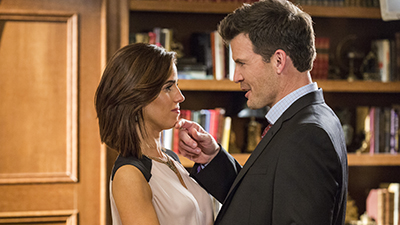 #15 - Betrayal 8.00
Season 2 - Episode 7
Marisol convinces Nicholas to get rid of Opal; Reggie grows jealous when he learns of Rosie's history with Spence; Carmen tries to let Ty down easy; Zoila gets closer to Javier; Adrian is suspicious of the relationship between Evelyn and Tony.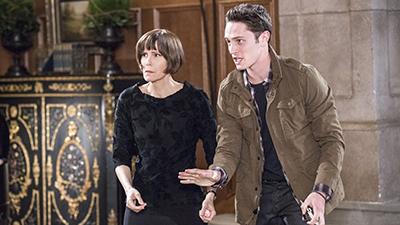 #16 - You Can't Take It With You 8.00
Season 2 - Episode 11
When Marisol confronts Opal about Nicholas' accident and threatens to turn her into the police, things take a violent turn. Valentina finds herself in trouble, bringing Zoila and Pablo together to help her. Rosie continues to investigate her suspicions about Reggie. Carmen attempts to help Spence when his drinking starts affecting his job. Adrian learns the truth about Tony.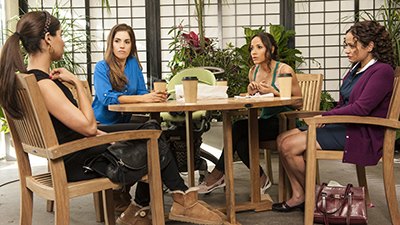 #17 - Scrambling the Eggs 7.98
Season 1 - Episode 9
Evelyn blackmails Rosie so she can spend more time with baby Tucker. Zoila is upset when Genevieve presents her with an interesting proposition for Valentina. Marisol discovers some new information about Flora and grows suspicious of Michael. Carmen is troubled by Alejandro's reaction to Odessa's illness.
Directors: Tara Nicole Weyr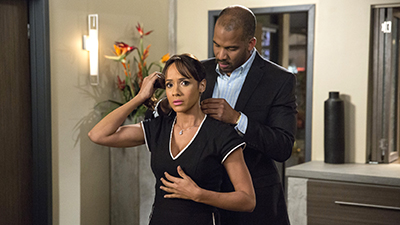 #18 - Long Day's Journey Into Night 7.98
Season 2 - Episode 10
Nicholas reveals a shocking secret while in a pill-induced haze. Rosie wants to save Kenneth. Zoila forces Genevieve to face her mother. Valentina asks Remi to help Ethan. Spence gets some bad news.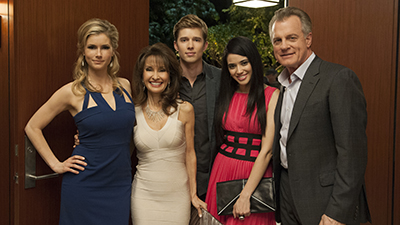 #19 - Hanging the Drapes 7.97
Season 1 - Episode 10
Valentina worries Remi will hate her when he returns from rehab. Rosie wants Spence to defend her honor after Adrian propositions her. Marisol learns her son was caught up in nefarious activities. Carmen has trouble going through with a favor for Alejandro. Taylor and Michael have exciting news.
Directors: John Scott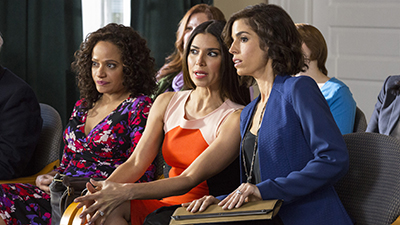 #20 - An Ideal Husband 7.96
Season 2 - Episode 1
Marisol finds a new love; Peri goes to great lengths to keep Spence and Rosie apart; Zoila discovers that Valentina is back from Africa; Carmen and Alejandro settle in to their fake relationship; Odessa reaches her limit; Adrian and Evelyn hire a handsome bodyguard.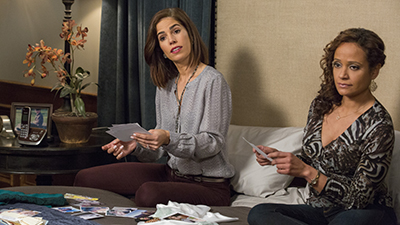 #21 - Private Lives 7.93
Season 2 - Episode 6
Marisol discovers more secrets about Opal. Rosie attempts to help Lucinda, which only leads to further strife within the Miller family. Carmen prepares for a performance. Zoila tries to move on from her husband and goes on a date. Genevieve interferes with Valentina and Ethan's relationship.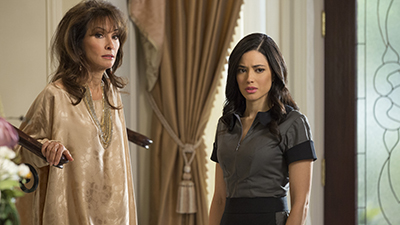 #22 - The Bad Seed 7.90
Season 2 - Episode 5
Nicholas is jealous over Marisol's growing friendship with her book editor. Lucinda crosses the line with Rosie. A new visitor creates problems for Carmen. Tony makes a decision that doesn't sit well with Evelyn. Things get complicated for Valentina and Ethan.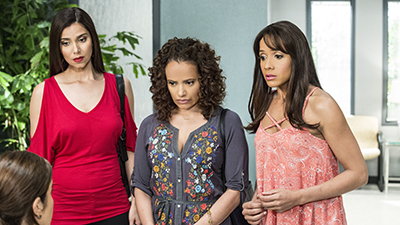 #23 - Night, Mother 7.90
Season 2 - Episode 8
Nicholas asks Marisol a surprising question. Opal turns to Ethan for help. Genevieve invites Zoila and Javier over for dinner. Valentina gets caught in the crossfire of Evelyn and Adrian trying to outsmart each other. Carmen and Spence deal with Ty misbehaving. Lucinda and Rosie argue about her behavior.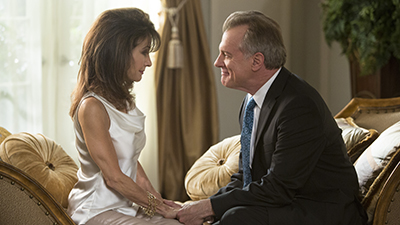 #24 - Cleaning Out the Closet 7.90
Season 1 - Episode 11
Alejandro and Carmen offer different opinions about his new relationship; Marisol gets closer to the truth; Rosie cleans up a serious mess for Peri; Philippe and Genvieve grow closer, but Zoila doesn't believe that he's changed his philandering ways.
Directors: John Scott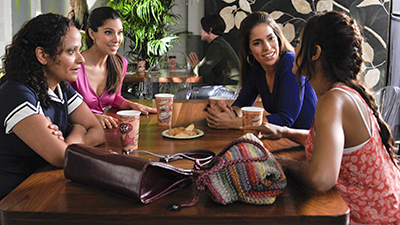 #25 - Setting the Table 7.87
Season 1 - Episode 2
Valentina's plans to get closer to Remi continue to irritate Zoila. Rosie gets caught in the middle when Spence accuses Peri of cheating. Carmen takes advantage of Alejando and Odessa being out of the house, much to Sam's dismay. Marisol tries to figure out a way to spend more time at the Powell house.
Directors: Rob Bailey