The WORST Episodes of Beetlejuice
Every episode ever - ranked by fan votes!
Last Updated: Jan 21, 2021
Based on the movie, created by Tim Burton, this series is focused on Beetlejuice and Lydia teamed up to carry on multiple exciting adventures. Beetlejuice is a liar who cheats at everything. The deceased maniacal and energetic transformer always goes around having fun, breaking every rule and law. Lydia Deetz is a social outcast and a goth. Always dressed in black, she loves horror movies, and is Beetlejuice's best friend. She is calm and level-headed.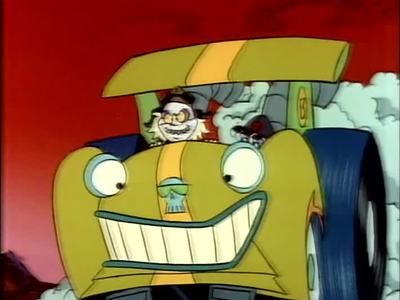 #1 - Driven Crazy
Season 2 - Episode 4 - Aired Sep 22, 1990
Beetlejuice, Lydia and Doomie enter the Neitherworld Groan Prix, where they face possible defeat by Scuzzo and Fuzzo.
0 votes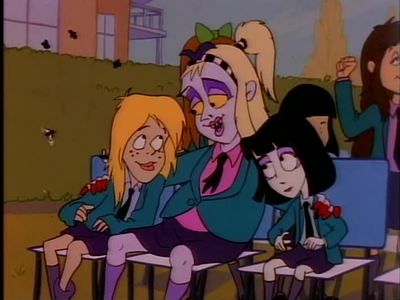 #2 - Running Scared
Season 2 - Episode 8 - Aired Oct 13, 1990
Beetlejuice (as Betty Juice) runs for class president against Clare as Lydia watches helplessly. Both campaigns are hopelessly overdone... Will either of them get any votes?
0 votes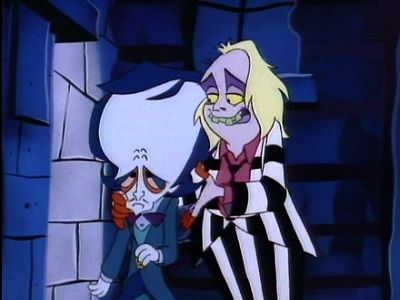 #3 - Poe Pourri
Season 4 - Episode 13 - Aired Sep 25, 1991
Edgar Allen Poe comes to BJ's Roadhouse in search of his lost Lenore. This is followed by a series of nightmares Beetlejuice experiences that are loosely based on Poe's works.
0 votes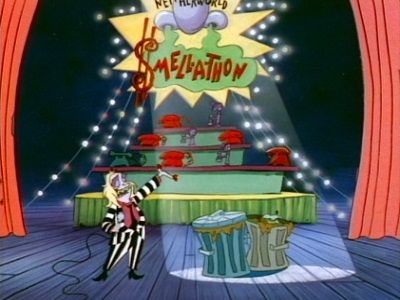 #4 - Smell-a-Thon
Season 4 - Episode 16 - Aired Sep 30, 1991
When BJ finds out about the Save-The-Whales Telethon Lydia is involved in, he gets an idea: hold his own telethon and make a fortune! So he holds a Save-The-Smells Telethon to do just that--until he actually, truly, begins to believe in his cause. Who would have thought? Apparently nobody, because when the telethon money mysteriously disappears, Public Opinion rises squarely against Beetlejuice.
0 votes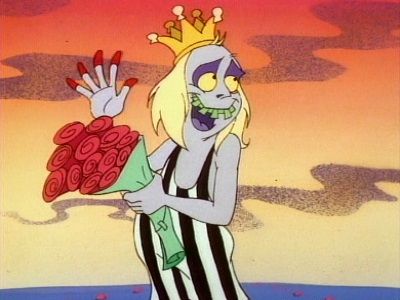 #5 - The Miss Beauty-Juice Pageant
Season 4 - Episode 17 - Aired Oct 1, 1991
Beetlejuice wants to enter the First Neitherworld Beauty Pageant (the prize is a Ton O' Cash), but is turned down because he's a man. Determined to win the prize, BJ launches a ""Men Are Beautiful Too"" campaign, closely followed by a ""Disgusting Is Beautiful Too"" campaign. Finally, the pageant is opened to everybody. But if everybody is in the pageant, who's left to even watch it?
0 votes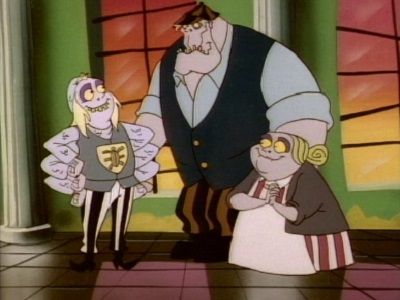 #6 - Family Scarelooms
Season 4 - Episode 21 - Aired Oct 7, 1991
BJ's parents want to join the Society for the Oldest and Moldiest Families of the Neitherworld, but they need the Juice family coat of arms to prove their lineage. Unfortunately, the coat is somewhere in BJ's room, which hasn't been cleaned in, well...apparently it hasn't been cleaned.
0 votes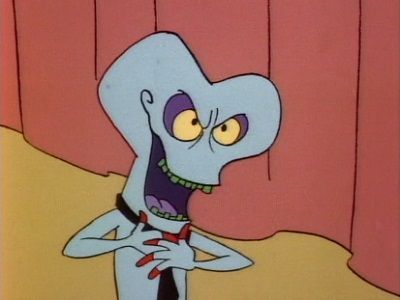 #7 - Them Bones, Them Bones, Them Funny Bones
Season 4 - Episode 22 - Aired Oct 8, 1991
Lydia is to MC at her school's talent night, but she's afraid she isn't funny enough. So--BJ lends her his funny bone. But what's Beetlejuice without a funny bone??
0 votes
#8 - Goody Two Shoes
Season 4 - Episode 24 - Aired Oct 10, 1991
It's 'Good Neighbor Day' in the Neitherworld, when being nice is a law. Of course, BJ won't stand for it, and causes trouble...which lures in Goody Two Shoes, a Fairy from the Bureau of Sweetness and Prissiness (BSnP). With a wave of her wand, Goody turns everyone into denizens of Mr. Roger's Neighborhood--what a fate!
0 votes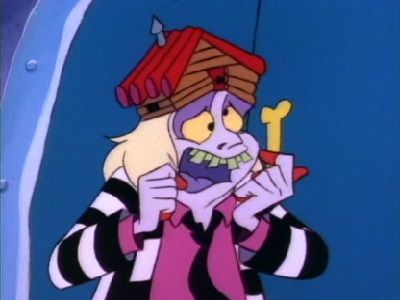 #9 - Cabin Fever
Season 4 - Episode 30 - Aired Oct 18, 1991
After spending all day curing Lydia of her measles, Beetlejuice gets Cabin Fever--and then is quarantined to the Roadhouse. How can Lydia help BJ get over Cabin Fever if they can't go outside? They'll think of something!
0 votes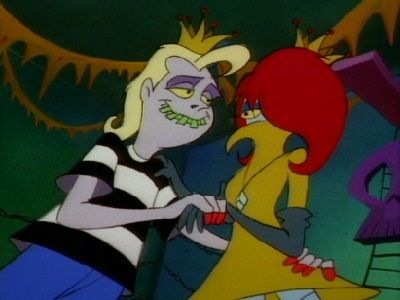 #10 - Highs-Ghoul Confidential
Season 4 - Episode 31 - Aired Oct 21, 1991
While flipping through Beetlejuice's high school yearbook, Lydia is astounded to discover that her best friend was none other than Prom King! She presses BJ for the story, and he tells it--and it is one doozy of a tale.
0 votes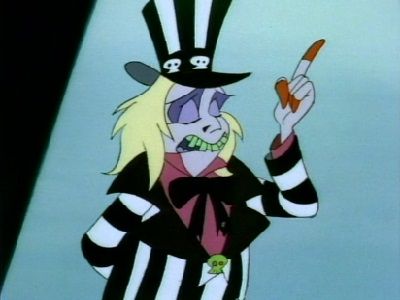 #11 - Mr. Beetlejuice Goes to Town
Season 4 - Episode 33 - Aired Oct 23, 1991
When Mayor Maynot threatens to tear down the Roadhouse to make room for a new superhighway, Beetlejuice runs for office--and wins. But it is soon apparent that BJ is an even more corrupt mayor than the last one, and it's up to his friends to get him de-elected before he gets too out of hand.
0 votes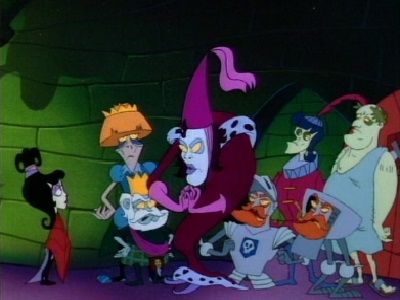 #12 - To Beetle or Not to Beetle
Season 4 - Episode 35 - Aired Oct 25, 1991
Lydia has to write a paper on Shakespeare for her English class, but can't understand his plays. So BJ takes her to the Neitherworld to meet Shakey's characters, who turn out to be rather disgruntled with their roles. When they kidnap Lydia and try to force her to rewrite their plays, BJ must rescue her; then it's up to the both of them to cure Shakespeare of his monumental writer's block.
0 votes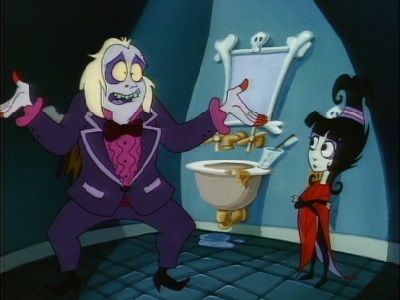 #13 - A Star is Bored
Season 4 - Episode 36 - Aired Oct 28, 1991
Beetlejuice becomes the Neitherworld's grossest movie star, and finds that fame isn't all it's cracked up to be. Lydia then has to help him back into poverty by ""cleaning up his act.""
0 votes
#14 - Oh, Brother!
Season 4 - Episode 37 - Aired Oct 29, 1991
Oh, horrors! Beetlejuice's perfect brother Donnyjuice comes to visit, leaving BJ feeling...a bit down and out. Down-And-Outback, actually. Donny and Lydia set out to cheer Beetlejuice up before he does something drastic.
0 votes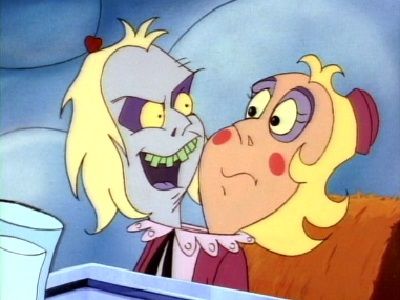 #15 - Snugglejuice
Season 4 - Episode 38 - Aired Oct 30, 1991
Its Pranksgiving in the Neitherworld, and Beetlejuice's rival Pondscum (""Pondscum...Germs Pondscum"") looks as if he's going to beat out BJ for the title of Grand High Prankster. Pondscum proves himself to be lower than a Sandworm's belly when he frames BJ for a crime he didn't commit and gets him sentenced to rehabilitation in NeitherNeitherLand. (Have you seen NeitherNeitherLand? Shudder.) Beetlejuice comes out of the ordeal as Snugglejuice, the Cutest Being in the Neitherworld. Can Lydia reverse the process (and help BJ win the Prank Tournament)?
0 votes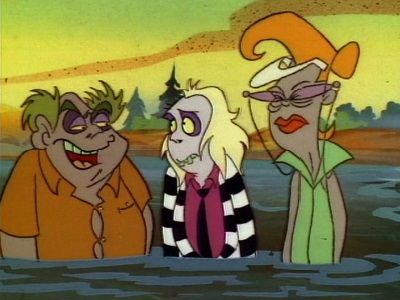 #16 - In the Schticks
Season 4 - Episode 39 - Aired Oct 31, 1991
When Beetlejuice and Lydia pull a scam, Lydia gets sentenced to washing dishes at The Last Resort Resort on the River Schticks. Beetlejuice, haunted by memories of his Uncle Sid and Aunt Irma, who used to take him to the Last Resort Resort when he was a baby, rushes to Lydia's rescue. Can they survive the awful jokes that abound everywhere on the River Schticks?
0 votes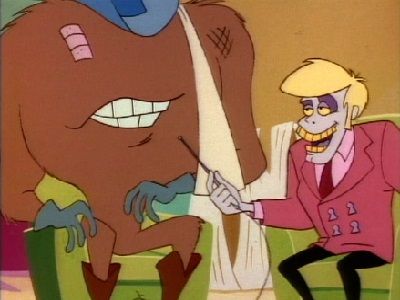 #17 - Ghoul of My Dreams
Season 4 - Episode 42 - Aired Nov 5, 1991
The Monster and Monstress have a falling-out, and Beetlejuice takes advantage of the situation by spinning their misery off into a highly rated TV program.
0 votes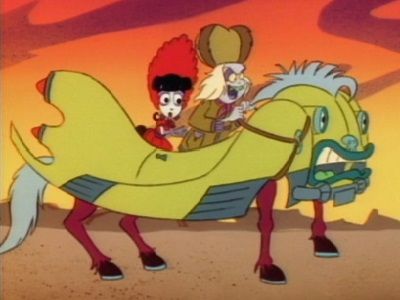 #18 - Prairie Strife
Season 4 - Episode 43 - Aired Nov 6, 1991
Beetlejuice inherits his Auntie Em's milk farm, located in the Wild West. But the infamous outlaw Jesse Germs has been threatening the locals--can BJ and Lydia thwart his insidious plan to scare everyone off the land?
0 votes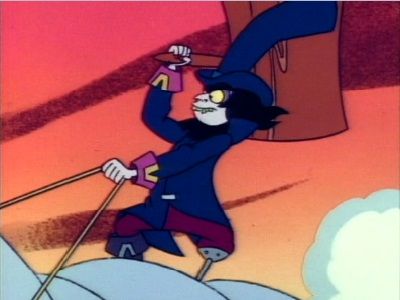 #19 - Moby Richard
Season 4 - Episode 44 - Aired Nov 7, 1991
Beetlejuice and Lydia put on 'Disasterpiece Theatre,' and decide to do Moby Dick as their first episode. But Moby ""Richard"" refuses to change the classic to suit Beetlejuice's notions of what a classic should be, and quits--but not without insulting BJ first. BJ lets the character of Captain Ahab take him over, and leads the others on a dangerous mission through Sandworm Land to get revenge on the whale.
0 votes
#20 - The Unnatural
Season 4 - Episode 45 - Aired Nov 8, 1991
It's BJ's team against Scuzzo's team in the baseball event of the century! But after a few...uh...setbacks, that becomes BJ and Lydia, all alone, against Scuzzo's entire team. It's Sudden Death for the losers--and who will those losers be?
0 votes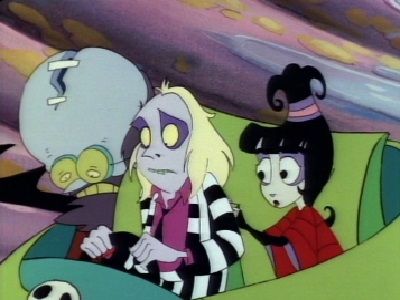 #21 - Forget Me Nuts
Season 4 - Episode 46 - Aired Nov 11, 1991
Beetlejuice loses his memory (he's beaned by a satellite), so Lydia takes him to see Dr. Zigmund Void. Void splits BJ's personality, and takes the clone and Lydia within BJ's body by way of a shrinking submersible. They have to find out what is causing BJ's inability to access his memory banks before time runs out and they return to normal size.
0 votes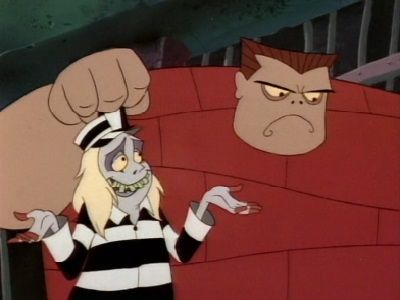 #22 - The Birdbrain of Alcatraz
Season 4 - Episode 47 - Aired Nov 12, 1991
Scuzzo frames Beetlejuice for stealing bad jokes, and gets him sent to The Big House. It's up to Lydia to gather up the evidence she needs to spring Beetlejuice--and then to get the Governor to listen to her story. Meanwhile, BJ copes with afterlife under the disturbingly nurturing watch of Warden June Cleaver.
0 votes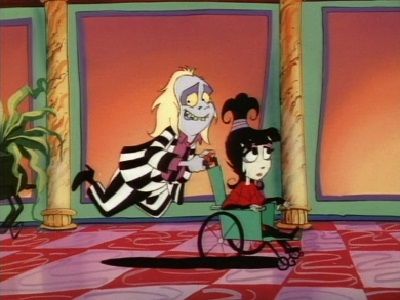 #23 - Generally Hysterical Hospital
Season 4 - Episode 48 - Aired Nov 13, 1991
Lydia trips on Beetlejuice's misplaced marbles and sprains her ankle, so BJ takes her to a Neitherworld hospital for treatment. But a greedy resident doctor is looking to make a quick buck and kidnaps Lydia with the intention of charging admission to the public to witness a 'total body transplant'--with BJ as the surgeon!
0 votes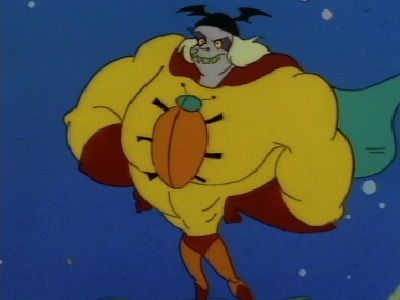 #24 - Super Zeroes
Season 4 - Episode 49 - Aired Nov 14, 1991
Beetlejuice tries to cash in on the superhero trend sweeping the Neitherworld by becoming...UltraBeetleMan! With Lydia as his cub reporter sidekick, UBM sets out to thwart crime. Uh...If only there was any. Suddenly, Mt. Gushmore, Scumdon Bridge, The Fallen Arches of Triumph, the Awful Tower--and Lydia--are shrunk by four menacing business tycoons (""Honey, I Shrunk the Lyds""). Can UBM save the day?
0 votes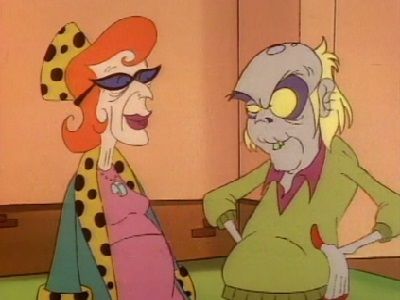 #25 - Beetle Geezer
Season 4 - Episode 50 - Aired Nov 15, 1991
Lydia treats her grandmother as if she's too old to do anything, and Grandma gets sick of it. With the help of Beetlejuice (disguised as Mr. Beetleman's father Grandpa Beetleman), Grandma Deetz takes all the other disgruntled inhabitants of the old folk's home on a wild tour of the Neitherworld.
0 votes