The BEST Episodes of Beetlejuice
Every episode ever - ranked by fan votes!
Last Updated: Mar 9, 2021
Based on the movie, created by Tim Burton, this series is focused on Beetlejuice and Lydia teamed up to carry on multiple exciting adventures. Beetlejuice is a liar who cheats at everything. The deceased maniacal and energetic transformer always goes around having fun, breaking every rule and law. Lydia Deetz is a social outcast and a goth. Always dressed in black, she loves horror movies, and is Beetlejuice's best friend. She is calm and level-headed.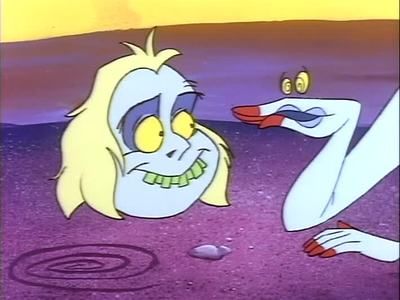 #1 - Quit While You're a Head
Season 1 - Episode 18 - Aired Dec 2, 1989
Beetlejuice's head is kidnapped by headhunters. With the help of Captain Kidder, Lydia and Beetlejuice's body track the hunters down to Nobody Atoll, where they must face more than just head hunters.
1 votes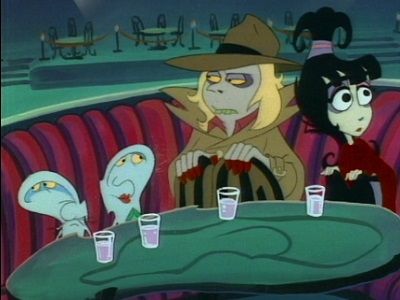 #2 - Ear's Looking at You
Season 4 - Episode 14 - Aired Sep 26, 1991
A Sam Spade spoof featuring two ears cut off from a family fortune.
1 votes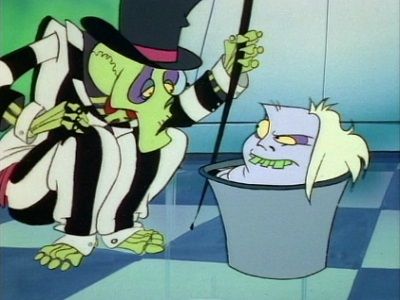 #3 - Beetlebones
Season 4 - Episode 15 - Aired Sep 27, 1991
Beetlejuice's sophisticated skeleton escapes from his skin and runs off. Lydia, Jacques, and BJ's skin must recapture Beetlebones--before the Skeleton Crew does.
1 votes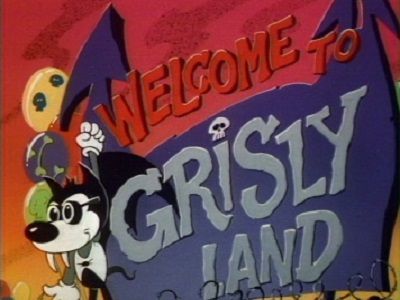 #4 - Sappiest Place on Earth
Season 4 - Episode 18 - Aired Oct 2, 1991
When the Happy Face Girls' outing is called on account of rain, BJ (as Denmother MacCree) takes them to Grislyland, the Neitherworld's newest theme park. But Grislyland's patron cartoon character, Bartholomew Batt, is out for more than a profitable enterprise...Why? Because he's a typical cartoon villain, that's why!
1 votes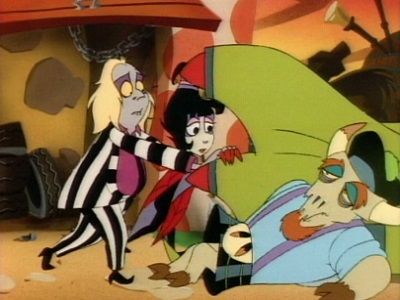 #5 - Brinkadoom
Season 4 - Episode 19 - Aired Oct 3, 1991
BJ, Lydia, and Doomie accidentally tumble into Brinkadoom, a cursed village which disappears for an eternity as soon as all its inhabitants fall asleep. Can they find their way out before that happens?
1 votes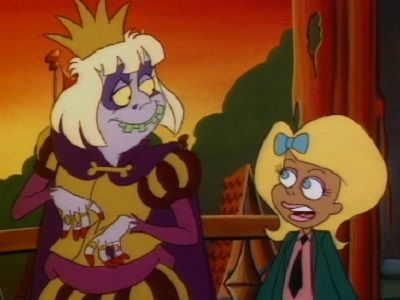 #6 - Foreign Exchange
Season 4 - Episode 20 - Aired Oct 4, 1991
When a beautiful Scandinavian exchange student arrives at Miss Shannon's school, Clare thinks she will burst with envy--until she relieves her fury by embarrassing the exchange student in front of everybody. To get even, Lydia and BJ send Clare to be an exchange student herself--in the Neitherworld.
1 votes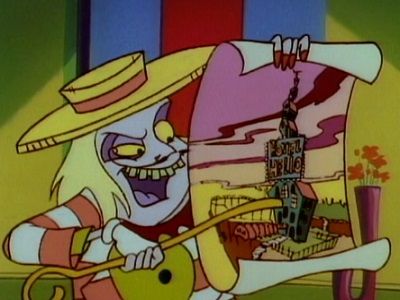 #7 - Hotel Hello
Season 4 - Episode 23 - Aired Oct 9, 1991
Charles really needs a weekend to relax, so Mr. Beetleman takes the Deetzes to Hotel Hello in the Neitherworld. But with Charles stressing out over every little thing, not to mention a vampire after Delia's neck, what kind of vacation will it turn out to be?
1 votes
#8 - Ship of Ghouls
Season 4 - Episode 26 - Aired Oct 14, 1991
Beetlejuice wins two tickets for an ocean cruise (illegally, I might add), and takes Lydia on a very...odd...vacation on the high seas.
2 votes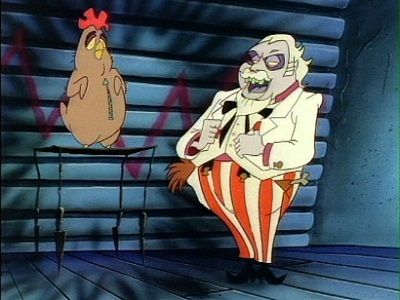 #9 - Poultrygeist
Season 4 - Episode 27 - Aired Oct 15, 1991
A leftover chicken in BJ's fridge turns undead and haunts the Roadhouse in the form of the most dreaded of all spectres--a Poultrygeist! Can Beetlejuice and Lydia banish it before sleep deprivation claims BJ's last remaining shreds of sanity?
1 votes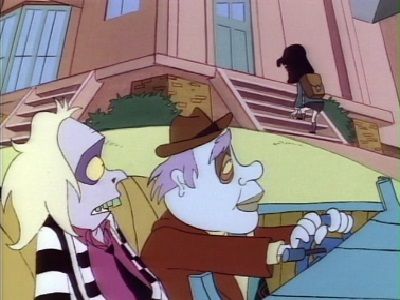 #10 - It's a Wonderful Afterlife
Season 4 - Episode 28 - Aired Oct 16, 1991
Yes, you've guessed it: Beetlejuice has an off day and wishes he had never met any of his friends. Clarence Sale shows up and shows him what the Neitherworld--and the real world--would be like without him. Seeing Lydia miserable and friendless convinces BJ to change his mind, and Clarence is rewarded for his trouble with a shiny new car.
1 votes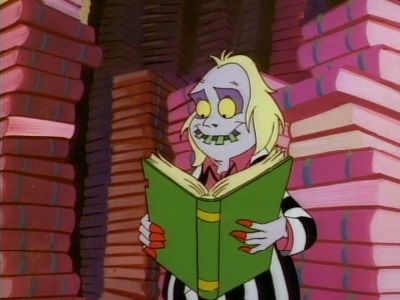 #11 - Ghost Writer in the Sky
Season 4 - Episode 29 - Aired Oct 17, 1991
Beetlejuice publishes his auto-dieography and is heralded as one of the finest authors of all time. But the lies he tells about his friends in the book come back to haunt him, big time.
1 votes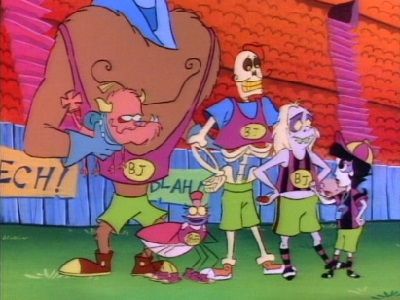 #12 - Rotten Sports
Season 4 - Episode 32 - Aired Oct 22, 1991
Beetlejuice recruits Lydia to coach Team BJ in the Neitherworld All-Ghoul Games. But the team is hopeless and the opposition is fierce--Can Lydia motivate her friends enough to even dream of winning, especially Beetlejuice, who's devoted all his time to product endorsements?
1 votes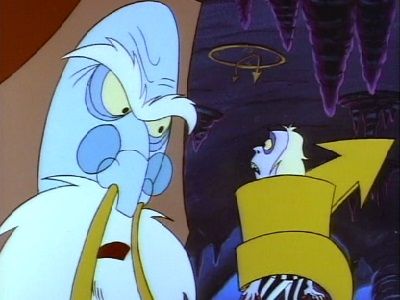 #13 - Time Flies
Season 4 - Episode 34 - Aired Oct 24, 1991
It's the anniversary of the day BJ and Lydia met, and BJ presents Lydia with a watch. But time flies, and Beetlejuice and Lydia follow the escaped watch through the Sands Of Time, where they meet Grandfather Time. BJ gives the poor old geezer a cog-attack, thoroughly messing up the flow of Time. They must get Time restarted or nothing will be the same again.
1 votes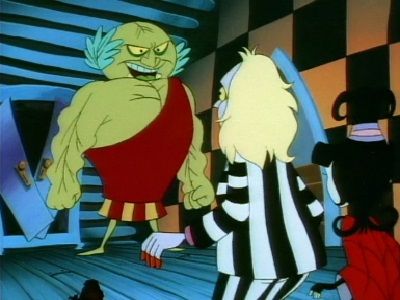 #14 - Recipe for Disaster
Season 4 - Episode 40 - Aired Nov 1, 1991
Lydia's Caesar salad comes to life and attempts to take over the Neitherworld with his legion of surly vegetables. Can BJ and Lydia usurp Caesar and get the rightful rulers of Aroma back on the throne?
1 votes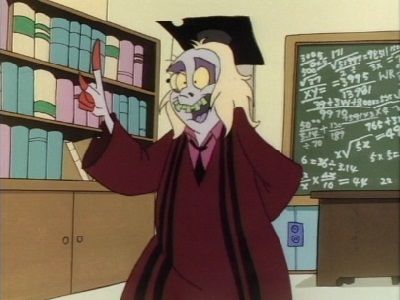 #15 - Substitute Creature
Season 4 - Episode 41 - Aired Nov 4, 1991
Lydia makes a (foolish) wish that Beetlejuice could teach her class for a day, and he grants it. He takes Lydia, Claire, Bertha and Prudence on a trip to ""Historyland"" in the Neitherworld, where they learn a bit more than history--like never trust a professor in a striped suit.
1 votes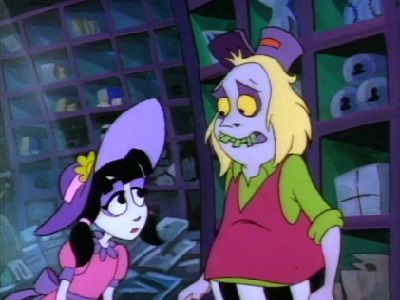 #16 - What Makes B.J. Run
Season 4 - Episode 53 - Aired Nov 20, 1991
Mr. Monitor cancels Beetlejuice's show, and while Lydia gets her own children's show (which she hates), BJ goes to work in the mailroom. He quickly takes the opportunity to steal a colleague's show ideas and is rapidly promoted to Mr. Monitor's supervisor. But how long can it last?
1 votes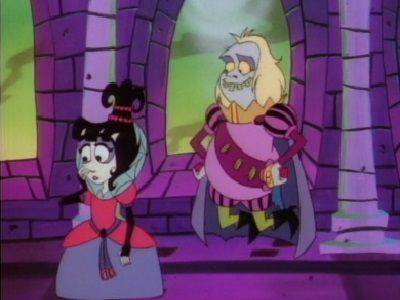 #17 - King B.J.
Season 4 - Episode 62 - Aired Dec 3, 1991
Beetlejuice and Lydia go to visit Merlin and discover that the great magician is plotting to overthrow the King. But when BJ pulls the Board from the Bone, he becomes the new King, and Merlin summons the dreaded B.O. Wolf to wipe him out. It's a middle-age crisis for BJ.
1 votes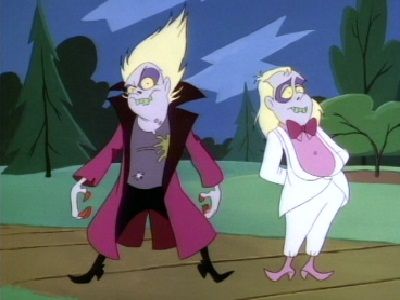 #18 - Not So Peaceful Pines
Season 4 - Episode 65 - Aired Dec 6, 1991
Beetlejuice does the Mayor of Peaceful Pines a favour, but the Mayor reigns on his promise of a cash reward. So Beetlejuice, in a fit of anger, splits his personality into his good and his bad sides, and the bad side wreaks havoc on the town. Lydia and the good side are forced to fetch Dr. Zigmund Void to help remedy the situation.
2 votes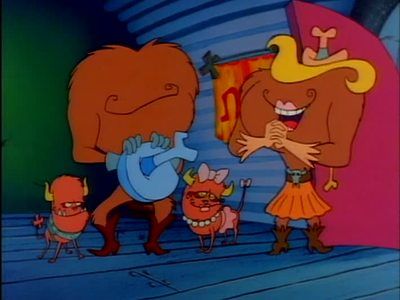 #19 - The Really Odd Couple
Season 2 - Episode 9 - Aired Oct 20, 1990
When Beetlejuice blows up the Monster Across the Street's house, he is obligated to take the Monster and Poopsie in (or Jacques and Ginger will rat him out). Desperate to rid himself of his unwanted roommates, BJ even tries rebuilding the Monster's house for him -- only to find out that the Monster likes the Roadhouse! What will BJ do?
2 votes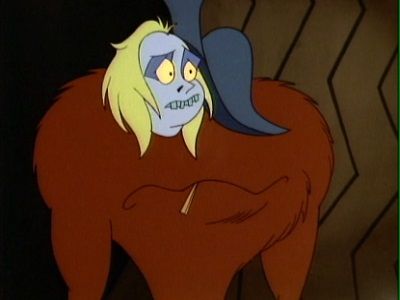 #20 - Two Heads Are Better Than None
Season 4 - Episode 10 - Aired Sep 20, 1991
Beetlejuice says the wrong thing and gets his head put onto the Monster's body--now the Monster's got two heads, and BJ's body is left to wander.
3 votes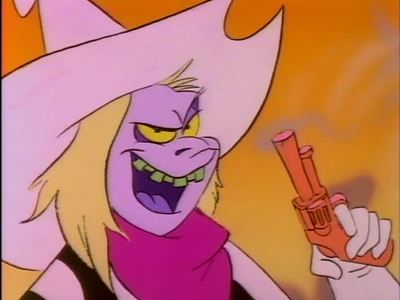 #21 - Pest o' the West
Season 1 - Episode 12 - Aired Oct 28, 1989
Beetlejuice takes Lydia on a trip to a Neitherworld Wild West town, where the locals promptly make Beetlejuice their new sheriff. Can you guess why? Naturally, its because Bully the Crud is on his way to run the sheriff out of town. Bully 'develops' an instant crush on Lydia and drags her off to the wedding chapel...at least Lydia's insistent on keeping her last name.
3 votes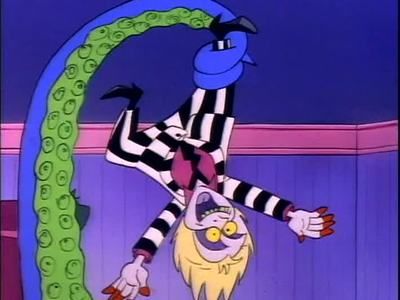 #22 - Bizarre Bazaar
Season 1 - Episode 13 - Aired Nov 4, 1989
Miss Shannon teams up Lydia and Clare to run this year's haunted house at the bazaar. Lydia's got some good and scary ideas, but Clare's got other plans...Not to worry, because Beetlejuice's got some plans of his own.
6 votes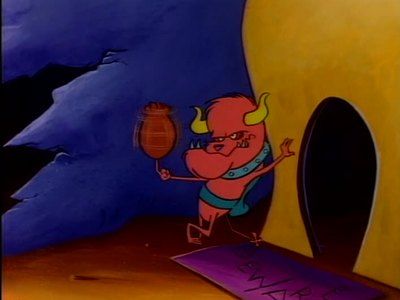 #23 - Poopsie
Season 1 - Episode 15 - Aired Nov 11, 1989
The Monster Across the Street is going to a Monster Across the Street convention (you didn't know they had those, did you?) and he leaves Poopsie in Beetlejuice's care for the day. I'll leave the rest of this synopsis to your imagination.
2 votes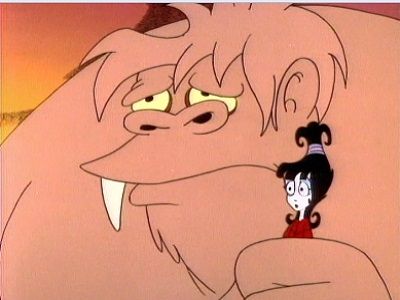 #24 - Beauty and the Beetle
Season 4 - Episode 11 - Aired Sep 23, 1991
Coincidentally on the very same day Lydia has doubts about her own beauty, the great beast Thing Thong, who steals beautiful things because he feels he is himself ugly, kidnaps her. While Lydia helps Thong find confidence in himself, Beetlejuice tries to 'save' her in the guise of the famed adventurer Grimdiana Bones.
2 votes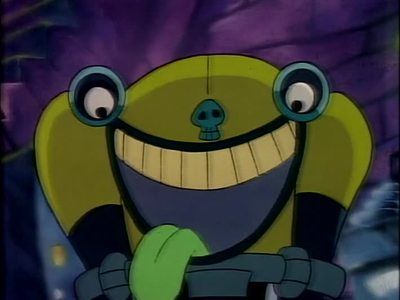 #25 - Dragster of Doom
Season 2 - Episode 1 - Aired Sep 8, 1990
Beetlejuice and Lydia decide that it's time for them to have a car of their own, so they rebuild a salvaged one they find in a Neitherworld wrecking yard. But Beetlejuice delivers Lydia an abnormal carburetor for installation...and although the car they create looks normal at first, it soon becomes evident that he's quite abnormal.
8 votes