The BEST Episodes of Bear in the Big Blue House
Every episode ever - ranked by fan votes!
Last Updated: Dec 15, 2020
Bear and his friends live in the Big Blue House, where Bear helps his house-mates to solve everyday problems or learn new things. In addition to spending time with the house-mates (Treelo the lemur, Ojo the bear cub, Tutter the mouse, and Pip and Pop the otters) bear also takes time out to listen to Shadow's tales and ends each day by reflecting on the lessons learned and singing 'The Goodbye Song' with Luna the moon.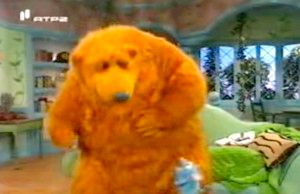 #1 - Ooh Baby, Baby
Season 2 - Episode 1 - Aired Jan 5, 1998
Grandma Flutter drops her granddaughter, Baby Blotter, off at the Big Blue House while she goes to her dance class. Bear helps Tutter learn how to care for a baby -- but everyone's at a loss when Blotter starts to cry. The day is saved by Treelo, who comforts the baby and gives her his rattle.
28 votes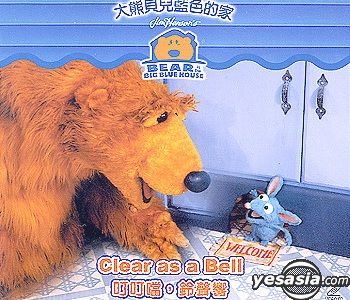 #2 - Clear As A Bell
Season 2 - Episode 4 - Aired Jan 8, 1998
Bear gets a new Spanish-language tape in the mail, but just as he's about to try it, he's waylaid by Tutter, who, it seems, has a touch of laryngitis. He cant talk at all. A concerned Bear gives him a small bell to call him when he needs some-thing, and Tutter keeps bear running back and forth his Spanish lessons with Pip&Pop to a misunderstanding between Ojo and Treelo. During the course of Bear's busy day, we discover how to communicate with words and without them.
28 votes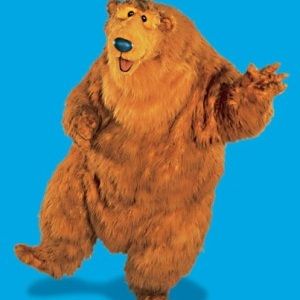 #3 - Let's Get Interactive
Season 3 - Episode 20 - Aired Nov 10, 1999
Doc Hogg is remodeling his office, so he asks Bear to hold some of his stuff at the Big Blue House for a while, including his computer. He also gives Bear permission to use it, so he shows Tutter and Ojo how it works. They learn that computers are interactive and that interactivity isn't something that can just be done with computers --- just doing something as simple as talking with someone is interacting. At first, they're reluctant to use the computer, but are soon having fun with it. As it turns out --- Pip and Pop already know about interactivity --- Pip shows Bear how much fun it is for him to interact with Pop, as opposed to something like a rock. Bear takes a crack at solving the daily puzzle, with the help of Treelo. In the Shadow segment, Shadow introduces the viewers to Gus, an "interactive shadow-dog" who's looking for his friend Gloria. Songs Good Morning (Shortened Version) The Bear Cha-Cha-Cha (Shortened Version) Notes At one point, Bear is looking for dirt, water and seeds to help solve a puzzle. He says "You know, these things would be a lot easier to find if we had a couple of guides to help us" and then Pip and Pop show up. Oddly, when he says this, closed-captioning reads "You know, these things would be a lot easier to find if we had a little blue dog to help us." This may have been intended as a reference to Blue's Clues a series featuring a blue dog named Blue who left three paw-printed shaped clues to solve puzzles not all that unsimilar to the one Bear was attempting to solve. Bear's peformer Noel MacNeal, as well as Peter Linz, are both puppeteers on the Blue's Clues spin-off program Blue's Room. Computers are a somewhat rare example of high technology in Woodland Valley. There is also a movie theater, although there are no known TVs. Back in the "When I'm Older" song in "Mouse Party," Tutter expresses an ambition to someday use a computer. However in this episode, like Ojo, he has no idea what a computer is until Bear tells
1 votes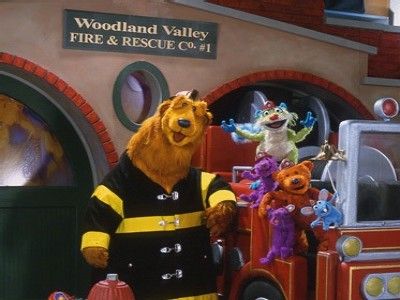 #4 - Welcome to Woodland Valley - Part 1
Season 4 - Episode 1 - Aired Sep 9, 2002
In the first part of "Welcome to Woodland Valley," viewers learn that a tragic event has happened in Woodland Valley --- a tree has fallen and ruined part of the village library. Everyone's upset about it, but the entire Woodland Valley community is pulling together to help out. When the kids of the Big Blue House, including Harry, find out, they decide to help in their own way. Viewers explore more of Woodland Valley than they've ever seen before, visiting the library, the post office, the general store and the mouse school that Tutter will be attending, among other locations. Songs Welcome to Woodland Valley Woodland Valley No Harm Notes This episode was created partly as a response to the World Trade Center attacks of September 11, 2001. Though there is no reference to the specific events, the episode uses the theme of a building being destroyed and a community coming together. Beginning with this episode, the opening sequence, theme, and closing sequence are changed. The opening sequence and theme now take viewers on a short tour of Woodland Valley before finishing at the Big Blue House.
3 votes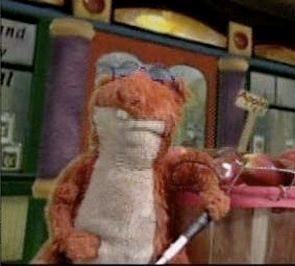 #5 - The Amazing Skippy
Season 4 - Episode 11 - Aired Sep 30, 2002
Treelo invites his squirrel friend Skippy for a visit to the Big Blue House and the kids are all excited to meet him. They are all surprised to learn that Skippy is blind and have a lot of questions for Bear while Treelo takes Skippy on a tour. They learn from Bear that Skippy has a disability, but isn't sick and that he likes to do many of the same things they do. As Skippy joins the kids during the day, they begin to wonder if he has special powers. He seems to know things that he seemingly couldn't know without some sort of special power. Skippy, however, teaches them that there's a lot one can tell by using all one's senses. Songs What's That Smell? Oh What a World It Can Be Notes The closing credits of this episode include the following note: "With special thanks to The American Council of the Blind for their generous participation." The song "What's That Smell?" returns for the fourth season. Allusions When everyone's wondering what's playing at the theater, Ojo suggests Take the Bunny and Run, a Woodsy Allen film. This is a riff on the Woody Allen film Take the Money and Run.
1 votes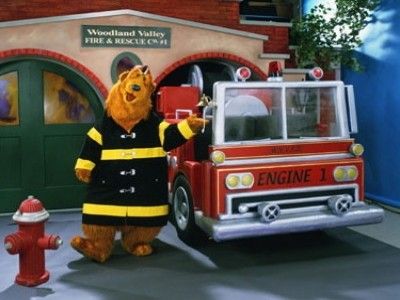 #6 - Great Ball of Firefighters
Season 4 - Episode 13 - Aired Nov 4, 2002
Bear is in charge of refreshments for the Woodland Valley Firefighter's Ball and Otto and Etta Otter have come to the Big Blue House to help out. As Bear heads to Mouse School to pick up Tutter, they work with Treelo, Pip and Pop to get things ready. At Mouse School, Tutter finds out that the mice kids are planning to do a dance called "The Mumble Mambo" at the ball --- one with which he's not familiar at all. At the movie theater, Ojo watches a classic film with Doc Hogg and gets her own idea of just what a ball should be like. When it comes time for the actual ball, neither have a good time, until Bear helps them to see past their expectations. Songs The Mumble Mambo Go with an Open Mind The Firefighter's Cha Cha Cha Notes This is one of the set of "leftover" fourth season episodes that aired in 2006, four years after the rest of the season. There is no Shadow segment in this episode. Harry and Mama Duck attend the Firefighter's Ball, although neither have any lines in this episode. "The Firefighter's Cha-Cha-Cha," is a send-up of "The Bear Cha-Cha-Cha" heard in many episodes. It features the same music and many of the same lines, but others are changed to be firefighter-related.
1 votes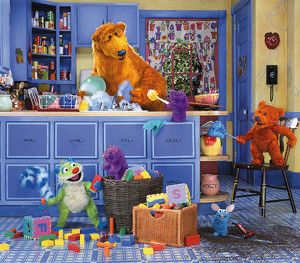 #7 - Appreciation Day
Season 4 - Episode 14 - Aired Jun 7, 2003
It's an ordinary day at the Big Blue House, but Bear decides to check his calendar, wondering if there's anything special coming. He checks his calendar and finds that tomorrow is Teacher Appreciation Day. Wondering if Tutter and the other mice at Mouse School know, he decides to tell them before soccer practice. It turns out when he arrives that the mice were just in the middle of talking about how much they like Miss Maxwell. Bear decides to split them all into teams of two, and partners Tutter with Lily to make Miss Maxwell a gift. Tutter's not too sure about the arrangment at first, worrying that the shy and quiet Lily won't be very good at helping him to make Miss Maxwell a gift. Bear, however, persuades Tutter to give Lily a chance and things start coming together nicely. They write a poem for Miss Maxwell. There's another special appreciation surprise later on. In the Shadow segment, Shadow retells Aesop's Fable 'The Lion and the Mouse'. Songs That's "Appreciate" Notes Teacher Appreciation Day (also known as National Teacher Day) is celebrated on the first Tuesday of the first full week of May. Bear's calendar in this episode shows Teacher Appreciation Day on Tuesday, May 7th.
3 votes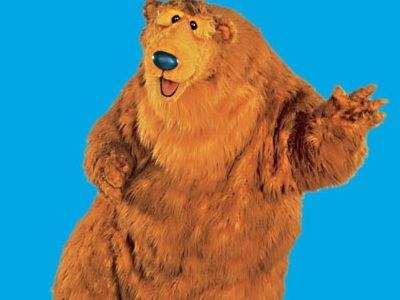 #8 - A Strange Bird
Season 4 - Episode 24 - Aired Apr 27, 2006
One morning, Bear decides to visit the post office, knowing that Jeremiah can be slow in delivering the mail and wondering if anything's come. At the post office, he finds a two-week old postcard that reveals that a penguin named Puck from the South Pole is paying a visit to the Big Blue House --- today! Bear hurries home to greet Puck. Everyone there is eager to meet him, but the kids begin to worry when they find his food tastes and his behaviors somewhat odd. They try to play with him, but worry that they just don't understand him. Meanwhile, Tutter learns all about diversity at Mouse School. Songs It Takes All Kinds Notes The kids of the Big Blue House play the song "I Only Have Ice for You" for Puck. The title of this song is a spoof on the classic lounge song "I Only Have Eyes for You", as performed by Frank Sinatra. The song in this episode, "It Takes All Kinds," is Track 4 on the album Playhouse Disney 2.
1 votes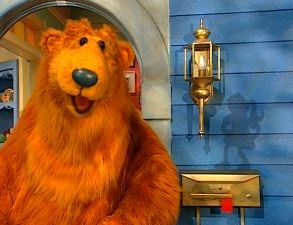 #9 - This Is Your Life, Bear
Season 4 - Episode 26 - Aired Apr 28, 2006
When Bear decides to do some relaxing and tune to his favorite station, WCHA-CHA, he hears an announcement for a contest. The station will play a sample from a cha-cha record and the first caller to identify the name of the tune and the artist will win. Bear resolves to sit tight so that we won't miss the contest, but has to get up to help out when the kids in the Big Blue House call. Luckily, he manages to make it back in time for the contest and succeeds in being the first caller and identifying the record. He wins a trip for himself and everyone in the house to Sequoia City. Tutter overhears him celebrating, but only hears a little of it --- he hears Bear saying that he needs a vacation and thinks that he's upset. He and the rest of the kids decide to put together a special celebration for Bear to show him how much he's appreciated. Songs It's Great to Be a Bear Thank You, Bear Notes The episode title appears in some listings without a comma and sometimes with an exclamation mark.
1 votes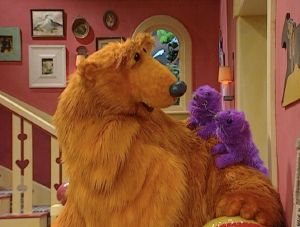 #10 - Let It Go
Season 4 - Episode 25 - Aired Apr 28, 2006
When Bear visits the kitchen for a glass of water, he finds Pip and Pop wanting one as well. They make a dash with the water for the Otter Pond, saying that they have a "serious situation." They tell Bear that they're worried the Otter Pond is going to dry out and Woodland Valley will turn into a desert. Bear offers them reassurance and then seeks to find out the origin of this rumor. It turns out to have come from a rather surprising source. Later, when rain finally does come in the form of a storm, both Bear and Shadow do their best to assuage the kids' worries. Songs Come on In You Got to Let It Go Shadow Is Here No Harm (Alternate Version)
2 votes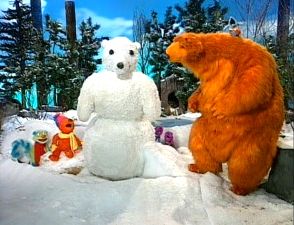 #11 - A Winter's Nap
Season 1 - Episode 17 - Aired Nov 11, 1997
On a cold winter day, Bear puts on his nightcap and decides to take a nice winter's nap. However, it would seem that others in the Big Blue House have other plans for Bear. Ojo comes to Bear in alarm --- concerned about the sudden disappearance of her duck friends from the Otter Pond. Bear makes her a cup of cocoa and tells her about migration. Treelo takes Bear outside, telling him there's feathers falling from the sky. Bear introduces him to the delights of snow. Bear finally settles down for the nap, but is woken up by Pip and Pop. They take him outside, where all the kids have a special surprise for him. Tutter's been trying to take a nap too, but with all the noise, he finds himself just as awake as Bear. In the Shadow segment, Shadow tries to help Bear get to sleep. She sings "Rockabye Baby." Songs In the Middle of Winter Notes In this episode, Ojo talks about her duck friends out at the Otter Pond. Duck characters were first seen on the program in the third season, with the introduction of Harry and his Mom in "Lost and Found."
3 votes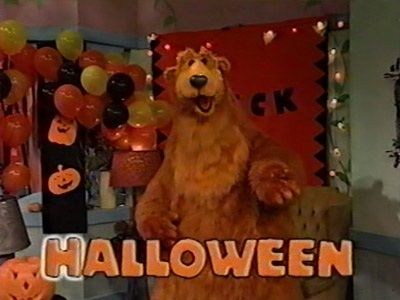 #12 - Halloween Bear
Season 3 - Episode 5 - Aired Oct 21, 1999
It's Halloween at the Big Blue House. The house is all decorated and everyone is getting ready. Bear helps his friends to find costumes and helps Tutter with carving a pumpkin. He always helps out Treelo when he's scared by Ojo's bat costume. Later, everyone gets together for some fun trick-or-treating. The kids have all picked out their Halloween costumes, but Bear hasn't been able to find anything to dress up as. The kids go through Bear's box of costumes and come up with an amusing idea. In the Shadow segment, Shadow performs the song "What Do Shadows Do for Halloween?" Songs What Are You Gonna Be for Halloween? What Do Shadows Do for Halloween? Trick or Treat Notes Throughout the special, a couple of pumpkins slide across the screen as a scene changer and sing the first couple of lines of the "Trick or Treat" song --- "We're going trick-or-treating / We'll shout a scary greeting." In this episode, Treelo is scared of Ojo when he believes her to be an "icky" bat. Later on in the season, though, Treelo introduces all the kids to his bat friend, Benny, in "Bats are People Too" and they learn that bats are nothing to be afraid of. Apparently, Treelo met Benny in-between the events of this episode and that episode, or else he should not be afraid of someone dressed as a bat.
3 votes
#13 - A Wagon of a Different Color
Season 1 - Episode 11 - Aired Nov 3, 1997
After Bear finds coupons for the market, he decides to take everyone in the Big Blue House to the market. He runs into an unexpected delay when he finds out that Ojo has decided to repaint the wagon. Bear teaches her all about mixing paint to create different colors, Treelo admires all of his own colors in the mirror, and Bear plays fashion consultant when Tutter can't decide what color outfit would be best to wear to the market. Songs What's in the Mail Today? Some of the Colors I See Notes The events of this episode were loosely adapted as the book Bear Loves Colors! Tutter shows off his tendency to shout out names of cheeses as if they were epithets in this episode. He shouts out the names of no less than three different cheeses (cheddar chunks, brie and gorgonzola) when he gets upset over being unable to decide what to wear to the market.
7 votes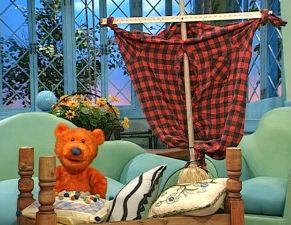 #14 - Water, Water Everywhere
Season 1 - Episode 2 - Aired Oct 20, 1997
Bear and his friends are interacting with water in this episode --- be it real or imaginary. Ojo, for example, is pretending to sail a ship in the living room. Pip and Pop join her in the fun. Bear contemplates some questions of his about water --- just what shape it is and why it's so wet. He finds Tutter in the kitchen trying to get some water of his own. He's trying to build something to make his way to the sink, but Bear helps him by giving him a lift. Bear also finds Treelo in the bathtub playing with bubbles. When the bubbles start to overflow, Bear has him pull the plug, but he's worried he'll go down the drain. Bear assures him that the drain is only for water (and bubbles). In the Shadow segment, Shadow tells the story of "The Itsy Bitsy Spider". Songs ■Oh, Water, Water, Water ■Need a Little Help Today Notes ■This episode includes a brief segment in which real kids talk about some of the shapes that water takes on. These include raindrops, drops from a sprinkler and waves. ■Tutter uses various boxes in his attempt to construct something to help him reach the faucet. Some of the boxes being used are Kellogg's Frosted Flakes, Apple Jacks, Froot Loops, and Nabisco's Ritz Bits. The letters of the brand's name on the boxes are somewhat obscured to prevent Trademark and Copyright Information.
6 votes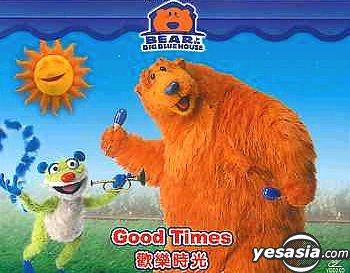 #15 - Good Times
Season 2 - Episode 5 - Aired Jan 9, 1998
Today, everybody wants time with Bear, and he gets the big idea to make a schedule that will accommodate everyone's wishes. Everyone's happy with this arrangement except for Treelo, who's having a hard time waiting for sunset time, his scheduled time with Bear. He even goes as far as to change the clock to make his time come faster! Eventually, Treelo sees the sun - Bear's good friend, Ray V set...right at the end of the day, at the right time.
26 votes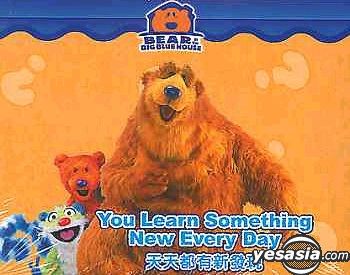 #16 - You Learn Something New Every Day
Season 2 - Episode 6 - Aired Jan 12, 1998
Bear gets a notice in the mail that he¡¦s just received a free mambo lesson! Everyone is inspired by the subject of learning, including Ojo, who plays make-believe school with Treelo, Snow and Rock Bay. And everybody¡¦s extra excited to learn the mambo with Bear when the instructor turns out to be Grandma Flutter!
2 votes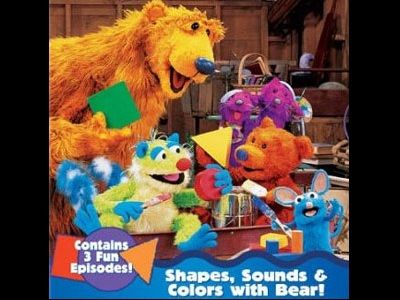 #17 - Shape of a Bear
Season 1 - Episode 4 - Aired Oct 23, 1997
Tutter is excited because Bear has promised to bring him a box, but he's getting a bit impatient at the wait. Viewers learn that the box is a rectangle and that there are shapes all around. They also find out that everyone has their own unique shape --- something that Ojo, Pip and Pop learn when they become shape explorers. Treelo also learns about shapes when Bear plays with him in a "tent" he made out of a bedsheet. Shadow also pays Bear a visit and tells a story of a very special shape --- a star. Songs ■Me, I'm the Shape of the Bear (and Reprise) ■Twinkle Twinkle Little Star Notes ■When Ojo is playing with her blocks, she sings "Heigh-ho. Heigh-ho. I love my blocks, you know." This is a play on "Heigh-ho. Heigh-ho. It's off to work we go" --- lyrics from the song "Heigh-Ho" in Disney's Snow White and the Seven Dwarfs. ■The Bear-only version of the song in this episode is Track 18 on the album Songs from Jim Henson's Bear in the Big Blue House. On the album it is titled simply "Shape of a Bear," but on the credits at the end of the episode, it is listed as "Me, I'm the Shape of the Bear."
8 votes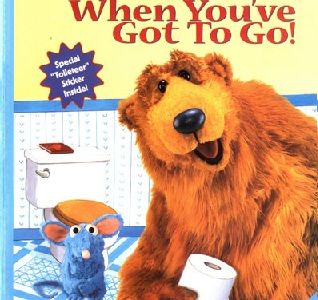 #18 - When You've Got To Go...
Season 2 - Episode 39 - Aired Feb 26, 1998
Bear and Tutter are trying to have a fun game of checkers, while Ojo and Treelo are having their own fun playing. For some reason, though, everyone seems to be talking about the toilet and the bathroom. It all starts when Tutter needs to use the toilet during his game of checkers with Bear, but doesn't want to leave the checkers game. Bear assures him it will still be waiting for him. Tutter uses the bathroom and then washes his hands, stating that his Grandma Flutter taught him to. Later, Ojo has an accident and is very embarrassed, but Bear lets her know it's okay --- accidents can happen to anyone. When Pip and Pop hear about the day's events, they invite everyone to join their secret club --- The Mystic Order of the Toileteers. It's for everyone who uses, or is going to use the potty. In the Shadow segment, Shadow introduces a song with some new twists on the phrases "party party" and "potty training." Songs Potty Chair Potty Potty The Toileteers Notes This episode was adapted in book form as When You've Got To Go! The Toileteers is a parody of Disney's Mouseketeers.
2 votes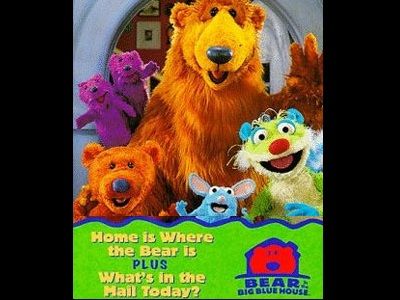 #19 - Home is Where the Bear Is
Season 1 - Episode 1 - Aired Oct 20, 1997
Bear tours his new home with his pals. One morning, Bear finds Ojo playing pretend, having created a tent that's she's pretending is her home. Her imaginary home gets him thinking about his real home, the Big Blue House. He decides to take us all on a guided tour of the home. He takes us to the kitchen, which we learn is Tutter's favorite room. The bathroom is the favorite haunt of Pip and Pop. Treelo likes Bear's bedroom, mainly because of the bed. Shadow retells the story of the little old lady who lived in a shoe. Finally, Bear also enjoys going up to the attic, because he gets to talk there each night with his friend Luna, the moon. Songs ■(It's) Great to Be at Home ■No Place Like My Bedroom Notes ■Pip and Pop perform their short bath song to the tune of the classic opera song La donna è mobile. ■This being the first episode, Bear's asking of Luna if she'll sing the "Goodbye Song" is a bit different than other episodes. He asks her if she'll sing a goodbye song with him, rather than the "Goodbye Song." A subtle difference in phrasing to note that this is a routine that is being established. ■This episode, as the premiere, features the first use of the opening theme, "Welcome to the Blue House" and the "Goodbye Song." There are also two other original songs "(It's) Great to Be at Home" and "No Place Like My Bedroom." The first song is Track 11 on the album Songs from Jim Henson's Bear in the Big Blue House and is titled simply "Great to Be at Home" on that album. It is Track 4 on the first Playhouse Disney album and is titled "It's Great to Be at Home" on both that album and the closing credits for this episode. ■This episode includes a brief real-kids segment in which kids talk about their homes (or fantasize about them.)
22 votes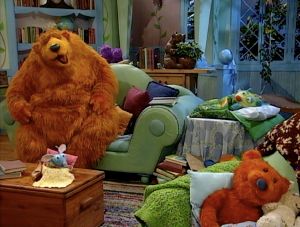 #20 - The Big Sleep
Season 2 - Episode 3 - Aired Jan 7, 1998
It's nighttime at the Big Blue House and Bear is all set to sit on his swing and read a good book. Then, Ojo shows up --- it turns out that there's a sleepover scheduled tonight that Bear completely forgot about. Before he knows it, Tutter, Ojo, Treelo, Pip and Pop are all there and ready for the big sleepover, despite his protests that they're not ready. He tries to settle back down to his book, but there's a lot to do during a sleepover. He prepares the kids a snack, reads them a story and supervises as they all brush their teeth. Finally, everyone is ready to go to bed, after some final, special good-night touches. Ojo has difficulty getting to sleep, but eventually dozes, only to be awakened by a bad dream. Bear soothes her back to sleep and then finds Shadow. Shadow sings her own special version of the lullaby "Hush, Little Baby." Songs ■Under Your Blanket ■Brush Brush Bree ■Go to Bed, Sleepy Head Notes ■The title of this episode is a reference to Raymond Chandler's 1939 novel The Big Sleep. In the novel, the phrase refers to death, not sleep itself. ■Tutter holds a sleepover of his own in the fourth season episode "Tutter's First Big Sleepover Bash."
30 votes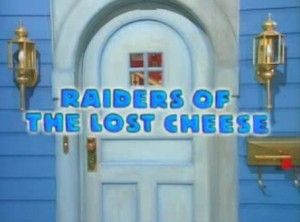 #21 - Raiders of the Lost Cheese
Season 2 - Episode 2 - Aired Jan 6, 1998
Bear opens the door and greets the viewers, saying he was wondering when we were going to get here. He invites us to come in the Big Blue House. He starts to say that he was on the way to the kitchen, but then stops and sniffs, asking if we were just outside in the backyard, because we smell "all fresh and grassy." He suggests that maybe it's just that we smell this good all the time and then heads into the kitchen, where he has something he wants to show us. It turns out to be a microscope... Notes ■This episode was adapted in storybook form as a book by the same name. ■During the song, "Let's Go Exploring", puppets from The Animal Show (including Randall the Zebra and Julie the Flamingo) appear. ■The dog in the Shadow Projects logo in the closing credits quacks like a duck.
27 votes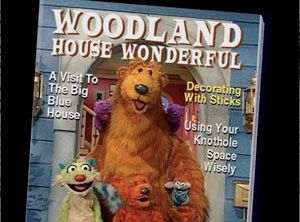 #22 - Woodland House Wonderful
Season 3 - Episode 8 - Aired Oct 27, 1999
Despite something of a mess in the living room of the Big Blue House, Bear is prepared for a relaxing day. He settles down for some relaxing music listening, but then receives a phone call. It's Ms. Henrietta Vanderpeen, informing him that the Big Blue House has been selected as the House of the Month for Woodland House Wonderful. Bear is excited, but worries about the state of the house. He tells the kids the exciting news, but finds out from them that there's even more cleaning to do than he thought. Everybody pitches in to get ready by cleaning the house, taking a bath, and brushing their teeth. Songs Clean Up the House Everybody in the Tub Brush Brush Bree
1 votes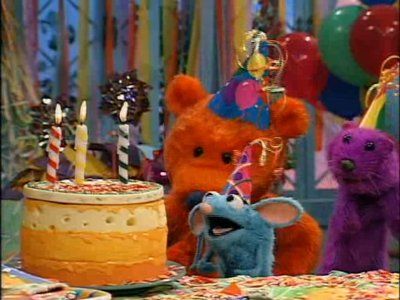 #23 - Mouse Party
Season 1 - Episode 3 - Aired Oct 22, 1997
Today is Tutter's birthday, and the friends in the Big Blue House decide to throw him a special surprise birthday party. Pip and Pop are placed in charge of the decorations, but run into trouble with the balloons. All the noise attracts Tutter, but Bear manages to head him off with our help. Tutter learns that having a birthday means becoming a year older. He speculates on all the great things he'll be able to do while he's older. Ojo works on the cake and Treelo wraps Tutter's present. Treelo, though, gets so excited about the birthday that at first he wants to keep the present for himself. Songs ■When I'm Older ■Happy, Happy Birthday Notes ■A big deal is made about Tutter's present in this episode, but viewers never find out what it is. ■Luna is so old that she doesn't remember when her birthday is. ■Shadow does not appear in this episode. The time normally spent on her story is taken up by Tutter's birthday party. ■The events of this episode were the basis for the stage show Bear in the Big Blue House Live: Surprise Party. This stage show no longer tours, but is available on video. ■The "Happy, Happy Birthday" song is listed as simply "The Birthday Song" in the closing credits. Additionally, the closing credits run longer than usual.
0 votes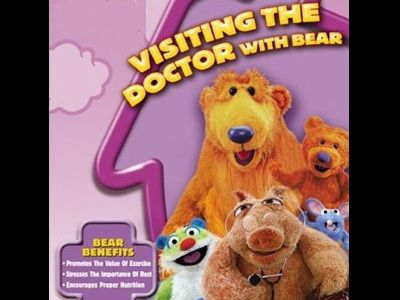 #24 - Picture of Health
Season 1 - Episode 5 - Aired Oct 24, 1997
While Bear gets ready for his Woodland Workout with Pip and Pop, he stops at Ojo and Treelo playing doctor. Tutter is trying to put his cheese in his mouse-hole and Bear tells Tutter to have quiet time. Except Pip and Pop did the workout without him. Bear is excited and ready to do his Woodland Workout at the Otter Pond. When he heads into the living room, he finds Ojo and Tutter, who give him a pretend checkup. They diagnose him with "big bear-itis," but give him just the right medicine to feel better. As he heads into the kitchen to leave the Big Blue House, he comes upon Tutter, grunting and groaning. He discovers that Tutter is tired from trying store cheese in his mousehole for the winter and advises him to take "quiet time." Reluctant at first, Tutter eventually takes the advice. When Bear learns that Pip and Pop went ahead with the workout themselves due to his lateness, he ends up taking some quiet time himself. In the Shadow segment, Shadow retells the story of the five little monkeys jumping on the bed. Songs ■Picture of Health ■Quiet Time and Reprise ■The Bear Cha-Cha-Cha
0 votes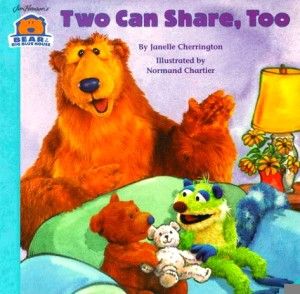 #25 - Share Bear
Season 1 - Episode 6 - Aired Oct 27, 1997
On a nice day at the Big Blue House, Bear is doing some gardening and friends are playing together quietly. At least, they were, until Ojo and Treelo have a disagreement when Treelo wants to play with Ojo's favorite stuffed toy Snow Bear. Bear suggests a way they could both play together. Meanwhile, Tutter has created a large sandwich and Pip and Pop want to have some. Tutter, however, thinks that he can eat it all himself. In the Shadow segment, Shadow retells the story of Baa Baa Black Sheep. Songs * Always Something to Share * Clean Up the House Notes * This episode was adapted in book form as Two Can Share, Too. * The closing credits run unusually long. At the end of the closing credits, the dog in the Shadow Projects logo quacks like a duck. * This episode includes a brief Real Kids segment in which some kids talk about things that they share. * It is revealed that Bear had his own Snow Bear when he was a kid.
0 votes