The Wire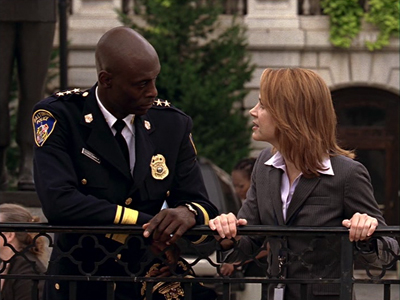 #1 - -30- 8.95
Season 5 - Episode 10
"...the life of kings." - H.L. Mencken Carcetti maps out a damage-control scenario with the police brass in the wake of a startling revelation from Pearlman and Daniels, their choices are either to clean up the mess, or hide the dirt; McNulty, with his leads predictably drying up, asks Landsman to pull police off the homeless case, until a fresh homicide ramps up the investigation; a frustrated Haynes finds his concerns about Templeton falling on increasingly deaf ears; Levy, convinced he has the upper hand, but caught in a legal quandary, plays a cat-and-mouse game with Pearlman; Bubbles debates whether to greenlight a newspaper story about his life; Dukie seeks out an old mentor for a loan; Marlo oversees a new Co-Op order as he maps out his next move; as the officers stage an Irish wake for another dearly departed officer, the seeds of the future are sown throughout Baltimore.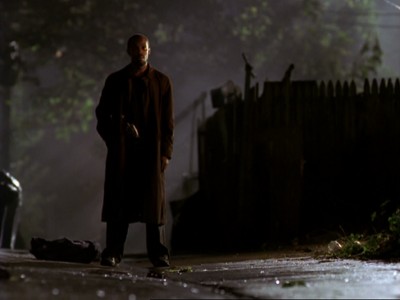 #2 - Middle Ground 8.67
Season 3 - Episode 11
"We don't need to dream no more." -- Stringer Bell The wire begins to yield information about the Barksdale organization, though finding links to the top proves elusive. Stringer and Avon reminisce on how far they've come, with each harboring plans for the future. Tipped by Burrell, Carcetti sees Hamsterdam for himself and weighs the benefits against the political reality--an assessment that mirrors Mayor Royce's own struggle with his advisers. Cutty hits upon an unusual benefactor for his boxing gym and continues to reach out to the corner boys. McNulty and D'Agostino find each other again, while at work, McNulty finds the way to a key piece of the puzzle in an unlikely place. Awaiting his fate, Colvin works behind the scenes to shape the outcome of Hamsterdam, while protecting his men from possible repercussions. With Johnny in the wind, Bubbles considers a new partner, while Omar and Brother Mouzone encounter each other suddenly.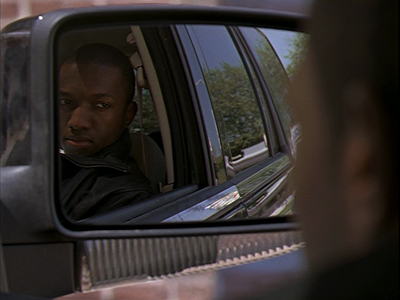 #3 - Final Grades 8.60
Season 4 - Episode 13
"If animal trapped call 410-844-6286" - Baltimore, traditional Burrell tries to help Daniels. Bubbles' big plan backfires and leaves him in big trouble. Colvin tries to find a solution for Namond while Omar makes new plans. McNulty tries to pay back his debt.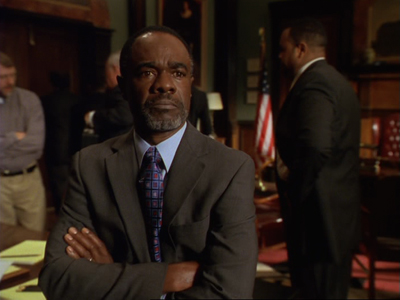 #4 - Mission Accomplished 8.50
Season 3 - Episode 12
"...we fight on the lie." -- Slim Charles A reticent Avon readies his troops for a seemingly endless war against Marlo. Meanwhile, as the detail works towards the top rungs of the Barksdale organization, McNulty reassesses his pursuit of Stringer Bell and the path he's chosen for himself. While Royce continues to grapple with Hamsterdam, Burrell offers a deal to minimize the fallout, even as Colvin's idea becomes public knowledge. Carcetti's ambition becomes obvious to his friend and fellow councilman Tony Gray, even as Gray has disclosed his own political plans. Cutty struggles to keep his young boxers off the corners, as he and Fruit cross paths once again. Bubbles offers his view of the world, both as it is and once was.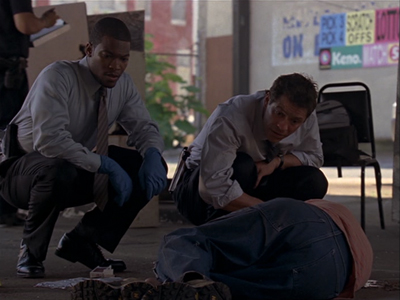 #5 - Late Editions 8.48
Season 5 - Episode 9
"Deserve got nuthin' to do with it." - Snoop With Carcetti's Chief of Staff Michael Steintorf ordering Rawls to initiate "creative" remedies for the rising crime rate, Freamon's vigilance pays off with a promising lead, sending Sydnor and the department into overdrive; although Daniels is originally delighted, a further probe with Pearlman reveals some troubling source information; McNulty, feeling betrayed, doesn't feel like sharing in Freamon's celebration; Michael is suspicious about his latest assignment; Haynes gets fresh eyes to help with fact-checking; Namond's debating skills make Colvin proud; Davis points a finger at Levy and the courts; and Bubbles recounts a recent temptation overcome.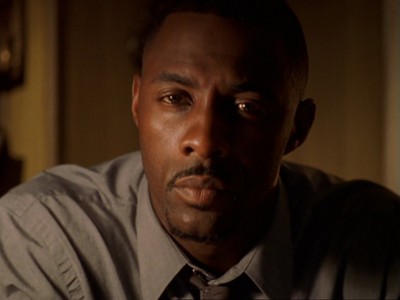 #6 - Sentencing 8.46
Season 1 - Episode 13
"all in the game..." -- Traditional West Baltimore In the season finale, Greggs finds the strength to finger "Little Man" as one of the men who shot her. Daniels and McNulty go to the feds with crushing evidence about some Baltimore politicians tied to Barksdale, thinking they finally have him. However, the Feds only want the politiicans and not Barksdale. D'Angelo can't swing a deal, and cops to a possession charge and 20 years hard time after a talk with his mother.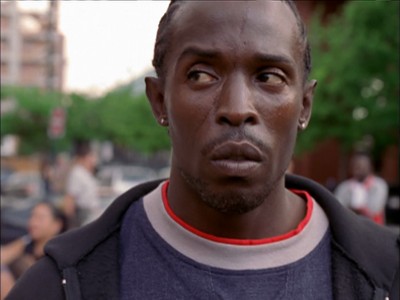 #7 - The Cost 8.42
Season 1 - Episode 10
"And then he dropped the bracelets..." -- Greggs After being clean for three days straight, Bubbles gets some strong advice from another former addict named Walon. He also gets a promise of extra help from Detective Greggs. When Omar's murder attempt on Avon Barksdale fails, Stringer lays down some new laws for the Barksdale crew. There will be no phone use, no more money runs, a new pager number and anyone that needs to talk to Avon has to go through Stringer first. They also send a word to Omar that a truce will be offered to him. As the team goes through their setup of one of Barksdale's people, one of the officers gets shot.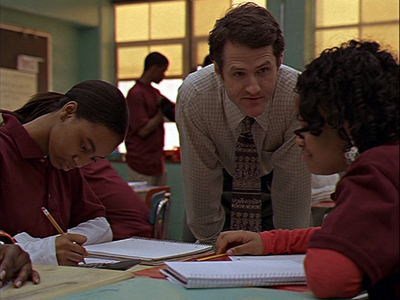 #8 - A New Day 8.40
Season 4 - Episode 11
"You play in dirt, you get dirty." - McNulty Randy has trouble with his friends at school, while Carcetti faces a huge dilemma. Meanwhile, Omar visits Proposition Joe, while Freamon reveals a secret.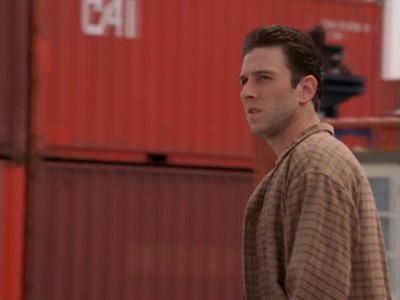 #9 - Port in a Storm 8.39
Season 2 - Episode 12
"Business. Always business." -- The Greek The detail has a setback. Russell and Bunk revisit Philly, looking for evidence. Brother Mouzone talks with Stringer Bell regarding their agreement, leaving Bell to contend with Avon Barksdale. McNulty and Greggs return to the Westside, where they discover new connections. Herc and Carver feel disrespected by fellow officers. Nick tries come to terms with the Greeks, and himself.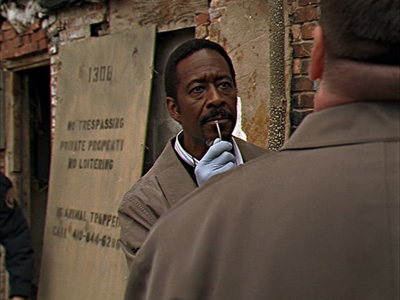 #10 - That's Got His Own 8.34
Season 4 - Episode 12
"That all there is to it?" - Bubbles While searching for the missing bodies, Freamon goes around the chain of command after being rebuked by Landsman. Carcetti finds that his promises of raises could be undermined by the school debt, forcing him to consider groveling before the Governor for money to pay it off. Colvin tries to keep his experimental class funded. Bubbles considers taking extreme measures to get rid of the man who continues to steal from him. Prez is concerned about Dukie's academic promotion. Omar orchestrates another big sting while Namond and Cutty get a first-hand taste of the "new" Michael. Carver's promise to look out for Randy ends up looking empty.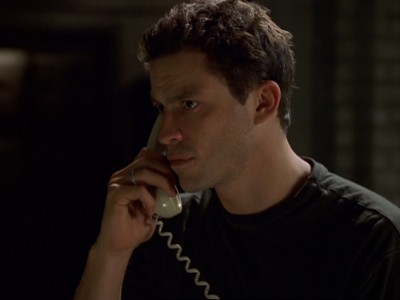 #11 - The Hunt 8.33
Season 1 - Episode 11
"Dope on the damn table." -- Daniels While Greggs' life hangs in the balance, the officers deals with the shock in many different ways. Herc, Carver, and Syndor get back on the case after Freamon puts the incident into perspective. After seeing McNulty close to the breaking point, Rawls instructs him not to have any guilty over Gregg's shooting because he's not the one responsible. Daniels is ordered by the Deputy Commissioner to raid all the locations to appease the Commissioner's desire for "dope on the table."
#12 - Bad Dreams 8.32
Season 2 - Episode 11
"I need to get clean" -- Sobotka FBI agent Fitzhugh's report detailing Sobotka's plan to flip the next morning in exchange for leniency for Ziggy and Nick reaches FBI agent Koutris, who again tips The Greek to the imminent danger. As Sobotka makes his way to the lonely spot under the Key Bridge for his meeting with Vondas, the FBI agent Koutris sends a message to The Greek and warns him of Sobotka's intention to tell the police what he knows. With Sobotka in sight, The Greek tells Vondas that the union leader must not leave their meeting alive.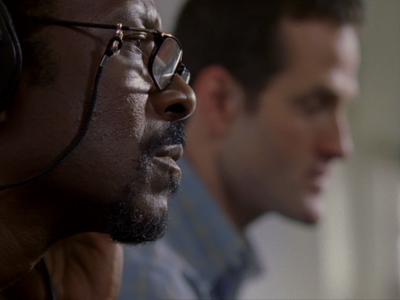 #13 - Cleaning Up 8.28
Season 1 - Episode 12
"This is me, yo, right here." -- Wallace After the Barksdale's supply gets confiscated in another bust, Stringer gives more new rules to the crew. Avon and Stringer meet with Levy to discuss the next steps, which include the elimination of any and all persons that can connect Barksdale to the drugs. Wallace goes back to the pit and asks to be let back in but Stringer has another plan for Wallace. Stringer then asks Bodie to take Wallace's old job.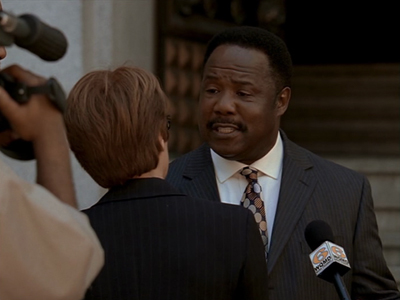 #14 - Transitions 8.27
Season 5 - Episode 4
"Buyer's market out there." - Templeton Campbell tries to smooth out the transitions in the police department; The Baltimore Sun scrambles to confirm surprising news from City Hall, but lose out to the TV media in scooping a high-profile grand jury appearance; Marlo tries to win favor with the Greeks, whilst Proposition Joe pays his last respects to a fallen colleague and prepares to make himself scarce in anticipation of a showdown; Freamon enlists the help of a past partner to help with the investigation.
#15 - Clarifications 8.25
Season 5 - Episode 8
"A lie ain't a side of a story. It's just a lie." - Terry Hanning A shift in the police department sends Carver to a new location. Meanwhile, Carcetti is forced to put his political future in jeopardy, Haynes digs deeper into Templeton's work, and an important case has a breakthrough by Sydnor, while Fletcher continues working with Bubbles.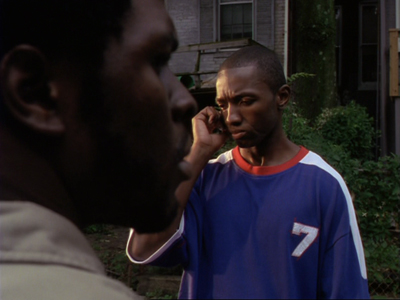 #16 - Moral Midgetry 8.22
Season 3 - Episode 8
"Crawl, walk, and then run." -- Clay Davis With Hamsterdam running full tilt, Carver and Truck discover there really is no honor among thieves. Prez impresses the detail with what he's found out from Bodie's cell phone, information that sends McNulty and Greggs on a road trip. Colvin sees the benefits of his plan working, but has overlooked the human toll, until the Deacon points out the deficiencies. Stringer Bell fumes over the cost of being a developer, as state Senator Clay Davis attempts to cool him off with some easy money, and then, delivers on his promise of a federal housing connect. Carcetti confronts a hurdle he must clear if he wants to run for higher office, while Marlo appears to take the bait set by the Barksdale crew. Cutty is shown the possibilities for the future with a tour of a working gym, while the Western District cops tip a few, and weigh the merits of Hamsterdam and their loyalty to their commander. Brianna and McNulty sit down for a heart-to-heart, while Avon dispatches the troops to track Omar and wrestles with a revelation by Stringer.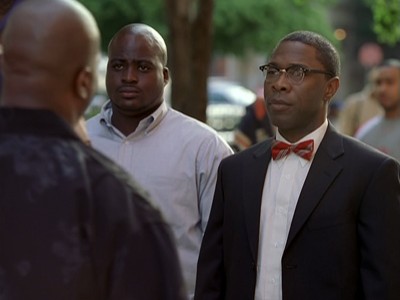 #17 - Storm Warnings 8.20
Season 2 - Episode 10
"It pays to go with the union card every time." -- Ziggy The detail uses satellite technology to its advantage. Bodie is unhappy that Proposition Joe's people are slinging on his turf, but business flows anyway. Valchek visits the FBI in an attempt on getting real results on the docks. Ziggy's deal goes bad with Double G in a big way, Greggs considers motherhood and Prez makes a major blunder.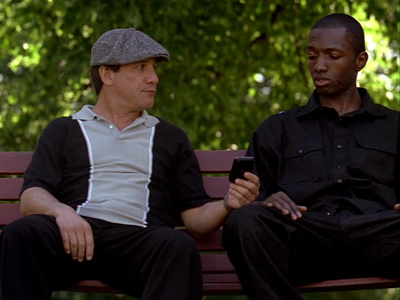 #18 - React Quotes 8.20
Season 5 - Episode 5
"Just because they're in the street doesn't mean they lack opinions." - Haynes Marlo forges an alliance with a drug connect, who shows him a new communications trick; McNulty's case gets increased attention from the newspaper, in large part thanks to the addition of Templeton to the reporting team; Dukie turns to Dennis "Cutty" Wise and Michael to hone his pitiful self-defense skills; Clay Davis finds a new ally; State's Attorney Rupert Bond raises his public profile; Maurice Levy and Herc prepare for litigation; Elena confronts her ex-husband about his behavior; Bubbles has fears about new opportunities; Greggs gets some overtime work; Omar shows patience as Marlo throws out his bait.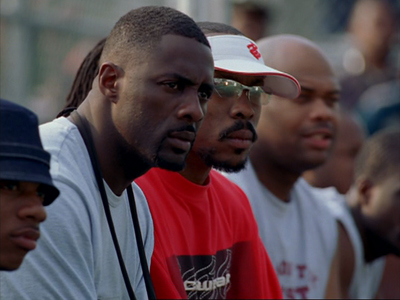 #19 - Game Day 8.17
Season 1 - Episode 9
"Maybe we won." - Herc Freamon gets Syndor and Prez started on the Barksdale money trail. They discover the usual ties to dummy companies, but they also find large sums of political contributions. Herc and Carver bust Wee-Bey holding $22.000 but only $15,000 is reported. Lieutenant Daniels discovers the discrepancy and orders them to find the money before the morning roll call. Omar's mission takes him to Proposition Joe where he promptly offers another recently stolen Barksdale stash to Joe in exchange for Avon's pager number.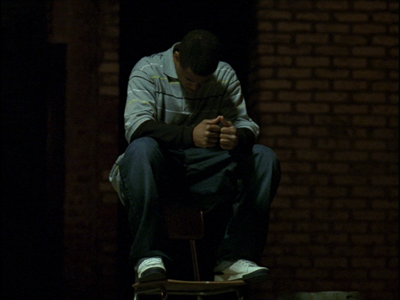 #20 - Not For Attribution 8.17
Season 5 - Episode 3
"They're dead where it doesn't count." - Fletcher Mayor Carcetti's master plan for the police department is leaked to the press, sending the brass into a panic; Marlo turns to Proposition Joe for help with an enviable problem; executive editor Whiting and managing editor Thomas Klebanow drop a bombshell on the newspaper staff; Michael finds temporary respite from his life on the corner by taking Dukie and Bug on a trip; McNulty shares some inside info with Gutierrez, but her subsequent story doesn't cause the splash either envisioned; McNulty, undaunted, looks for a new ally in Freamon.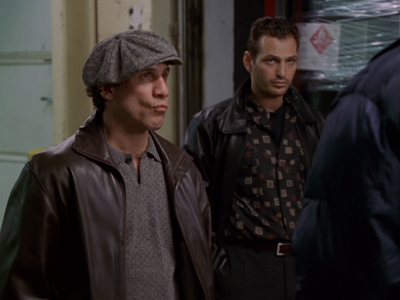 #21 - All Prologue 8.16
Season 2 - Episode 6
"It don't matter that some fool say he different..." -- D'Angelo The detail continues to look for the source of the union's money; Omar hands Levy his hat and Nathan a win when he gets on the stand; Nick seeks Vondas's juice in resolving Ziggy's problem with Cheese; abandoning the search for his floater's I.D., McNulty courts Elena, hoping for a reconciliation; Greggs gets a direction on the Russian pross ring from Shardene, and a jealous Cheryl accompanies her and Prez on a field trip to the clubs to follow up Shardene's lead; after spending hours poring over the port's database, Russell finds the pattern they're looking for, but Daniels is still reluctant to pick up those fourteen names in red; Nick gets Vondas his chemicals and agrees to accept half his payment in cash and half in heroin; Stringer's out-sourcing a highly clandestine solution to the problem of Dee's distancing himself from the family and its business has tragic consequences.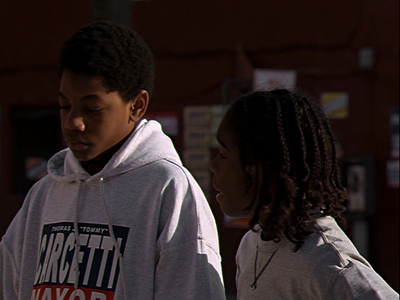 #22 - Margin of Error 8.13
Season 4 - Episode 6
"Don't try this shit at home." - Norman Wilson Carcetti responds to a campaign smear. Randy is accused of a serious transgression. Colvin's special class gets its first enlistees.
#23 - Took 8.11
Season 5 - Episode 7
"They don't teach it in law school." - Pearlman After cooking up another scheme for the homeless case, McNulty and Lester become popular figures. Davis is set for his day in court by collecting the best legal assistance money can buy. Plus, Michael has brushes with the wrong side of the law, while Gus seeks help for an old story by going outside the Sun.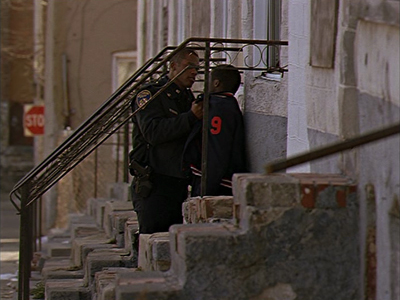 #24 - Misgivings 8.11
Season 4 - Episode 10
"World goin' one way, people another." -Poot Walker catches Donut boosting cars and teaches him a lesson; Commissioner Burrell gets advice from Senator Davis; Little Kevin has a talk with Marlo and regrets it; Herc ignores Bubbles call and regrets it; the Area Superintendent questions the success of Colvin and Parenti's project class; Senator Davis attempts to con Carcetti; Carver arrests Namond but keeps him out of baby booking; Burrell has the police force juke the numbers with street sweeps; Marlo puts the word out that Randy is a snitch; Elena sees McNulty as a grown up; Chris Partlow and Snoop target Bug's father for Michael.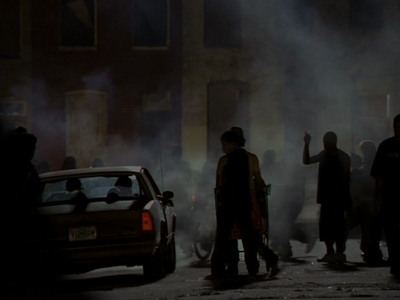 #25 - Back Burners 8.11
Season 3 - Episode 7
"Conscience do cost." -- Butchie Herc discovers a blast from his past which he later reveals to his colleagues. Daniels becomes enraged when he finds out that why his detail was reassigned. Stringer Bell finds out from old girlfriend Donette that Brianna might contact McNulty about details into her son D'Angelo's death. Greggs and Cheryl are forced to confront their relationship. Colvin is forced to explain Hamsterdam to members of Daniel's detail after an incident occurs in the area. Freamon finds a way to use a cell phone to find out more about Barksdale's corporation.