Dexter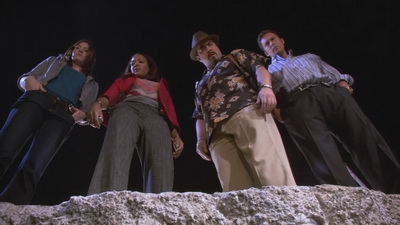 #1 - The Getaway 9.00
Season 4 - Episode 12
Dexter and Arthur find themselves on a collision course, as Debra unearths a shocking long-hidden truth, Rita admits her marriage to Dexter is troubled, and Batista and LaGuerta face the consequences of an ethics breach.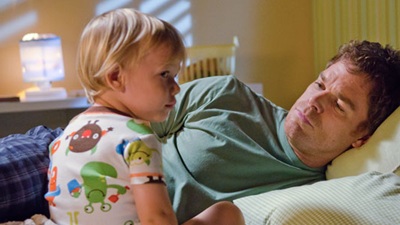 #2 - This is the Way the World Ends 8.89
Season 6 - Episode 12
In the season 6 finale, Dexter and Homicide race against a lunar eclipse to catch the Doomsday Killers before their final gruesome act; Debra struggles with a new emotional reality.
#3 - Are You...? 8.76
Season 7 - Episode 1
Deb tries to cover up involvement in Travis' murder; Detective Mike Anderson has an unfortunate run-in; Quinn and Batista make amends; LaGuerta rethinks the Bay Harbor Butcher case.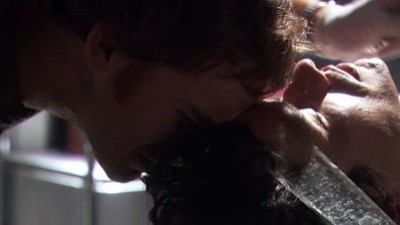 #4 - Born Free 8.73
Season 1 - Episode 12
Dexter follows clues left for him by the Ice-Truck Killer in an attempt to find the hostage. Paul tries to convince Rita that she and the children are not safe around Dexter.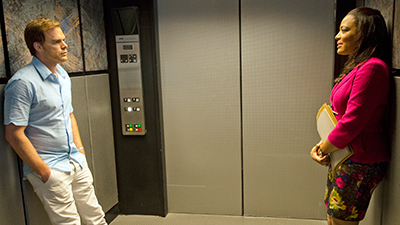 #5 - Surprise, Motherfucker! 8.72
Season 7 - Episode 12
Dexter must protect himself when LaGuerta closes in on his secret.
#6 - The British Invasion 8.66
Season 2 - Episode 12
The Task force believes the Bay Harbor Butcher case is closed, but Dexter still has some trouble to deal with.
#7 - Hello, Dexter Morgan 8.65
Season 4 - Episode 11
Miami Metro is just one step away from discovering the identity of the Trinity Killer. And Dexter can't let that happen. Dexter must take drastic action to buy himself time to deal with Trinity in his own fashion. Arthur, who still can't understand why Dexter didn't simply turn him in, begins his own bloody investigation into Kyle Butler.
#8 - Truth Be Told 8.52
Season 1 - Episode 11
The Ice Truck Killer puts Dexter in a life changing position when he takes someone close to Dexter hostage. Doakes begins to suspect that Dexter's odd behavior is something darker than he originally thought.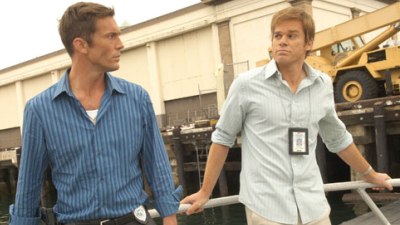 #9 - The Big One 8.51
Season 5 - Episode 12
Dexter's situation grows desperate when he discovers that Lumen's been set up. Despite knowing he's being baited into a trap, Dexter risks everything to make sure he doesn't fall into the same mistake again. In the Barrel Girls case, Debra lets her personal feelings lead her instincts once she concludes that vigilantes are more than just a theory. Quinn finds himself in a troublesome situation, which only Dexter can help him out of.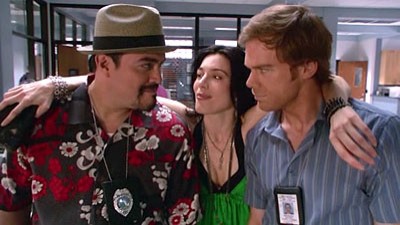 #10 - Resistance Is Futile 8.50
Season 2 - Episode 9
Dexter realizes it won't be easy to end things completely with Lila. Dexter tries to stay ahead of the investigations as the manhunt for the Bay Harbor Butcher intensifies. An enemy of Dexter figures out his secret.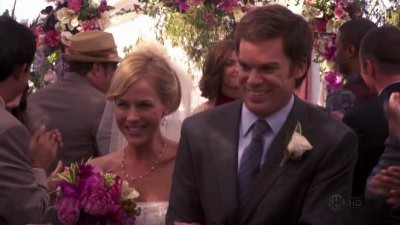 #11 - Do You Take Dexter Morgan? 8.47
Season 3 - Episode 12
It is the day before Dexter's wedding and Dexter must deal with two people targeting him, while preparing for his special occasion. Meanwhile, Angel tells Deb he's put her in for a promotion, but after he finds out some information her shield may be gone before she gets it.
#12 - Hungry Man 8.47
Season 4 - Episode 9
For most people, Thanksgiving is a time for traditions and family. But for Dexter, it's an opportunity to get closer to his most dangerous adversary yet. As Dexter gains insight into Arthur's psychology by studying those closest to him, he finds himself drawn into a bizarre and twisted world.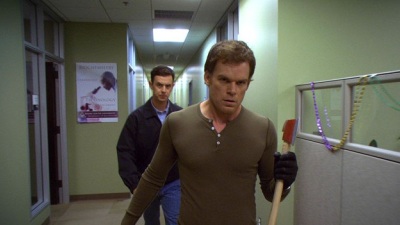 #13 - Get Gellar 8.47
Season 6 - Episode 9
Dexter receives help from an unexpected source while hunting the Doomsday Killers and staying one step ahead of Homicide; Debra discovers something new about herself in therapy.
#14 - A Horse of a Different Color 8.44
Season 6 - Episode 4
Much to his own surprise, an emergency with Harrison and a new tableau from Gellar and Travis has Dexter leaning on Brother Sam and an unexpected winged messenger for support as he questions the idea of faith; with proof of a religiously motivated killer, Homicide hunts for a zealot, with Debra giving her first official press conference.
#15 - Hop a Freighter 8.43
Season 5 - Episode 11
Dexter must do damage control; Debra's speculation begins to take shape; Quinn becomes involved in a homicide.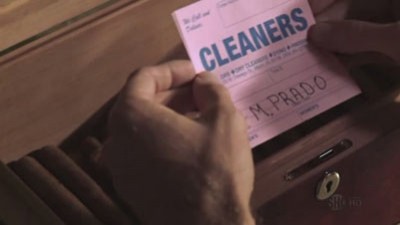 #16 - Go Your Own Way 8.42
Season 3 - Episode 10
A series of chess-like moves ensues when Dexter and Miguel vie for the upper hand, with Miguel winning Rita's affection by presenting her with a lavish wedding gift. Elsewhere, Debra wonders if her relationship with Anton is worth the trouble.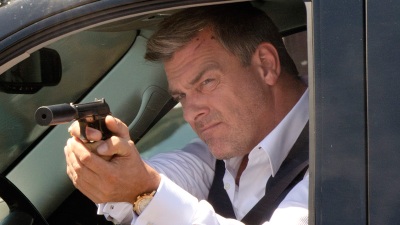 #17 - Argentina 8.42
Season 7 - Episode 8
Fresh out of jail, Isaak renews his pursuit of Dexter while Quinn continues his power struggle with the Koshkas. Dexter tries to keep Debra in the dark about his relationship with Hannah, but a surprise visit from Astor, Cody and Harrison throws a wrench into his plans.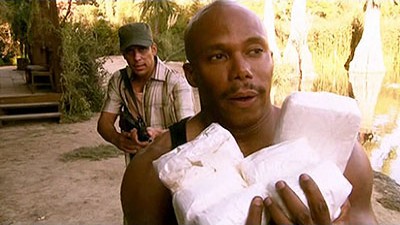 #18 - Left Turn Ahead 8.39
Season 2 - Episode 11
Dexter must make a massive decision that will have an effect on all those he holds close. Lila meanwhile is back with a secret to blackmail Dexter.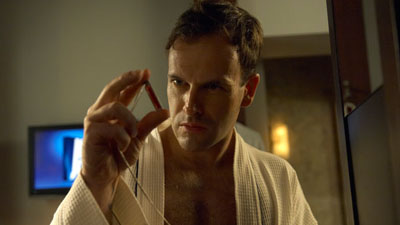 #19 - Teenage Wasteland 8.39
Season 5 - Episode 9
Dexter and Lumen hunt for their next victim; Debra uncovers new evidence in the Barrel Girl case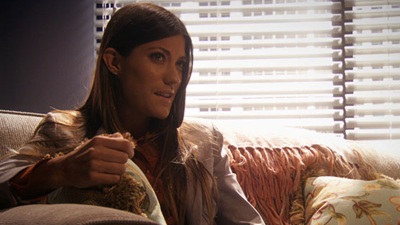 #20 - Talk to the Hand 8.38
Season 6 - Episode 11
Dexter finds that in order to catch the Doomsday Killers, he must create a macabre tableau of his own; Debra's battle with LaGuerta over the case of the dead call girl boils over, and her therapist makes an unnerving suggestion.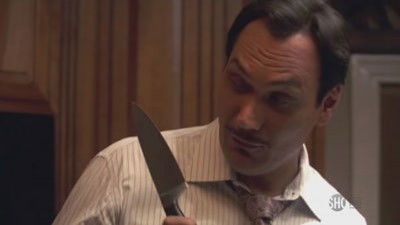 #21 - I Had a Dream 8.36
Season 3 - Episode 11
While preparing for his big wedding day, Dexter has to figure out a way to remove Miguel from his life for good. In the meantime, Rita has troubles of her own, when Syl reveals that Miguel has been seeing one of his old flames. Debra finds a new clue that brings her even closer to catching the Skinner.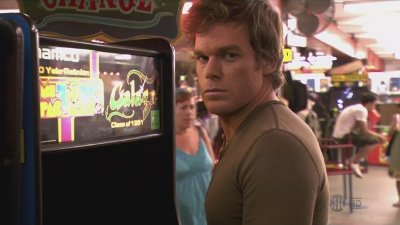 #22 - Lost Boys 8.36
Season 4 - Episode 10
Dexter finally believes he understands the beast known as Trinity. But when a ten-year old boy goes missing, Dexter is forced to question everything he's learned up to this point.
#23 - Morning Comes 8.36
Season 2 - Episode 8
Dexter is attacked by the man who murdered his mother. Meanwhile, Lila wants to get closer to Dex, and Debra and Lundy close in on the Bay Harbor Butcher.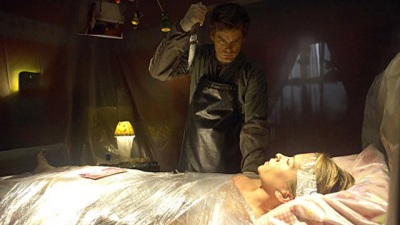 #24 - Dex Takes a Holiday 8.36
Season 4 - Episode 4
Dexter gets some much-needed R&R time with Rita and the kids out of town, leading to his stalking of a new victim until he unexpectedly begins to empathize with his target, a cop that murdered her family.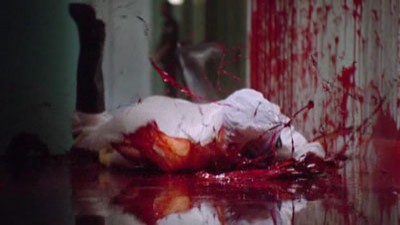 #25 - Seeing Red 8.36
Season 1 - Episode 10
The Ice Truck Killer is back. He leaves a crime scene that brings back some horrifying repressed memories for Dexter. Paul sues Rita for sole custody of Astor and Cody.