Tekzilla
#1 - Pat Back
Season 1 - Episode 6
$20 Headphones, Body Worlds 2, Jessica Loves TED, Replace your Motherboard Battery, New Cell Phones, Firefox Goes Guerrilla
#2 - We Want The Windows 8.1 Update!!! Dell Venue 8 Pro Review. SSD or Hybrid? Linux for XP Users, TwoFactorAuth.org, Plex For XBOX ONE, Router Tips!
Season 1 - Episode 499
Will the Windows 8.1 Update 1 deliver the desktop -and- a real start menu??? 3 Linux distros you can replace XP with. @G00fyGuy tweets, "I have a laptop with dead HD. Do you recommend replace with Hybrid HD?" We talk SSD vs. Hybrid drives! Viewer tips for speeding up your WiFi router! Find sites that have two factor authentication... this website also helps you demand it be added to the sites you use!
#3 - Blu-ray and HD DVD (that don't suck!) for $300
Season 1 - Episode 19
Blu-ray and HD DVD for $300. Physists say Cell Phone Ass Cancer (or brain cancer) is unlikely. Help buying a UPS. IrfanView rocks. Apple iPhone upgrade timing is mean.
#4 - CES 2008: 150 inch HDTV, XstreamHD, silent case fans, Bluetooth headsets
Season 1 - Episode 15
It's the biggest Consumer Electronics Event on planet Earth. CES. From oversized HDTVs to tiny Bluetooth headsets we look at all the gear that'll make it into stores. Plus some insight on the up and coming tech that'll make your electronics greener.
#5 - Macworld 2008, Macbook Air, Office 2008 for the Mac, Mozy, more CES!
Season 1 - Episode 16
Veronica Belmont co-hosts as we breakdown Macworld 2008. From the Macbook Air to Time Capsule to the Apple TV. Also, Displaylink's USB to DVI adapter, Mozy for backups, troubleshooting svhost.exe and more CES!
#6 - Rockband
Season 1 - Episode 10
Drobo vs. Terastation. How much will Blu-ray and HD DVD cost this year? Rock Band! Shelfari. Miro instead of iTunes. Fast Macbook Pro Fix. Should I buy Turbo Memory?
#7 - Mario
Season 1 - Episode 8
The simplest DIY media server. Ex Machina. Using the Xbox 360 HD DVD with your PC. Find Music: Songza and Songbird. Cheap Notebooks, Buying Online, is WiFi 802.11n done yet?
#8 - Kevin Rose is Here, Boost your Cellphone Signal, Custom Stencils, HDMI Switching
Season 1 - Episode 18
DIY Stencils, Cell Phone Boosters That Work, Pownce on the Desktop, 5 Things That Suck About the iPhone, Oppo's Low Cost HDMI Switch, Kevin Rose cohosts.... and did somebody say "Ass cancer?"
#9 - HD DVD is Dead: You can buy a Blu-ray player now.
Season 1 - Episode 21
Jeff Cannata from the Totally Rad Show, HD DVD is dead, $99 cell phone deals, LaserShield Instant Security has potential, free POP access for all your email, a free software for burning disks, network USB gadgets, AppleTV update.
#10 - Looj
Season 1 - Episode 13
OtterBox cases don't suck. Easy unlimited online backup: Carbonite. Persepolis. Lighting Help for Holiday Photos. Driftr. Novatel 727 EVDO Modem. iRobot Looj. Zune Correction.
#11 - 24 Inch LCD Monitor Recco, Veronica's IRC picks, Patrick Stops Hating on Vista!
Season 1 - Episode 30
Automate GPS Photo Data, Photoshop Disasters, Multitrack Recording Tools, Tech vs. Earthday. Your call on Joomla vs. Mambo. Avoid Blender (There's a free version of Softimage XSI), Eutectic Solder, Why Is My Hard Drive Smaller?
#12 - Computer Speakers, Free Illustrator Alternative, CompUSA RIP
Season 1 - Episode 23
Your picks: DVD Backup Tools. Inkscape: A free Illustrator Alternative. Computer Speakers That Sound Great. A Print Server that Works, Rock Band on the Wii, Ethernet and power-line Interference, CompUSA Stores Are Gone.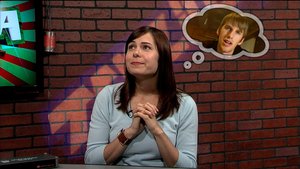 #13 - A Better Camera for YouTube. Win a Zune. Dual Boot XP and Vista. Baby Kills iPhone. Play DivX videos on your TV
Season 1 - Episode 33
Dual Boot XP and Vista: We have step by step instructions. You asked, we review the Popcorn Hour A-100 media player. Google Earth. Inside the Internet Archive. Drying wet electronics. Zune Giveaway: Your Questions from YouTube!
#14 - $1800 Keyboard, iTunes Alternatives, Fix HDTV Overscan, Make Windows Prettier!
Season 1 - Episode 38
Engadget's Ryan Block shows off the $1800 Optimus Maximus. Fix HDTV Overscan. Make Windows Prettier (and more functional) with Object Dock. Subscribe to video RSS feeds without iTunes. Can you cut your phone bill using VoIP over a cellphone?
#15 - PC Overheating. Save Your Drivers. Waterproof Anything!
Season 1 - Episode 42
Cleaning Electronics. 1.5 TB Hard Drives. Share your EVDO Internet connection. The best way to back up your drivers. Fix GPU Overheating. XBox 360 Updates! What -is- the point of Twitter?
#16 - We Install Linux, m.revision3.com, Find Lost Cameras
Season 1 - Episode 24
Installing Ubuntu Linux. Five Ways To Watch Our Video: Xbox 360 vs. AppleTV! m.revision3.com = Tekzilla on your cell phone, Find Lost Cameras, Complete HD adapter, AutoRuns and Macbook Hell
#17 - Graphics Cards: We've Got Your Answers! Don't Kill Your Battery. SMS From Any Computer.
Season 1 - Episode 41
Prevent Notebook Theft at College. ExtremeTech.com's Jason Cross answers your Graphics Cards questions. Answer Email Automatically. HoverIP. The Home of the Underdogs. Macbook Pro vs. Blu-ray.
#18 - Wii
Season 1 - Episode 12
80GB Zune: a Worthy iPod Competitor, Best Used Console Games, UPS = Safer Data, VodPod, Your Fave Podcast Tools: VodPod, Juice, TvTonic, MyPodder
#19 - Camera Tossing, Better Twitter, The Best Photo Printer, GPS Reccors
Season 1 - Episode 31
Toss your camera, make abstract art. (Or break it.) 1UP's Garnett Lee joins us to talk GTAIV. We love USB Flash Drives. Best GPS: Price unlimited and under $200. Firmware Fixes MacBook Problems. Do you trust Psystar's Mac Clones
#20 - Clone Your Windows Machine for Free! Saving Photos On Vacation. S/PDIF 101
Season 1 - Episode 34
A free alternative to Symantec's Ghost for drive imaging, the answer to Veronica's Time Machine problem, ideas for saving photos you take on vacation -- without bringing a notebook along, help with the Tekzilla RSS feeds in iTunes, & the winner of our Zune contest!
#21 - Gateway One, Maker Faire, HDTV for a Dorm Room, ReadyNAS vs Drobo, Win a Zune!
Season 1 - Episode 32
Veronica wants to giveaway a Zune, details in the show! Patrick reviews Gateway's One all-in-one PC. ReadyNAS vs Drobo: Which is more futureproof? Does 1080p matter on a small HDTV?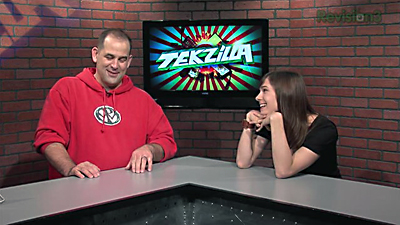 #22 - Quad vs. Dual Core, Private P2P, Notebook Overheating
Season 1 - Episode 44
Is there any point to encrypting P2P? Boxee.TV. Keep Your Notebook from Overheating, Can I upgrade my motherboard without re-installing Windows? Free Software. Weasels in our Pants!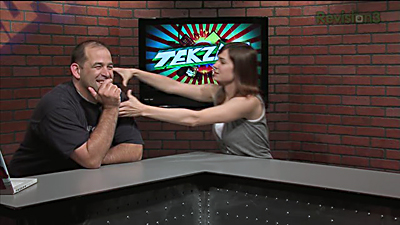 #23 - Stop Bandwidth Hogs. Mic Roundup. DOS Games in Vista
Season 1 - Episode 45
Our Badass Gaming PC Is Assembled! Replace Lost Windows Disks. Rescue Scratched CDs/DVDs. A Better Microphone For Your PC. Play DOS Games in Vista and XP. How to throttle your high speed internet bandwidth so everyone can get an equal share.
#24 - Free Anti-Virus. Moving files to a new PC. Blu-ray Burners.
Season 1 - Episode 40
Veronica's DIY Audio Studio. Skitch. Get the best price when you buy tech toys and tools. Skinning your laptop, cell phone, Wii, PS3, Xbox or PC! Buying a used PC. Regular phone vs. VoIP vs. Digital Phone
#25 - Hands Free Bluetooth Roundup, Secure Your Computer, Mohawks and Vinyl...
Season 1 - Episode 39
Veronica explains the mysteries of CD Audio. Does Memory Brand Matter? Testing with Memtest86+, California and Washington go hands free July 1st. Turntable recommendation! Is there a picture of Patrick with a Mohawk?