The BEST Episodes of Wentworth
Every episode ever - ranked by fan votes!
Last Updated: Aug 17, 2019
Fans of the iconic Prisoner series which pushed boundaries over three decades ago and still today boasts a loyal following worldwide, will remember Bea Smith as gutsy and fearless, ruling Wentworth Correctional Center with an iron fist. But who was Bea Smith before prison? How did a wife and mother from the suburbs become a top dog without rival? Wentworth is a dynamic, often confronting, drama series that begins with Bea's early days in prison. Set in the present day, it is a modern adaptation of Prisoner contemporising legendary characters and their stories for today's audience. This ten-part series takes the viewer inside to an uncompromising environment exploring the politics of women in a world without men, and how such a threatening experience both challenges and often changes those confined and working behind the razor wire.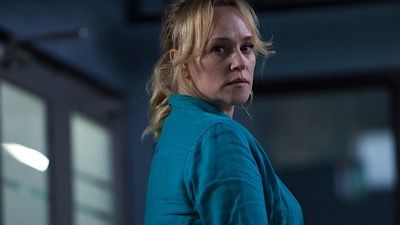 #1 - Under Siege (2)
Season 7 - Episode 10
The siege continues, and not everyone will make it out alive.
174 votes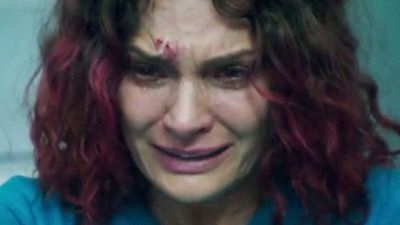 #2 - Seeing Red
Season 4 - Episode 12
Bea awakes blissfully happy after a night with Allie but it is the eve of Ferguson's trial and the Freak has been relentless in putting the final touches to her scheme for freedom and exoneration. Liz becomes convinced of Sonia's innocence and then Don puts an offer to Liz which could change her life. Maxine is committed to the chemotherapy and her prison family rallies around her.
942 votes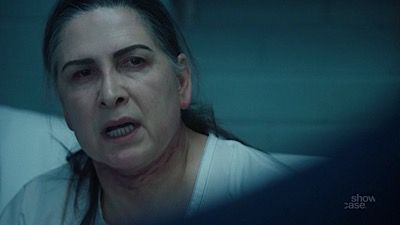 #3 - Hell Bent
Season 5 - Episode 12
Franky and Allie put their escape plan into action. Liz takes desperate measures to protect herself. Ferguson suspects she's living on borrowed time.
840 votes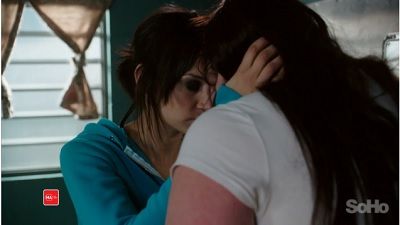 #4 - Blood and Fire
Season 3 - Episode 12
Ferguson is losing control, and the walls are closing in. Fletch and Vera band together in an attempt to overthrow the Governor, while Bea discovers the final piece of the puzzle to help solve Harry's murder. Meanwhile, Franky is preparing for her release. But when Jess makes a sudden, drastic move, all plans are thrown out the window and the stage is set for a dramatic showdown.
470 votes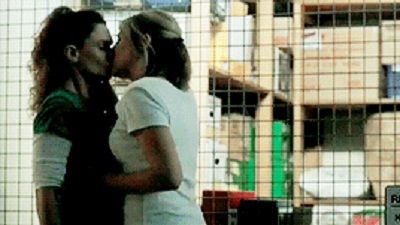 #5 - Plan Bea
Season 4 - Episode 8
As Bea and Allie take their illicit affair further, Bea finds herself uncharacteristically tentative and vulnerable. Neither is aware that Ferguson is tracking them carefully. Meanwhile, Maxine leaves the prison to undergo a double mastectomy leaving Boomer distraught.
901 votes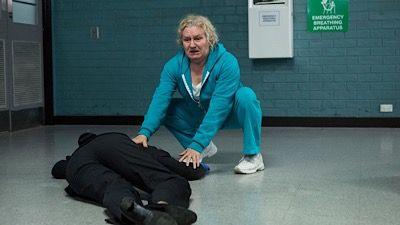 #6 - Under Siege (1)
Season 7 - Episode 9
Marie enacts her plan to bust out of Wentworth, while Liz spirals into a psychotic meltdown.
195 votes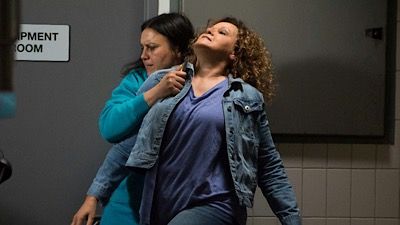 #7 - Showdown
Season 6 - Episode 12
A shocked Vera finally discovers the identity of her stalker, who has one last ultimatum. Liz has a daunting favour to ask of Kaz.
283 votes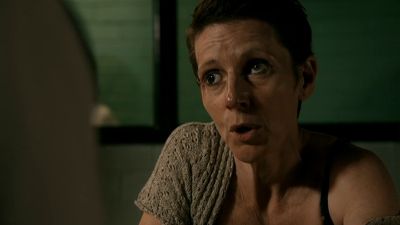 #8 - Into The Night
Season 2 - Episode 11
As Bea and Franky go to war for control of the prison, Bea puts her daring plan in motion. Meanwhile, Fletch is on a downward spiral of self-destructive behaviour as his final day at Wentworth looms.
429 votes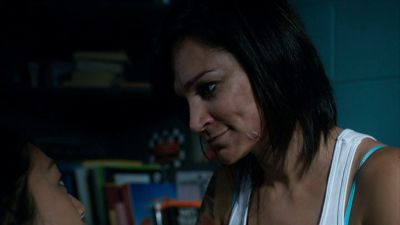 #9 - Fear Her
Season 2 - Episode 12
The extent of Bea's plan is revealed as she makes the final moves to avenge Debbie's death. Meanwhile Franky realises she is losing the support of the women and is forced to consider a deal.
404 votes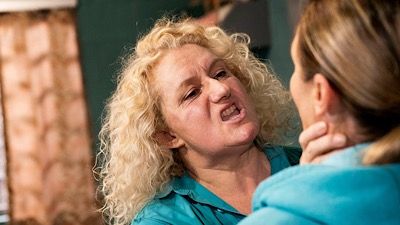 #10 - Karen
Season 7 - Episode 4
Rita faces an impossible dilemma, while Kaz gets the better of Marie, and Vera learns the gender of her baby, casting doubt over her mothering skills.
221 votes
#11 - The Edge
Season 6 - Episode 7
When Sonia is refused a move into protection, she sets up a plan to discredit Kaz and invalidate her position as top dog. With Marie onside, the plan is underway - but may have terrible repercussions for Allie.
319 votes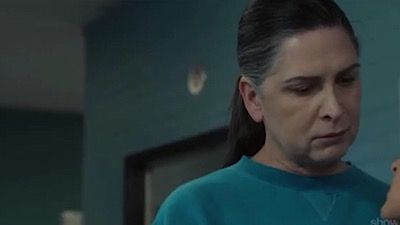 #12 - Coup De Grace
Season 5 - Episode 11
Ferguson delivers Vera her coup de grace, unleashing unforeseen consequences. Franky's escape plans are waylaid when Kaz persuades her to join forces to bring down the freak
829 votes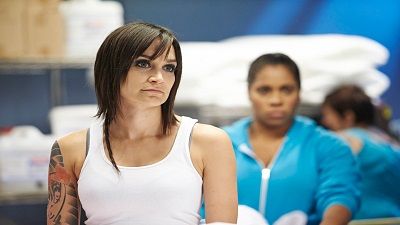 #13 - Checkmate
Season 1 - Episode 10
Vera and Matt sleep together but when Vera finds out the shocking truth - Matt and Meg were having an affair, she fell pregnant and had an abortion - Matt tells her to get out of his life. Determined to find out who killed Meg, Will makes a deal with Jacs, however he later discovers Meg's bracelet in Jacs' cell. After threatening to kill her, Will has Jacs charged with Meg's murder. Liz and Franky talk about what really happened the day of Meg's murder: Franky went to find Jacs, and grabbed a knife. When Meg grabbed her arm, Franky thought it was Jacs and stabbed her. Liz took her bracelet and put it in Jacs' cell. Bea discovers the truth behind Debbie's murder and confronts Jacs. After Jacs tries to condone it, Bea takes a pen and shoves it into Jacs' neck and pulls it out, killing her almost instantaneously. She then presses the duress button after Liz had told her to never touch it.
436 votes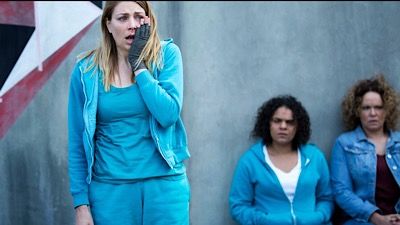 #14 - Indelible Ink
Season 6 - Episode 11
Allie learns that Marie is getting surveillance photographs smuggled in that show the attack on her son, and Ruby panics.
298 votes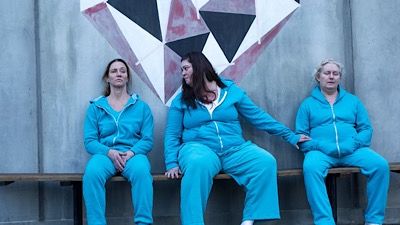 #15 - Protection
Season 7 - Episode 8
Marie's efforts to have her conviction overturned backfire when her protector attempts to silence her permanently. Meanwhile, Liz summons the courage to meet with her estranged son.
170 votes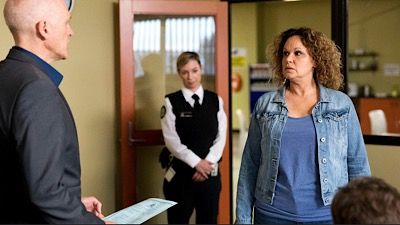 #16 - Shallow Grave
Season 6 - Episode 9
Rita is caught in a trap set by Marie and Drago, and must compromise Ray in order to maintain her cover, while Ruby questions Allie's loyalty when she believes her to be spying for Marie.
326 votes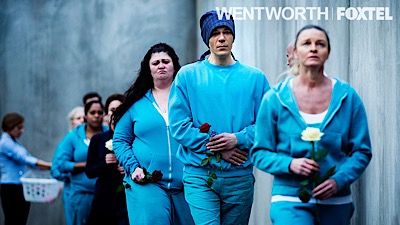 #17 - Scars
Season 5 - Episode 1
Vera and Ferguson must deal with the fallout from the attack on Bea and Franky's past comes back to haunt her.
1,159 votes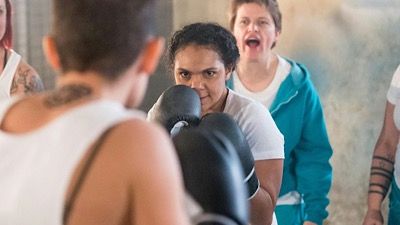 #18 - Bleed Out
Season 6 - Episode 3
After being shot Franky seeks Bridget's help, but the police net is tightening. Meanwhile Kaz faces her toughest challenge when she warns Hutch to stop fight club.
367 votes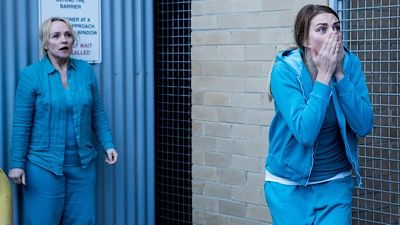 #19 - Bad Blood
Season 7 - Episode 7
As Ruby undergoes surgery for the ruptured brain aneurysm, Rita makes a desperate appeal to Vera to be with her sister in hospital.
184 votes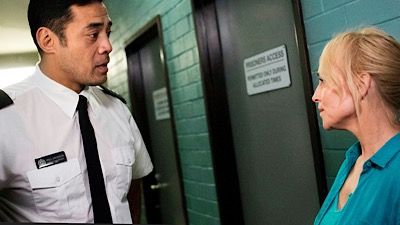 #20 - Lovers And Fighters
Season 6 - Episode 8
Kaz is released from the slot and the women realise she has profoundly changed, becoming Liz's protector, Kaz also demonstrates a harder, tougher top doggedness.
319 votes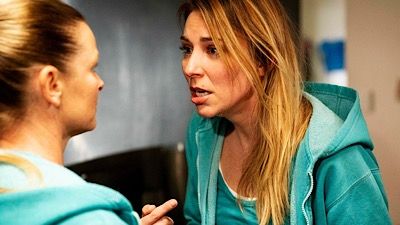 #21 - Payback
Season 7 - Episode 2
Kaz and Rita form an alliance. Jake is jealous of the bond forming between Vera and a new colleague.
224 votes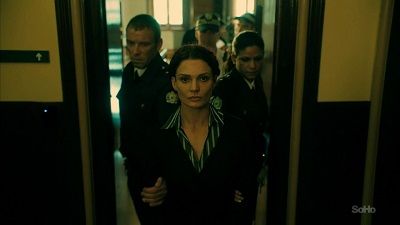 #22 - The Governor's Pleasure
Season 3 - Episode 1
When Bea is sentenced to life without parole for the killing of Brayden Holt, Ferguson makes it very clear - she owns Bea now. So when Bea uses her standing as Top Dog to hit back, Ferguson takes revenge - she slots Bea and releases Liz from Protection, exposing Liz to a brutal bashing from Boomer. But Ferguson has underestimated Bea, who starts a riot amongst the prisoners. With the prison in lock-down Ferguson has to turn to Bea to quell the riot. Wentworth isn't Ferguson's prison - it's Bea's. Battle lines are drawn.
463 votes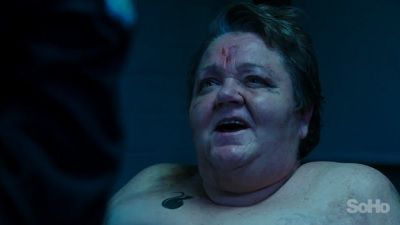 #23 - The Living and the Dead
Season 3 - Episode 11
When Fletch follows Bea's instructions to use Jianna as a means to unsettle Ferguson, he unwittingly sets Vera up to take the fall. Vera, for her part, is consumed with a desire for revenge against Lucy for infecting her with Hep C. Meanwhile, Bea's manipulations of Fletch result in him finally recovering his memory and alerting Will, who is on the verge of being arrested for Harry's murder, to the truth behind Ferguson's manipulations. As the forces align against Ferguson, she begins to unravel, realising she is in a fight of her life, professionally and personally.
427 votes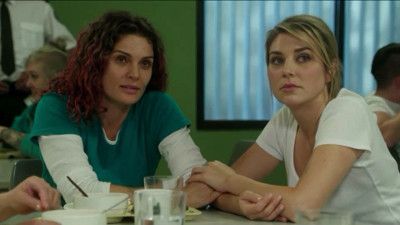 #24 - Eleventh Hour
Season 4 - Episode 11
With Bea and Allie finally out as a couple, Kaz forms an alliance with Tina's Asian crew to help take Bea down. But when Jake smuggles a new batch of drugs into the prison for Tina, Bea gets wind of the stash and orders Tina to flush the gear. Tina refuses, citing Bea's weakening power-base, and her alliance with the RRH.
904 votes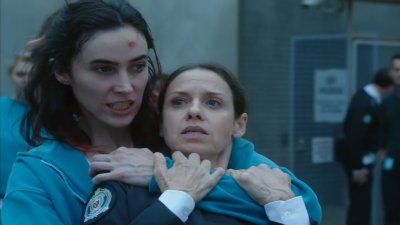 #25 - Blood Wedding
Season 7 - Episode 1
With her hopes of release fading, Rita is forced to take drastic measures to prevent Ray from wasting his life on her.
237 votes