The Best Episodes of The Red Green Show
#1 - The Big Inboard
Season 1 - Episode 1
The men at the lodge build a huge outboard motor out of a V8 engine. Red demonstrates the belt sander. Harold discusses sex education and Bill teaches canoeing.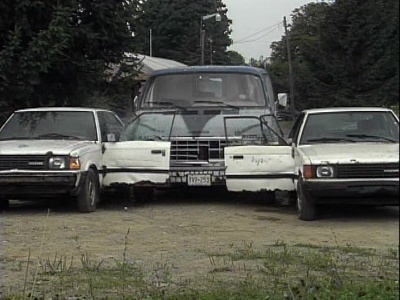 #2 - Running Of The Bulls
Season 7 - Episode 1
The gang at Possum Lodge stage a Running of the Bulls with the usual disastrous results. Red builds a Hummer out of 2 Hyundai Ponys on Handyman Corner and Bill and Red go camping on Adventures with Bill.
#3 - The Elvis Sighting
Season 1 - Episode 2
Elvis is sighted near Possum Lake. Red shows a youngster how to run a model airplane. A visit with Doug Franklin and his monster truck. Bill toboggans on garbage containers.
Directors: Steve Smith
#4 - The UFO
Season 1 - Episode 3
The men claim to have seen a UFO. Red refinishes a chair with a bunch of hairdryers. Bill uses jumper cables to build a campfire.
Directors: Steve Smith
#5 - The Treasure Hunt
Season 1 - Episode 4
The men go on a treasure hunt. Red build a beer cooler out of a toilet tank. Bill demonstrates snow-shoeing. Hap Shaughnessy stretches the truth about his rubber farm.
Directors: Steve Smith
#6 - Practical Joke Week
Season 1 - Episode 5
It's practical joke week at the lodge. Red builds an elevator out of a garage door opener. Ranger Gord falls in love with a log. Bill shows you how to make your own fishing gear.
Directors: Steve Smith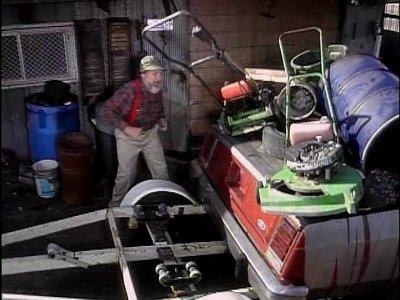 #7 - Big Guy Little Guy
Season 7 - Episode 6
Red joins a big brothers club just so he can compete in a soapbox derby. Bill collects butterflies. Red turns a car into a tow truck.
#8 - Who Wants To Be A Smart Guy
Season 10 - Episode 15
Dalton represents the Lodge as a contestant on a tv trivia game show. Red shows how you can be in your own tourist photos without asking a stranger to take the picture. Red turns a van into a sports car using duct tape and paint. Ranger Gord has an animated film about defending yourself against a sasquatch. Ed Frid hypnotizes a chicken and Red puts a rotary antenna on his car to improve his radio reception.
Directors: William G. Elliott