The BEST Episodes of The Colbert Report
Every episode ever - ranked by fan votes!
Last Updated: Aug 3, 2019
Tune in to The Colbert Report, as Stephen Colbert gives his own take on the issues of the day, and more importantly, to tell you why everyone else's take is just plain wrong. The series is a variety/news show revolving around Colbert's TV persona, a parody of opinionated cable news personalities like Bill O'Reilly, Sean Hannity, and Joe Scarborough.
#1 - Rep. Patrick Murphy
Season 4 - Episode 51
Tonight Stephen welcomes Pennsylvania Congressman Rep. Patrick Murphy.
1 votes
#2 - Barbara Ehrenriech
Season 4 - Episode 83
Tonight Stephen welcomes political satirist and author of This Land Is Their Land: Reports from a Divided Nation, Barbara Ehrenriech.
1 votes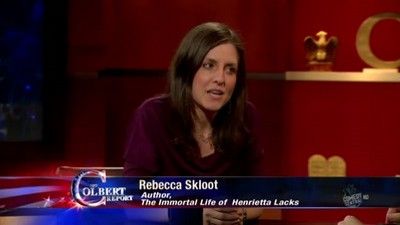 #3 - Rebecca Skloot
Season 6 - Episode 38
Stephen examines the way Americans eat and talks to Rebecca Skloot about the ethics of science.
1 votes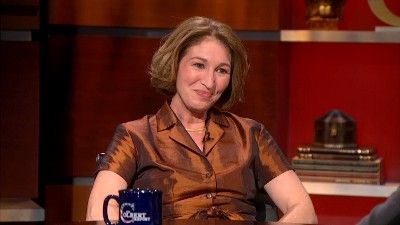 #4 - Anne-Marie Slaughter
Season 8 - Episode 121
Katie Holmes divorces Tom Cruise, Mitt Romney retroactively retires from Bain Capital, Starbucks hits funeral homes, and Anne-Marie Slaughter talks career choice and family.
19 votes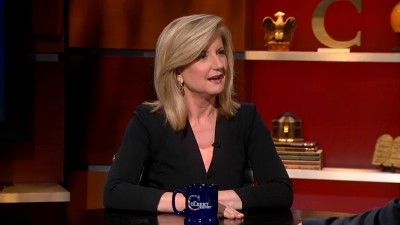 #5 - Arianna Huffington
Season 8 - Episode 88
Mitt Romney seeks a bland running mate, Tennessee outlaws "gateway sexual activity" education, survivalists plan for the unthinkable, and Arianna Huffington talks journalism.
17 votes
#6 - Tim Robbins
Season 1 - Episode 20
Stephen Colbert welcomes star of "Zathura", Tim Robbins!
1 votes
Writers:
Laura Krafft

,
Jay Katsir

,
Peter Gwinn

,
Eric Drysdale

,
Stephen Colbert
#7 - Anderson Cooper
Season 1 - Episode 26
Stephen Colbert welcomes the Host of "Anderson Cooper 360", Anderson Cooper!
1 votes
#8 - Indecision 2008: America's Choice
Season 4 - Episode 143
Stephen Colbert and Jon Stewart report live from Indecision World Headquarters where Comedy Central has rounded up the best researchers and consultants (that it can afford) to provide shallow analysis, obscure factoids, random guesses and pointless sound.
2 votes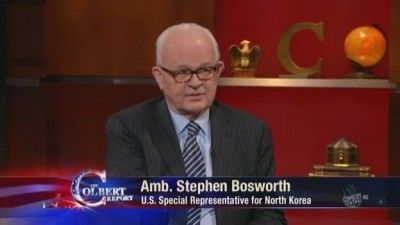 #9 - Stephen Bosworth
Season 6 - Episode 10
Stephen attempts to make an Olympic team, and Stephen Bosworth talks about North Korea.
1 votes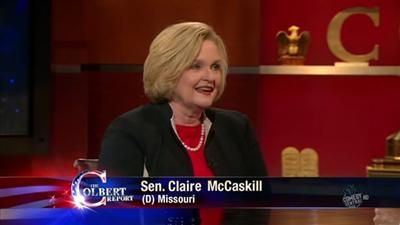 #10 - Claire McCaskill
Season 6 - Episode 41
Stephen breeds the elderly in captivity, and Claire McCaskill sends a message to Rush Limbaugh.
2 votes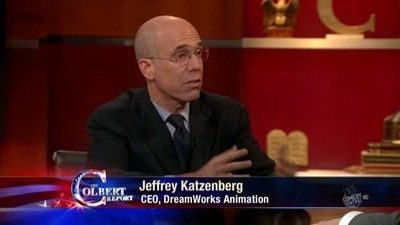 #11 - Jeffrey Katzenberg
Season 6 - Episode 54
Tonight Stephen welcomes the chief executive of Dreamworks animation, Jeffrey Katzenberg.
1 votes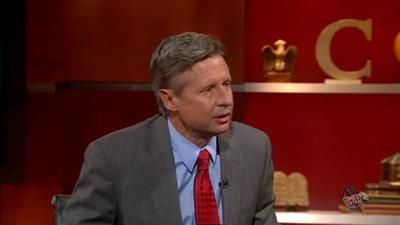 #12 - Gary Johnson
Season 6 - Episode 65
Tonight Stephen welcomes the former Governor of New Mexico Gary Johnson, Also, Stephen talks with George Washington University's Scheherazade Rehman about the Greek bailout.
1 votes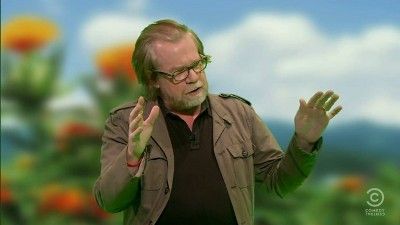 #13 - Mark W. Moffett
Season 7 - Episode 32
Stephen fights Jimmy Fallon over his new ice cream flavor, and Mark Moffett talks about bees.
8 votes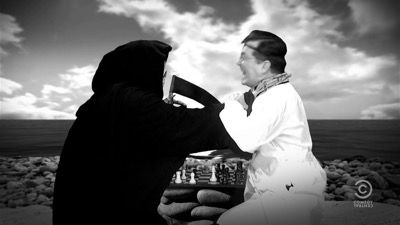 #14 - Grimmy
Season 11 - Episode 40
Stephen weighs in on his impressive legacy, Grimmy resorts to violence, friends of the show join a massive sing-along, and The Report draws to a spectacular close.
138 votes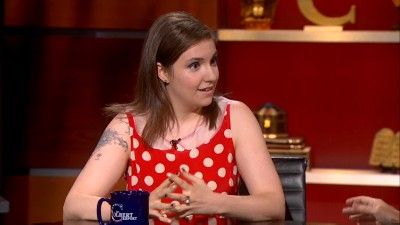 #15 - Lena Dunham
Season 8 - Episode 97
Newt Gingrich suspends his campaign and backs Mitt Romney, Stephen tracks a Super PAC rival, Buzz Aldrin presents a space award, and writer Lena Dunham talks "Girls."
22 votes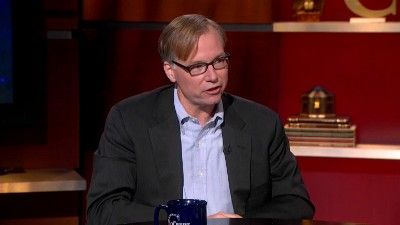 #16 - Steve Coll
Season 8 - Episode 112
Marijuana legalization can win elections, Super PACs raise more money than ad space, Xiaflex treatment corrects curved penises, and Steve Coll examines ExxonMobil.
17 votes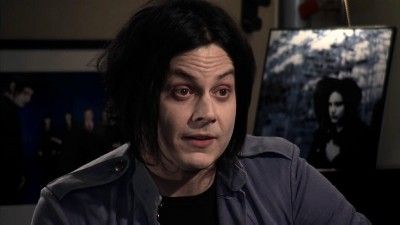 #17 - Jack White
Season 8 - Episode 93
Republicans attack Barack Obama's slow jam, Stephen releases the first Super Fun Pack treasure hunt clue, and Jack White discusses his solo album and rare marketing ploy.
15 votes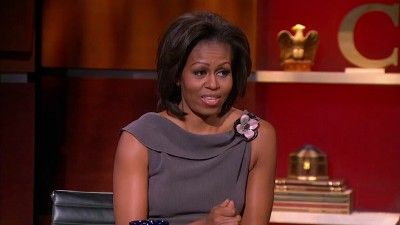 #18 - Michelle Obama
Season 8 - Episode 84
Troops and their families face unique economic challenges, Stephen trains a Marine to be a pundit, and Michelle Obama voices support for military families.
23 votes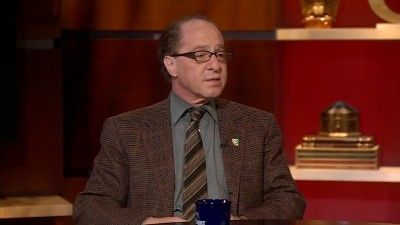 #19 - Ray Kurzweil
Season 7 - Episode 50
Mitt Romney throws his hat in the ring, and Ray Kurzweil says man and machine are becoming one.
8 votes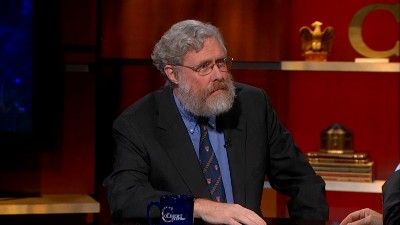 #20 - Dr George Church
Season 9 - Episode 4
Mitt Romney pledges to defund PBS, Chris Matthews berates Barack Obama, Pennsylvania rules against voter ID laws, and Harvard geneticist George Church explores DNA.
8 votes
#21 - Diane Keaton
Season 8 - Episode 94
Chen Guangcheng escapes house arrest, Missouri wants to outlaw sexuality dialogue in schools, companies offer "concealed carry" clothing, and Diane Keaton promotes her memoir.
21 votes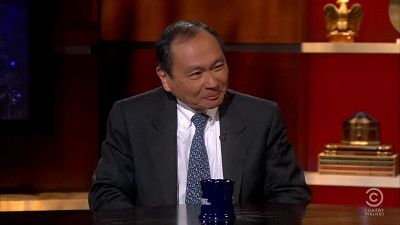 #22 - Francis Fukuyama
Season 7 - Episode 57
Stephen throws a "We Got Bin Laden" party, and Francis Fukuyama warns of the Chinese threat.
10 votes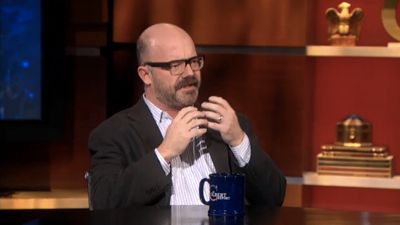 #23 - Andrew Sullivan
Season 8 - Episode 49
Rick Santorum panders to the elderly, Maurice Sendak discusses his literary work, and Andrew Sullivan praises Barack Obama's greatest accomplishments.
17 votes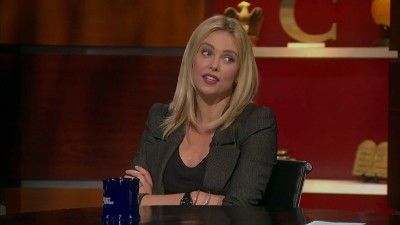 #24 - Charlize Theron
Season 8 - Episode 102
Donald Trump makes a contentious claim, Egypt kicks off its presidential elections, and Charlize Theron discusses her film "Snow White and the Huntsman."
20 votes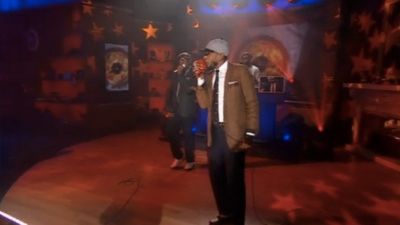 #25 - Black Star
Season 8 - Episode 3
Herman Cain gives his take on homosexuality, Mexico City proposes two-year marriage licenses, and Black Star performs.
10 votes