The Best Episodes of Real Time with Bill Maher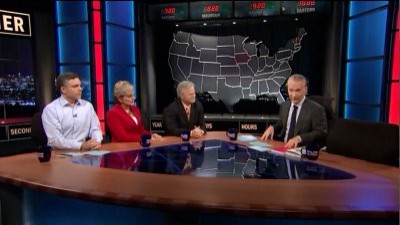 #1 - January 20, 2012
Season 10 - Episode 2
Guests: Journalism legend Bill Moyers, journalist Matt Lewis, Former Governor Charles "Buddy" Roemer, Former Governor Jennifer Granholm, Sen. Bernie Sanders (Ind-VT). Topics: The Republican presidential primaries, Keystone oil pipeline and popular support for important legislation, Newt Gingrich's rise and possible racism, electoral disdain for Mitt Romney, SOPA and PIPA, Republicans' fictionalising president Obama, overcoming partisanship, Citizens United and corporate money in politics, venture capitalism.
Directors: Paul Casey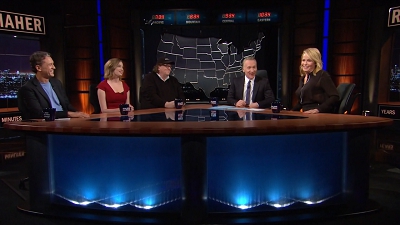 #2 - Episode 408
Season 14 - Episode 36
The Interview: Van Jones. The Panel: Rick Lazio, Michael Moore and Kristen Soltis Anderson. Mid-show Interview: Chelsea Handler.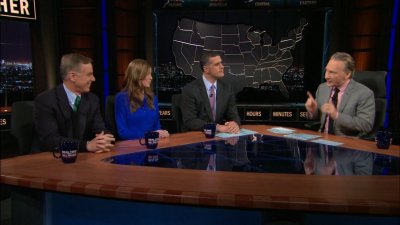 #3 - January 25, 2013
Season 11 - Episode 2
Interviewee: Nancy Pelosi (House Minority Leader D-CA) Panelists: Howard Dean (ex Governor D-VT), Kristen Soltis(pollster) & David Avella (GOPAC President) Panel Guest: Jon Tester (Senator D-MT) Topics: Obama's inaugural address, Republicans focused on Benghazi attack, voter ID laws, GMOs and farming, women's rights, what to do about the actual "takers"?, 40th anniversary of Roe v. Wade, masculinity and sports hero worship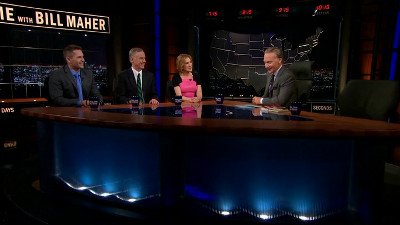 #4 - January 24, 2014
Season 12 - Episode 2
Interviewee: Erin Brockovich Panelists: Josh Barro, Howard Dean, Carly Fiorina Panel Guest: Willie Nelson Topics: 2014 Elk River chemical spill and coal mining, Republicans and women issues, Obamacare, Richard Sherman's outburst after game against the San Francisco 49ers, Obama's inconsistent policies about marijuana, poverty and income inequality, 2014 Winter Olympics and Vladimir Putin's comments on LGBT people.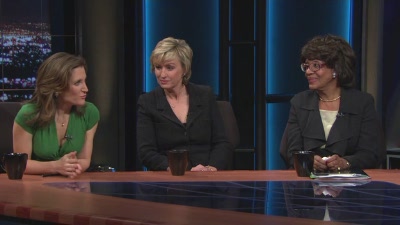 #5 - February 20, 2009
Season 7 - Episode 1
Guests: Financial Times editor Chrystia Freeland, journalist Tina Brown, Rep. Maxine Waters (D-CA); via satellite, Rep. Ron Paul (R-TX), journalist Brigitte Gabriel Topics: The economy, President Obama's first month in office
Directors: Hal Grant
#6 - Episode 373
Season 14 - Episode 1
Bill's guests include former Vice President Al Gore, Professor and activist Dr. Cornel West, former Bush communications director Nicolle Wallace, Ralph Reed and John Krasinski.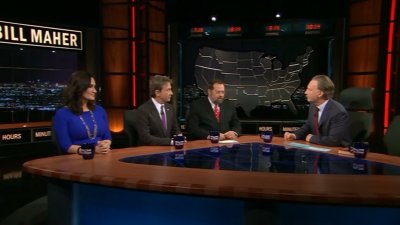 #7 - January 18, 2013
Season 11 - Episode 1
Interviewee: Bob Kerrey (ex Governor & Senator D-NE) Panelists: Michelle Caruso-Cabrera (reporter), Martin Short (comedian) & Steve LaTourette (ex Congressman R-OH) Panel Guest: Rula Jebreal (journalist) Topics: The future of the Republicans, gun control, Israeli elections, revolution in Syria, torture, Manti Te'o girlfriend hoax, the media, neither party cares about privacy.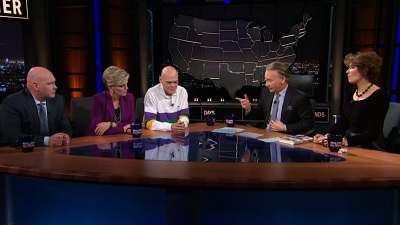 #8 - January 17, 2014
Season 12 - Episode 1
Interviewee: Glenn Greenwald Panelists: Steve Schmidt, Jennifer Granholm, James Carville Panel Guest: (a very stoned) Mary Matalin Topics: Obama's speech on NSA reform, Chris Christie's Fort Lee lane closure scandal, Benghazi, Independents' self-identification rising, 2014 Elk River chemical spill, marriage between a Democrat and a Republican, global warming affecting animals, Republicans' war against the poor, unemployment benefits, minimum wage, women in US politics.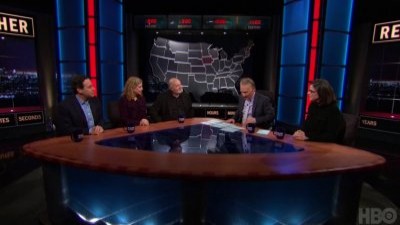 #9 - January 13, 2012
Season 10 - Episode 1
Guests: Filmmaker Rob Reiner, DNC Chair Debbie Wasserman Schultz, Ex GOP Presidential Candidate Herman Cain, Daily Beast Blogger David Frum, Documentarian Alexandra Pelosi. Topics: Herman Cain's presidential campaign, attacks on Mitt Romney's 'vulture capitalism', US marines urinating on dead Taliban fighters, assassination of Iranian scientists, Romney's electability and the Republican primaries, Super PACs and campaign finance, holiday recap.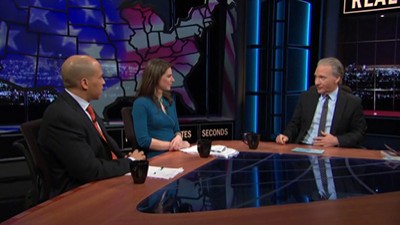 #10 - March 06, 2009
Season 7 - Episode 3
Guests: Businessman T. Boone Pickens; Mayor Cory Booker (D-Newark); news anchor Erin Burnett; author Peter Singer Topics: The economy, green energy, charity and philanthropy, socialism
Directors: Hal Grant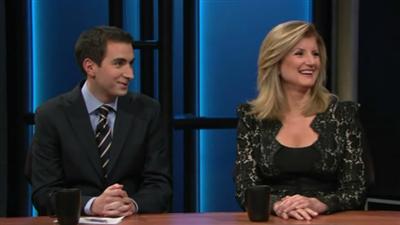 #11 - March 05, 2010
Season 8 - Episode 3
Guests: Actor Sean Penn, journalist Andrew Ross Sorkin, co-founder of the Huffington Post Arianna Huffington, director Michael Moore Topics: Earthquakes in Haiti and Chile, Hugo Chávez, Economic activism, Health Care, the economy regulation of the financial industry, labor relations, the Oscars, Republican fundraising tactics, the Media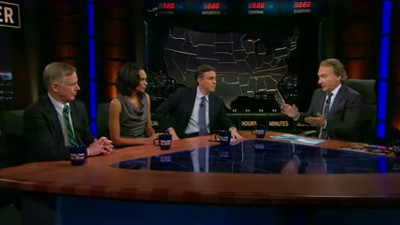 #12 - Episode 340
Season 13 - Episode 3
Ex-Governor Howard Dean (D-VT), comedian and "Black and White" actor Bill Burr, "America in Retreat" author Bret Stephens, Washington Post's Nia-Malika Henderson, and The Atlantic's James Fallows.
Directors: Paul G. Casey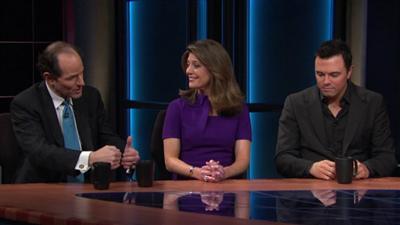 #13 - February 19, 2010
Season 8 - Episode 1
Guests: Chair of the Congressional Oversight Panel Elizabeth Warren, comedienne Wanda Sykes, Family Guy creator Seth MacFarlane , former Governor Eliot Spitzer, and Norah O'Donnell Topics: Lack of action by government, bipartisanship, the filibuster, Obama's handling of terrorism, torture, controversy over Family Guy's Down's Syndrome episode, race and criticism of Obama, Don't Ask, Don't Tell, Kevin Smith's airplane incident, obesity, Bill's tweet criticizing media coverage of Haiti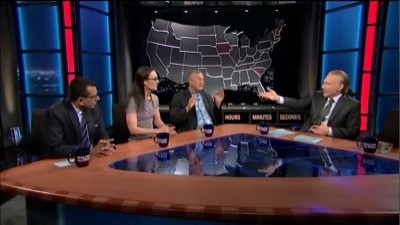 #14 - January 27, 2012
Season 10 - Episode 3
Guests: Former Rep. Mark Foley, celebrity chef Mario Batali, journalist Martin Bashir, political satirist Kennedy, Rep. Dana Rohrabacher (R-CA) Topics: Elections needing a bogeyman, state of the Union speech, Gov. Jan Brewer chastising Obama, food being politicised, Republicans turning on Newt Gingrich, Republicans creating a fake opponent to run against within the bubble, Saul Alinsky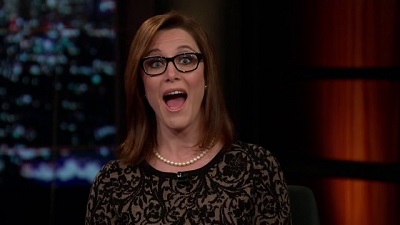 #15 - February 7, 2014
Season 12 - Episode 4
Interviewee: Charlie Crist Panelists: Tom Colicchio, Alicia Menendez, S. E. Cupp Panel Guest: P. J. O'Rourke Topics: Independents in US politics, Cuban embargo, immigration reform, executive orders, Congressional Budget Office's report on Obamacare's effect on jobs, lowest abortion rates in 30 years, Russia and communism, heroin and prescription drugs, United States Department of State's report on the Keystone Pipeline, federal spending for children vs. for senior citizens.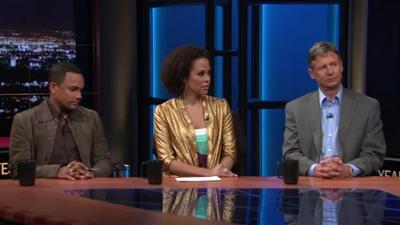 #16 - March 12, 2010
Season 8 - Episode 4
Guests: Senator Michael Bennet, actor Hill Harper, former Governor Gary Johnson, Amy Holmes, journalist John Heilemann Topics: Health care, deficit spending and the national debt, climate change, marijuana legalization, race relations, Mitt Romney, No Apology: The Case for American Greatness, Eric Massa, Game Change, Liz Cheney, education, Jihad Jane
Directors: Hal Grant
#17 - Episode 376
Season 14 - Episode 4
Bill's guests include consumer advocate Erin Brockovich, "My Life on the Road" author Gloria Steinem, radio host Armstrong Williams, MSNBC analyst Alex Wagner, and "Thrown Under the Omnibus" author P.J. O'Rourke.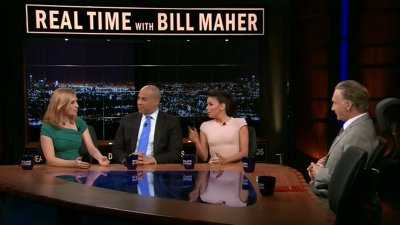 #18 - February 1, 2013
Season 11 - Episode 3
Interviewee: Alex Gibney ("Mea Maxima Culpa" director) Panelists: Cory Booker (Mayor of Newark D-NJ), Jackie Kucinich (reporter) & Eva Longoria (actress) Panel Guest: Sam Harris (author & neuroscientist) Topics: Immigration to the United States, Crime in the United States, Chuck Hagel's nomination as United States Secretary of Defense, gun control, age and health of Americans, Presidential term limits, right-wing pundits as con men.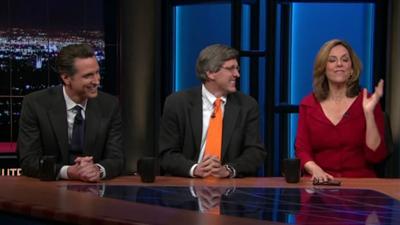 #19 - March 19, 2010
Season 8 - Episode 5
Guests: Rep. Dennis Kucinich (D-OH), San Francisco Mayor Gavin Newsom (D), economist Stephen Moore, PoliticsDaily.com editor-in-chief Melinda Henneberger and actor Emile Hirsch Topics: Health care, the economy, regulation of banking and insurance industries, the Congo, blood diamonds, "blood minerals" from the Congo (tantalum, tungsten, and tin), Oxfam, access to clean water in developing countries, campaign finance reform
#20 - February 14, 2014
Season 12 - Episode 5
Interviewee: Jeremy Scahill ("Dirty Wars" Docu-maker) Panelists: Andrew Sullivan ("Daily Dish" blogger), Mayim Bialik ("Big Bang Theory" star and vegan author), Eric Klinenberg ("Going Solo" author) Panel Guest: Bill Nye Topics: Creationism vs. science, Comcast–Time Warner Cable merger, net neutrality, drop in infrastructure spending, targeted killings of US citizens who plot against other Americans, veganism, attachment parenting, World Health Organization's warning about cancer, Philip Seymour Hoffman's published diaries, Edward Snowden praising Russia.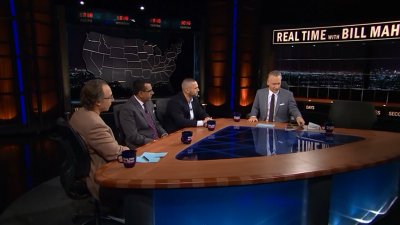 #21 - February 8, 2013
Season 11 - Episode 4
Interviewee: Julian Assange (Wikileaks founder) Panelists: Lawrence Krauss (theoretical physicist), Martin Bashir (news anchor) & Josh Barro (journalist) Panel Guest: Tina Brown (editor of Newsweek & The Daily Beast) Topics: US drone policy, exhumation of Richard III, supply-side economics, Obama catering to conspiracy theorists, Malala Yousafzai and Muslim women, near death experiences, Super Bowl XLVII blackout and US infrastructure, Chris Christie's health, Donald Trump suing Bill Maher.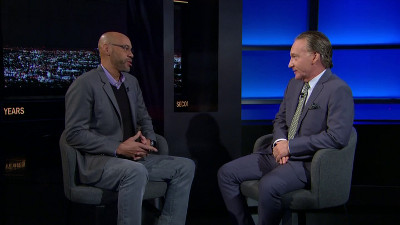 #22 - January 31, 2014
Season 12 - Episode 3
Interviewee: John Ridley ("12 Years a Slave" screenwriter) Panelists: Chrystia Freeland (Canadian Member of Parliament), Ronan Farrow (MSNBC host), Darrell Issa (R-CA) Panel Guest: Stephen Merchant (writer/actor "Hello Ladies") Topics: Solomon Northup and slavery, 2014 State of the Union Address, minimum wage in the United States, income inequality, demographics of the top 1%, Gerrymandering, differences between UK and US politics, stand-your-ground laws and African Americans, gun politics, Michael Grimm threatening a reporter, Flip a District, puritanism.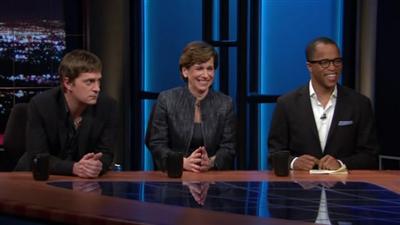 #23 - March 26, 2010
Season 8 - Episode 6
Guests: Journalist and author Christopher Hitchens, journalist Jonathan Capehart, musician Rob Thomas, President of the American Federation of Teachers Randi Weingarten and comedian Jeff Garlin Topics: Health care, Catholic sex abuse cases, war in Iraq and Afghanistan, the Tea Party movement, Birthers, John McCain, the National Debt, Education Reform, Jesse James sex scandal, Marijuana Control, Regulation, and Education Act, altering of curriculum and guidelines for textbooks by conservatives on the Texas State Board of Education, Intelligent design, Internet flames, Celebrity political activism, Political correctness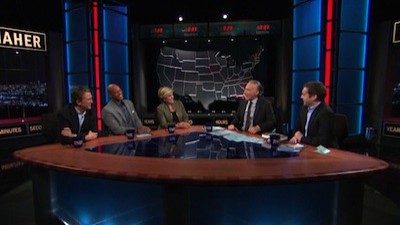 #24 - February 03, 2012
Season 10 - Episode 4
Guests: Author Suze Orman, Ex Rep Rick Lazio (R-NY), host Wes Moore, monologist Mike Daisey, author Michael Hastings. Topics: Chinese sweatshops making electronics, Obama running on his record, job growth report, solving the housing crisis, "the haves and the soon to haves", US withdrawal from Afghanistan, decline of the occupy movement, correlation between intelligence and prejudice, education system, atheism not being a religion.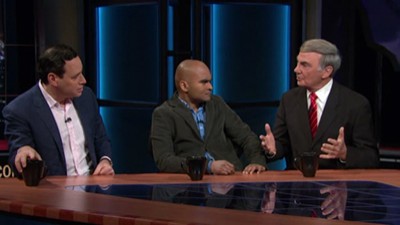 #25 - April 03, 2009
Season 7 - Episode 7
Guests: Joe the Plumber, Journalist David Frum, comedian Carol Leifer, writer Reihan Salam, reporter Sam Donaldson Topics: 2009 G-20 London summit, tax cut, health care, Carbon tax, nuclear energy
Directors: Hal Grant