The Best Episodes of The Chaser's War on Everything
A satirical current affairs show presented by The Chaser team. Regular segments include Pursuit Trivia, Ad Road Test, the Surprise Spruiker and Mr. Ten Questions.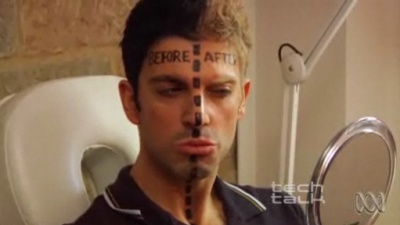 #1 - Episode 8
Season 3 - Episode 8
Final episode of Season 3, and the last episode to air.
7 votes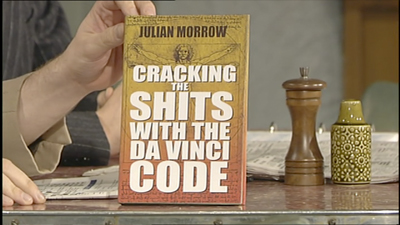 #2 - Episode 10
Season 1 - Episode 10
The 10th episode in the Chaser's war.
4 votes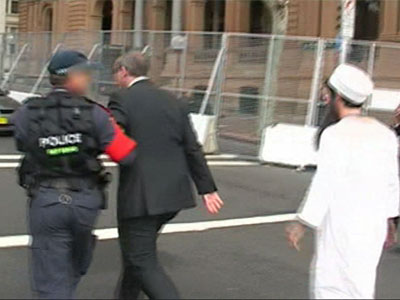 #3 - Episode 15
Season 2 - Episode 15
Featuring the now infamous APEC stunt which made headlines around the world and landed the Chaser team in legal trouble. * Intro Joke; Special Guest: "Pavarotting" * Intro; APEC, Dryzabone Jackets, George W. Bush's speech mistakes o Stunt; Using a fake Canadian Motorcade to transport Chas dressed up as Osama Bin Laden into the APEC restricted zone o Stunt; Running around the streets of Sydney wearing cardboard Canadian cars o Intro (continued); Shots of The Chaser standing with world leaders on the steps of the Sydney Opera House o Stunt; Are RSL's harder to get into than APEC? (Involves attempting to get into RSL's with APEC ID's) o Stunt; Chas ringing up a talkback radio station posing as someone else complaining about The Chaser o Intro (continued); Kevin Rudd impressing the Chinese President Hu Jintao with his knowledge of Mandarin (with The Chasers placing fake subtitles on screen) o Stunt; Public APEC Firework viewing including a firework which spelt out "Screw APEC" * Ad/Trailer; Network Ten, Seriously Desperate (hits back at Ten's show Californication) * If Life were a Musical; Andrew, Chris and Chas singing to a University student proclaiming their love for her * Stunt; Moving house by transporting possessions via a bicycle courier and then a public bus * Discussion; Using clown doctors when dealing with people putting down their pets and people on death row * Ad/Trailer; Emo laundry powder (parody of Omo) * A Message from Osama Bin Laden; Peter Beattie's departure, Chas dressing up as him * The Fixers o Horse Flu: Using a pantomime horse in a horse race o China's Evil President: Getting Chinese officials to pay for bullets beforehand o Foxtel: Andrew Hansen dressed up as Adolf Hitler storming into Foxtel's offices and compaining about the cancellation of one of his shows o Pisshead Troops: Getting politicians to skull long plastic pipes full of beer * Ad/Trailer; Australia Zoo (protecting the Irwin family "species") * Song; "Stairway to Kevin" (parody of Stairway to Heaven by Led Zeppelin) * End Joke; Giving credit to the other nine people who got arrested for involvement in the fake APEC motorcade
2 votes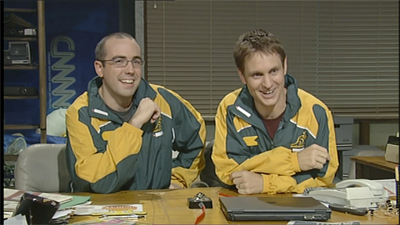 #4 - Episode 3
Season 1 - Episode 3
1: Rug Clearance Sale Ads It's the Rug Emporium's absolutely, positively, definitely closing down this time sale! 2: Where the bloody hell are you? After the reaction to a recent overseas advertising campaign, Chris and Craig test a few of their own slogans to promote Australia to tourists. 3: Howard 10 Years Tribute The Chaser team celebrates John Howard's tenth year as Prime Minister with clips highlighting his time in office. 4: Message from Osama Bin Laden – Dancing with the Stars Osama Bin Laden expresses his distaste with not being asked to perform on Dancing with the Stars. 5: Pursuit Trivia – Backstreet Boys This question goes to the Backstreet Boys: In Geography, what is the capital of Australia? None of the Backstreet Boys guessed the correct answer: Canberra. 6: Mosman Mosque Julian unveils plans to build a Muslim Mosque in Mosman, a suburb named as among the most racially intolerant in the country, and gauges local's reactions. 7: Rug Warehouse Clearance #2 Trust us, this time we're not kidding; it's the "We Really And Truly Are Closing Down For Sure Sale"! 8: Firth in the USA – Cool Charles Firth hits the street of New York to find out why America is so cool. 9: Commvenience Which bank? 10: In Other News Peter Costello gets tough on radical extremism; Tony Abbott withdraws comments; Trevor Flugge's AWB claims; Channel Nine's new logo; David Beckham does math; and ABC denies any leftwing-bias allegations. 11: Brokeback Mountain – Christian Edition A sneak preview Ang Lee's more Christian-friendly version of Brokeback Mountain. 12: The Complete Walks of John Howard DVD Featuring Mr. Howard's most memorable walks, with commentary! 13: Current Affairs – Visualisations Lesson 3: Using visualisations to explain complex stories. 14: Crazy Warehouse Guy – McDonalds The Crazy Warehouse Guy visits McDonalds. 15: Finally, Tonight... It may be time to put away the talking Boonie, but VB have brought out another drinking sporting legend: the talking Wendell. 16: Closing Credits Credits are played over another scene from Ang Lee's Christian Edition of Brokeback Mountain.
4 votes
#5 - Episode 6
Season 1 - Episode 6
Episode 6 in the Chaser's war on everything.
4 votes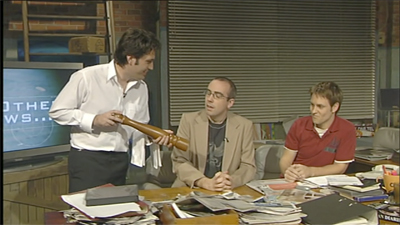 #6 - Episode 7
Season 1 - Episode 7
1: French Protests Craig goes out onto the streets to see if he can French-up Australia's protests of the new IR laws. 2: Family Contracts In Britain, McDonald's if offering family contracts, which means if you can't turn up for a shift you can send one of the members of your family. But what if other types of jobs allowed this? 3: Pursuit Trivia - Malcolm Turnbull Part 1 This weeks first question: In Science and Nature, Io is a moon of which gaseous planet? Malcolm did not guess the correct answer: Jupiter. 4: Warehouse Guy - Cinema This week the Crazy Warehouse Guy goes to the movies! 5: Name Our Next Cyclone Julian goes around to different top-company-heads to see if they'd like to buy the naming rights to the next cyclone. 6: ABC Promo - Director's Cut With director's commentary. 7: Ad Roadtest - Napisan How would people REALLY react if you charged into their home with a camera crew and started pouring stains all over their clothes? 8: Cracked Pepper There's nothing Chris hates more than those waiters who constantly interrupt meals offering cracked pepper, but how much worse would it be if they decided to spread beyond restaurants? 9: Pursuit Trivia - Malcolm Turnbull Part 2 This weeks 2nd question: Who won the 2002 Melbourne Cup? Malcolm once again did not guess the correct answer: Media Puzzle. 10: In Other News... IR dismissal laws; Relations with Indonesia; AWB Downer inquiry; Vega; Robert McCallum. 10: Firth in the USA Charles tries to get into Skull & Bones, the most secret and powerful society on Earth. 11: Celebrity Solitaire Get ready for TV's exciting new card game: Celebrity Solitaire, this week featuring Andrew O'Keefe. 12: Statue Busking Made Easy Simply rig yourself up an actual statue and watch the money pile up! 13: Credits Song "They always run credits over my song..."
4 votes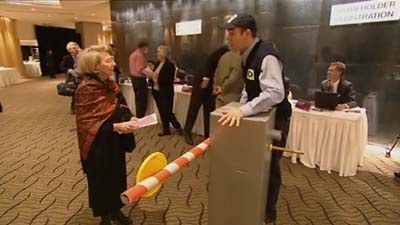 #7 - Episode 8
Season 1 - Episode 8
Macquarie Bank tolls A Message From Osama bin Laden Surprise Spruiker Chas calls a phone sex line Firth in the USA Monty Python. Mr. Ten Questions What Have We Learned From Current Affaris This Week? When a Telemarketer Calls In Other News Door Bouncer Challenge
4 votes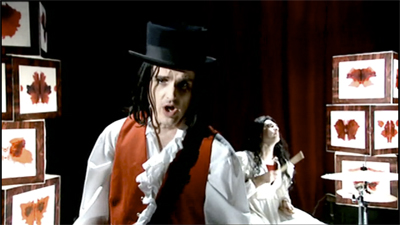 #8 - Episode 9
Season 1 - Episode 9
The 9th episode in the Chaser's war.
4 votes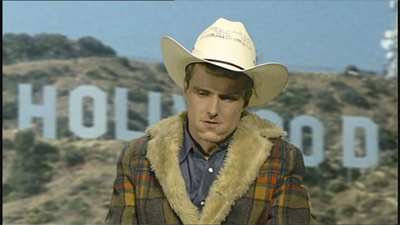 #9 - Episode 4
Season 1 - Episode 4
In this episode, the Chaser attacks targets such as The Commonwealth Games, Phillip Ruddick, The Cronulla riots, and Heath Ledger.
5 votes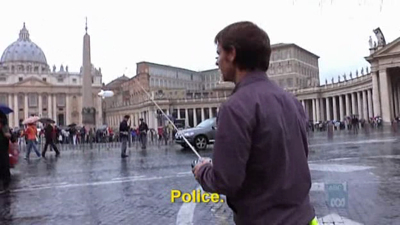 #10 - Episode 1
Season 3 - Episode 1
Featuring: The Chk-Chk Boom Girl, Hot Air in the Vatican, Walking with Jesus, Cross-dressing, Litigation and KKK members mixing coloureds with whites. So much offensive content even the Chaser boys are complaining.
8 votes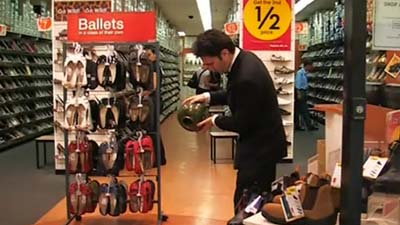 #11 - Episode 3
Season 2 - Episode 3
* Intro Joke; Bridalwear By Ray's Tent City. * What Have We Learned From History; Adam and Eve accepted fruit from a serpent. * Ad/Trailer; 2007 Global Warming Games. * Firth In The USA; Hillary Clinton Intern. * Stunt; Sprinkling of Mother Ashes. * Ad/Trailer; JTV Wolfmother. * What Have We Learned From Current Affairs This Week?; * Who To Blame? * Lesson 16: Humiliation. * Clive The Slightly-Too-Loud Commuter; Drugs on a Train. * The Fixers; Chas' Smell (not fixed), Libby Lenton and Bra Boys (Not Fixed). * Ad Road Test; The Flashbeer commercial for Carlton Draught. * Credit joke; Chris Taylor's mother is not really dead. Please do not send flowers.
3 votes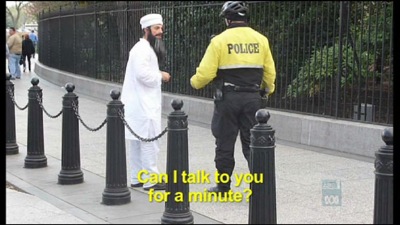 #12 - Episode 7
Season 3 - Episode 7
Highlights include: Hello Osama, Do you speak English? and Brothel Advertising.
7 votes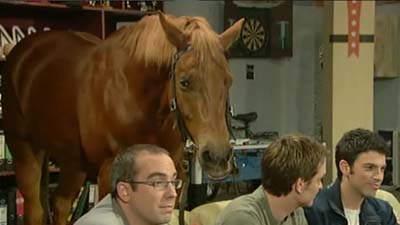 #13 - Episode 20
Season 1 - Episode 20
Julioan pays $250 for an interview witrh Jetstars CEO, while Chris and his Horse come up against prejudice, and the horrific Mad Tofu Disease.
2 votes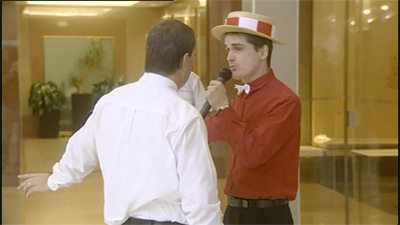 #14 - Episode 1
Season 1 - Episode 1
1. Kerry Packer's memorial service and memorial fund. Chris and Craig discuss the televised funeral and memorial to the late Kerry Packer, and then try to collect money for their own Kerry Packer Memorial fund. 2. Mega-Cheese crust pizza. Presenting the latest ad for pizza with more cheese than ever before! 3. Pursuit Trivia This question goes to Stephen Smith, the Shadow Industrial Relations Minister: What is the world's second highest mountain? He did not guess the correct answer: K2. 4. The Surprise Spruiker Andrew introduces his Surprise Spruiker for those who need it most. This week, those receiving his charity are: Giorgio Armani; The Department of Workplace Relations; and The Department of Immigration. 5. A Message from Osama Bin Laden Bin Laden admits he's responsible for all the evil in the world...except for the Up-Late Game Show with the Hotdogs. 6. AWB Corporate box; Big Day Out Sniffer Dogs; Australian flag fashion. 7. This week's subliminal message. 8. The Road to Turin Chris and Andrew are thoroughly practicing their ice-skating for the upcoming Winter Olympics in Turin. 9. Charles Firth in the USA Charles interviews football fans about the Superbowl. 10. In Other News... AWB kick-back scandal; Abortion pill UR486; Eddie McGuire; New footage of Iraq prisoner abuse; Bali 9 execution. 11. Evade Aid A live concert event to raise money for Packer's tax bill. 12. What have we learned from Current Affairs this week? Lesson 1: Dodgy Guys. How to spot a dodgy guy, and dangerous car parks. 13. Mr. Ten Questions This week he meets Hugh Jackman. 14. Danish cartoons on Danna Vale's website.
4 votes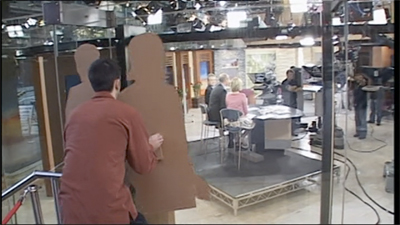 #15 - Episode 2
Season 1 - Episode 2
1: Winter Olympics Chris and Craig congratulate Australia's most successful Winter Olympics teams, reporting on an impressive medal tally. 2: Promoting Today on Sunrise Chas reveals why the Today show performs so badly in morning talk show ratings, and how he improves their ratings. 3: Saddam Hussein Trial "I may be a monster... but I'd never stoop so low as to get involved with those two." 4: Surprise Spruiker - AWB Andrew's public relation service, the Surprise Spruiker, cures the AWB's image problem. 5: Beazley Biggest Loser Follow one man's quest to loose 25 kilograms, and 3 federal elections. 6: Famous Faceoff - Newsreaders Jucinta Timann and Richard Morecroft go head-to-head with some tounge twisting headlines to find Australia's best newsreader. 7: Bonehead Challenge Jules see how many minutes it takes before some bonehead ruins their news cross. 8: Firth in the USA - Guns Charles Firth hits a Texan gun show to find out why American's love guns so much. 9: Current Affairs - Experts Lesson 2: How to spot an expert, and how easy is it to look like an expert? 10: Mr Ten Questions - Charlize Theron Mr Ten Questions meets Charlize Theron. 11: In Other News Bill Clinton visits Australia, AWB transport costs, Big Bird Flu, Ian Thorpe catches a virus, Ben Cousins caught drink driving, and a very good news story. 12: Tropfest Entry Chris has trouble using the signature item in his Tropfest entry.
4 votes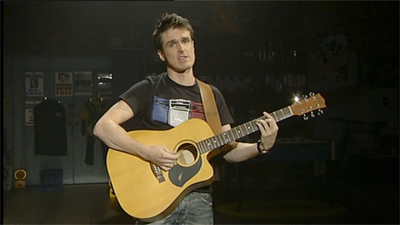 #16 - Episode 5
Season 1 - Episode 5
The 5th episode in the Chaser's war on everything.
5 votes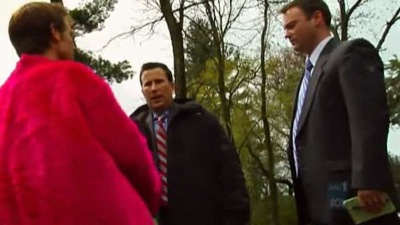 #17 - Episode 6
Season 3 - Episode 6
Barney the Dinosaur chasing down Dick Cheney for royalties from playing his songs at Guantanamo. Michael Palin - Around a Westfield in 80 days. Chas opens a Starbucks inside a Starbucks. Turning Kevin Rudds speeches into a song. Terry Gilliam shoots a Brand Power commercial. Nut Job of the Week featuring Steve G. Jones Hypnotherapist.
7 votes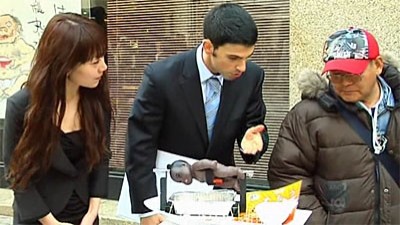 #18 - Episode 4
Season 3 - Episode 4
Vigil for Michael Jackson, Malcolm Turnbull email furore. Baby Day Spa. If Life Were A Musical; Chris, Andrew and Craig singing to a patron outside a theatre in the West End of London, about how the recession has forced them out of acting and onto the streets. Julian pretending to work for Apple Inc. and ordering people out of the queue for the new iPhone because they look too nerdy for the target demographic. French and Mormon versions of Cheaters. Getting Japanese people to eat unusual things. Noam - philosophical chat show hosted by Noam Chomsky. Chas testing the "Love Calculator" application on his phone. Parody of Touching the Void.
6 votes
#19 - Episode 5
Season 3 - Episode 5
Michael Jackson memorial service, Tom Cruise security preparations. Catalyst special report on guide tortoises for the blind. Julian trying to give former Prime Minister John Howard a book about how to blame every political failure on the global recession, as Kevin Rudd was out of the country. Chas visiting Danny Nalliah during the night to see if he has had any more premonitions. In the Navy, satirising the HMAS Success sex scandal. The Azzan Project. New segment in which The Chaser reports on extremist TV programming from the Middle East. Trying to deliver a gigantic replica of The Ashes trophy to the England cricket team, to represent the comparative number of times Australia has won. Outsourcing the rest of the episode to Mumbai, including a version of the Citizens Infringement Officer segment with Julian's Indian counterpart issuing fines on turbans.
6 votes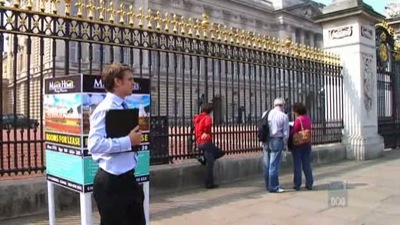 #20 - Episode 2
Season 3 - Episode 2
Let's Ask Jules to Join Us on the Couch; Transferring terror suspects to secret prisons overseas, with Julian putting up signs to help "hide" the Stare Kiejkuty military base. Trying to convert overweight Americans to a diet plan consisting exclusively of hay. How to make money during the recession. Craig polling UK citizens on whether they would be content to raise taxes to pay for the upkeep of the monarchy, then (when most respondents said no) trying to rent out rooms above Buckingham Palace. Make a Realistic Wish Foundation.
8 votes