The BEST Episodes of The Brittas Empire
Every episode ever - ranked by fan votes!
Last Updated: Dec 31, 2019
Gordon Brittas is a Leisure Centre manager with a dream. Due to the unexplained collapse of his last Leisure Centre during his time in temporary charge, he was given a glowing reference and 'encouraged' to take up a managerial position at Whitbury Newtown Leisure Centre. His 'loyal' staff have stories of their own, like Carole Parkinson, the receptionist, whose husband has left her, forcing her to keep her baby in the drawer under her desk. Also Tim Whistler and Gavin Featherly, the fitness instructors whose relationship Brittas always seems to be oblivious to. Julie Porter, Brittas' secretary, is always 'too busy' to do anything for him, and constantly looking for chances to show him up. Linda Perkin, the ever-ready staff member who always believes what Brittas says is best. Laura Lancing, Brittas' hard-working deputy manager is in and out of relationships with her estranged husband, Michael T. Farrell. Finally, Colin Weatherby, Brittas' deputy manager is keen and devoted to anything Brittas says is best, but isn't the cleanest or healthiest of people and always has a bandage over the wound on his hand. Whatever chaotic incidents occur, Brittas and his staff emerge unscathed, from ceiling collapses, rooms full of ice, other world invaders, tropical spiders and propane gas explosions.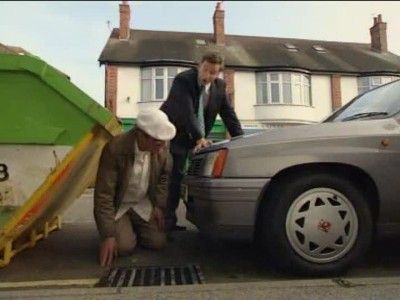 #1 - The Stuff of Dreams
Season 3 - Episode 6 - Aired Feb 11, 1993
Gordon spends the day by pretending to be an old man Mr Derek Didcot. Laura discovers him straight away and Gordon tells her that what will happen when he gets old and has to retire and all about the dream he had last night. Colin is taken by surprise when he discovers that Mr Didcot is accually Gordon. Gordon has an interview with Linda and then the time has come when Helen goes into labour. Gordon has trouble getting to the hospital and then gets stuck in traffic. What will happen to Helen and her babies?
37 votes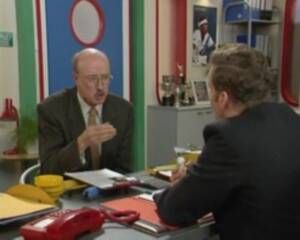 #2 - Snap Happy
Season 6 - Episode 7 - Aired Apr 23, 1996
The staff prepare for a photograph, however a chain of trivialities delays the event. Meanwhile, apart from Gordon Brittas, Helen also hates heights, so she participates in a parachute jump which goes horribly wrong.
35 votes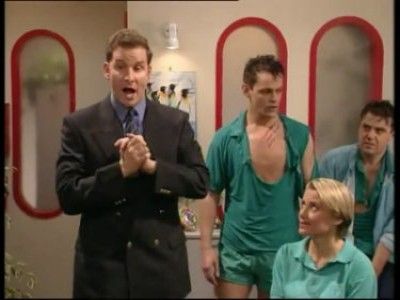 #3 - The Lies Have It
Season 5 - Episode 4 - Aired Nov 21, 1994
Gordon Brittas is explaining about safety at the building site where a new room is being made. Michael T. Farrell comes to Whitbury Newtown Leisure Centre for a job which is advertised in the newspaper. Gordon is not at all pleased but gives Michael an application form for the job. Carole is upset because no one remembered her birthday, Michael starts to make lies about her party and everyone agrees but Colin tells the truth from his point of view. Gordon is confused and soon realises what's been going on.
37 votes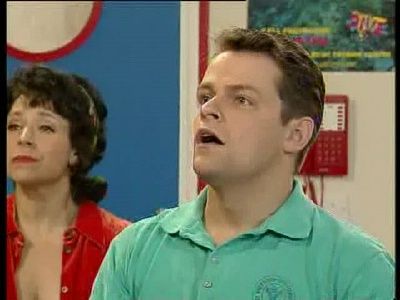 #4 - Reviewing The Situation
Season 7 - Episode 2 - Aired Jan 13, 1997
Brittas initiates a staff review which causes some antagonism; Julie is enjoying armed police protection after threats, which includes body searches.
36 votes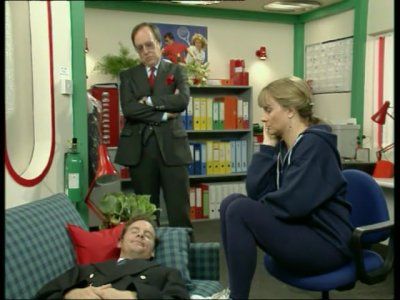 #5 - High Noon
Season 4 - Episode 8 - Aired Mar 7, 1994
One day Laura arrives at a gas station and discovers that Gordon is now working there. He is causing more trouble then ever and is holding up lots of people. Meanwhile the new manager Alan Digby is having trouble when Gordon gets on his nerves. Gordon has brought a present for the staff, a clock which came all the way from Italy. Then a gas leak is found and then there's a large explosion which brings the entire centre down. Everyone is clear but Gordon is no where to be seen, Could this be the last of Gordon Brittas?
38 votes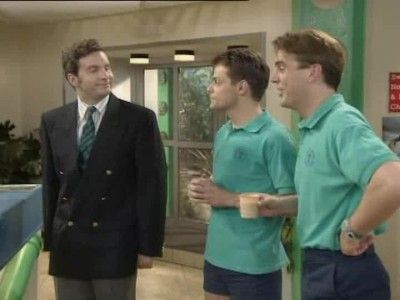 #6 - Sex, Lies and Red Tape
Season 3 - Episode 5 - Aired Feb 4, 1993
Whitbury Newtown Leisure Centre are trying to raise money so they can buy a new trampoline. Gavin and Tim are doing a sponsered sponge throw and Gordon is doing a sponsered silence. It's also Laura's birthday and her husband Michael has come from America to see her. He ruins Gordon's sponsered silence and spoils the charity. Helen is acting suspiciously because she is being accused of shoplifting which is in fact true. Gordon tries to sort everthing out and completely upsets himself when Michael turns out to be Laura's Husband.
37 votes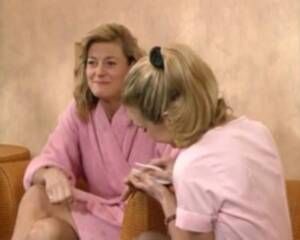 #7 - At the Double
Season 6 - Episode 3 - Aired Mar 26, 1996
Gordon invites members of the Ruthenian State Circus to perform at the center. A group of US evangelists want to baptize Gordon in the pool after reading of his coming back from the dead.
37 votes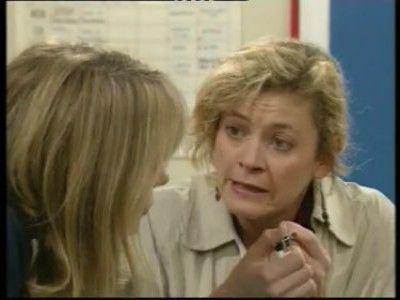 #8 - Blind Devotion
Season 5 - Episode 2 - Aired Nov 7, 1994
Gordon Brittas is thinking of going to Brussels for European Commissioner. Colin gets blinded when his garden explodes and starts causing trouble when he can't see where he is going. Gordon is thinking of giving Colin the sack because of his ways. Then he kills Colin's pet bird and tells Tim to get another one. It turns out that it's also Colin's birthday and that the saddest thing is that his aunt died. Gordon decides not to give Colin the sack and promotes him to deputy manager.
37 votes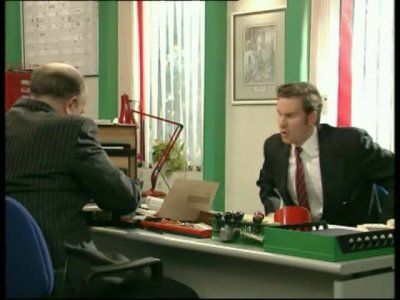 #9 - Biggles Tells a Lie
Season 4 - Episode 3 - Aired Jan 24, 1994
It's Gordon's day off and Colin puts on a suit, but it looks like he is the manager of the centre. This is because Colin's daughter Stephanie is coming to Whitbury Newtown Leisure Centre so she can see her father. He wants everyone to think that he is the manager for just one day. Everyone agrees and soon everything is running well, that is until Gordon turns up and then things go from right to wrong. Soon everyone learns that telling lies is the wrong thing to do.
38 votes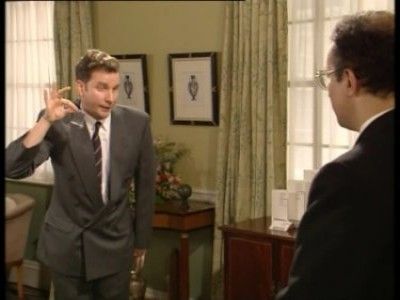 #10 - Brussels Calling
Season 5 - Episode 3 - Aired Nov 14, 1994
Gordon Brittas is in Brussels being interviewed for European Commissioner of Sport. He keeps calling Whitbury Newtown Leisure Centre to see how things are going. Laura is in charge and things aren't going well. A children's birthday party goes wrong and Tim is very upset. Then a load of mice turn up and Gordon tells Gavin on the telephone that he must throw the ingredients away. Meanwhile Helen is being accussed of attacking Mr Furber, one of her child's school teachers. Will things turn out well at the centre?
36 votes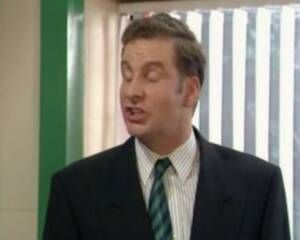 #11 - A Walk on the Wildside
Season 6 - Episode 4 - Aired Apr 2, 1996
Brittas proves he's not always a walking disaster when his new campaign becomes a European Directive.
36 votes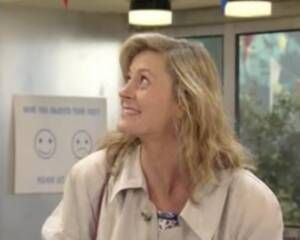 #12 - We All Fall Down
Season 6 - Episode 5 - Aired Apr 9, 1996
Whitbury is celebrating World Peace and Hunger Day, Helen plans revenge on a nappy company that didn't use her children in a TV commercial and Tim discovers the rest of the staff earn more than him.
36 votes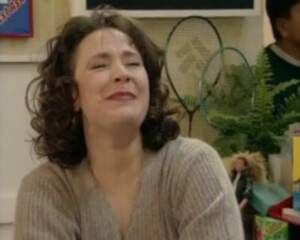 #13 - Mr. Brittas Falls in Love
Season 6 - Episode 6 - Aired Apr 16, 1996
Brittas organises a "dolphin day" at the centre, but as always disaster reigns when a baby tiger shark is delivered to the sports centre instead. The day worsens when a teenage girl arrives for two weeks of work experience and the staff believe she has been eaten. Meanwhile, Linda forms a protest rally outside of the centre, opposed to the use of animals for personal amusement.
36 votes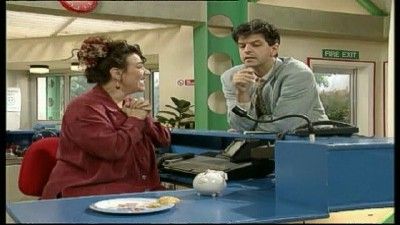 #14 - The Christening
Season 4 - Episode 2 - Aired Jan 17, 1994
Gordon and Helen are having their children being baptised on their big day. The practicing somehow goes wrong and then Carol has a problem with the Christening cake, getting dirty water on it. Meanwhile Heratio comes to see Gordon and tells him that he is in love with a girl he has meet. Gordon is very proud and then there's a shock when the babies go missing. Will the Christening go well?
40 votes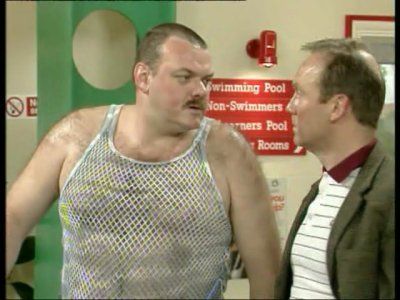 #15 - Mr Brittas Changes Trains
Season 4 - Episode 4 - Aired Jan 31, 1994
Things are getting rather strange at Whitbury Newtown Leisure Centre. Carole seems to be croaking a lot while talking, Linda does nothing but bark about a lot and keeps talking in dog language and Colin keeps telling everyone that he loves everyone and keeps taking his trousers off. All of this is making Gordon very cross so he decides to call the hypnotist and put everyone back to normal. This then gets Laura thinking.
40 votes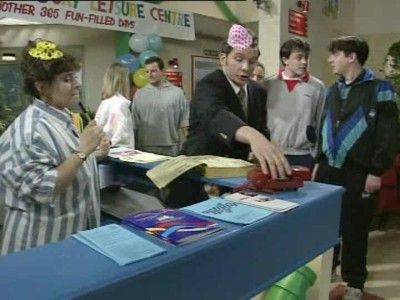 #16 - Two Little Boys
Season 3 - Episode 4 - Aired Jan 28, 1993
It's Whitbury Newtown Leisure Centre's Birthday today and Gordon has done some birthday specials for the centre although some of them have gone wrong. Meanwhile the oil which has been delivered 3 weeks ago has disappeared. It turns out that there's a hole in the tank, Gordon tells Colin to put the oil somewhere safe which turns out to be a very small cupboard. A group from another leisure centre to do the activities so they can have some fun. Horatio talks to Gordon that he doesn't want to go to his new job, Gordon however tells him that it's important until a nasty explosion causes everyone to be injured.
39 votes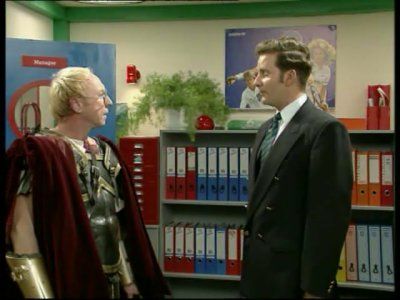 #17 - Playing with Fire
Season 4 - Episode 5 - Aired Feb 7, 1994
Gordon is doing a survey on how much electricity is being used and writes out a lot of forms for the staff. Colin meanwhile does an experiment which involves using the lavatories. Then Gavin gets a big shock when his old girlfriend Jenny comes to the centre to see him, but it comes as a surprise to Gordon which really upsets Tim a lot. Then Gavin tells the secret to Laura and to everyone and then realises that she came from a clinic. It also comes to a shock when he finds out she isn't cured. Then Gordon gets things out of control when he makes Jenny very angry.
39 votes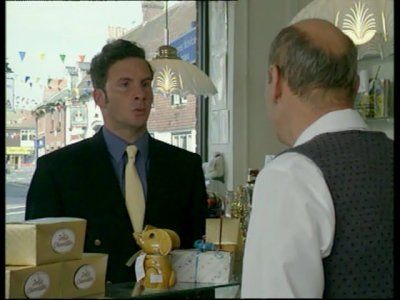 #18 - Shall We Dance?
Season 4 - Episode 6 - Aired Feb 14, 1994
Gordon seems to be spending a lot of time with Laura while Helen and the children are on holiday. Everyone thinks that there is something going on between Gordon and Laura. Gordon is planning to take Laura to the dance which is being held at the centre. Then Laura's ex-husband Michael unexpectedly turns up and it looks like he wants to see Laura. Gordon gets very cross and thinks that things might go wrong with his plans. What will happen?
37 votes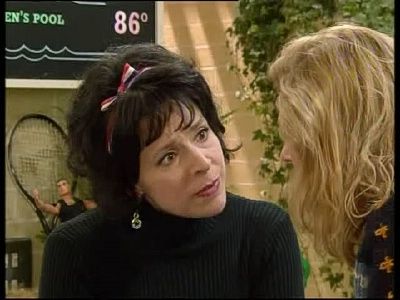 #19 - The Disappearing Act
Season 7 - Episode 5 - Aired Feb 3, 1997
The staff at the leisure center compete for the Employee of the Month award though Brittas is not convinced of the wisdom of the competition. Colin brushes up his magic act for Julie's niece's birthday party. Helen holds a dream workshop.
37 votes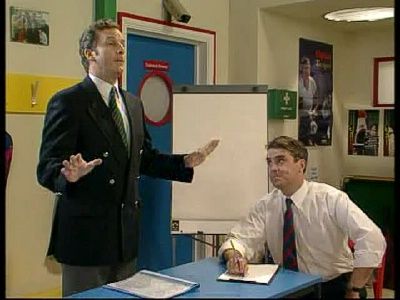 #20 - Gavin Featherly RIP
Season 7 - Episode 6 - Aired Feb 10, 1997
Gavin is feeling depressed and is receiving therapy from Helen Brittas. He joins the rest of the staff on their annual weekend break to Burbidge-on-Sea and goes missing so Brittas arranges a funeral.
39 votes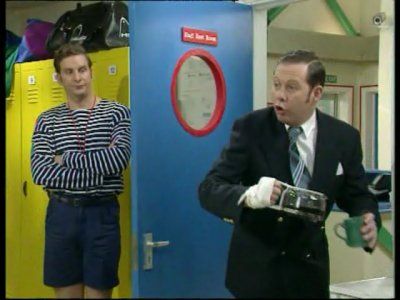 #21 - The Chop
Season 4 - Episode 7 - Aired Feb 28, 1994
Gordon is teaching the staff how to play the 'Game of Life' which actually is a real game. Then Councillor Drugget arrives to the centre and tells Gordon that he is going to be given the sack. Gordon is cross and ignores him, then Councillor Drugget finds out that Helen borrowed £300 pounds for a dog that then causes trouble around the centre. Now Gordon has to choose: either he quits his job or Helen goes to jail.
37 votes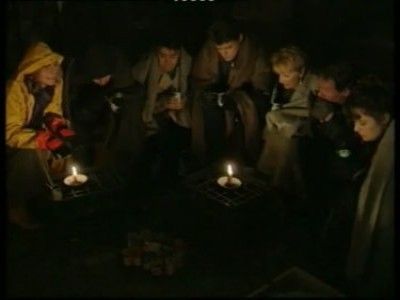 #22 - In the Beginning ...
Season 5 - Episode 9 - Aired Dec 27, 1994
It's Christmas time and everyone is coming to Colin's Scottish Castle to celebrate the man who gave them everything at Whitbury Newtown Leisure Centre. Laura tells the story about one Christmas holiday that went wrong. Things weren't going well and the staff were trapped in the centre and weren't allowed out until the snow had cleared.
37 votes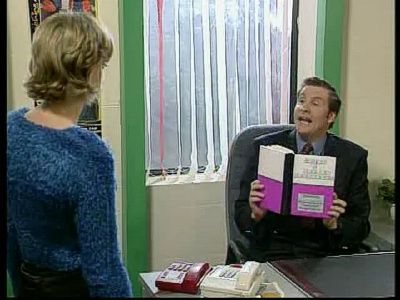 #23 - Exposed
Season 7 - Episode 7 - Aired Feb 17, 1997
Investigative journalist, Roger Ferguson, is preparing to make a television expose of the goings on at Whitbury Leisure Center. Gordon is led to believe this will be a serious documentary. An outbreak of Bobula fever causes panic.
37 votes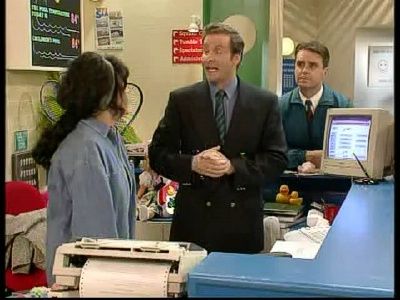 #24 - http://etc.
Season 7 - Episode 3 - Aired Jan 20, 1997
The center enters the 21st century as Brittas has everything computerized, which causes huge problems. Councillor Druggett is convinced it is a waste of money and will be Brittas' downfall. Helen's therapy course seem only to appeal to staff.
38 votes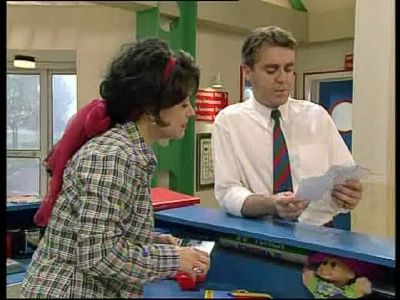 #25 - Curse of the Tiger Women
Season 7 - Episode 8 - Aired Feb 24, 1997
Brittas prepares to celebrate seven wonderful years since the center opened, but Druggett tells him he has been chosen for early retirement. Carole reveals he's the father of her twins!
36 votes