The BEST Episodes of The Adventures of Young Indiana Jones
Every episode ever - ranked by fan votes!
Last Updated: Jan 9, 2020
In 1996, George Lucas hired T.M. Christopher to aid in re-editing the complete series into twenty-two feature-length episodes. The series was also retitled The Adventures of Young Indiana Jones. Each chapter contains two episodes, with all the chapters being in chronological order. As such, the scenes where an older Indiana Jones reminisces are never seen in these versions.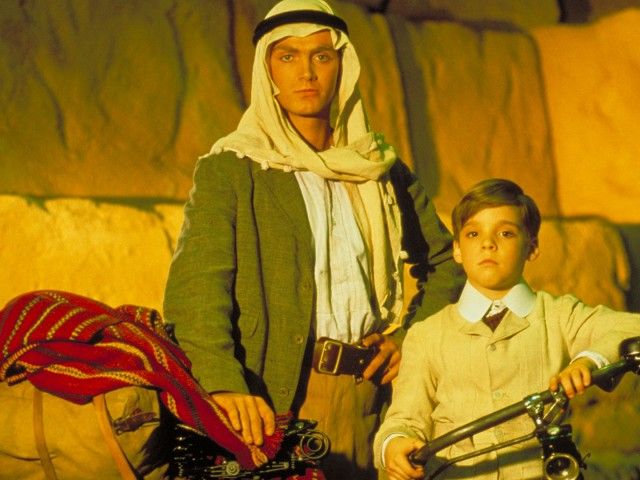 #1 - My First Adventure
Season 1 - Episode 1 - Aired Oct 26, 1999
The first chapter of the Young Indy series begins in his home town of Princeton, where we get a snapshot of the life of the Jones family -- father Henry, mother Anna, and the tireless Henry Walton Jones, Jr., better known to us as Indiana Jones. Before long, nine-year old Indy has joined his family on a trip around the world, starting in Oxford where they bring aboard Indy's no-nonsense tutor, Helen Seymour. (Egypt, May 1908) Their first exotic destination is Egypt's Valley of the Kings, where Howard Carter is currently excavating a newly discovered tomb. Intrigue abounds as a murder mystery takes place on the campsite, which Indy must help solve with the help of T.E. Lawrence, the legendary Lawrence of Arabia. (Tangiers, May 1908) The next leg of Indy's journey takes him to Tangiers, Morocco, where his family stays with Walter Harris, correspondent from the London Times (and eventual author of the famous Morocco That Was). There Indy meets Emily Keene, Sharifa of Wazan, and befriends a young Moroccan slave named Omar. An ill-advised trip to a dangerous marketplace results in Young Indy and Omar being kidnapped by slave-trading brigands. Dragged on a terrifying journey across the burning sands of North Africa to the slave markets of Marrakech, Indy finds that he must rely on his courage and wits to survive the brutal ordeal.
60 votes
Writers:
Jonathan Hales

,
Jule Selbo