The BEST Episodes of TED Talks
Every episode ever - ranked by fan votes!
Last Updated: Feb 14, 2020
TED is a nonprofit devoted to Ideas Worth Spreading. It started out (in 1984) as a conference bringing together people from three worlds: Technology, Entertainment, Design. TEDTalks began as a simple attempt to share what happens at TED with the world. Under the moniker "ideas worth spreading," talks were released online. They rapidly attracted a global audience in the millions. Indeed, the reaction was so enthusiastic that the entire TED website has been reengineered around TEDTalks, with the goal of giving everyone on-demand access to the world's most inspiring voices. [TED-Ed and TEDx are separate TVDB series and should NOT be listed here.]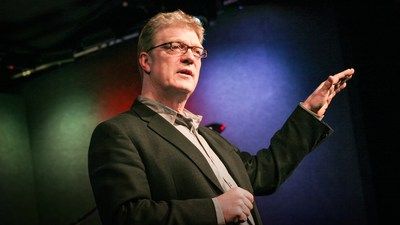 #1 - Sir Ken Robinson - How schools kill creativity
Season 2006 - Episode 3 - Aired Jun 27, 2006
Sir Ken Robinson makes an entertaining and profoundly moving case for creating an education system that nurtures (rather than undermines) creativity.
2 votes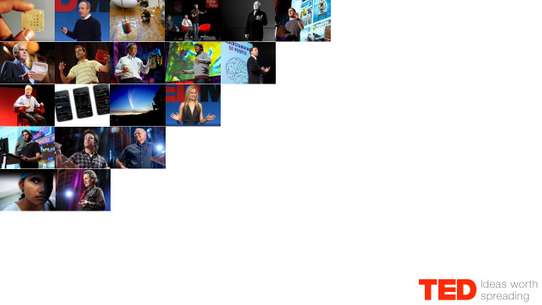 #2 - Nigel Marsh: How to make work-life balance work
Season 2011 - Episode 61 - Aired Feb 7, 2011
Work-life balance, says Nigel Marsh, is too important to be left in the hands of your employer. At TEDxSydney, Marsh lays out an ideal day balanced between family time, personal time and productivity -- and offers some stirring encouragement to make it happen.
1 votes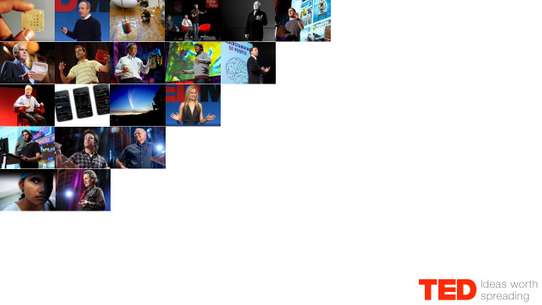 #3 - Andy Puddicombe: All it takes is 10 mindful minutes
Season 2013 - Episode 8 - Aired Jan 12, 2013
1 votes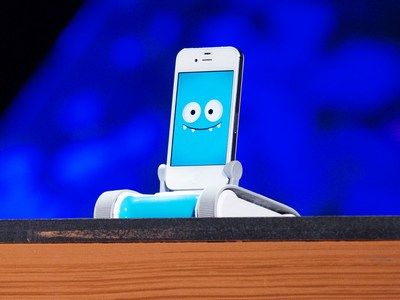 #4 - Keller Rinaudo: A mini robot -- powered by your phone
Season 2013 - Episode 68 - Aired Apr 10, 2013
Your smartphone may feel like a friend — but a true friend would give you a smile once in a while. At TED2013, Keller Rinaudo demos Romo, the smartphone-powered mini robot who can motor along with you on a walk, slide you a cup of coffee across the table, and react to you with programmable expressions.
1 votes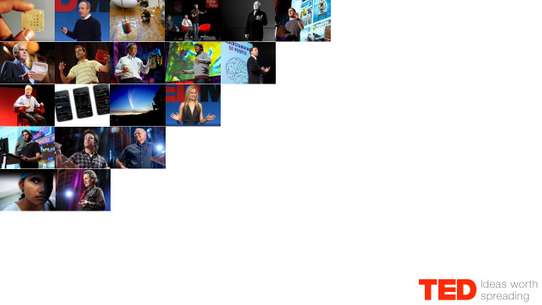 #5 - Tony Robbins - Why we do what we do, and how we can do it better
Season 2006 - Episode 6 - Aired Jun 27, 2006
Tony Robbins discusses the "invisible forces" that motivate everyone's actions -- and high-fives Al Gore in the front row.
1 votes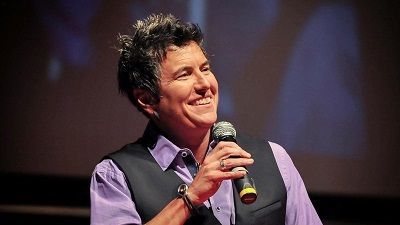 #6 - Ash Beckham: We're all hiding something. Let's find the courage to open up
Season 2014 - Episode 35 - Aired Feb 21, 2014
In this touching talk, Ash Beckham offers a fresh approach to empathy and openness. It starts with understanding that everyone, at some point in their life, has experienced hardship. The only way out, says Beckham, is to open the door and step out of your closet.
1 votes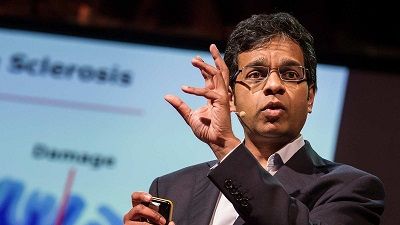 #7 - Siddharthan Chandran: Can the damaged brain repair itself?
Season 2014 - Episode 36 - Aired Feb 24, 2014
After a traumatic brain injury, it sometimes happens that the brain can repair itself, building new brain cells to replace damaged ones. But the repair doesn't happen quickly enough to allow recovery from degenerative conditions like motor neuron disease (also known as Lou Gehrig's disease or ALS). Siddharthan Chandran walks through some new techniques using special stem cells that could allow the damaged brain to rebuild faster.
1 votes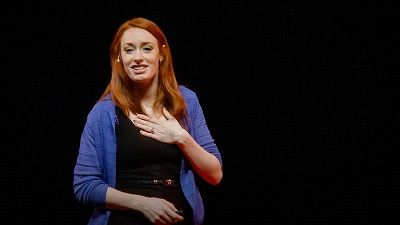 #8 - Hannah Fry: The mathematics of love
Season 2015 - Episode 26 - Aired Feb 13, 2015
Finding the right mate is no cakewalk — but is it even mathematically likely? In a charming talk, mathematician Hannah Fry shows patterns in how we look for love, and gives her top three tips (verified by math!) for finding that special someone.
1 votes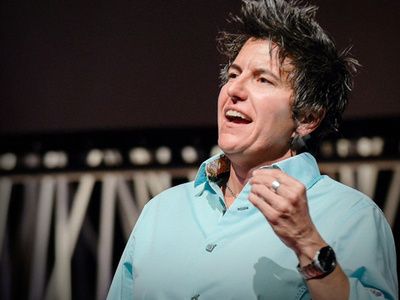 #9 - Ash Beckham: When to take a stand -- and when to let it go
Season 2015 - Episode 123 - Aired Jul 10, 2015
Ash Beckham recently found herself in a situation that made her ask: who am I? She felt pulled between two roles — as an aunt and as an advocate. Each of us feels this struggle sometimes, she says -- and offers bold suggestions for how to stand up for your moral integrity when it isn't convenient.
1 votes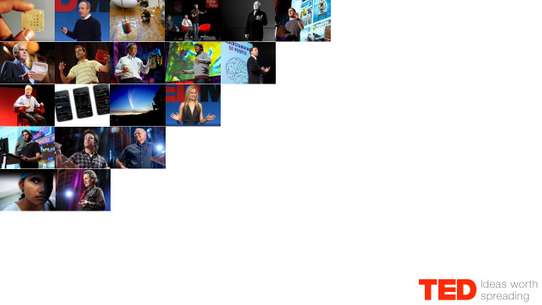 #10 - Mac Stone: Stunning photos of the endangered Everglades
Season 2015 - Episode 166 - Aired Sep 30, 2015
For centuries, people have viewed swamps and wetlands as obstacles to avoid. But for photographer Mac Stone, who documents the stories of wildlife in Florida's Everglades, the swamp isn't a hindrance — it's a national treasure. Through his stunning photographs, Stone shines a new light on a neglected, ancient and important wilderness. His message: get out and experience it for yourself. "Just do it — put your feet in the water," he says. "The swamp will change you, I promise."
1 votes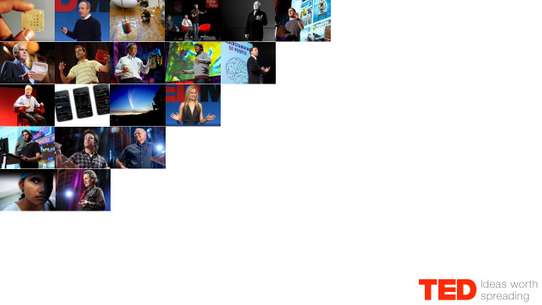 #11 - Jane Fonda and Lily Tomlin: A hilarious celebration of lifelong female friendship
Season 2015 - Episode 216 - Aired Dec 17, 2015
Legendary duo Jane Fonda and Lily Tomlin have been friends for decades. In a raw, tender and wide-ranging conversation hosted by Pat Mitchell, the three discuss longevity, feminism, the differences between male and female friendship, what it means to live well and women's role in future of our planet. "I don't even know what I would do without my women friends," Fonda says. "I exist because I have my women friends."
1 votes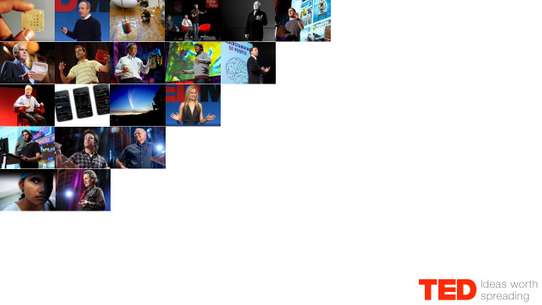 #12 - Thomas Peschak: Dive into an ocean photographer's world
Season 2016 - Episode 40 - Aired Feb 29, 2016
Somersaulting manta rays, dashing dolphins, swarming schools of fish and munching sharks inhabit a world beneath the ocean's surface that few get a chance to see. Conservation photographer Thomas Peschak visits incredible seascapes around the world, and his photos reveal these hidden ecosystems. 'You can't love something and become a champion for it if you don't know it exists,' he says. Join Peschak in a new, immersive TED Talk format as he shares his stunning work and his dream for a future of respectful coexistence with the ocean.
1 votes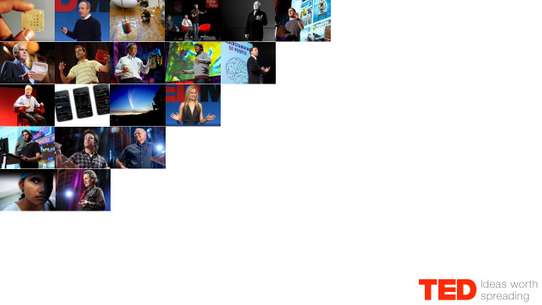 #13 - Travis Kalanick: Uber's Plan To Get More People Into Fewer Cars
Season 2016 - Episode 44 - Aired Mar 4, 2016
Uber didn't start out with grand ambitions to cut congestion and pollution. But as the company took off, co-founder Travis Kalanick wondered if there was a way to get people using Uber along the same routes to share rides, reducing costs and carbon footprint along the way. The result: uberPOOL, the company's carpooling service, which in its first eight months took 7.9 million miles off the roads and 1,400 metric tons of carbon dioxide out of the air in Los Angeles. Now, Kalanick says carpooling could work for commuters in the suburbs, too. 'With the technology in our pockets today, and a little smart regulation,' he says, 'we can turn every car into a shared car, and we can reclaim our cities starting today.'
1 votes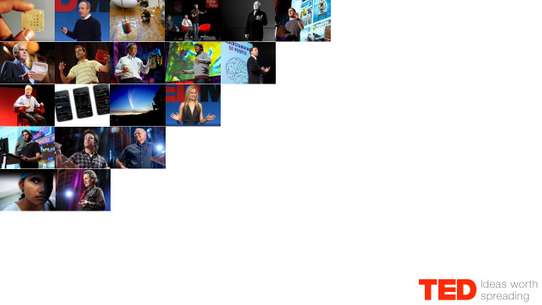 #14 - Simon Sinek: How Great Leaders Inspire Action
Season 2009 - Episode 23 - Aired Sep 16, 2009
Simon Sinek has a simple but powerful model for inspirational leadership — starting with a golden circle and the question "Why?" His examples include Apple, Martin Luther King, and the Wright brothers ...
1 votes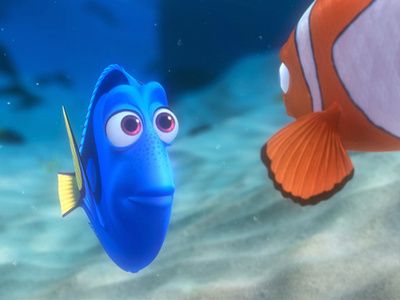 #15 - Danielle Feinberg: The Magic Ingredient That Brings Pixar Movies To Life
Season 2016 - Episode 68 - Aired Apr 6, 2016
Danielle Feinberg, Pixar's director of photography, creates stories with soul and wonder using math, science and code. Go behind the scenes of Finding Nemo, Toy Story, Brave, WALL-E and more, and discover how Pixar interweaves art and science to create fantastic worlds where the things you imagine can become real. This talk comes from the PBS special 'TED Talks: Science & Wonder.'
1 votes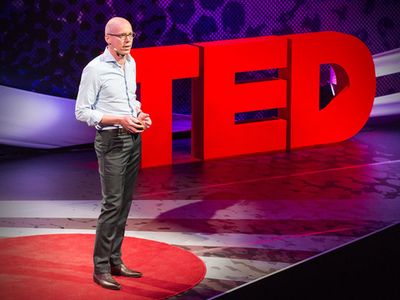 #16 - Olivier Scalabre: The next manufacturing revolution is here
Season 2016 - Episode 156 - Aired Aug 22, 2016
Economic growth has been slowing for the past 50 years, but relief might come from an unexpected place — a new form of manufacturing that is neither what you thought it was nor where you thought it was. Industrial systems thinker Olivier Scalabre details how a fourth manufacturing revolution will produce a macroeconomic shift and boost employment, productivity and growth.
1 votes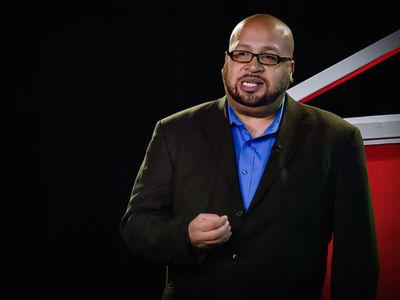 #17 - Christopher Bell: Bring on the female superheroes!
Season 2016 - Episode 162 - Aired Aug 30, 2016
Why is it so hard to find female superhero merchandise? In this passionate, sparkling talk, media studies scholar (and father of a Star Wars-obsessed daughter) Christopher Bell addresses the alarming lack of female superheroes in the toys and products marketed to kids — and what it means for how we teach them about the world.
1 votes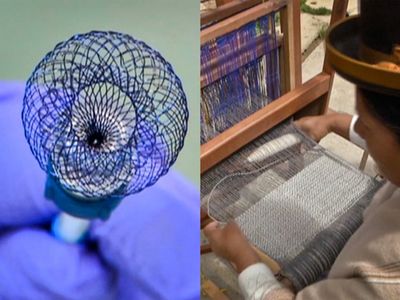 #18 - Franz Freudenthal: A new way to heal hearts without surgery
Season 2016 - Episode 169 - Aired Sep 9, 2016
At the intersection of medical invention and indigenous culture, pediatric cardiologist Franz Freudenthal mends holes in the hearts of children across the world, using a device born from traditional Bolivian loom weaving. "The most complex problems in our time," he says, "can be solved with simple techniques, if we are able to dream."
1 votes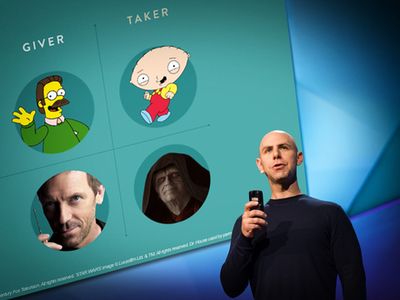 #19 - Adam Grant: Are you a giver or a taker?
Season 2017 - Episode 1 - Aired Jan 3, 2017
In every workplace, there are three basic kinds of people: givers, takers and matchers. Organizational psychologist Adam Grant breaks down these personalities and offers simple strategies to promote a culture of generosity and keep self-serving employees from taking more than their share.
1 votes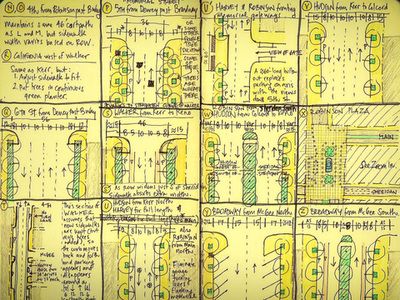 #20 - Jeff Speck: 4 ways to make a city more walkable
Season 2017 - Episode 27 - Aired Feb 9, 2017
Freedom from cars, freedom from sprawl, freedom to walk your city! City planner Jeff Speck shares his "general theory of walkability" -- four planning principles to transform sprawling cities of six-lane highways and 600-foot blocks into safe, walkable oases full of bike lanes and tree-lined streets.
1 votes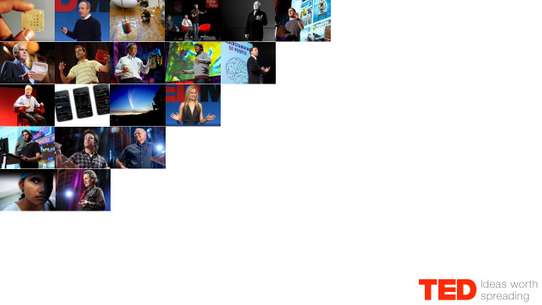 #21 - Barry Schwartz: Our Loss of Wisdom
Season 2009 - Episode 28 - Aired Feb 7, 2009
28 votes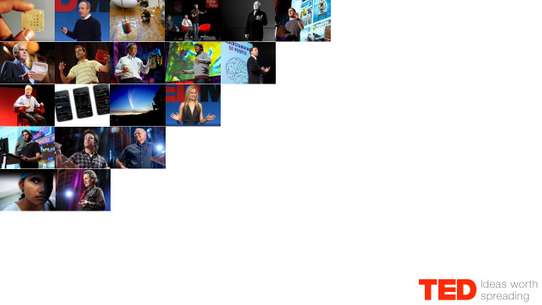 #22 - Barry Schwartz: Using Our Practical Wisdom
Season 2010 - Episode 121 - Aired Nov 1, 2010
28 votes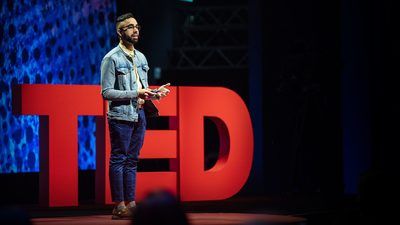 #23 - Amit Kalra: 3 creative ways to fix fashion's waste problem
Season 2018 - Episode 49 - Aired Feb 15, 2018
What happens to the clothes we don't buy? You might think that last season's coats, trousers and turtlenecks end up being put to use, but most of it (nearly 13 million tons each year in the United States alone) ends up in landfills. Fashion has a waste problem, and Amit Kalra wants to fix it. He shares some creative ways the industry can evolve to be more conscientious about the environment — and gain a competitive advantage at the same time.
1 votes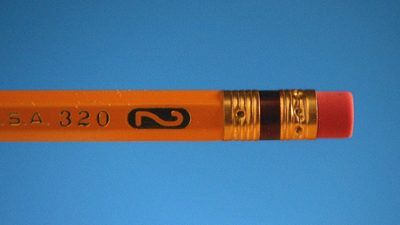 #24 - Caroline Weaver: Why the pencil is perfect
Season 2018 - Episode 78 - Aired Mar 15, 2018
Why are pencils shaped like hexagons, and how did they get their iconic yellow color? Pencil shop owner Caroline Weaver takes us inside the fascinating history of the pencil.
1 votes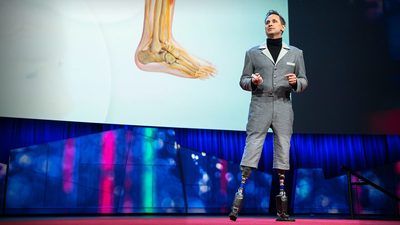 #25 - Hugh Herr: How we'll become cyborgs and extend human potential
Season 2018 - Episode 164 - Aired May 30, 2018
Humans will soon have new bodies that forever blur the line between the natural and synthetic worlds, says bionics designer Hugh Herr. In an unforgettable talk, he details "NeuroEmbodied Design," a methodology for creating cyborg function that he's developing at the MIT Media Lab, and shows us a future where we've augmented our bodies in a way that will redefine human potential — and, maybe, turn us into superheroes. "During the twilight years of this century, I believe humans will be unrecognizable in morphology and dynamics from what we are today," Herr says. "Humanity will take flight and soar."
1 votes