The BEST Episodes of Stroker and Hoop
Every episode ever - ranked by fan votes!
Last Updated: Sep 19, 2021
John Stroker, his partner Hoop, and their wise-talking car, C.A.R.R. are private investigators. They solve cases for anyone who is desperate/dumb enough to responds to their 1/8 page ad in the yellow pages. The pilot for Stroker and Hoop aired August 1, 2004 on Cartoon Network's Adult Swim. The Series began airing regularly on 8/28/05, at midnight.
Watch Now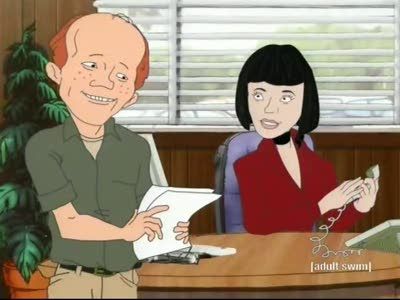 #1 - Tinfoiled Again (a.k.a. Star Crossed Livers)
Season 1 - Episode 3 - Aired Sep 12, 2005
Strange things are afoot after Stroker buys his own billboard in an undesirable part of town. His first new client is a man who claims Ron Howard is controlling his mind. Distracted by the sudden disappearance of their appendixes, Stroker and Hoop aren't exactly hot on the case -- until Ron Howard starts whispering dangerous thoughts in their ears.
13 votes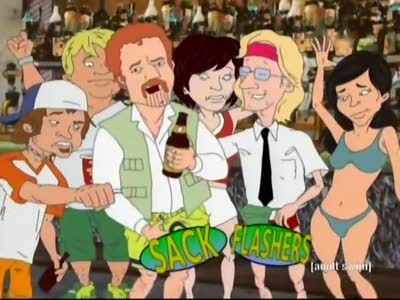 #2 - XXX Wife (a.k.a. Stroke Her and Boob)
Season 1 - Episode 5 - Aired Sep 26, 2005
After Stroker and Hoop double-cross an adult-film director, he exacts his revenge by making an adult film parodying their detective skills. Stroker and Hoop take their new fame in stride -- until they realize it's actually them in the movie, performing under hypnosis!
12 votes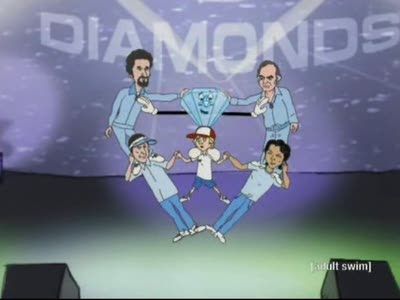 #3 - The Five Diamonds (a.k.a. A Hard Act to Follow)
Season 1 - Episode 2 - Aired Sep 5, 2005
At the birthday party of Stroker's son, David Copperfield makes a kid named Danny disappear.
14 votes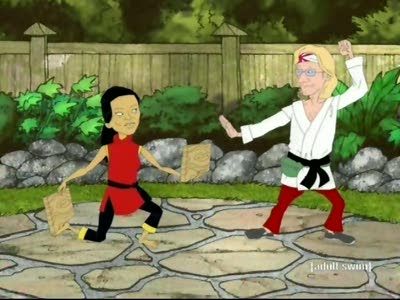 #4 - Ninja Worrier (a.k.a. Chopping Spree)
Season 1 - Episode 6 - Aired Oct 2, 2005
Stroker and Keith obtain something called the "Handle of the Fire Lotus", which is a treasure to some ninjas. They attack Stroker and Keith to try to get the handle back until they are forced to fake their own death to get rid of the ninjas. Meanwhile, after giving away the fact that he never shot anyone before in his life, Hoop quits and falls hard for a beautiful but deadly karaoke singer.
7 votes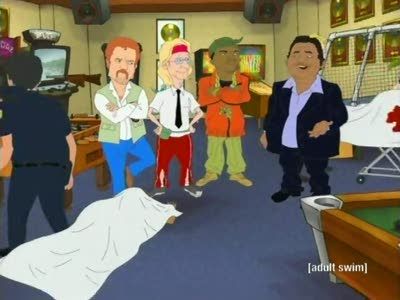 #5 - Hip Hop Hooray (a.k.a. Gangsta Sap)
Season 1 - Episode 8 - Aired Oct 16, 2005
Stroker and Hoop are on the case when a gangsta rapper's home movies are stolen right from under their noses. If they go public, his street-cred as a hard nosed murderer will be ruined. Meanwhile, C.A.R.R finds a new job as a co-host of a lite-hits morning show.
8 votes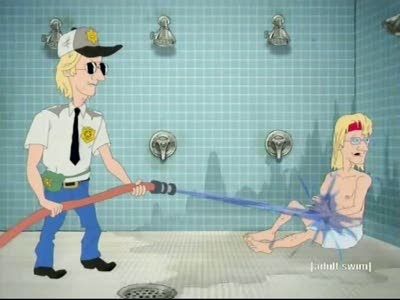 #6 - The Rube Job (a.k.a. Revenge is a Dish Best Served Fried)
Season 1 - Episode 4 - Aired Sep 19, 2005
Stroker and Hoop are forced into hiding in Mississippi after accidentally shooting a vicious Colombian drug lord. Once in town, the local sheriff enlists their help in solving a series of grisly serial killings. Beauty contestants in the Miss Southern Delicacies Pageant are beign battered and fried in the manner of the food they're named after. Could Hoop be the killer?
10 votes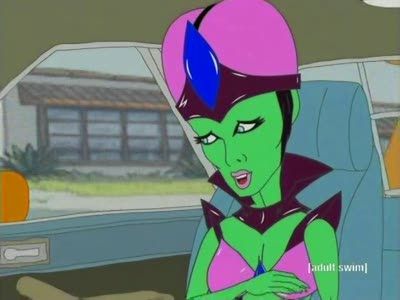 #7 - The Wrath of Khan'Ja (a.k.a. Dammit Mamet)
Season 1 - Episode 11 - Aired Dec 18, 2005
While on a normal morning jog , Stroker sees a UFO ship crash land and meets an alien woman.
5 votes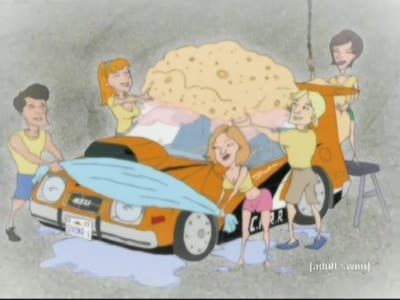 #8 - C.A.R.R. Trouble (a.k.a. Feelin' Dirty)
Season 1 - Episode 1 - Aired Aug 1, 2004
After failing to return a demon-possessed teenage girl to her parents, Stroker and Hoop decide to help a high school marching band find out who has been sending the band threatening letters, and stole the money from their fund raising car wash. Meanwhile, C.A.R.R. develops an addiction to car washes, and abandons Stroker and Hoop when they are ambushed by a goon squad of mascots, to go on a car washing binge.
19 votes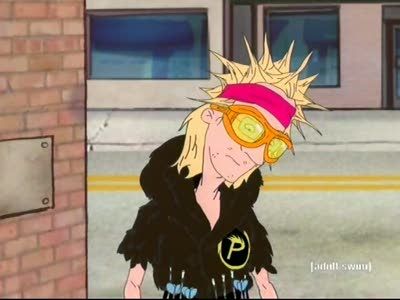 #9 - Quiller Instinct (a.k.a. Peeping Todd)
Season 1 - Episode 7 - Aired Oct 9, 2005
When a greedy infomercial pitchman steals Double-Wide's million-dollar idea, Stroker gets suckered into taking the case. But he'll have to solve it without the help of Hoop, who starts behaving strangely after being stuck by a radioactive porcupine. Has it imbued him with super powers?
7 votes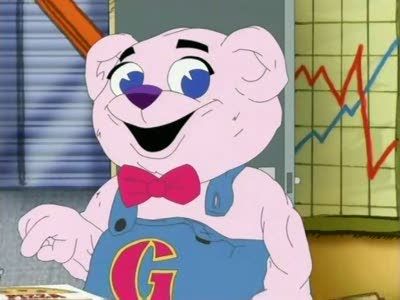 #10 - How to Get Dead in Advertising (a.k.a. Caged Rose)
Season 1 - Episode 12 - Aired Dec 18, 2005
Hoop's mom Rose Schwartz is charged with the brutal murder of her former supervisor and Stroker and Hoop are called on to clear her name.
5 votes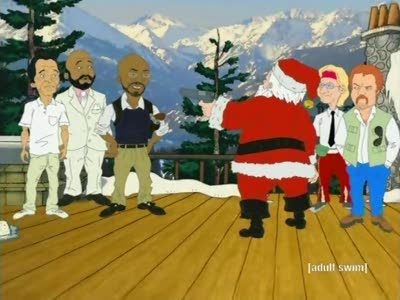 #11 - Putting the 'Ass' in Assassin (a.k.a. Three Cheats to the Wind)
Season 1 - Episode 13 - Aired Dec 25, 2005
Stroker, Hoop, Double-Wide, and C.A.R.R. are all abducted and left hanging hundreds of feet in the air by a crane. The person responsible for their abduction contacts them through a walkie-talkie and informs them that if they can't guess who he is in three guesses he will drop them.
3 votes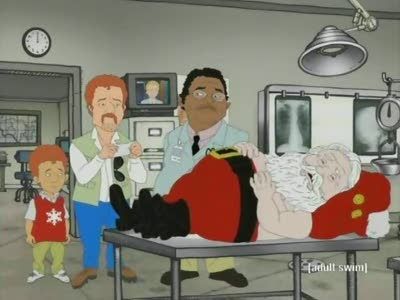 #12 - I Saw Stroker Killing Santa (a.k.a. A Cold, Dead, White Christmas)
Season 1 - Episode 10 - Aired Dec 4, 2005
While Stroker is waiting in line with Keith to meet Santa Claus, an unknown assailant jabs Santa with a hypodermic needle, and Coroner Rick gives Santa a grim prognosis: he has been poisoned with a slow-acting substance not recorded before.
5 votes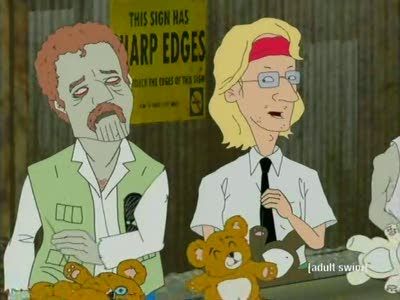 #13 - Just Voodoo It (a.k.a. For Whom the Bear Tolls)
Season 1 - Episode 9 - Aired Nov 27, 2005
After an elderly billionaire dies, Stroker and Hoop are hired by his young widow to find out what happened, and learn that a teddy bear found near the murder scene has the same injuries as the man.
4 votes