The Best Episodes of Stephen Fry in America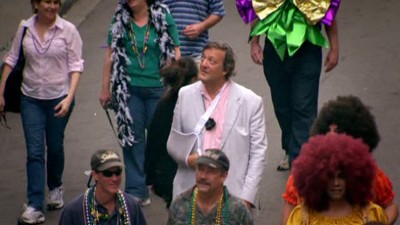 #1 - Mississippi 8.47
Season 1 - Episode 3
In episode 3, Stephen follows the path of the Mississippi River which takes him into the Midwest. Before leaving the south, however, he celebrates Mardi Gras in the French Quarter of New Orleans and tours areas still scarred by Hurricane Katrina. Another stop in Clarksdale, Mississippi, the home of the Delta Blues, brings him to Morgan Freeman's blues club where they discuss the current situation in the Delta. From there, Stephen heads over to St Louis, Missouri, and then the (snow-covered) corn fields of Iowa and on to Michigan, where he meets Cadillac designer John Mancunia and tours Henry Ford's village in a Model T. More blues await when Stephen reaches Chicago and makes his way through the city's South Side accompanied by blues legend Buddy Guy. Before leaving the city, Stephen makes a guest appearance at the renowned improvisational comedy training ground, Second City Theater. Wisconsin provides a more agrarian setting. Here, Stephen attempts to milk a sheep and churn the curds with artisanal cheese-maker Brendan Jenson. Following the now frozen Mississippi River north to Minneapolis brings him in contact with a very unlikely settlement of Hmong refugees from Vietnam. Ice fishing is a traditional past time in Minnesota and Stephen participates, catching his first fish in 40 years.
#2 - Deep South 8.44
Season 1 - Episode 2
Stephen has a real affinity for the South's rich, colorful history and gentile pace. In episode two, his taxi takes him to the coal mines of West Virginia, to Kentucky, home of the Kentucky Derby, and in Tennessee he explores the roots of Bluegrass music and takes a detour to a "Body Farm" where scientists assist police investigations by creating various "time since death" scenarios. From there, Stephen takes an uplifting hot air balloon trip across North Carolina then spends Thanksgiving in Georgia before heading to Miami where he has to endure a stifling combination of heat and humidity. He wraps up his Southern tour in Alabama and discovers just how serious college sports fans are in America.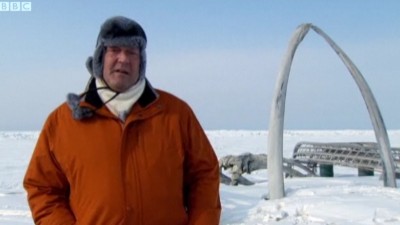 #3 - Pacific 8.39
Season 1 - Episode 6
In this final episode, Stephen explores the states along the Pacific Coast, as well as Alaska and Hawaii. First he chats with Jony Ive, Apple's design guru, in San Francisco's Chinatown; then Stephen accompanies Tom Allmann, the Sheriff of Mendocino, on a drugs bust. Traveling through the giant redwood forests of Northern California and Oregon, he meets pot-smoking students and arboreal activists who are intent on protecting the forests. After leaving his taxi behind in Seattle, Stephen flies to Kodak Island in Alaska to witness a Russian Orthodox Easter. While there, a group of Inuits demonstrate how they hunt bowhead whales. From the extreme north, Stephen heads south to Hawaii to wrap up his journey across America. He gets the low-down on Waikiki Beach from Terry Pennington, a real-life Magnum PI; goes swimming with sharks; and meets champion surfer Titus on the island of Kauai. On the Big Island, Stephen views exploding stars at Keck Observatory and witnesses the creation of new land with a visit to the lava fields that flow into the ocean.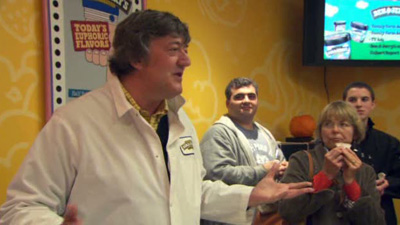 #4 - New World 8.36
Season 1 - Episode 1
In episode 1, Stephen Fry explores the New England states. Starting in Maine to learn about lobster, he then heads over to New Hampshire during the height of presidential primary activity, from there he makes a stop in Vermont and the Ben and Jerry ice-cream factory before attempting some deer hunting in the Adirondack Mountains of New York. The next stop for Stephen's hired taxi is Boston followed by New York City where he meets up with musician Sting and gets a feel for the "Goodfellas" social club types in Queens. Quick stops in Delaware and Maryland, then to Washington DC, where Stephen chats with Wikipedia founder James Whales before wrapping up his New England tour with some political satire from Capitol Steps and a Lincoln impersonator in Gettysburg.
Directors: John Paul Davidson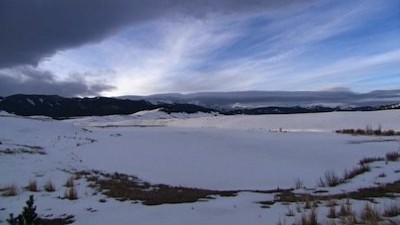 #5 - Mountains and Plains 8.33
Season 1 - Episode 4
Episode 4 provides Stephen with some picturesque views of America's rugged mountains and wide open spaces. Starting at the Canadian border, he works his way along the Rocky Mountain and plains states, all the way to the Mexican border. Stephen meets media mogul Ted Turner at his 50,000 head bison ranch, visits with a Wyoming ranching couple, and tries travel by dog sled before over indulging at a diner in Bismarck, North Dakota. From there, it's through the Badlands of South Dakota and a ride with a trucker traveling through Nebraska. He gets a glimpse of resort style living in Aspen, Colorado and attends a gala dinner in Houston, Texas before making his way further south to see a band of Tex-mex musicians in El Paso.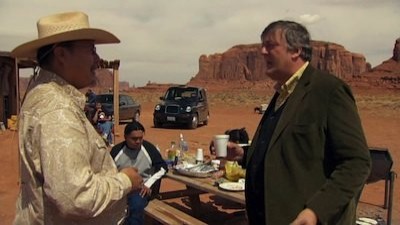 #6 - True West 8.17
Season 1 - Episode 5
A tour of the Southwestern states of New Mexico, Arizona and Nevada are next up in episode 5. In New Mexico, the work of physicists at Los Alamos Lab is contrasted by the life of a group of eco-friendly residents in the predominantly artist community of Santa Fe. In Arizona, Stephen spends some time with Navajo Indians in Monument Valley; makes a visit to more upscale surroundings aboard a well appointed houseboat on Lake Powell; takes a Second World War Flying Fortress Bomber to the "Boneyard" in Tucson, where 3,000 military planes are eerily mothballed; and tries his hand at being a cowboy at Old Tucson Studios. While in Nevada, Stephen learns about the intricate brothel life from madam Susan Austin and gets a peek at Mormon missionaries in the process of shooting their annual calendar before heading over the Sierra Nevada mountains to the Pacific Ocean.