The Best Episodes of Saint Seiya Omega
Last Updated: Apr 13, 2019
The first Saint Seiya TV series in 25 years. It will have an original story and new characters. The god of war and guardian of his namesake planet, Mars, was once sealed away by Seiya, but time has passed and his revival is at hand. Meanwhile, Saori Kido (Athena) is raising the boy Kōga, whose life Seiya saved, and he's been training every day to become a Saint in order to prepare for the coming crisis... Unaware of his destiny, when Kōga awakens to the power of his Cosmo hidden inside him, the curtain will rise upon the legend of a new Saint.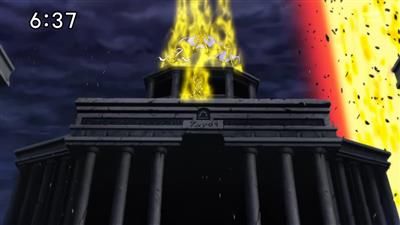 #1 - Take it to Seiya! The Wish of the Young Saints!
Season 1 - Episode 50
24 votes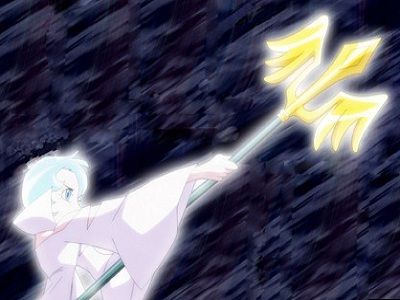 #2 - The End of the Journey! The Light of the Girl and the Youths!
Season 1 - Episode 27
25 votes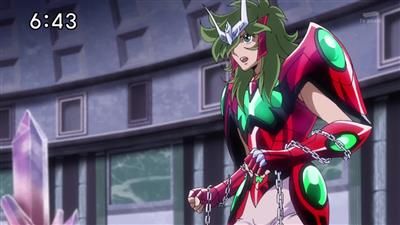 #3 - The Offense and Defense Assasin! Shun's Secret Chain!
Season 2 - Episode 28
Koga, Yuna, and Souma advance through the first path while Shun stays behind to deal with the enemy reinforcements. However, the Secondary Pallasite Surtr blocks their path enveloped in a defensive barrier that seems impenetrable, until Shun catches up with them and realizes the secret behind the enemy's trick.
17 votes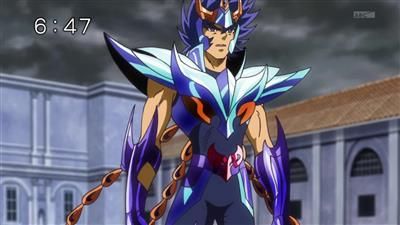 #4 - The Peak Fighting Spirit! Ikki vs. Aegaeon!
Season 2 - Episode 31
Ikki fights Aegaeon while Koga, Souma, Yuna, and Shun keep moving onward. During the battle, Ikki and Aegaeon sustain grievous wounds. Meanwhile, the Gold Saints discuss Harbinger's loyalty to Athena since she gave the Athena Cloth to him for safekeeping, telling the Gold Saint that Athena trusts him. At the same time, Titan tries to calm down Pallas as she snaps after a Quaternary Pallasite informs her of Ikki fighting Aegaeon. At the end of the battle, Ikki sacrifices himself to completely defeat Aegaeon and all his fellow Bronze and Gold Saints grieve over his death, while Gallia and Hyperion comment on the Saint's strength, and Titan mourns over their fellow Primary Pallasite's death.
17 votes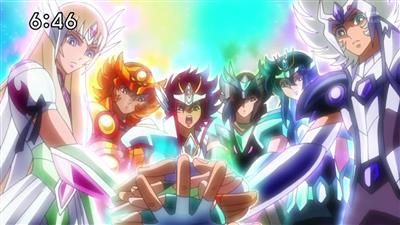 #5 - The Secret of the Cloths! A New Power Is Activated!
Season 2 - Episode 35
The young Bronze Saints face off against Gallia on their own, allowing the Gold Saints and Athena to move forward towards Pallas. Although Gallia's Photontector and Bushin Photon Sword seem impervious to harm, Subaru once more calls on the mysterious powerful Cosmo to break through Gallia's offensive and actually damage the sword, convincing the others to call upon their own osmo, transforming their New Cloths into the more powerful Omega Cloths, and together the six Bronze Saints defeat Gallia.
17 votes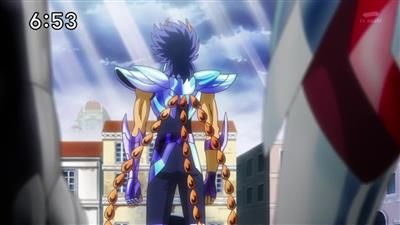 #6 - The Phoenix! Phoenix Ikki Arrives!
Season 2 - Episode 25
As Koga and his friends approach Pallas' fortress, Mira appears before them again, but Ikki arrives in the nick of time to protect them. After the Pallasite flees, Ikki reveals to the other Bronze Saints that Pallas is not their greatest enemy, but an even greater foe who is manipulating the whole conflict from the shadows.
19 votes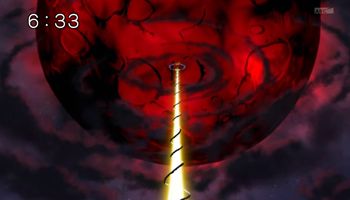 #7 - The Malevolent War God! Mars and Ludwig!
Season 1 - Episode 45
22 votes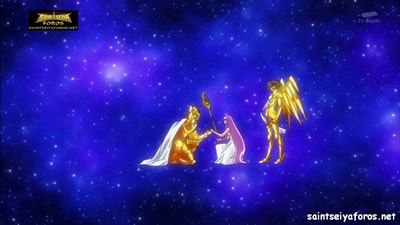 #8 - Taurus Charge!! Reaching Pallas's Chamber!
Season 2 - Episode 39
Accompained only by Seiya and Harbinger, Saori finally comes face to face with Pallas. Titan steps in to protect his master and Harbinger challenges the Pallasite, using Athena's cloth to draw his attention. Treating him as a mere ruffian, Titan is surprised by the true might of the Taurus Saint, who proves himself far more powerful and noble than he claims to be.
18 votes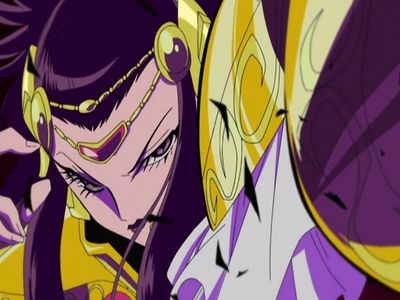 #9 - The Essence of Cosmo! The Seventh Sense!
Season 1 - Episode 33
Koga arrives at the Gemini Temple. He and Ryuhou join forces in order to defeat Gemini Paradox. Despite their best efforts, the two of them are outclassed by the more experienced warrior, especially when her darker half comes out to fight. Incensed by Paradox's selfish nature, Ryuhou manages to awaken the Seventh Sense and pull out a desperate win at the last minute. Ryuhou and Kouga the head off to the Cancer Temple.
24 votes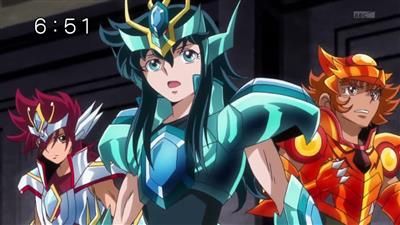 #10 - The Gold Union! The Forbidden Mystery!
Season 2 - Episode 36
Fudo, Kiki, and Shiryu face off against Hyperion, allowing Athena, Seiya, and Harbinger to move forward. Hyperion's Destruction Tector and Tenchi Destruction Slash holy sword prove too powerful for the three Gold Saints' attacks on their own. In a final show of strength, they combine their Cosmo into a single forbidden attack: Athena Exclamation. The Saints and Pallasites throughout Pallasvelda react to the outpouring of Cosmo, and as the Tenchi Destruction Slash is destroyed, the three Saints' Cosmo vanishes.
19 votes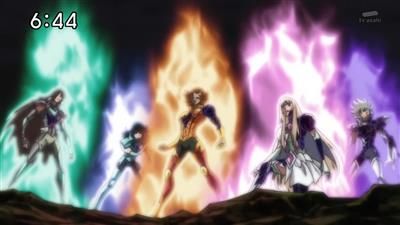 #11 - Shine, Koga! The Final Battle Between Light and Darkness!
Season 1 - Episode 51
23 votes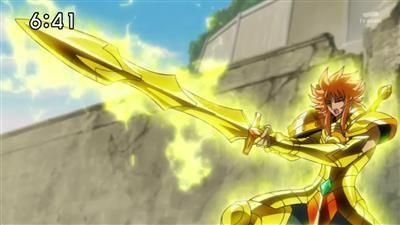 #12 - Genbu's Deadly Battle! Excalibur vs. the Sword of Libra
Season 2 - Episode 11
Aegir fails to defeat Genbu by himself and the Primary Pallasite Hyperion lends his own sword to assist him. Overwhelmed by the massive Cosmo flowing from the sword, the Gold Saint decides to forfeit his own life in an attempt to destroy it.
16 votes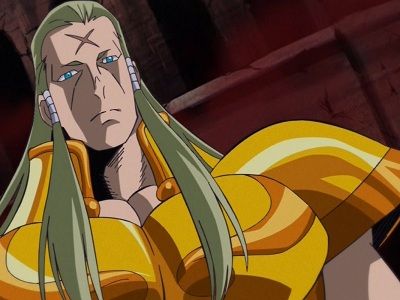 #13 - Suicidal rescue! One more Gold Saint!
Season 1 - Episode 10
The young Bronze Saints bravely invade Mars' Babel Tower, and succeed in rescuing the girl he claims to be Athena. She reveals to Kōga that her name is Aria. Sensing a threat approaching, Kōga dispatches Yuna along with Aria to avoid being recaptured, and together, the young Saints try desperately to buy time for their escape by facing the seemingly invincible Leo Mycene. In their darkest hour, a memory of Seiya deep in Kōga's heart brings them hope.
29 votes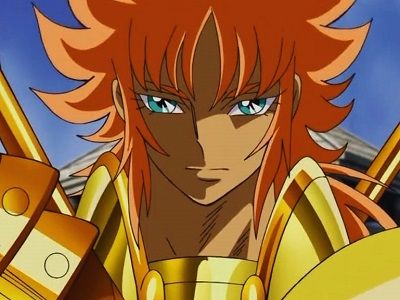 #14 - Reunion in Libra! Clash, Gold vs. Gold!
Season 1 - Episode 39
Libra Genbu interferes in the battle between Tokisada and the Bronze Saints, teleporting everyone to his temple. To the shock of the Bronze Saints, Genbu takes over the fight and declares his loyalty belongs to Athena, to Saori Kido. While Tokisada is a powerful warrior, Genbu wins the fight. In a desperate gamble, Tokisada attempts a powerful technique to take the Bronze Saints with him but only manages to suck in Ryuho and Haruto. Koga, Souma, and Yuna proceed to the next temple with Genbu's blessing.
24 votes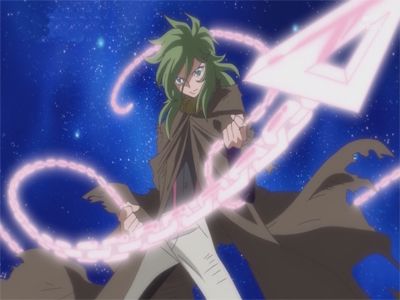 #15 - The Inherited Cosmo! Shun, the Legendary Saint!
Season 1 - Episode 12
Kōga and friends continue their trek to take Aria to safety, when they're surprised by the attack of Hound Miguel. Overpowered by the merciless Silver Saint, the lives of the Bronze Saints are saved by the timely arrival of Andromeda Shun, the Saint of legend. Shun takes the youngsters to his village to rejoin Ryūhō, afterward they're once again attacked by Miguel, whom they manage to defeat after a fierce battle. Later, the young Saints leave Shun's village to continue their mission.
29 votes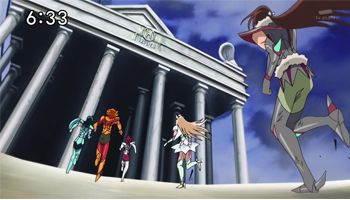 #16 - Resurrection of the War Gods! Break Into the Last Temple!
Season 1 - Episode 43
19 votes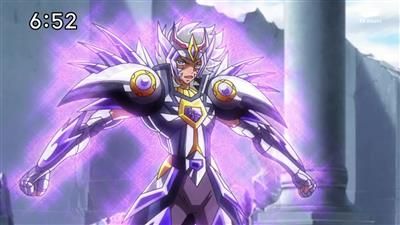 #17 - The God of Time! The Ascent of Saturn!
Season 2 - Episode 42
Subaru awakens as Saturn, the God of Time, the one who bestowed the Pallasites their Chrono Tectors and Holy Swords. Donning his own Chrono Tector, Saturn, accompained by Europa and Mira, reveals that he had descended to Earth and erased his past memories to live among mankind and determine their worthiness. Having regained his former self, he then declares that humanity no longer deserves to remain on the Earth and uses his powers to freeze all of its inhabitants, before retreating to his heavenly palace with his servants. Determined to make Saturn pay and have Subaru return to normal, Seiya and the young saints depart to confront him in the sky, but just after they depart, the wounded Harbinger and Titan steel themselves to defend Pallas and Athena when Europa and Mira return to dispose of the goddesses, but Shun and Hyoga appear to fight in their place.
19 votes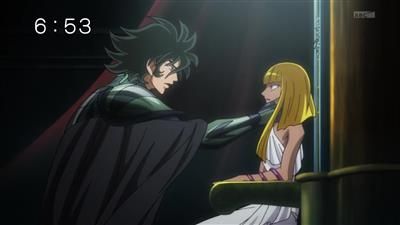 #18 - Fighting Destiny! The Confession of Rebellion!
Season 2 - Episode 34
After dealing with Paradox, Gallia turns her attention to Athena and the Gold Saints, easily deflecting all their attacks until she reveals her Photontector. Meanwhile, the other three groups figure out the meaning of their endless running, figuring out that someone has put them into an endless corridor. As Seiya's attacks are easily deflected, and Gallia is about to kill him, Pallas informs her to stand back, with Gallia mocking Pallas for receiving no love in spite of being the Goddess of Love. However, Integra and Paradox combine their Cosmo, and destroy Europa's trick with the Another Dimension, allowing the other Saints to reach the battlefield. However, Paradox succumbs to her wounds and dies in Integra's arms, fulfilling her destiny as the Gemini Gold Saint.
18 votes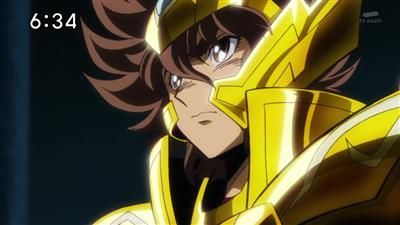 #19 - Seiya's True Feelings! The Lie From His Return!
Season 2 - Episode 41
After donning his New Gold Cloth, Seiya battles Titan, who questions his loyalty to Athena and the Sagittarius Saint reveals that his drive to follow Saori comes from his feelings for her. Knowing how he feels out of his devotion to Pallas, the Pallasite attacks with all his Cosmo, just to be wounded by Seiya's arrow. Pallas intervenes to protect Titan and Saori then reconciles with her, seeing how she has reformed after assuming her love for him. However, Europa appears and uses the curse laid on the goddesses to drain their Cosmo and pours it on Subaru, who is revealed to be the Pallasites' true master: Saturn.
21 votes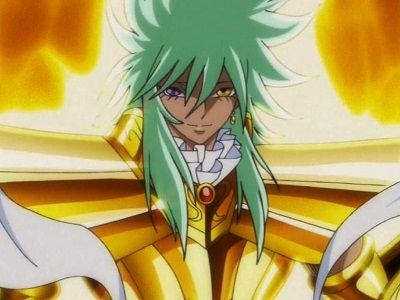 #20 - Steadfast Guardian! The Gold Saint of Virgo!
Season 1 - Episode 37
Upon arriving at the next temple, Haruto and Souma are confronted by Virgo Fudo, a gold saint whose cosmos surpasses that of all the Gold Saints in the earlier temples. Yuna, Kouga, and Ryuhou join the battle in time to save their friends from a crushing defeat. But even the combined powers of the five Bronze Saints is no match for Fudo. When all hope seems lost, Eden arrive at the last minute and protects them from one of Fudo's techniques.
26 votes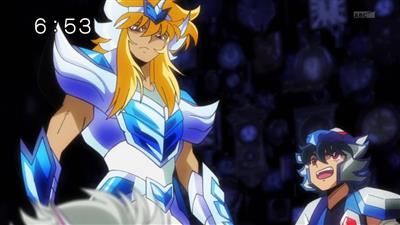 #21 - The King of Time! Hyoga's Absolute Zero Air!
Season 2 - Episode 29
Tokisada, the former Aquarius Gold Saint who was supposed to be defeated by Haruto at the End of Time, appears before him as a Secondary Pallasite at the second path, donning a Chronotector that enhances his time-control abilities. Haruto, Eden and Subaru have a hard time against him until Hyoga appears to battle him in their place.
19 votes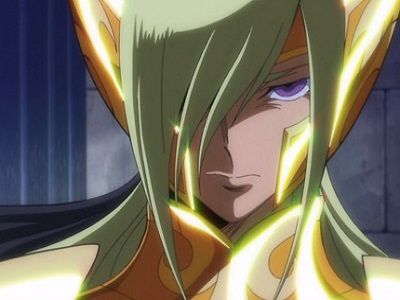 #22 - The Heroic Betrayal! Eden's Determined Fighting Spirit!
Season 1 - Episode 38
Eden takes over the fight against Fudo after blasting Kouga and the others out of the Virgo Temple. Following a desperate battle, Eden manages to defeat the Virgo Gold Saint when he awakens the seventh sense. At the same time, the other Bronze Saints attempt to use the opening he gave them to go to the Libra Temple. Unfortunately, they are confronted by Tokisada, the new Aquarias Gold Saint and the man who killed Haruto's brother. His apparent ability to control time makes him a powerful adversary and Kouga is defeated with little effort.
23 votes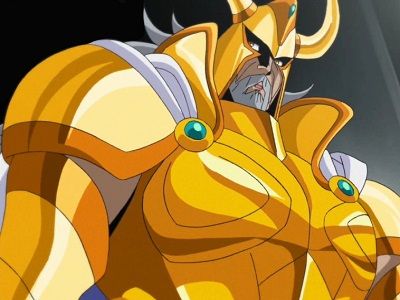 #23 - Fateful Meeting! The smashing Gold Saint!
Season 1 - Episode 8
After his victory over Sōma, Kōga senses a familiar Cosmo approaching, which he recognizes as Athena's. Rushing to meet her, to his surprise, he finds not Athena, but a frail, fearful young girl, whom Capricorn Ionia reveals to be Athena's true self. Ionia also reveals his true allegiance, to Mars, and reveals their plans to a shocked Kōga. After defeating the young Saint, Ionia leaves with the young girl, not before laying waste to the Palaestra, leaving it in ruins. Hours later, Kōga awakens in Mars' Saint Prison, to be greeted by the mysterious Wolf Haruto.
26 votes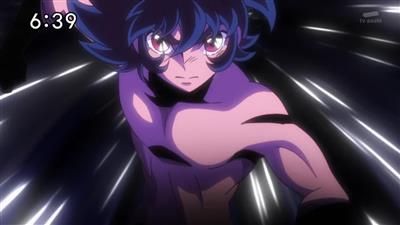 #24 - Awaken! The Ultimate Omega!
Season 2 - Episode 38
As Subaru's time is taken away by the Chrono Destruction, Koga, Yuna, Souma, Ryuhou, Haruto, and Eden still have to face the immense power of Hyperion as well as awaken their greater Omega Cosmo.
17 votes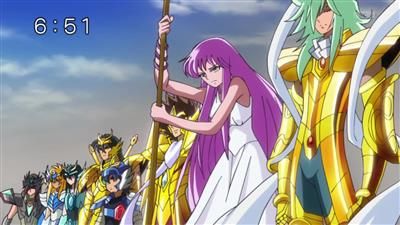 #25 - Move Time! Athena's Saints Gather!
Season 2 - Episode 26
At last Koga arrives at the front of Pallas' castle, which is sealed by the "Gate of Time", a massive door reinforced with Titan's powers. Koga attempts to break through the gate by himself but his own life is put in danger instead, until Athena and her Saints arrive to lend a hand.
17 votes