The BEST Episodes of Saint Seiya Omega
Every episode ever - ranked by fan votes!
Last Updated: Jan 16, 2020
The first Saint Seiya TV series in 25 years. It will have an original story and new characters. The god of war and guardian of his namesake planet, Mars, was once sealed away by Seiya, but time has passed and his revival is at hand. Meanwhile, Saori Kido (Athena) is raising the boy Kōga, whose life Seiya saved, and he's been training every day to become a Saint in order to prepare for the coming crisis... Unaware of his destiny, when Kōga awakens to the power of his Cosmo hidden inside him, the curtain will rise upon the legend of a new Saint.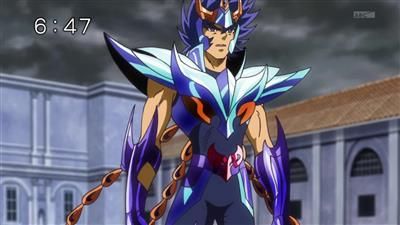 #1 - The Ultimate Fighting Spirit! Ikki vs. Aegaeon!
Season 2 - Episode 31 - Aired Dec 8, 2013
Ikki fights Aegaeon while Koga, Souma, Yuna, and Shun keep moving onward. During the battle, Ikki and Aegaeon sustain grievous wounds. Meanwhile, the Gold Saints discuss Harbinger's loyalty to Athena since she gave the Athena Cloth to him for safekeeping, telling the Gold Saint that Athena trusts him. At the same time, Titan tries to calm down Pallas as she snaps after a Quaternary Pallasite informs her of Ikki fighting Aegaeon. At the end of the battle, Ikki sacrifices himself to completely defeat Aegaeon and all his fellow Bronze and Gold Saints grieve over his death, while Gallia and Hyperion comment on the Saint's strength, and Titan mourns over their fellow Primary Pallasite's death.
73 votes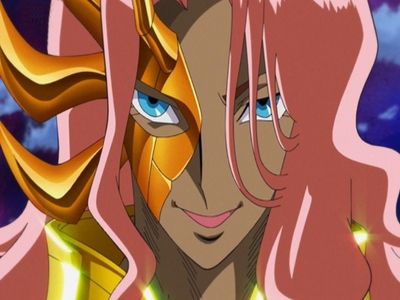 #2 - True Fear! The Strange Aura Permeating the House of Cancer!
Season 1 - Episode 32 - Aired Nov 11, 2012
107 votes
Writers: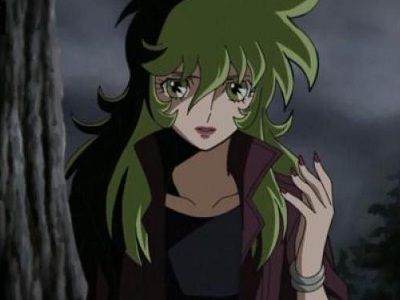 #3 - Aiming for a Reunion! Let's Go to the Last Ruins!
Season 1 - Episode 24 - Aired Sep 16, 2012
Knowing of Aria's whereabouts, the Bronze Saints set off to invade the final ruins, followed by Ophiuchus Shaina, who joins them. Before parting, Shaina reveals to Kōga the secret of his origin, as well as Aria's. Inside the ruins, the Bronze Saints face the threat of powerful Silver Saints, while Kōga engages Orion Eden to free Aria. Shaina takes Aria and with her help, they are able to vanquish Mars' dominion over the area. As Mars' power vanishes, the ruins crumble, and the bronze Saints realize Mars' dark power is emerging from the debris of the structure.
77 votes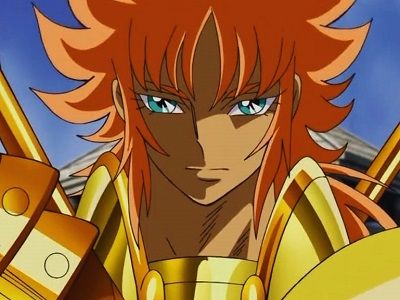 #4 - Reunion in Libra! Clash, Gold vs. Gold!
Season 1 - Episode 39 - Aired Jan 6, 2013
Libra Genbu interferes in the battle between Tokisada and the Bronze Saints, teleporting everyone to his temple. To the shock of the Bronze Saints, Genbu takes over the fight and declares his loyalty belongs to Athena, to Saori Kido. While Tokisada is a powerful warrior, Genbu wins the fight. In a desperate gamble, Tokisada attempts a powerful technique to take the Bronze Saints with him but only manages to suck in Ryuho and Haruto. Koga, Souma, and Yuna proceed to the next temple with Genbu's blessing.
81 votes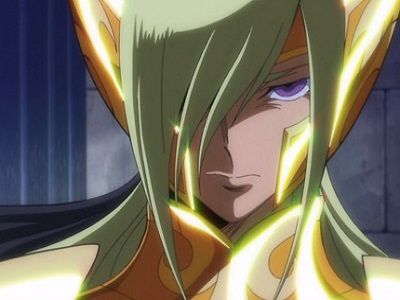 #5 - The Heroic Betrayal! Eden's Determined Fighting Spirit!
Season 1 - Episode 38 - Aired Dec 23, 2012
Eden takes over the fight against Fudo after blasting Kouga and the others out of the Virgo Temple. Following a desperate battle, Eden manages to defeat the Virgo Gold Saint when he awakens the seventh sense. At the same time, the other Bronze Saints attempt to use the opening he gave them to go to the Libra Temple. Unfortunately, they are confronted by Tokisada, the new Aquarias Gold Saint and the man who killed Haruto's brother. His apparent ability to control time makes him a powerful adversary and Kouga is defeated with little effort.
80 votes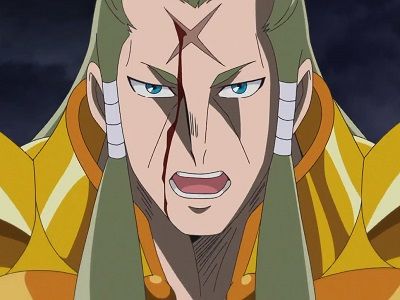 #6 - Sublime Pride! Mycenae's Kingly Fist!
Season 1 - Episode 36 - Aired Dec 9, 2012
76 votes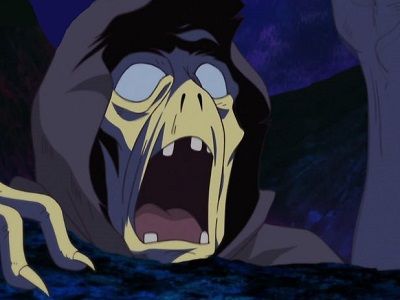 #7 - Border Between Life and Death! Battle in Hades!
Season 1 - Episode 34 - Aired Nov 25, 2012
79 votes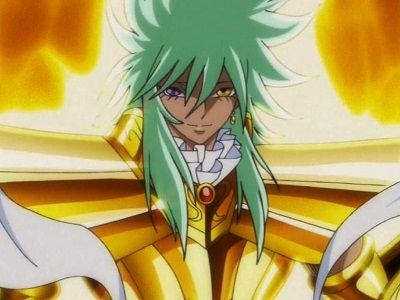 #8 - Steadfast Guardian! The Gold Saint of Virgo!
Season 1 - Episode 37 - Aired Dec 16, 2012
Upon arriving at the next temple, Haruto and Souma are confronted by Virgo Fudo, a gold saint whose cosmos surpasses that of all the Gold Saints in the earlier temples. Yuna, Kouga, and Ryuhou join the battle in time to save their friends from a crushing defeat. But even the combined powers of the five Bronze Saints is no match for Fudo. When all hope seems lost, Eden arrive at the last minute and protects them from one of Fudo's techniques.
82 votes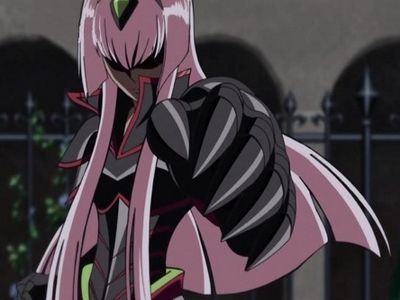 #9 - Reminiscences and Revenge! The Trap of the Ruins of Darkness!
Season 1 - Episode 26 - Aired Sep 30, 2012
78 votes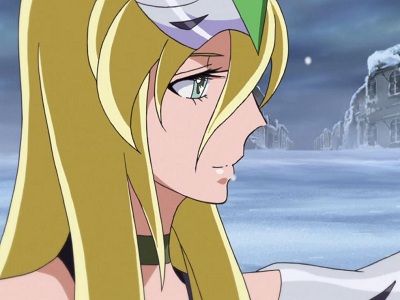 #10 - Reunion in My Homeland! Mentor and Disciple Duel in the Snowfields!
Season 1 - Episode 14 - Aired Jul 1, 2012
The Bronze Saints reach a snow-covered land, which causes Yuna to reminisce about her days as a Saint apprentice and her mentor, the kind Peacock Pavlin. Sensing her mentor near, Yuna rushes to her encounter, only to realize Pavlin's allegiance is to Mars. Disciple and master engage in a fierce duel, later Yuna realizes it was Pavlin testing her, as her mentor reveals she is truly loyal to Athena Saori, and informs Yuna she is still alive and being held hostage by Mars. As Yuna prepares to rejoin her fellow Bronze Saints, both female Saints are surrounded by traitorous Silver Saints. Pavlin stays behind to cover Yuna's escape, seemingly losing her life.
110 votes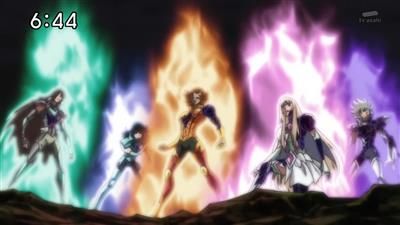 #11 - Shine, Koga! The Final Battle Between Light and Darkness!
Season 1 - Episode 51 - Aired Mar 31, 2013
81 votes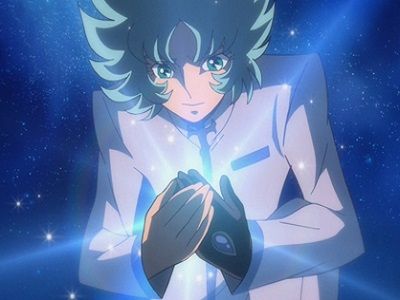 #12 - The Fist of the Lion! Eden's Sorrowful Battle!
Season 1 - Episode 35 - Aired Dec 2, 2012
After Cancer Schiller's defeat, the Bronze Saints prepare to proceed further into Sanctuary. Meanwhile, Orion Eden reminisces about his late friend Aria. The grief-stricken Bronze Saint begins to question Mars' motives and their legitimacy, going as far as to challenge his master Leo Mycenae because of his loyalty to Mars. Mycenae and Eden engage in unequal combat to prove their conviction.
77 votes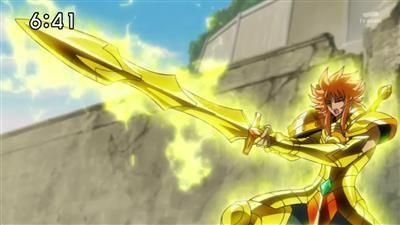 #13 - Genbu's Duel! Holy Blade vs. the Libra Blade!
Season 2 - Episode 11 - Aired Jun 23, 2013
Aegir fails to defeat Genbu by himself and the Primary Pallasite Hyperion lends his own sword to assist him. Overwhelmed by the massive Cosmo flowing from the sword, the Gold Saint decides to forfeit his own life in an attempt to destroy it.
43 votes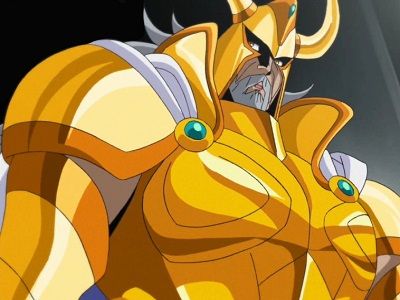 #14 - Fateful Meeting! The smashing Gold Saint!
Season 1 - Episode 8 - Aired May 20, 2012
After his victory over Sōma, Kōga senses a familiar Cosmo approaching, which he recognizes as Athena's. Rushing to meet her, to his surprise, he finds not Athena, but a frail, fearful young girl, whom Capricorn Ionia reveals to be Athena's true self. Ionia also reveals his true allegiance, to Mars, and reveals their plans to a shocked Kōga. After defeating the young Saint, Ionia leaves with the young girl, not before laying waste to the Palaestra, leaving it in ruins. Hours later, Kōga awakens in Mars' Saint Prison, to be greeted by the mysterious Wolf Haruto.
84 votes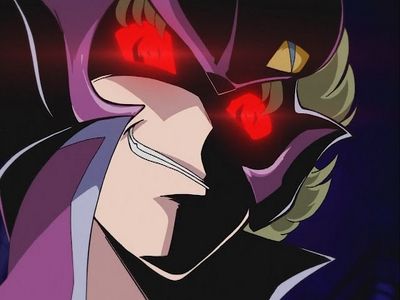 #15 - Unknown Territory! The Moment of a Chance Meeting!
Season 1 - Episode 25 - Aired Sep 23, 2012
78 votes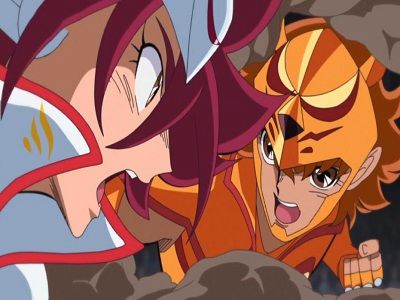 #16 - The Fist of a Friend! Hit, Pegasus Meteor Fist!
Season 1 - Episode 7 - Aired May 13, 2012
The Saint Fights tournament continues. Geki and Kōga bond more while the former teaches the young Saint about the mysteries of Cosmo, and reminisces about his defeat at the hands of Seiya years ago. In the tournament, Yuna triumphs over Delphinus Güney, and Kōga and Sōma are pitted against each other in battle. As both are driven by strong motivations, Kōga draws more strength from the memories of Geki to narrowly achieve victory over his friend.
83 votes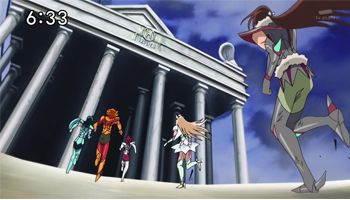 #17 - Resurrection of the War Gods! Break Into the Last Temple!
Season 1 - Episode 43 - Aired Feb 3, 2013
48 votes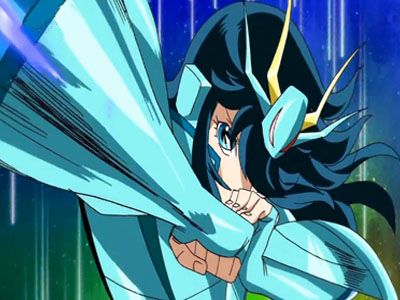 #18 - The Son of a Hero! Ryūhō versus Kōga!
Season 1 - Episode 4 - Aired Apr 22, 2012
Ryūhō, the son of the legendary Bronze Saint Dragon Shiryū returns to the Palaestra after a short absence. The young Saint apprentices are subjected to a strict training to master their Cosmo element. Kōga is later forced to battle Ryūhō in an intense element-to-element duel.
124 votes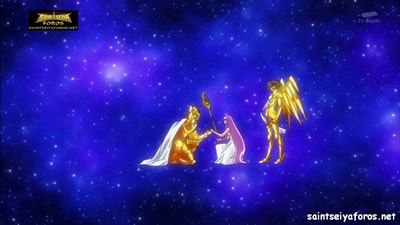 #19 - Raging Taurus! Reach the Throne Room of Pallas!
Season 2 - Episode 39 - Aired Feb 9, 2014
Accompained only by Seiya and Harbinger, Saori finally comes face to face with Pallas. Titan steps in to protect his master and Harbinger challenges the Pallasite, using Athena's cloth to draw his attention. Treating him as a mere ruffian, Titan is surprised by the true might of the Taurus Saint, who proves himself far more powerful and noble than he claims to be.
47 votes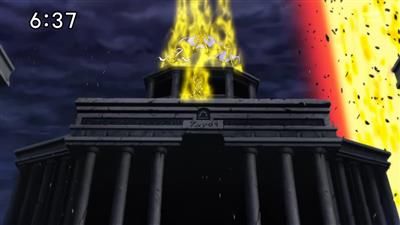 #20 - Take it to Seiya! The Wish of the Young Saints!
Season 1 - Episode 50 - Aired Mar 24, 2013
81 votes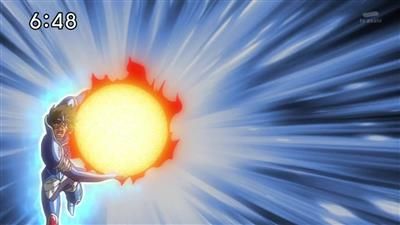 #21 - The Cloth is Passed On! Equuleus Subaru is Born!
Season 2 - Episode 21 - Aired Sep 22, 2013
Koga's party departs to the palace through the secret passage shown by Celeris. However, worried about him, Subaru returns to assist the Equuleus Saint, and can do little to stop him from sacrificing himself to defeat Hati. Before passing away, Celeris entrusts the damaged Equuleus Clothstone to Subaru, and upon rejoining his fellow Bronze Saints, Subaru unlocks its true power to protect them, becoming a Bronze Saint as well.
41 votes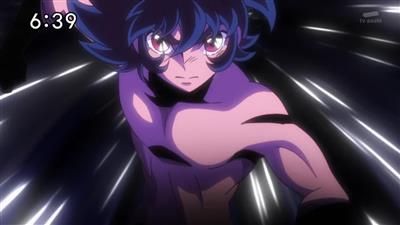 #22 - Awaken! The Ultimate Omega!
Season 2 - Episode 38 - Aired Feb 2, 2014
As Subaru's time is taken away by the Chrono Destruction, Koga, Yuna, Souma, Ryuhou, Haruto, and Eden still have to face the immense power of Hyperion as well as awaken their greater Omega Cosmo.
45 votes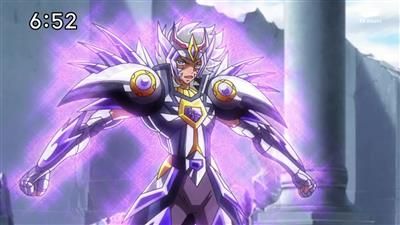 #23 - The God of Time! Saturn Arrives!
Season 2 - Episode 42 - Aired Mar 2, 2014
Subaru awakens as Saturn, the God of Time, the one who bestowed the Pallasites their Chrono Tectors and Holy Swords. Donning his own Chrono Tector, Saturn, accompained by Europa and Mira, reveals that he had descended to Earth and erased his past memories to live among mankind and determine their worthiness. Having regained his former self, he then declares that humanity no longer deserves to remain on the Earth and uses his powers to freeze all of its inhabitants, before retreating to his heavenly palace with his servants. Determined to make Saturn pay and have Subaru return to normal, Seiya and the young saints depart to confront him in the sky, but just after they depart, the wounded Harbinger and Titan steel themselves to defend Pallas and Athena when Europa and Mira return to dispose of the goddesses, but Shun and Hyoga appear to fight in their place.
48 votes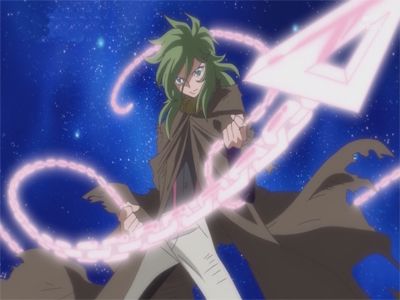 #24 - The Inherited Cosmo! Shun, the Legendary Saint!
Season 1 - Episode 12 - Aired Jun 17, 2012
Kōga and friends continue their trek to take Aria to safety, when they're surprised by the attack of Hound Miguel. Overpowered by the merciless Silver Saint, the lives of the Bronze Saints are saved by the timely arrival of Andromeda Shun, the Saint of legend. Shun takes the youngsters to his village to rejoin Ryūhō, afterward they're once again attacked by Miguel, whom they manage to defeat after a fierce battle. Later, the young Saints leave Shun's village to continue their mission.
142 votes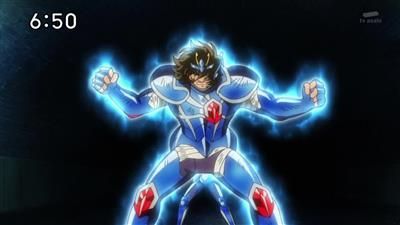 #25 - The Cursed Cloth!? The Equuleus Saint!
Season 2 - Episode 20 - Aired Sep 15, 2013
On their way to the palace, Koga and his friends meet Celeris, who fights to protect the refugees with the Equuleus Cloth, despite taking heed of the dreaded curse that befalls whoever dons it. They also meet Selene, a young girl who takes care of all the humans who hide underground who has not been frozen in time, and Eden, with something to protect, has to fight Thebe once again, while Subaru and Celeris encounter Hati and have a short battle with him.
41 votes