The BEST Episodes of Sailor Moon
Every episode ever - ranked by fan votes!
Last Updated: Oct 7, 2019
Pretty Soldier Sailor Moon - Usagi Tsukino is an ordinary teenage girl who discovers that she is "Sailor Moon", The Pretty Soldier of love and justice. Guided by her guardian cat Luna, Usagi must find the moon princess and protect Earth from the Dark Kingdom. Joining Usagi are her new Sailor Senshi friends and the mysterious Tuxedo Mask.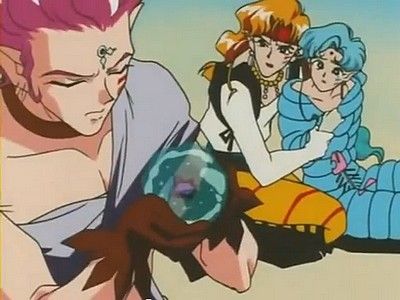 #1 - Mirror of Dreams! Amazon's Final Stage
Season 4 - Episode 22
Fish Eye is devasted to learn that he will not get to be a human with beautiful dreams anymore after the next full moon. He poses as a female, and wants to be with Mamoru before he gets transported back to a fish. Mamoru is to loyal to Usagi to accept. Fish Eye still wins a kiss. Fish Eye is depressed about not getting his love, and winds up going to Usagi's house to seek shelter from the rain. He is shocked to find out, Usagi is Super Sailor Moon and best of all, Pegasus is in Chibiusa's care. Zirconia is ready to replace the Amazon Trio with the Amazon Quartet, and they send out a demon to berid of Tigers Eye, Hawks Eye and Fish Eye. The remaining 2/3's of the trio come down to Earth, and there they attack Usagi for her mirror. Fish Eye explains his wish of having dreams, and everyone agrees they want to be full human. The Quartet's demon attacks Fish Eye, but Hawks Eye saves him by stepping in the way, and is killed. With the power of Pegasus, the demon is killed but the full moon s
8 votes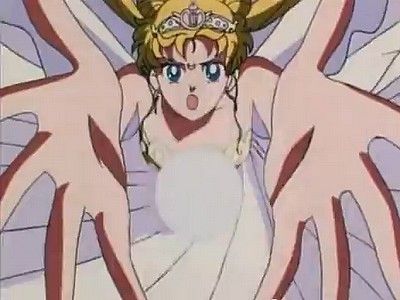 #2 - The Final Battle Between Light and Darkness! Love Sworn in the Future
Season 2 - Episode 42
The Sailor Warriors confront Black Lady, trying to convince her to stop this madness and turn good again. Black Lady denies them and attacks. Tuxedo Mask blocks a blast meant for Sailor Moon and is injured. Black Lady falters for a moment, and the girls manage to break Wiseman's brainwashing. Unfortunately, Wiseman quickly regains control over Black Lady, and she renews her attack. Sailor Moon and Tuxedo Mask join hands and unite their power. There is a flash of light and to everyone's amazement Sailor Moon is transformed into Neo-Queen Serenity. Wiseman tries to interfere again, engulfing them in a columnt of dark energy but Serenity saves Black Lady with the power of her love and the Silver Crystal restores all of ChibiUsa's memories. As the three (mother, father and daughter) return to Earth together, Wiseman appears above them. He has succeeded in opening the Dark Gate and begins his attack against the world. Sailor Moon steps up to battle but quickly loses ground. ChibiUsa, watchi
20 votes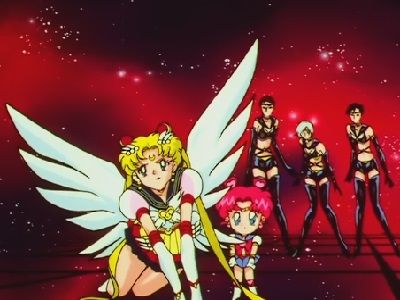 #3 - Countdown to the Galaxy's Destruction! The Sailor Soldiers' Final Battle
Season 5 - Episode 30
The Sailor Scouts prepare for the final battle against Galaxia. They all transform and prepare to go to thw tower but there is a force filed around it. They think all they can do is watch Galaxia TV as Starlights are attacked by Galaxia. Then, a pink ball of light appears, its Chibu Chibi! She transports them into the tower. They are in front of Galaxia.The Sailor Senshi stand in front of Sailor moon but Galaxia blows them away and then shoots energy balls at them. One goes through each of the them in this order Mercury Venus Jupiter then Mars. Sailor Uranus, Neptune, Pluto, and Saturn cannot believe they are gone. Their star seeds appear and float towards Galaxia. Sailor Mercury, Venus, Jupiter, and Mars say their goodbye. Galaxia shows them all the star seeds she has, Sailor moon notices a golden one in back. It is Mamoru's(Tuxedo Mask's) star seed!
13 votes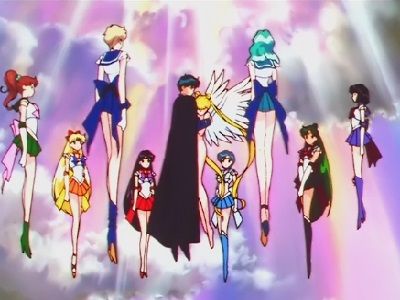 #4 - Usagi's Love! The Moonlight Illuminates the Galaxy
Season 5 - Episode 34
Sailor Chibi Chibi Moon releases the Light of Hope which causes a mysterious figure to appear. This figure gives Usagi a Star Seed, which turns her into Princess Serenity and a sword created from the Light of Hope. Galaxia is consumed with more rage and hatred as Serenity tries to convince her to end her evil ways. Galaxia manages to destroy the sword, killing Chibi Chibi as the Light of Hope is now gone. Serenity becomes an angel and finally reaches the bottom of Galaxia's heart and releases Chaos from her body. She is finally free and guides all the Star Seeds she had collected back to where they belong. Usagi feels very lonely by herself until all the Sailor Soldiers return, along with her love, Mamo-chan with Chibi Chibi! Chibi Chibi thanks Usagi and leaves. The Starlights' princess is also returned. The inner Sailor Soldiers have a heart-felt good bye with the Starlights and their princess as the outers view them as shooting stars. In the end, Usagi asks Mamoru how much he loves h
21 votes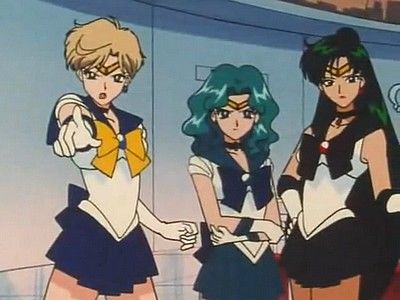 #5 - Awakening of the Messiah of Silence? Stars of Destiny
Season 3 - Episode 30
The Sailor Senshi visit a planetarium, where a man is attacked by a Daimon. The symbol of Saturn appears on Hotaru's forehead, and she destroys the Daimon. Sailor Uranus, Neptune, and Pluto attack Hotaru, since she is Sailor Saturn, the messiah of silence, and Sailor Moon takes the blow.
18 votes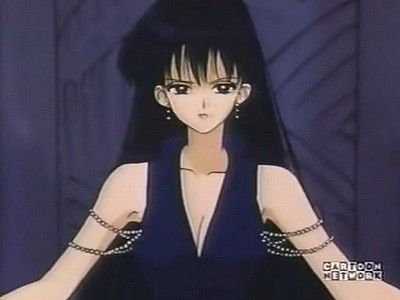 #6 - The Horror of the Approaching Shadow! Eight Soldiers in Tough Battle
Season 3 - Episode 35
Mistress Nine uses all remaining Daimon eggs to create a barrier of minions around Mugen Academy. Sailor Moon is abducted. After witnessing Sailor Pluto sacrificing herself to save them, Uranus and Neptune destroy Germatoid, the Daimon possessing Professor Souichi Tomoe.
20 votes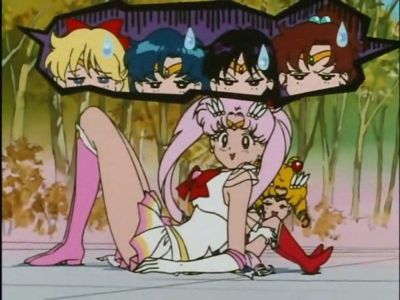 #7 - The Secret of Pegasus! The Handsome Guardian of Dream World
Season 4 - Episode 31
9 votes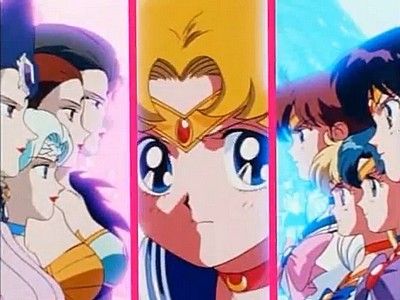 #8 - Protect Chibi-Usa! Clash of the 10 Warriors
Season 2 - Episode 22
ChibiUsa is lonely and tries again to use her key to return to the future after an incident at the Tsukino resident, where she wet Usagi's bed. The girls set out to look for her, but Berthier and Koan notice the energy flux and chase ChibiUsa. Sailor Moon arrives just in time to defend her from the evil sisters' attack. Soon, all of the sisters and all of the Sailor Warriors arrive and are fighting. Rubeus and Tuxedo Mask also join the fray. Just when the Warriors get the upper hand, Rubeus calls for a retreat. During the battle, Sailor Moon realizes that she would do anyhting to protect ChibiUsa (even though she views her as a pets). Back at the hideout of the Black Moon family, Wiseman realizes that Sailor Moon is Neo-Queen Serenity of the future Crystal Tokyo.
20 votes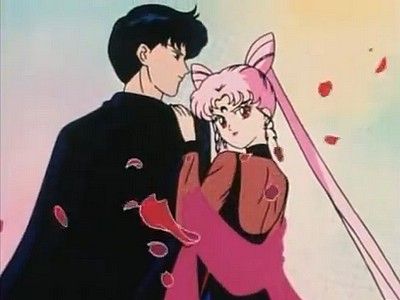 #9 - Believe in Love and the Future! Usagi's Determination
Season 2 - Episode 41
The Sailor Warriors teleport into the middle of the Black Crystal. When they arrive, Sailor Moon falls down a trapdoor. Dimande confronts her, forcing her to swear loyalty (and love) to him but she manages to break the trance that his third eye has put her in. She tries to convince him that their people can live peacefully together. Wiseman arrives and demands that Sailor Moon die. Dimande finally realizes that he was just a pawn, and attacks Wiseman. The two fight until they destroy each other, but Wiseman revives himself from his crystal ball. He attacks Sailor Moon and tries to make her believe that Mamoru and Black Lady are lovers but Sailor Moon refuses to be deceived. Tuxedo Mask arrives with the other Sailor Warriors just as Wiseman is about to deliver the killing blow. Wiseman flees, saying that the Dark Gate is complete and that their world is already lost!
17 votes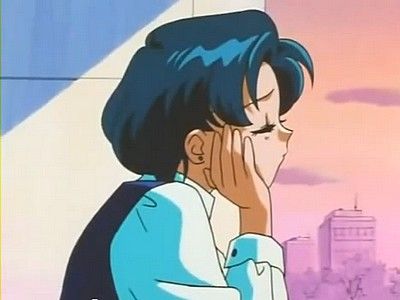 #10 - The Power Explodes! Ami's Song of the Heart
Season 4 - Episode 24
9 votes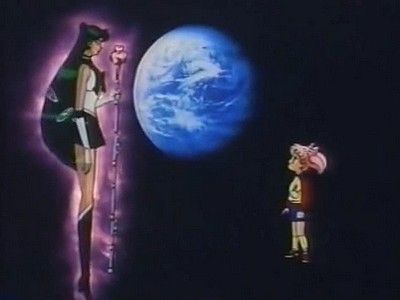 #11 - A New Life! Time for Separation of the Destined Stars
Season 3 - Episode 37
Newborn Hotaru is given to a still-healing Professor Souichi Tomoe. Sailor Uranus and Sailor Neptune attack Sailor Moon, for she protected Hotaru's body, and risked the world for one life. The Silver Crystal throws them back, and they kneel to her as their leader and leave the city.
22 votes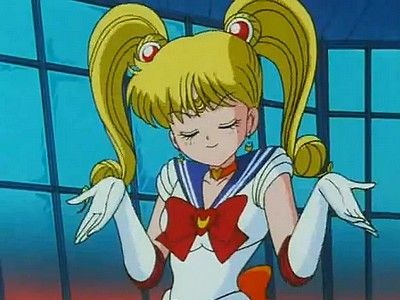 #12 - The Pure Heart Stolen! Usagi's Biggest Crisis
Season 3 - Episode 13
Sailor Moon's heart crystal was almost stolen. Neptune and Uranus restore it, and the senshi know they are Michiru and Haruka. A battle with Kaori, causes her to fall down to her death and well, she dies.
23 votes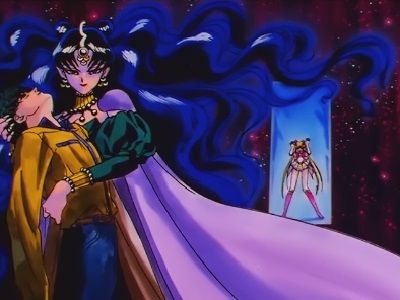 #13 - The Cursed Mirror! Mamoru is Caught in a Nighmare
Season 5 - Episode 3
When a mysterious affliction causes people in Tokyo to do nothing but stare into mirrors, the Sailor Soldiers race against time to try and save Mamoru from this mysterious new enemy.
13 votes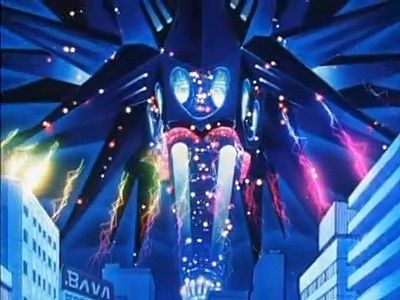 #15 - A UFO Appears! The Sailor Warriors are Abducted
Season 2 - Episode 27
ChibiUsa now knows that Usagi is Sailor Moon and that she has the Silver Crystal. She sneaks into Usagi's bedroom and steals the crystal. She tries again to return to the future with her time key, but only succeeds in altering Rubeus to her presence. Both Rubeus and the Warriors race all over town looking for her. When she tries to use the key again, Rubeus appears in his UFO and sucks the four Sailor Warriors up into the ship while Usagi, Mamoru and ChibiUsa look on in horror.
16 votes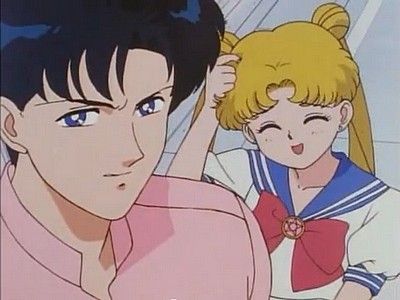 #16 - Huge Shock for Usagi! Mamoru Declares a Break Up
Season 2 - Episode 15
Rubeus reveals to the evil sisters that he has found another way to destroy Crystal Tokyo. There are five crystal points around the city that they need to infect with dark energy. Meanwhile, Mamoru is getting terrible visions of a future city being destroyed. He decides that he needs to break up with Usagi. Usagi is devastaed by the news, add she wanders into a make-up store with tears on her face. The store is one of the crystal points, and Berthier has already installed a droid there. The droid is selling make-up that is infected with dark energy. The droid attacks Usagi, and she transforms into Sailor Moon. Tuxedo Mask arrives to offer words of encouragement, and Sailor Moon destroys the droid. However, even though Tuxedo Mask came to defend Sailor Moon, he denies that he has any feelings for her.
21 votes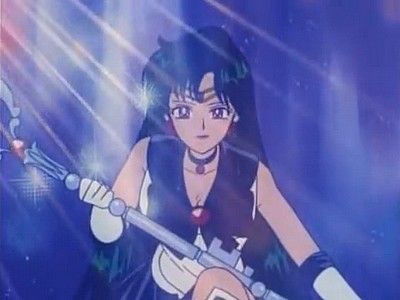 #17 - A Mysterious New Warrior, Sailor Pluto Appears
Season 2 - Episode 29
ChibiUsa is caught in a nightmare by the Dark Moon and can't wake up. Sailor Pluto appears and asks the Sailor Warriors to accompany her into the dream to save ChibiUsa. The Warriors arrive in the dream at the ruins of Crystal Tokyo. ChibiUsa doesn't recognize the girls and runs away. When she is attacked by a droid, the Warriors transform and start to fight. ChibiUsa shows Sailor Moon the palace and asks her to help her mother who is held captive inside. Before Sailor Moon can do anything, though, she is called to help battle the droid. Things are gonig poorly until ChibiUsa finally starts believing the Warriors are there to help her. Suddenly Sailor Moon finds the strength to destroy the dorid. The girls make it into the palace and find ChibiUsa's mother imprisoned in a ginat crystal. At that moment, the girls find themselves transported back to ChibiUsa's bedside. Shortly later, ChibiUsa wakes up.
16 votes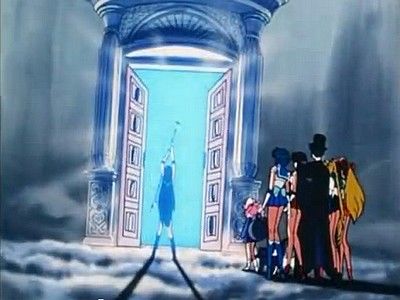 #18 - Journey to the Future! Battle in the Space-Time Corridor
Season 2 - Episode 36
ChibiUsa uses her key to transport everyone to the door of time, but on the way they all get separated and Sailor Moon finds herself alone. When she approaches the door of time, she is attacked by a shadowy figure. ChibiUsa arrives just in time to stop the attacker (who is actually Sailor Pluto) and beg entry into the door of time. As the group struggles through the corridor of time, the are attacked by Esmeraude. The blast sends the group flying, seperating the Warriors, Tuxedo Mask and ChibiUsa again. ChibiUsa is wandering around when she sees her mother! Just as she is about to hug her, she realizes that it's really a droid in disguise. The Sailor Warriors arrive and, with the help of ChibiUsa, use a group attack to defeat the droidl After everyone is reunited, the group steps through the gateway of Crystal Tokyo and views the ravaged ruins of the city.
15 votes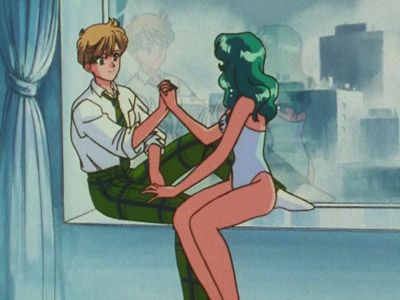 #19 - Death of Uranus and Neptune!? Talisman Appear
Season 3 - Episode 21
The time has come! Eugeal wants a fight with Neptune and Uranus, and they will sacrifice even each other to get the talismans. But then they learn that they, and Pluto, hold the talismans. Neptune's Mirror, Uranus' Sword and Pluto's Garnet Orb.
23 votes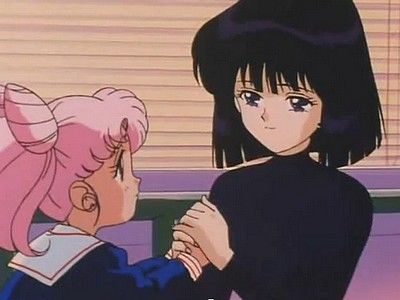 #20 - Shadow of Silence!? The Pale Glimmer of a Firefly
Season 3 - Episode 26
Mimete attacks a soap opera actor. Hotaru's past without friends is shown, and the reasons for it. A Daimon who was attacking runs near Hotaru, who glows and completely freezes the Daimon who is destroyed by Sailor Moon.
15 votes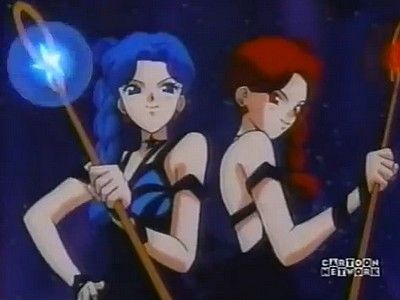 #21 - Shadows of Destruction! The Awakening of the Messiah of Silence
Season 3 - Episode 34
Twin witches, Cyprine and Pitriol steal pure hearts from Mugen Academy students. Chibiusa is abducted, and her pure heart is stolen by Hotaru, turning her into Mistress Nine.
19 votes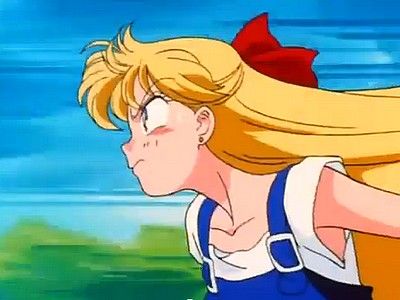 #22 - Storm of Love! Minako's Grand Two Timing Plan
Season 4 - Episode 14
Trouble stirs up when both Tigers Eye and Hawks Eye go after the same dream mirror, Minako's.
9 votes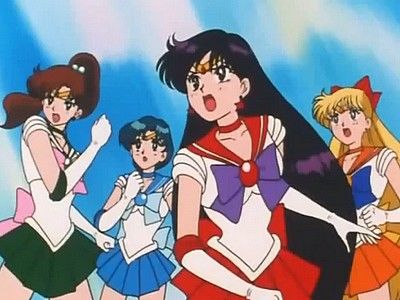 #23 - Time to Believe the Pegasus! The Super Transformations of the Four Soldiers
Season 4 - Episode 16
10 votes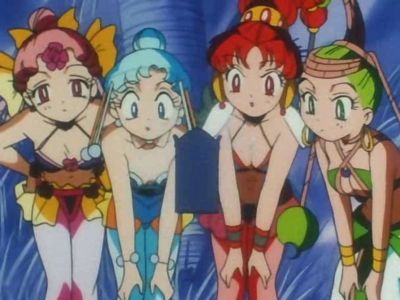 #24 - The Golden Crystal Appears! Nehenia's Spell
Season 4 - Episode 37
8 votes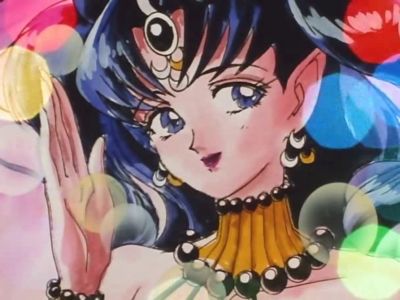 #25 - Dreams Forever! Light Throughout the Sky
Season 4 - Episode 39
9 votes