The BEST Episodes of Sailor Moon
Every episode ever - ranked by fan votes!
Last Updated: Mar 31, 2020
Pretty Soldier Sailor Moon - Usagi Tsukino is an ordinary teenage girl who discovers that she is "Sailor Moon", The Pretty Soldier of love and justice. Guided by her guardian cat Luna, Usagi must find the moon princess and protect Earth from the Dark Kingdom. Joining Usagi are her new Sailor Senshi friends and the mysterious Tuxedo Mask.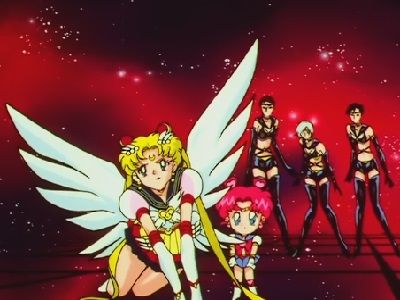 #1 - Countdown to the Galaxy's Destruction! The Sailor Soldiers' Final Battle
Season 5 - Episode 30 - Aired Jan 11, 1997
The Sailor Scouts prepare for the final battle against Galaxia. They all transform and prepare to go to thw tower but there is a force filed around it. They think all they can do is watch Galaxia TV as Starlights are attacked by Galaxia. Then, a pink ball of light appears, its Chibu Chibi! She transports them into the tower. They are in front of Galaxia.The Sailor Senshi stand in front of Sailor moon but Galaxia blows them away and then shoots energy balls at them. One goes through each of the them in this order Mercury Venus Jupiter then Mars. Sailor Uranus, Neptune, Pluto, and Saturn cannot believe they are gone. Their star seeds appear and float towards Galaxia. Sailor Mercury, Venus, Jupiter, and Mars say their goodbye. Galaxia shows them all the star seeds she has, Sailor moon notices a golden one in back. It is Mamoru's(Tuxedo Mask's) star seed!
41 votes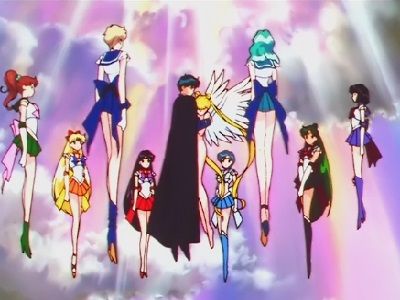 #2 - Usagi's Love! The Moonlight Illuminates the Galaxy
Season 5 - Episode 34 - Aired Feb 8, 1997
Sailor Chibi Chibi Moon releases the Light of Hope which causes a mysterious figure to appear. This figure gives Usagi a Star Seed, which turns her into Princess Serenity and a sword created from the Light of Hope. Galaxia is consumed with more rage and hatred as Serenity tries to convince her to end her evil ways. Galaxia manages to destroy the sword, killing Chibi Chibi as the Light of Hope is now gone. Serenity becomes an angel and finally reaches the bottom of Galaxia's heart and releases Chaos from her body. She is finally free and guides all the Star Seeds she had collected back to where they belong. Usagi feels very lonely by herself until all the Sailor Soldiers return, along with her love, Mamo-chan with Chibi Chibi! Chibi Chibi thanks Usagi and leaves. The Starlights' princess is also returned. The inner Sailor Soldiers have a heart-felt good bye with the Starlights and their princess as the outers view them as shooting stars. In the end, Usagi asks Mamoru how much he loves h
49 votes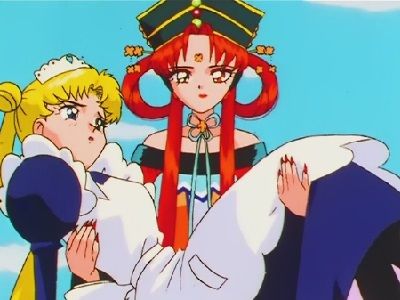 #3 - The Silver Crystal is Stolen! The Fireball Princess Appears
Season 5 - Episode 27 - Aired Nov 30, 1996
42 votes
#4 - The Birth of Black Lady, The Queen of Darkness
Season 2 - Episode 39 - Aired Feb 12, 1994
Wiseman turns ChibiUsa into Black Lady by altering her memories. He makes her believe that nobody ever loved her, least of all her parents. He takes her back into the past to complete the Dark Gate. Sailor Pluto alerts the Warriors to the change in ChibibUsa and send them back into the past as well. They return to find Dimande and Black Lady working together to spread the dark energy throughout the city. Black Lady attacks Sailor Moon, who refuses to return fire as she will not harm ChibiUsa. Sailor Moon uses the power of the Silver Crystal to restore Black Lady's memories. She starts to become ChibiUsa again, but Wiseman interferes and uses his power to taint her memories. She becomes Black Lady once again and vanishes after threatening to fill the world with darkness.
48 votes
#5 - The Scream of a Ghost?! Terror of a Camp Monster
Season 5 - Episode 17 - Aired Aug 10, 1996
Siren turns a potter (Rei's cousin) into a phage after he destroys all his work. Usagi and the girls go camping and run into the Three Lights (they're filming in the area). They hear news of the ""Camp Ravager"" in the area. Seiya decides to scare the girls with the monster costume from their movie, but Usagi and Rei run into the phage instead. After transforming, Mars realizes it's her cousin and Usagi heals him.
41 votes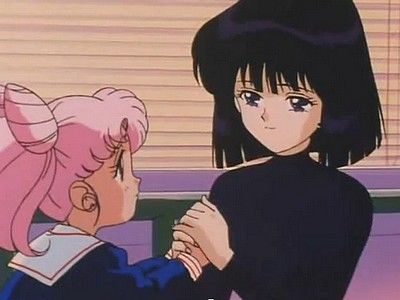 #6 - Shadow of Silence!? The Pale Glimmer of a Firefly
Season 3 - Episode 26 - Aired Nov 26, 1994
Mimete attacks a soap opera actor. Hotaru's past without friends is shown, and the reasons for it. A Daimon who was attacking runs near Hotaru, who glows and completely freezes the Daimon who is destroyed by Sailor Moon.
70 votes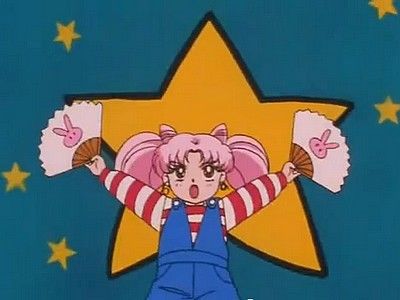 #7 - Higher, Stronger! Cheer by Usagi
Season 3 - Episode 28 - Aired Dec 10, 1994
Everyone begins to learn more about the outer soliders through Mamoru's story.
45 votes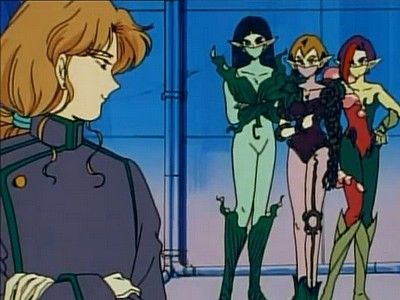 #8 - Naru-chan's Cry! Nephrite Dies For Love
Season 1 - Episode 24 - Aired Aug 29, 1992
Nephrite decides that Naru is connected to Sailor Moon after all. When she can't tell him who Sailor Moon really is, he leaves. While he is away, Zoisite's monsters come and kidnap Naru because they think that Nephrite cares for her and will exchange her for the black crystal. Nephrite tracks them down and drives off the monsters, saving Naru. Unfortunately, the monsters return and stick Nephrite with a life-sucking thorn. Naru risks her life to protect Nephrite, but they are both helpless unlit the Sailor Warriors appear.
144 votes
Writers:
Yoshiyuki Tomita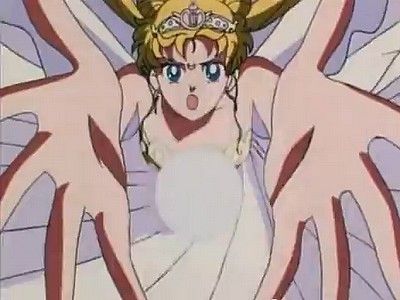 #9 - The Final Battle Between Light and Darkness! Love Sworn in the Future
Season 2 - Episode 42 - Aired Mar 5, 1994
The Sailor Warriors confront Black Lady, trying to convince her to stop this madness and turn good again. Black Lady denies them and attacks. Tuxedo Mask blocks a blast meant for Sailor Moon and is injured. Black Lady falters for a moment, and the girls manage to break Wiseman's brainwashing. Unfortunately, Wiseman quickly regains control over Black Lady, and she renews her attack. Sailor Moon and Tuxedo Mask join hands and unite their power. There is a flash of light and to everyone's amazement Sailor Moon is transformed into Neo-Queen Serenity. Wiseman tries to interfere again, engulfing them in a columnt of dark energy but Serenity saves Black Lady with the power of her love and the Silver Crystal restores all of ChibiUsa's memories. As the three (mother, father and daughter) return to Earth together, Wiseman appears above them. He has succeeded in opening the Dark Gate and begins his attack against the world. Sailor Moon steps up to battle but quickly loses ground. ChibiUsa, watchi
74 votes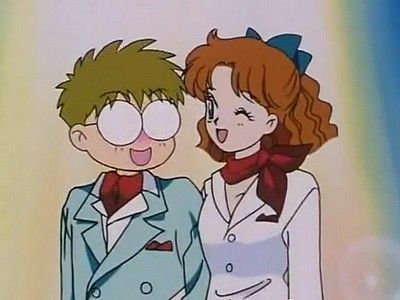 #10 - Leave it to the Moon for Love Aid
Season 3 - Episode 6 - Aired May 7, 1994
Naru and Umino decide to go for the love contest; along with Haruka and Michiru and other couples. Umino messes up terribly, and is the target. When his pure heart is taken, Moon helps restore it...so Naru and Umino walk off, happier as ever.
51 votes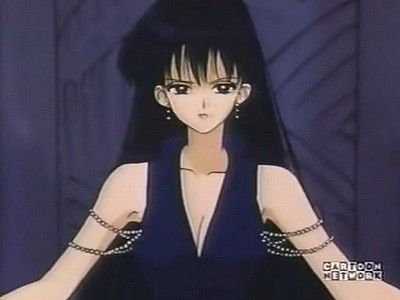 #11 - The Horror of the Approaching Shadow! Eight Soldiers in Tough Battle
Season 3 - Episode 35 - Aired Feb 4, 1995
Mistress Nine uses all remaining Daimon eggs to create a barrier of minions around Mugen Academy. Sailor Moon is abducted. After witnessing Sailor Pluto sacrificing herself to save them, Uranus and Neptune destroy Germatoid, the Daimon possessing Professor Souichi Tomoe.
75 votes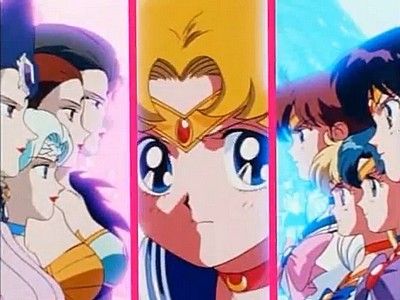 #12 - Protect Chibi-Usa! Clash of the 10 Warriors
Season 2 - Episode 22 - Aired Sep 11, 1993
ChibiUsa is lonely and tries again to use her key to return to the future after an incident at the Tsukino resident, where she wet Usagi's bed. The girls set out to look for her, but Berthier and Koan notice the energy flux and chase ChibiUsa. Sailor Moon arrives just in time to defend her from the evil sisters' attack. Soon, all of the sisters and all of the Sailor Warriors arrive and are fighting. Rubeus and Tuxedo Mask also join the fray. Just when the Warriors get the upper hand, Rubeus calls for a retreat. During the battle, Sailor Moon realizes that she would do anyhting to protect ChibiUsa (even though she views her as a pets). Back at the hideout of the Black Moon family, Wiseman realizes that Sailor Moon is Neo-Queen Serenity of the future Crystal Tokyo.
74 votes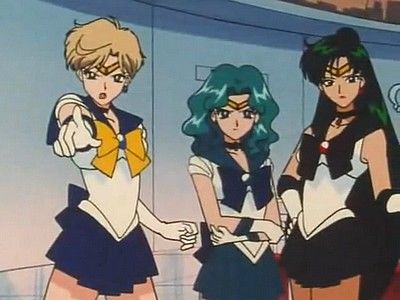 #13 - Awakening of the Messiah of Silence? Stars of Destiny
Season 3 - Episode 30 - Aired Dec 24, 1994
The Sailor Senshi visit a planetarium, where a man is attacked by a Daimon. The symbol of Saturn appears on Hotaru's forehead, and she destroys the Daimon. Sailor Uranus, Neptune, and Pluto attack Hotaru, since she is Sailor Saturn, the messiah of silence, and Sailor Moon takes the blow.
73 votes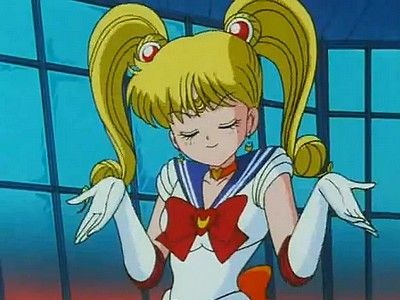 #14 - The Pure Heart Stolen! Usagi's Biggest Crisis
Season 3 - Episode 13 - Aired Jul 16, 1994
Sailor Moon's heart crystal was almost stolen. Neptune and Uranus restore it, and the senshi know they are Michiru and Haruka. A battle with Kaori, causes her to fall down to her death and well, she dies.
78 votes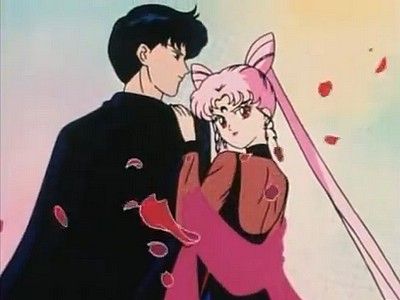 #15 - Believe in Love and the Future! Usagi's Determination
Season 2 - Episode 41 - Aired Feb 26, 1994
The Sailor Warriors teleport into the middle of the Black Crystal. When they arrive, Sailor Moon falls down a trapdoor. Dimande confronts her, forcing her to swear loyalty (and love) to him but she manages to break the trance that his third eye has put her in. She tries to convince him that their people can live peacefully together. Wiseman arrives and demands that Sailor Moon die. Dimande finally realizes that he was just a pawn, and attacks Wiseman. The two fight until they destroy each other, but Wiseman revives himself from his crystal ball. He attacks Sailor Moon and tries to make her believe that Mamoru and Black Lady are lovers but Sailor Moon refuses to be deceived. Tuxedo Mask arrives with the other Sailor Warriors just as Wiseman is about to deliver the killing blow. Wiseman flees, saying that the Dark Gate is complete and that their world is already lost!
70 votes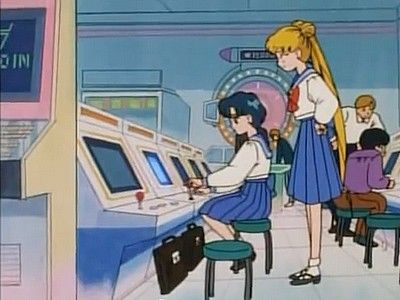 #16 - Is the Genius Girl a Monster? Brainwashing School of Terror
Season 1 - Episode 8 - Aired May 2, 1992
Luna becomes suspicious of the new girl in school, Ami Mizuno. Usagi also joins in on the suspicion when they find a brain-washing program on a disk that Ami leaves behind as she rushes to cram school. Usagi enters the school by disguising herself as a doctor with the Luna Pen. After transforming into Sailor Moon, Usagi realizes the cram school teacher is the monster, not Ami. The monster tries to steal Ami's energy, but a symbol appears on her forehead...
191 votes
Writers:
Yoshiyuki Tomita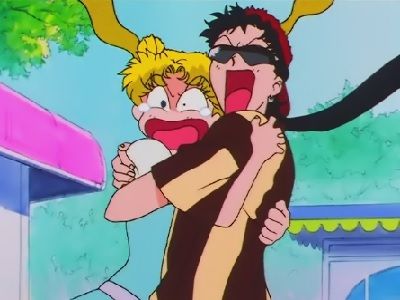 #17 - Seiya and Usagi's Nervous Date
Season 5 - Episode 15 - Aired Jul 20, 1996
43 votes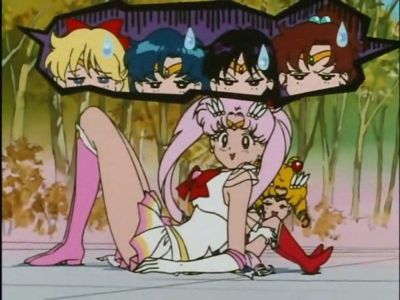 #18 - The Secret of Pegasus! The Handsome Guardian of Dream World
Season 4 - Episode 31 - Aired Dec 23, 1995
38 votes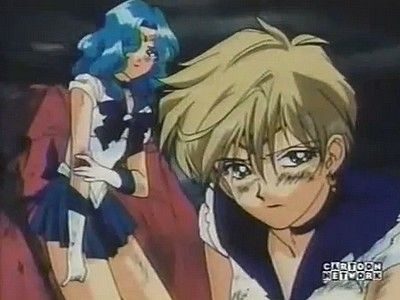 #19 - A Bright Shooting Star! Saturn, and the Messiah
Season 3 - Episode 36 - Aired Feb 11, 1995
Sailor Moon is tricked to give Mistress Nine the Holy Grail, which she uses to summon Pharaoh Ninety to earth. Hotaru regains conscious with the assistance of Sailor Moon and her father, destroying Mistress Nine. Sailor Saturn appears to sacrifice herself and destroy Pharaoh Ninety, but Sailor Moon gains the help of the other six Sailor Senshi to become Super Sailor Moon and save both Hotaru and Sailor Saturn.
74 votes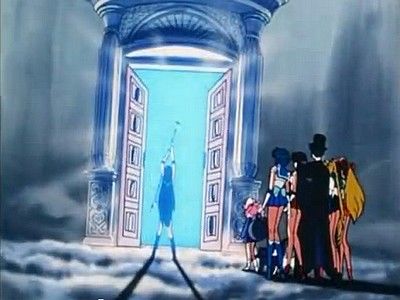 #20 - Journey to the Future! Battle in the Space-Time Corridor
Season 2 - Episode 36 - Aired Jan 22, 1994
ChibiUsa uses her key to transport everyone to the door of time, but on the way they all get separated and Sailor Moon finds herself alone. When she approaches the door of time, she is attacked by a shadowy figure. ChibiUsa arrives just in time to stop the attacker (who is actually Sailor Pluto) and beg entry into the door of time. As the group struggles through the corridor of time, the are attacked by Esmeraude. The blast sends the group flying, seperating the Warriors, Tuxedo Mask and ChibiUsa again. ChibiUsa is wandering around when she sees her mother! Just as she is about to hug her, she realizes that it's really a droid in disguise. The Sailor Warriors arrive and, with the help of ChibiUsa, use a group attack to defeat the droidl After everyone is reunited, the group steps through the gateway of Crystal Tokyo and views the ravaged ruins of the city.
69 votes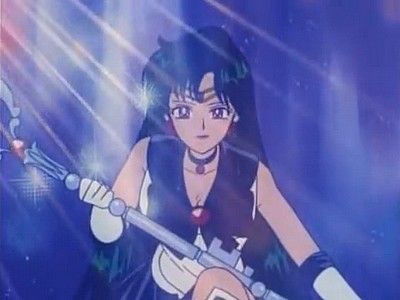 #21 - A Mysterious New Warrior, Sailor Pluto Appears
Season 2 - Episode 29 - Aired Nov 20, 1993
ChibiUsa is caught in a nightmare by the Dark Moon and can't wake up. Sailor Pluto appears and asks the Sailor Warriors to accompany her into the dream to save ChibiUsa. The Warriors arrive in the dream at the ruins of Crystal Tokyo. ChibiUsa doesn't recognize the girls and runs away. When she is attacked by a droid, the Warriors transform and start to fight. ChibiUsa shows Sailor Moon the palace and asks her to help her mother who is held captive inside. Before Sailor Moon can do anything, though, she is called to help battle the droid. Things are gonig poorly until ChibiUsa finally starts believing the Warriors are there to help her. Suddenly Sailor Moon finds the strength to destroy the dorid. The girls make it into the palace and find ChibiUsa's mother imprisoned in a ginat crystal. At that moment, the girls find themselves transported back to ChibiUsa's bedside. Shortly later, ChibiUsa wakes up.
69 votes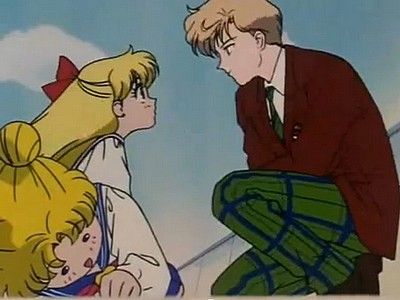 #22 - A Beautiful Boy? The Secret of Haruka Tenoh
Season 3 - Episode 3 - Aired Apr 16, 1994
Usagi and Minako meet a young boy and a young lady, and fall for the boy...deciding to follow him around. They are caught by surprise when a daimon appears, and they must fight it...when the help of the mysterious warriors Neptune and Uranus. Later, Usagi and Minako meet the boy finally, and learn that it is a masculine woman.
82 votes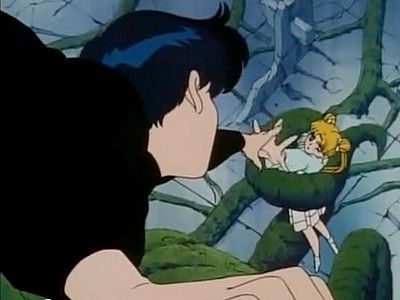 #23 - True Love Awakens! The Doom Tree's Secret
Season 2 - Episode 13 - Aired Jun 19, 1993
The Sailor Warriors manage to make it into the building, where they are confronted by Ali, En and the Doom Tree (which has Usagi and Mamoru in its branches). Ali and En start bickering as they each try to save their loved ones from the other's attack. When Sailor Moon tranforms it surprises the aliens, but En decides to attack both Sailor Moon and Mamoru anyway. During the chaos, the Doom Tree goes berserk and kills En. Suddenly, the Doom Tree starts to talk, telling the story of its sorrowful past. It explains that it needs love energy to live, not the stolen energy of humans. It asks Sailor Moon to heal it, and it becomes a tiny sapling. With its remaining energy, it brings En back to life. The Moonlight Knight also appears and reveals himself as Mamoru. He explains that Mamoru had been split into two parts that can now be reunited. He merges with the fallen Mamoru. When Mamoru awakens, his memories are restored! Ali and En, now fully recovered, take the seedling and decide to make a
78 votes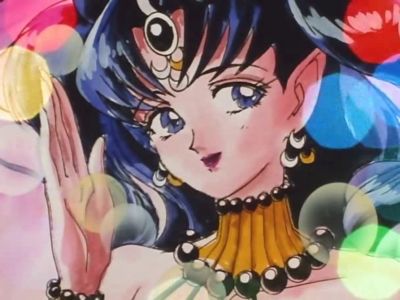 #24 - Dreams Forever! Light Throughout the Sky
Season 4 - Episode 39 - Aired Mar 2, 1996
38 votes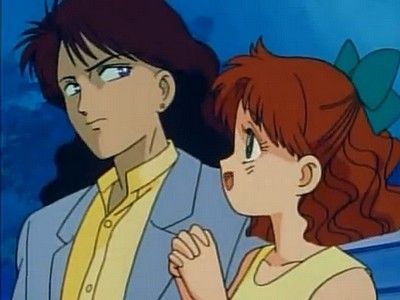 #25 - Wish Upon a Shooting Star! Naru-chan's Pure Love
Season 1 - Episode 23 - Aired Aug 22, 1992
Nephrite gives up trying to get power from humans and focuses on finding the Silver Crystal. He uses a black crystal to help him identify its location. He thinks that Naru (who is still in love with his human guise) may have the clue. However, when he asks for the Silver Crystal, she brings him a jewel from her mother's store. Sailor Moon busts in on the scene just as Nephrite realizes that maybe Naru's love for him is itself a powerful source of energy. A monster sent from Zoisite, who mistakes Nephrites's locating crystal for the Silver Crystal, also appears. Sailor Moon dispatches it and tries to finish Nephrite as well... but Naru throws herself over him, and Sailor Moon is forced to stop her attack.
144 votes
Writers:
Shigeru Yanagawa