The BEST Episodes of Mighty Ships
Every episode ever - ranked by fan votes!
Last Updated: Aug 6, 2020
Featuring stunning visuals from aboard these mighty vessels, it explores the mechanics of the actual ships and the intricate relationships of those aboard. Meet the crew and staff who navigate these ships and find out what makes their jobs so unique and challenging.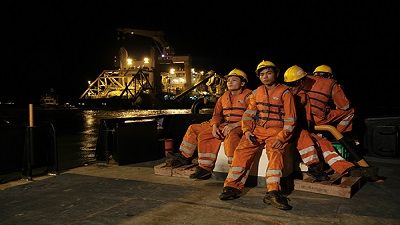 #1 - Ibn Battuta
Season 7 - Episode 5 - Aired Nov 29, 2013
Ibn Battuta is one of the strongest dredgers of her type. With a powerful spinning cutter head and a pair of heavy-duty cylinders called "spuds," She is capable of breaking up the hardest sub-sea soil. The spuds brace the ship in position while the cutter head's teeth grind away at the sea floor to deepen the Son Duong Port in Vietnam's poorest province.
30 votes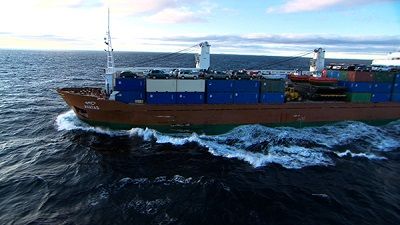 #2 - Avataq
Season 7 - Episode 4 - Aired Nov 22, 2013
The Avataq is a lifeline to Canada's near-Arctic communities, carrying everything from food and furniture to mining equipment and explosives to Quebec's inaccessible northern regions.
31 votes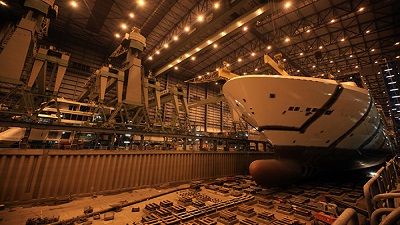 #3 - Norwegian Breakaway: The Voyage
Season 7 - Episode 2 - Aired Nov 10, 2013
The world's newest mega-cruiser has only 48 hours before she departs on her maiden voyage across the Atlantic, readying for her debut. She was constructed faster than any other cruise ship, but the job's not quite done.
32 votes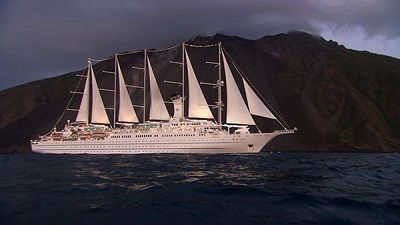 #4 - Wind Surf
Season 7 - Episode 3 - Aired Nov 15, 2013
She is the largest sailing yacht in the world, a sleek, five-masted luxury sailing yacht that's large enough to pamper and yet small enough to tuck into tiny harbors and hidden coves where no one else can go.
33 votes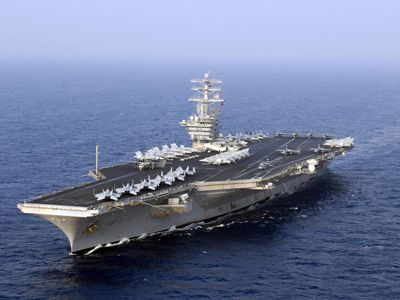 #5 - USS Nimitz
Season 2 - Episode 4 - Aired Aug 19, 2009
She's the biggest, meanest, most lethal weapon in the arsenal of a global power. The USS Nimitz, like the whole US Navy, has to be ready for any mission, anywhere in the world. That's why she undergoes a rigorous - and often dangerous - evaluation before every deployment.
36 votes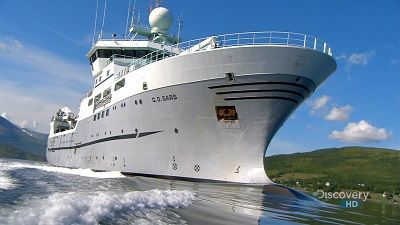 #6 - G.O. SARS
Season 3 - Episode 1 - Aired Jul 7, 2010
G.O. Sars sets sail from Tromsø, Norway on a research voyage to the Arctic Ocean to examine a sub-sea volcano and hydrothermal vent field,with the aim of discovering new lifeforms.
34 votes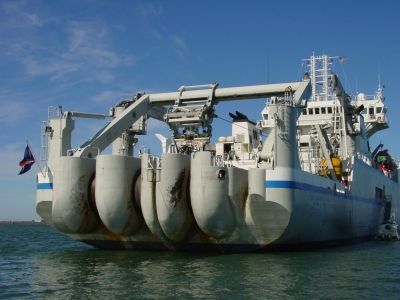 #7 - Tyco Resolute
Season 1 - Episode 6 - Aired Aug 27, 2008
Tyco Resolute has one job: to keep the world wired. She installs and maintains the undersea cables that form the backbone of the Internet, and right now she needs to connect a nation in need of a 21st-century upgrade. Hop aboard as she lays fiber optic cables off the Pacific coast of Costa Rica, a mission that's anything but simple. Malfunctioning cables and equipment, pounding surf, and low tides have put Tyco Resolute way behind schedule. If she doesn't pick up the pace, the entire mission will be in jeopardy.
39 votes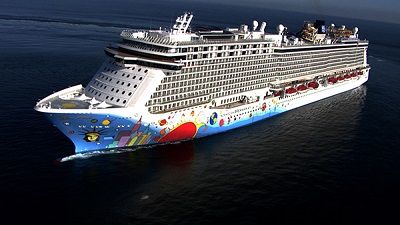 #8 - Norwegian Breakaway: The Build
Season 7 - Episode 1 - Aired Nov 10, 2013
For the first time, our crews venture inside a shipyard to follow the construction of the world's newest mega-cruiser from keel-laying to sea trials.
35 votes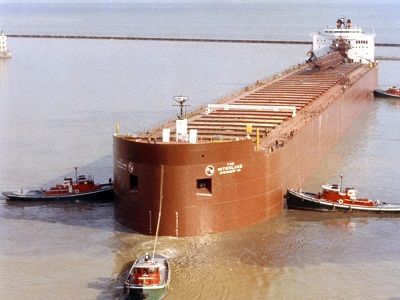 #9 - MV Paul R. Tregurtha
Season 1 - Episode 5 - Aired Aug 20, 2008
The Paul R. Tregurtha is equipped to deal with the harsh weather conditions of North America's inland seas, but her first mission of the shipping season will push the vessel, and her crew, to their limits. Hop aboard the "Queen of the Lakes" as she attempts to deliver a much-needed 55,000-ton coal supply to a generating plant in Michigan. To get there, she must break through a barricade of ice and pass a shallow passage with just two feet of water beneath her keel. If the captain and crew aren't careful, they could find themselves stopped dead cold.
35 votes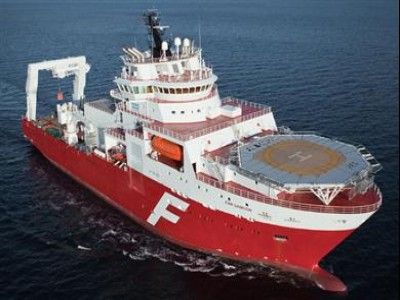 #10 - DSV Skandi Arctic
Season 4 - Episode 3 - Aired Mar 30, 2011
Climb aboard the world's most advanced dive support vessel, the Skandi Arctic. On board, a crew of more than 90 life support supervisors will assist saturation divers hired to repair a gas pipeline on the floor of the icy North Sea. To prepare, the divers must live in a pressurized habitat aboard the ship before diving hundreds of feet below the surface in diving bells. For both the divers and the ship's crew, the mission is critical, the environment hostile, the technology space age, and the potential for disaster constant. Can they handle the pressure?
60 votes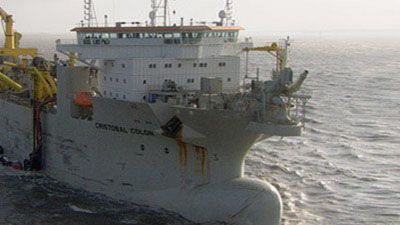 #11 - Cristóbal Colón
Season 3 - Episode 3 - Aired Jul 21, 2010
Cristóbal Colón represents a whole new breed of massive construction vessels. She's a hi-tech ocean dredger, twice the size of her closest competitor, and can store over 1.5 million cubic feet of sand on board. Follow this super-sized ship on her first mission: dredging and delivering 88 million cubic feet of sand from the sea floor to a construction site in Germany. It's an assignment no other dredger can handle, but up against a tight deadline and Germany's worst winter in 100 years, this job may even be too big for the biggest dredger ever built.
35 votes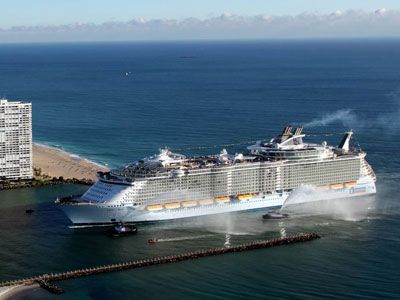 #12 - Oasis of the Seas
Season 3 - Episode 5 - Aired Aug 4, 2010
The Oasis of the Seas accommodates 5,400 guests, all in lavish luxury. With 21 pools, 24 restaurants, and her own version of Central Park and the Atlantic City Boardwalk, no expense has been spared. But running a massive cruise ship comes with a price, and demands cutting edge technologies to navigate her through the shallow waters of the Caribbean. Grab your first class ticket and witness the inside story of the maiden voyage of the world's greatest cruise ship. It could be the most important voyage she will ever take.
66 votes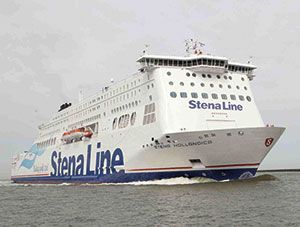 #13 - MS Stena Britannica
Season 4 - Episode 4 - Aired Apr 6, 2011
Take a tour of the largest, most luxurious, most technically advanced ferry in the world. Stena Britannica caters to everyone, from truck drivers to business professionals to vacationing families on its 6-hour jaunt across the English Channel. With 530 cabins, three restaurants, a movie theater, even a casino, she's one super-sized ferry sailing a very busy ferry route. The crew must run a tight ship in tight traffic. One mistake on the bridge, in the engine room, or at the terminal could mean super problems.
93 votes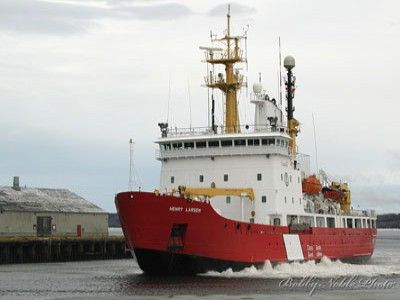 #14 - CCGS Henry Larsen
Season 1 - Episode 4 - Aired Aug 13, 2008
Climb aboard the CCGS Henry Larsen as she does an ice patrol around the sub-zero waters of the Notre Dame Bay area of Newfoundland and Labrador. Built for the cold, she is capable of the year-round operations in the high Arctic.
70 votes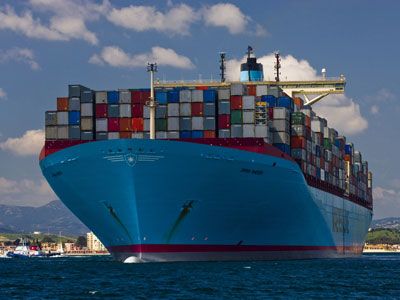 #15 - Emma Maersk
Season 1 - Episode 1 - Aired Jul 23, 2008
Step aboard the Emma Maersk for a glimpse at the adventures of the crew on a two-week, 13,000-kilometre crossing from Malaysia to Spain. At 20 storeys tall, this ship is capable of carrying millions of dollars worth of cargo.
78 votes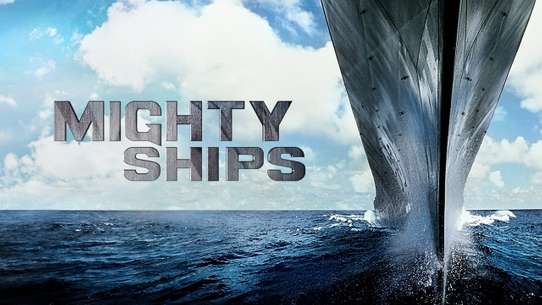 #16 - Sapura 3500
Season 10 - Episode 5 - Aired Jan 14, 2018
Off the coast of Malaysia, Sapura 3500 lays a pipeline and builds an offshore gas platform in just three weeks.
1 votes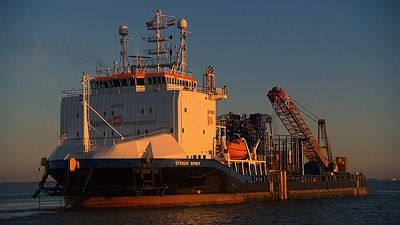 #17 - Stemat Spirit
Season 7 - Episode 6 - Aired Dec 6, 2013
Other cable laying vessels require a second vessel to transport one end of their cables to shore. Stemat Spirit approaches the shore during high tide, then settles on the sand as the tide recedes. When the tide returns she floats up and sails out to sea, laying her cable as she goes.
58 votes
#18 - The Best of Mighty Ships
Season 7 - Episode 7 - Aired Dec 13, 2013
Over seven seasons, Mighty Ships has featured 42 of the biggest, most technologically advanced on the planet. This special edition will feature the best of the best: from the world's largest cruise ships to the most powerful warships, from the strongest working ships to smaller, super-specialized vessels.
31 votes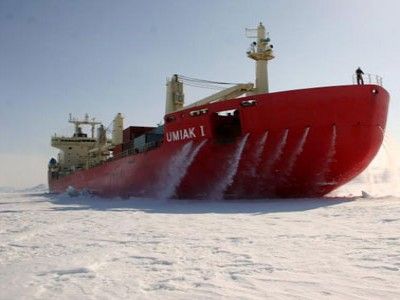 #19 - Umiak I
Season 5 - Episode 5 - Aired Aug 17, 2011
Umiak I is the world's most powerful ice-breaking carrier, hauling mining equipment from Quebec City to Labrador and returning with nickel concentrate.
61 votes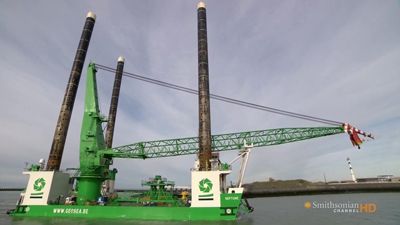 #20 - Neptune
Season 6 - Episode 6 - Aired Aug 29, 2012
Built to install the world's most powerful wind turbines, this ship can raise herself 15 meters out of the water to create a stable construction platform in the middle of the sea, with a 600-ton crane ready to reach high into the sky.
61 votes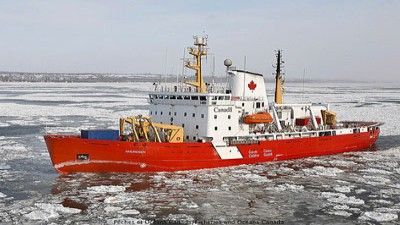 #21 - CCGS Amundsen
Season 4 - Episode 6 - Aired Apr 20, 2011
Canadian Coast Guard Ship Amundsen is a state-of-the-art research icebreaker. With 12 world-class labs, a multi-beam echo-sounder to map the ocean floor, and a moon-pool to launch an ROV under the arctic ice, she's a battle tested workhorse. Yet this mission will push her to the brink as she transports 24 scientists on a dangerous expedition into the treacherous Northwest Passage. Out in the cold water, deadly weather, rogue icebergs, and battered equipment threaten to put this mission into deep-freeze.
60 votes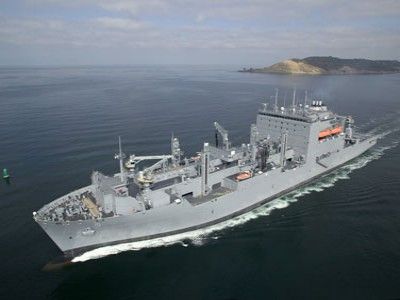 #22 - USNS Robert E. Peary
Season 4 - Episode 2 - Aired Mar 23, 2011
USNS Peary is a high-tech Mighty Ship, built for 21st-century naval warfare. Her mission: to resupply a fleet of 20 warships patrolling the pirate-infested waters of the Gulf of Aden. Peary is considered to be one of the most luxurious military ships on duty, but this is no pleasure cruise. Acting as the supply lifeline to the naval anti-pirate task force, her role is critical to keeping warships operational and marauding pirates at bay. To add to the pressure, her timeline is strict. If she fails to supply one warship on schedule, the entire fleet could be at risk.
60 votes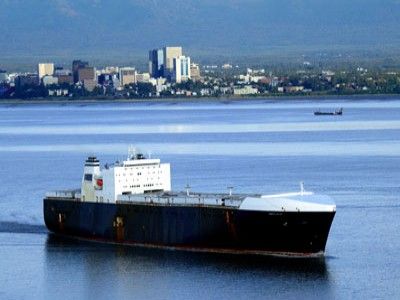 #23 - North Star
Season 5 - Episode 2 - Aired Jul 27, 2011
The Roll-On/Roll-Off (Ro-Ro) ship North Star is one of the only links between Alaska and the continental U.S., delivering everything from food to building supplies to pickup trucks from Seattle to Anchorage on time - within a short 72-hour window.
63 votes
#24 - USS Gravely
Season 5 - Episode 6 - Aired Aug 24, 2011
The U.S. Navy's newest ship, a guided missile destroyer, goes through testing with its crew in preparation for deployment.
63 votes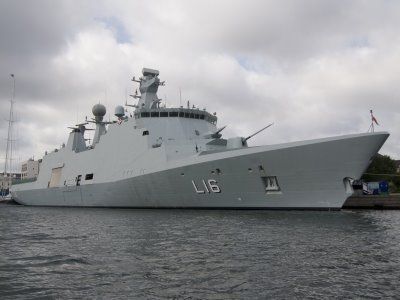 #25 - HDMS Absalon
Season 2 - Episode 5 - Aired Aug 26, 2009
HDMS Absalon, one of the most modern warships in the world, has set sail to stop modern-day pirates off the coast of Somalia.
63 votes