The BEST Episodes of Iron Chef
Every episode ever - ranked by fan votes!
Last Updated: Apr 12, 2021
Iron Chef is an innovative cooking competition from Japan. Originally produced by Fuji TV, Iron Chef combined the excitement of a one on one sports competition with gourmet cooking. The title Iron Chefcomes from the original Japanese title, Ironmen of Cooking. This innovative game show was always popular in its native Japan, but it found international success when the Food Network bought the series and began airing English dubbed episodes. It became a cult classic as viewers were treated to exotic ingredients and innovative cooking techniques. No expense was spared. Chefs seemed to have almost limitless supplies of the most exotic and expensive gourmet ingredients. The competition is hosted by Chairman Kaga, an over-the-top master of ceremonies. He introduced a "secret ingredient" that the challenger and the chosen Iron Chef had to incorporate into every dish. Originally, the program was 30 minutes long, but it was soon expanded to an hour format. Each chef presented his/her dishes to a panel of 3-4 judges who rated the dishes to crown a winner. All of the competitions occurred in a specially designed "kitchen stadium". The New York Times once described Iron Chef as "kamikaze cooking". Iron Chefs and their competitors became celebrities in their own right. Storylines developed between groups determined to defeat the Iron Chefs. The show was so successful in English speaking countries that several spin-offs, specials, and updated versions were produced.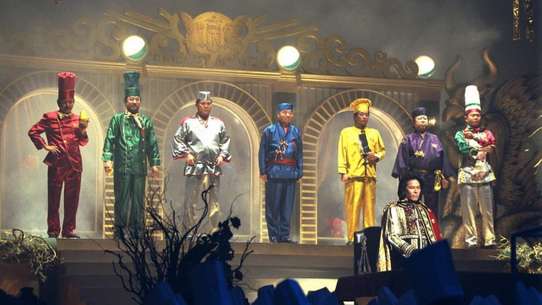 #1 - Sakai vs Hidetoshi Ushimaru (Curry Powder)
Season 4 - Episode 4 - Aired Jan 19, 1996
While the search continues for a new Iron Chef Japanese, Iron Chef French Sakai accepts the challenge of a rising French-trained chef making a name in hotel dining: head chef of the Terrace at the Westin Tokyo. Wanting to spice up the battle, Chairman Kaga presents them with a challenging theme: curry powder accompanied by five other spices for variety.
1 votes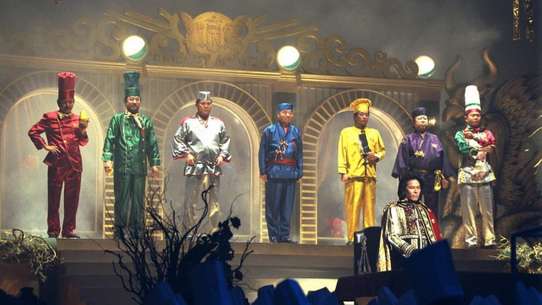 #2 - Sakai vs Yuji Wakiya (Sea Urchin)
Season 2 - Episode 23 - Aired Jun 17, 1994
Sea Urchin provides a young chef the chance to revolutionalize Chinese cooking. Judges: Tamio Kageyama (Novelist), Mayuko Takata (Actress), Masaaki Hirano (Rosanjin Scholar)
29 votes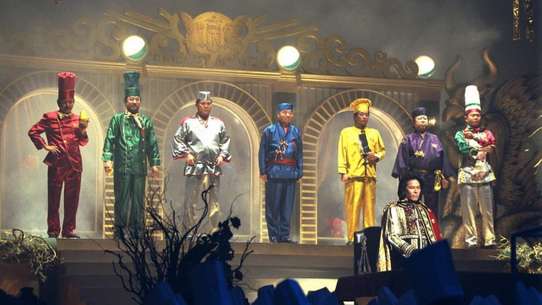 #3 - Chen vs Katsuyo Kobayashi (Potato)
Season 2 - Episode 32 - Aired Aug 19, 1994
Chen faces the second female chef in kitchen stadium. She is a television icon to many Japanese housewives. Both chefs enjoy fame. One's an Iron Chef, the other hosts a popular cooking show. Spuds will fly in battle potato.
26 votes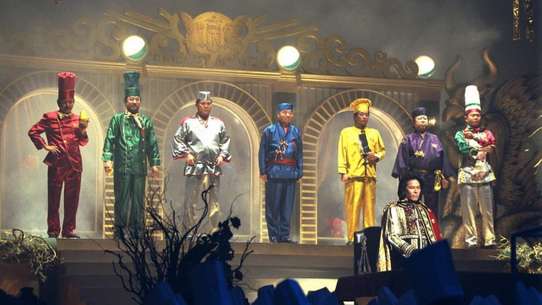 #4 - Michiba and Sakai vs The Cuomo Brothers (Tomato)
Season 3 - Episode 33 - Aired Aug 18, 1995
Tag Team Battle! Two Iron Chefs vs 2 Italian Brothers in the battle of the tomato. After growing up in Italy, these brothers started their own restaurant in Tokyo. It is so popular that you must make reservations up to 6 months in advance. Judges: Yasushi Akimoto (Songwriter), Hideki Saijo (Singer), Asako Kishi (Culinary Critic)
2 votes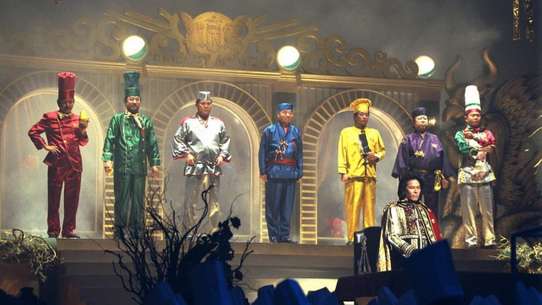 #5 - Chen vs Lee Myong Suk (Liver)
Season 3 - Episode 18 - Aired May 5, 1995
Chairman Kaga welcomes his first Korean challenger, bringing with her a distinctive form of cuisine rarely seen in Japan.
27 votes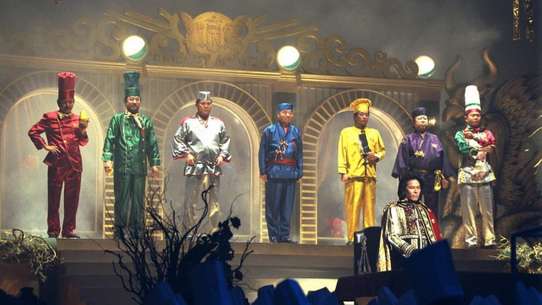 #6 - Michiba vs Masao Suzuki (Matsuba Crab)
Season 3 - Episode 7 - Aired Feb 10, 1995
The challenger is the head chef at a restaurant that Iron Chef Michiba himself dines at frequently. Judges: Tamio Kagayama (Novelist), Mayuko Takata (Actress), Asako Kishi (Culinary Critic)
2 votes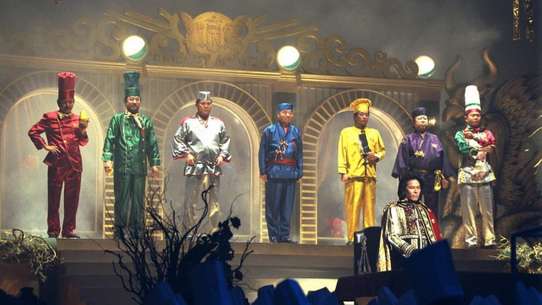 #7 - Chen vs Yukihiro Noda (Sardine)
Season 3 - Episode 25 - Aired Jun 23, 1995
Chairman Kaga is in a very bad mood. His Iron Chefs have lost their last two battles. Worse, the stress of the last loss has left the mighty Iron Chef Japanese Michiba in the hospital. And now, he has to answer a challenger representing the famed Italian restaurateur Don Sabatini. Can Chen avoid the fate of his fellow Iron Chefs and defend the honor of Kitchen Stadium?
2 votes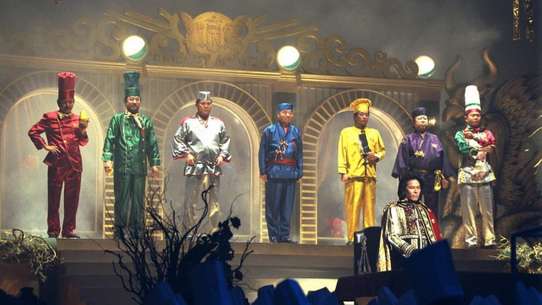 #8 - Chen vs Tsuguo Fujiwara (Sea Cucumber)
Season 3 - Episode 38 - Aired Sep 22, 1995
Tsuguo Fujiwara is Managing Director of the Chinese Chefs' Association of Japan: the largest association of Chinese chefs in the country. Iron Chef Chinese Chen is placed in an uncomfortable position. As a lower member of the Association, he finds himself feeling like the challenger for once as he has to face his senior.
2 votes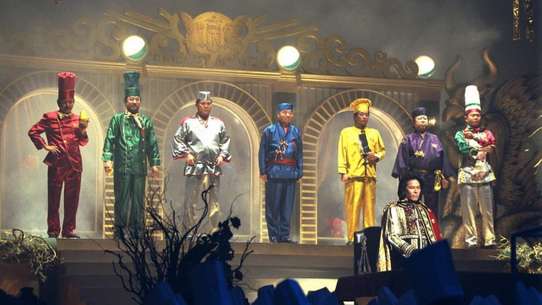 #9 - Nakamura vs Kiyoshi Suzuki (Foie Gras)
Season 4 - Episode 10 - Aired Mar 1, 1996
After two months, retired Iron Chef Michiba presents Chairman Kaga with his successor: Komei Nakamura, an imposing chef from a prestigious formal Japanese restaurant who both keeps a traditional base and fearlessly seeks out new ideas. For his inaugural battle, he faces two challenges: the owner of Auberge de Suzuki in Seijo, one of the chefs of Club des Trentes; and the theme of Foie Gras, the same ingredient Michiba faced in his debut match three years ago.
2 votes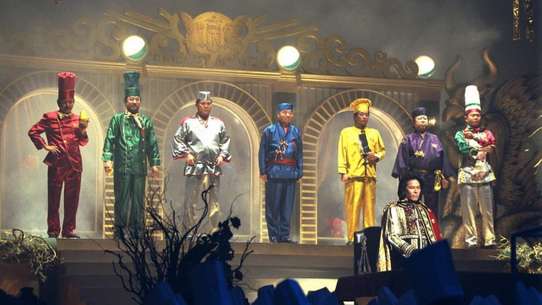 #10 - Michiba and Chen vs Joël Bruant and Masafumi Furutaka (Sea Bass)
Season 2 - Episode 28 - Aired Jul 22, 1994
Paul Bocuse sends two trusted apprentices to take not one, but two, iron chefs. This is the first time two Iron Chefs have been in Kitchen Stadium at the same time. Judges: Shinichiro Kurimoto (Politician), Kazuko Katoh (Actress), Mayuko Takata (Actress), Masaaki Hirano
2 votes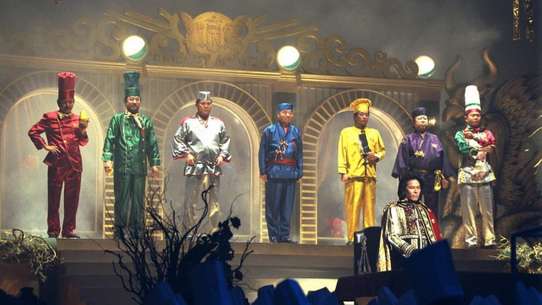 #11 - Michiba vs Tatsuo Umemiya (Horse Mackerel)
Season 2 - Episode 45 - Aired Nov 18, 1994
An actor known for his cooking skills wants a chance to see what it is like to battle in Kitchen Stadium. Two months ago, he appeared as a judge. Now, he steps in as a challenger. Judges: Shinichiro Kurimoto (Lower House Member), Hisoko Monda (Actress), Masaaki Hirano (Rosanjin Scholar)
2 votes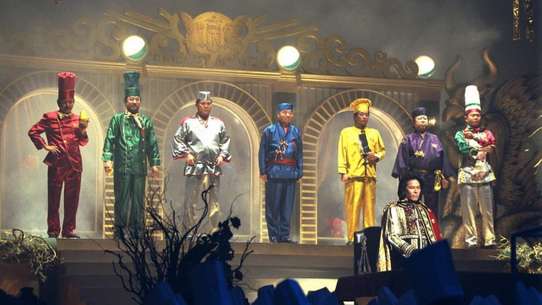 #12 - Sakai vs Masayo Waki (Strawberry)
Season 2 - Episode 49 - Aired Dec 16, 1994
Christmas day brings a strawberry battle and a female competitor. Sakai has a poor track record against women competitors. Will victory be his Christmas present?
1 votes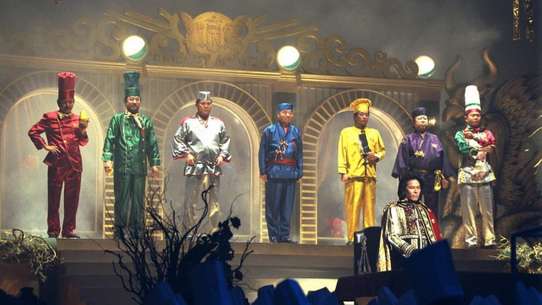 #13 - Michiba vs Etsuo Joh (Broccoli)
Season 3 - Episode 21 - Aired May 26, 1995
How will the challenger (the king of sauces) deal with broccoli? Doc Hattori says his sauces are amazing. He even says he wishes he could take on all three Iron Chefs at once. Can he defeat one? Judges: Mayuko Takata (Actress), Toshiki Kaifu (Fmr PM-Japan), Sachiyo Kaifu (Wife), Yasushi Akimoto
1 votes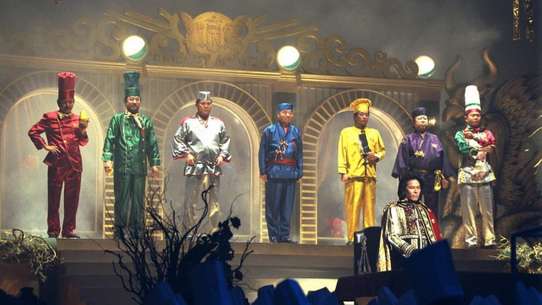 #14 - Sakai vs Kazutaka Okabe (Lamb)
Season 3 - Episode 23 - Aired Jun 9, 1995
Dissatisfied with the results of their last encounter, the young guns of Club Mistral send another challenger to face Iron Chef French Sakai, representing the old guard of Club des Trentes.
1 votes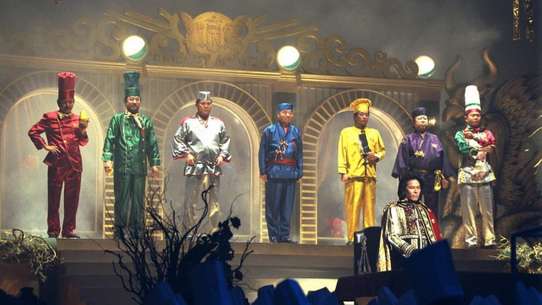 #15 - Michiba vs Zeng Mingxing (Blue Crab)
Season 3 - Episode 24 - Aired Jun 16, 1995
The challenger is the top apprentice of the Mother of Chinese cooking in Japan. Judges: Shinichiro Kurimoto (Fmr Lower House Member), Chizuru Azuma (Actress), Asako Kishi (Culinary Critic)
1 votes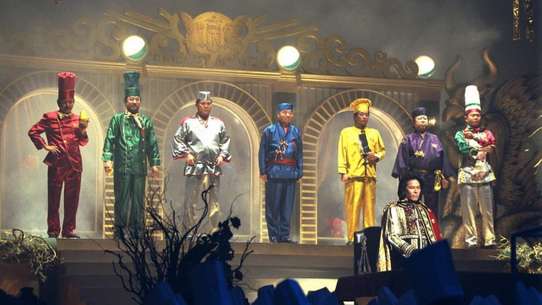 #16 - Sakai vs Shinichi Nagamatsu (Eggplant)
Season 3 - Episode 30 - Aired Jul 28, 1995
Today's challenger grew tired of the hustle and bustle of Tokyo and retreated into the mountains of Nara Prefecture to pursue his own eccentric ideals of seasonal Italian cuisine. He grows his own produce, catches his own fish, avoids using knives, and is so selective he only entertains one party per day.
1 votes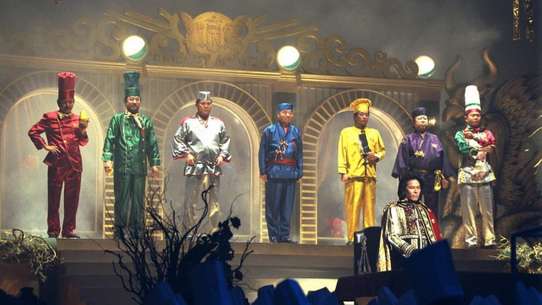 #17 - Chen vs Hisama Hirano (Sea Urchin)
Season 3 - Episode 31 - Aired Aug 4, 1995
Hisama Hirano is a Japanese culinary media dynamo. He appears frequently in magazines, teaches Japanese cuisine and hosts cooking shows on television, and he also introduces new concepts in Japanese street dining. He's also popular with the ladies.
1 votes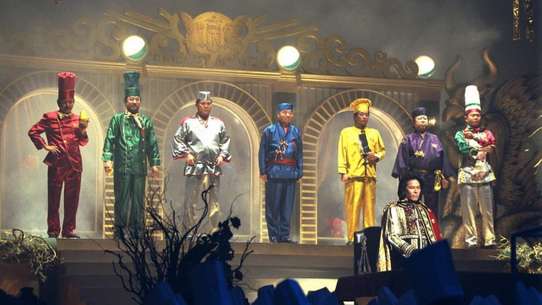 #18 - Michiba vs Kenji Kaji (Umeboshi)
Season 3 - Episode 32 - Aired Aug 11, 1995
The challenger is a head chef in Kyoto. He has mastered the style of Ikama-school of culinary arts. To separate his restaurant from the other more traditional restaurants in the area, he began creating new dishes with local ingredients. He is among the top young chefs in Kyoto. He faces the returning Iron Chef Japanese, back after two months of recuperation, so Chairman Kaga chooses umeboshi (pickled plums), an ingredient associated with keeping good health. Judges: Shinichiro Kurimoto (Politician), Mayuko Takata (Actress), Asako Kishi (Critic)
2 votes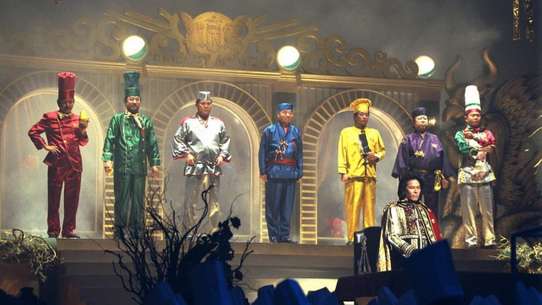 #19 - Chen vs Yoshiko Takemasa (Short-necked Clam)
Season 3 - Episode 34 - Aired Aug 25, 1995
It's tough, very tough for a woman to make her way into the kitchen of a traditional Japanese restaurant. But give the infamous Toshiro Kandagawa credit for recognizing the talent of this tough-as-nails woman from Kochi.
2 votes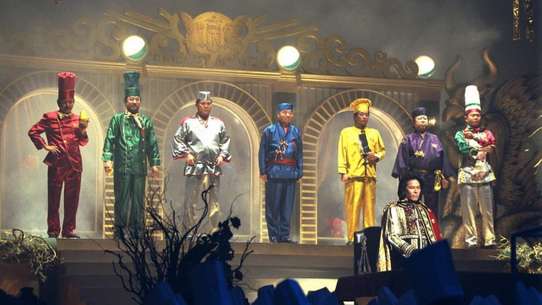 #20 - Sakai vs Philippe Aubron (Crayfish)
Season 3 - Episode 37 - Aired Sep 15, 1995
Chairman Kaga desires to have more experience with the cuisine of France's southern Provence region. He learns of a man from Provence who now serves authentic Provencal cuisine to Japanese diners near Lake Biwa. He invites the man to Kitchen Stadium and presents him with crayfish as the theme: an ingredient well-suited to his style of cooking.
1 votes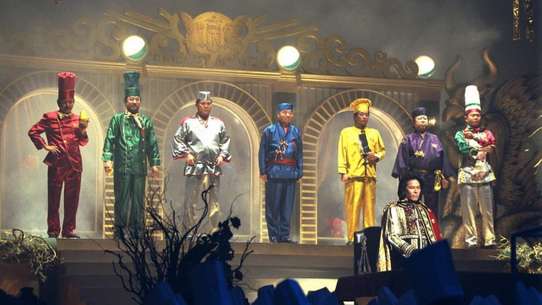 #21 - Michiba vs Lin Kunbi (Potato)
Season 3 - Episode 41 - Aired Oct 20, 1995
The challenger is one of the best in Japan at Fujian-style cooking. He opened the first Fujian-style restaurant in Japan. He is also a sixth-degree black belt in karate. Judges: Nagisa Ohshima (Director), Yoshiko Ishii (Singer), Mayuko Takata (Actress), Asako Kishi (Critic)
1 votes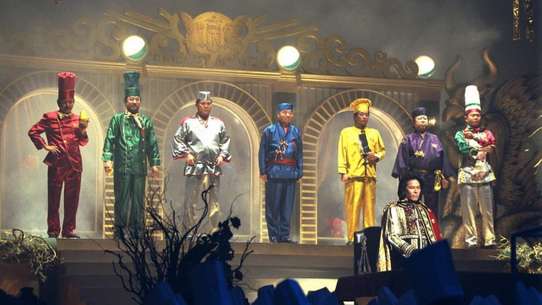 #22 - Sakai vs Tadamichi Ohta (Octopus)
Season 3 - Episode 48 - Aired Dec 8, 1995
Disappointed in the quality of the Japanese cuisine challengers this year (none of which have won to date), Chairman Kaga decides to call in a chef he'd been saving: Vice President of the Japan Chefs' Association and head chef of Nakanoboh-Zuien, a top-class ryokan in Arima Hot Springs.
1 votes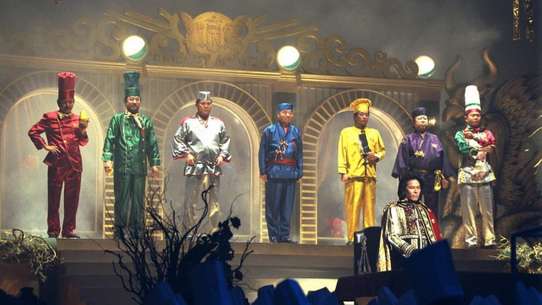 #23 - Chen vs Gao Jinyi (Dried Abalone)
Season 4 - Episode 3 - Aired Jan 12, 1996
For the first battle of the year, Chairman Kaga accepts the challenge of the head chef of the famed Grand Hotel in Taiwan. It is an all-Chinese affair with Iron Chef Chen chosen in advance to answer the challenge, on his 40th birthday no less, and no expense is spared as they are given dried abalone: a luxurious ingredient well-suited to Chinese cuisine.
2 votes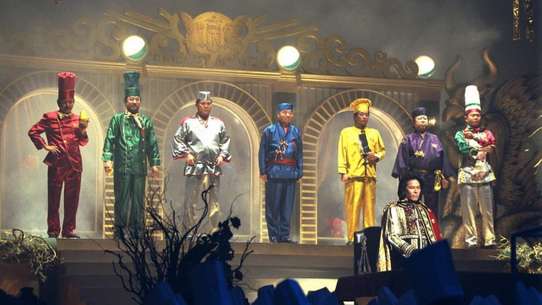 #24 - Sakai vs Masatoshi Kimura (Duck)
Season 2 - Episode 19 - Aired May 20, 1994
Hot-flame Chinese cuisine is the challenger's specialty. Judges: Yasushi Akimoto (Music Producer), Mayuko Takata (Actress), Masaaki Hirano (Rosanjin Scholar)
28 votes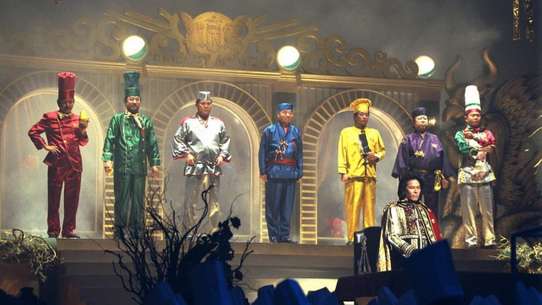 #25 - Sakai vs Bruno Ménard (Escargot)
Season 3 - Episode 46 - Aired Nov 24, 1995
Bruno Ménard heads the Tokyo branch of the famed nightspot Tatou. Known as the Golden Boy for his time in Le Golden and for winning the Golden Key award for most creative chef in 1995, he is a trendsetter praised for his creativity and innovation.
3 votes