The Best Episodes of Human Giant
Human Giant is a four man sketch comedy team consisting of members Aziz Ansari, Paul Scheer, Rob Huebel, and Jason Woliner. Human Giant is bringing their brand of reckless comedy to MTV
#1 - She Be a Witch
Season 2 - Episode 6
Osama Bin Diesel reveals his origin, the Illusionators make a man question life itself, a report on meth in Montana has trouble airing, and a motivational video for CEOs who can levitate is shown.
10 votes
#2 - I Want More Corn Chowder
Season 2 - Episode 4
Bill and Samir uncover a dark secret about Bobb'e J's past and the fate of Little Kevin. Thunderblast holds a memorial, Paul eats corn chowder because it's his job, Aziz is given a bloody reminder, and a birthday clown who exterminates stops by.
11 votes
#3 - Respect. Honor. Discipline.
Season 2 - Episode 3
Rob and Aziz sell Paul for a million dollars, Sensi Dave Grisbee teaches camera defense training, problems arise for the Hot Air Balloon Cops, and the Illusionators get a new member. Also, we learn how sound effects are made for movies.
11 votes
#4 - Still Here, Man. Still Here.
Season 2 - Episode 5
The gripping Shutterbugs arc comes to a conclusion as Bobb'e J makes his escape. Other sketches involve piñatas striking back, a lawyer who defends nightmares and Aziz's 10 desert-island discs.
12 votes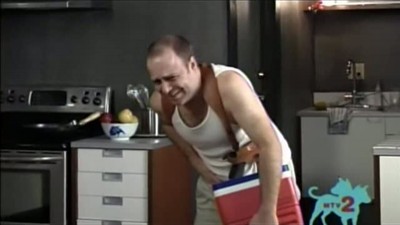 #5 - Hello, Susan
Season 1 - Episode 7
The epic battle between Moustaches and Beards rages on, the story of the Ding Dong Boys, and a very shocking exorcism.
12 votes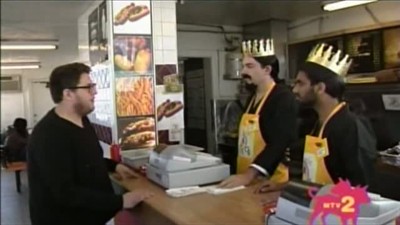 #6 - Ta Da!!
Season 1 - Episode 8
A look at Driver's Ed lessons, the Illusionators return with another magical illusion and the second episode of Spacelords.
14 votes
#7 - Let's Go!
Season 1 - Episode 2
A look at catching an online predator, self defense tips, the guys have some old fashioned fun and a popular TV show comes to a shocking conclusion.
34 votes
#8 - Ice Cream Party
Season 1 - Episode 5
Aziz learns to live life as a bush, The Illusionators Perform a dangerous stunt and the trio saves a deer that they probably shouldn't have.
17 votes
#9 - I'm Gonna Live Forever!
Season 2 - Episode 2
Sketches include: Sketch Artist, TMZ, Carpet Monkey, T-Shirt Squad, The Lesson Van, Battle Sector Make-Up.
12 votes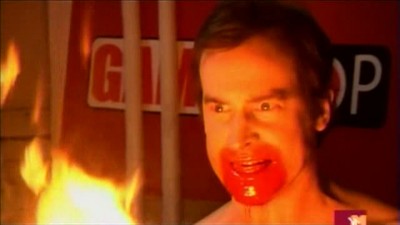 #10 - Lil' 9/11
Season 1 - Episode 3
The Shutterbugs produce the epic movie Lil' 9/11, Paul doesn't know any commercial jingles, and the guys take a blood oath. Sketches this episode include: Roombas, Rob's Vagina, Paul Scheer is a Douchebag Pizzeria, Shutterbug; Lil' 9/11, Blood Oath, Astronaut, and Commercial jingles.
24 votes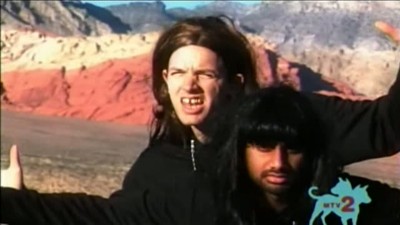 #11 - Mosh Pit!
Season 1 - Episode 4
A killer mosh -pit is roaming the country, Paul shows us how to cook some tasty animals, And Paul Falls in love with Rob's mom only Rob doesn't know.
22 votes
#12 - Duffel Bag of Death
Season 2 - Episode 1
Viral video stars compete for their fifteen minutes of fame, the Illusionators make an apology, the Shutterbugs unveil a new kind of prison, a gay porn star is remembered, and a reenactment of a crime goes horribly awry.
11 votes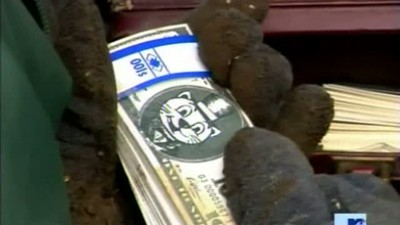 #13 - Mind Explosion
Season 1 - Episode 1
Pilot episode of the twisted sketch show featuring Aziz Ansari, Rob Huebel, and Paul Scheer. Sketches this episode include: Terrifying Pop-up, Wheelchair Access (featuring Ghostface Killah), Illusionators, Mother & Son Moving Co., Time Machine (Crystal Pepsi), Attack Dogs, and Shutterbugs part 1. Also, at the end of the episode is a preview of the sketches to be featured in Season 1.
34 votes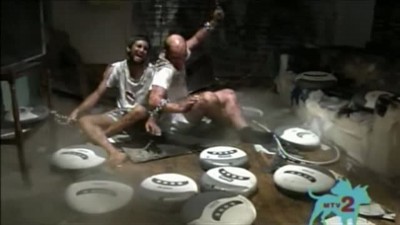 #14 - Kneel Before Zerg
Season 1 - Episode 6
The Shutterbugs pay the price for Lil 9/11, psychotic astronauts hunt men on the moon for sport, and three powerful Spacelords conquer a Weenie King hot dog shack.
15 votes