The BEST Episodes of Gargantia on the Verdurous Planet
Every episode ever - ranked by fan votes!
Last Updated: Jun 18, 2019
While fighting an intense inter-galactic war, a mecha pilot was accidentally warped into a space-time neither he nor the computer of his mecha could recognize. After waking up from a six-month hibernation, he found himself trapped on a planet, with human residents speaking in an unknown language, using inferior technologies, and -- most shocking to him -- breathing natural air.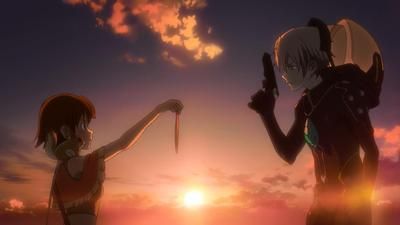 #1 - Planet of the Beginning
Season 1 - Episode 2
The armed standoff between Ledo and the inhabitants of Gargantia comes to a head, and he learns the truth about Earth's current state. But just then, a distress call comes from Bellows's salvage ship!
78 votes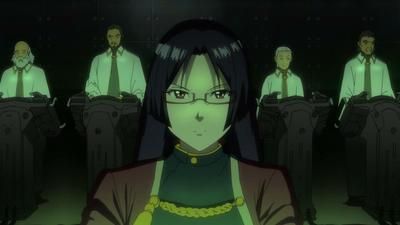 #2 - Legend of the Verdurous Planet
Season 1 - Episode 13
To save Gargantia, the outclassed Ledo and Chamber have to defeat Striker by any means. It seems the only choice is for Ledo to merge with Chamber to boost its power, but the process will kill him in a matter of minutes! Meanwhile, Ridget finally learns the purpose of the key... unlocking the ancient weapon known as Heaven's Ladder!
58 votes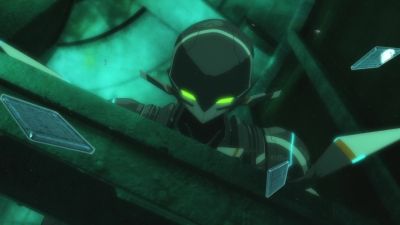 #3 - Deep Sea Secret
Season 1 - Episode 9
Ledo and Chamber go deep sea-diving to exterminate Earth's Hideauze. After an intense battle, they discover a Hideauze citadel at the bottom of the sea, and inside, ancient video footage of the Earth's former civilization, the race to escape into space, and a secret that blows Ledo's mind!
71 votes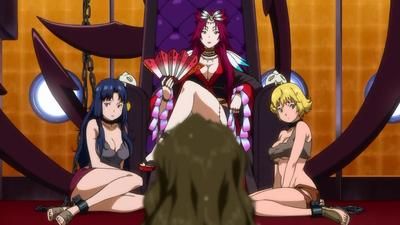 #4 - The Villainous Empress
Season 1 - Episode 3
After Chamber wiped out all of the pirates that were threatening Bellows and her people, Ledo is perceived as a menace and kept under guard by the crew of the Gargantia. And perhaps rightfully so, as the pirate armada that is Empress Lukkage's fleet is racing towards the Gargantia Fleet with bloody revenge in mind...
79 votes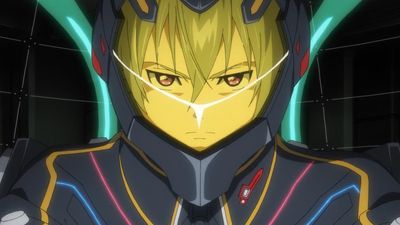 #5 - Drifters
Season 1 - Episode 1
Ensign Ledo is a Machine Caliber pilot in the Galactic Alliance of Humankind, fighting a seemingly endless war against the Hideauze out in the far reaches of the galaxy. But after an accident during the latest battle he and his robot, Chamber, end up on a mysterious planet filled with a seemingly primitive tribe of humans...
83 votes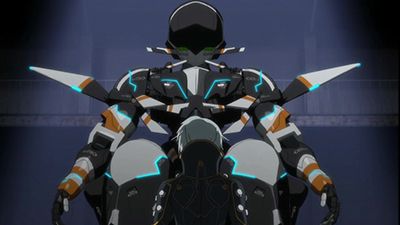 #6 - Moment of Decision
Season 1 - Episode 12
The horrors of Kugel's fleet become even more apparent to Ledo, Pinion, and the rest. Even worse, Kugel's next target for assimilation is Gargantia! Ledo is faced with a choice: loyalty to his commander and the Alliance or to the friends he recently left in order to protect!
54 votes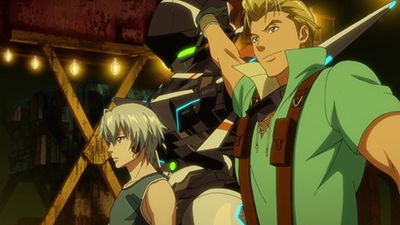 #7 - The Island of Ambition
Season 1 - Episode 10
Ledo is in a state of shock over the revelation of the Hideauze origin, while Chamber is unperturbed and seeks to continue their mission of slaughter. Meanwhile, power quickly goes to Pinion's head. After recovering an abundance of treasure and ancient weaponry from the decimated whalesquid nest, he broadcasts a threat to all ships in the area, basically saying "approach and be sunk". But that doesn't deter pirates from zeroing in on the small fleet.
59 votes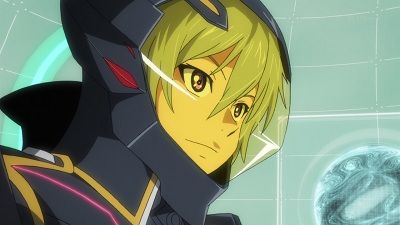 #8 - Supreme Ruler of Terror
Season 1 - Episode 11
Ledo is elated to learn that his commander, Kugel, is not only alive and well on Earth, but leads an entire fleet. But the Kugel fleet seeks to assimilate Flange's fleet... with Pinion's help! Unaware of this, Ledo eagerly rejoins Kugel's command until he finds out that his former commander is just as much a terror to the people under him as he is to the Hideauze.
57 votes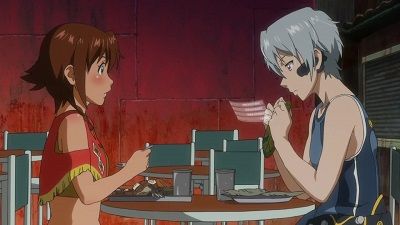 #9 - Festival
Season 1 - Episode 6
When Gargantia intersects with the Milky Way of the sea, it means there'll be a fishing bonanza, which in turn leads to a festival. Ledo finally gets his chance to catch fish, underwater in a Yunboro, though he's ill-prepared for the job. But during the festival, Ledo is approached by both Pinion and Bellows, both of whom want to partner up with him for salvage work. Meanwhile, Chamber is on a solo fishing mission of his own, but the giant mech ends up causing even more trouble...
70 votes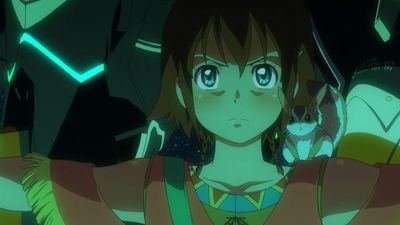 #10 - A Soldier's Fate
Season 1 - Episode 7
When Ledo has an encounter with a whalesquid undersea, he attacks and kills it because of its similar appearance to the Hideauze. Little did he know that whalesquid are considered sacred, so murdering one is taboo, and soon the whole ship is in an uproar over it. Ledo, however, believes that whalesquid are Hideauze and he's determined to carry out his mission by slaughtering more of them before they decide to target humans on Earth. Just as Amy tries to stop Ledo, a huge pod of whalesquid approaches the fleet...
72 votes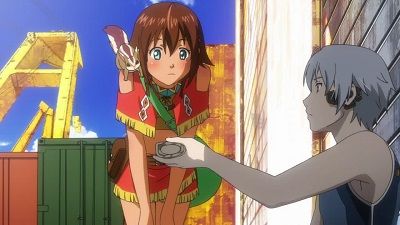 #11 - The Flute of Remembrance
Season 1 - Episode 4
In order to compensate for the damage to the hangar they caused, Chamber is put to work hauling around heavy cargo, but that leaves Ledo on the sidelines with nothing to do. Amy takes him around the fleet and introduces Ledo to the knowledgeable Dr. Oldham as well as her sickly but wise younger brother, Bebel.
72 votes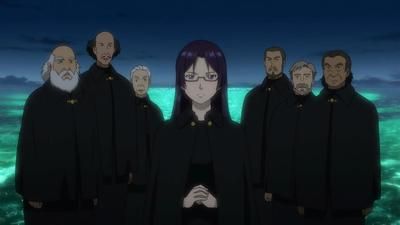 #12 - Separation
Season 1 - Episode 8
On his deathbed, Fleet Commander Fairlock entrusts Ridget with Gargantia. Meanwhile, Chamber finally gets a fix on the location of the Galactic Alliance, but they're so far away that Ledo will never be able to get home. As preparations are underway for Fairlock's funeral, Shipmaster Flange announces that he's leaving Gargantia. Ridget struggles to keep other Shipmasters from following suit. Pinion has plans of pillaging the ocean floor, so he joins the like-minded Flange. Amy is sad when two people she cares about are leaving as well, Melty and Ledo...
65 votes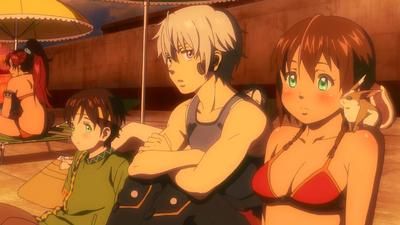 #13 - Calm Day
Season 1 - Episode 5
Amy tries to help Ledo find a job and introduces him to a number of different industries aboard Gargantia, but he's just not able to land one. Then the wind dies down and the waves cease, making it a "Calm Day", during which time the fleet shuts down so a lot of repair work can be done. But for non-repair-related personnel, it's time to take a breather. Pinion invites Ledo, Amy and her friends to a BBQ party. Everything seems to be going smoothly... until it doesn't, with Amy involved in an aerial race and Ledo on the run from overzealous hostesses!
72 votes