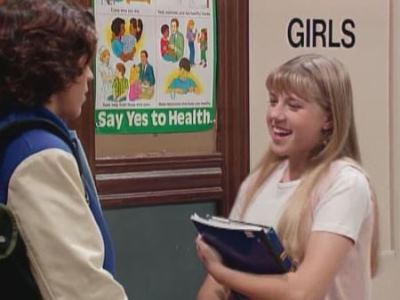 #1 - All Stood Up 8.53
Season 8 - Episode 22
Teaser: Michelle is tired of always losing to D.J., no matter what game they play against each other. Main Synopsis: Stephanie is heartbroken after she makes a date to go to a school dance with her classmate Ryan, and Ryan stands her up. Danny has a talk with Ryan, who later apologizes to Stephanie for standing her up. Meanwhile, a doctor from an insurance company tells Jesse that his blood pressure needs to be lowered and Jesse needs to relax, but it's not long before Jesse is interrupted by Kimmy's bagpipe practice. One sound leads to another, and there is soon a war of music going on in the backyard while Jesse is also being terrorized by an ostrich that Kimmy is taking care of. Michelle tries to find a game that will give her a chance to win against D.J. for once.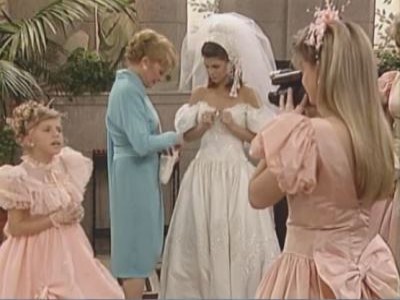 #2 - The Wedding (2) 8.50
Season 4 - Episode 19
Teaser: A recap of part 1. Main Synopsis: A tomato filled truck driven by a tomato farmer parks under Jesse, who releases himself from the parachute, and falls safely into the bed of the truck. The farmer tells Jesse he's in a town known as ""Tomato Country"". Jesse then tries to use the farmer's truck to go to the church for the wedding, but that's when a cop shows up. By now, it's 10:25am, and Jesse is 25 minutes late for the wedding. The phone at the church rings, and it's Jesse, who tells Becky that he's in jail in Tomato Country. Becky heads to the jail and gets Jesse released. They make it back to the church, where they are pronounced husband and wife. After a party at the Tanner home, Jesse and Becky leave for their honeymoon.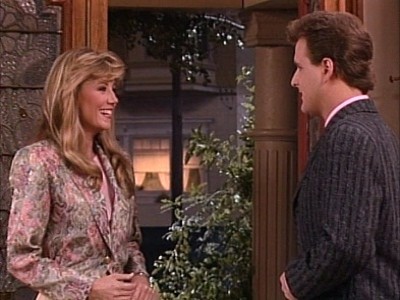 #3 - Blast from the Past 8.44
Season 2 - Episode 19
Teaser: Michelle insists on dressing herself up, even though Jesse offered to help her. Main Synopsis: In college, Joey had a girlfriend named Patty Fogerty, who ended up leaving Joey for a guy named Michael Winchester. This left Joey devastated, because he wanted to marry Patty and spend the rest of his life with her. Now, Years later, Patty tracks down Joey's bedroom phone number and calls him. Joey invites Patty over to the house, and Danny doesn't like this one bit, because he doesn't want to see Joey once again get hurt by Patty, who explains that she left Joey for Michael Winchester because she wanted more romance in her life and while she thought Joey was funny, she didn't think Joey was romantic enough. Meanwhile, Kimmy uses Stephanie and D.J. as guinea pigs for a magic trick involving a pair of magician's handcuffs that belong to Kimmy's brother, who is in Las Vegas. Kimmy does the trick too well -- D.J. and Stephanie are now cuffed to each other, and Kimmy realizes she doesn'
Directors: Tom Rickard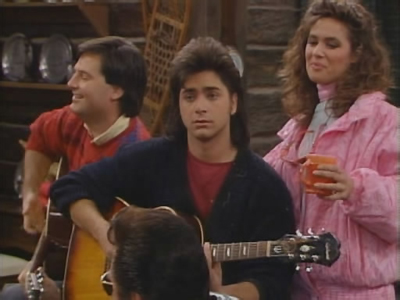 #4 - The Seven-Month Itch (2) 8.43
Season 1 - Episode 20
Jesse calls to say that he and Samantha have gone to Lake Tahoe, where they have been skiing with friends. When Danny tells D.J. and Stephanie that Jesse has left and may move out, D.J. explains to Danny that when Pam died, D.J. thought that she would never again feel comfortable living in this house, until Jesse and Joey moved in and things got better. That's why D.J. and Stephanie don't want Jesse to move, so D.J. and Stephanie form a plan to make sure that doesn't happen -- they call Jesse and tell Jesse that Michelle is sick, when D.J. and Stephanie know that Michelle is not sick. From Lake Tahoe, Jesse drives his motorcycle behind a cattle truck for 4 hours in the freezing cold and arrives home only to discover that Michelle is really not sick, and that D.J. and Stephanie tricked him into coming home. Danny and Joey talk Jesse into not moving out, and they agree that Jesse needs more privacy than he's been getting.
Directors: Russ Petranto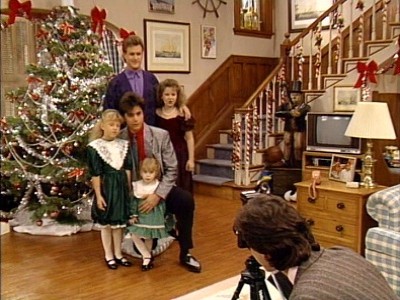 #5 - Our Very First Christmas Show 8.43
Season 2 - Episode 9
Teaser: Having a family photo taken for a Christmas card. Main Synopsis: The family is on a flight to Colorado to spend Christmas with some relatives, and this is a trip that Danny has spent months planning -- but on the way to Colorado, a blizzard forces an emergency landing at an unfamiliar airport. The family is forced to spend Christmas in the baggage claim room, where everyone thinks Christmas is ruined this time around. Among the things that happen here are: Jesse's father Nick tries to get Jesse to kiss Becky under a mistletoe, D.J. is upset that the gifts that the family brought along on the flight with them are missing, and Michelle is afraid of Lionel, a man who made her cry on the airplane. Jesse, becoming ever so frustrated by everyone's sour attitudes, speaks to the people in the baggage claim room about the real meaning of Christmas, then Santa Claus shows up and shows the family where the missing gifts are, and it turns out that Lionel is Santa Claus.
Directors: John Bowab
#6 - The Last Dance 8.43
Season 7 - Episode 17
Teaser: John Stamos, who plays as Jesse, gives an advisory about the episode. Main Synopsis: In a special episode: Jesse's grandfather Iorgos ""Papouli"" Katsopolis is back from Greece for another visit. The family finds it pleasant to have Papouli around. One morning during Papouli's visit, everyone goes to wake him up after Michelle has gone to school -- only to discover that Papouli has died in his sleep. His death was caused by heart failure. When Michelle arrives home from school later that day, Danny tells her that Papouli has died. Michelle is devastated, and it turns out that only one person can comfort Michelle, and that person is Jesse, who is taking it just as hard. Kimmy and D.J. argue over a pair of sunglasses, but Papouli's death helps them realize that friendship is too important for them to argue over a pair of sunglasses.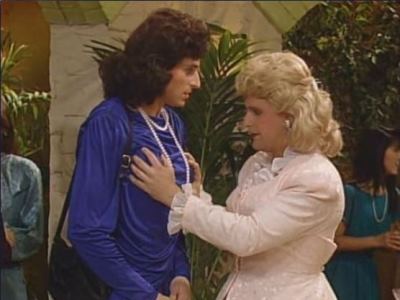 #7 - Fraternity Reunion 8.42
Season 3 - Episode 23
Teaser: Jesse and Michelle play the ""laughing game"". Main Synopsis: It's the night of a reunion for Joey and Danny -- the reunion of Chi Sigma Sigma (CSS), the college fraternity they were in 10 years ago. Joey and Danny remember that the fraternity burned Danny's Chi Sigma Sigma jacket 10 years ago when Danny messed up and unintentionally allowed a sorority, Lambda Tau Delta (LTD), to steal the stuffed seal that was Chi Sigma Sigma's mascot. The Lambda Tau Delta girls tickled Danny to the ground and took the seal. Since the LTD girls are also having a reunion, Joey and Danny see an opportunity to get the seal back from the LTD girls. D.J. and Kimmy then accidentally break the TV while trying to take it upstairs, and Danny tells D.J. and Kimmy that they are not allowed to see each other for three weeks. Later, Danny and Joey head off to the reunion while D.J. stays home to watch Stephanie and Michelle. In their attempt to get the seal back, Danny and Joey disguise themselves as women
Directors: Bill Foster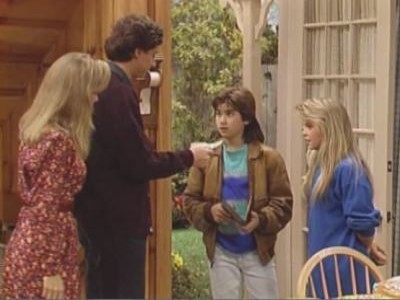 #8 - Secret Admirer 8.42
Season 4 - Episode 11
Teaser: Jesse and Michelle eat the cream filling out of their cookies. Main Synopsis: D.J. has fallen for Ricky, the paperboy. This gives Rusty the idea for his latest prank. Rusty writes a love letter and plans to make D.J. think the letter is from Ricky. Rusty tells Michelle to give the letter to D.J., and the trick backfires when Michelle gives the letter to Stephanie instead and tells Stephanie that the letter is from Rusty. This starts a chain reaction where everyone else in the house intercepts the letter and falls for it.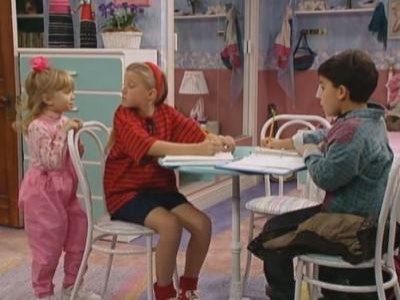 #9 - Silence is Not Golden 8.40
Season 6 - Episode 17
Teaser: Michelle and Denise watch a commercial about the ""Funny Buddy"" riddles hotline. Main Synopsis: In a special episode: Stephanie and her classmate Charles are assigned to work together on a homework assignment. After school, Charles goes to the house with Stephanie, and while working on the assignment with Stephanie, Charles slips up and is forced to admit that his father beats him up all the time. Charles feels helpless because, like Stephanie, Charles doesn't have a mother because Charles's mother is dead. Charles makes Stephanie promise to tell no one about the abuse. Later, when Michelle becomes angry at Danny for punishing her because she ran up the phone bill by calling the ""Funny Buddy"" riddle hotline several times, Stephanie blows up at Michelle and angrily tells Michelle that she's lucky to have a father who doesn't hit her, and Jesse wonders where Stephanie's behavior is coming from. Stephanie breaks her promise of silence and tells Jesse what Charles told her. Jesse,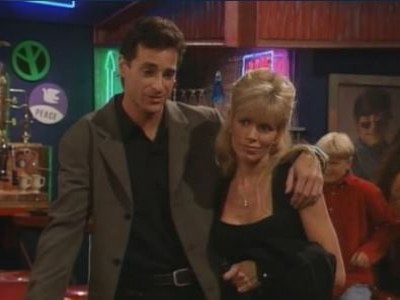 #10 - Claire and Present Danger 8.40
Season 8 - Episode 8
Teaser: Joey, Becky, and the twins shake, rattle, and roll. Main Synopsis: When Danny goes out on a date with Gia's mother Claire, Gia and Stephanie start fantasizing about how cool it would be if they became stepsisters. Michelle doesn't think that's a cool idea at all, because Stephanie has been ignoring Michelle in favor of Gia, making Michelle feel left out in the cold. Meanwhile, Jesse's new band, ""Hot Daddy And The Monkey Puppets"", is scheduled to perform at the Smash Club, but after an argument with D.J., Viper is too depressed to play his guitar, so Jesse helps Viper and D.J. work things out.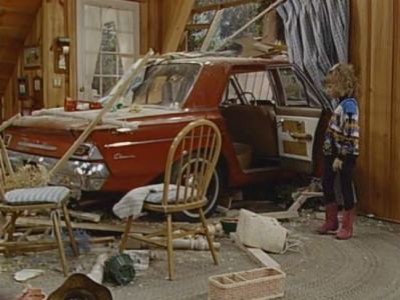 #11 - Honey, I Broke the House 8.36
Season 3 - Episode 20
Teaser: Joey plays baseball with Michelle. Main Synopsis: Jesse wants to have a romantic night with Becky, who tells Jesse that she can't because she is scheduled for a business dinner with Beau McIntyre, a former football player who is scheduled to be a guest on ""Wake Up, San Francisco"", and this makes Jesse jealous. There are 20 minutes left until Stephanie has to be at dance class, so what is there to do until then? She can't get anyone to listen to her about how her day has gone so far, even Joey, who is preoccupied with his new car ""Rosie"". When Joey sees a nick in Rosie's paint, he leaves with Comet to go to Sid & Jean's Auto Supplies to buy a bottle of touch up paint. While Joey is gone, Stephanie gets inside of ""Rosie"" so she'll have something to do. As she is sitting in the driver's seat, she decides to turn the radio on, and after messing with the radio, and it doesn't come on, Stephanie turns the key, hoping that she's turning it toward the auxiliary option that allows you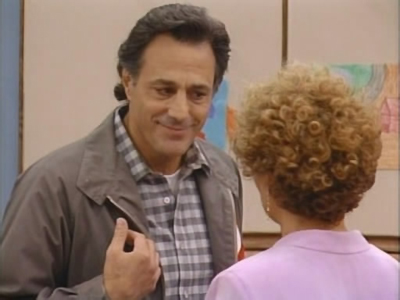 #12 - It's Not My Job 8.35
Season 2 - Episode 3
Teaser: Preparing for a Halloween party, the guys are dressed as the Three Stooges -- Jesse as Moe, Joey as Curly, and Danny as Larry. Main Synopsis: Jesse has made his first sale of an advertising jingle. As a result, Jesse tells his father, Nick Katsopolis, that he wants to leave the pest exterminator business that is run by Nick, and Nick is severely disappointed by this -- so disappointed, that Nick loses his temper with Jesse and says ""If you're out of the family business, then you're out of the family"". Jesse and his mother Irene manage to talk some sense into Nick, who realizes that Jesse has a dream about making it in the music business, and Nick and Jesse work things out. Meanwhile, Stephanie is afraid to go to the dentist to get a tooth filled, and she's even more nervous when she's actually sitting on the chair that's in the examination room. Joey, who took her to the dentist, helps her beat her fear.
Directors: Joel Zwick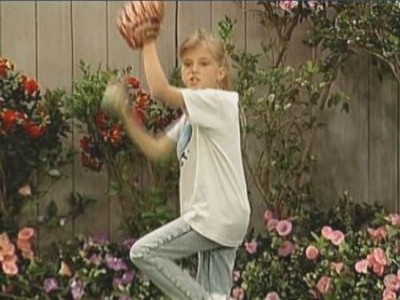 #13 - Stephanie Plays the Field 8.33
Season 4 - Episode 22
Teaser: Danny arrives home from shopping. Main Synopsis: Danny is the head coach of the Giants, a local little league baseball team. Stephanie has fallen for Brett Davis, who plays for a rival team called the Cubs. This makes Stephanie want to join the Giants and play for Danny, and her surprisingly good pitching makes it easy for her to become a member of the team. In an upcoming game, the Giants are scheduled to play against the Cubs, so Brett tells Stephanie to take it easy and not throw the ""Tanner Twister"" whenever Brett's at bat because Brett's father will be at the game videotaping Brett, and Brett doesn't want his father to see him get outdone by a girl, but Stephanie just can't bring herself to throw the game for Brett, and the Giants win when Stephanie strikes Brett out for the third out in the last inning of the game. Fortunately, Brett understands why Stephanie did this, and admits that he shouldn't have asked Stephanie to go easy on him at the game. Meanwhile, Becky and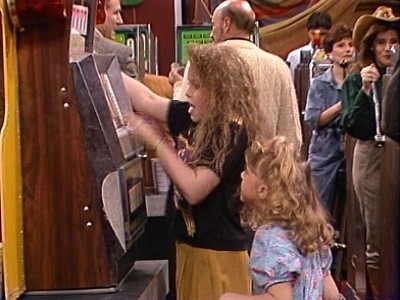 #14 - Luck Be a Lady (1) 8.30
Season 2 - Episode 21
Teaser: Doggies! (teaser features Michelle and Danny) Main Synopsis:The family goes to Lake Tahoe, where Danny and Becky will be doing a special episode of ""Wake Up, San Francisco"". Joey gets lucky on a slot machine, but doesn't get the money because a videotape shows DJ pulling the machine's lever then ducking back to the other side of a barrier dividing the slot machines from the table where Stephanie and DJ were while an unsuspecting Joey's back is turned. Joey didn't know it was DJ or Stephanie who pulled the lever, so of course he's surprised. Jesse is jealous because Becky can't get her mind off of movie star Todd Masters (Steve Bond), who is scheduled to be a guest on the special episode of ""Wake Up, San Francisco"". Jesse makes it his mission to make Becky just as jealous so Becky will know how she's making Jesse feel, and then they have an argument in their hotel room. When they calm down, Jesse asks Becky to marry him, and Becky accepts the proposal.
Directors: Bill Foster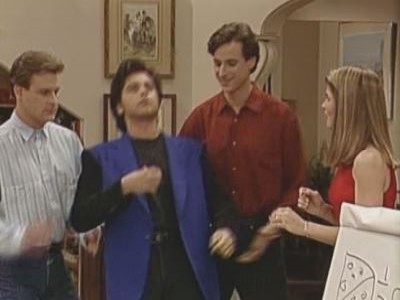 #15 - Rock the Cradle 8.30
Season 4 - Episode 26
Teaser: There is no teaser in this episode. Main Synopsis: A pregnancy test indicates that Becky is pregnant. She tells everyone except for Jesse, because she can't get Jesse to listen to her because Jesse is obsessed with the fact the he and the Rippers will be going on tour for four months over the summer. When Becky finally does get Jesse to listen, Jesse is excited about the pregnancy. Meanwhile, Michelle makes up an invisible friend named Glen, because she misses her friends from preschool.
#16 - Slumber Party 8.27
Season 4 - Episode 4
Teaser: Michelle builds a block tower with D.J.'s help. Main Synopsis: Stephanie's Honeybee troop is holding a mother/daughter slumber party, and this awakens feelings of loss in Stephanie, because Stephanie knows that she's the only girl in the troop who doesn't have a mother. Becky, who was a member of a Honeybee troop when she was a kid, agrees to accompany Stephanie to the slumber party, but when Becky's car breaks down in Placerville, Joey must take Becky's place at the party. The activities don't exactly fit Joey, so a devastated Stephanie goes back home, unleashes an angry tirade, and says that she hates the fact that she doesn't have a mother, because her mother Pam died a few years ago. D.J. talks to Stephanie, and Stephanie agrees to go back to the party, and this time, D.J. goes with her, and things turn out better with D.J., who used to be in a Honeybee troop. Meanwhile, Danny offers the attic as office space for Joey and Jesse's business, Double J Creative Services, so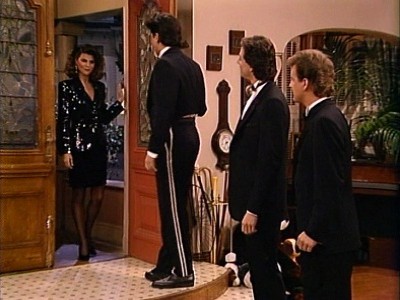 #17 - A Little Romance 8.26
Season 2 - Episode 11
Teaser:The guys sing a bedtime song for Michelle. Main Synopsis:D.J. has her first boyfriend, Michael Montfort, but D.J. is crushed when Michael leaves her for Kathy Santoni, because Michael believes Kathy is prettier than D.J. is. Meanwhile, Becky and Danny are hosting a charity event where eligible bachelors are auctioned off to women who want a date with them. Three of the participating bachelors are Danny, Jesse, and Joey. Jesse ends up receiving the highest bid of them all -- from a very jealous Becky.
Directors: John Bowab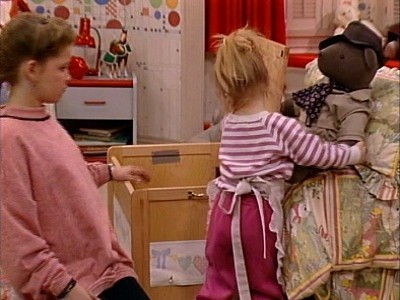 #18 - Goodbye, Mr. Bear 8.26
Season 2 - Episode 18
Teaser: Jesse and Michelle sing a song. Main Synopsis:It's time for the annual spring-cleaning, and this has become one of Danny's favorite times of the year. During the Spring cleaning, Jesse learns what ""little cause, big effect"" means when he accidentally breaks a drawer handle in the kitchen, and ends up having to renovate the kitchen's entire network of cabinets and drawers because the broken handle's design has been discontinued, and a new design Jesse buys doesn't go very well with the cabinet design that is in the kitchen, so Jesse buys cabinets that go with the new handles. Meanwhile, Stephanie is frantic. It seems that Mr. Bear, the stuffed toy that the girls' mother Pam Tanner gave Stephanie on the day Pam brought newborn Michelle home from the hospital, is missing. Stephanie doesn't want to lose Mr. Bear, because it was a gift from Pam, and it reminds Stephanie of her. The family helps Stephanie look for Mr. Bear, but to no avail. Stephanie then suspects that Joey may have
Directors: Jack Shea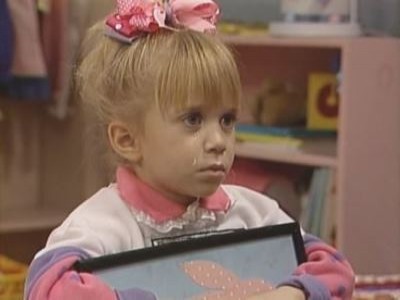 #19 - Fuller House 8.26
Season 4 - Episode 20
Teaser: Jesse and Becky have arrived home from their honeymoon. Main Synopsis: Jesse and Becky return from their honeymoon, which took place in Bora Bora, an island near Tahiti. Becky reminds Jesse that he needs to start packing if he's going to move to Becky's home. Michelle doesn't take this very well, because she doesn't want Jesse to move out, so Michelle starts packing to go with Jesse, who explains things to Michelle. Jesse's belongings are moved to Becky's house, but Jesse still has feelings of emptiness. Danny and Joey can't seem to cheer Michelle up, until Jesse arrives for a visit on the next morning. Becky sets it up to where she and Jesse will be spending the night at the Tanner house, sleeping on two cots in the attic. That night, Becky tells Jesse that she talked to Danny, who has agreed to let Jesse renovate the house's 1300 square foot attic into a family sized apartment so Jesse doesn't have to move out. As a result, a new arrangement is made -- Joey will move into J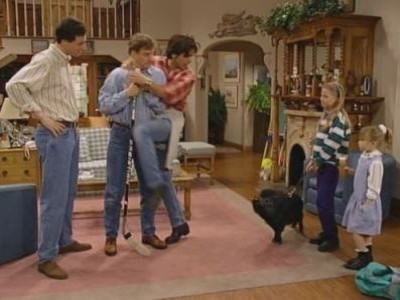 #20 - Room for One More 8.25
Season 6 - Episode 21
Teaser: Joey and Michelle play with Nicky and Alex, who are dressed like little biker twins. Main Synopsis: While Stephanie and Michelle are babysitting a neighbor's pet pig, Jesse tries to prove to Becky that he can handle having another baby around the house, because he misses having babies in the house, but there are complications in Jesse's mission -- one of the twins is sick, and chaos is on the air on KFLH when Jesse and Joey do an episode of their radio show at home, downstairs in the recording studio.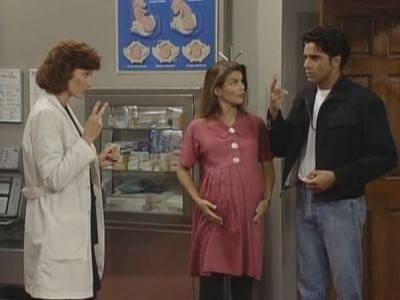 #21 - Double Trouble 8.25
Season 5 - Episode 1
Teaser: Michelle can't fall asleep because she's worried about kindergarten. Main Synopsis: Jesse is back home from the tour that he and the Rippers went on over the summer, and an ultrasound shows that Becky is carrying twins. While this thrills Becky, the same can't be said for Jesse, who feels afraid of what is now a double responsibility that awaits him, because he doesn't want to mess up in any way as a father. The family helps Jesse come to grips with this fear, and Jesse is happy about Becky carrying twins, and they have told Dr. Sinclair that they want to wait until birth to know what gender the babies are. Meanwhile, as the new school year starts, Stephanie is nervous about entering 4th grade, until she meets her new teacher, Mr. Lowry, whom she now has a crush on. Michelle is worried about what kindergarten will be like, until she befriends Teddy, one of her new classmates.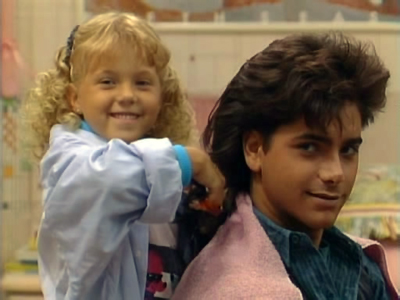 #22 - Cutting It Close 8.25
Season 2 - Episode 1
Teaser: Danny, Joey, Jesse, D.J., Stephanie, and Michelle play Ring around the Rosie, but Michelle doesn't understand it. Main Synopsis: While Stephanie is playing a pretend game of ""hairdresser"" with Jesse, she unintentionally chops off a chunk of Jesse's hair, so Jesse has to go to Alejandro, his real hairdresser, so Alejandro can cut Jesse's hair and make it even. On his way back home from Alejandro's, Jesse fails to see a road sign that says ""severe tire damage"". As a result, Jesse accidentally wrecks the motorcycle, and is treated for two broken arms. Stephanie blames herself for this, and the way Jesse is acting in the wake of the accident is not helping Stephanie feel any better.
Directors: Joel Zwick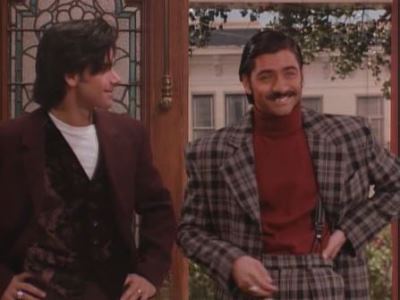 #23 - Kissing Cousins 8.24
Season 7 - Episode 18
Main Synopsis: Teaser: ""Cowboys"" Nicky and Alex use a pile of cushions as a fort. Main Synopsis: Jesse has returned home from Greece, where he attended Papouli's funeral, and he has brought his cousin Stavros home with him. What Jesse doesn't know is that Stavros is a womanizing con artist. Stavros swindles Joey out of a watch and $20, makes a pass at Becky, gets Danny a $65 parking ticket, and Stavros also makes D.J. pay for an awful-smelling goat pizza that Stavros had the money for all along. When everyone tries to tell Jesse what kind of man Stavros is, Jesse refuses to believe them. The Smash Club is the setting for Stavros's latest scam, in which he says that a severe mudslide has occured in his hometown in Greece and he is raising money at the Smash Club for his hometown's recovery from the mudslide. Becky and the girls discover that there was no mudslide, and that Stavros plans to take the money -- and Becky -- on an airplane flight to Florida with him. Becky comes up with a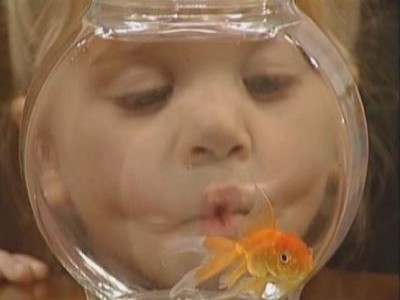 #24 - A Fish Called Martin 8.24
Season 4 - Episode 17
Teaser: Michelle sings with Jesse and the Rippers. Main Synopsis: Michelle wins a goldfish at the Fun Fair and names it Martin. When Martin dies after Michelle tries to give him a bubble bath in the tub (she didn't know any better), Michelle blames herself. In an effort to help Michelle feel better, the guys get her a new fish, but she wants nothing to do with it, because she's afraid she'll somehow cause this one to die too. At the fair, D.J. met a boy named Bobby, who is a car expert, so D.J. tries to learn as much about cars as she possible can, so she can impress Bobby. Later, Becky insists on square dancing at the wedding, and Jesse doesn't like it, and while Becky is trying to teach D.J., Stephanie, and the guys how to square dance, Michelle tells everyone to come to the kitchen, where they see that the new fish has become a mother. Michelle feels better when the guys praise her for telling them about the school of new baby fish.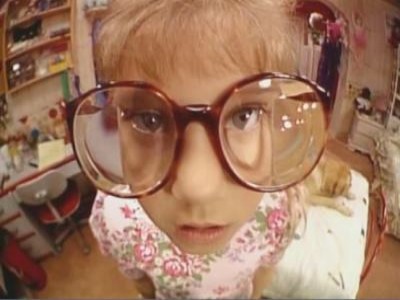 #25 - Stephanie Gets Framed 8.24
Season 4 - Episode 16
Teaser: Michelle is brushing her teeth. Main Synopsis: Danny is informed that Stephanie is having problems reading at school. Stephanie is taken to an eye doctor who prescribes eyeglasses for her to use for reading. Stephanie doesn't want the glasses because she's afraid her classmates will make fun of her and think that she's a nerd because of the glasses. She feels better about having the glasses when she gets some advice from Steve Urkel, the visiting cousin of D.J.'s friend Julie. Meanwhile, Jesse must choose a best man for the wedding.
Directors: Joel Zwick