The BEST Episodes of Doraemon (1979)
Every episode ever - ranked by fan votes!
Last Updated: May 5, 2020
Doraemon is sent back in time by Nobita Nobi's great-great grandson Sewashi to improve Nobita's circumstances so that his descendants may enjoy a better future. In the original time-line, Nobita experienced nothing but misery and misfortune manifested in the form of poor marks and grades, physical disasters, and bullying throughout his life. This culminates in the burning down of a future business he set up which leaves his family line beset with financial problems. In order to alter history and better the Nobi family's fortunes, Sewashi sent him a robot called Doraemon.
#1 - Go Forward the Devil Road
Season 1 - Episode 81 - Aired Jul 4, 1979
Nobita is inspired by a book of Great Men and resolves to do good deeds but they all turn out bad. He gets angry and resolves to do bad things, which all turn out good.
1 votes
#2 -
Season 30 - Episode 5 - Aired Jan 25, 2008
1 votes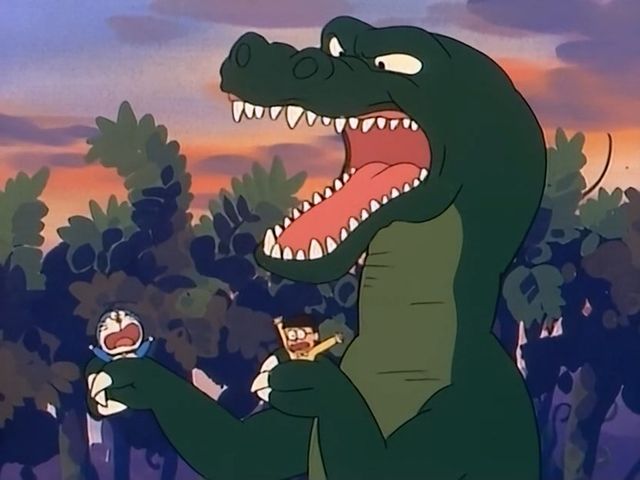 #3 - Dinosaur Hunting
Season 1 - Episode 8 - Aired Apr 10, 1979
นักล่าไดโนเสาร์ Doraemon and Nobita's first time travel. They get into a drawer which leads to them travelling on a time machine and end up ten billion years in the past. After shrinking one dinosaur, Doraemon cannot find his gun but they manage to escape the second one, with Nobita leaving his glasses behind, which are found in the present time, to the amazement of scientists.
3 votes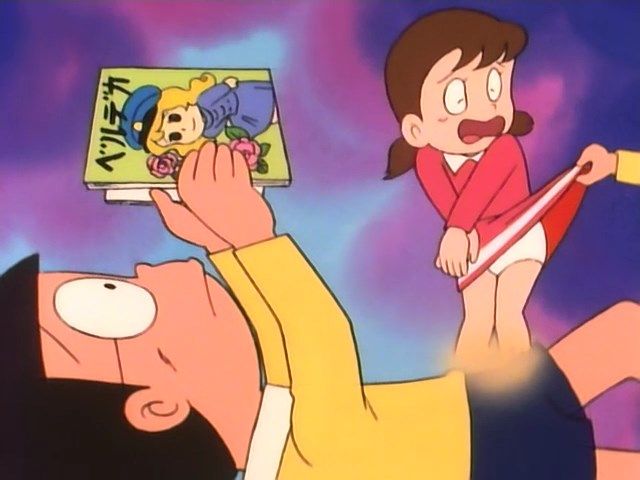 #4 - Spy War About Top Secret
Season 1 - Episode 9 - Aired Apr 11, 1979
ยุทธการลับสุดยอด The episode starts with Nobita breaking his teacher's vase while he was cleaning the classroom with Suneo. Suneo agreed to help Nobita cover up his crime, on the condition that he must do whatever Suneo wants. Fearing his teacher, Nobita reluctantly agreed. Along the way, Suneo and his friends taunt Nobita about the vase. Doraemon furiously takes out a tool that spies on Suneo's house, and Nobita found out that Suneo had a habit of bedwetting. Suneo's plan backfired when Nobita taunted him with his secret bedwetting habit. In the end, Suneo's friends wanted to taunt Nobita by making him do a headstand and bark like a dog, but Suneo, fearing that Nobita may uncover his secret, did the headstand.
3 votes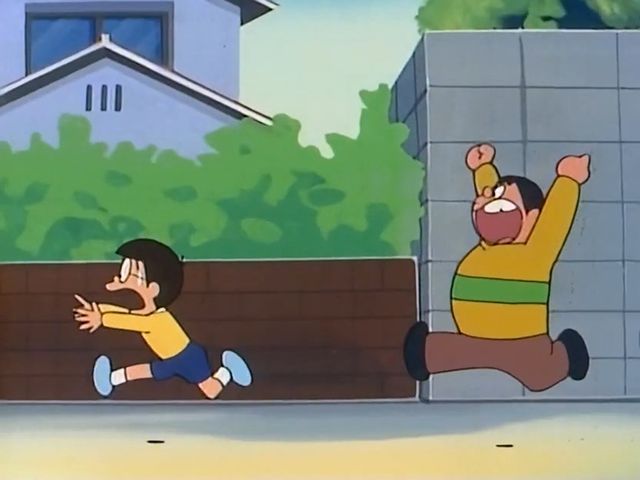 #5 - N & S Emblems
Season 1 - Episode 4 - Aired Apr 5, 1979
แผ่นป้ายแม่เหล็ก The episode starts with Gian playing with two magnets. Nobita then says that he should know about magnetic properties in kindergarten. Gian then gets really angry and chases after Nobita. Nobita runs home and asks Doraemon for help, and he gives Nobita some N and S emblems after successfully testing them on Nobita's parents. Then he puts a S emblem on Nobita and the other S emblem on Gian. Nobita then escapes from Gian, but he instead makes a mistake and ends up being attracted to Gian. The episode ends with Doraemon ignoring Nobita when he pleads for help.
4 votes
#6 - Shopping in the Future
Season 1 - Episode 69 - Aired Jun 20, 1979
ซื้อของจากโลกอนาคต Nobita wants a new bike but his parents cannot afford it, then he comes across a catalog from 2087 and orders and gets many things, not realising that they have to be paid for.
2 votes
#7 - Speed Clock
Season 1 - Episode 73 - Aired Jun 25, 1979
นาฬิกาเร่งเวลา Nobita can't wait for a holiday from school so Doraemon gives him a clock which can make the days fly by. Nobita ends up making his vacation fly by as he tries to please everyone.
2 votes
#8 - Steal Mom's Diamond
Season 1 - Episode 67 - Aired Jun 18, 1979
ตามล่าโจรขโมยแหวนเพชร Nobita's mom tells him a story of 2 men who stole her mother's valuable diamond when she was a child (so they don't have it now to sell for lots of money). Nobita and Doraemon go back into the past to stop the theft.
2 votes
#9 - Space Mountain Tai, The Forepart
Season 1 - Episode 86 - Aired Jul 10, 1979
ทาร์ซานอวกาศ ตอนต้น Space Mountain Tai about prehistoric men and spacemen is Nobita's favorite show but he meets the star and finds it has gone over budget too much and is close to being canceled because of falling viewing figures. He decides to help him by going 150 million years into the past to get some real dinosaurs to replace the poor models they use in the show.
2 votes
#10 - Channel of Dream
Season 1 - Episode 90 - Aired Jul 14, 1979
สถานีช่องความฝัน Nobita can't sleep so Doraemon gives him a TV that lets him see people's dreams. He finds that he is represented as cowardly and a cry baby in all his friend's dreams, and even in his own dreams.
2 votes
#11 - The Soul Machine
Season 1 - Episode 88 - Aired Jul 12, 1979
เครื่องย้อนเวลาวิญญาณ Cry baby Nobita is upset when he grazes his knee and his mother doesn't make a fuss of him. He wishes he was a baby again, so Doraemon sends his soul back to his baby body and his mother fusses a lot over him. Nobita comes back to the present to find his mother very upset as she thought he had died and realizes she does really still care about him.
2 votes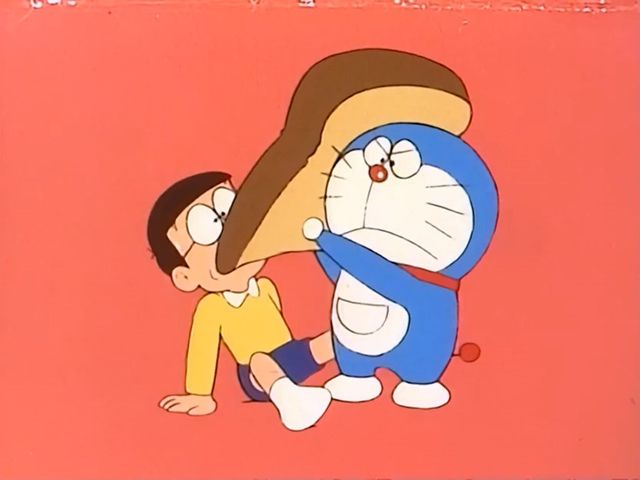 #12 - Memory Bread for Testing
Season 1 - Episode 3 - Aired Apr 4, 1979
ขนมปังช่วยจำข้อสอบ The episode starts with Nobita running into Doraemon and asking him for a tool to help him study for his examinations that takes place tomorrow. Doraemon gives him some Memory Bread which Nobita eats and understands the work. Later, he relaxed and ate desserts until he became full, but Doraemon forces him to eats extra memory bread. The episode ends with Nobita vomiting and re-eating memory bread from the start the very next day.
3 votes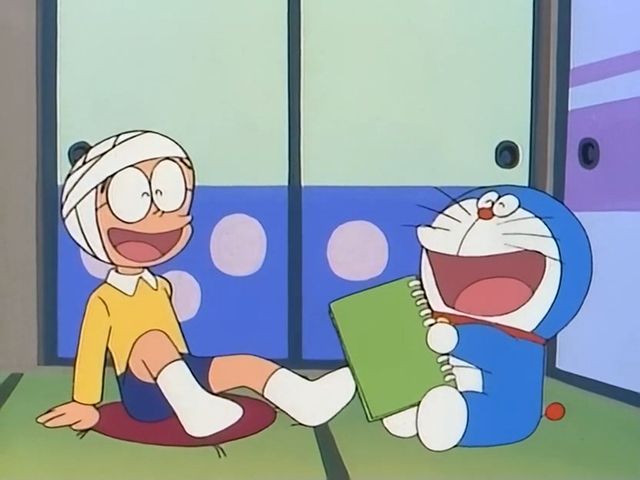 #13 - Doraemon's Prediction
Season 1 - Episode 7 - Aired Apr 9, 1979
ยอดนักทำนายโดราเอม่อน The episode starts with Nobita getting home and wanting to go to Shizuka's house to play, but is stopped by Doraemon. He then open a book and tells Nobita that if he goes out, he will get in hospital because he will be hit by a truck. After persuasion by Shizuka, Doraemon goes outside with Nobita and uses a "future mirror" to see what will happen to them in 10 seconds time. Eventually, after near-accidents, they make it there but when he opens the door he gets hit by a toy truck on the head. The episode ends with Nobita laughing with Doraemon. First use of flying hats.
3 votes
#14 - Shooting Championship
Season 1 - Episode 46 - Aired May 24, 1979
แข่งขันเป็นเจ้ายิงปืน Doraemon gives Nobita an ointment which when rubbed on your fingers, you shout "peng" and a jet of air powerful enough to knock someone over comes from your finger, so allowing the gang to play at shooting each other.
3 votes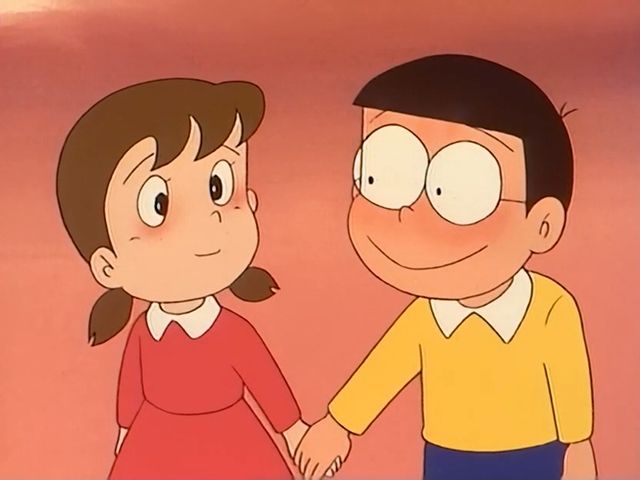 #15 - Nobita's Bride
Season 1 - Episode 6 - Aired Apr 7, 1979
เจ้าสาวของโนบิตะ The episode starts with Nobita and Doraemon celebrating Nobita's birthday. Then they go to the future and they try to find Nobita's bride, who turns out to be Shizuka. Then they almost get beaten up by Nobita's son in the future due to a mix-up, for Nobita's son looked just like him. The two escaped with injury and find Shizuka in Nobita's house presenting him with a present. The episode ends with Shizuka and Nobita walking away.
2 votes
#16 - The Super Armor
Season 1 - Episode 92 - Aired Jul 17, 1979
เกราะพลังอุลตร้า The Emperor's New Clothes, as in non-existent armor which does not work for stupid people. It fools Nobita then Gian who also tries it on.
2 votes
#17 - Fantastic Pellet
Season 1 - Episode 96 - Aired Jul 21, 1979
ยาสมใจนึก Despite having learned to swim in episode 68, Nobita can't swim so Doraemon gives him a pill that allows wishes to come true, so Nobita can learn to swim by swimming through the air.
1 votes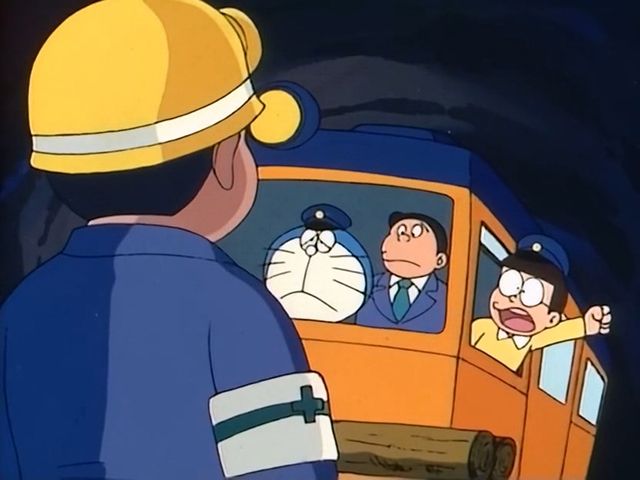 #18 - One Time Exam at Least in the Life
Season 1 - Episode 13 - Aired Apr 16, 1979
ร้อยคะแนนสักครั้งในชีวิต Doraemon lends Nobita a computer pencil which writes all the answers to his homework. Gian steals it and uses it in an exam to get 100% but his mother thinks he is cheating and beats him. Suneo and Gian now Nobita's friends.
3 votes
#19 - The Fish Flag Float
Season 1 - Episode 22 - Aired Apr 26, 1979
ธงปลาคาร์ฟ A poor boy (Tzo) has no father so cannot afford fish flags so Doraemon uses a cloud machine and has some fish flags produce young who quickly grow up into fish flags for Tzo.
2 votes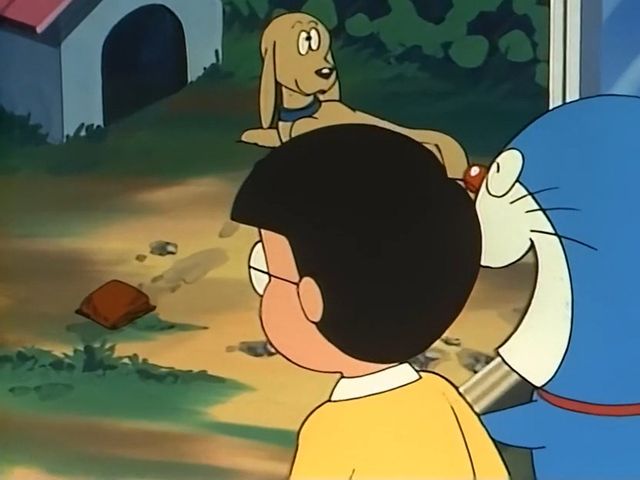 #20 - Missing Grandmom (Part 2)
Season 1 - Episode 36 - Aired May 12, 1979
ความทรงจำถึงคุณย่า (ตอนจบ) Nobita gets to meet his grandmother and finds he was a bit of a bratty kid. Again upsetting his then mother and self, his grandmother protects him again and he shows her what he looks like in his school uniform before leaving.
2 votes
#21 - Development and Degradation Radiation
Season 1 - Episode 91 - Aired Jul 16, 1979
ลำแสงวิวัฒนาการ Nobita's father is old fashioned, so Nobita uses Doraemon's ray gun to make things as they would have been in the past or future, then starts on living things with a mouse de-evolutionized 200,000,000 years to become a large dinosaur and his father evolved into a future man.
2 votes
#22 - Yes, I Do
Season 1 - Episode 18 - Aired Apr 21, 1979
อา รัก รัก รัก! A new girl nearby ignores Nobita. Doraemon gives him a cupid's bow whose arrows will cause anyone he shoots to love him. The first arrow hits a dog, then an ugly girl. An ugly man accidentally shoots Doraemon. Finally an arrow hits the girl and she falls for Nobita but he ends up being chased by the ugly girl who still has a love arrow in her.
3 votes
#23 - Hot Powder
Season 1 - Episode 68 - Aired Jun 19, 1979
แป้งดำดิน Nobita cannot swim so Doraemon uses a powder on him which makes him able to swim through the ground or anything else solid as though it were water, so he can learn to swim. Bit of nudity.
2 votes
#24 - Nobita's Adventure
Season 1 - Episode 48 - Aired May 26, 1979
บันทึกการร่อนเร่ของโนบิตะ Nobita wants to live on an island like Robinson Crusoe, but is such a helpless cry baby that hidden Doraemon has to keep helping him.
3 votes
#25 - Pocket Telescope
Season 1 - Episode 75 - Aired Jun 27, 1979
กล้องส่องคว้าของ Gian steals Nobita's yoyo so Doraemon gives him a telescope where when you look at something, you can reach there and pick up something from the scene. Or if an immovable object like a tree, you can travel to the scene.
2 votes