The BEST Episodes of Doraemon (1979)
Every episode ever - ranked by fan votes!
Last Updated: Oct 19, 2020
Doraemon is sent back in time by Nobita Nobi's great-great grandson Sewashi to improve Nobita's circumstances so that his descendants may enjoy a better future. In the original time-line, Nobita experienced nothing but misery and misfortune manifested in the form of poor marks and grades, physical disasters, and bullying throughout his life. This culminates in the burning down of a future business he set up which leaves his family line beset with financial problems. In order to alter history and better the Nobi family's fortunes, Sewashi sent him a robot called Doraemon.
#1 - The Forgotten Iron Hammer
Season 1 - Episode 81 - Aired Jul 7, 1979
A man goes around the houses in the neighborhood trying to find out who he is. Doraemon hits him over the head with the forgotten hammer which causes his memories to be projected on a wall.
1 votes
#2 -
Season 30 - Episode 5 - Aired Jan 25, 2008
1 votes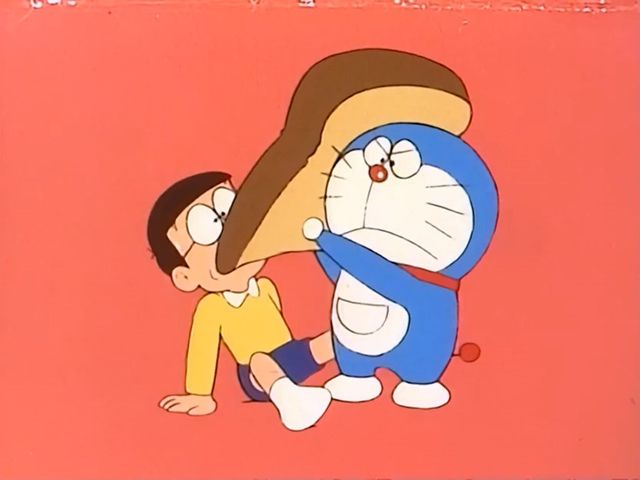 #3 - Memorization Bread for Testing
Season 1 - Episode 3 - Aired Apr 4, 1979
ขนมปังช่วยจำข้อสอบ The episode starts with Nobita running into Doraemon and asking him for a tool to help him study for his examinations that takes place tomorrow. Doraemon gives him some Memory Bread which Nobita eats and understands the work. Later, he relaxed and ate desserts until he became full, but Doraemon forces him to eats extra memory bread. The episode ends with Nobita vomiting and re-eating memory bread from the start the very next day.
4 votes
#4 - XYZ-Ray Camera
Season 1 - Episode 69 - Aired Jun 5, 1979
กล้องรังสี XYZ A special camera can see through things including clothing. Not knowing this, Shizuka wants Nobita to take a picture of her. Some nudity.
2 votes
#5 - Development and Degradation Radiation
Season 1 - Episode 90 - Aired Jul 16, 1979
ลำแสงวิวัฒนาการ Nobita's father is old fashioned, so Nobita uses Doraemon's ray gun to make things as they would have been in the past or future, then starts on living things with a mouse de-evolutionized 200,000,000 years to become a large dinosaur and his father evolved into a future man.
2 votes
#6 - The Wishing Star
Season 1 - Episode 67 - Aired Jun 2, 1979
ดวงดาวภาวนา Doraemon decides to get rid of some useless inventions, including the Star of Hope. Gian and Suneo dig it up, not realizing that the wishes it grants are always wrong.
2 votes
#7 - I Love You, Roboko
Season 1 - Episode 73 - Aired Jun 7, 1979
โรโบโกะ ที่รัก Nobita is doing poorly with girls so Doraemon makes him a girl to love him but the powerful machine gets jealous of Shizuka and angry when Nobita's mother shouts at him.
2 votes
#8 - Channel of Dream
Season 1 - Episode 88 - Aired Jul 14, 1979
สถานีช่องความฝัน Nobita can't sleep so Doraemon gives him a TV that lets him see people's dreams. He finds that he is represented as cowardly and a cry baby in all his friend's dreams, and even in his own dreams.
2 votes
#9 - The Soul Machine
Season 1 - Episode 86 - Aired Jul 12, 1979
เครื่องย้อนเวลาวิญญาณ Cry baby Nobita is upset when he grazes his knee and his mother doesn't make a fuss of him. He wishes he was a baby again, so Doraemon sends his soul back to his baby body and his mother fusses a lot over him. Nobita comes back to the present to find his mother very upset as she thought he had died and realizes she does really still care about him.
2 votes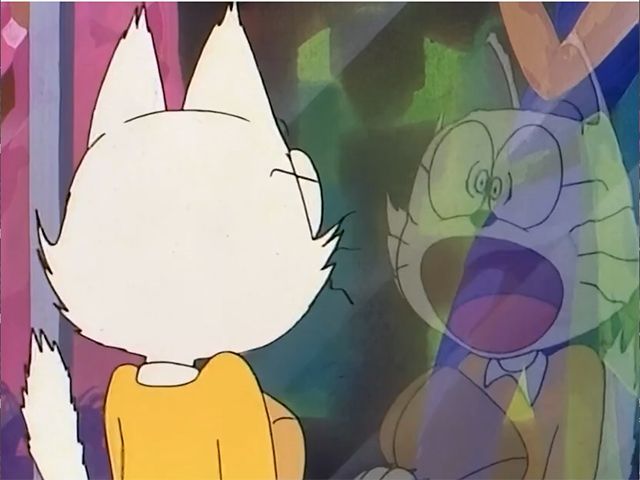 #10 - Transformation Biscuits
Season 1 - Episode 2 - Aired Apr 3, 1979
The episode starts with Nobita's mother asking Nobita to buy desserts to treat their visitor. He goes up stairs and finds a box of Transformation Biscuts. He eats a cat shaped one and then takes the box to the visitor, who eats four of the biscuits. Then his mother reminds him to buy the desserts. He then goes to buy desserts and to his shock, turns into a cat for five minutes. Later, Nobita and Doraemon then try to stop his mother from seeing the transformation happening on the visitor. The episode ends with Nobita's father fainting upon seeing that Nobita's mother had turned into a rabbit after eating a biscuit.
6 votes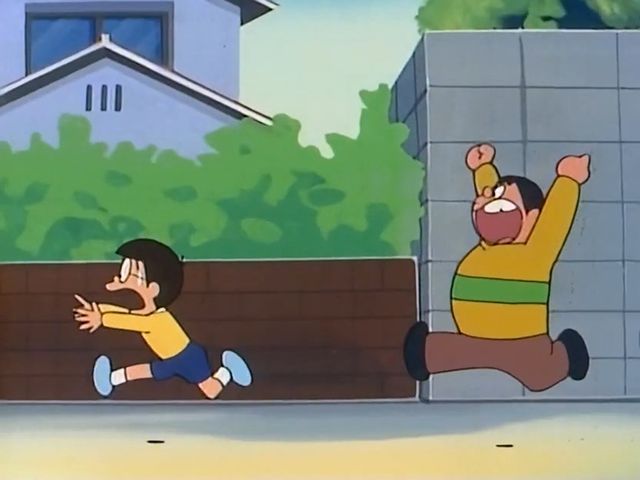 #11 - N・S Patch
Season 1 - Episode 4 - Aired Apr 5, 1979
แผ่นป้ายแม่เหล็ก The episode starts with Gian playing with two magnets. Nobita then says that he should know about magnetic properties in kindergarten. Gian then gets really angry and chases after Nobita. Nobita runs home and asks Doraemon for help, and he gives Nobita some N and S emblems after successfully testing them on Nobita's parents. Then he puts a S emblem on Nobita and the other S emblem on Gian. Nobita then escapes from Gian, but he instead makes a mistake and ends up being attracted to Gian. The episode ends with Doraemon ignoring Nobita when he pleads for help.
6 votes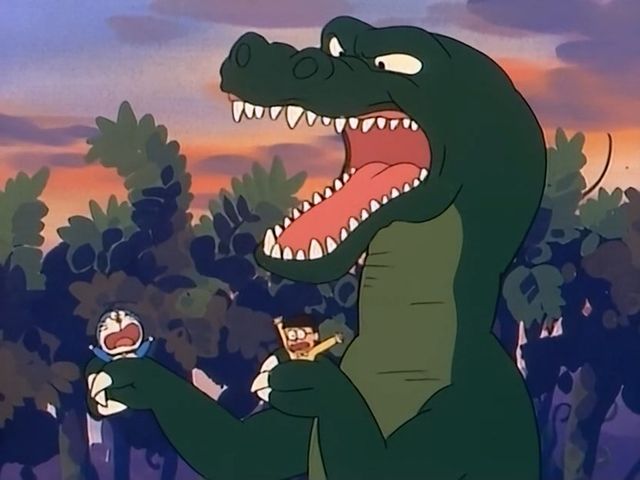 #12 - Dinosaur Hunting
Season 1 - Episode 8 - Aired Apr 10, 1979
นักล่าไดโนเสาร์ Doraemon and Nobita's first time travel. They get into a drawer which leads to them travelling on a time machine and end up ten billion years in the past. After shrinking one dinosaur, Doraemon cannot find his gun but they manage to escape the second one, with Nobita leaving his glasses behind, which are found in the present time, to the amazement of scientists.
4 votes
#13 - Cursing Camera
Season 1 - Episode 236 - Aired Apr 13, 1979
กล้องต้องคำสาป Nobita accidentally makes voodoo dolls of Doraemon and his parents using the camera and they fall into the hands of two rough girls.
1 votes
#14 - The Super Armor
Season 1 - Episode 91 - Aired Jul 17, 1979
เกราะพลังอุลตร้า The Emperor's New Clothes, as in non-existent armor which does not work for stupid people. It fools Nobita then Gian who also tries it on.
2 votes
#15 - The Dimensional Copy
Season 1 - Episode 49 - Aired May 17, 1979
ก๊อปปี้สามมิติ Nobita cannot go out so Doraemon produces some magic paper that makes paper copies of anything including Nobita (also see ep 24). However as soon as they leave, a wind blows away the paper figure of Nobita which then has a number of adventures.
3 votes
#16 - Shopping in the Future
Season 1 - Episode 96 - Aired Jun 20, 1979
ซื้อของจากโลกอนาคต Nobita wants a new bike but his parents cannot afford it, then he comes across a catalog from 2087 and orders and gets many things, not realising that they have to be paid for.
1 votes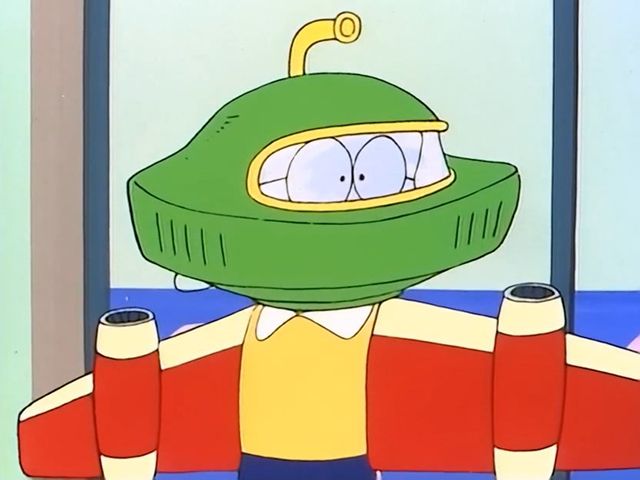 #17 - Wild Animal-Taming Gloves
Season 1 - Episode 23 - Aired Apr 30, 1979
ถุงมือนักฝึกสัตว์ Gian wants to beat up Nobita so Doraemon gives him a glove which makes Gian behave like a friendly dog.
2 votes
#18 - Nobita in the Mirror
Season 1 - Episode 48 - Aired May 16, 1979
โนบิตะในกระจกเงา Nobita wants lots of toys but can't afford them. Using Doraemon's magic mirror, what he holds up to it is copied, so he borrows toys and copies them. But Nobita also gets copied himself producing a mischievous Nobita.
3 votes
#19 - Encounter with the Unknown Gadget
Season 1 - Episode 47 - Aired May 14, 1979
เครื่องเผชิญหน้าสิ่งไม่คาดฝัน Despite being told not to, Nobita plays with Doraemon's machine, finding it calls a UFO from far away. The alien is upset, being called for no good reason but they manage to placate it with beer. Nobita's mother upsets it and it wants to invade the Earth but is again placated by Nobita's marble collection.
3 votes
#20 - Hot Powder
Season 1 - Episode 93 - Aired Jun 19, 1979
แป้งดำดิน Nobita cannot swim so Doraemon uses a powder on him which makes him able to swim through the ground or anything else solid as though it were water, so he can learn to swim. Bit of nudity.
2 votes
#21 - With Mirror Ads
Season 1 - Episode 68 - Aired Jun 14, 1979
กระจกโฆษณา Anything held in front of a telescope mirror appears on every shiny surface in the area so Nobita thinks it can make a fortune if used in advertising. Unfortunately, the images sent startle people.
2 votes
#22 - If Gian's a Superman
Season 1 - Episode 94 - Aired Jul 19, 1979
สมมุติว่าใจแอนท์ได้เป็นซุปเปอร์แมน Gian grabs a "superman" cloak off of Nobita who has grabbed it from Doraemon, and puts it on. It gives him the power to fly when someone blows a flute, but it is cursed in that he must help one hundred people before he is able to take it off again and even if the bath will still have to go if a flute is blown.
2 votes
#23 - Hot Spring Travel
Season 1 - Episode 92 - Aired Jul 18, 1979
เที่ยวบ่อน้ำพุร้อน Nobita's mother wants to go to the hot springs for a holiday but his father says it is too crowded and hard to get there, so Doraemon sets up 3D projectors around the house which make it look like they are at the hot springs.
2 votes
#24 - Even It's in the Gaster-Water
Season 1 - Episode 87 - Aired Jul 13, 1979
ดำน้ำในท้องคน Shizuka accidentally swallows her mother's opal which is worth 500,000 yen. Doraemon and Nobita use the miniature sub from episode 41 to recover it from inside her, but play a trick on her which results in Nobita swallowing an eraser, which will have to be recovered.
2 votes
#25 - Devil passport
Season 1 - Episode 9 - Aired Apr 11, 1979
The episode starts with Nobita getting yelled at by his mom. Running to Doraemon for help, Nobita takes out a dangerous gadget that allows him to do whatever he wants with no consequence.
4 votes