The BEST Episodes of Doraemon (1979)
Every episode ever - ranked by fan votes!
Last Updated: Dec 22, 2021
Doraemon is sent back in time by Nobita Nobi's great-great grandson Sewashi to improve Nobita's circumstances so that his descendants may enjoy a better future. In the original time-line, Nobita experienced nothing but misery and misfortune manifested in the form of poor marks and grades, physical disasters, and bullying throughout his life. This culminates in the burning down of a future business he set up which leaves his family line beset with financial problems. In order to alter history and better the Nobi family's fortunes, Sewashi sent him a robot called Doraemon.
Watch Now
#1 - Something is Gonna Occur by 7 o'clock
Season 2 - Episode 1 - Aired Jan 4, 1980
Nobita got a zero on his paper and is afraid of telling his mom the truth. So Doraemon gets out the Guiding Machine gadget which produces a fortune telling him to wait till 7:00 pm to tell mom.
1 votes
#2 - Mancutting Machine
Season 1 - Episode 84 - Aired Jul 7, 1979
1 votes
#3 - The Day When I Was Born
Season 1 - Episode 81 - Aired Jul 4, 1979
The episode begins with Nobita getting yelled at by his mom and dad. Their expectations and reality causes Nobita to believe that he was picked up or adopted. Nobita and Doraemon go back to the past to the day that Nobita was born. Nobita realizes the dreams and aspirations that his parents hold for him and it causes him to study.
1 votes
#4 -
Season 30 - Episode 5 - Aired Jan 25, 2008
1 votes
#5 - The Weather Box
Season 1 - Episode 69 - Aired Jun 20, 1979
After Suneo and Nobita argue about the weather of the next day, Doraemon gives him a gadget that controls the weather.
2 votes
#6 - Taking an Arrow to School
Season 1 - Episode 86 - Aired Jul 10, 1979
With a Moving Arrow and Bow, Doraemon helps Nobita place targets at various locations so going around would be a breeze. Gian and Suneo steal an arrow from Doraemon and Nobita, but a dog moves the destination target to a canal causing them to fall into it.
2 votes
#7 - Let's Be Lightning
Season 1 - Episode 67 - Aired Jun 18, 1979
Doraemon produces a small thunder cloud to cure Nobita of his fear of thunder. This done, Nobita uses it to shock people.
2 votes
#8 - We're Gonna Steal Mom's Diamond
Season 1 - Episode 90 - Aired Jul 14, 1979
Nobita leaves a photo album on the floor. The book brought nostalgia to Nobita's mother and she recalled a story about a precious diamond ring that was passed down in their family, but was stolen by two boys. Nobita and Doraemon go back in time to stop the robbers. The diamond ring turned out to be plastic and was meant for Nobita's mom to be a lesson.
2 votes
#9 - Advertising in Mirrors
Season 1 - Episode 88 - Aired Jul 12, 1979
Doraemon and Nobita use a broadcast mirror to advertise a small sweet shop. At first, the advertisement fails to attract customers. But later, a huge crowd gets attracted to the sweet shop.
2 votes
#10 - Let's Set Up the Customer's Face
Season 1 - Episode 73 - Aired Jun 25, 1979
2 votes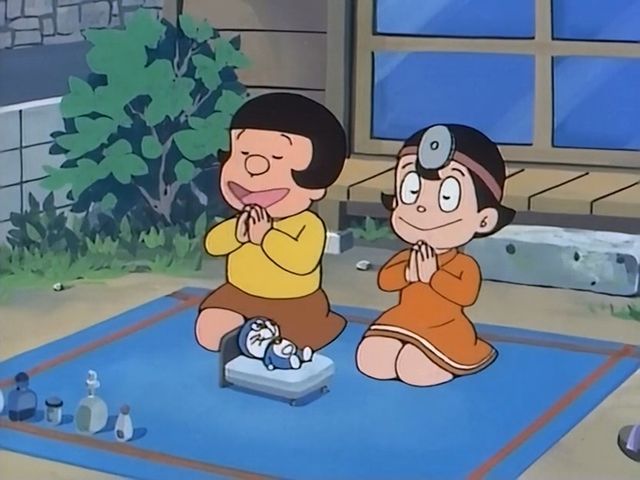 #11 - The Cursing Camera
Season 1 - Episode 11 - Aired Apr 13, 1979
Nobita accidentally makes voodoo dolls of Doraemon and his parents using the camera and they fall into the hands of two rough girls.
2 votes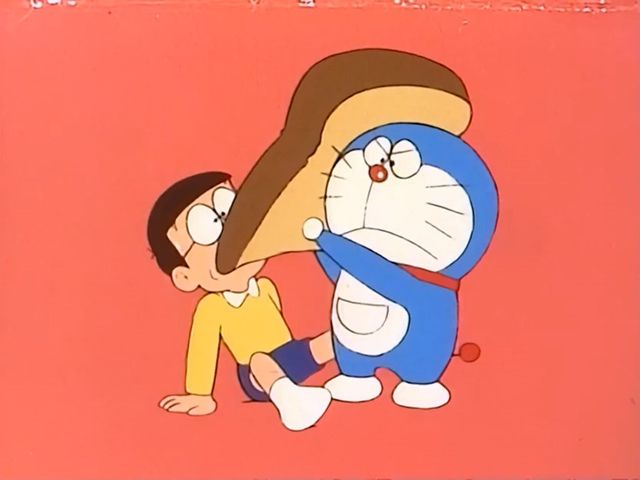 #12 - Memorization Bread for Testing
Season 1 - Episode 3 - Aired Apr 4, 1979
The episode starts with Nobita running into Doraemon and asking him for a tool to help him study for his examinations that takes place tomorrow. Doraemon gives him some Memory Bread which Nobita eats and understands the work. Later, he relaxed and ate desserts until he became full, but Doraemon forces him to eats extra memory bread. The episode ends with Nobita vomiting and re-eating memory bread from the start the very next day. Later remade as "Copying Toast" in 1992.
5 votes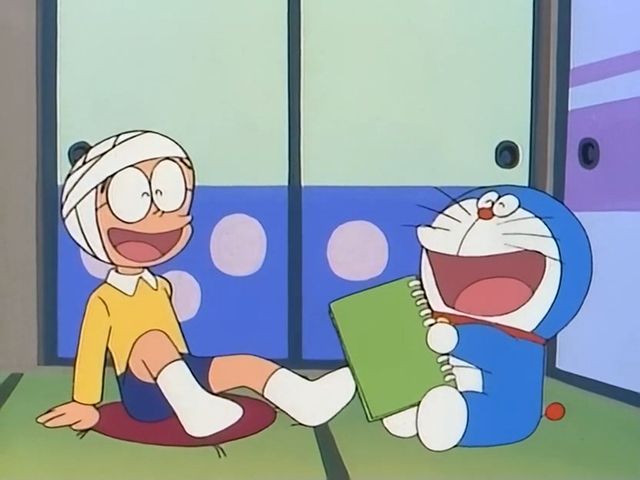 #13 - Doraemon's Prediction
Season 1 - Episode 7 - Aired Apr 9, 1979
The episode starts with Nobita getting home and wanting to go to Shizuka's house to play, but is stopped by Doraemon. He then open a book and tells Nobita that if he goes out, he will get in hospital because he will be hit by a truck. After persuasion by Shizuka, Doraemon goes outside with Nobita and uses a "future mirror" to see what will happen to them in 10 seconds time. Eventually, after near-accidents, they make it there but when he opens the door he gets hit by a toy truck on the head. The episode ends with Nobita laughing with Doraemon. First use of flying hats.
5 votes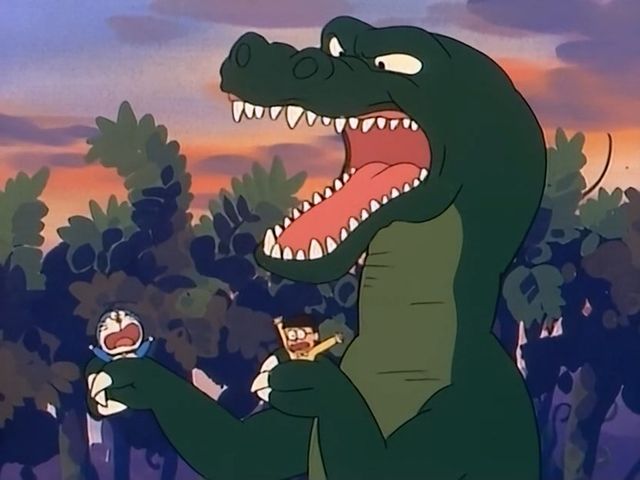 #14 - Dinosaur Hunting
Season 1 - Episode 8 - Aired Apr 10, 1979
Doraemon and Nobita's first time travel. They get into a drawer which leads to them travelling on a time machine and end up ten billion years in the past. After shrinking one dinosaur, Doraemon cannot find his gun but they manage to escape the second one, with Nobita leaving his glasses behind, which are found in the present time, to the amazement of scientists.
5 votes
#15 - Moving to a Haunted Castle (2)
Season 1 - Episode 92 - Aired Jul 17, 1979
Nobita and Doraemon continue their rescue attempt.
2 votes
#16 - The Dimensional Copy
Season 1 - Episode 48 - Aired May 26, 1979
Nobita cannot go out so Doraemon produces some magic paper that makes paper copies of anything including Nobita. However, as soon as they leave, a wind blows away the paper figure of Nobita which then has a number of adventures. Remade as The Nobita that Nobita Never Knew in the 2005 series.
3 votes
#17 - Shopping In The Future
Season 1 - Episode 96 - Aired Jul 21, 1979
Nobita wants a new bike but his parents cannot afford it, then he comes across a catalog from 2087 and orders and gets many things, not realizing that they have to be paid for.
1 votes
#18 - Nobita in the Mirror
Season 1 - Episode 47 - Aired May 25, 1979
Nobita wants many toys but can't afford them. Using Doraemon's magic mirror, what he holds up to it is copied, so he borrows toys and copies them. But Nobita also gets copied himself producing a mischievous Nobita.
3 votes
#19 - Moving to a Haunted Castle (1)
Season 1 - Episode 91 - Aired Jul 16, 1979
Nobita's parents consider moving, so he and Doraemon convince them to move to an ancient castle owned by a beautiful woman. When she mysteriously disappears, they must rescue her.
2 votes
#20 - The Love-Love Parasol
Season 1 - Episode 94 - Aired Jul 19, 1979
Doraemon unveils his newest device, the Love Love Parasol.
2 votes
#21 - The Snail House Sure is Carefree
Season 1 - Episode 87 - Aired Jul 11, 1979
Nobita gets called a liar by his mom when she believes him to be hiding his recent exam. Nobita complains to Doraemon and exchanges his snacks for a snail shell that protects him from his surroundings. Shizuka shows up near the end and returns a journal that holds his exam grade. Nobita's mom apologizes, but is met with Nobita's demands... until she asks him for his grade.
2 votes
#22 - Swimming Powder
Season 1 - Episode 93 - Aired Jul 18, 1979
Nobita cannot swim so Doraemon uses a powder on him which makes him able to swim through the ground or anything else solid as though it were water, so he can learn to swim.
2 votes
#23 - Let's Go See the Ocean in a Submarine
Season 1 - Episode 49 - Aired May 28, 1979
Doraemon produces a mini submarine which makes many jumps into all sorts of liquids including a toilet bowl on its way to the sea.
3 votes
#24 - A Visitor from the Country of the Future
Season 1 - Episode 68 - Aired Jun 19, 1979
Nobita tries to get the better of bully Gian using Doraemon's things from the future, but Gian has things from the future too and gets the better of him.
2 votes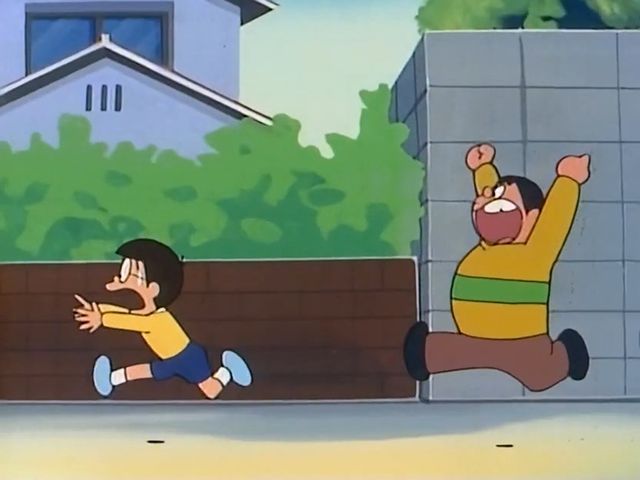 #25 - N-S Badges
Season 1 - Episode 4 - Aired Apr 5, 1979
The episode starts with Gian playing with two magnets. Nobita then says that he should know about magnetic properties in kindergarten. Gian then gets really angry and chases after Nobita. Nobita runs home and asks Doraemon for help, and he gives Nobita some N and S emblems after successfully testing them on Nobita's parents. Then he puts a S emblem on Nobita and the other S emblem on Gian. Nobita then escapes from Gian, but he instead makes a mistake and ends up being attracted to Gian. The episode ends with Doraemon ignoring Nobita when he pleads for help.
7 votes