The Best Episodes of Dominion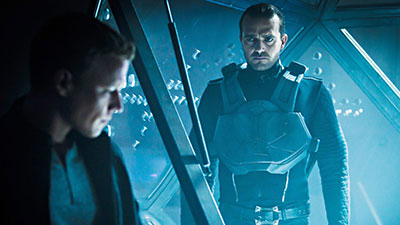 #1 - Beware Those Closest to You 7.92
Season 1 - Episode 8
In the Season 1 finale, the revelation of a higher angel's identity puts Alex and Michael at odds and Alex goes before the Senate to plead his case. Meanwhile, the marriage of Claire and William is followed by General Riesen's departure from Vega, Arika meets a delegation from Helena who bring with them shocking cargo, and Gabriel raises some suspicions with his so-called surrender.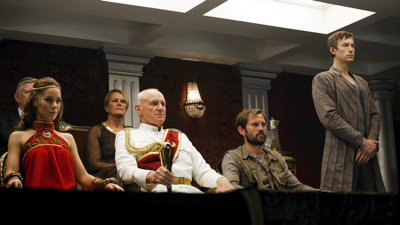 #2 - Pilot 7.87
Season 1 - Episode 1
20 years after angels descended from heaven to lay waste to the human souls they felt God had favored over them, a reluctant "savior" must arise to protect Vega, the last remaining stronghold of humanity. The savior has more to fear than just angels, as the elites of this new society conspire to gain power for themselves.
Directors: Scott Stewart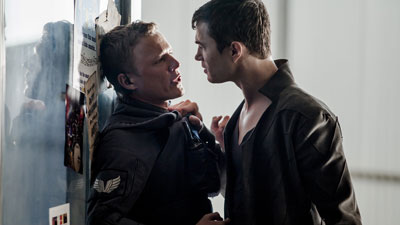 #3 - Ouroboros 7.86
Season 1 - Episode 7
Alex is called upon by Michael to help prevent any further casualties after innocent higher angels turn up dead in Vega. At the same time, Gabriel causes tension by revealing a long-hidden secret, William "re-educates" his father and Noma reignites an old flame.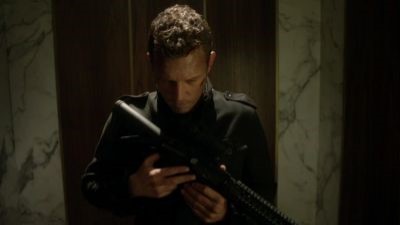 #4 - Sine Deo Nihil 7.84
Season 2 - Episode 13
The 8-Ball Army breaches the walls of Vega at the same time, David makes one final sacrifice to secure his survival. Meanwhile, Gabriel forces Michael back to Mallory; Noma's dark secret is revealed; Claire is desperate for closure; and Alex fights for control of the only home he has left.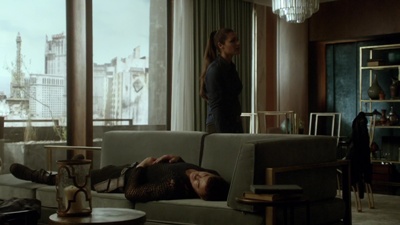 #5 - House of Sacrifice 7.81
Season 2 - Episode 10
Michael faces the repercussions of his time in Mallory; Alex and Gates try to save Vega from destroying itself; David comes to terms with his past; Gabriel unleashes an unspeakable evil.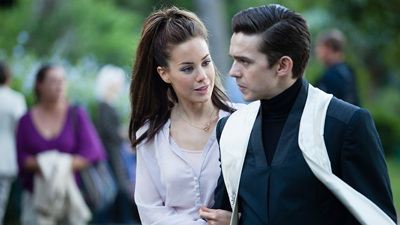 #6 - Something Borrowed 7.78
Season 1 - Episode 5
Alex begins his training with Michael, but soon after has a vision that causes him to go rogue during an Archangel Corps mission. Elsewhere, Claire goes out on a limb to protect Riesen, however she can't stop his long-held secrets from coming back to haunt him and David makes a move to secure his power.
Directors: Alex Holmes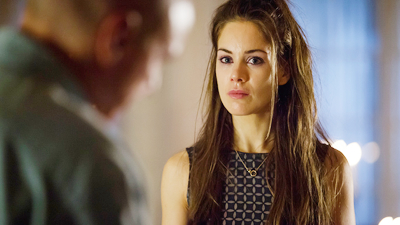 #7 - Black Eyes Blue 7.75
Season 1 - Episode 6
Alex takes on the not-so-easy task of trying to exorcise captive eight-balls of their angel possessors and enlists Michael and Claire for help. Meanwhile, David closes in on William's underground acolytes. At the same time, Riesen overturns David's plan to usurp power with a new alliance.
Directors: Larry Shaw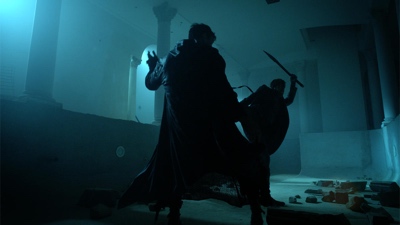 #8 - Day of Wrath 7.73
Season 2 - Episode 12
With Vega smoldering, Michael squares off with Gabriel; Noma's past is explored; Arika contemplates her escape; William makes a decision that seals Vega's fate; Alex tries to save everyone.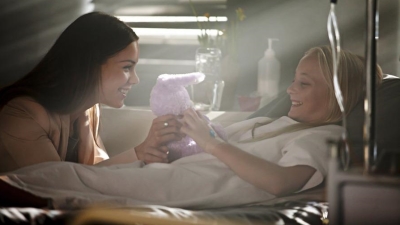 #9 - The Flood 7.71
Season 1 - Episode 4
A powerful Vega senator takes the city's leaders and food supply hostage, demanding the Chosen One's secret identity be made public. At the same time, Michael is called to a family meeting of archangels, including Gabriel. Elsewhere, Claire goes against the majority.
Directors: Alex Holmes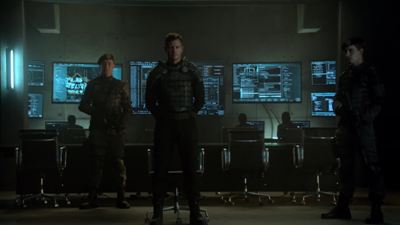 #10 - The Narrow Gate 7.70
Season 2 - Episode 3
Alex wants to prove himself to the new ally; Claire asks for help from an old friend.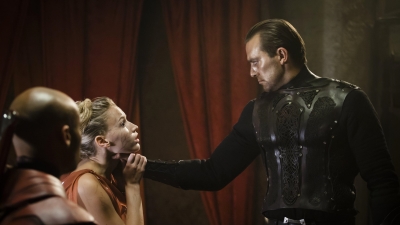 #11 - Broken Places 7.69
Season 1 - Episode 3
Alex hopes to leave his responsibilities as the Chosen One behind by leaving Vega, but instead, ends up fighting for his life alongside Michael in a battle with Gabriel's forces. Elsewhere, Riesen goes too far in the name of security, Claire makes a personal sacrifice for the people and Arika receives a deadly message from her homeland.
Directors: Rick Jacobson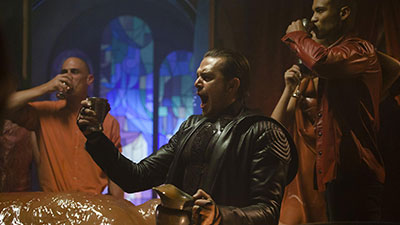 #12 - Godspeed 7.69
Season 1 - Episode 2
Alex rejects his new role as the Chosen One, but then a sleeper threat in Vega forces him to spring into action and protect the ones he loves. Meanwhile, Michael meets with Gabriel one last time before the war between angels and mankind reignites. Elsewhere, General Riesen and David Whele try to tie up loose ends.
Directors: Rick Jacobson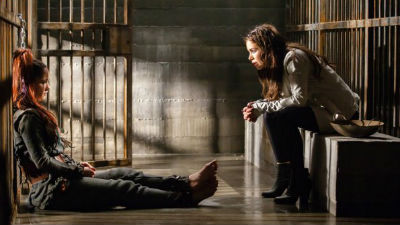 #13 - Heirs of Salvation 7.68
Season 2 - Episode 1
Alex and Noma head to New Delphi after an attack; Claire begins to understand her responsibilities.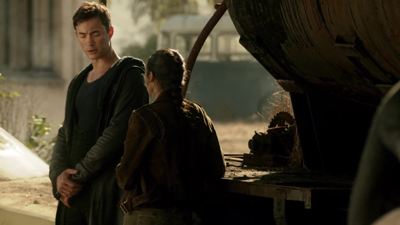 #14 - The Longest Mile Home 7.68
Season 2 - Episode 8
Alex, Noma and Michael near Vega; at the same time, Julian presses Riesen for the location of the amphora by dredging up his past. Meanwhile, a military standoff ends in disaster, forcing Claire to make a harrowing decision; and an unexpected face wanders the city streets claiming to be the Chosen One.
#15 - Lay Thee Before Kings 7.67
Season 2 - Episode 7
Alex finds unexpected shelter to nurse a wounded Noma, with the New Delphi army hot on their trail; at the same time, Michael and Gabriel attempt to escape their mutual captivity while revisiting a past that haunts them both; and Claire calls for a dangerous parlay as David puts a plan in motion to secure his legacy in Vega.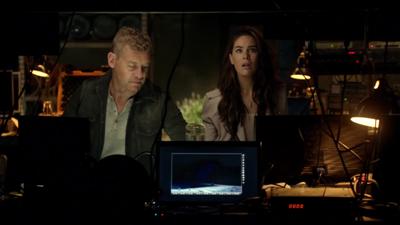 #16 - A Bitter Truth 7.66
Season 2 - Episode 4
Alex, Noma and Riesen uncover the truth behind Julian's origin; David attempts an alliance.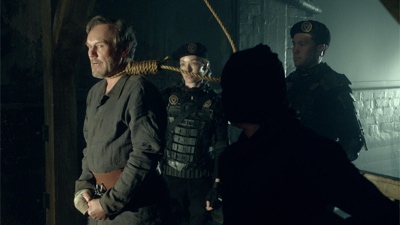 #17 - Bewilderment of Heart 7.66
Season 2 - Episode 11
The Darkness overtakes the citizens of Vega; William wrestles with the truth about his time in the desert; Arika becomes the victim of her own manipulations; Michael grows concerned about Noma; Alex searches for the Amphora.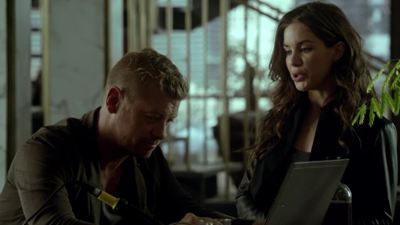 #18 - Reap the Whirlwind 7.65
Season 2 - Episode 6
Alex attempts a dangerous eviction in an effort to save Vega from an impending attack; at the same time, Michael plots their escape from New Delphi; and Claire desperately navigates the fallout of Civil War as Gates travels behind enemy lines to kill a broadcast that threatens peace in the city. Elsewhere, David procures his role in the rebellion following correspondence with an unexpected ally.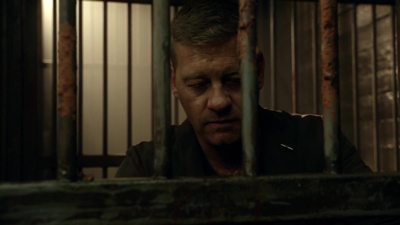 #19 - The Seed of Evil 7.64
Season 2 - Episode 9
Alex, Noma and Michael hit an unexpected road block; Claire's judgment call threatens the security of Vega; Julian changes tactics; Arika and Gates wrestle with the cost of survival.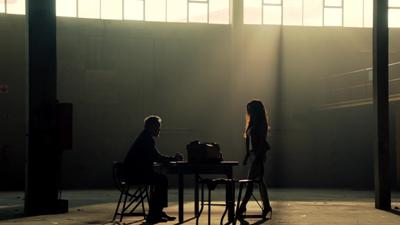 #20 - Son of the Fallen 7.63
Season 2 - Episode 5
Alex spearheads a plan to intercept Michael and Gabriel, who have breached the walls of New Delphi in pursuit of their mutual target; Claire begins the negotiation process with the revolting V1s; at the same time, David attempts to restore his legacy by any means necessary.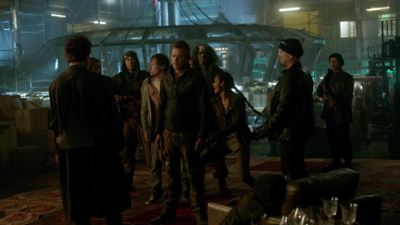 #21 - Mouth of the Damned 7.60
Season 2 - Episode 2
With Gabriel in pursuit, Alex and Noma search for an ally; Claire befriends her assassin.