The BEST Episodes of Dirty Jobs
Every episode ever - ranked by fan votes!
Last Updated: Dec 12, 2019
DIRTY JOBS profiles the unsung American laborers who make their living in the most unthinkable -- yet vital -- ways. Our brave host and apprentice Mike Rowe will introduce you to a hardworking group of men and women who overcome fear, danger and sometimes stench and overall ickiness to accomplish their daily tasks.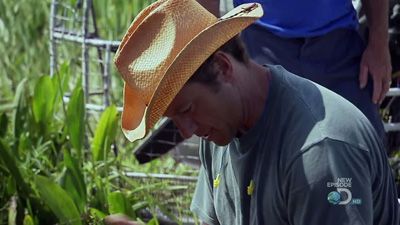 #1 - 200 Jobs Look-Back
Season 5 - Episode 8
Mike takes a look back at his previous jobs, toughest co-workers, and his ongoing encounters with dirt and poo. With additional footage from "Skull Cleaner" and "Turkey Inseminator"
92 votes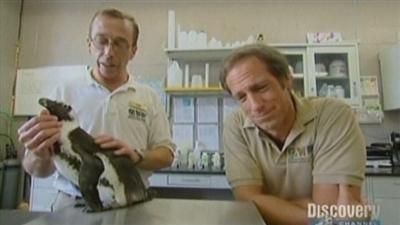 #2 - Penguin Keeper
Season 2 - Episode 18
Even though Mike has worked with concrete before in Dallas, he visits concrete workers in California today to learn the art of concrete stamping. Then he goes to New Orleans to care for penguins. Finally, he gets in the mud to hunt bloodworms in Maine.
66 votes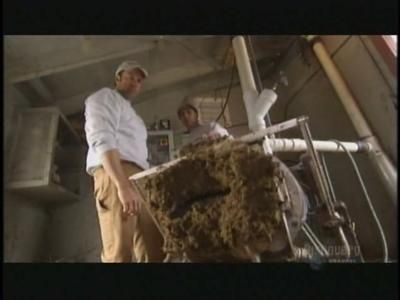 #3 - Poo Pot Maker
Season 3 - Episode 2
Mike first goes to northern California to count dead salmon. Mike opens up the mail bag and answers a viewer's question about the snake researcher segment. Just when Mike thought he had seen it all, he visits a cow farm in Connecticut that specializes in making gardening pots out of cow manure.
71 votes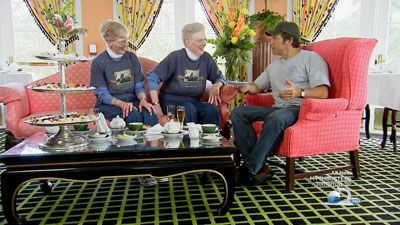 #4 - Dirty Conversation
Season 6 - Episode 20
Mike Rowe takes a look at never-before-seen footage featuring unusual, skewed and quirky conversations Mike has had with a colorful array of characters.
64 votes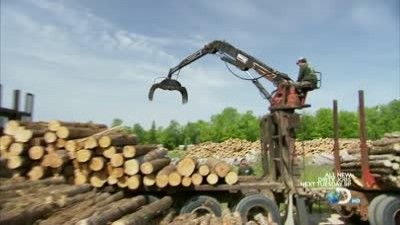 #5 - Cedar Log Peeler
Season 7 - Episode 8
Mike works on a fish processing boat in the Bering Sea and cleans out the fish grinder. Then he heads to the Rapid River Rustic Mill to lend a hand with debarking, peeling and processing wood for a cedar log cabin.
71 votes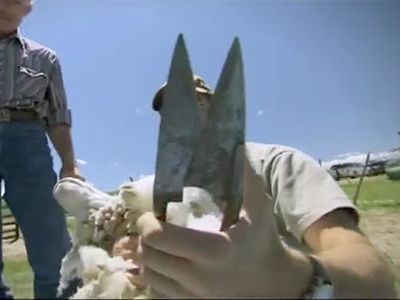 #6 - Sheep Castrator
Season 4 - Episode 18
Mike helps saw down a giant concrete wall at an auto dealership in order to make way for a new wash bay. Then he heads to a sheep farm where he tries shearing and castrating a sheep and is treated to a pate of Rocky Mountain Oysters.
98 votes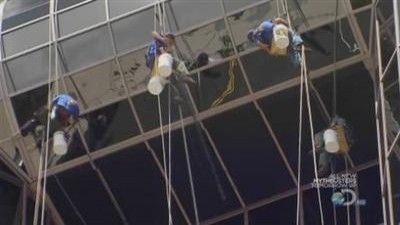 #8 - High-Rise Window Washer
Season 5 - Episode 12
High-rise window washer, viewer mail: brine tank cleaner (Shark Reef at Mandalay Bay)
41 votes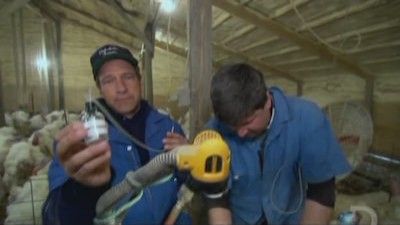 #9 - Turkey Inseminator
Season 4 - Episode 11
Making a home energy efficient by improving insulation, turkey artificial insemination, viewer mail, car crusher
96 votes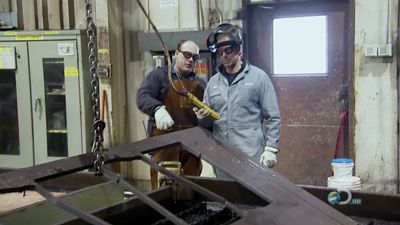 #10 - Locomotive Builder
Season 5 - Episode 7
Mike heads to MotivePower in Boise, Idaho to build and restore locomotives for his 200th dirty job.
97 votes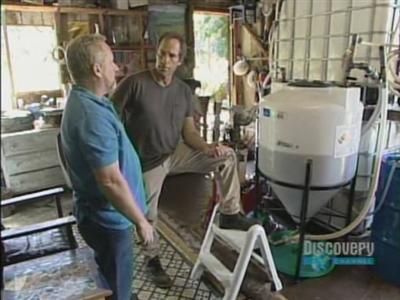 #11 - Bio-Diesel Man
Season 1 - Episode 11
Mike goes to Washington and helps build a house out of cob, which is basically a combination of sand, clay, and straw.Mike then heads to California and works alongside Dave the bee man to get rid of some bee's infesting a church.Finally, Mike goes back to Washington and helps clean out the old oil from a deep fryer at a Mexican restaurant and then recycle the oil into fuel or bio-diesel.
104 votes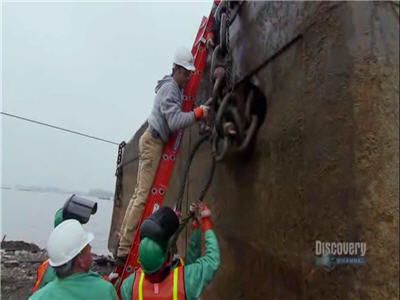 #12 - Steel Mill Worker
Season 4 - Episode 2
Mike Rowe gets dirty in St. Louis as he works with a river barge demolition team and then melts down the scrap steel into molten metal.
76 votes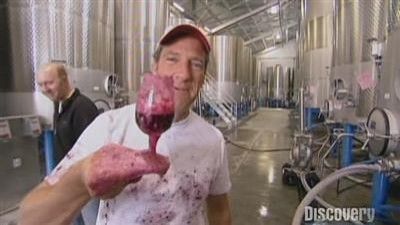 #13 - Wine Maker
Season 3 - Episode 7
Mike first heads off to Napa Valley to learn how to make wine. Mike then gets dirty at a Kansas Cattle Ranch learning about the cattle business.
73 votes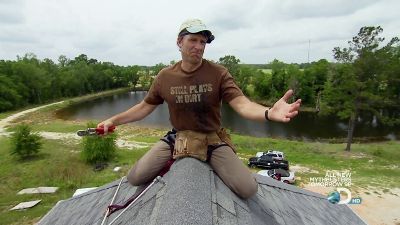 #14 - Concrete Finisher
Season 6 - Episode 5
Mike creates some concrete counter-tops and fire pits in Moss Landing, California and then reminisces about the scariest job he's ever done.
69 votes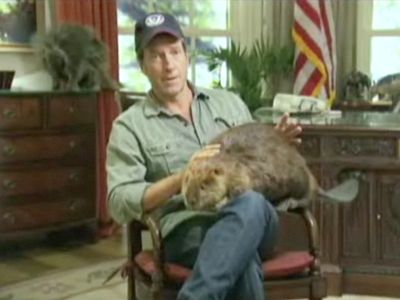 #15 - Dirty Presidents
Season 4 - Episode 20
Mike takes a look at what dirty jobs past presidents once performed. This Dirty Jobs Extravaganza will leave us all looking at the country in a new way.
64 votes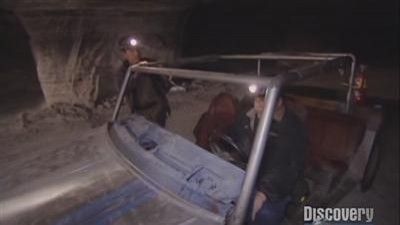 #16 - Salt Miner
Season 3 - Episode 6
Mike goes underground in Hutchinson, Kansas to learn about mining rock salt. This episode also focuses on the behind the scenes action in filming the show.
99 votes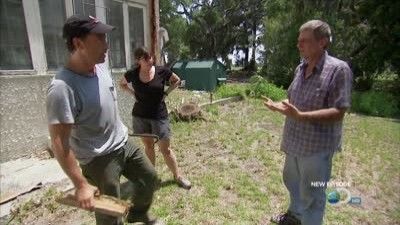 #17 - Termite Researcher
Season 7 - Episode 9
Mike visits with long-time fans Marilyn and Carolyn Maedel to look at never-before-seen footage at a crawfish factory in Louisiana. Then, he experiences the many hands-on duties that come with being a termite researcher on Sapolo Island in Georgia.
93 votes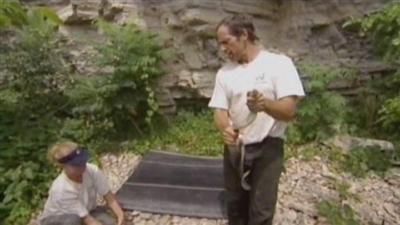 #18 - Snake Researcher
Season 2 - Episode 17
Mike Rowe wrangles some water snakes, steps into the shoes of hard working bait and lobster fishermen in Maine, and opens the viewer mail bag which results in some seaweed trimming.
70 votes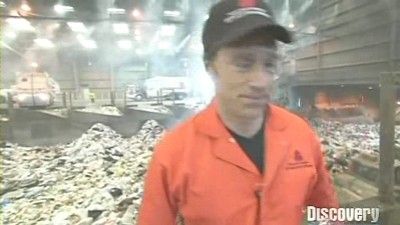 #19 - Exotic Animal Keeper
Season 3 - Episode 17
Mike Rowe rolls up his sleeves and gets dirty at a recycling center in San Francisco that requires their dump truck drivers to clean out the back of their dirty trucks after each shift. It's a dirty job that even Mike has a hard time completing.
70 votes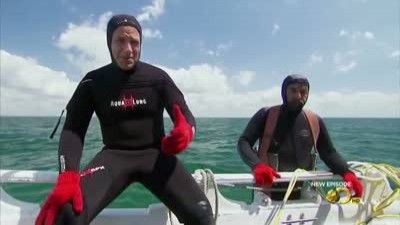 #20 - Sponge Diver
Season 7 - Episode 7
Mike heads to Tarpon Springs, Florida to help collect sponges off the sea floor. Then he answers viewer mail and recounts his struggle with a metal fence post at an abandoned mine.
125 votes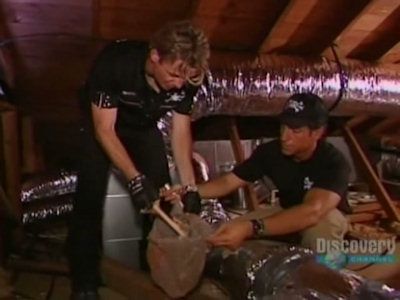 #21 - Vexcon
Season 1 - Episode 5
Exterminator, crab fisherman, blacksmith/farrier
145 votes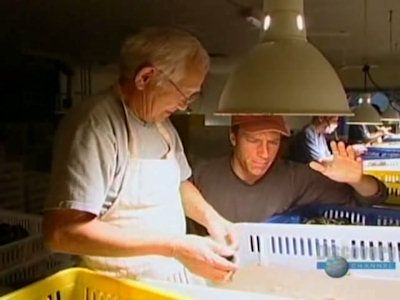 #22 - Chick Sexer
Season 1 - Episode 4
Baby chicken sexer, beer brewer, oyster harvester
146 votes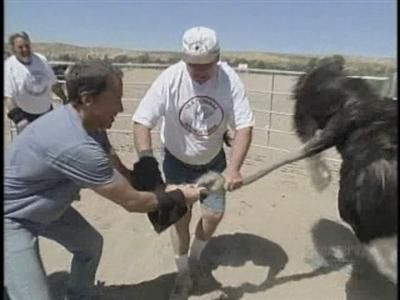 #23 - Ostrich Farmer
Season 1 - Episode 8
Mike visits a coffee plantation in Hawaii and learns about the long process in how to make coffee, from picking the beans to roasting them. Mike then goes to Sausalito, CA to be a marine mammal rescuer and help rehabilitate some injured seals.Finally, Mike learns about ostrich farming, from their daily upkeep to collecting their eggs.
155 votes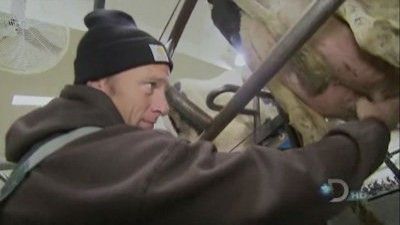 #24 - Dairy Cow Midwife
Season 4 - Episode 9
Inside an Indiana dairy farm, Mike learns how to milk a cow and use a blow torch to clean her udders. Then, Mike gets the inside scoop on how to inseminate a cow. Finally, he gets an up-close look at fatherhood as he helps deliver baby calves.
100 votes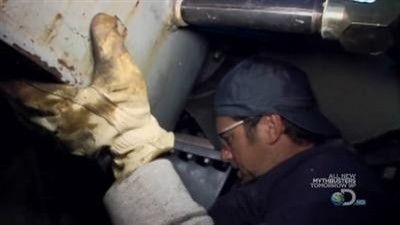 #25 - Rocky Reach Dam
Season 5 - Episode 17
Mike journeys to Wenatchee, Washington to help maintain a hydroelectric dam. Then he explores a fish bypass system where he catches and tags fish and winds up wading through a pool of fish poop.
70 votes