The BEST Episodes of Dennis the Menace (1986)
Every episode ever - ranked by fan votes!
Last Updated: Dec 17, 2021
Based on Hank Ketcham's popular comic-strip, Dennis the Menace became a staple in countless households throughout the mid-80s. With the help of his precocious pals and his shaggy dog Ruff, Dennis uses his curiosity and imagination to keep his pleasant Midwestern neighborhood in a constant state of confusion and chaos.
Watch Now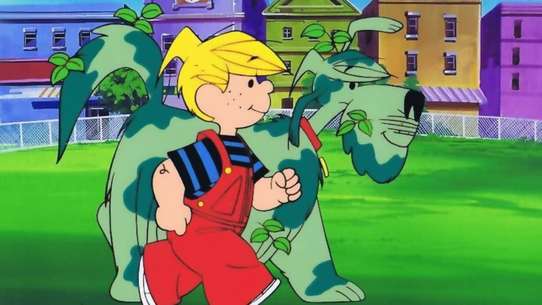 #1 - It's a Ruff Life/Professor Myron Mentalapse/Dennis Race 2000
Season 1 - Episode 16 - Aired Oct 13, 1986
1 votes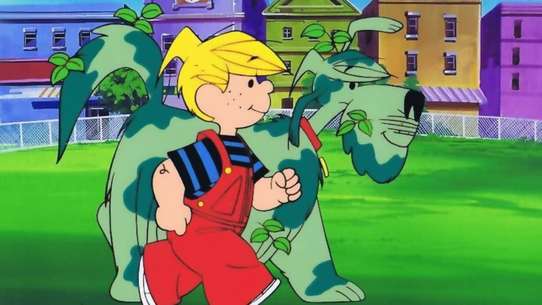 #2 - A Visitor from Outer Space/Train That Boy/Genie Madness
Season 1 - Episode 2 - Aired Sep 23, 1986
An alien from another planet lands in Dennis room in a quest for peace and quiet... but Dennis wants to show him around! A mad romp ensues with Dennis taking the alien to Mr. Wilson's house. When Wilson calls the police he is thought to be a quack and carted away. Dennis and his family go on a trip on a train, however Dennis forgets his suitcase. Mr. Wilson, trying his best to make sure Dennis leaves, runs onto the train to give him the suitcase... but, he cannot get back off and is now stuck with Dennis on the train! While there, Dennis sees a man with a trenchcoat and a briefcase and figures him to be a spy. With Mr. Wilson unwillingly helping out, Dennis proves the man to be a spy. Dennis and Margaret both find a bottle from which a Genie emerges. They argue over who gets the wishes, but agree on one wish each. Margaret uses her wish to make her doll come to life, which gets her into jeopardy, and Dennis uses up his own wish to save her.
2 votes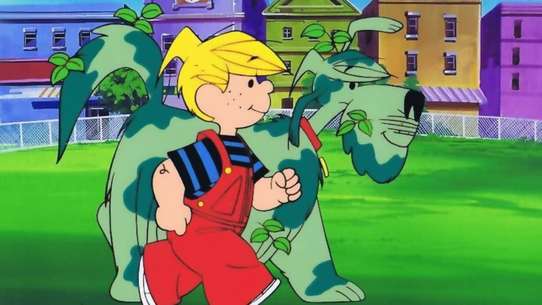 #3 - So Long, Old Paint/Trembly Assembly/Private I
Season 1 - Episode 1 - Aired Sep 22, 1986
Mr. Wilson is painting his house and Dennis invites himself over to help out. Needless to say, Dennis' "helping" gets Mr. Wilson close to a nervous breakdown. Dennis accompanies Henry to an auto showroom, where Dennis harasses the poor salesman so, that Henry buys a new car almost to avoid a law-suit. He discovers that the purchase entitles him to watch the actual car being built on the assembly line, with the hapless salesman acting as their guide. Now Dennis turns his impulsiveness toward the robot assembly line, screwing it up completely, and their "new" car comes out looking like futuristic junk!. A Raymond Chandler-type takeoff in which Dennis pretends to be a hard-boiled private eye, in the Bogart tradition, tracking down his missing pooch, Ruff, by questioning his friends and neighbors.
5 votes
Writers:
Gene Ayres

,
Richard Balin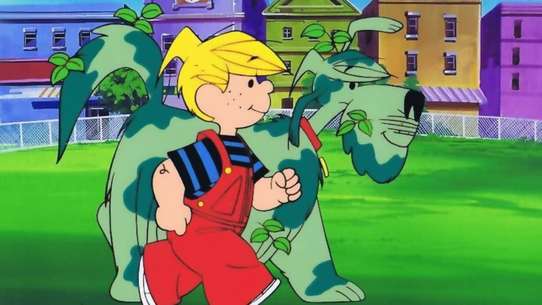 #4 - Fishing for Trouble/Future Fortune/Time Bomb
Season 1 - Episode 6 - Aired Sep 29, 1986
1 votes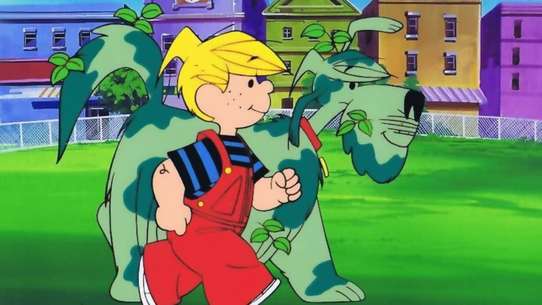 #5 - Spa Blahs/Whale of a Tale/Disaster on the Green
Season 1 - Episode 7 - Aired Sep 30, 1986
1 votes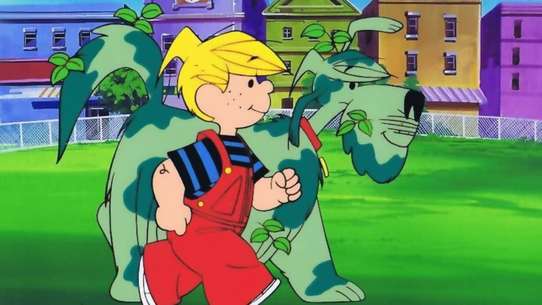 #6 - Crummy Mummy/Swiss Family Mitchell/Pie in the Eye
Season 2 - Episode 3 - Aired Jan 16, 1988
1 votes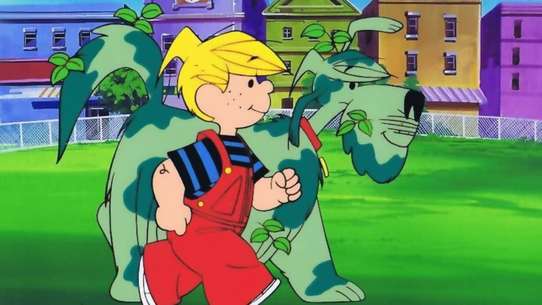 #7 - Cheer Up/Ghostblusters/The Life You Save
Season 1 - Episode 3 - Aired Sep 24, 1986
Mr. Wilson slips on Dennis' skateboard and has to go to the hospital. Once there, Dennis arrives to cheer Wilson up... Wilson is in for the time of his life! The kids discover an abandoned old gothic house that Dennis decides would make a great club-house. The kids begin cleaning the place up until a pair of ghosts appear! The others want to leave the place, but Dennis who never once sees the ghosts chides them for being scaredy cats, and gets them to stay. Finally the "ghosts" are revealed as a couple of crooks who are using the old house to hide their ill-gotten gold, and using "scare tactics" to frighten the kids away. Dennis saves Margaret's life, and she won't let him forget it. Desperate to get Margaret out of his hair, he tries to arrange to have the girl save his life. All his efforts are futile...until an escaped grizzly bear happens on the scene.
4 votes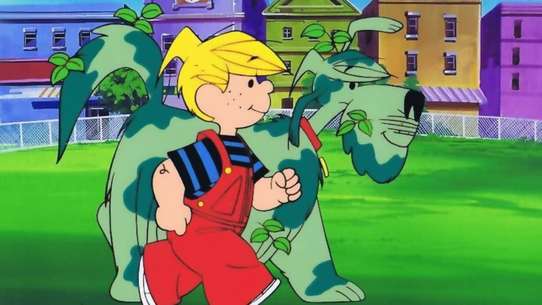 #8 - All the President's Menace/The Love Rowboat/Wilson the Menace
Season 1 - Episode 5 - Aired Sep 26, 1986
2 votes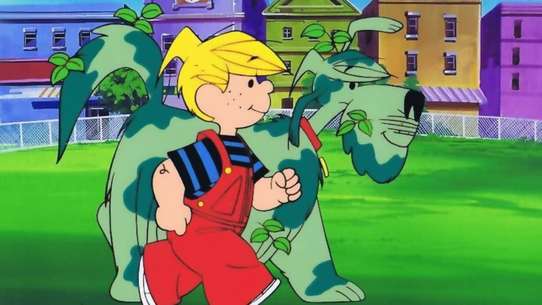 #9 - Shark Treatment/Jungle Bungle/Racetrack Menace
Season 1 - Episode 4 - Aired Sep 26, 1986
2 votes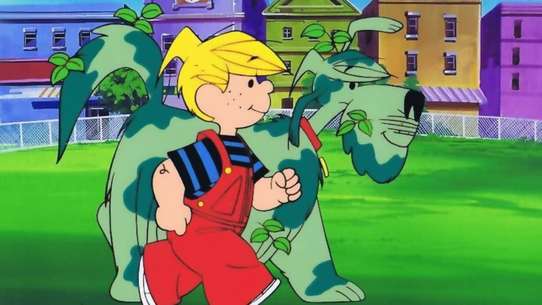 #10 - Here, Kitty!/Circus Berserkus/The Monster of Mudville Flats
Season 1 - Episode 8 - Aired Oct 1, 1986
2 votes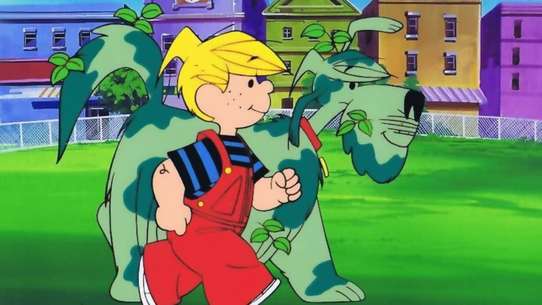 #11 - The Price of Stardom/Space Menace/The Magic Flute
Season 1 - Episode 9 - Aired Oct 2, 1986
2 votes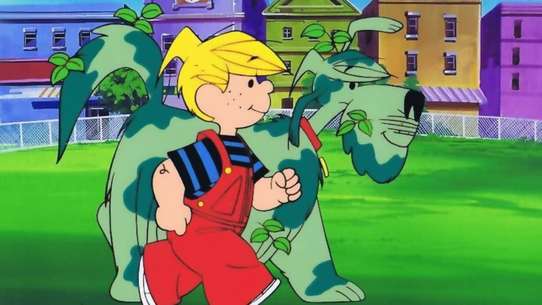 #12 - Up Up and Away (From Here)/Going Ape/Dennis the Pirate
Season 1 - Episode 15 - Aired Oct 10, 1986
Up, Up and Away (From Here!): Henry and George enter a hot air balloon race, but Dennis and Joey decide to join Mr. Wilson's team, leading to high-flying hilarity as George gets stuck on Henry's balloon as the boys take Mr. Wilson's to victory. But because he's the balloon's owner, George gets the cash prize and the boys can't wait until next year's race so they can team up again! Going Ape: Dennis, Joey, and Margaret all get a ride with PeeBee on his makeshift hot air balloon and then proceed to get lost when they get caught in a storm. They wind up on an island that's inhabited by a giant gorilla who takes a liking to Margaret. The gang learns he also likes music and convince him to return home with them to begin a career in show business. But after his ballet show with Margaret bombs and the public panics, the boys decide to reinflate the balloon and send him home. Dennis the Pirate!: The Mitchell family spends the day at the Pirate Land amusement park. All, except Dennis, are tired and hope the last ride of the day is a safe and sane one. The ticket seller says so, but lets Dennis know otherwise, as he literally gets involved in the action, getting the time of his life, while the rest of the family's nerves are fried and Henry gets payback against the ticket seller.
1 votes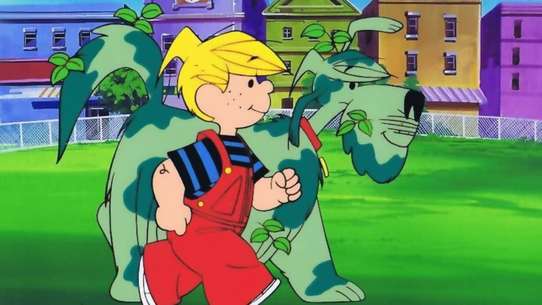 #13 - Clip-Joint Capers/Tanks for the Memory/Second Honeymoon
Season 1 - Episode 24 - Aired Oct 23, 1986
Clip-Joint Capers: Dennis' barber rents a guard dog in an effort to prevent his shop from being robbed. But when Dennis feeds him a bad sandwich, he gets sick and the boy offers to have Ruff guard the shop in his place. This actually proves fortunate when a pair of bank robbers try to escape unnoticed through the barber shop. Dennis and Ruff are able to catch the thieves. However, the shop is a mess and all the barber had in his register was $1.75! Tanks for the Memory!: The Mitchells and the Wilsons are on vacation in Arizona and get a tour of a military base. They view a demonstration of the newest automated tank known as the Wildcat. Afterward, Dennis sneaks onboard and manages to get the tank to drive to Tuscon to an ice cream shop, with George managing to hitch a ride. However, this leads to danger as they're on route to the Grand Canyon. The boys are able to tinker with the tank controls in an effort to return to the base and have a wild adventure doing so. Fortunately, the General determined that the Wildcat's computer isn't reliable at all and decide not to produce more of them, especially after it falls apart! Second Honeymoon: The Mitchells take Dennis to the Silver Lake Lodge, where they spent their honeymoon. But problems persist when they're invaded by frogs. First, by Willy, Dennis' pet, then by a whole group of them when Henry inadvertently lets them into the lodge when he goes outside for fresh air. The Mitchells are booted from the lodge, but are grateful as they prefer the memories of their original honeymoon. They leave with a new passenger as Willy also manages to pair up with a female frog that Dennis takes with them on they way home.
1 votes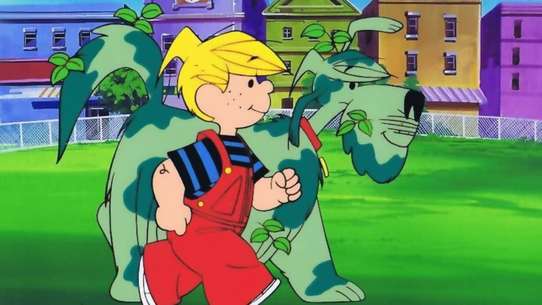 #14 - Sounds in the Night/Dennis Does Hollywood/Ruff to the Rescue
Season 1 - Episode 34 - Aired Nov 6, 1986
1 votes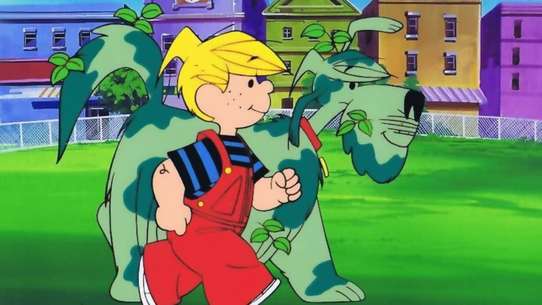 #15 - Dangerous Detour/The Prodigy/The Chimp
Season 1 - Episode 46 - Aired Nov 24, 1986
1 votes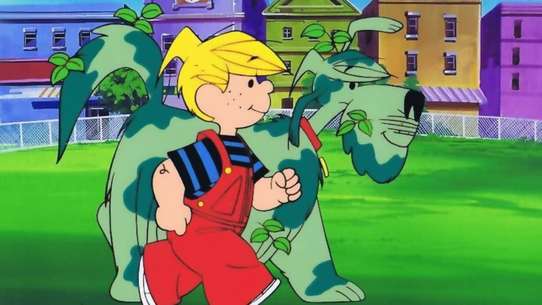 #16 - Dennis' Yard Sale/The Abominable Snow Menace/It Cam from the Planet Dennis
Season 1 - Episode 10 - Aired Oct 3, 1986
0 votes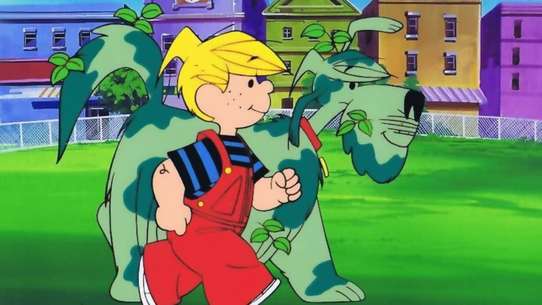 #17 - Snowman Madness/The Invisible Kid/Home Destruction
Season 1 - Episode 11 - Aired Oct 6, 1986
Snowman Madness: The Mitchell family is on vacation at a ski resort where an ordinary day of Dennis and his father building a snowman leads to various misadventures from having a wild toboggan ride down the slope, going off balance on a ski lift, returning a birds' nest to their rightful place with their displeased parents, and rolling down the slope again in giant snowballs, resulting in their making of their snowman back at the lodge with Alice missing out on all the action as she serves the boys hot cocoa. The Invisible Kid: Joey messes with PeeBee's latest formula, causing him to become invisible, except for his feet. He causes a panic to those who see him, especially Mr. Wilson, who thinks it's a ghost. Fortunately, Mrs. Wilson provides the solution to the predicament by giving Joey a bath, as water effectively washes away the formula. Home Destruction: Henry decides to build a new playroom for Dennis as an extension to the house. But with Dennis helping him, he causes various mishaps, resulting in the eventual collapse and destruction of the entire project. Mr. Wilson, observing the action, takes pleasure that Henry's the one who's suffering instead of him.
0 votes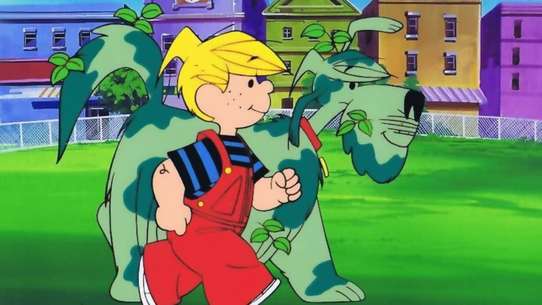 #18 - Chitty Chitty Moon Walk/Wet 'N Wild/Dennis at the Movies
Season 1 - Episode 12 - Aired Oct 7, 1986
0 votes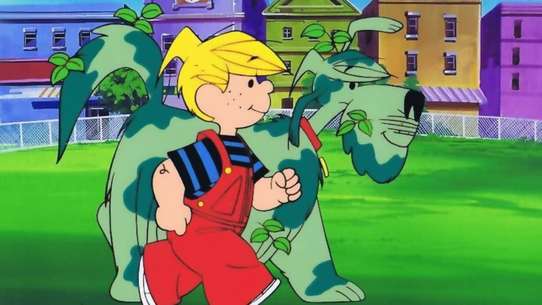 #19 - The Supermarket/The Bid Candied Apple/The Defective Detector
Season 1 - Episode 13 - Aired Oct 8, 1986
0 votes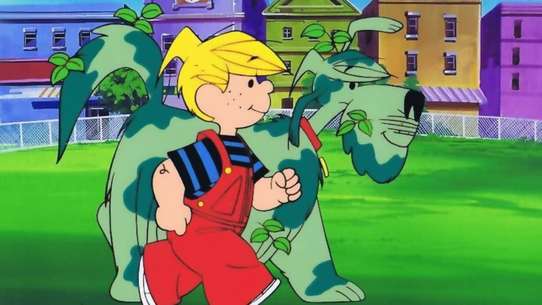 #20 - Henry the Menace/Come Fly with Me/Camping Out
Season 1 - Episode 14 - Aired Oct 9, 1986
0 votes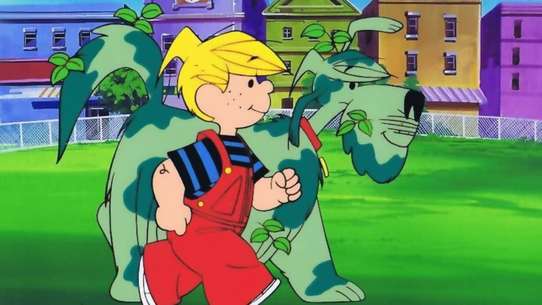 #21 - A Better Mousetrap/The Wizzer of Odd/Canine Car Wash
Season 1 - Episode 17 - Aired Oct 14, 1986
0 votes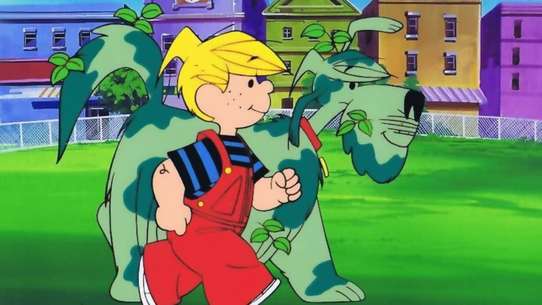 #22 - Ride'em Cowboy/Tenting Tonight/A Hair Raising Tale
Season 1 - Episode 18 - Aired Oct 15, 1986
0 votes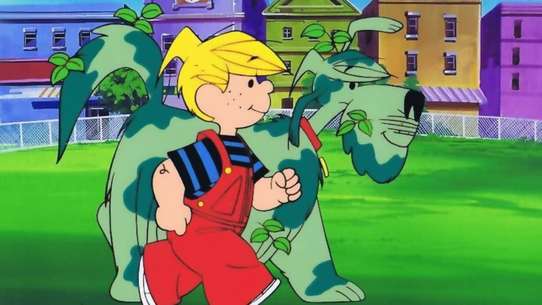 #23 - Medievel Evil/Beaver-Maina/Say Uncle
Season 1 - Episode 19 - Aired Oct 16, 1986
0 votes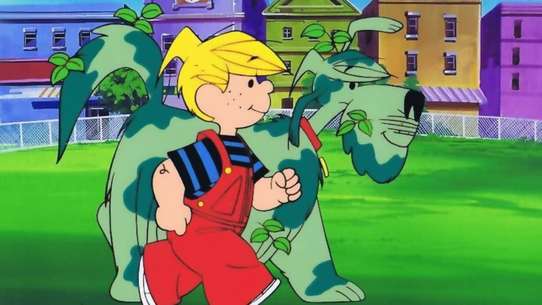 #24 - Hopping Mad/Mayan Mayhem/The Big Power Trip
Season 1 - Episode 20 - Aired Oct 17, 1986
Hopping Mad: Dennis is invited to a music recital by Margaret and his parents give him money to buy a gift for her along the way. He stops to see a magic show and his assistant sells him his boss's magic hat. After Dennis shows Margaret her gift, it leads to havoc, when rabbits, pigeons, and frogs run rampant all over the house. Luckily, the magician arrives and puts all the animals back into his hat and provides Dennis with a real gift for Margaret in the form of a bouquet of flowers. She reciprocates by throwing a chocolate cake in his face! Mayan Mayhem: Dennis and Mr. Wilson get onto the wrong plane from their families' intended vacation, ending up in the Yucatán, in Mexico, when they're forced to bail out due to excess weight. They encounter the primitive natives who believe George is a sun god and want to subject him to their rigorous tests. Dennis and George are able to escape and struggle to survive in the jungle. They make it to the local airport and get on another plane, but George's dreams of a tropical vacation are thwarted again when he realizes the flight is going to Alaska! The Big Power Trip: Dennis and his father are on a tour of an electric plant when Ruff is spooked by the turbines and runs off. When Dennis tries to get his dog under control, they run onto the various electric plant controls, causing various power problems affecting the entire city.
0 votes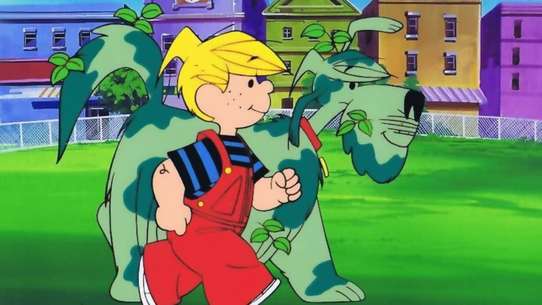 #25 - Strong Medicine/Gold Strike/Lights, Camera, Mud!
Season 1 - Episode 21 - Aired Oct 20, 1986
Strong Medicine: PeeBee's latest invention causes Dennis to have super strength. But the effect is only temporary and his newfound ability wears off just as he's ready to confront a bully. Fortunately, Willy, Dennis' pet frog, becomes the hero when the kids learn the thug is afraid of amphibians. Gold Strike: PeeBee and the Mitchell family take a trip to the Goldfield military base to view the test of a rocket plane Henry's company has built. The boys run off to search for gold in the surrounding area only to stumble into an evil plot in which spies plan to destroy the rocket plane. Dennis and PeeBee are captured by the spies, but they're able to turn the tables on them when they take control of the missile they want to use to destroy the plane. They're eventually thwarted and are arrested by the military police. The boys are disappointed they didn't find any gold, but found their adventure quite exciting. Lights, Camera, Mud: Dennis, Gina, and Tommy are making a movie and have Mr. Wilson play the lead as a mud monster. However, the task is rigorous as various mishaps occur, resulting in his getting hurt and pounded. He tries to drive away after his busy day, but Dennis stops him to get a closeup shot of the star actor. But George's car drops into the lake and he figures he doesn't really need Hollywood with all the things he's gone through with the kids.
0 votes