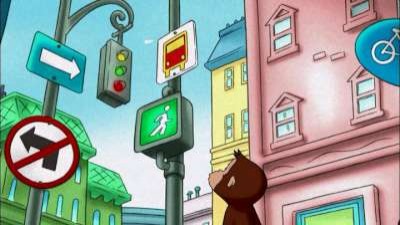 #1 - Signs Up 8.00
Season 2 - Episode 12
George takes down all the signs in the city, thinking they'd be great decorations for his room. But when he puts them back in the wrong places, the chaos that ensues shows George that those "decorations" have very important meanings.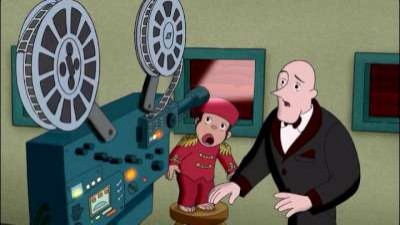 #2 - Movie House Monkey 8.00
Season 4 - Episode 17
The Man with the Yellow Hat is showing George around his old neighborhood when they come across the abandoned and run-down Bijou that The Man used to visit all the time when he was little. Mr. Glass wants to tear the building down but George gets the idea that they should fix it up and reopen it.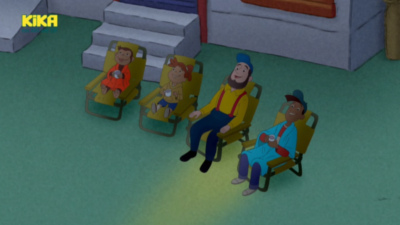 #3 - Bright Lights, Little Monkey 8.00
Season 7 - Episode 2
George, Allie and Bill search for a mysterious creature known as the Perseids.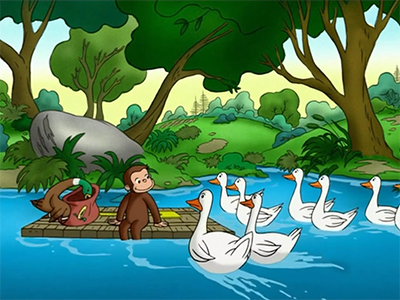 #4 - Curious George Goes Up the River 7.92
Season 1 - Episode 14
George and The Man with the Yellow Hat go to the country to feed ducks but have to put their plans on hold when the Renkins' chicks are missing and they must find them. George, however finds a raft on the edge of the river and soon, along with Jumpy Squirrel, finds himself-literally-going up the creek without a paddle. They eventually find a way to stop but they must now find their way back home to the Renkins' farm.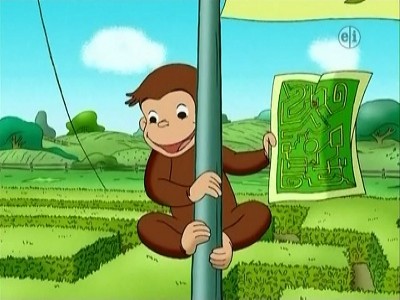 #5 - Amazing Maze Race 7.90
Season 3 - Episode 9
George is an expert at navigating the maze on the placemat at the Y-Go-By Diner, but his skills are really put to the test when the Man with the Yellow Hat takes him to the Annual Amazing Maze Race at Renkins Farm.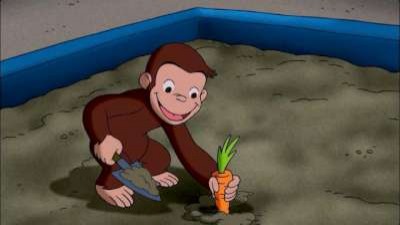 #6 - The Magic Garden 7.88
Season 2 - Episode 18
When George tries "weeding" Chef Pisghetti's garden, he pulls out all the vegetables instead! Chef Pisgetti threatens to close the restaurant til the new veggies grow--so George decides to help things along by "planting" full-grown vegetables. When Chef wakes up, he thinks his garden is magic!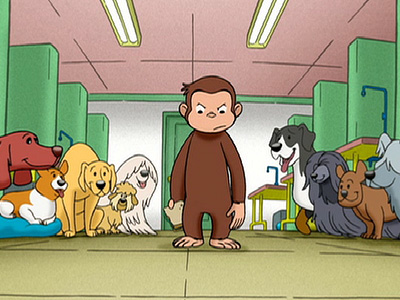 #7 - Curious George, Dog Counter 7.86
Season 1 - Episode 17
Professor Wiseman is taking George to his first dog show which, to his disappointment, is not a show performed entirely by dogs. But when he gets home, The Man with the Yellow Hat wants to hear about all the dogs but George can only remember three. So he goes back to try to take note of them all and eventually brings them all home where he must find a way to organize them to count them easily.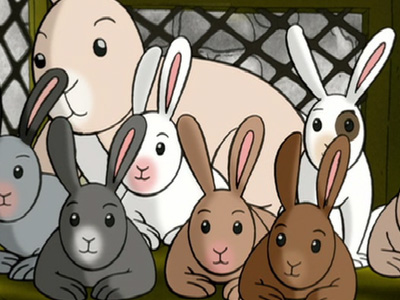 #8 - Curious George's Bunny Hunt 7.85
Season 1 - Episode 10
George is in the country seeing Bill's new bunny hutch. Bill is the proud owner of six bunnies and their rabbit mother. George wants to pet one of the bunnies but Bill has to run off on his paper route before he can let him do that. George tries to pet one but when he opens the hutch they all run off leaving George in a big game of hide and seek to find them all.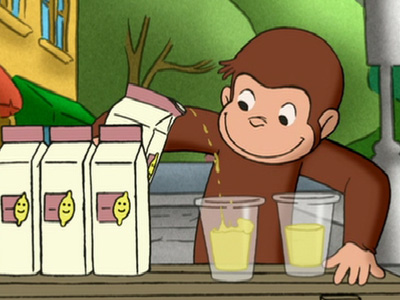 #9 - George Makes A Stand 7.83
Season 1 - Episode 33
George sets up a lemonade stand to help pay for a new soccer ball he wants.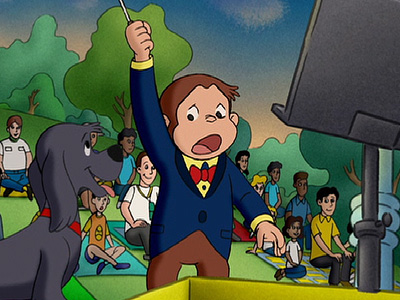 #10 - Curious George Beats the Band 7.75
Season 2 - Episode 39
George wins a contest to be a conductor in the symphony orchestra when they preform in the park. So he is taught how to read music and conduct an orchestra and is ready to conduct in the park until Charkie mistakes his baton for her toy.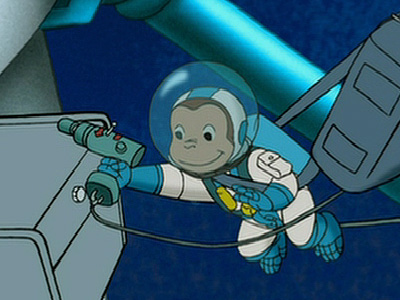 #11 - Grease Monkeys in Space 7.75
Season 2 - Episode 9
The Man is sent into space to fix the "Einstein-Pizza Telescope"; George must go too, due to another design flub by Einstein and Pizza, and ends up doing the job himself.
#12 - Curious George Takes Another Job 7.74
Season 1 - Episode 12
Continuing from the previous part, George wants to continue helping Chef Pisghetti in his kitchen but the chef has no work for him. But the chef has a friend named Mr. Glass, a billionaire who owns an apartment building called the Glass Palace and has a love of all things unique. He hires George as a window washer. Things go well until George sees some shadows in one room that look like jungle animals and decides to paint them. As a result, this causes Mr. Glass to get angry and orders 2 painters to chase George but is rescued by The Man With The Yellow Hat. Although Mr. Glass appreciates the room with the jungle animals and decides to rent it out.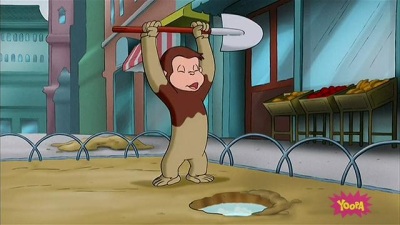 #13 - Well Done, George 7.73
Season 5 - Episode 6
George rides the underground train to the zoo; George tries to build a well.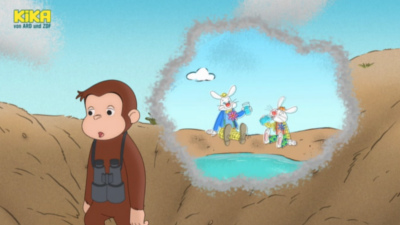 #14 - Monkey Down Under 7.67
Season 7 - Episode 1
George and the Man With the Yellow Hat enjoy an Australian outback safari adventure.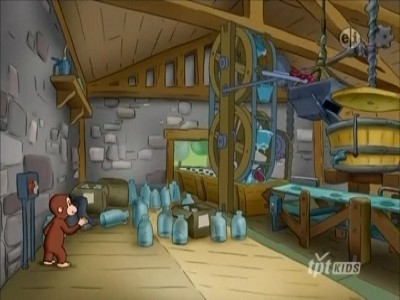 #15 - Curious George Meets The Press 7.66
Season 3 - Episode 3
George and the Man with the Yellow Hat are helping to pick apples at Renkins' Farm when George accidentally turns on the giant cider press.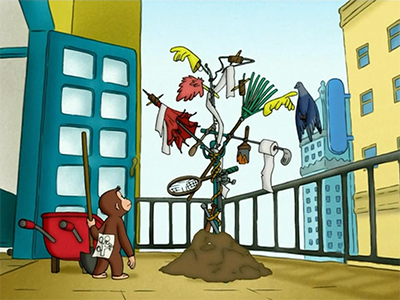 #16 - Curious George's Home for Pigeons 7.62
Season 1 - Episode 3
George has found himself a new friend in the city, Compass. One of the Doorman's homing pigeons which he keeps on the roof of the apartment building. But the only thing is, Compass has a bad sense of direction. So when the Man says George is not allowed to let pigeons inside the apartment, George decides to build Compass a new home on the balcony outside their apartment, eventually deciding on a tree. But soon George finds out building a tree is not as easy as it seems. Where do trees in nature come from if people don't make them?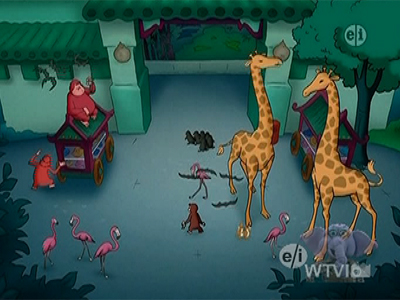 #17 - Zoo Night 7.57
Season 1 - Episode 25
After watching a live video of the new panda on the zoo website, George rushes to the zoo to see it, but gets accidentally locked inside. George tries to find the exit, but mistakenly opens the wrong doors and finds himself surrounded by giraffes, meerkats and penguins. George must put the animals back in their homes.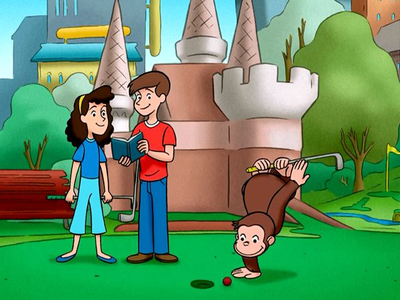 #18 - Curious George's Low High Score 7.56
Season 1 - Episode 30
George comes across his friends Steve and Betsy playing basketball in the city. When George tries to play, he finds out he is not very good and winds up losing the ball when it accidentally lands on a moving pickup truck. They then decide to play miniature golf instead. After Steve tells him that when playing basketball, the winner is the person that has made the most baskets has the highest score, George figures it is the same way for golf. Then Betsy tells him that in golf, the lowest score wins. Since they find the park mini golf course too hard, they decide to build one of their own.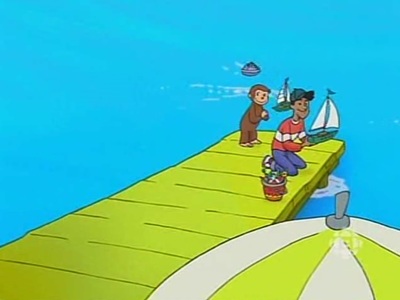 #19 - Buoy Wonder 7.55
Season 1 - Episode 7
George is off to the country boat building contest but on the way, he sees something interesting: a boat that carries cars on the water. Bill shows George his boat and has him watch it for him while he has to run off. But when an accident causes Bill's boat to sink and is no longer able to float, George has to build him a new one so he can use it in the contest instead. But all of the boats George build seem to have the same problem. So he decides to look at how the boats made by the other contestants were built so he can build one that floats.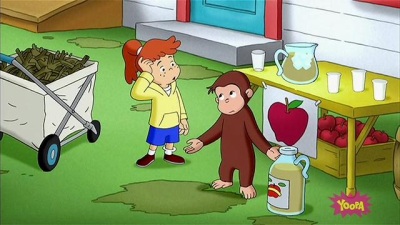 #20 - Trader George 7.53
Season 5 - Episode 3
George trades his rolling cart for some apple cider but soon wants it back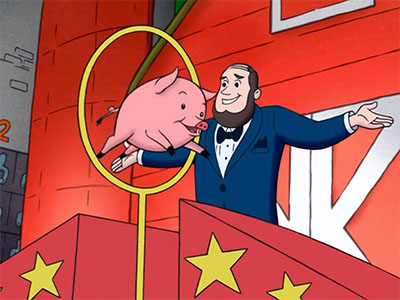 #21 - Monkey Stagehand 7.50
Season 2 - Episode 17
George helps Bill with a stage show by opening and closing the curtains, and raising and lowering scenery on the stage.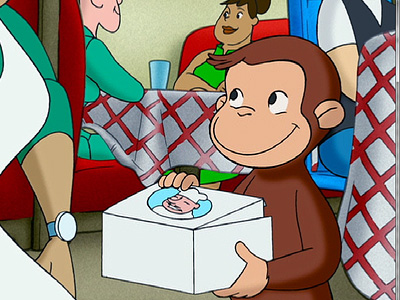 #22 - Special Delivery Monkey 7.50
Season 2 - Episode 14
When Chef Pisghetti forgets his pie for a convention, George steps in to help. But he forgets that when you count, you don't start from the one you're already at!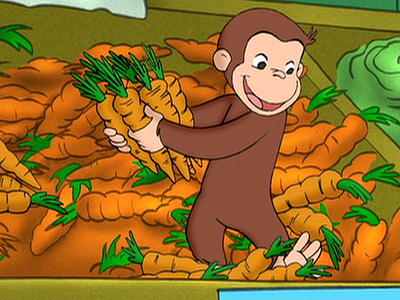 #23 - Cooking with Monkey 7.50
Season 4 - Episode 18
Professor Wiseman proudly presents a cake for the fire station barbecue, but when the cake bends a knife and proves to be extra sticky, everyone is astonished. Embarrassed, Wiseman explains that she will be "extra creative" for the bake sale. Bake sale? George needs to find out what's wrong with Wiseman's cooking, fast!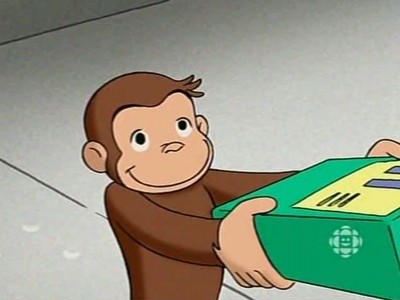 #24 - Out of Order 7.48
Season 1 - Episode 4
One day George is walking the street of his apartment building trying to find something to do when he notices a woman leaving numbered boxes outside every building. He decides to be a helpful monkey and return them to her until his friends Steve & Betsy tell him that she is a postal worker and that leaving boxes for people is her job. So they go on a race to see who can finish returning packages first. Winner plays Steve's video game. Steve has a plan to simply run fast but George and Betsy come up with a plan to sort all of the packages by the number of the buildings they go to.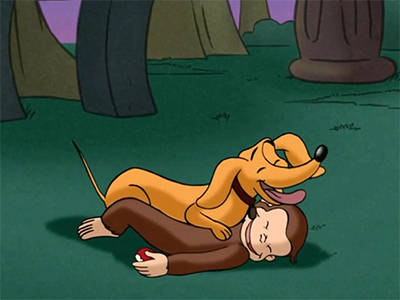 #25 - Curious George Finds His Way 7.47
Season 1 - Episode 20
George has to stay with Hundley in the lobby as the apartment gets cleaned but Hundley does not want George to eat his messy snack in the lobby. After George and Hundley get locked out in the alley behind the apartment building, Hundley runs off trying to find a better way in. George follows him and they eventually meet in a place very far away from home. They decide that, since it is dark out and they can not see their way home, they can hear their way home instead.