The BEST Episodes of Bobobo-bo Bo-bobo
Every episode ever - ranked by fan votes!
Last Updated: Nov 9, 2019
Based on the manga by Yoshio Sawai, Bobobo-bo Bo-bobo is one of the weirdest, yet funny animes using puns, cross-dressing, and lots of visual gags. Taking place in the year 300X, an evil organization knows as the Bald Empire (Margarita Empire) is planning to take over the world by stealing everyones hair. The Bald Empire, led by Emperor Baldy Bald, will have to go through Bobobo-bo Bo-bobo, who is determined to put a stop to them once and for all, if they plan to succeed. But it won't be easy, because Bobobo-bo Bo-bobo was trained to "hear the voices of the hair," enabling him to command his own body hair to perform various martial arts stunts to defend himself. Along the way, he will eventually need the help of all the different, yet weird friends he encounters in order to defeat the evil Bald Empire.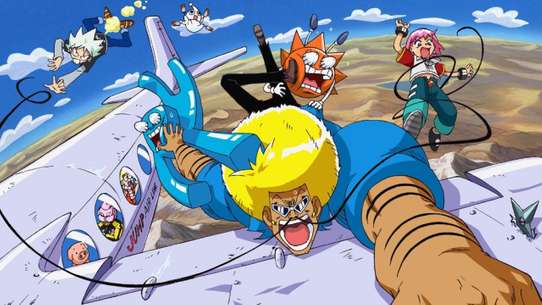 #1 - Revenge is a Dish Best Served Cold with Shiitake Mushroom Sauce
Season 1 - Episode 30
Just when the fight for King of Wiggin Specialist was finished, a big-mouth ninja assassin arrives to challenge Bo-bobo to take on his master, the horrific OVER of the Baldy-Bald Big Four! After Bo-bobo and the others can get past his bone-headed ninja tricks, he sends them to the entrance with a flying duck-loving warrior to face. (and Serviceman hanging by a limb) And beyond that is a force of The Ultimate Five Assassins to get past along the way, the first of which is...a playful little girl!?
1 votes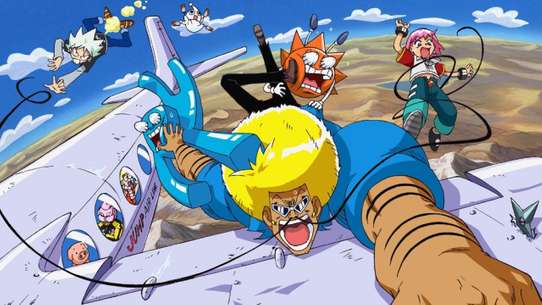 #2 - Enter BoboPatchiggler! Is That How It's Spelled?
Season 1 - Episode 32
Facing off against a team of ancient cultures that knows how to work together, Bo-bobo shows how little he, Don Patch and Jelly Jiggler really work together outside beating each other (and Dengaku Man) up! But with time running out and facing the elite teamwork (not to mention a not too bad curling technique) of the ninja assassins, the trio (literally) come together to form the triple fusion Bobopatchiggler, which unleashes the power that is Majide Time...ARE YOU SERIOUS!?
1 votes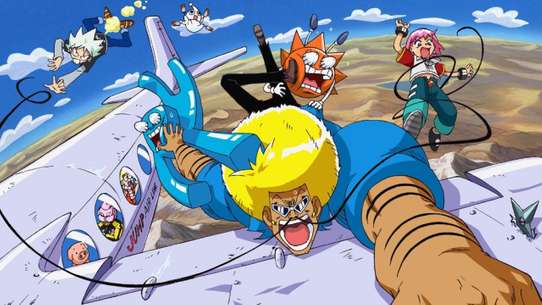 #3 - King Nose Hair Presents: "The Follicle Follies of the Future"
Season 1 - Episode 35
Torpedo Girl takes a quick trip to Bo-bobo World, but not even the insanity there is able to stop her stubborn joke-hating ways. But then, Bo-bobo unleashes his most powerful attack: the judgement of the nine planets of the Solar System (done in his own unique manners) unleashing the greatest powers of the universe! But while this may be enough to stop a torpedo, it takes a little more nosehair thrust to finally put a stop to OVER! But while all seems happy, Captain Battleship's assistant Suzu is about to lead them on a new path...
1 votes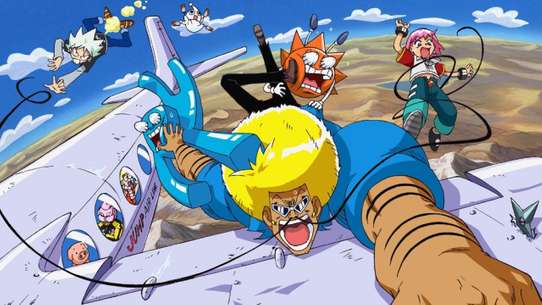 #4 - United We Stand, Divided We Also Stand, Just Further Apart!
Season 1 - Episode 61
Still within the coin machine, Bo-bobo is forced to listen to Beauty facing the complaints of the narcoleptic Rem while Serviceman's attempts to show himself off are ignored by her closed eyes. Desperate, he throws down Don Patch to save her...only to have him (and some guy who isn't Jelly Jiggler) face a samurai whose monsters are cuter and more ignorant of his orders than he realized! Yet while he finally finds a way to get back towards Beauty, Bo-bobo inadvertently leaves Rice at the mercy of Lambada and his polygons!
1 votes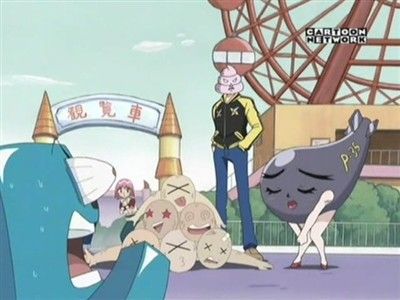 #5 - The Pacifist That Packs a Pinch Like a Pugilist
Season 1 - Episode 67
With the power of peace by his side (as well as the power of guns, angry birds, swords and a well place nosehair or two), Mr. Bojiggler despairs through his great power to finally stop General Lee Fishcake! But as one battle ends, the horrible realization of the revival of former leader Czar Baldy-Bald the Third finally comes into fruition. Yet even with all attempts to stop him in his box, a magical box escape reveals the resurrected emperor and his terrible power, while all Bo-bobo can do is...offer watermelon.
1 votes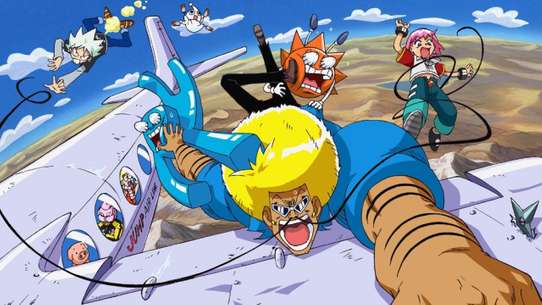 #6 - Si Senor, It's No Bore! It's Hair Hunters Galore
Season 1 - Episode 72
With Bo-bobo's team reunited and facing Baldy-Bald the Fourth (and an army of Hair Hunters), Bo-bobo chooses to enter the New Czar Playoff the easy way: by defeating the duct-tape-using leader of the Chrome Dome assassin corp and taking his medal! But although he and the other Wiggins nearly get stopped and almost get stuck as metamorphing goo, Bo-bobo finally finds the means to stop the stopper and join the tourney: a non-stop TV channel with his own bizarre programming...and horrible ratings!
1 votes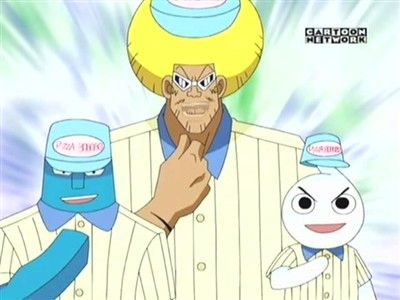 #7 - Finally! The Final Fight of Finality! This Time We Mean It!
Season 1 - Episode 76
As Triple Bag upgrades his Shadow power, Bo-bobo and Dengaku Man fuse into an upgraded Denbo, who forces the enemy through a picture activity book before punishing him. But even with his defeat, the summon clock is still completed allowing for Hydrate and his floating castle to emerge and allowing him to take over the empire! Now with the Shadow Chrome Dome forces in control, Bo-bobo and his allies ally with friend and enemy alike as they race upwards towards their enemy and their ultimate destiny only to realize that this is the last episode!
1 votes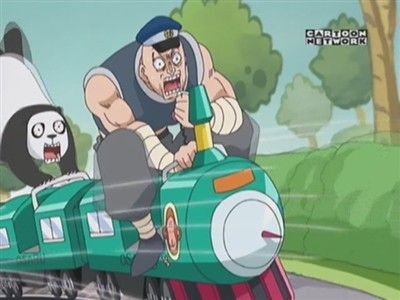 #8 - Bo-bobo's Rappin' Roller Coaster Ride
Season 1 - Episode 13
With Jelly Jiggler somewhere in the park, the team searches A-Block while getting into all sorts of mischief: Bo-bobo rides a monkey train almost taken over by rabbits, Don Patch reunites with an old boyfriend that's now by-the-numbers, Gasser beats up more fish and Beauty watches a cat eat with utensils. And that's before a roller coaster rap about...turtles!?
3 votes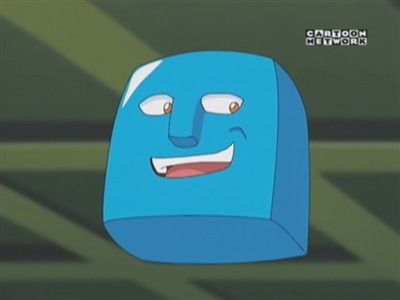 #9 - Instant Rice - Ready in Half an Hour?
Season 1 - Episode 29
You are cordially invited to a thirty-minute dinnertime Wiggin spectacular, as we witness Rice unleashing his full power as the King of Wiggin Specialists, complete with back rubs, ballerina tutus, poison apples, a king outfit and carbo-loaded fury! Co-starring Bo-bobo (who wants the title from Rice), Don Patch (who turned down the title and with transformation of his own), Jelly Jiggler (with his new line of party supplies), and Beauty as...a panda!?
1 votes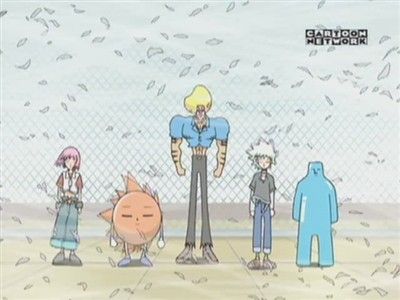 #10 - The Ultimate Five Assassins vs. Bo-bobo All-Stars!
Season 1 - Episode 31
Continuing through OVER's Castle, our heroes next face the only soccer-themed villain who has no connection to soccer whatsoever! That doesn't stop Gasser from causing a complete stink over his fight. (even with the eventual lawsuits they cause) Then, they face off against an incompetent trap master who almost succeeds in victory! (prior to the return of a cute little Wiggin) But all this leads up to a showdown against the last three assassins...on top of a giant toilet where those trapped inside get a very swell fate!
1 votes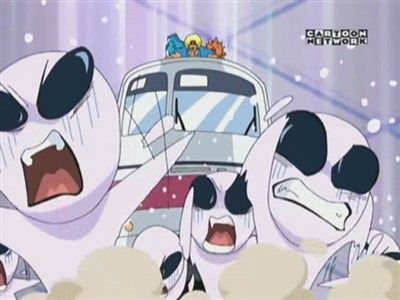 #11 - Next Stop...Holy Guacamole Land!
Season 1 - Episode 36
Bo-bobo and company take a train to Holy Guacamole Land, the theme park base of the greedy Halekulani. Though with six tickets and seven potential passengers, Jelly discovers traveling al fresco. However, an official assassin attacks him and Bo-bobo on the boxcars, leading to an all night spear-swinging, jelly slicing, Don Patch angering battle! But once their journey is done, several tunnels have been smashed through and a UFO has been blown up...and all they get for their journey is a stupid sash!
1 votes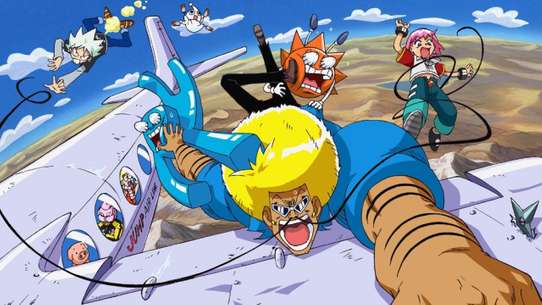 #12 - Holy Guacamole Land Isn't Just For Breakfast Anymore
Season 1 - Episode 37
While Bo-bobo and the others have safely arrived in Holy Guacamole Land, they soon realize the danger of a park where attractions can blow up on you! At least everyone can find refuge in the "Kids Area", where everyone can relive their childhood...and Bo-bobo, Don Patch and Jelly can create their own rock band. No one told them about the adult villain in the park that can make them relive their worst nightmares, but the kid fighters can still have fun, kick butt, and even fuse into...a badly drawn warrior!
1 votes
#13 - The Terrible Triplets vs. The Wiggin' Trio
Season 1 - Episode 39
Bo-bobo's team takes on the Terrible Triplets (who despite their claims, look nothing alike) for the sake of Beauty and Suzu, who are stuck under the stench of fatal gum! From unleashing goddesses at them to slapping them around with seaweed to unleashing powerful whirlwinds (slightly inspired by another series), the Bo-bobo team appears to show just as much (or just as lacking) teamwork as their laser firing, gum-chewing, cuteness revealing competition!
1 votes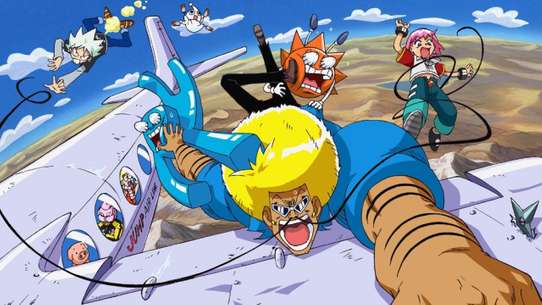 #14 - The Fall of Halekulani and the Winter of Discontent!
Season 1 - Episode 40
Now that the brother Haou has become more powerful, Bo-bobo unleashes a special attack to bring him and his brothers down: a madcap roulette where any of them (or his allies) can be smashes, struck by ninjas, or...turned into shōjo characters! And when they're finally out of the way, there's still the matter of Halekulani, who shows off an impenetrable money field that can transform anyone struck into currency! (Bo-bobo and the others may rather spend it than fight it...)
1 votes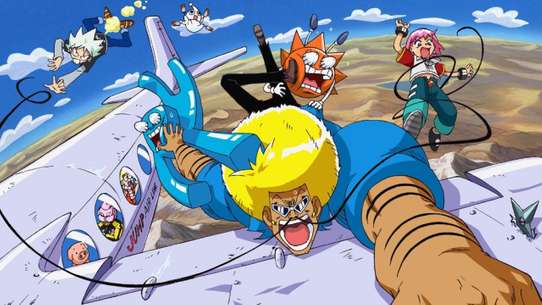 #15 - A Battle of Skills and Wills with One Green Onion. Or Is It Garlic?
Season 1 - Episode 47
An attempt by one enemy to wipe everyone's memories falls flat when he realizes Don Patch has no mind...and makes him feel the same empty-headed power, while Bo-bobo finishes up his fight while showing off further rage at Giga. But the team (minus Dengaku Man) is reunited by J, a mysterious onion/garlic headed warrior who controls Cyber City with the mysterious power of the Black Sun! But while Softon may have found an honorable opponent, he soon finds himself quickly defeated by the mustached fighter's amazing technique!
1 votes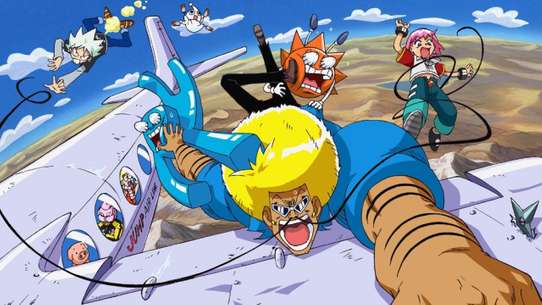 #16 - Giga Goes Gaga! Alarming Attacks with Agressive Art
Season 1 - Episode 50
After experiencing more of the art of Giga firsthand (like turning into his works courtesy of his servants), the Cyber City leader unleashes the full brunt of his Obujé de Art, throwing Bo-bobo against a wall of sound (until Torpedo Girl helps them break it), then forcing them up a flight of deadly steps with masterpieces being thrown after them at every turn! But after a perplexing combination of teamwork (and a horizontal elevator) lets Bo-bobo's team get closer to victory...Giga unleashes his full power by breaking all of his hard work!
1 votes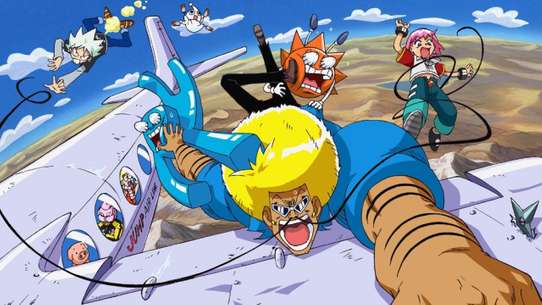 #17 - The Art of Art and the Fist of All Fists!
Season 1 - Episode 51
In his super form, Giga resists all of Bo-bobo's attacks by literally becoming the art that he has fused with. But Bo-bobo's squad finds their way around it by showing him the power of the art of the everyday! (and the power of a bull market) Yet with Giga preparing for his greatest accomplishment of destroying Gasser, Bo-bobo is forced to release the seal of his Nosehair Soul, gathering the power of dragons and using Don Patch and Jelly to help in revealing the manliness and burning desire to finally bring down Giga!
1 votes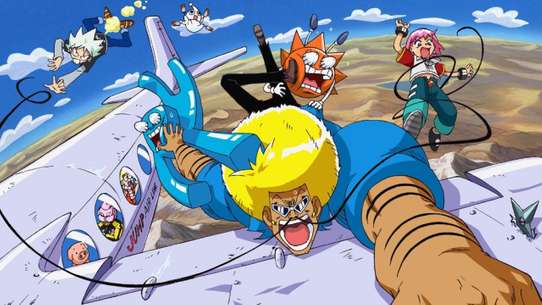 #18 - Gasser's Back! A Whole New Season, Same Old Stench!
Season 1 - Episode 52
As Gasser and Softon return to the team and Torpedo Girl goes her own way, Bo-bobo's team returns on their journey. But when the team ends up crashing into a platoon of Hair Hunters from one-hundred years ago, they end up in a massive bridge-top melee filled with crazy teamwork attacks, changing weather conditions and a battleground that can easily be opened! Yet the villains still have one purpose in particular: to take out the remains from the Hair Kingdom...and guess who that is?
1 votes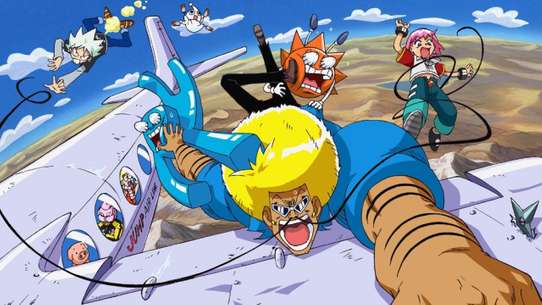 #19 - Dancin' and Trainin' for Quickly Attainin' the Enemies' Painin'
Season 1 - Episode 53
After throwing aside the remaining Hair Hunters (and giving them a nice jelly gift pack), Bo-bobo's team heads to a legendary training ground (a shopping mall) to prepare for the threat of more old Hair Hunters. But they soon meet their match in a flower-throwing general who's both as ruthless as he is at taking out the powered-up warriors! Now with Bo-bobo in a corner, he prepares to take him on...with a jacket that cost $27.50 at a supermarket!
1 votes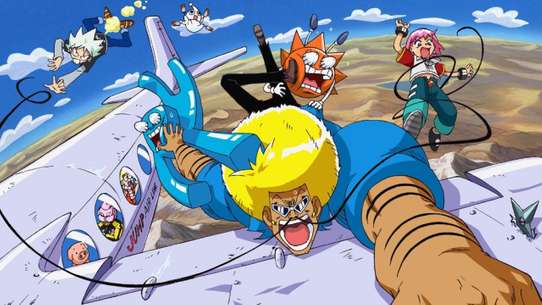 #20 - The War of the Roses, and Daisies, and Tulips
Season 1 - Episode 54
Bo-bobo desperately attempts to fight against the floral Wild Wister, but none of his tricks appear to work on the plant master. But when he remembers his recent training, the true Super power of his new jacket is released, bringing out the heavy artilary, defending against the flower menace and planting the seeds of annoyance (and Don Patch's former girlfriends) before planting Wister where he can never return...yet the true threat of the former empire prepares for its awakening!
1 votes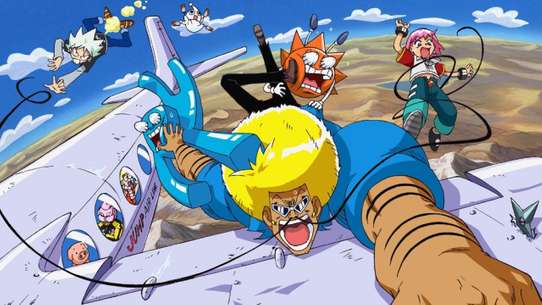 #21 - The Gang's All Here! And Boy, Are They Weird!
Season 1 - Episode 55
With Hatenko returning to lead the way, Bo-bobo's team pummels through an army of Hair Hunters to find the base of the Former block leaders: an amusement park planted right on the ruins of Jelly Jiggler's old base! Furthermore, their first challenge at this park is a living bowl of ice cream who forces them to fight his team while running away from a runaway robot on an ever-changing path. But with Bo-bobo, Hatenko and Jelly (nearly) in unison, they are able to stand fast...while getting run over.
1 votes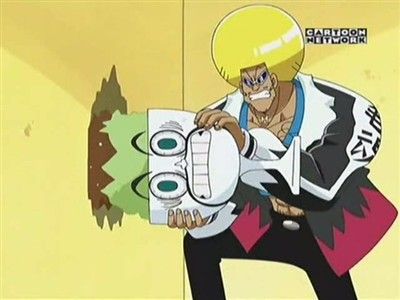 #22 - The Ultimate SF Battle! Supreme Fisticuffs or Certain Free-for-All
Season 1 - Episode 56
Changing to a more team-intensive strategy, Not Nice Cream's group fight with the power of SF by their side, but a renewed effort on teamwork (not to mention a raid of a villainous space station and a stiff jelly key) let Bo-bobo's team regain control. One act of selfishness by the former Block Leader inspired Bo-bobo and Jelly to unleash their enemies on a chaotic world tour where nothing is fair, not even their defeat!
1 votes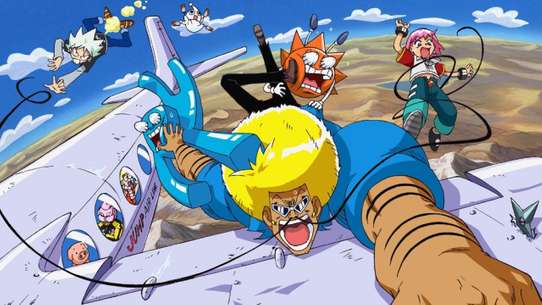 #23 - The Water Slide That's Bonafide to Leave You Terrified!
Season 1 - Episode 57
At the next park attraction, Bo-bobo suddenly finds himself trying to save Beauty and Don Patch from a tough (but incompetent) soldier in a water slide where he keeps throwing out traps...while being comforted by his female assistants. But the leader's attempt at summoning the ultimate weapon to finish off his opponent...ends up forcing him to face a very angry Torpedo Girl whom Bo-bobo uses to his advantage to turn against her summoner...even if she's a torpedo who can't swim.
1 votes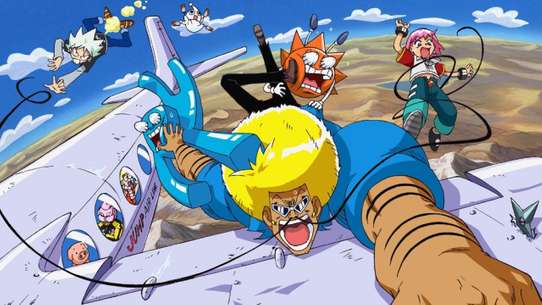 #24 - Face the Cold Hard Facts! It's Freezing in Here!
Season 1 - Episode 58
Chilling along to the ice skating rink, the Wiggin Trio face off in a massive mech showdown where their choice in battle gear is extremely unconventional, robotic nosehairs rule, and where Jelly is nearly killed by his own vehicle. But when the wind-sickle carrying Master Jeda ups the ante by blowing away the allies and forcing the wobbly warrior into refrigeration, Bo-bobo and Don Patch are forced to fuse once again...but after Don Patch is through with Bo-bobo's insides, the result isn't what they expected!
1 votes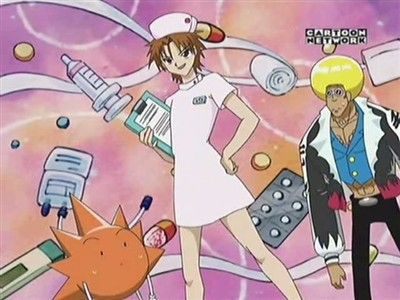 #25 - Enemy Cruisin' for a Brusin' Then Just Try Fusion!
Season 1 - Episode 59
In their new fusion form, Patchbobo shows off a few bizarre combinations of his own, beating down Jeda and his minions with a stinky yo-yo, a sugarcane sword and even the frozen Jelly Jiggler himself before lashing a special cameo to defeat the enemies. Meanwhile, Torpedo Girl's troubles at the merry go round draw her, Softon and Hatenko to the attention of a tough former leader (and his two incompetent underlings), but her fickle nature, combined with key and Blabs-a-lot powers, make quick work of them.
1 votes