The Best Episodes of Berserk
In this world, is the destiny of mankind controlled by some transcendental entity or law? Is it like the hand of God hovering above? At least it is true and man has no control, even over his own will. In medieval times war raged throughout the countryside. Feudal lords would give large sums of money to mercenaries who could rid them of their enemies. One such mercenary is Guts. He wields a sword almost larger than he is and holds tremendous strength and courage. When he joins a band of mercenaries known as the Band of the Hawk, he finds a purpose to fight for other than money and helps the Hawks to become the most feared enemy on the battlefield. This anime is adapted from the manga of the same name created by Kentaro Miura. Warning: This show is not suitable for persons under the age of 18 due to extreme violence, gore, nudity, course language and mature content.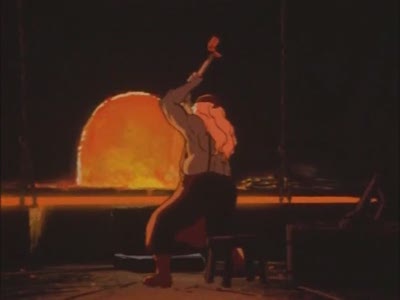 #1 - The Black Swordsman
Season 1 - Episode 1
A blacksmith is forging an enormous sword while a dark man with only one eye and one arm stands back and watches. The dark man approaches a castle by a large town. There is an Inn there where some castle guards burst in with a girl demanding a fight, but instead just have some drinks. The grandfather of the girl attempts to rescue her, but is badly beaten in the attempt. Suddenly one of the castle guards is shot in the head by a crossbow bolt and others soon follow. The dark man walks into the inn and shoots another castle guard in the shoulder. He walks up to the injured castle guard and orders him to tell his master the Black Swordsman has come. He slays another soldier with his enormous sword and leaves the inn. The injured castle guard goes to his Master's Minister and explains about the Black Swordsman. The minister orders that this criminal must be found. He is afraid of bringing the news to his master. While a search begins, the injured castle guard tells his master wha
189 votes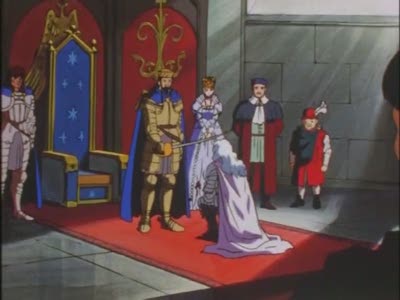 #2 - A Wind of Swords
Season 1 - Episode 5
Guts is now a commander in Griffith's army and he is taking great risks in battle. Although he succeeds, Casca takes him to task for it. Griffith is knighted and the nobles become jealous. Guts saves the Hawks in battle, to Casca's chagrin.
95 votes