The Best Episodes of Benidorm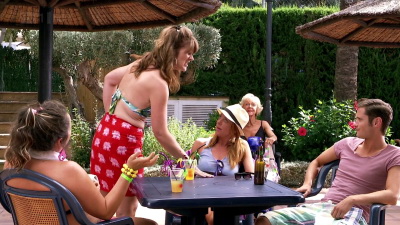 #1 - Episode 2 8.45
Season 5 - Episode 2
New manager Joyce organises a dance competition for the guests and everyone is eager to take part. Rehearsals are supervised by her old flame Cyril Babcock, an ageing playboy whose impatience with the talentless contestants leads to a dance-off with Mateo. Kenneth hires an assistant for the salon, but her minimal knowledge of hairdressing and English leads to an unfortunate accident with her first client. Kenneth also tries to cheer up Gavin, who is missing Troy. Janice is shocked to see an old face at the pool bar, but he seems not to remember her. What is he playing at? And will Mick turn up in time to prevent a nasty scene?
Directors: John Henderson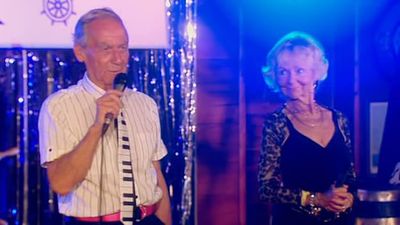 #2 - Episode 6 8.41
Season 3 - Episode 6
Swingers Donald and Jacqueline have a holiday visitor in the shape of Wink McAndrew who raises a few eyebrows amongst the holidaymakers. Kate finally plucks up the courage to tell Martin a few home truths whilst Gavin meets the new man in his life. Madge and Mel reveal a secret they've been hiding from The Garvey family that will change everyone's lives forever.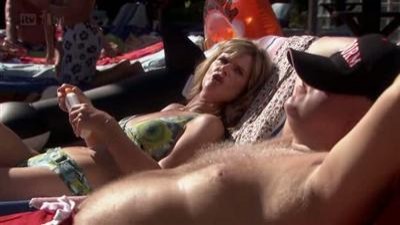 #3 - Episode 5 8.41
Season 4 - Episode 5
Pauline continues to drink permanently and everyone is looking forward to Eighties Night with guests Bananarama. Madge discovers that the lease on a bar could be coming and she has to decide whether she could live in Spain on her own. Kenneth takes Gavin out in an effort to try and cheer him up. Liam continues to attempt to win Natalie's heart but she is after Mateo. Mateo is talked by Leslie into going on a double date but nothing goes to plan. Bananarama end up finding an unexpected third member performing with them on stage.
Directors: Sandy Johnson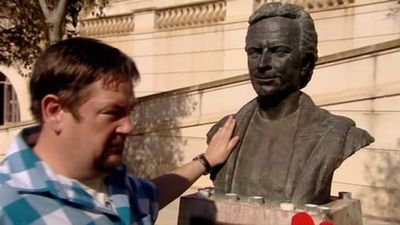 #4 - Episode 3 8.37
Season 3 - Episode 3
When The Oracle goes on a blind date he ends up being given the runaround. When Martin isn't around, Brandy tries to seduce Mateo. Mel tries to find the owner of Peacock Island so that he can talk to them about selling it him.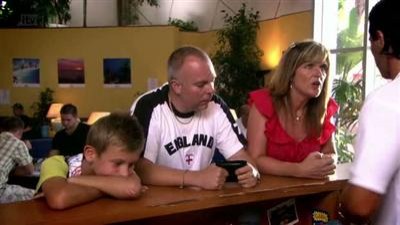 #5 - Episode 1 8.34
Season 4 - Episode 1
Gavin has a new holiday companion; The Garveys can't find Madge, but do find Cilla Black; Mateo is introduced to his new colleague Les (aka Lesley); whilst Les's son Liam tries to spend time with girls Natalie and Sam.
Directors: Sandy Johnson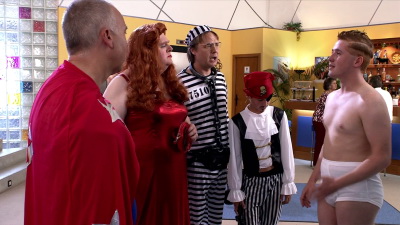 #6 - Episode 3 8.32
Season 5 - Episode 3
Mick is unimpressed when his nice-but-dim brother Pete and his crotchety dad Stan arrive in Benidorm for Pete's stag party. Gavin thinks that Troy has dumped him so he agrees to a date with Emilio. Trudy comes up with a way to get intimate with Mateo, but her plans are scuppered by Les/Lesley. Donald takes Michael and Liam to see Jacqueline perform her erotic striptease at a local club.
Directors: John Henderson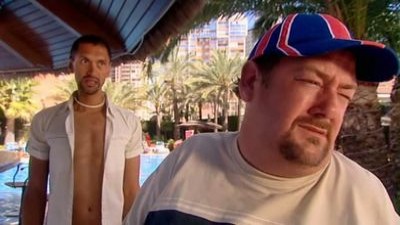 #7 - Episode 5 8.29
Season 3 - Episode 5
Gavin discovers that Troy is apparently cheating on him. The Oracle's tall tales get him in trouble with the police. Diana comes to help her recently conned son Martin but only succeeds in making him feel much, much worse. Mel and Madge end up taking to the stage at The Benidorm Palace.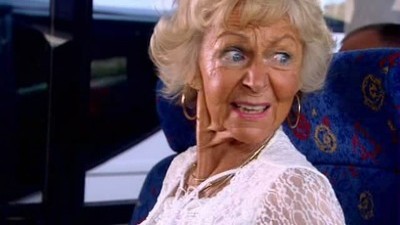 #8 - Episode 1 8.26
Season 3 - Episode 1
The holidaymakers return to The Solana with a free week's holiday as compensation for last year's hostage situation. Martin's new girlfriend wants to have a good time and leave the complex. Mel wants Mick to help him open his new mobility shop but things don't go to plan.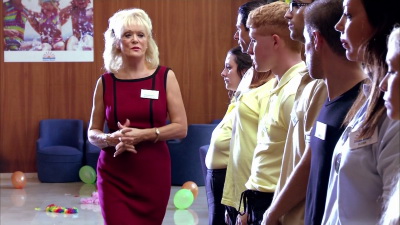 #9 - Episode 1 8.23
Season 5 - Episode 1
Chaos reigns at the Solana Hotel as Mateo and Les find it hard to keep control. Les's son Liam is now working as the hotel's handyman. Gavin and Noreen are not happy after showing up at the hotel and learning their luggage has been lost. Mateo ends up reluctantly coaches Liam in the art of chatting up pretty women. Kenneth and Gavin comfort lately widowed Jacqueline but they end up getting a nasty shock when they think they have seen the ghost of Donald. Joyce Temple-Savage, the new manager of the hotel, secretly watches everything that is going on as she is determined to see the hotel become four star.
Directors: John Henderson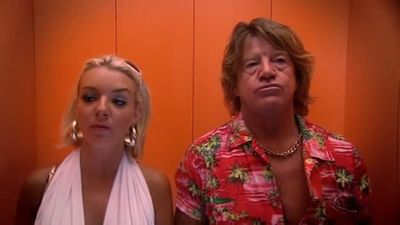 #10 - Episode 4 8.21
Season 3 - Episode 4
When Madge's estranged daughter Valda appears at The Solana, Madge is convinced she is after Mel's money. Meanwhile a cockney conman called Gary starts working his way through the holidaymakers, and Madge is given something to settle her stomach with extremely unsettling results.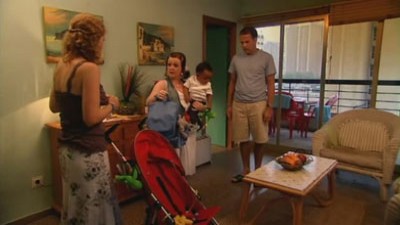 #11 - Episode 2 8.18
Season 2 - Episode 2
Instead of escaping from the resort, Martin and Kate find themselves babysitting Telle's baby, Coolio. Mel abandons the idea of having a go at 'Wuthering Heights' at the karaoke night, and asks a question that shocks everyone especially Madge.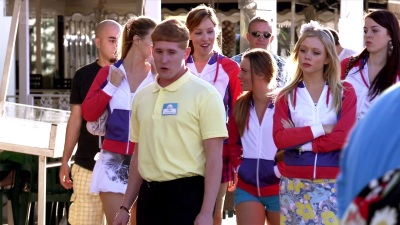 #12 - Episode 5 8.16
Season 5 - Episode 5
The British Olympic Synchronised Swimming team are in the local area to train, and Joyce has managed to persuade them to stay at the Solana. Hazel, the team's strict coach, is not impressed by the poor facilities, but agrees to Joyce's idea for a gala display in the hotel pool. Liam ends up escorting the girls on a sight seeing tour along the coast. Madge is keen on Mohammed, the son of a wealthy property developer who knew Mel and Mick and Janice are surprised when they find out that she wants to marry him. Liam is unable to stop the young swimmers joining an 18 -30 booze cruise.
Directors: John Henderson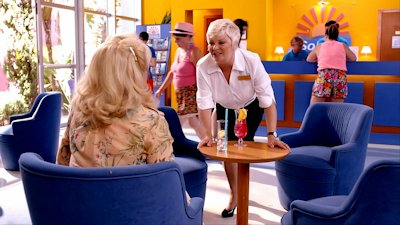 #13 - Episode 5 8.15
Season 7 - Episode 5
Inspired by a pep-talk from Crystal, Kenneth and Liam launch a Blow and Go makeover competition. Crystal Hennessy-Vass announces that the staff budget is being cut by half - and Joyce is being replaced by Janey, her predecessor. As Geoff's Romanian fiancee Ionela arrives in Benidorm, Noreen discovers that Geoff has told her he is a successful businessman.
Directors: Sandy Johnson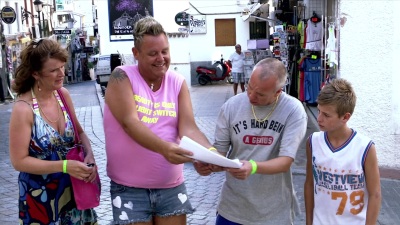 #14 - Episode 4 8.14
Season 5 - Episode 4
Madge has been kidnapped which to Michael witnessed but can The Garveys save her in time? Elsewhere, Sam bets Trudy 20 euros to act ladylike until midnight. Joyce invites Costa Class Magazine's Hotel Critic and instructs Mateo to cook an authentic paella for him.
Directors: John Henderson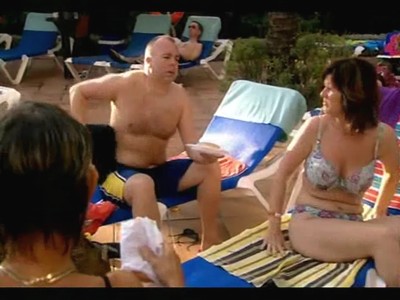 #15 - Episode 4 8.11
Season 1 - Episode 4
Martin is happy now that his marriage is back on track but Kate feels guilty as she was too drunk to remember what happened the night before.Janice becomes jealous when Suzie, the girl Mick met when buying flip flops sings karaoke, assuming she is singing to Mick.Madge accidentally gives Donald and Jacqueline the impression that she is a swinger.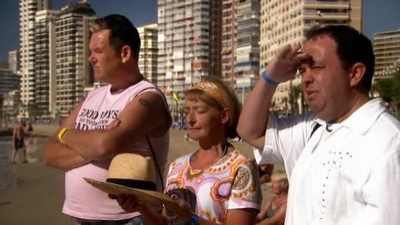 #16 - Episode 6 8.09
Season 4 - Episode 6
Les/Lesley discovers some of Donald's clothes on the nudist beach - and it seems that Donald has left Jacqueline a note. The Garveys are gearing up for the opening of Madge's new bar, but when Lucky Kev arrives with some free tickets for a theme park, Mick packs the women and children off for the day. Pauline turns to the bottle as she awaits news on her divorce. Jacqueline, Kenneth and Gavin head off to pay their respects to Donald - but nothing goes to plan and Jacqueline is involved in a rather unusual water-skiing accident. As Gavin's patience with Kenneth reaches its limit, Troy appears - and brings some life-changing news.
Directors: Sandy Johnson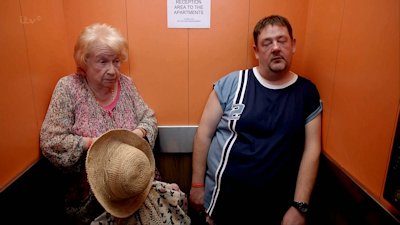 #17 - Episode 6 8.08
Season 7 - Episode 6
Jason is back but what is his connection to Janey York? Clive gets swindled out of 5,000 euros by dodgy estate agents Monty and Melanie. The Oracle and Noreen are stuck in a lift, discovering all sorts about each other.
Directors: Sandy Johnson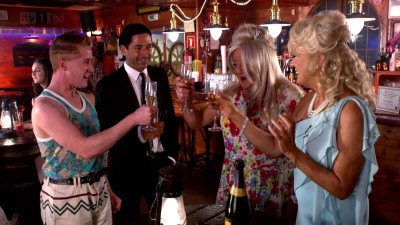 #18 - Episode 7 8.08
Season 5 - Episode 7
Joyce becomes convinced that new guest Mrs Simmonds is the hotel assessor, but her attempts to impress do not start smoothly when Mrs Simmonds witnesses Joyce evicting a furious Kenneth from his salon for late payment of rent. The hotel is also playing host to underworld figures Lennie and Neville, who gave Donald a hard time when he was in prison. Mick tells his family that all of the sunbed shops Mel left them have been destroyed by fire, and an angry Madge attacks him, before being denounced in turn by Michael. Can the family set aside their differences?
Directors: Sandy Johnson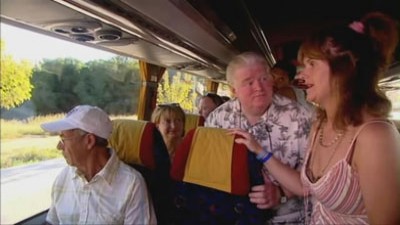 #19 - Episode 4 8.06
Season 2 - Episode 4
Everyone, apart from The Oracle and Telle (who strike up an unlikely friendship), head off on a free trip to a bullfight. But they all soon discover that there's no such thing as a free trip in Benidorm!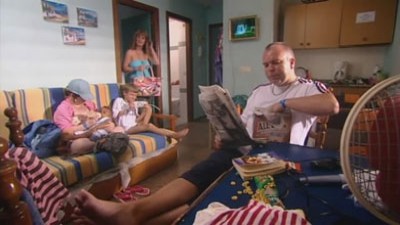 #20 - Episode 6 8.06
Season 2 - Episode 6
Janice and Mick try to make Madge and Mel have second thoughts about their wedding - but Janice says the wrong thing to Madge and she and Mel snub The Garveys.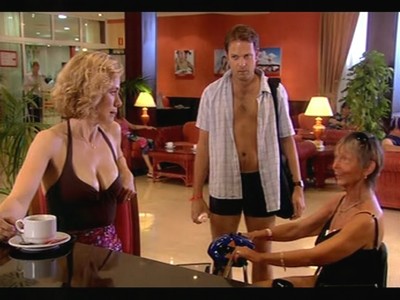 #21 - Episode 5 8.06
Season 1 - Episode 5
A pub quiz at the hotel reveals Oracle's competitive side.Kate discusses her marriage problems with Madge.Donald tries to salvage Troy and Gavin's relationship.
#22 - Episode 7 8.04
Season 8 - Episode 7
Jodie's acting career gets a boost when she is accepted into stage school, but the high fees may be a problem, while Liam is back to visit his dad Les and is interested in a position at Blow & Go. Sir Henry asks Joyce if the Solana can host the Pride of Benidorm awards at short notice, but a double booking leads to a fight between two Peter Andre tribute acts and host Sammy Valentino starts causing trouble. Can a special star performance from Crystal save the day?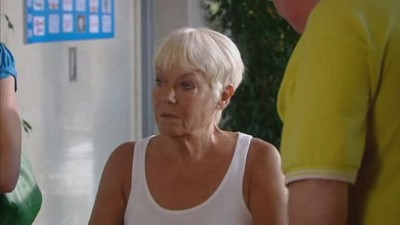 #23 - Episode 5 8.03
Season 2 - Episode 5
Mateo tries to get back with his old flame, Kelly. Unfortunately Kelly's mother Sylvia is in town and she doesn't suffer fools gladly.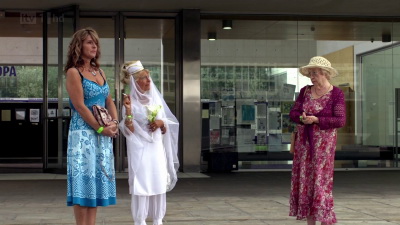 #24 - Episode 6 8.03
Season 5 - Episode 6
Madge is getting ready for her wedding to Mohammed but after Mick and Michael find Mohammed in a sports bar, they think that he is not quite what he seems. Joyce believes that somebody in the hotel is giving negative stories about the Solana to the local press and she recruits Donald and Jacqueline to spy on the staff. A trick is played on Sam by Trudy and she convinces her that she had unprotected sex with Liam while she was drunk.
Directors: Sandy Johnson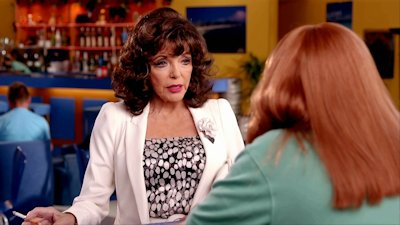 #25 - Episode 7 8.00
Season 6 - Episode 7
Joyce's boss, Crystal Henessy-Vass, arrives to inspect the 4-Star Solana. Donald and Jacqueline have a surprise guest of their own, while Mateo and Lesley are left in charge of a group of VIPs. Tiger and Michael come to blows over a woman, and their parents come to blows with each other.