The BEST Episodes of Back to the Future
Every episode ever - ranked by fan votes!
Last Updated: Dec 2, 2019
Based on the highly successful Back to the Future movie trilogy, this series is set, um, "after" the events of the last film, as the adventures of Marty McFly and Doc Brown in their DeLorean time machine continue. Joining the ride is Clara, (Doc's wife from Back To The Future Part III,) Jules and Verne (their sons) Einstein the dog and Jennifer (Marty's girlfriend). And apparently there's a Tannen in every time as relatives of Biff keep popping up, and creating conflict. Mary Steenburgen and Tom Wilson reprise their roles from the movies. During live portions of the show, Christopher Lloyd reprised his role as Doc Brown and was joined by Bill Nye, who conducted experiments that were used in the show.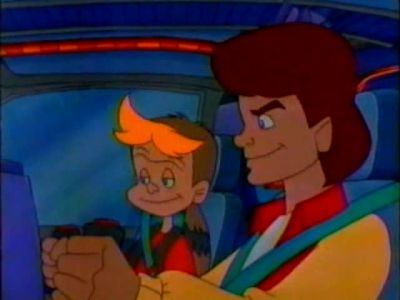 #1 - Marty McFly PFC
Season 2 - Episode 4
On a trip to the 1940s, Verne enters a dance contest with his future dance instructor, Dorothy, while Marty gets drafted.
3 votes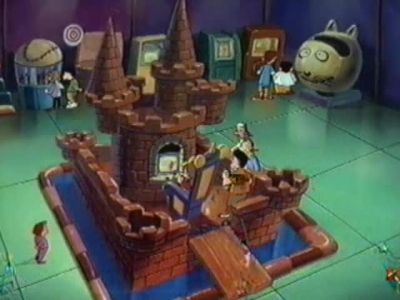 #2 - Bravelord and the Demon Monstrux
Season 2 - Episode 6
Characters from Verne's new favorite video game, BraveLord and Monstrux, come to life in a weird accident. Doc can't fix this situation because he's been sent into the game.
4 votes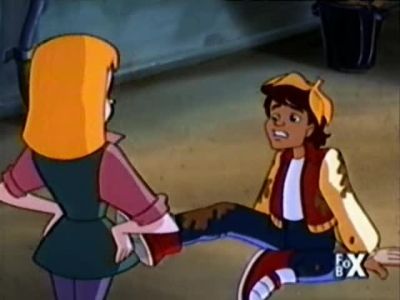 #3 - Mac the Black
Season 2 - Episode 1
Marty and Verne travel to 1500s Caribbean, where Verne hopes to get an earring and Marty has to deal with pirate Mac The Black.
4 votes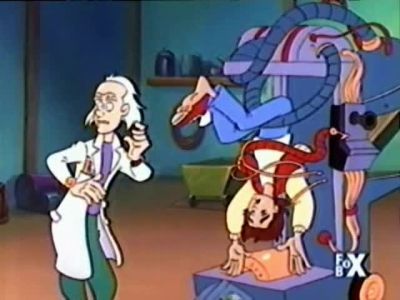 #4 - Put on Your Thinking Cap, Kids! It's Time for Mr. Wisdom!
Season 2 - Episode 2
Marty and Verne meet Mr. Wisdom, who hosts a popular children's science show. As it turns out, Doc and Mr. Wisdom were college roommates. Doc doesn't recall it with fondness, as Mr. Wisdom stole his invention for a science fair and won. Things apparently haven't changed as Mr. Wisdom has stolen the DeLorean!
3 votes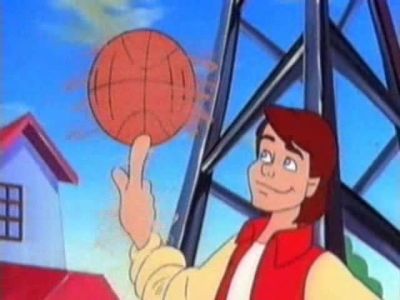 #5 - The Money Tree
Season 2 - Episode 7
Jules tries to grow a money tree to become popular at school, which leads to troubles with the media and the FBI.
4 votes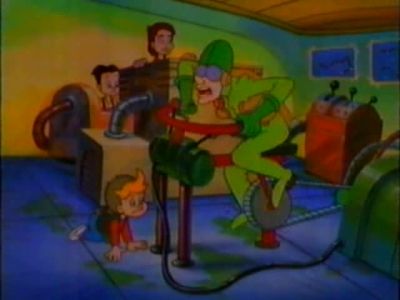 #6 - My Pop's an Alien
Season 2 - Episode 10
After finding a strange craft in Doc's bushes, Biff claims Doc is an alien and everyone believes him. In 1967, Marty, Jules and Verne arrive to discover the truth.
3 votes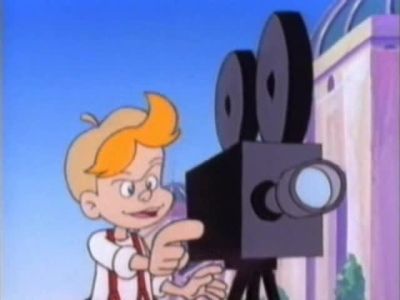 #7 - St. Louis Blues
Season 2 - Episode 12
While at the Brown house, Doc's hair cutting invention wreaks havoc on Marty's hair. Marty and boys go to find Doc, who is with Clara at the 1904 World's Fair, to fix this mess. But Marty then gets put in a side show by P.T. Tannen.
2 votes
#8 - A Friend in Deed
Season 2 - Episode 3
After Biff plans to evict Jennifer's family from their ranch, Marty goes to the Old West to stop Biff's family from getting the ranch deed.
3 votes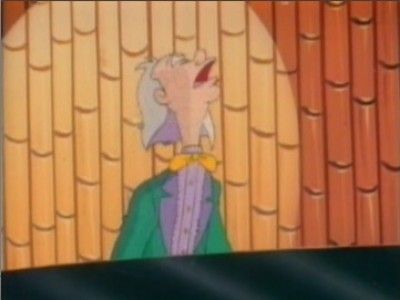 #9 - Retired
Season 1 - Episode 12
Jules and Verne pull a string of April Fool's Day pranks on Doc, tampering with his inventions. Unfortunately one of them, the Brain Wave Analyzer, causes Doc to think his days in science are over and he retires.
2 votes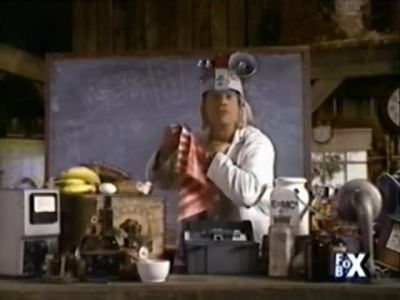 #10 - Verne Hatches an Egg
Season 2 - Episode 13
Verne uses the DeLorean to look for something to bring in for show and tell, finding a dinosaur egg. Unfortunately, the egg hatches in the present and it becomes more and more difficult to hide it.
2 votes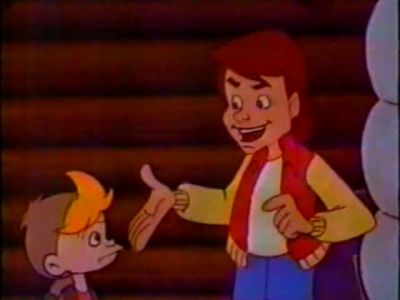 #11 - A Verne by Any Other Name
Season 2 - Episode 8
Verne gets sick of his name after kids keep making fun of him and goes to great lengthes to get it changed, even going back to see his parents just before he's born.
3 votes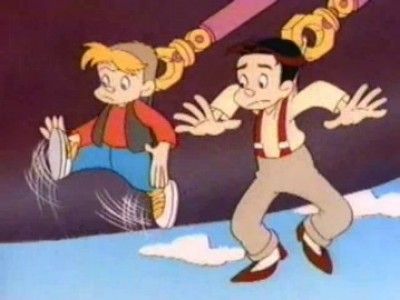 #12 - Solar Sailors
Season 1 - Episode 9
It's Doc and Clara's anniversary and the kids get them tickets for a cruise, which takes place in 2091 and takes them into space. Unfortunately, Ziff Tannen sabotages the cruise ship.
2 votes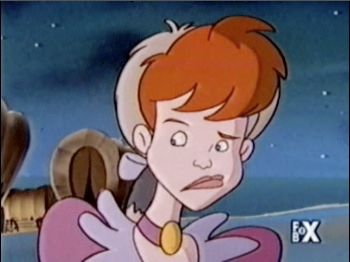 #13 - Clara's Folks
Season 1 - Episode 13
Marty, Jules and Verne head back to the 1850s, where they meet Jules and Verne's maternal grandparents, Daniel and Martha. Unfortunately, Martha falls in love with Marty instead of Daniel, and Clara is in danger of never existing. Things get worse when Martha is kidnapped by Wild Bill Tannen...
2 votes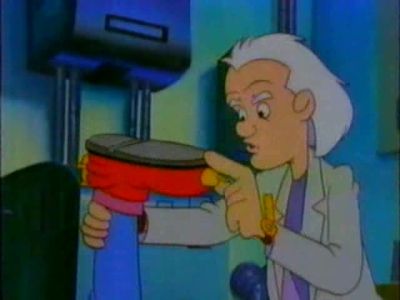 #14 - Super Doc
Season 2 - Episode 11
Marty and the boys learn Doc had a stint in wrestling during the fifties, but never really competed. Travelling back in time, Marty and the boys attempt to get Doc to enter the ring. This unfortunately leads to him getting hit on the head and becoming a bumbling superhero.
2 votes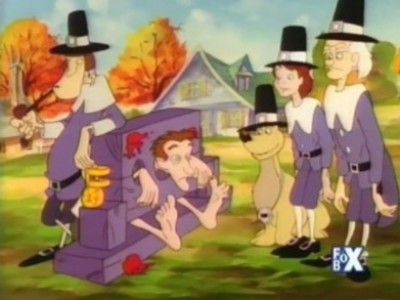 #15 - Witchcraft
Season 1 - Episode 4
Marty makes an emergency trip back to Salem, Massachusetts in the DeLorean to deliver a spare flux capacitor to Doc and the family. While Doc installs it to fix the train, Marty, Clara and the boys go into town, where Marty gets accused of being a witch.
7 votes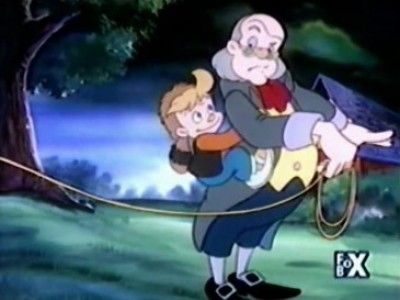 #16 - Go Fly a Kite
Season 1 - Episode 6
After Jules insults his intelligence and comments that he can't really be a part of the family, Verne starts to think his real father is Benjamin Franklin. Unfortunately, this leads to Verne ruining Franklin's famous electricity experiment and it's up to Doc to set things straight.
6 votes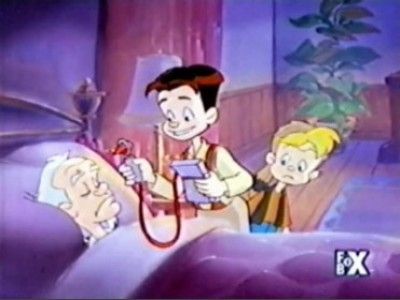 #17 - Gone Fishin'
Season 1 - Episode 11
When Doc was four, he fell into a river during a fishing trip and has had a fear of it happening again ever since. After the boys learn about this, they and Marty try to change it. But they regret it when it leads to a mishap with a stunt plane, causing young Emmett Brown to become a famous daredevil.
4 votes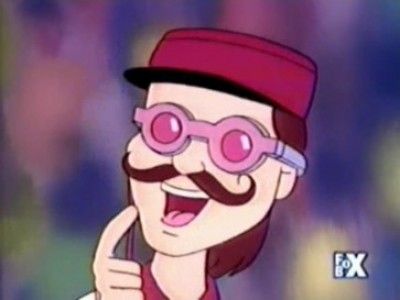 #18 - Batter Up
Season 1 - Episode 8
Marty takes the place of his ancestor, pitcher Pee Wee McFly, to help his team win a 1897 Pennant game. But a nasty gangster named Diamond Jim Tannen wanted Pee Wee to lose.
3 votes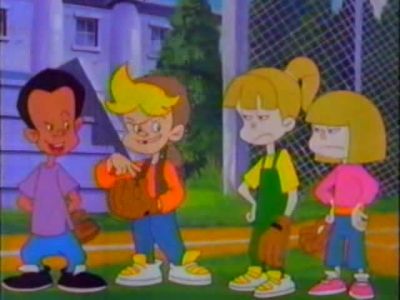 #19 - Verne's New Friend
Season 2 - Episode 5
Verne and his new friend, Chris, go see a 1930s circus, which the owners are about to lose to landlord Farmer Tannen.
3 votes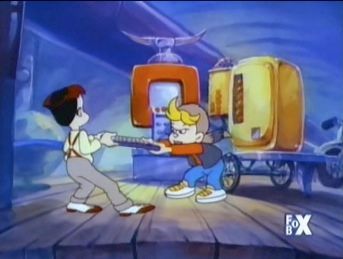 #20 - Brothers
Season 1 - Episode 1
Running away from home, Verne uses the DeLorean to travel back in time. When Doc, Marty and Jules go after him, they arrive in the middle of the Civil War where Jules and Verne get caught up on different sides.
30 votes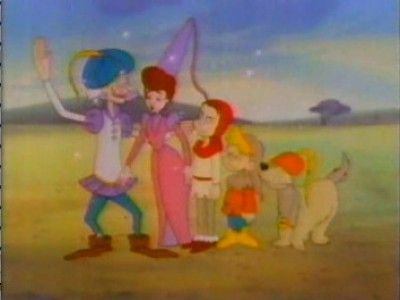 #21 - A Family Vacation
Season 1 - Episode 2
Doc causes another power cut in his lab whilst trying to invent something. Jules and Verne are annoyed because their toy car racing has been interrupted (it runs on electricity) and Clara is annoyed at the lack of power as well. Feeling that his family has become too dependant on technology since they moved to the 20th Century, Doc uses the DeLorean to take his family back to Medieval England. The family are not happy, especially when Doc sends the DeLorean several hours into the future so there is no way they can go home until then. Clara walks off and after meeting some Medeival women washing in the river she meets Lord Biffingham of Tannenshire. Biffingham takes a shine to Clara and when she turns him down he kidnaps her. Doc tries to save her but eneds up being kidnapped as well. Biffingham imprisons Clara in his tower and decides to marry her - once she has become a widow! And he plans her to be a widow very shortly by challenging Doc to a joustling match. Jules, Verne and Einstei
10 votes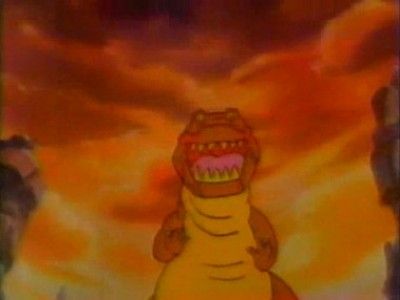 #22 - Forward to the Past
Season 1 - Episode 3
Doc and the boys travel back to prehistoric times to test a new invention and Doc stops a meteor from colliding with Earth. They don't realize they changed history until they return home and find a civilization where dinosaurs rule!
9 votes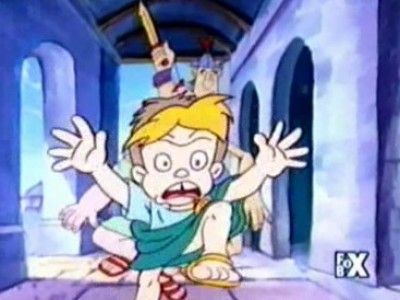 #23 - Swing Low, Sweet Chariot Race (a.k.a. Roman Holiday)
Season 1 - Episode 5
Marty and Doc head to Ancient Rome, unaware Jules and Verne are joining them. While the boys cause trouble, Marty gets mixed up in a chariot race with Bifficus and Doc gets thrown to the lions.
5 votes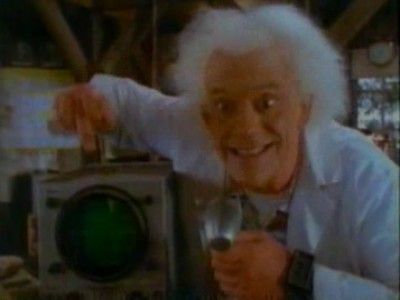 #24 - Time Waits for No Frogs / Einstein's Adventure
Season 1 - Episode 7
a) Looking to cure Marty's athlete's foot, Doc and Marty travel back in time to locate an extinct frog in South America, where they have to stop Biffando from stealing the Incas' gold. b) Two bank robbers steal the DeLorean and end up outside an Australian prison in 1790. With him having been in the back seat, it's up to Einstein to get himself and these robbers home.
3 votes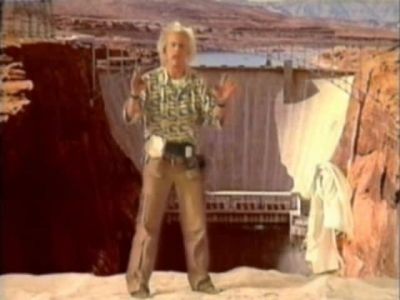 #25 - Hill Valley Brown-Out
Season 2 - Episode 9
Just before the Founder's Day Celebration, the town loses all its electricity again because of Doc. His attempt to fix it makes things worse, causing everyone to want the Brown family kicked out of town.
3 votes