Weeds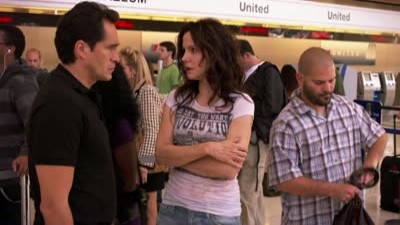 #1 - Theoretical Love is Not Dead 8.39
Season 6 - Episode 13
In the season 6 finale, Nancy must free herself from the grip of Esteban in order to escape the country along with her family. At the airport, Andy attempts to calm the nerves of Shane and Warren. Meanwhile, Silas must decide whether to stay with Lars or leave with the Botwins.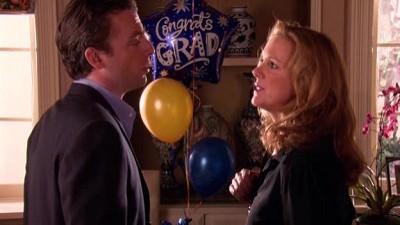 #2 - Pittsburgh 8.34
Season 2 - Episode 12
Nancy is having one of the worst and busiest days of life. One of sons is missing. Shane's graduation and the deal with U-Turn make her feel like she needs to be in two places at once even though she really doesn't feel like being in either of them. Heylia's plan is put into action. Nancy tries to deal with Conrad's kiss, Celia's madness, and Kat's craziness. Everything comes to a head when the deal goes wrong.
#3 - The Godmother 8.32
Season 1 - Episode 10
Isabelle experiments, Andy gets drafted, Peter may not be who Nancy thinks he is, Silas gets high, and Nancy cuts out the middleman.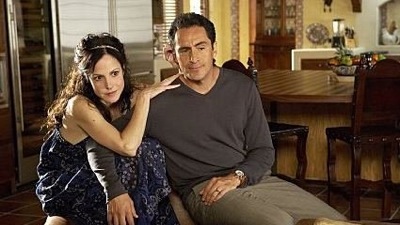 #4 - All About My Mom 8.30
Season 5 - Episode 13
Nancy learns of Esteban's fate and takes action to preserve her own. Andy makes a big change in his life. Dean, Doug and Celia find common ground. Silas helps Adelita with a disturbing medical issue.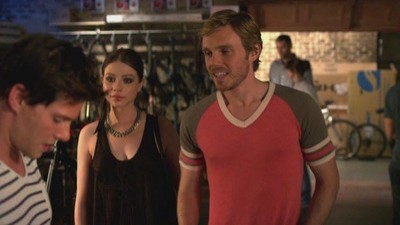 #5 - Synthetics 8.25
Season 7 - Episode 8
Nancy's former cellmate (Olga Sosnovska) shows up and complicates things between Nancy and her supplier; Silas and Andy bang heads over how to best utilize the bike shop; and Shane's internship provides him with some surprising lessons.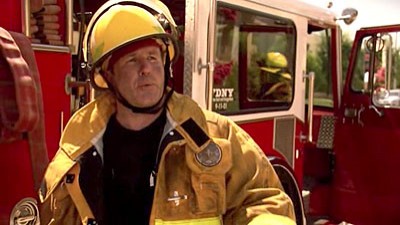 #6 - Go 8.23
Season 3 - Episode 15
As the wildfire approaches, everyone must evacuate. Nancy tells her family to pack up, while Conrad and Heylia must say goodbye to the growhouse. The authorities question Sullivan and Celia, while Shane continues to ask Nancy about Pittsburgh. As Andy deals at the evacuation center, Silas realizes the truth about Tara.
#7 - If You Work for a Living, Then Why Do You Kill Yourself Working? 8.22
Season 4 - Episode 13
The DEA brings Nancy in for questioning and then she must explain things to Esteban. Celia travels deep into Mexico to make amends with estranged daughter Quinn. Meanwhile, Silas meets Lisa's ex-husband and Doug finds a reason to live. Nancy makes a shocking revelation to Esteban.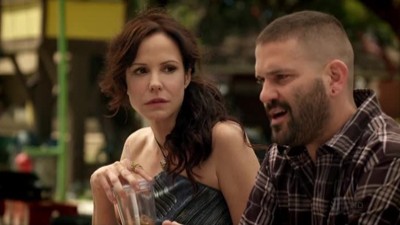 #8 - God Willing and the Creek Don't Rise 8.19
Season 8 - Episode 11
Nancy, Andy, and Silas take a trip. Shane is busted for stealing property off the impound lot. Doug gives up on his charity and decides to pursue a bigger, more lucrative scheme.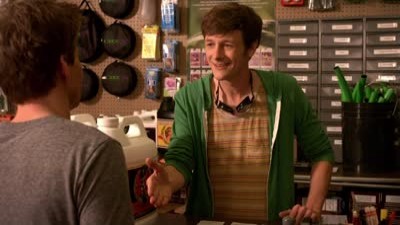 #9 - Only Judy Can Judge 8.19
Season 8 - Episode 4
Nancy plans a family dinner while tending to her pot business. Andy and Jill agree to watch over Stevie throughout the day. Silas befriends a local pot grower, while Shane invites Angela, his classmate, over for family dinner. Back at the house, Doug makes enemies with the neighbour's dog.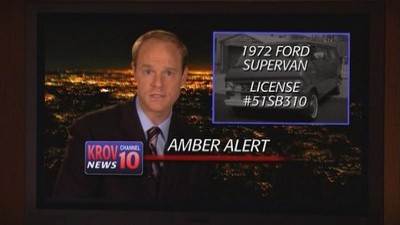 #10 - A Pool and His Money 8.18
Season 3 - Episode 2
Sanjay has a new experience. Nancy gets bruised. Conrad won't do what U-Turn wants him to. Lupita still won't follow orders. Heylia's out to handle a few things. The Amber Alert is still out on Shane. Andy gets in trouble with a couple who make him for a child molester. Silas gets to talk to Shane. Celia is still having problems with her husband and daughter. Doug begs Celia to forgive him.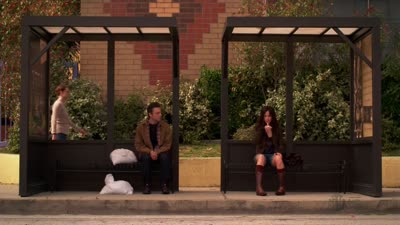 #11 - Boomerang 8.16
Season 6 - Episode 5
The Botwins' flight continues after a parking violation and Doug gets into a hostage situation.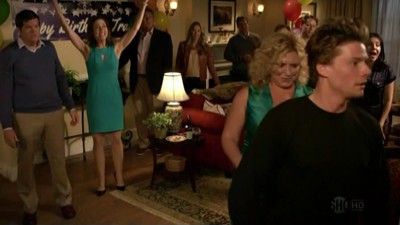 #12 - Allosaurus Crush Castle 8.16
Season 8 - Episode 6
Nancy is ready to get her life back on track, and starts anew with a job search. Jill drops a bomb on Andy and Doug. Silas must track down the location of his stolen plants. Shane uses his superior intellect to make some extra cash at the police academy.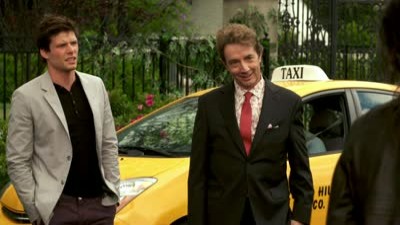 #13 - Fingers Only Meat Banquet 8.15
Season 7 - Episode 5
Silas and Nancy's lawyer assist her in getting to California as her custody battle with Jill (Jennifer Jason Leigh) heats up. Meanwhile, Andy's relationship takes an intriguing turn; Shane decides to give it the old college try and enrolls in classes; and Doug is left to fend for himself at his job on Wall Street.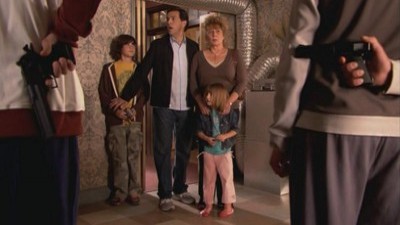 #14 - Doing the Backstroke 8.14
Season 3 - Episode 1
After being threatened by U-Turn and The Armenians, Nancy goes in search of Silas and her hijacked pot. Meanwhile, Celia has Silas arrested for stealing her "Drug Free Zone" signs. Nancy visits him in jail only to discover that the pot is still in his car - the one that Celia has just driven away in.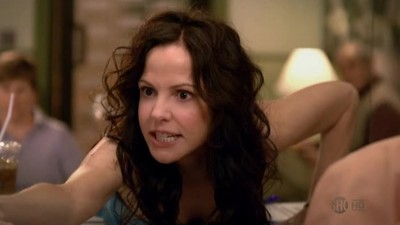 #15 - Unfreeze 8.14
Season 8 - Episode 7
Nancy and Silas start their new, legit and highly competitive jobs. After graduating from the police academy, Shane gets an assignment. Andy seeks employment at the local Jewish temple. Meanwhile, Doug's reckless spending comes to a complete halt.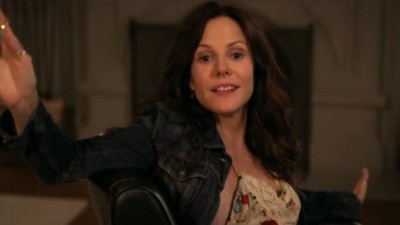 #16 - Cats! Cats! Cats! 8.13
Season 7 - Episode 9
Nancy and Andy try to put the brakes on Zoya's attempt to take over the bike shop; Silas has an encounter with some local rival dealers; and Doug must do some business with the Securities and Exchange Commission.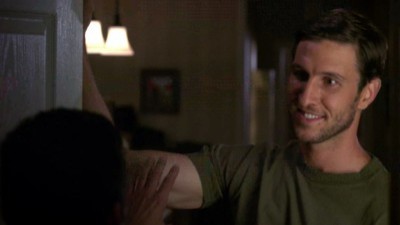 #17 - Qualitative Spatial Reasoning 8.12
Season 7 - Episode 12
Nancy and Silas face off over who controls their drug business, while Andy tries to mediate; Shane goes to lengths to win back Detective Ouellette's trust, while Doug tries to keep the SEC distracted from his hedge fund's illegal activities.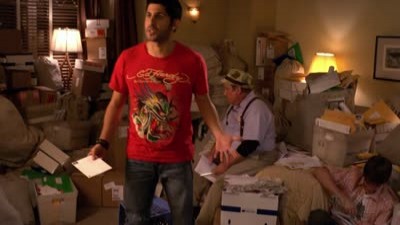 #18 - Fran Tarkenton 8.11
Season 6 - Episode 12
Nancy has a tense, one-on-one, sit-down interview with Vaughn. Andy, Shane and Warren to get more cash plus passports they'll need for the family to enter Europe. Silas continues to wrestle with the fact that Lars may be his father. Meanwhile, Doug returns to Agrestic to locate his passport.
#19 - Do Her / Don't Do Her 8.09
Season 7 - Episode 13
In the Season 7 finale, Silas turns the tables on Nancy, as Shane makes one last attempt to keep her out of harm's way and the clutches of Detective Ouellette. Meanwhile, back on Wall Street, Doug schemes to keep his hedge-fund scam alive.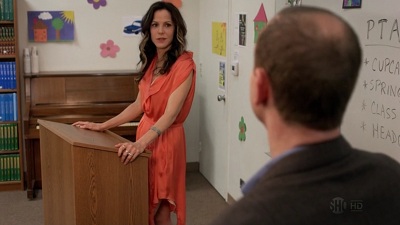 #20 - It's Time (1) 8.07
Season 8 - Episode 12
It's the Weeds one-hour series finale. The Botwins (and Doug!) are at a crossroads. How will it all end?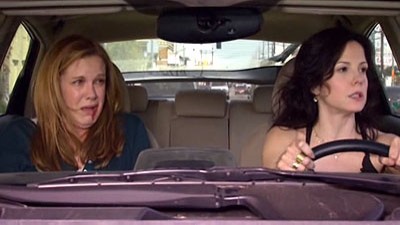 #21 - No Man is Pudding 8.06
Season 4 - Episode 5
Guillermo gives Nancy a new job and she soon finds working retail isn't as mundane as it appears on the surface. Celia's deal with Captain Till brings her dangerously close to the action. Meanwhile, having been left in the desert by Nancy, Andy finds himself with a pack of immigrants and a very unfriendly Coyote. Back at home, the boys battle an infestation of bees.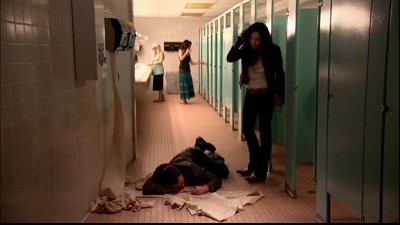 #22 - Cooking with Jesus 8.04
Season 2 - Episode 2
Nancy does her best to cope with the loss of Conrad's help, who runs into some trouble while venturing out on his own. Andy is still trying to get into rabbinical school by writing an essay on what being Jewish means to him. And Silas deals with Megan's acceptance to Princeton in his own unique way.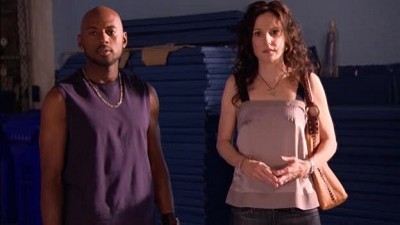 #23 - Yeah, Like Tomatoes 8.04
Season 2 - Episode 11
Peter isn't happy about the nickname "Agent Wonderbread" and he lets Nancy and Conrad know so with a convinving threat. Nancy looks to other people in the business for help. Kat's got a secret and Shane's girlfriend doesn't like her. Heylia has a plan.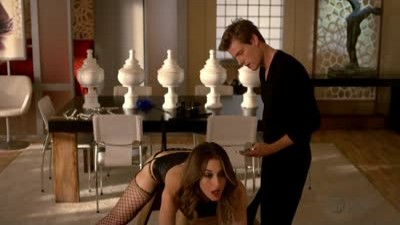 #24 - A Beam of Sunshine 8.04
Season 8 - Episode 2
Nancy recovers from her bullet wound, and makes a few friends (and enemies) during her stay at the hospital. Back at the house, a romantic Andy and Jill are interrupted by Jill's husband. Silas maintains an unconventional affair with Kiku, while Shane makes new friends at the police academy. Meanwhile, Doug and Whit are pitches new business ideas.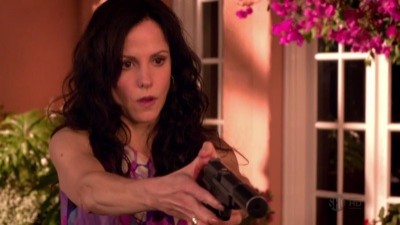 #25 - Perro Insano 8.02
Season 5 - Episode 10
With the arrival of new enemies, Shane and Silas needs Nancy's protection. Meanwhile, Andy plans his future with Audra, while Doug and Dean make a plan to put an end to Celia's marijuana business.