Leverage
#1 - The Long Goodbye Job 8.64
Season 5 - Episode 15
Nate puts everything on the line for himself and his team when he takes on a case that is connected to his son's death.
#2 - The Last Dam Job 8.58
Season 4 - Episode 18
The Leverage team must recruit old friends and rivals in order to take down Latimer and a foe from their past.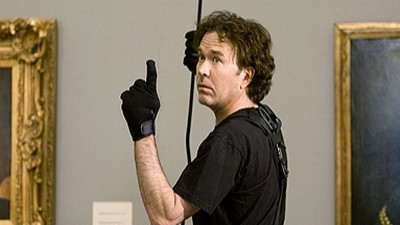 #3 - The Second David Job 8.35
Season 1 - Episode 13
Nate tries to piece together his team after coming out of hiding. However, the high stakes involved in his latest con could spell disaster for him and his friends.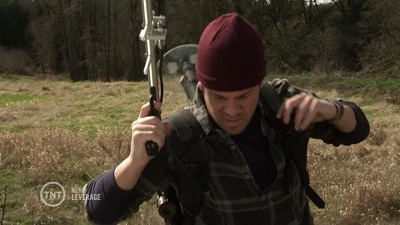 #4 - The First Contact Job 8.32
Season 5 - Episode 3
An entrepreneur, who has made his fortune by stealing his subordinates' ideas, must be convinced by the team that he has made contact with aliens.
#5 - The Experimental Job 8.30
Season 4 - Episode 11
When homeless veterans in the Boston area begin disappearing, the team must go back to college and infiltrate the world of Skull & Bones secret societies
#6 - The Grave Danger Job 8.29
Season 4 - Episode 7
The LEVERAGE crew aims their sights on a charming funeral director who embezzles money from her grieving mourners, then discovers she is also selling the identities of the recently deceased to a deadly Mexican drug cartel.
#7 - The San Lorenzo Job 8.28
Season 3 - Episode 16
After following Moreau to San Lorenzo, the team discovers that he is chief advisor to the current President.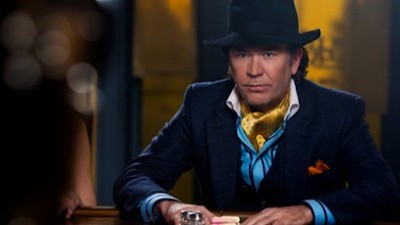 #8 - The Boiler Room Job 8.27
Season 4 - Episode 8
When the LEVERAGE team goes up against a conman from a long lineage of greats, they must pull off the biggest con of their careers.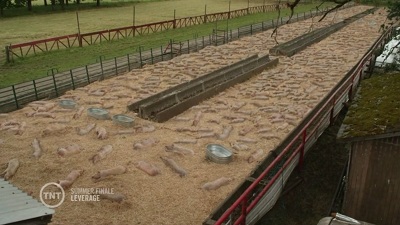 #9 - The Rundown Job 8.25
Season 5 - Episode 9
After finishing a job in Washington with Parker and Hardison, Eliot gets a call from an old employer that leads him to deduce that a terror attack is imminent. Only the three of them, with the help of an old Army colleague of Eliot's, can stop it.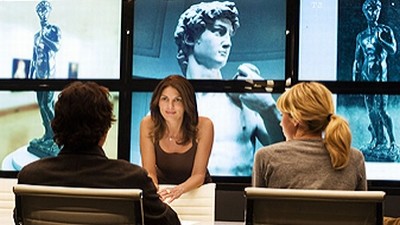 #10 - The First David Job 8.25
Season 1 - Episode 12
The team puts together a plan to steal Nate's former boss's prized Michelangelo Maquette and sell it back to him.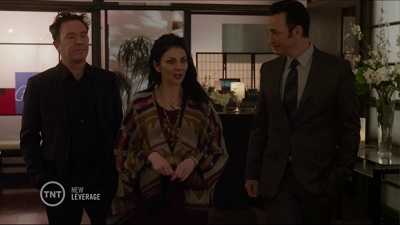 #11 - The French Connection Job 8.24
Season 5 - Episode 4
The team infiltrates a cooking school run by an old friend of Eliot's and whose owner is involved in smuggling truffles; Parker looks for passion in the arts.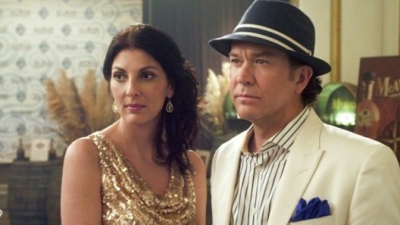 #12 - The Lonely Hearts Job 8.24
Season 4 - Episode 15
While searching for a philanthropist's missing wife, the team comes up against a grifter ring running a web of sophisticated "Sweetheart Scams". Now, Nate must learn how to steal hearts… or risk losing Sophie's for good.
#13 - The Ho, Ho, Ho Job 8.24
Season 3 - Episode 14
The team takes over a mall on Christmas Eve and uncovers a scheme perpetrated by an old nemesis; Eliot goes undercover as Santa Claus; Parker and Hardison are Santa's helpers.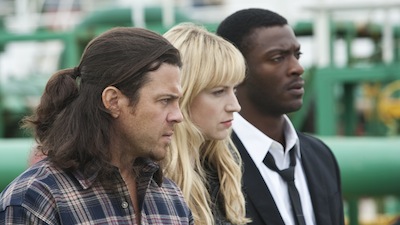 #14 - The Maltese Falcon Job 8.23
Season 2 - Episode 15
Surrounded by FBI, the team decides to hide in plain sight, while continuing to take down the corrupt mayor and his gunrunning partner. Little do they suspect that Nate has a different endgame in mind for them all.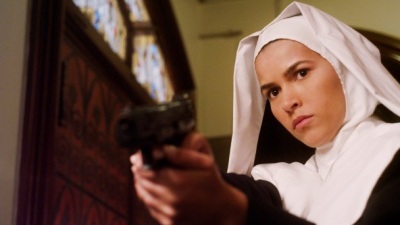 #15 - The Boys' Night Out Job 8.23
Season 4 - Episode 14
Nate, Eliot and Hardison are forced to intervene when Hurley returns, embroiled with the best of intentions in a three-way drug deal.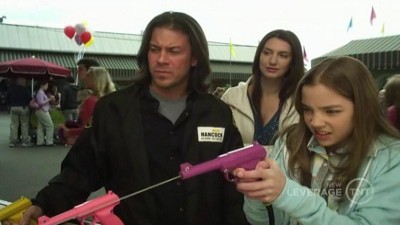 #16 - The Carnival Job 8.22
Season 4 - Episode 6
The LEVERAGE team infiltrates a high-tech home to steal a revolutionary computer chip, only to have the family's child abducted from a carnival during the heist.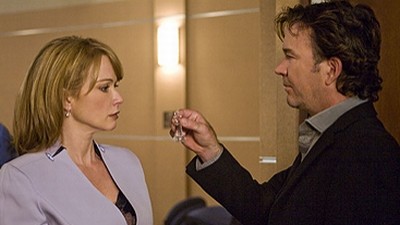 #17 - The Juror #6 Job 8.21
Season 1 - Episode 11
While at jury duty, Parker learns someone is trying to sway the trial's verdict.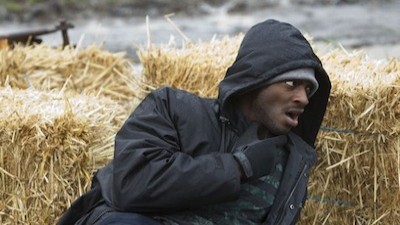 #18 - The Hot Potato Job 8.20
Season 4 - Episode 5
The LEVERAGE team infiltrates the corrupt world of corporate agriculture to recover a stolen object worth millions: a one-of-a-kind potato.
#19 - The Future Job 8.20
Season 2 - Episode 13
The team goes after a con man masquerading as a psychic medium in order to drain the life savings of his bereaved clients.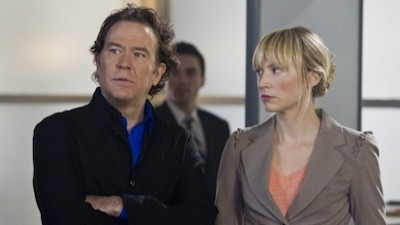 #20 - The Van Gogh Job 8.19
Season 4 - Episode 4
On the trail of a lost Van Gogh, the team learns the painting was the center of a World War II love story between a black soldier and the white heiress he was forced to leave behind.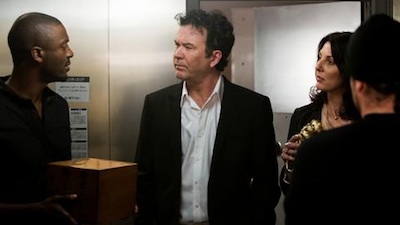 #21 - The Broken Wing Job 8.19
Season 5 - Episode 8
While nursing an injury, Parker comes across the planning of a crime and must recruit a reluctant waitress (Aarti Mann) to aid her in figuring out the plot. Meanwhile the rest of the team is in Japan on another job.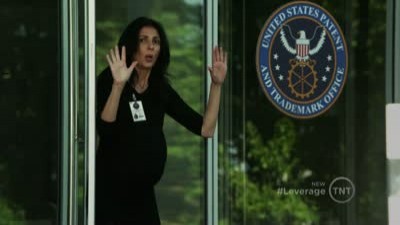 #22 - The Radio Job 8.17
Season 4 - Episode 17
When Latimer hires Nate's father to pull off a heist in an ultra-secure government office, the Leverage team must stage a fake hostage stand-off when they're trapped inside and the feds lay siege to the building.
#23 - The Big Bang Job 8.17
Season 3 - Episode 15
The team infiltrates a government research lab to stop Damien Moreau from auctioning information to international terrorists.
#24 - The Queen's Gambit Job 8.17
Season 4 - Episode 10
Jim Sterling asks Nate for help taking down a researcher who has designed a nuclear weight that will allow a terrorist nation to manufacture enriched uranium. However, it soon becomes clear that the Interpol agent has an ulterior motive, one which isolates Nate, gets Sophie arrested, and takes Eliot out of commission.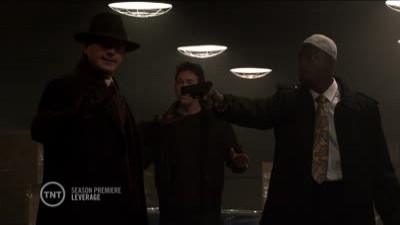 #25 - The (Very) Big Bird Job 8.15
Season 5 - Episode 1
As the team adjusts to their new home of Portland, Oregon, they take on the case of a corrupt airline executive who has a strong obsession with Howard Hughes and his Spruce Goose, which is now on exhibit in a museum.