Saved by the Bell
#1 - Dancing to the Maxx 7.60
Season 1 - Episode 1
A dance contest is hosted by famed Casey Kasem and held at the Max. Zack and Slater both try to obtain Kelly as a dance partner but Slater wins the honor. Zack goes with Jessie. Lisa has someone all lined up for the dance as well, but when she sprains her ankle he backs out. Screech agrees to dance with her in the contest even still. Screech and Lisa win the contest with a new dance known as the "sprain."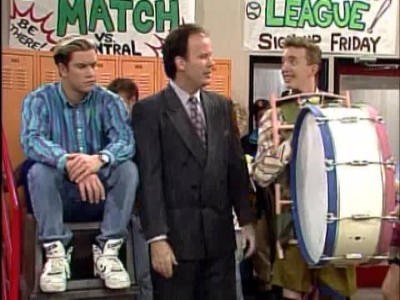 #2 - School Song
Season 4 - Episode 24
The school song needs changing, and the gang decide to write a new song. But Zack gets all of them to compete against one another. Then they find out what's going on and gets him back by sabotaging his likely-to-win song.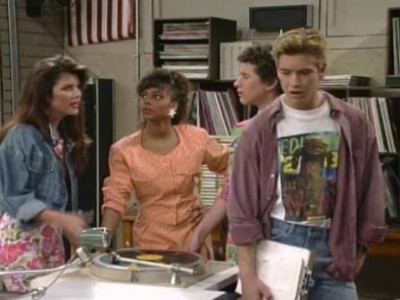 #3 - Save the Max
Season 2 - Episode 3
Zack and Screech discover that Bayside once had a radio station called KTTY. They convince Belding to put it back on the air. Meanwhile, Max is in trouble of losing his business.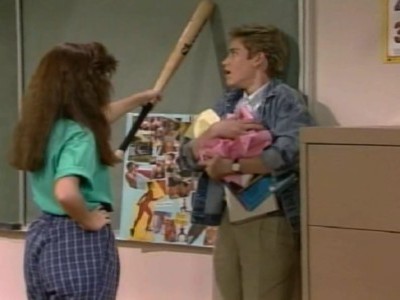 #4 - Fatal Distraction
Season 1 - Episode 4
Kelly has to choose between Zack and Slater to go to a big dance Bayside is having. Zack wants to make sure that he is Kelly's choice. In order to do that, he places a microphone in Jessie's room before her slumber party, which Kelly will be attending. Soon, Jessie discovers the microphone and Kelly comes up with a plan to play a trick on Zack, making him believe that she is a very dangerous soul.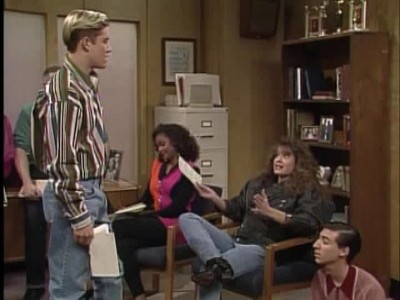 #5 - The New Girl
Season 4 - Episode 4
Transfer student Tori is introduced in this episode, but Zack and Tori don't hit it off, and they are paired up for an ad project. Lisa alienates the Dance Committee before the Fall Ball.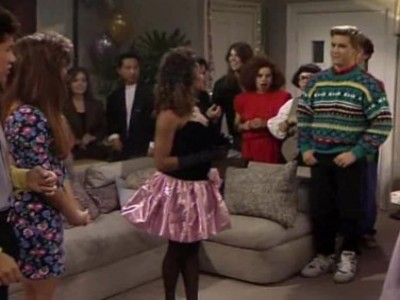 #6 - The Aftermath
Season 3 - Episode 3
Zack seeks revenge after catching Jeff and Kelly so he decides to get even by making her jealous.
#7 - House Party
Season 2 - Episode 5
Screech's parents leave for Graceland. While they are gone the gang accidentally breaks his mother's Elvis statue. With only a little money, they decide to hold a party to get a new statue before his mother finds out.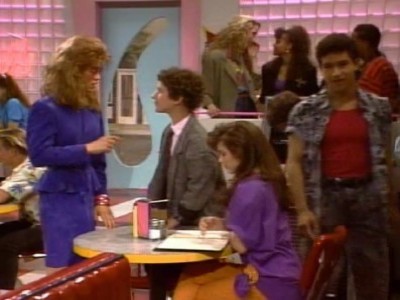 #8 - Screech's Woman
Season 1 - Episode 5
Zach tries desperately to find Screech a woman so that he will concentrate on their science project but keeps on failing. Zack then comes up with the brilliant idea of posing as a woman over the phone to Screech. Brilliant that is, until Screech wants to meet his mystery woman and things get a little bit out of hand.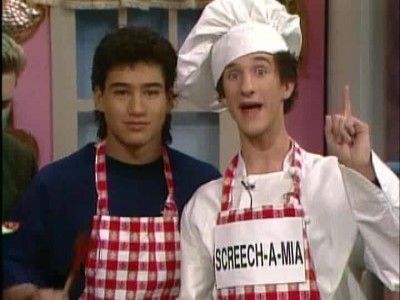 #9 - Screech's Spaghetti Sauce
Season 4 - Episode 3
During a project for TV ads, Screech comes up with a new flavor of sauce, but the gang might go out of business when Screech becomes the target of a snobbish girl.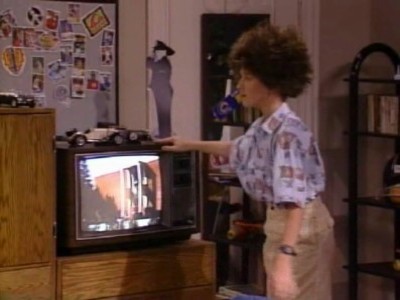 #10 - The Gift 7.88
Season 1 - Episode 3
Screech is struck by lightning in a freak accident. As a result, Screech can see into the future. Zack and Slater begin to bet on things in the future; Zack uses Screech's ability to see into the future to give him the edge in the bets. Screech tries to predict the questions to a school test but proves unsuccessful in this endeavor.
#11 - The Game
Season 3 - Episode 4
Zack bets Carosi that if he wins a volley ball game, Zack can buy Carosi's car. But Zack's team seems to be short handed when the star player is injured.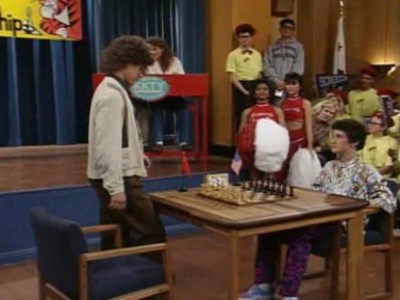 #12 - Check Your Mate
Season 3 - Episode 7
It's the annual chess competition between Valley and Bayside. Screech is the head champion but Valley decides to get some dirt on Screech.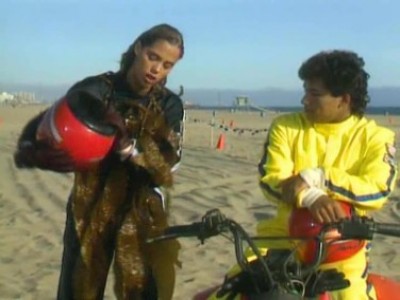 #13 - My Boyfriend's Back
Season 3 - Episode 8
It's the annual ATV race. Zack and the gang are entering it. Zack feels inferior when Stacey's ex-boyfriend shows up at the beach resort.
#14 - The Substitute
Season 1 - Episode 7
Ms. Simpson injures her back. A substitute teacher comes and all the girls including Lisa, Jessie and Kelly fall for the him.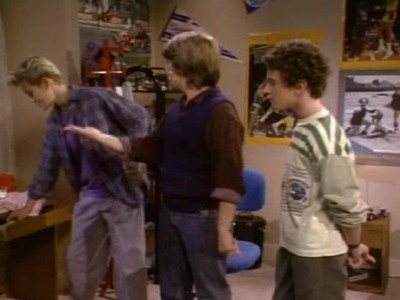 #15 - Cream for a Day 7.86
Season 1 - Episode 8
The homecoming prom is coming up and Kelly is nominated to be crowned home coming queen, but she refuses to go out in public after discovering that she has a pimple. Zach and Screech accidentally create a zit removal cream only to find out that it has some very unusual side effects.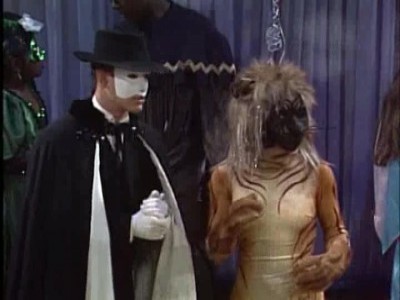 #16 - Masquerade Ball
Season 4 - Episode 7
Zack and Slater bet on who can kiss Tori first, and their best chance will come at a masquerade ball. Lisa has a secret admirer, Screech, but she thinks it's Zack.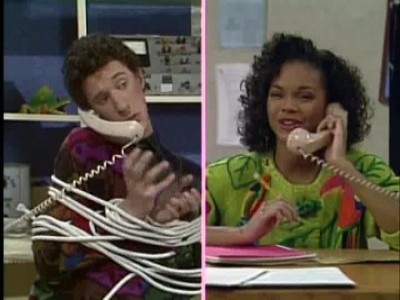 #17 - Teen-Line
Season 4 - Episode 6
Zack participates in a Bayside's teen hot-line, and becomes close to a disabled girl. Meanwhile, Screech takes on a rambunctious boy.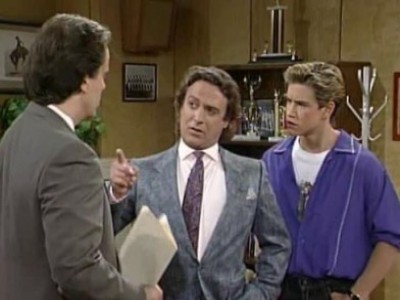 #18 - Rent-A-Pop 7.82
Season 2 - Episode 7
The gang decides to hold a carnival to raise money for a ski trip. Zack has been failing so Belding calls a meeting for Zack and his dad. Zack hires an actor so that Belding won't be able to call on his dad again.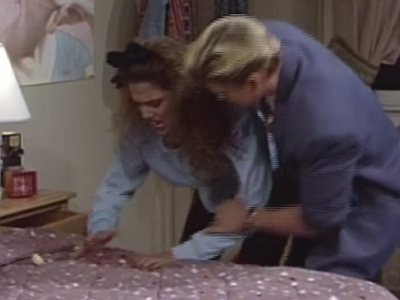 #19 - Jessie's Song
Season 2 - Episode 9
Jessie is under pressure with midterms and her own singing group so she turns to caffeine pills, ignoring Slater's warning that the pills are hazardous to her health.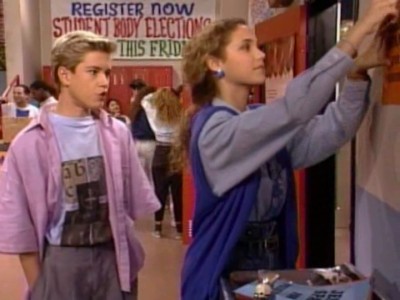 #20 - The Election
Season 1 - Episode 13
Zack and Jessie are both running for class president. Zack decides to run only because he found out the winner of the election gets a trip to Washington D.C. Slater overhears Zack telling Screech about this, so Slater tells Mr. Belding about it. Mr. Belding tells Zack the trip was canceled--and that the only way Zack can prove he wasn't running just to get the trip is to stay in the election. Zack was ahead, but now he tries to lose. In the end he wins anyway, but Jessie is so upset that he confesses to her and promises to tell Mr. Belding the truth and resign the presidency in favor of Jessie.
#21 - The Last Weekend
Season 3 - Episode 12
It's the last day at the beach resort. Zack and Stacy are hoping to have one last time together, but Karosi doesn't approve of their romance. Meanwhile a secret admirer is sending Slater some love letters.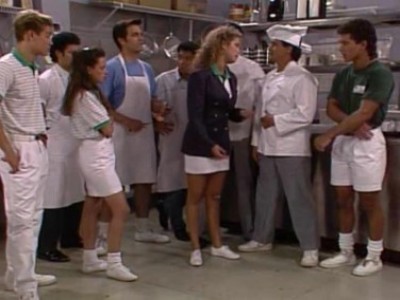 #22 - Boss Lady
Season 3 - Episode 10
Stacey is left in charge when her father is away. Everyone is pitching in to help her, but gold fever hits the beach, someone accidentally booked two parties at the same time, and the chefs decide to quit.
#23 - The Lisa Card
Season 1 - Episode 2
Because of her good grades, Lisa's dad gives her a credit card; but she goes overboard and her payment is due so she must find a way to earn some money.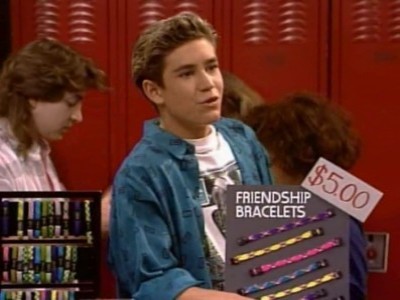 #24 - The Friendship Business
Season 1 - Episode 11
For a class project, the gang comes up with an invention that might go into business called friendship. However when Zach's selfish attitude gets in the way, the gang starts competing against him.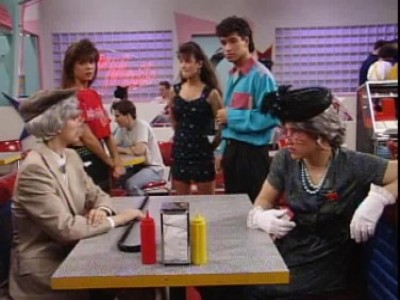 #25 - Love Machine
Season 4 - Episode 11
Slater's ex-girlfriend comes to Bayside and Screech's love machine shows that her and Slater still have feelings for each other, much to the annoyance of Jessie.