NewsRadio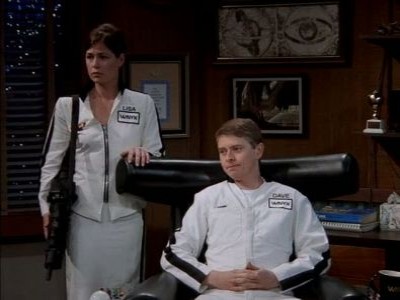 #1 - Space 8.65
Season 3 - Episode 24
NewsRadio in Outer Space. The year is 2228, humankind is nearly extinct and those who remain are constantly on the run from killer robots. Matthew dates an android. Dave and Lisa discuss moving in together after 93 years dating. Joe, after living in suspended animation for 83 years, tries to fix the life support system.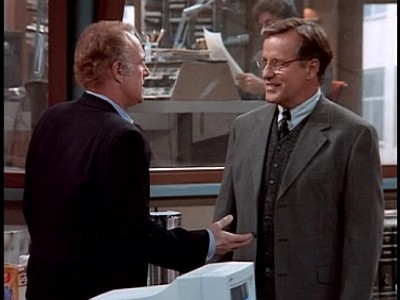 #2 - Movie Star 8.52
Season 3 - Episode 8
James Caan visits WNYX to study Bill and prepare for an upcoming film role, but gets distracted and ultimately enthralled by a nervous Matthew. Dave decides to buy a television for Lisa, revealing his passion for Green Acres. Jimmy takes Beth and Catherine to a Knicks game.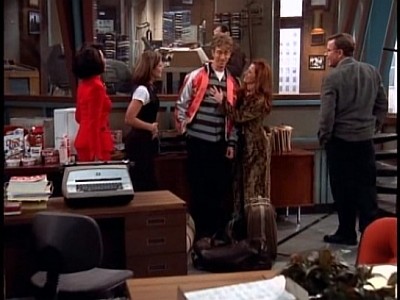 #3 - Stocks 8.50
Season 3 - Episode 9
Matthew returns from a Japanese vacation bearing gifts, including a katana for Dave. Mr. James teaches Beth the intricacies of the stock market.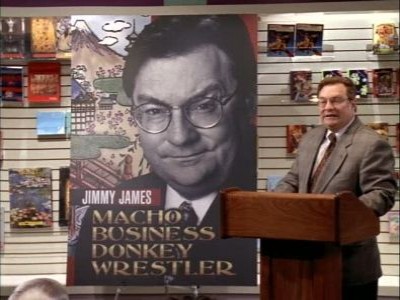 #4 - Super Karate Monkey Death Car 8.47
Season 4 - Episode 4
Andrea forces the staff to take lie detector tests. Lisa fears she will not pass the test due to her extensive criminal past. Jimmy has his book, which failed in the U.S., translated into Japanese then back into English.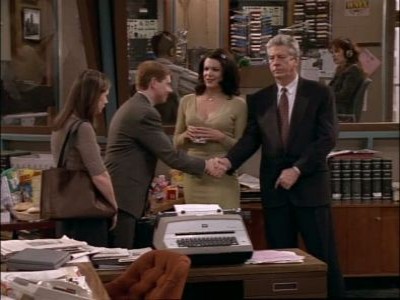 #5 - The Public Domain 8.47
Season 4 - Episode 3
Dave tries to get Matthew rehired amidst chaos. Andrea hires a man to share Dave's Job, Jimmy brings a camera crew into the office to film a documentary, and Bill prepares for a new career as a singing political satirist a la Mark Russell.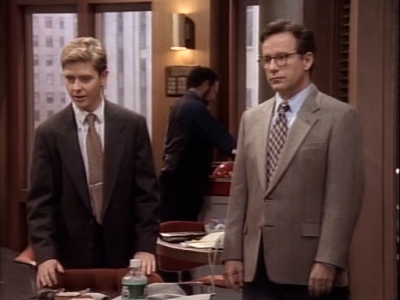 #6 - The Crisis 8.42
Season 1 - Episode 4
Dave's first news crisis is compounded when everyone learns he bought Matthew a new desk.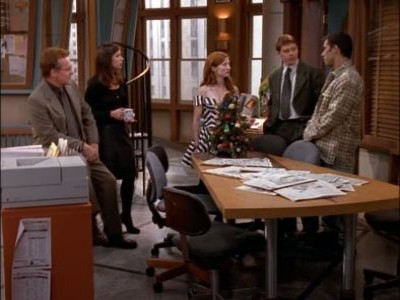 #7 - Stupid Holiday Charity Talent Show 8.33
Season 4 - Episode 8
Dave unveils a previously hidden talent to compete in a charity talent show. If a WNYX staff member wins, Mr. James will re-hire Matthew in this incredibly hilarious episode.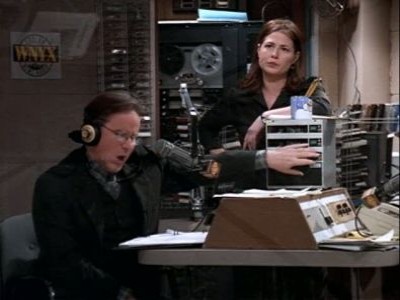 #8 - The Real Deal 8.31
Season 3 - Episode 22
When Bill and producer Lisa's new show 'The Real Deal' is on the verge of cancellation, they do everything in their power to recruit Jerry Seinfeld to appear. Matthew reveals that he's never gone 'all the way' before.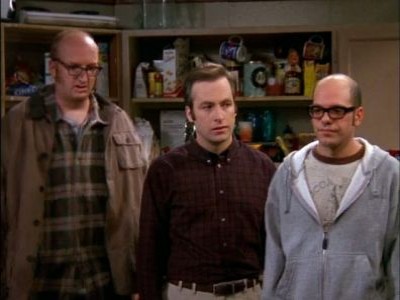 #9 - Chock 8.29
Season 4 - Episode 11
Dave finds it hard to say no when his old college a cappella singing group 'Chock Full o' Notes' reunites for Dave's 32nd birthday, hoping to take the pop charts by storm. Meanwhile, Lisa tries to motivate Matthew without reducing him to tears. Joe has a beef with one of Dave's friends.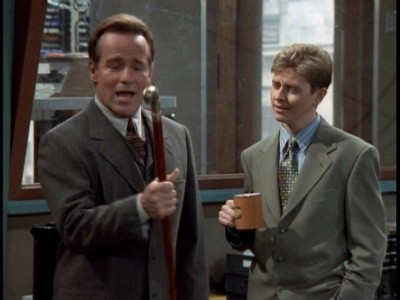 #10 - The Cane 8.29
Season 2 - Episode 9
Bill's new cane, which he carries for no particular reason, annoys Dave. After it's stolen, Dave is the target of Bill's wrath. Jimmy's all-night office brainstorms stokes Dave and Lisa's competitive fires. Matthew and Joe get on each other's nerves.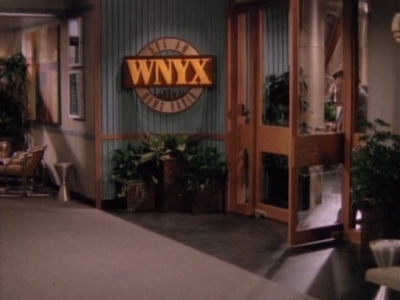 #11 - Pilot 8.29
Season 1 - Episode 1
On his first day as WNYX's news director, Dave finds that he must fire his predecessor.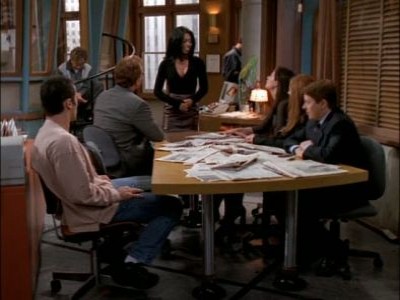 #12 - Catherine Moves On 8.29
Season 4 - Episode 7
Each staffer offers up a very different version of events of the day Catherine announces she's leaving WNYX. Joe realizes that Catherine's always yearned for him.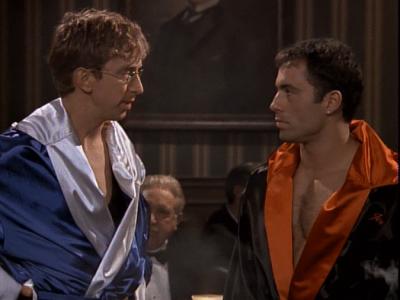 #13 - 4:20 8.27
Season 4 - Episode 20
Joe fights Matthew in a no-holds-barred match at Mr. James' men's club smoker. Bill is extremely worried that Walt will ask Lisa on a date. We learn Dave's technique for getting rid of an unwanted visitor; act insane.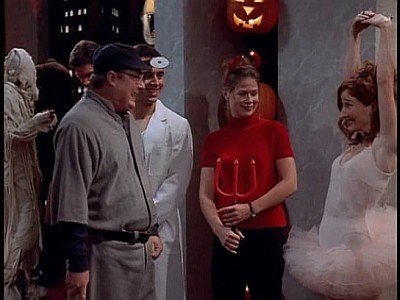 #14 - Halloween 8.24
Season 3 - Episode 5
Mr. James requests that the reticent staffers wear costumes to his Halloween party. Lisa convinces everyone to dress up by promising that Dave will wear the most outlandish costume ever. A psychic tells Bill the exact date of his death..36 years in the future.
#15 - Smoking 8.23
Season 1 - Episode 3
To get Bill to comply with a new no-smoking ordinance, Dave agrees to give up drinking coffee.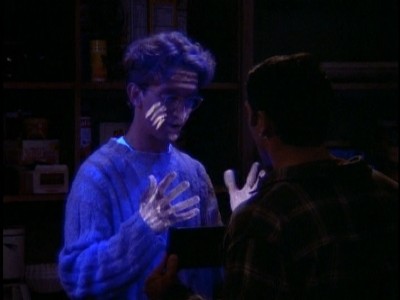 #16 - No, This is Not Based Entirely on Julie's Life 8.21
Season 2 - Episode 1
Beth takes erotic photographs or herself to energize her relationship with her boyfriend. Joe booby traps the refrigerator when someone continually steals his daily gelato.
#17 - Sweeps Week 8.21
Season 1 - Episode 7
The unexpected arrival of his old girlfriend puts Dave in a delicate spot.
#18 - Jumper 8.20
Season 4 - Episode 1
Bill tries to get an exclusive on-air story when a suicidal man is perched outside Dave's window.
#19 - Inappropriate 8.19
Season 1 - Episode 2
An affair jeopardizes Dave's working relationship with Lisa.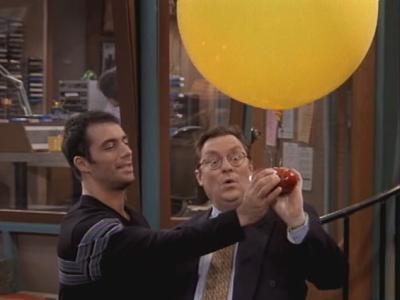 #20 - Balloon 8.17
Season 4 - Episode 17
Jimmy plans to go around the world in a hot air balloon, until Dave finds that he is full of ""hot air"". Meanwhile, Bill switches from cigarettes to chewing tobacco.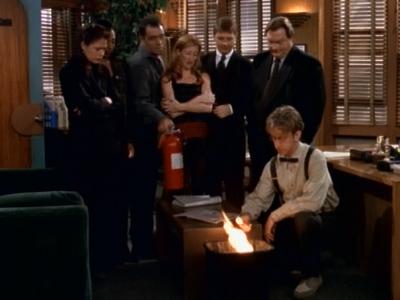 #21 - Bill Moves On 8.15
Season 5 - Episode 1
The news crew copes with the loss of their good friend, Bill, after he dies of a heart attack.
#22 - The Song Remains the Same 8.15
Season 2 - Episode 14
Mr. James disrupts the office with his early April Fools' Day practical jokes. Bill is interviewed by a Wall Street Journal reporter. Lisa and Matthew compete for the right to cover the New Hampshire primary.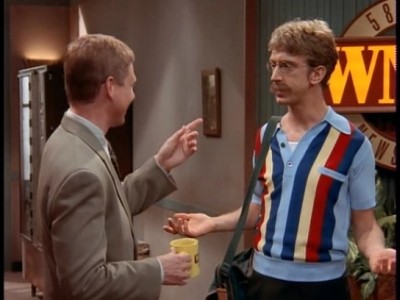 #23 - President 8.15
Season 3 - Episode 1
Mr. James decides to run for President of the United States while Lisa declares to expose all of his secrets. Matthew grows a 70's style moustache to ""get chicks"".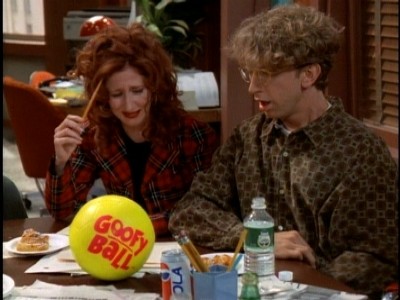 #24 - Goofy Ball 8.15
Season 2 - Episode 2
Jimmy gives Beth and Matthew a new product, a 'goofy ball', to test. Lisa decides it's time to tell Mr. James about her fling with Dave. Bill buys a stun gun from Joe when he fears he's being stalked.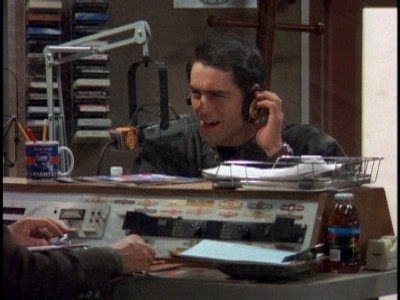 #25 - Houses of the Holy 8.14
Season 2 - Episode 16
Joe does an admirable job filling in for an ill Catherine, much to Bill's dismay. Beth dates Mr. James' nephew who is a depressed motivational speaker, in a form of a magician.