Looney Tunes
#1 - Wise Quackers
Season 1949 - Episode 1
Daffy, the "little black duck", falls from the sky onto Elmer Fudd's farm, and rather than be shot, he begs Elmer to accept him as a personal slave. After torturing Elmer with his type of kindness, slave Daffy puts a whip in Elmer's hands, then instantly dresses like Abraham Lincoln to scold Elmer for "whipping slaves".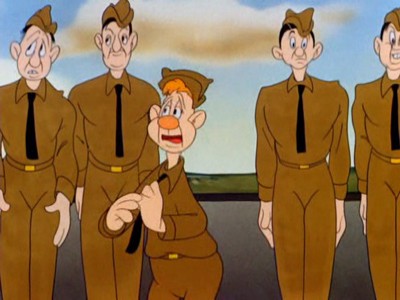 #2 - Rookie Revue
Season 1941 - Episode 35
Random gags around military life, set on an army base. A bugler uses a jukebox to play reveille. In formation, one private has a great deal of trouble remembering what comes after "3"; after he gets it, he decides not to go for the $32 question. In the mess hall, the machine gunners machine gun their food while the bombers catch falling biscuits. The infantry marches for miles - past a "next time, take the train" billboard. The camouflage troops march by, invisibly. We see training substitutes: wooden guns, cars marked "tank" and, alas, a banner marked "parachute" deployed in mid-jump. More training: aerial games (of tic-tac-toe). The anti-aircraft division has target practice, on an aerial shooting gallery. Finally, in an elaborate process, a general provides firing instructions to a big gun; when it hits his own building, he says, "I'm a baaad general."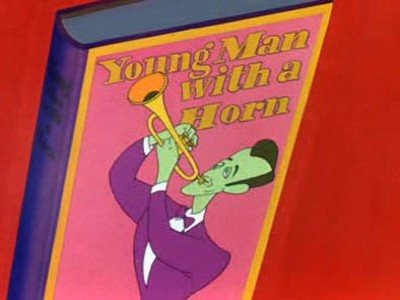 #3 - Book Revue
Season 1946 - Episode 1
The ultimate Warner Brothers "books come to life" cartoon. Parodies and caricatures of Harry James, Frank Sinatra, Benny Goodman, Tommy Dorsey, Gene Krupa, Jimmy Durante and, in a wild take-off on Danny Kaye, Daffy launches into a Russian-accented version of "Carolina in the Morning," then scat-sings his way through the tale of "Red Riding Hood" with Margaret O'Brien as Red.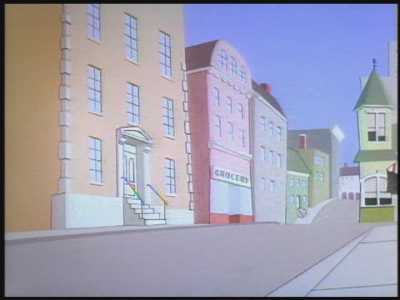 #4 - Dog Pounded
Season 1954 - Episode 1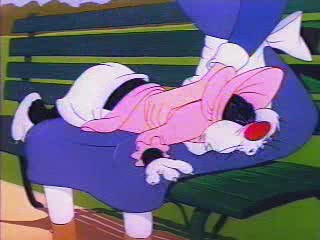 #5 - Home Tweet Home
Season 1950 - Episode 1
#6 - Don't Give Up the Sheep
Season 1953 - Episode 1
In this matchup of wolf and sheepdog, the sheepdog is identified as Ralph, and the wolf isn't named and doesn't punch the clock. The sheepdog is also not as good at anticipating the wolf's moves. But the wolf is, ultimately, no more successful; his Acme wildcat turns on him; his Tarzan-like vine swinging gets him only the sheepdog, no sheep, and the subsequent war of cutting down tree limbs, the tree, and ultimately the cliff where the tree grows, is done in by cartoon physics. Ultimately, he tries posing as Fred, the night shift dog, with no success.
#7 - Gorilla My Dreams
Season 1948 - Episode 1
Bugs ends up in a land of ferocious apes. Mistaken for a baby, a female gorilla takes Bugs into her care. The male gorilla, however, hates having kids.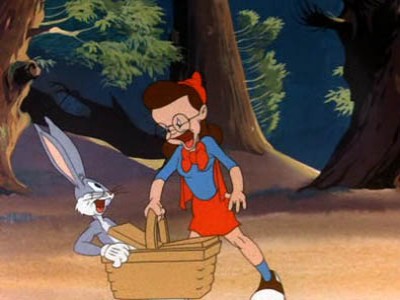 #8 - Little Red Riding Rabbit
Season 1944 - Episode 1
A tom-boyish little red riding hood takes Bugs (that's tucked away in her picnic basket) home to Grandma. Once she gets there, she finds out that a wolf is hiding in the bed, in place of Grandma, and wants to eat the rabbit she's carrying.
#9 - Box Office Bunny
Season 1991 - Episode 1
#10 - Wet Hare
Season 1962 - Episode 1
#11 - Hare We Go
Season 1951 - Episode 1
#12 - Baton Bunny
Season 1959 - Episode 1
Bugs is getting ready to conduct an orchestra fancily. When he finishes getting ready, he starts to conduct. However, a fly comes around and lands on his nose while he is conducting. When it flies off, Bugs gets aggravated and tries to kill the fly. Before he does, he bows to the crowd. But there is no crowd except for the fly, who is clapping. Bugs bows to the fly and the episode ends.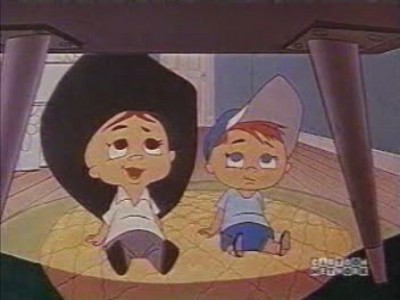 #13 - Zip Zip Hooray!
Season 1965 - Episode 1
Wile E. Coyote suspends his chase with the Road Runner to explain to two young boys watching him on TV why he wants to catch the speedy bird.
#14 - The Astroduck
Season 1966 - Episode 1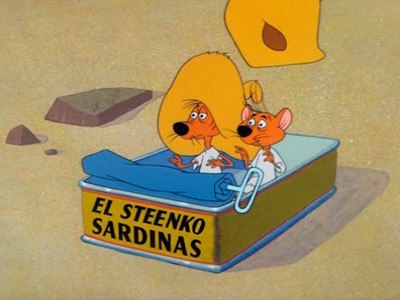 #15 - Cannery Woe
Season 1961 - Episode 1
Speedy Gonzales is summoned to help supply cheese for a Mexican mouse festival, and he makes repeated raids on a cheese store guarded by Sylvester Cat, whose attempts to stop Speedy become extreme.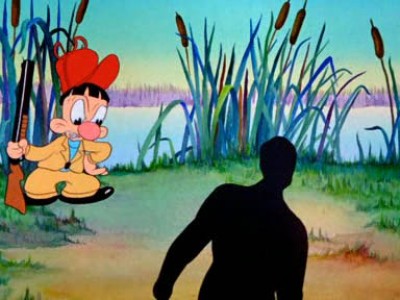 #16 - Daffy Duck & Egghead
Season 1938 - Episode 1
A very early appearance of a barely recognisable Daffy Duck, seen here tormenting Egghead, a prototype Elmer Fudd who is just as unsuccessful with ducks as he was later to be with a certain wascally wabbit.
#17 - Hocus Pocus Powwow
Season 1968 - Episode 1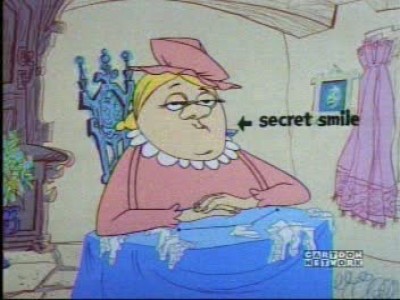 #18 - I was a Teenage Thumb
Season 1963 - Episode 1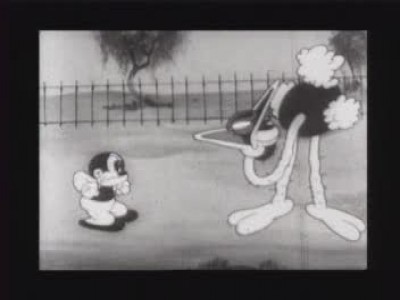 #19 - Bosko at the Zoo
Season 1932 - Episode 1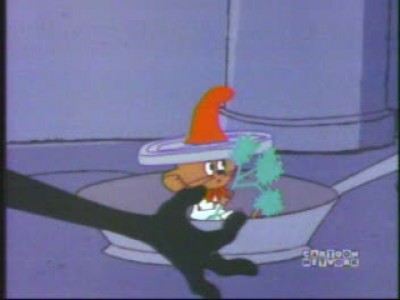 #20 - Daffy's Diner
Season 1967 - Episode 1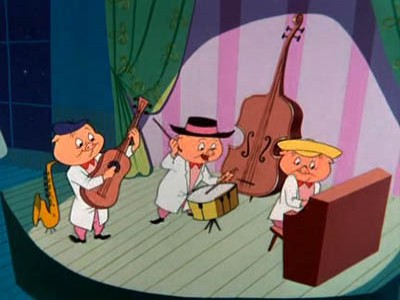 #21 - Three Little Bops
Season 1957 - Episode 1
Three hip, Little Pigs are travelling entertainers, moving from straw to wood, to brick nightclubs, playing swinging tunes for high-class, "with it" crowds, but an uncool Big Bad Wolf keeps intruding on their act with with his "corny horn" and uses it to blow their nightclubs down when they throw him out- until they are playing in their brick club and the Wolf tries a more drastic, explosive method for destroying the "House of Bricks".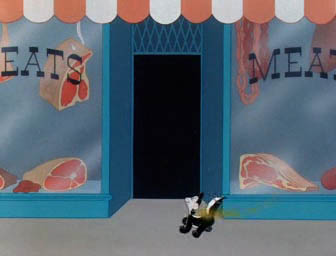 #22 - Odor-Able Kitty
Season 1945 - Episode 1
A cat, fed up with abuse from dogs, disguises himself as a skunk, but this attracts the amorous attentions of a real skunk. First appearance of Pepe Le Pew, though here he's named "Henry".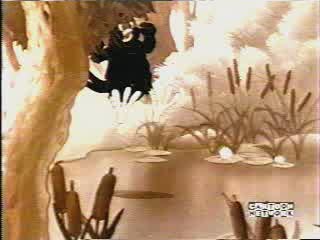 #23 - Hop Skip and a Chump
Season 1942 - Episode 1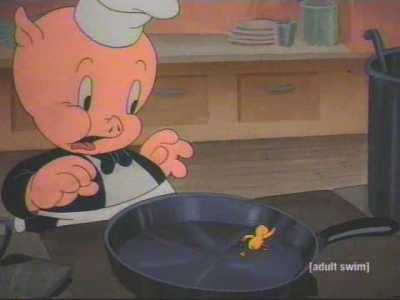 #24 - Porky's Last Stand
Season 1940 - Episode 1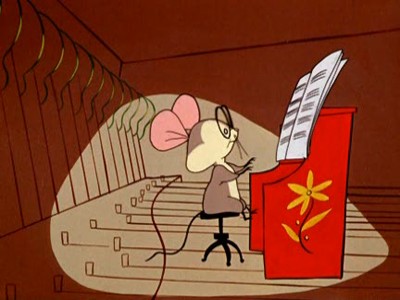 #25 - Pizzicato Pussycat
Season 1955 - Episode 1
Mr. and Mrs. Jones hear a piano being played in their living room. They automatically assume it is their cat who is making the music, when in fact, the talented one is a mouse whom the cat has forced into being his stooge to make him famous. The cat is showered with media attention and set to play at Carnegie Hall, where he hopes nobody will notice that he is pantomiming the movements with the keys while the mouse is playing his miniature piano inside the full-scale model.