Darkwing Duck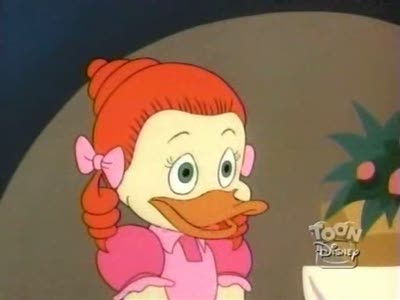 #1 - Slaves to Fashion
Season 2 - Episode 5
Under Binkie Muddlefoot's advice, Drake decides Gosalyn should act more like a ""lady"". Meanwhile, Tuskernini has developed a spray that makes people act the way they are dressed and targets the rich citizens attending the school masquerade party.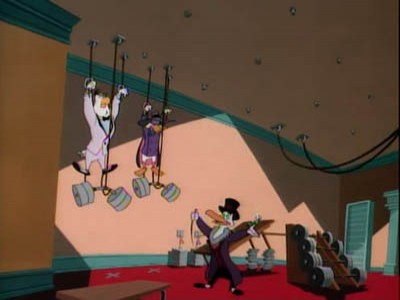 #2 - In Like Blunt 9.40
Season 1 - Episode 50
A nefarious criminal from the past returns, to profit by auctioning of all a complete list of S.H.U.S.H.'s secret agents. J. Gander teams up Darkwing with the legendary Derek Blunt to intercept the documents before they fall into the wrong hands.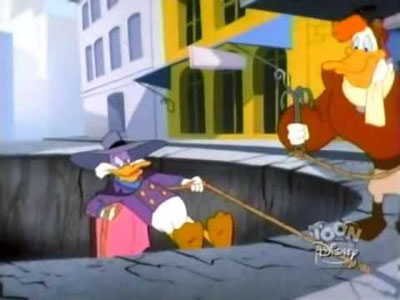 #3 - That Sinking Feeling 9.14
Season 2 - Episode 1
Moleiarty, the fiendish genius marketer and mole from the deep underground, has rallied his fellow race for an attack to take over the surface city of St. Canard. Stealing buildings, he creates a beam to lock the moon in an eternal eclipse, to plunge everything in darkness.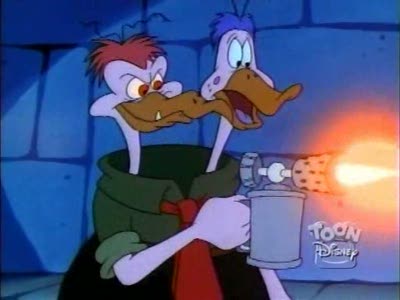 #4 - Monsters R Us
Season 3 - Episode 1
Darkwing visits Morgana's parent's house and meets her family, who are upset to find out that she is dating a normal. Will Darkwing survive his visit with the McCawber family?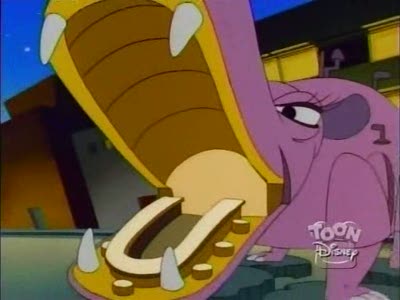 #5 - Bad Luck Duck
Season 1 - Episode 65
Darkwing Duck is accused of stealing a tribes jewel and the leader puts a curse on him. Now they have to get it back from Negabuck and sop him from using it.But where is the leader to get the curse off?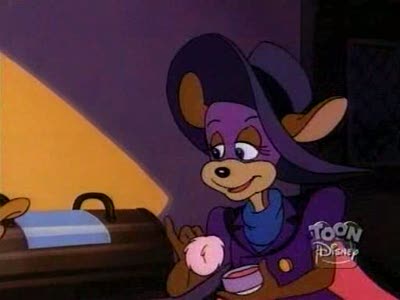 #6 - The Darkwing Squad
Season 1 - Episode 54
J. Gander asks DW to train some of Shush's agents. That does not go over well with Agent Grizzlicoff, who joins F.O.W.L. as a double agent. Steelbeak sets a trap for the newly titled ""Darkwing Squad"" while Grizzli faces off against Darkwing.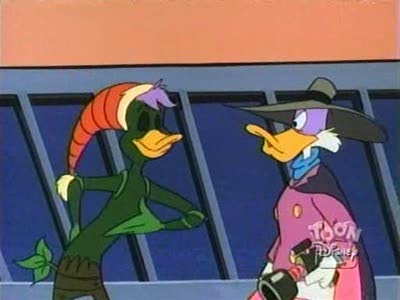 #7 - It's a Wonderful Leaf
Season 1 - Episode 41
A crowd of pushy holiday shopppers rub Bushroot the wrong way. He decides to ruin Christmas by taking control of all of St. Canard's Christmas trees.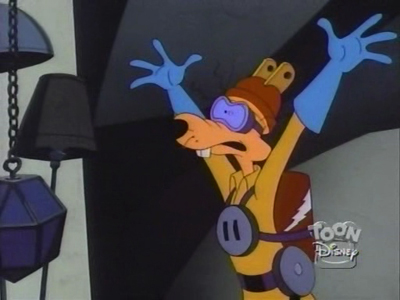 #8 - Duck Blind
Season 1 - Episode 8
Darkwing falls afoul of Megavolt and comes out blind. Undaunted, DW tries to keep going using a few inventive gadgets, but Gosalyn, Honker and Lauchpad almost get killed because of him. Sunk in a black funk, Gosalyn and the gang plan to nab Megavolt themselves, but get caught by Megavolt instead.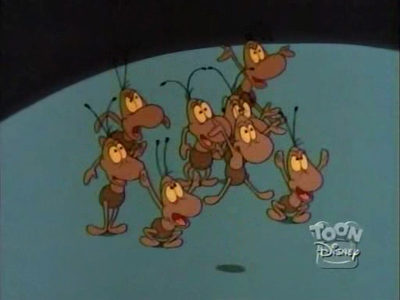 #9 - Getting Antsy
Season 1 - Episode 4
The owner of the local mini-golf, Lilliput, has invented a helmet that allows him to communicate with ants. He then uses a shrink ray to shrink the buildings and landmarks of St. Canard, using the ants to haul the now-shrunk buildings back to the mini-golf, where thay become part of the course. When DW discovers his secret, Lilliput shrinks him down a tiny size, smaller than an ant. DW now has to foil the villain's plot, and get back to normal.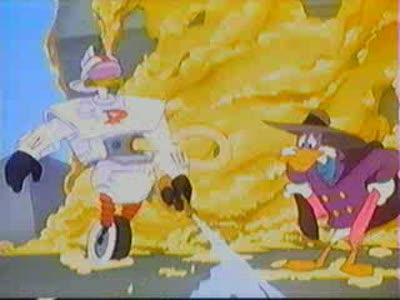 #10 - Tiff of the Titans
Season 2 - Episode 7
Fenton/Gizmoduck heads to St. Canard after Steelbeak. The F.O.W.L. agents soon finds out and frames Darkwing so Gizmoduck will think he's evil. The two fight it out, while Steelbeak tries to steal a new, top-secret weapon.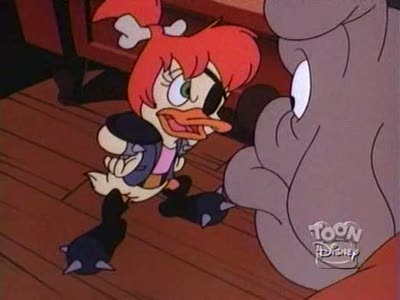 #11 - Negaduck
Season 2 - Episode 3
Darkwing Duck has been zapped with Megavolt's tronsplitter, seperating his good side from his bad. Another zap with the two sides will restore him to normal, but his negative side is certain not to let that happen.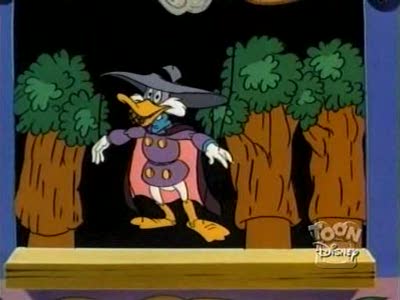 #12 - A Star is Scorned
Season 1 - Episode 60
Darkwing's TV producer feels that Darkwing's TV show needs a new gimmick in the form of a spin-off character, which might really be Darkwing's replacement.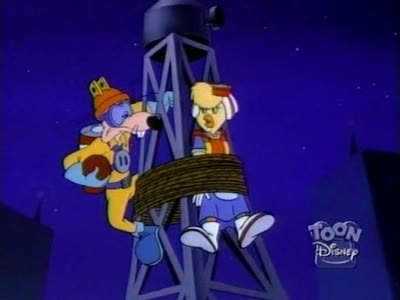 #13 - Inside Binkie's Brain
Season 1 - Episode 55
When Binkie Muddlefoot gets hit on the head by a bowling ball, her ""little hero"" escapes and causes her to become the Canardian Guardian. Her endless quest for safety endangers the life of Darkwing as he tries once again to capture Megavolt.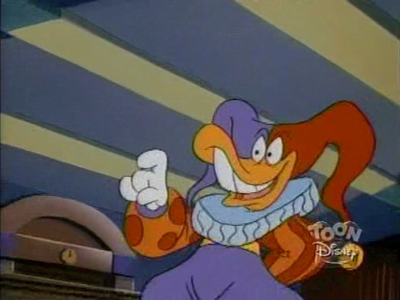 #14 - Days of Blunder 9.00
Season 1 - Episode 19
Quackerjack, posing as a psychiatrist, convinces Darkwing that being a superhero isn't right for him. With Darkwing out of the picture, the criminal is free to go on a crime spree.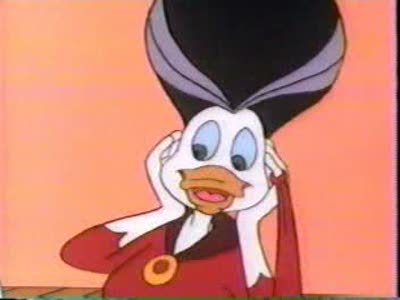 #15 - Hot Spells
Season 3 - Episode 8
This is the ""lost"" or ""Banned"" episode. It hasn't on tv for years. In this now banned episode, Gosalyn wants magical powers just like Morgana. One thing leads to another, and soon Gos finds a way to get magical powers...by selling Darkwing's soul to the devil!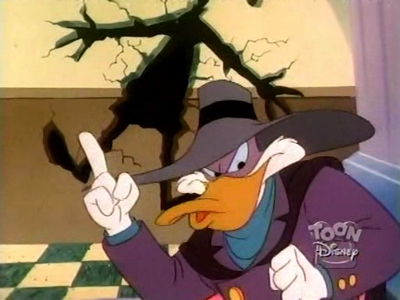 #16 - Comic Book Capers
Season 1 - Episode 9
Infuriated at how he's portrayed in his new comic book, Darkwing decides he can write it better himself. But he keeps getting interrupted by everyone, who then add their own little bits...Finally, even Megavolt joins in and the result is a hilariously funny romp through Comic Book Land--which the editor hates. No matter, Darkwing is off to see Disney about a contract.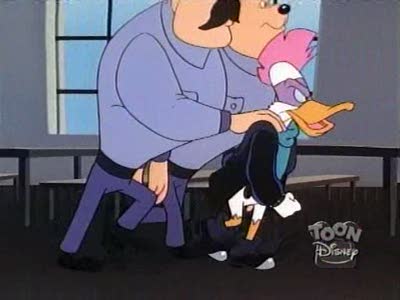 #17 - Jail Bird
Season 1 - Episode 62
Negaduck steals a diamond that can steal others' powers. And after he steals the powers from Bushroot, Megavolt, Liquidator and Quackerjack, they need to use their weaknesses to stop him.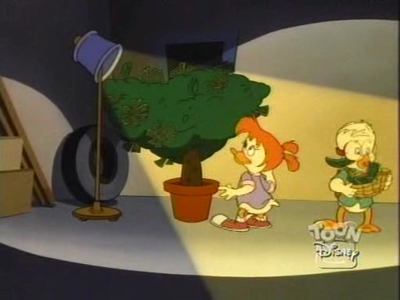 #18 - Easy Come, Easy Grows
Season 1 - Episode 12
Darkwing investigates a case in which money disappearing along with the bank vaults!
#19 - Time and Punishment
Season 1 - Episode 52
During a battle between Darkwing, Megavolt and Quackerjack, Gosalyn ends up aboard the villains Time Top, just before it starts up and takes them to the future. There, Gosalyn finds out that Darkwing has become Darkwarrior Duck, and enforces the law with an iron fist!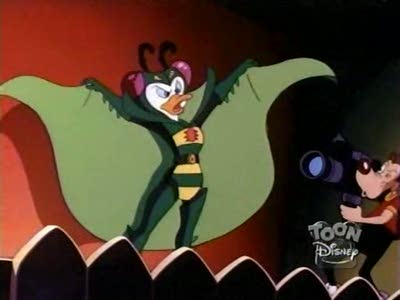 #20 - Fraudcast News
Season 3 - Episode 9
A news reporter wants to film Darkwing Duck on his cases. But she is sick and tired of what darkwing his doing, she thinks it's too boring. So she becomes a vllain for DW to fight so her ratings will go up. But Goyslyn, who idolizes her, has joined her.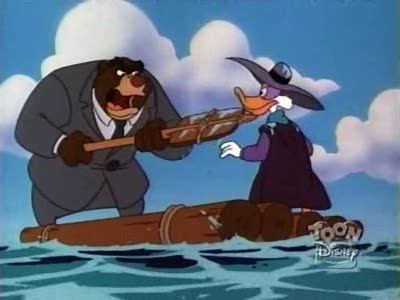 #21 - Bad Tidings
Season 2 - Episode 10
F.O.W.L. is at it again! This time, the fiendish organzition is in control of the tides themselves. J. Gander Hooter teams up Darkwing and Grizlicoff to foil the plot, and they end up fighting amongst themselves rather than getting to the bottom of things.
#22 - Can't Bayou Love
Season 1 - Episode 16
Jambalaya Jake and his Alligator, both from the Bayou, have moved to the city after hearing it was ""easy pickings"". Darkwing shows them firsthand that that it is hardly the case.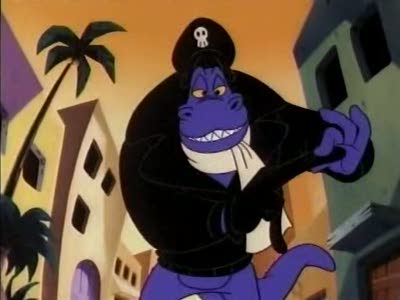 #23 - Extinct Possibility
Season 3 - Episode 13
Darkwing is asked to investigate a mysterious museum find; Darkwing finds himself encased in amber.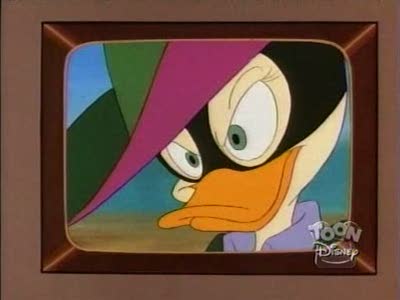 #24 - The Quiverwing Quack
Season 1 - Episode 61
Gosalyn takes up archery, and bests Negaduck with it. Against Darkwing's wishes she creates her alter-ego, the Quiverwing Quack and causes a stir of publicity. She also becomes Negaduck's new target - so he can regain his position as Public Enemy # 1.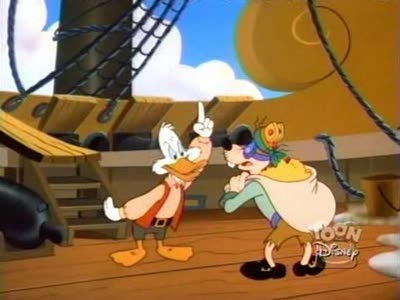 #25 - Darkwing Doubloon
Season 1 - Episode 40
300 years ago, a pirate scourge sailed the seas, striking for truth and justice. That's right, believe it or not, that was a scourge of pirates! Darkwing Doubloon and his crew, Gosalyn, Stegmutt, Launchpad, and Gizmoduck have must battle the alleged pirate Negaduck and the Fearsome Four to keep them from making off with the king's jewels.