The Flintstones
#1 - Fred el Terrifico 9.29
Season 4 - Episode 17
Vacationing in Rockapulco, Fred encounters international jewel thieves who plant a million dollars' worth of stolen diamonds on him to carry across the border. The deception is detected and Fred is offered a reward, and is subsequently arrested back home for failing to declare the reward money!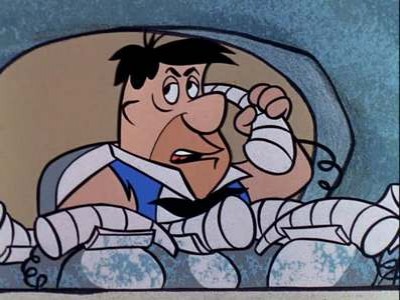 #2 - The Tycoon 8.75
Season 1 - Episode 22
When industrial tycoon J.L. Gotrocks decides he wants to rub shoulders with the common people, dead-ringer Fred is hired to fill in for him in the board room. Fred savors his new lifestyle at the country club, but the plan begins to unravel when J.L. demonstrates little tolerance for the common folk.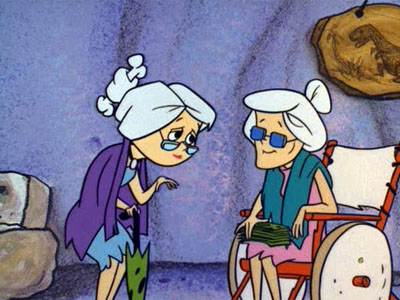 #3 - Old Lady Betty 8.70
Season 4 - Episode 9
To earn enough money to buy Barney a surprise gift, Betty answers an ad for a job which specifies an elderly lady. Disguising herself, Betty gets the job, but discovers that her employers are counterfeiters.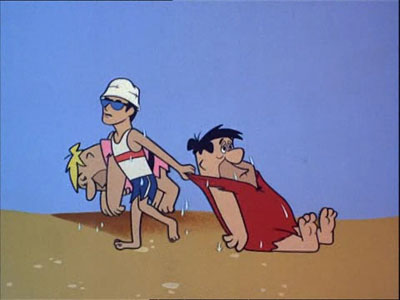 #4 - Surfin' Fred 8.67
Season 5 - Episode 26
The quiet of the families' seaside weekend is shattered by a national surfing contest. Fred, however, gets caught up in surfin' fever, and ultimately has to be saved by Jimmy Darrock (voiced by James Darren), a surf music idol posing as a lifeguard.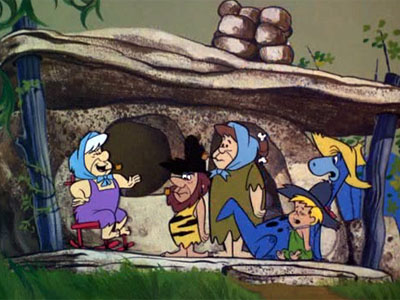 #5 - Bedrock Hillbillies 8.67
Season 4 - Episode 18
Fred inherits a shack in the hills from his hillbilly relatives, and with it a hundred-year-old feud with the Hatrock clan. Fred settles the feud by rescuing a Hatrock baby, by then starts it anew by insulting the Hatrock matriarch.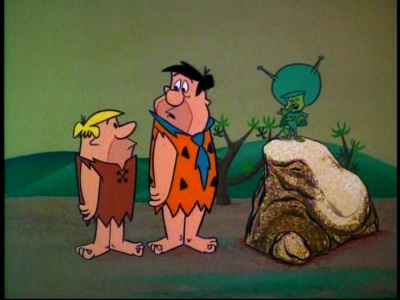 #6 - The Great Gazoo 8.54
Season 6 - Episode 7
Fred and Barney discover a visitor from another planet, the two-foot high, green Gazoo, who becomes their servant. An evening out at an expensive restaurant, supposedly with Gazoo treating, becomes a nightmare as the alien disappears, leaving the Flintstones and the Rubbles to wash dishes to pay for the food.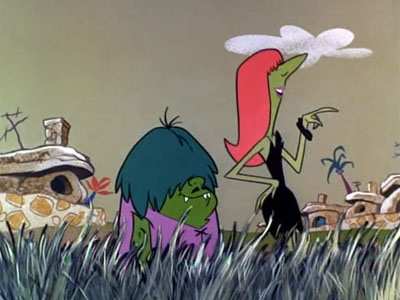 #7 - The Gruesomes 8.50
Season 5 - Episode 9
Weirdly and Creepella Gruesome, along with their son Gobby, move into Tombstone Manor, next door to the Flintstones. Trying to be neighborly, Fred and Barney agree to babysit Gobby, whose strange pets make for a tortuously eventful evening.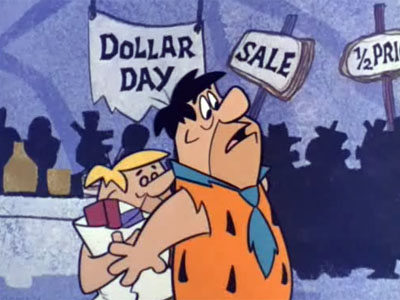 #8 - Kleptomaniac Caper
Season 2 - Episode 30
Wilma secretly empties Fred's closet of mementos for a rummage sale, including his old football uniform. But when Fred finds the goods in the Rubbles' car, where Wilma put them, he suspects Barney of being a thief.
#9 - Son of Rockzilla
Season 4 - Episode 24
Thinking he will be discovered, Fred takes a job wearing a monster costume in a publicity stunt for a new horror movie. He creates the desired effect, frightens the townspeople, and falls into his own monstrous dilemma.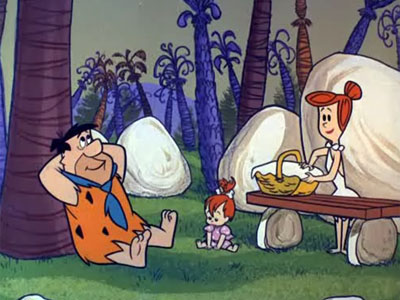 #10 - Swedish Visitors
Season 3 - Episode 27
After using the family's vacation money to buy a fur wrap, Wilma devises a scheme to repay the money by renting their home to Swedish musicians.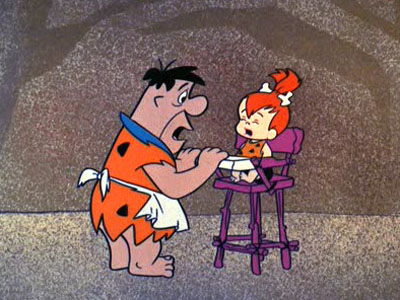 #11 - Operation Switchover
Season 4 - Episode 26
After mocking Wilma's housekeeping efforts, Fred accepts her challenge to swap jobs for one day. He soon learns that a housewife's labors are tougher than he thought.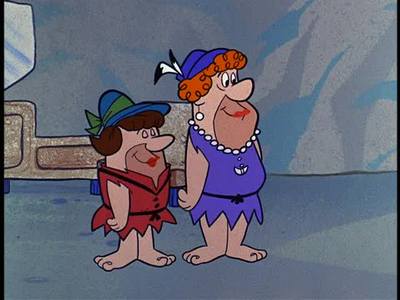 #12 - In the Dough
Season 1 - Episode 25
Wilma and Betty are finalists in a television bake-off, but on the eve of the event, they contract measles. Donning wigs and dresses, Fred and Barney take their places in the contest.
#13 - Trouble-In-Law
Season 2 - Episode 26
Having sold her home, Fred's antagonistic mother-in-law arrives at the Flintstone cave, and Fred tries to play cupid after meeting a rich Texan who is looking for an elderly wife. He invites the man home for dinner, but Wilma becomes suspicious of the would-be suitor.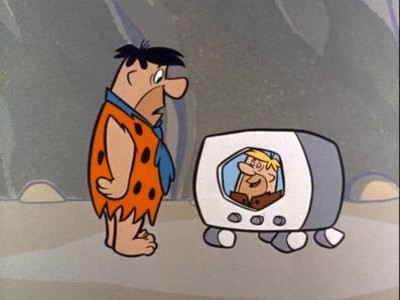 #14 - No Help Wanted
Season 1 - Episode 4
Fred uses his influence with a business friend to obtain a job for Barney, who becomes a furniture repossessor. To the dismay of both, Barney's first assignment is to repossess Fred's television! Unwilling to betray his friend, Barney pays off Fred's delinquent television bill with his first paycheck.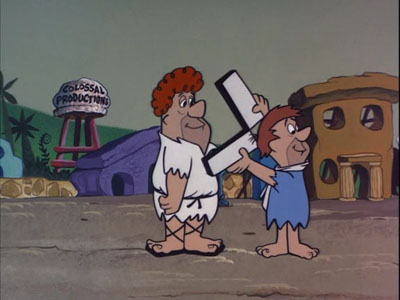 #15 - Fred Meets Hercurock
Season 5 - Episode 25
Impressed by Fred's physical strength, movie producer Go-Go Ravine hires him to play ""Hercurock"" in a new movie. After braving pterodactyls, charging mastodons, and a three-headed brontosaurus, though, Fred retires back to the safety of his day job at the rock quarry.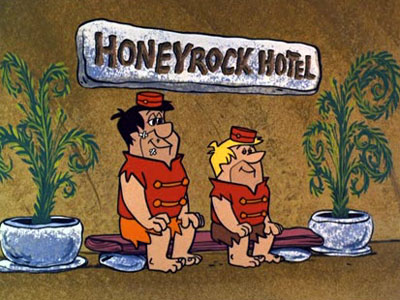 #16 - Bachelor Daze
Season 4 - Episode 25
The razing of the Honeyrock Hotel reminds Wilma and Betty of their courtships while working as hotel waitresses, at which time they mistook hellhops Fred and Barney for young millionaires.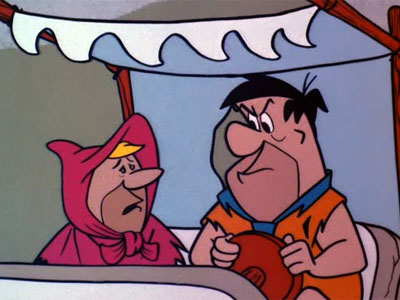 #17 - The Blessed Event
Season 3 - Episode 23
Wilma is still pregnant and Fred is trying to be calm. This shatters when the docter tells him the blessed event could happen any day now. When Betty suggests a rehersal, it turns out fine - until it turns into the real thing!
#18 - The Monster from the Tar Pits
Season 1 - Episode 6
A Hollyrock film company goes on location in Bedrock to film its new feature Monster From The Tar Pits, and gullible Fred is enlisted as stand-in for star Gary Granite. But Fred's real problems begin when Wilma and Betty audition for roles in the film and end up going ga-ga upon meeting movie stars Rock Pile and Wednesday Tuesday.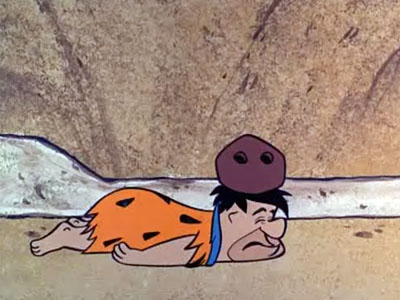 #19 - Bowling Ballet
Season 3 - Episode 4
Fred discovers he is off his game right before the big bowling match. After hearing in a television commercial that rhythm is ""the secret of success in many activities, including bowling,"" he rushes off to the Bedrock Dance Academy to sign up for ballet lessons.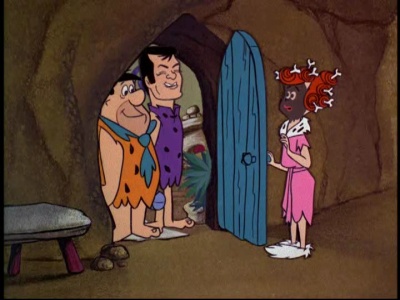 #20 - The Return of Stony Curtis
Season 6 - Episode 3
Through a publicity contest, Wilma and Betty win movie star Stoney Curtis (voiced by Tony Curtis) as a ""slave boy"" for a day. Jealous Fred works him unmercifully, until Stoney offers him a job as his stand-in for a new movie. Fred quits his job and prepares for life as a star, which, of course, is not all it is cracked up to be.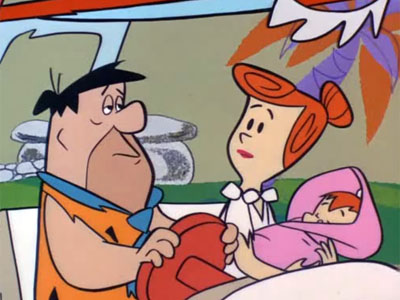 #21 - Carry On, Nurse Fred
Season 3 - Episode 24
Fatherhood has already made Fred resolute in his effort to acquire serenity, but his will power is put to the test by the formidable Nurse Frightenshale, who is sent by Wilma's mother to take care of the Flintstones' cave.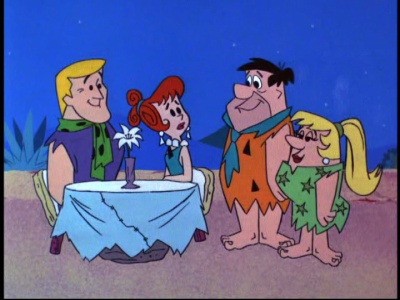 #22 - Jealousy
Season 6 - Episode 23
When Fred feigns a headache to get out of violin recital, Wilma invites her old flame Wilbur, who still carries a torch for her. Jealous Fred follows them to a dance, along with Barney and Gazoo. Fred asks Gazoo to change Barney into a dance partner, so he can make Wilma jealous in return.
#23 - The Babysitters
Season 1 - Episode 7
Roped into babysitting little Egbert, the child of a friend, Fred and Barney take the tot over to the pal Joe Rockhead's house to watch the fights on television. Egbert befriends Joe's pet runtosaurus and dresses the creature up in his baby clothes, which results in chaos when the pet--whom Fred and Barney mistake for the baby--escapes from the house and dashes up a tree.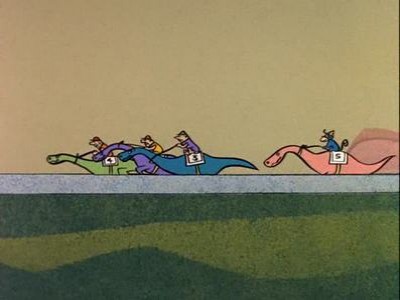 #24 - At the Races
Season 1 - Episode 8
To finance their dream of opening a pool hall, Fred and Barney visit the dinosaur racetrack where Fred bets his entire paycheck on a long shot. He tells Wilma that he has lost his check. When the long shot pays off, Fred and Barney are initially elated, but they quickly realize their problems are only beginning.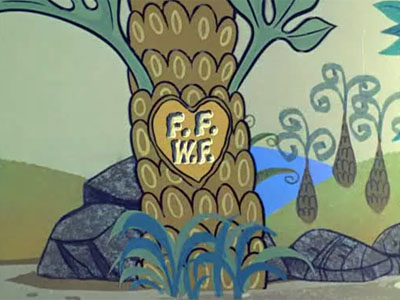 #25 - Fred Flintstone Woos Again
Season 2 - Episode 5
Needled by Wilma about his lack of romanticism, Fred takes his wife on a second honeymoon to Rock Mountain Inn, accompanied by the Rubbles. When the Flintstones learn that the official, Judge Wedrock, who married them was never licensed, Wilma takes advantage of the situation by making Fred court her all over again.