The Best Episodes of The Jetsons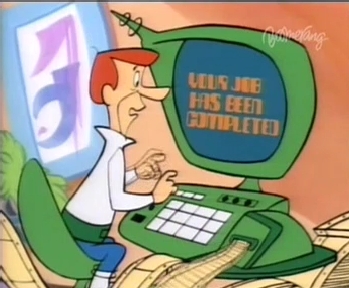 #1 - Crime Games
Season 3 - Episode 1
A malfunction of the TeleViewer causes Elroy to discover a robbery plot by "The Gripfather" (a take on "The Godfather"), and George ends up trapped in the middle of it.
Directors: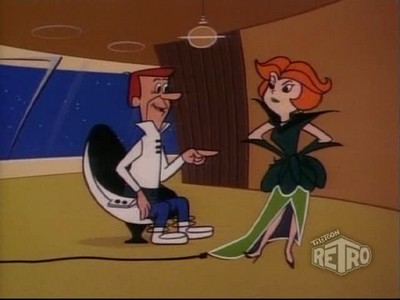 #2 - Miss Solar System 8.58
Season 1 - Episode 20
Jane decides to enter the Miss Solar System contest without George knowing. However, Spacely Sprockets is sponsoring the contest. George & Mr. Spacely are judges, but Mrs. Spacely removes her husband from the judges' stand & George is the ""Mystery Judge"".
Directors:
William Hanna

,
Joseph Barbera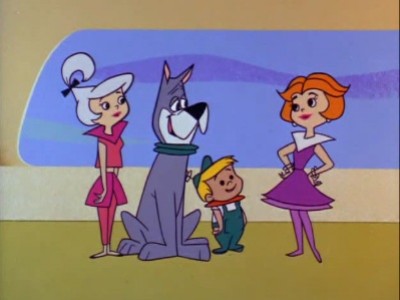 #3 - The Coming of Astro
Season 1 - Episode 4
Jane and the kids want a dog for personal protection, George doesn't believe in that but wants to keep everyone happy. To George the answer is an apartment approved electronic dog, one of those nuclear powered trouble free dogs: Electronimo! At the same moment the rest of the family found a biological dog. A contest should point out the superior dog. Astro proves to be the superior dog when he unwittingly tackles a burglar terrorizing the apartment building.
Directors: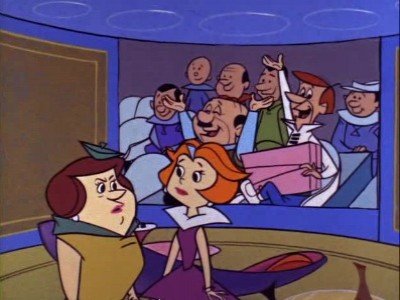 #4 - Jetsons Nite Out
Season 1 - Episode 5
George Jetson and his boss Cosmo Spacely attend a robot football game. George fools his wife into thinking he's working late so that he won't be able to attend a PTA meeting.
Directors:
William Hanna

,
Joseph Barbera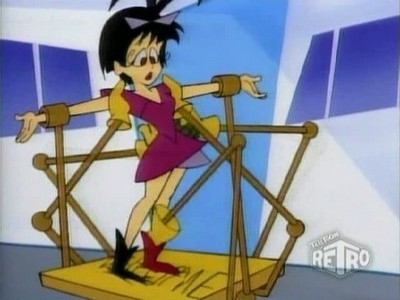 #5 - Dance Time
Season 2 - Episode 5
George tries to make a good impression on Judy's dance party with experimental dancing shoes.
Directors: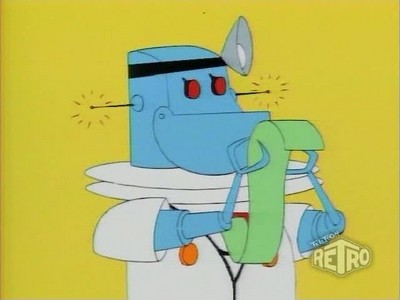 #6 - Father/Daughter Dance
Season 3 - Episode 5
The annual father/daughter dance means embarrassment for Judy so she fakes the 48 hour flu. Still Jane promises that this year will not be the disgrace from last year because dad is taking dancing lessons. Using a super sniffer the kids try to find their father to peek at one of his lessons.
Directors: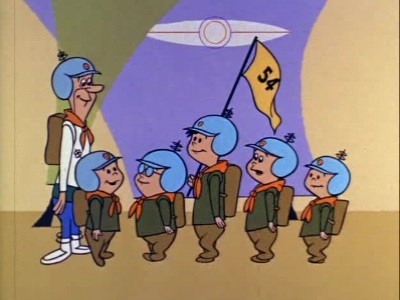 #7 - The Good Little Scouts
Season 1 - Episode 6
The only way George can get a vacation out of Mr. Spacely is to accompany Space Cub Troop #54 on their camping trip on the moon. George proceeds to get lost, but is rescued by Mr. Spacely's son, Arthur.
Directors: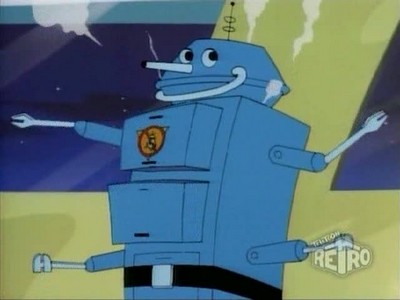 #8 - Wedding Bells for Rosie
Season 3 - Episode 7
Rosie falls in love with the robot of the janitor. To get a 'green card' for that robot they need to get married. But can robots get married?
Directors: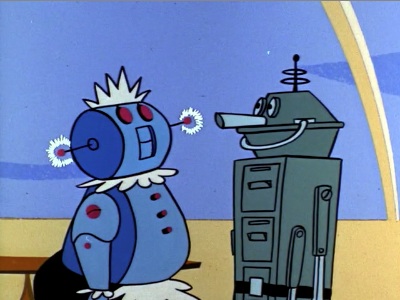 #9 - Rosey's Boyfriend
Season 1 - Episode 8
Judy and Rosey find boyfriends. The problem with love is that you're either up or down ... and the animated junk pile being Henry's assistant gets a little confused.
Directors:
#10 - Team Spirit
Season 2 - Episode 3
The latest battle between Spacely and Cogswell is now on a spaceball field with George as a pitcher and robots as the players.
Directors: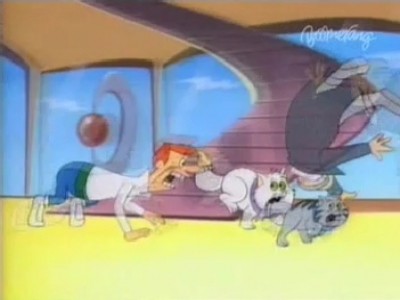 #11 - Clean as a Hound's Tooth
Season 3 - Episode 6
George ends up going to the dogs after a dentist experiments dog teeth on his mouth.
Directors: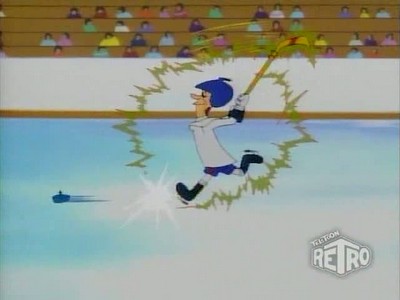 #12 - Two Many Georges
Season 3 - Episode 9
With genetics one can duplicate every possible living thing. A great way to duplicate George, so one can work and the original one can stay at home and enjoy leisure time. But which is which?
Directors:
#13 - Winner Takes All
Season 2 - Episode 39
George competes in a sports contest to get an account for Spacely Sprockets.
Directors: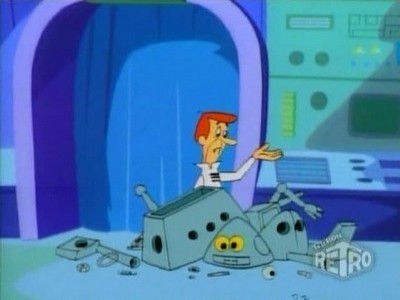 #14 - Spacely for a Day
Season 3 - Episode 10
A medical test shows that George is more suited to be president of the company than Spacely himself. That is: after Elroy finds out Spacely distracted George during the test on purpose so he could pay him less salary. Elroy forces the score and George is executive for 2 weeks. Will George behave or will power raise to his head? Mr. Cogswell tries to put Spacely out of business when George is in charge for two weeks.
Directors:
#15 - The Space Car
Season 1 - Episode 3
George and Jane go shopping at Molecular Motors. The Supersonic Suburbanite turns out to be too much for them so the buy a car similar to their old model. They get mixed up with bad guy Knuckles Nuclear and his gun Moll.
Directors:
#16 - Jetson's Millions
Season 2 - Episode 38
A winning lottery ticket makes the Jetsons millionaires.
Directors: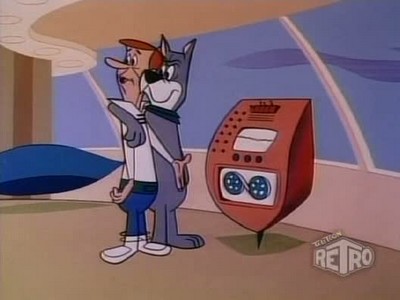 #17 - Astro's Top Secret
Season 1 - Episode 12
Another tale of Big Business competition: At the Moonside Country Club, Spacely and Cogswell each vow to put the other out of business. Spacely thinks his ticket is Astro the flying dog. He ultimately discovers that Astro has only swallowed a flying toy.
Directors: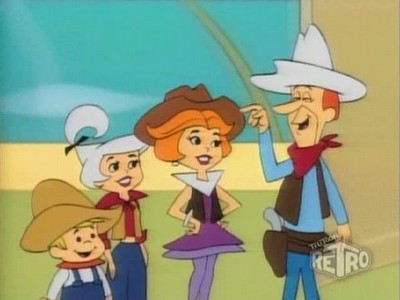 #18 - Instant Replay
Season 2 - Episode 13
George meets a scientist who has invented Replayola, a device that enables a person to change bad moments of life to good ones. George buys it from him and immediately uses it to be a good public speaker, make the family rich, and even make a run for President. But when an old boyfriend of Jane's gets into the picture, jealous George decides to erase the moment they kissed. But this turned out to be on his wedding day and as a result, he has no family. Will George be willing to give up his riches and power to get them back?
Directors:
#19 - Las Venus
Season 1 - Episode 13
George and Jane visit Las Venus for gambling and entertainment. The trip is paid by Spacely because George has to try to sell some sprockets to a female client. Now George has to please his wife and the client.
Directors: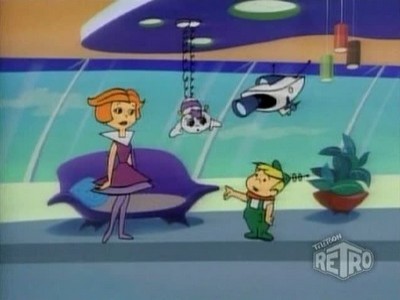 #20 - Elroy in Wonderland
Season 2 - Episode 41
The night before the family leaves on vacation to Club Mellowstar, George shows Elroy some old tools his great-great grandfather used to work with. After they get there, the supervising robot restricts Astro from joining them as dogs aren't allowed at the resort. Elroy later frees him from confinement and the two scramble to get away from the supervisor, only to wind up in an unusual junk land occupied by old obsolete tool robots. Elroy and Astro work alongside some of them to prove they're not as useless as they're regarded. Will the two be able to find a way out of the junk land?
Directors: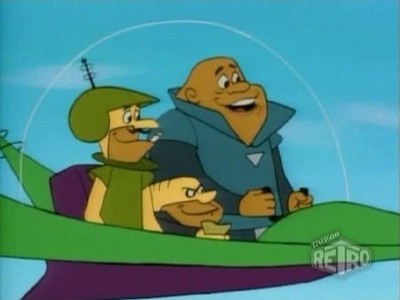 #21 - Future Tense
Season 2 - Episode 15
In an alien shopping gallery, Jane Jetson unwittingly buys sunglasses that allow whoever's wearing them to see into the near future. When George Jetson finds this out, he decides to take his wife to the space-horse races, to make a little extra money off of Jane's ability to see which space-horse will come in first. Will George's idea succeed, or is he playing with fire?
Directors: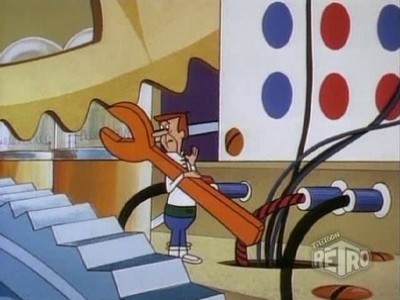 #22 - The Little Man
Season 1 - Episode 17
Compression technique explained The Jetson way. Without the decompression mechanism working George is reduced to a mere 6 inches. The only way to fix the decompression system is by replacing parts manufactured by the big competitor: Cogswell Cogs.
Directors: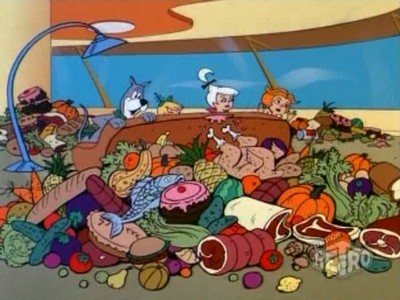 #23 - Dog Daze Afternoon
Season 2 - Episode 19
George and Jane accompany Mr. Spacely to a business convention where they hope to show off the company's lastest invention, the E.X.I.T. (EXecutive Instant Teleporter). Meanwhile, Judy is in charge of the household as Elroy tests his own invention, a dog trainer, in hopes of earning money helping the neighborhood dogs to better behave themselves. But a mixup of program discs causes near disasterous results on both sides that could lead to George's firing and Elroy having to look for all the missing dogs.
Directors: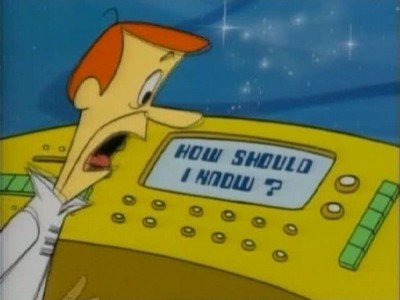 #24 - Judy Takes Off
Season 2 - Episode 17
When Mr Spacely discovers that the only rival to his wife for 'Woman of the Year' is Jane - so he tries to discredit her by secretly filming the antics of Judy.
Directors: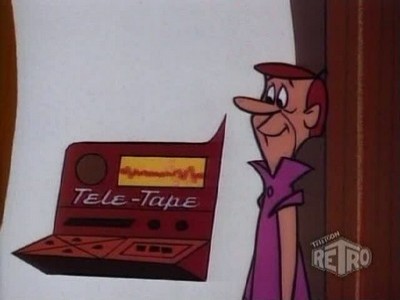 #25 - G.I. Jetson
Season 1 - Episode 19
Private Jetson is drafted, as George is a family man he gets a full two minutes to report for duty. They're all given an aptitude test, and one not-so-bright recruit jams a square peg into a round hole, whereupon the automated grading program determines that his 'original thinking shows leadership potential' and makes him a general. Spacely turns out to be the commanding officer and the site is a full 10 minutes away.
Directors: