Hill Street Blues
#1 - Mayo, Hold the Pickle
Season 5 - Episode 1
New roll call sergeant Jablonski is called out by a woman; Mayo handles a messy assault case against an elderly couple; the impending execution of Celestine Grey upsets Furillo and Goldblume; Fay tries to help an out of town couple who've lost everything to muggers; and Laura Ann Renko is born.
#2 - Grin and Bear It
Season 5 - Episode 23
Belker's drycleaners undercover catches Dugan, who offers them Joe Keenan and a major ring of police corruption; Furillo copes with the results of the random drug test; Goldblume wrestles with Gina's estate; Hill and Renko spend the day escorting Officer McBear.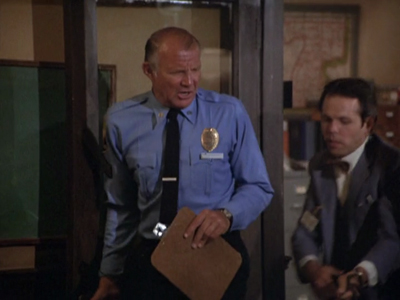 #3 - Presidential Fever
Season 1 - Episode 2
Hill and Renko meet again for the first time since their shooting; Esterhaus tries to avoid Grace Gardner, the new police decorator; two transfer officers get themselves into trouble; Belker pursues rapists in the park; and Furillo must deal with Fay's demands for more money and an impending Presidential visit.
#4 - Hacked to Pieces
Season 6 - Episode 2
Belker goes undercover as a cabbie in a very volatile cab territory war; Hill and Renko try to cool down the resentment between a Korean grocer and his black neighbors; Mayor Cleveland's son is busted for drug possession; and Garibaldi is offered a deal to clear his mounting gambling debts.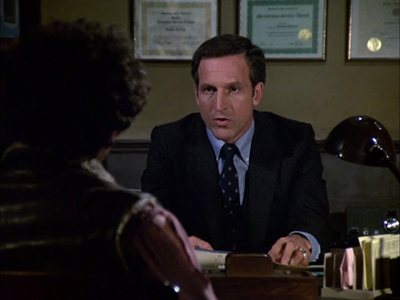 #5 - The Last White Man on East Ferry Avenue 7.69
Season 2 - Episode 3
Hill and Renko handle a domestic call involving an old man threatening his neighbors with a shotgun; Hudson looks for the informer in his gang; and Joyce asks Furillo for advice about the Downey case.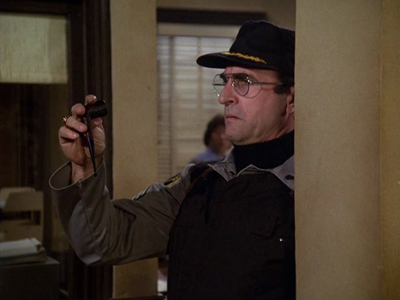 #6 - Politics as Usual 7.18
Season 1 - Episode 3
Hill and Renko decide to split up as a team; LaRue is offered a bribe by a drug dealer who turns out to be a cop; Furillo tries to negotiate with the gangs to ensure a peaceful Presidential tour; Belker agrees to a blind date; and Fay is arrested in a hot tub.
#7 - Heat Rash
Season 3 - Episode 3
Hill and Renko arrest councilman Detweiler for drunken driving; Belker is joined by actor Jon Gennaro on his undercover job; Fay goes to work as a crime reporter for an advertising weekly; and Furillo looks into the charges made against his men by a bitter Lou Hogan.
#8 - Rain of Terror
Season 3 - Episode 4
Gennaro accompanies Belker on a drug buy; LaRue and Washington set up two patrolmen accused by Hogan of stealing from burglary victims; Renko's birthday is less than happy; and Furillo uses his favor to Detweiler to save Goldblume's job when Hogan's accusations prove partially correct.
#9 - Death by Kiki
Season 4 - Episode 4
Kiki tries to persuade Eldridge to change his story; Hill's behavior gets worse and worse as he blows all his money; Fisk returns to the housing project with tragic results; Coffey sulks when Bates scores higher on the sergeant's exam; and Daniels has to make peace between Furillo and Mahoney.
#10 - Fowl Play
Season 5 - Episode 4
Rookie Swann kills himself after the initiation party at the Kubiak Lodge; LaRue tells Furillo about his night with a murder victim's wife; another hooker is killed by a copycat murderer; and the lieutenants quarrel over a government study grant.
#11 - Fruits of the Poisonous Tree
Season 2 - Episode 5
Night court interferes with ""Monday Night Football"" as LaRue and Washington are accused of entrapping a mugger; Bates and Coffey look for gang members responsible for the drive-by shooting of a child; Fay announces that she's getting married again.
#12 - Doris in Wonderland
Season 4 - Episode 5
Commander Ozzie Cleveland enters the mayoral race; Officer Perez accidentally shoots a little boy; Daniels begins ""Operation Tenderloin"" out of a sexual cafeteria; and Mahoney tries to make political capitol for Daniels out of the Robson shooting.
#13 - Somewhere Over the Rambo
Season 6 - Episode 5
Furillo's corruption commission delivers its findings and antagonizes Daniels, who is willing to sacrifice a night shift cop involved in an off duty shooting that has incited public opinion; Alan Branford returns as Rambo; and Buntz explores his duties as personnel officer.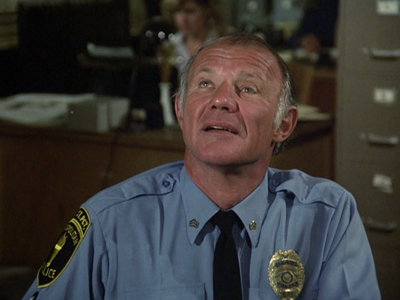 #14 - Can World War III be an Attitude?
Season 1 - Episode 4
Furillo backs LaRue in the bribery case brought by Macafee; Hill and Renko bust a car thief who's a mechanical whiz; and Esterhaus sees Grace in a new light when they share a crisis at the station house when the Presidential visit is cancelled and gang revenge is feared.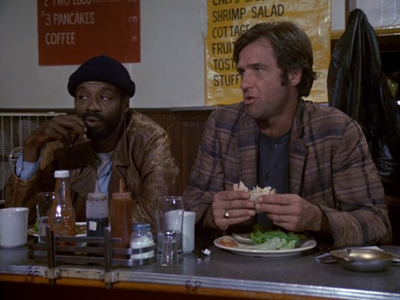 #15 - Cranky Streets 7.55
Season 2 - Episode 6
Hill covers for an old friend with personal problems who uses excessive force on an arrest; Coffey arrests an old family friend during a visit to his old neighborhood; Fay introduces her fiance; and negotiations breakdown between the police union and the city.
#16 - Stan the Man
Season 3 - Episode 6
At a condemned building site, Hill and Renko try to persuade a black grandmother that she has to move while Goldblume tries to keep an old man afraid of his new living arrangements from jumping off; Belker thwarts a robbery while applying for a bank loan; and LaRue and Washington butt heads with a special narcotics undercover cop dealing with the same cocaine peddler.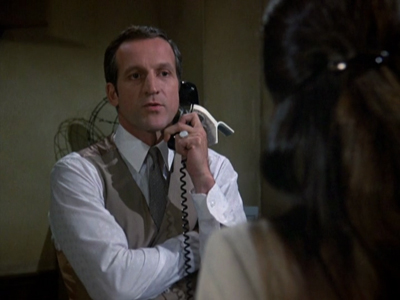 #17 - Film at Eleven 7.61
Season 1 - Episode 6
A television reporter rides with Hill and Renko; Washington and LaRue find the gun that shot Hill and Renko; and Belker busts Kevin Herman Dracula for biting a prostitute.
#18 - Watt a Way to Go
Season 5 - Episode 2
Goldblume takes the law into his own hands when his ex-wife Rachel is raped and refuses to press charges; Belker's undercover at the Stratford Hotel ends with Calletano and the Fimpels taken hostage; Hunter tries to defend an EATer's callous remarks during the taking of a sniper; and Joyce continues to work for Celestine's life.
#19 - I Come on My Knees
Season 7 - Episode 5
Goldblume's friend freaks out and shoots a mugger and a cop; Calletano loses his command and threatens to take his story to the press; Sid moves in with Buntz for protection; and a premature vice cop spoils a massage parlor sweep.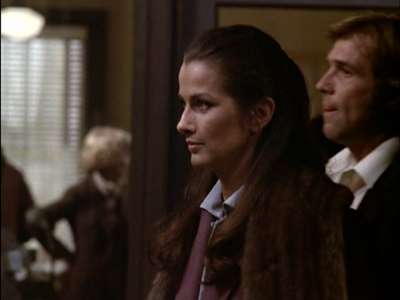 #20 - Hill Street Station 7.88
Season 1 - Episode 1
Precinct Captain Furillo tries to defuse a hostage situation despite the advice of his gung-ho Emergency Action Team leader and the temperament of a self-absorbed gang leader; public defender Joyce Davenport tries to find a client who has been lost in the bureaucratic maze; Detective LaRue gets a lapful of coffee; Sgt. Esterhaus confides to Fay about his teenage sweetheart; Officers Hill and Renko are shot in the line of duty.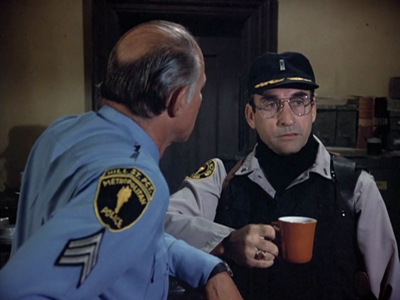 #21 - Hearts and Minds
Season 2 - Episode 1
A prostitute accuses a detective of blackmailing her for sex; Goldblume searches for a missing child; a former gang leader returns to the Hill as crusading social reformer; Belker busts a purse snatching orangutan and keeps in touch with an undercover rookie planted inside a volatile street gang; and Furillo and Esterhaus question their current romantic involvements.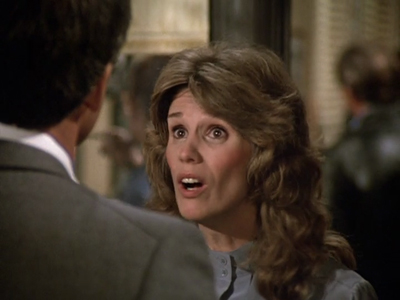 #22 - Blood Money 8.00
Season 2 - Episode 2
Goldblume meets a lonely woman while driving a cab undercover; LaRue and Washington use a desperate snitch to solve a prostitute murder; Virgil reports on Hudson's takeover of the Black Arrow gang; and Furillo and Joyce meet socially after splitting up.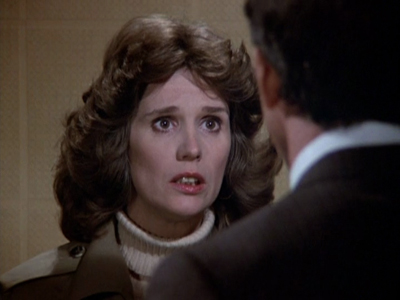 #23 - Choice Cut
Season 1 - Episode 7
Hector Ruiz takes hostages again, this time at a supermarket; LaRue and Washington try to connect the gun that shot Hill and Renko with addict Eddie Hoban; and Cynthia Chase uses the hostage scene to stir up the local merchants.
#24 - Goodbye, Mr. Scripps
Season 4 - Episode 7
On election day, Goldblume tries to keep a last minute candidate clear of the polling places; Mahoney turns on Daniels; Wachtel reports gangsters threatening to torch Murray's Wonderland; and Furillo tries to help Perez' family.
#25 - An Oy for an Oy
Season 6 - Episode 7
Sgt. Jablonski risks his own money to catch a pair of confidence men; Sgt. Belker acts as a courier for a pair of devious Hasidic jewelry merchants; and Captain Calletano reacts badly when Buntz accuses a lazy Polk Avenue officer of dumping vagrants in Hill Street precinct.