NYPD Blue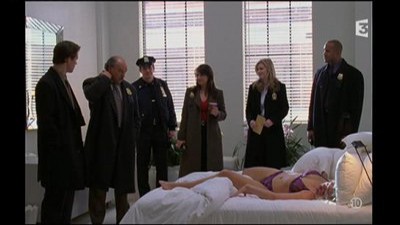 #1 - Moving Day 8.88
Season 12 - Episode 20
Jones and Clark respond to the death of woman named Pamela Wyatt, who appears to have been a high priced call girl. Ortiz and Murphy arrive on the scene along with Sgt. Sipowicz who enlightens Jones and Clark about his officially taking over command of the 15 Squad. They return to the Squad and meet two new detectives that have joined the squad, Ray Quinn and Joe Slovak. They ran a dump of the Pamela Wyatt's phone records and have come up with some names to check out. Sipowicz's former Sergeant, Al Angelotti from the 25 Squad, now a retired Chief who is working security for a wealthy client comes into the squad with his client, Robert Heilbrenner and Heilbrenner's attorney. While Clark and Jones (with Sipowicz in attendance) listen to Heilbrenner describe his relationship with the Pamela Wyatt, Angelotti is out talking to the rookie detectives about what they currently know about the case. Murphy and Ortiz interview the victim's parents, both of whom were ignorant of what their da
#2 - Lost Israel (1) 8.85
Season 5 - Episode 8
A young boy is reported missing by his parents. Simone and Sipowicz agree to look for the young boy, when the father tells them it may have been his fault for letting him talk to a homeless man. Instincts tell Andy that the father is guilty. They locate the homeless man, named Israel; however, communication is difficult because he is a mute. Unfortunately, the boy's body is found and the detectives now must determine if Israel is responsible or perhaps the boy's father. Andy may have tipped his hand to the boy's father that he likes him for the murder. So for a while Andy bows out of the case and Diane steps in. Meanwhile, a Hasidic Jewish girl is murdered and the other detectives have to juggle the need for their investigation against the needs of her faith for a quick burial. Israel is brought in for further ""questioning"" to let father think suspicion has been removed from him. The father watches the interrogation of Israel with interest. The father has set-up all the evidence to poi
#3 - Hearts and Souls 8.83
Season 6 - Episode 5
It is ten days after Bobbie's surgery and the detectives wait with anticipation as Bobby is set to be released from the hospital. A minor complication arises with a possible infection. Andy's ex-wife shows up at the squad, she's getting ready to defend herself against a DWI. She slips out while Andy is trying to reach out to help her. Bobby takes a turn for the worse and the entire squad is put on edge. Diane insists on seeing Dr. Carreras. He lays the hard news on Diane; it would be better overall for Bobby is he was kept from suffering any further. Dr. Carreras and Dr. Swan have differing opinions on the prognosis for Bobby's future. Carreras feels that Swan wants Bobby's inevitable condition to be on another department's record. Andy gets Katie to agree to begin attending meetings, as a way meet the terms of her. Diane calls the squad to advise them that after the shift is over, it might be a good idea to stop by the hospital to see Bobby. Bobby receives last rites. Au revoir Robert
#4 - A Death in the Family 8.79
Season 3 - Episode 20
A robbery-homicide sends Bobby and Andy to the hospital; however the victim is Andy Jr. Andy wants Bobby to lead the case and he also wants the opportunity for restitution. Diane doesn't like the way Bobby is handling the case. They turn up the weapon, but the suspects don't pan out. In the midst of all this turmoil, Donna makes the decision and quits her job. Andy goes for a walk and makes a stop.
#5 - Great Balls of Ire 8.71
Season 12 - Episode 3
The detectives are on the scene of ex-con Lester Byrd's homicide when Sipowicz receives a call from his wife telling him that Theo didn't arrive at school this morning. Sipowicz leaves the scene and arrives at the school to find that Theo has shown up. He finds out from Theo that he was met by a man who said he was a friend of his dad, the man had a detective shield and exhibited knowledge of recent events in their lives. The man took Theo for a half hour ride. Back at the squad, Bale introduces his new movement log policy and he puts John Irvin in charge. The detectives run the case by Bale. Sipowicz arrives and Bale magnanimously lets him not charge his morning's activity to lost time. Sipowicz asks to be off the case for the day, citing that Jones can work the case with Clark. Sipowicz wants to catch up on his paperwork and Bale allows him to do this, but says that he is not setting a precedent. Theo's guardian Anna comes into the squad and he questions her about what happen
#6 - Bale to the Chief 8.69
Season 12 - Episode 19
The interim boss Lt. Henry comes into the squad and introduces himself to the detectives, who in turn introduce themselves. They offer to bring him up to speed on their cases, but Lt. Henry is the anti-Bale and tells them they can get to it when they get to it. He is more interested in knowing if any of them like to play golf. Murphy and Ortiz go to the scene of a homicide where a young Muslim woman, Farah Amar has been stabbed to death. In questioning the neighbor they learn that the woman had numerous loud arguments with her husband. Back at the squad while Sipowicz tries to bring their new boss ""Arnold Palmer"" up to speed on their investigation into Bale's shooting, Jones and Clark try to get more information about Sergei Yesenin's whereabouts from ""Russian Mike"" who has come back in for further questioning. ""Russian Mike"" wants a deal before he will cooperate any further with the investigation. The husband of Murphy and Ortiz's victim, Adeeb Amar, comes in for questioning. Th
#7 - Sergeant Sipowicz' Lonely Hearts Club Band 8.64
Season 12 - Episode 17
The detectives arrive on the scene of shooting outside of a school. The victim is Lester Bakewell, a sergeant in the US Army who was at the school to do recruitment. Also on the scene is another sergeant named Sipowicz, who is there with his uniform officers. Clark takes the opportunity to bust the new sergeant's balls. A woman, Denise Campo, comes in to report her great uncle has missing for four days. Jones and Medavoy take the case and she tells them that he is homeless and that he is just a sweet old man. She gives them a picture of her uncle. An Army warrant officer Steve Nutting from CID is in Bale's office, he is going to assist in the investigation. Clark and Nutting interview the dean of students from the school. The dean tells them about the peaceful demonstrations against recruiters, but he also tells them about Paul Corbelli, one of the students whose brother was killed in Iraq four months ago. He does know that the boy had access to a rifle and that according to t
#8 - The Vision Thing 8.60
Season 12 - Episode 6
On a city bus a man was stabbed in the chest in front of his wife and kids. A witness reports to Sipowicz that the victim and his killer were eyeballing each other down before the stabbing occurred. Medavoy tells Jones about his daughter's plans to buy a house. He is going to need to find a part time job to help her out. Jones tells him about a position as a bouncer, but he doesn't think Medavoy can handle that kind of job. Medavoy is a little put out that no one thinks he handle himself. Sipowicz is contemplating the stabbing case when Clark arrives and tries to discuss it with him. Sipowicz is distracted by the effect of the killing on the victim's family; he is also bothered by Clark's feeling for the case. They run the case by Bale and then Bale checks in with Sipowicz's mental state, post shooting and everything else that has recently been going on. Sipowicz tells him that everything is okay. An antiques dealer, Gerard Prosser comes into the squad to go over the details o
#9 - Vishy-Vashy-Vinny 8.59
Season 2 - Episode 11
After discovering a key piece of evidence, Simone gets his chance to question the serial killer suspect. The detectives work on stopping the armored car robbery and then Fancy plays the incriminating tape that he had Vinnie record for him. Haverill is given the choice of retiring or a trial and he elects retirement. Martinez and Lesniak arrest an odd extortionist. James tells Adrianne that he enjoys working with her.
#10 - Below the Belt 8.50
Season 10 - Episode 8
Angela comes into Tony's office and tells she does want something after all; she wants him to take a look a spot on her inner thigh where she thinks she was injured on the subway this morning. As his office isn't the right place for that sort of activity, he takes her into the observation room for a look and then some. At the scene of a homicide where the detectives have all gathered, one of the uniforms recognizes the victim as one of the precinct's auxiliary cops, her name is Heather Peterson, who is 17-years-old. At the squad they report in on what they know so far and start to go through Heather's affects. McDowell and Ortiz are sent out to a firebombing of car. The owner of the car and his sister isn't very forthcoming with useful information. Sipowicz and Clark Jr. interview their victim's last known boyfriend, who she had an order of protection against. He consents to search of things, which turns up nothing for the detectives. Haywood talks with Jones about her grandmot
#11 - Off the Wall 8.50
Season 10 - Episode 17
The detectives are on the scene of a homicide, when Clark arrives. He was going stir crazy taking time off following his father's death. Ortiz comments to McDowell that she hadn't spoken or heard from him for the past three days. The detectives get a line on a possible suspect, named Todd Grady. Jones and Medavoy go to suspect's apartment to attempt to speak with him. When no one answers they decide to check with the neighbors. Suddenly someone they assume is their possible suspect rounds the corner and doubles back when he realizes they are there to talk with him. He then comes back around the corner with a gun drawn. Jones and Medavoy fire their weapons and after waiting a moment proceed to go around the corner. There they find a boy has been shot by a bullet that went through the wall, from one of their guns. Sipowicz and Clark arrive on the scene as an ambulance is being called. The detectives and Rodriguez are at the hospital, when they find that the 13-year-old boy doe
#12 - 22 Skidoo 8.50
Season 10 - Episode 22
It's the morning after for John and Jennifer and they'll both be late for work if John doesn't put the honey bottle away. The detectives respond to the scene of a homicide in grocery, where no money was taken. Ortiz spots Clark getting out of Dr. Devlin's car and is short with him when he says hello. Back at the squad, canvas hasn't turned up anything, but crime scene did get a fingerprint from a similar crime that occurred the night before. That fingerprint belongs to Terry Parkhurst. Medavoy tells the others that he is anticipating receipt of the list that might announce his promotion to detective 2nd grade. McDowell makes plans for a small wedding ceremony that might be able to take place later that evening. Rodriguez calls Sipowicz into his office and tells him that the commissioner will not allow two detectives in the same squad to be married. Sipowicz asks Rodriguez if it will be a problem with him if they go ahead and get married anyway. He tells them it won't, as long a
#13 - Only Schmucks Pay Income Tax 8.50
Season 11 - Episode 9
Andy bangs on the neighbor's door at 5:00 AM; the neighbor is practicing his bassoon for a big concert later that evening. He returns to bed, only to receive a call to a crime scene. He arrives with Clark at the scene of a retired cop, Roy Shaughnessy, and his wife who were beaten and robbed in their home. Sipowicz worked with the cop at the 20th precinct. Shaughnessy has been taken to the hospital; his wife tells the detectives what happened. While leaving Clark makes an off-hand comment about ""old-timers,"" or rather as he corrects himself when Sipowicz appears annoyed ""all-timers."" The neighbor comes across the hall and gives Connie complementary tickets for her and her husband to his recital. Medavoy and Jones are on the scene of arson, where Barry Tytel, the author of a book ""Only Schmucks Pay Income Tax,"" has found that his vehicle has been torched. Medavoy is more interested in the content of the Tytel's book rather than the arson. Michael's foster father comes to talk to
#14 - Safe Home 8.50
Season 6 - Episode 22
As a result of her injuries, Sylvia has died. The squad worries about Andy's state, will he start drinking again. Andy is staying in his apartment, only making sure that Theo makes it to and from school. He is only accepting a minimal amount of help from his ex-wife Katie. Medavoy and Martinez interview a man who claims that he was hired to murder Kenny Priest at the Cullinan trial. He points to his sister, Lurleen as the one who set him up with the job; she also had something to do with Cullinan's murder of Mike Roberts. Sorenson goes to seek Sipowicz's help, when they get Cullinan to drop his high priced attorney. John Irvin is hard on himself and feels that he can never face Andy again. Danny gets Andy to help with the interview of Cullinan and the very subdued interview gets Cullinan to crack. John Irvin and Andy silently pass each other on the stairwell. A few moments later, Andy reappears and assures John he doesn't hold him responsible for Sylvia's death. Andy debates about how
#15 - Divorce Detective Style 8.50
Season 12 - Episode 4
Clark leaves his latest encounter's apartment, hoping to make it to work on time. The other detectives are already on the scene of the blunt force trauma homicide of artist Tracy Gilchrist and Clark (of course) arrives late. Annoyed with this, Sipowicz shuts Clark out of his interview of one of the victim's neighbor. She tells him that the victim worked as a phone sex operator. After the interview Clark tries to address the situation, but Sipowicz isn't listening. Back at the squad room, Sipowicz takes delivery of a package (of kiddie porn). When he signs his name, the FBI agent reveals himself and takes him to the coffee room, where his partner and Lt. Bale are waiting. With the recent pattern of harassment to back him up, Sipowicz and Bale get the FBI to drop their investigation. Clark leaves for court, he is testifying in the case against Steve McClintock. Scott Garvin and his attorney come to the squad to report the probable kidnapping of his son. Garvin has received a ran
#16 - I Love My Wives, But Oh You Kid 8.50
Season 12 - Episode 12
Faith Chandler, a hooker, was murdered in the apartment of a former madam. Chandler was working an AA program. The former madam gives Sipowicz and Clark the name, Bob Cavanaugh, a man she knows was one of the victim's clients. Brigid Scofield comes to the squad to see Medavoy about a possible apartment she's found for him. Caught a little off guard, he agrees to meet her at lunch to look at the apartment (that of course he doesn't really want, need or more importantly can afford). Murphy and Ortiz go to the scene of a woman, Tracy Llewellyn, who was found murdered. The landlord tells them that the woman's apartment was being paid for (in cash) by designer named Hal Matheson. Bob Cavanaugh comes in for questioning with Sipowicz and Clark. He admits to knowing Faith Chandler and having more than a business relationship with her but he hadn't seen her in two weeks. Murphy and Ortiz go to the Hal Matheson's design studio and meet his wife, Paige. When he calls into the studio, Pai
#17 - Bale Out 8.50
Season 12 - Episode 11
The detectives are on the roof of a parking garage, where an attorney has been found shot to death in his car and the apparent victim of a robbery. Medavoy is sporting a new shirt, which is a little bright in the other guys' eyes. Back at the squad, Sipowicz and Clark run the case by Bale. The murder might have been part of a pattern of robberies, since three similar robberies had been reported in that area, but this one was the first to result in a death. It's been two weeks, but the results of the sergeant's exam haven't been published yet. Medavoy gets more grief about his outfit, but both Murphy and John Irvin love it. Murphy and Ortiz are sent off to a schoolyard shooting and as Jones and Medavoy are departing, Medavoy suggests that they might make a detour if they pass a menswear shop. Murphy and Ortiz arrive at the shooting scene. The guys at the schoolyard are preparing for a basketball tournament. One of the players on the court, Tyler Newell, might be the next Lebron
#18 - Passing the Stone 8.46
Season 11 - Episode 11
A Jewish jeweler is gunned down outside of his shop. His widow tells Sipowicz and Clark that a white guy who's recently converted to Islam had been giving her husband some trouble lately. Clark gets the address for Tim Garrity, the recent convert to Islam; just as Jones gets a call that Michael's aunt has been brutally assaulted. Jones and Medavoy go to the aunt's apartment. Jones talks with Michael, who tells Jones that his aunt wasn't seeing anyone, and that his father wasn't around. Sipowicz and Clark talk with the converted Muslim. A uniform is bringing in Michael's dad and Jones is preparing himself for the pending interview. Rodriguez suggests that Medavoy and Ortiz take the interview, that way Jones won't succumb to his desire to beat the crap out of Craig Woodruff and give him what he wants. McDowell interviews an employee of the dead jeweler and she tells her that her boss had an ugly argument over the phone with a rapper named ""DJ Drayno."" Rodriguez has her get the inf
#19 - On the Fence 8.46
Season 11 - Episode 16
Sipowicz and Clark arrive at an early morning scene (so early it's still dark), where Hatcher has been wounded in a shoot out with a man in a window. Hatcher says he was chasing a black male suspect and was looking for him over a fence when a light came on behind him. He turned around and was shot by a guy in the window with a gun. Hatcher returned fire and struck the shooter. Sipowicz and Clark go up to interview the man that Hatcher shot and wounded. He tells them a different story; he says that he saw Hatcher draw his gun, whereas Hatcher says he already had his gun drawn. Sipowicz wants Hatcher to get his story straight, because a shooting involving a civilian is going to get the bosses involved. Sipowicz and Clark tell Gibson what they know about the morning's shooting. Gibson wants to know if they are standing by their fellow detective. Sipowicz responds that they are doing their job and investigating the shooting. Gibson wants to know what he's supposed to tell Hatcher'
#20 - Traylor Trash 8.46
Season 11 - Episode 20
Jones and Medavoy arrive on the scene of a shooting; meanwhile back at the squad Sipowicz and Clark are getting ready to leave and interview Cindy Clifton's mother, despite the fact that Cindy's father ""lawyered up"" the entire family. Clark's departure is delayed by the arrival of Jennifer Devlin, someone he hasn't seen in quite some time and now is sporting a wild streak of color in her hair. She wants to Clark to accompany her to on a trip to Miami. He declines her invitation, offering dinner instead, but more importantly he asks her if she's taken her medication and she responds that she doesn't want to be treated like a child. Clark is confused by her behavior. At the library Sipowicz and Clark try talking with Sharon Clifton. They get her to give them a list of everyone who stayed at her home the Thanksgiving weekend that Cindy Clifton was killed. She relents and gives a list to work with. Medavoy and Jones run down what they know about their shooting victim, Kevin Traylor,
#21 - Brother's Keeper 8.44
Season 6 - Episode 4
The word goes out to the uniforms to look out for any possible donors for a heart for Simone. Sipowicz, Medavoy and Martinez investigate the homicide of an elderly woman whose hands and feet were cut off of her body. Bobby is transferred over to the surgical staff, where his new doctor recommends that waiting for the heart transplant is his best option. The woman's two sons are probable suspects, one son, Arnold Struel, shows no remorse over her death, the other, Stanley an alcoholic junkie, who didn't like her, at least shows some compassion. Sipowicz finally gets Arnold to give it up. Later, when he returns to the interview room, he sees that Arnold is hanging himself. He debates about waiting until he is dead, to provide a donor for Bobby, but circumstances (Medavoy) prevent him from waiting. By chance, an off-duty cop is shot in the head and for all practical purposes is dead; Fancy makes a pleas with the widow, for a directed donation. Eventually she consents and Bobby is prepped
#22 - Yo, Adrian 8.43
Season 10 - Episode 21
Sipowicz (with McDowell watching) works with the lawyer on his testimony in the custody hearing that is going to be held later in the day. The other detectives are on the scene of a woman who was murdered in her own apartment. A neighbor, who had heard some commotion going on in that apartment gives them the name of the victim's boyfriend. Meanwhile, Sipowicz meets with Diane Russell, who is now working in the special victims unit. He tells her about their suspicion that Adrian Caffee was made pregnant by her father when she was a teenager. Sipowicz believes with her experience Russell might be able to talk with Caffee and Russell agrees to try helping out. Clark and Ortiz interview the boyfriend of their victim, whose name is Stan. He tells them his girlfriend was doing her brother-in-law, which is one of the reasons why she was his ex-girlfriend. He appears to be shocked when they tell him about her death, and he gives them an alibi to confirm. He claims to have been returnin
#23 - Colonel Knowledge 8.43
Season 11 - Episode 14
The detectives are on the scene of what appears to be a gang killing. A new detective arrives at the scene; his name is Stan Hatcher, whose previous accomplishments include saving kids on a school bus. With his contacts he tells the others that he's heard someone made inappropriate comments to a leader of the Latin Kings. Sipowicz tells him to run with what he knows. The detectives return to the squad to find that Gibson has brought his obnoxious African Gray parrot. Hatcher tells the detectives what he's heard about the Latin Kings and leaves with Ortiz to find the leader. A man comes into the squad to report the ""kidnapping"" of his 15-year-old daughter. He tells them about an older boy that his daughter has been seeing. His attempts to get in touch with the boy (or his parents) Medavoy and Jones agree to look into what they define as more of a ""runaway situation."" Ortiz and Hatcher find ""King Jazz"" (Wilmer Lopez) leader of the Latin Kings. Hatcher seems to know the way to
#24 - Upstairs, Downstairs 8.41
Season 4 - Episode 12
Andy and Diane start to talk, however, they both get paged for the job. Andy and Bobby begin to investigate a murder, but the procedures they must follow (because a cop might have been involved) make them unpopular at the precinct. Greg and Jill investigate the murder of a young girl where the only clue is videotape that starred her crushing worms. As Andy and Bobby's investigation reveals more clues, tension mounts between the squad and the uniforms. Diane goes missing and turns up at Bobby's apartment where she suffers a breakdown. One of the items she recall's is that her father molested her as a child.
#25 - Who's Your Daddy? 8.40
Season 11 - Episode 22
John meets Jennifer for breakfast, she appears to be on the road to recovery and he continues to offer her his support. At a crime scene Sipowicz arrives a little out of sorts, earlier that morning Connie gave birth to their son, Matthew Nicholas, 7 lbs. 3 oz. Jones and Medavoy also arrive at the scene, where a woman has been robbed and beaten to death in her apartment. Irma Pacheco, one of Ronson's old contacts from narcotics comes to the squad and tells Ronson and Ortiz some information about a guy she's seeing, Pete Murphy, who is going to be receiving a shipment of arms. Irma wants to know from Ronson what kind of reward she might receive and whether or not it would be enough money for her and Ronson to run off together, a comment which leaves Ortiz speechless. Sipowicz and Clark talk with the dead woman's husband, Andrew Moss. He mentions his wife's ex-husband, Ed Pisarchik, as someone they need to look at. Jones leaves to go to the court; the jury has come back in Craig Woo