Hak5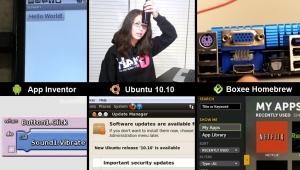 #1 - Android App Inventor, Building a Boxee Box, Ubuntu 10.10
Season 8 - Episode 1
Hak5 kicks off another season with a plethora of projects. Darren gets his code on with Google's new App Inventor for Android - a spiffy new web based drag-and-drop WYSIWYG development environment. Jason joins us for a little homebrew Boxee machine building and app development, and Shannon's around for a little Ubuntu 10.10 lovin'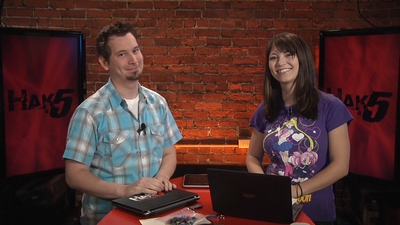 #2 - Build a Free PXE Server to Boot Linux Over the Network!
Season 10 - Episode 63
This time on the show, setting up a PXE server to launch Debian and Backtrack without using optical media!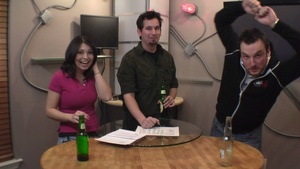 #3 - Won't you be my neighbor?
Season 5 - Episode 1
Getting to know your neighbors — Darren takes a trip around your network with nmap, THE open source network security scanner. Want to obscure your OS fingerprint? Make a Windows Box show up as a printer? Shannon's got just the thing. And Matt takes a first look at the Napera N24 smart network switch / security appliance. All that and more on this Hak5 Season 5 Premiere!
#4 - RFID Injection and Laser Hands at Toorcamp 2012
Season 12 - Episode 1
Darren travels to the North Western most corner of the continental US for Toorcamp -- an epic Hacker Camp hosting the most some of the nations most creative hackers, makers, movers and shakers.
#5 -
Season 9 - Episode 0
#6 - Going Deeper Into GNURadio Companion
Season 16 - Episode 1
Advanced Software Defined Radio - Shannon and Darren get deeper into GNURadio Companion on Pentoo for more RTL-SDR fun. All that and more, this time on Hak5!
#7 - Arduino Serial Connection ASCII Art, and Darren Visits Tempelhof!
Season 18 - Episode 1
Today on Hak5, Shannon has some fun with the serial connection on an Arduino, and Darren joins from Tempelhof.
#8 - What's Up with the Duck?
Season 15 - Episode 1
Running the occasional Windows program with out cramping your Linux lifestyle, Windows exfiltration with the USB Rubber Ducky and a tour of the Los Angeles hacker space; CrashSpace. All that and more, this time on Hak5!
#9 - 15 Second Password Hack, Mr. Robot Style
Season 21 - Episode 1
Pilfering Passwords with the USB Rubber Ducky. Can you social engineer your target into plugging in a USB drive? How about distracting 'em for the briefest of moments? 15 seconds of physical access and a USB Rubber Ducky is all it takes to swipe passwords from an unattended PC. In honor of the USB Rubber Ducky appearance on a recent episode of Mr Robot, we're recreating this Hollywood hack and showing how easy it is to deploy malware and exfiltrate data using this Hak5 tool.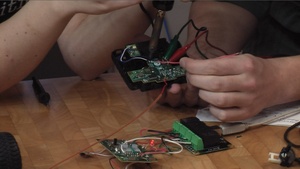 #10 - Linux RC Rovers, PHP Compiled and Napera
Season 5 - Episode 2
Darren's got a soldering iron and knows how to use it. In this episode we kick off the HakHouse Rover project and web enable an inexpensive RC Tank using a Phidget USB Interface Kit. Then Jody Franklin joins us to talk about compiling PHP and using Netsh to renumber IP addresses in Windows. And Matt has a follow up to your questions about Napera. Plus our weekly trivia, LAN Party and a ton of fun.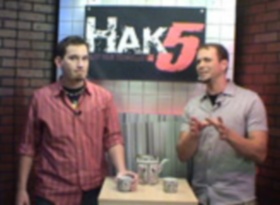 #11 - Episode 2
Season 2 - Episode 2
In this episode Darren builds a Network Attached Storage server for our home network using a spare PC, a compact flash card, and some BSD. Paul brings us Doom on the iPod using Linux and some geeky voodoo. Wess crafts a unique LED liquor cabinet for about a hundred bucks. And Darren puts on his slightly darker than gray hat with a USB key that owns Windows machines in a matter of seconds (with a little prevention thrown in for good measure). Plus this month's trivia, poll, & LAN party details from the lovely and talented Alli.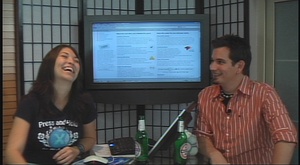 #12 - Spicy Reverse Engineering
Season 4 - Episode 2
In this episode of Hak5 Matt shows us how to map our networks with Spiceworks, an open source infrastructure mapping tool. Chris Gerling breaks down reverse engineering, Shannon talks about OpenDNS, and Christine has a Windows utility for everyone running multiple monitors.
#13 - How to Benchmark Your Linux System And Exfiltration Ducky Attacks
Season 15 - Episode 2
Windows exfiltration with a USB thumb drive and a USB Rubber Ducky and Benchmarking Your Linux Systems. All that and more, this time on Hak5!
#14 - 2 Second Password Hash Hack
Season 21 - Episode 2
Previously on Hak5, we showed off an USB Rubber Ducky payload to steal plaintext Windows passwords in 15 seconds. So, what if we told you we could get just the logon hash in under two? A 2 second technique for stealing Windows password hashes and otherwise auditing corporate USB drive policies! Learn more on today's episode of Hak5.
#15 - Drone Building 101: Power System Assembly
Season 20 - Episode 2
In our second episode of season 20, we continue our Drone build starting with the power system assembly.
#16 - Drone Racing In Amsterdam and Arduino Liquid Crystal Displays
Season 18 - Episode 2
Today on Hak5, Darren meets up with a local Hacker space in Amsterdam and Shannon sets up her LCD on a Arduino.
#17 - Source Code, Ponies and Cyborgs!
Season 11 - Episode 1
Is wearable computing a practical reality? Darren speaks with Greg Priest-Dorman, a fellow geek who's been building and wearing the tech for 12 years. Plus open source gaming that involves Ponies!
#18 - In Dublin Making Captive Portals, Terrible Privacy Practices, and Faster Wireless
Season 14 - Episode 1
Today on the show, testing a new Wireless 802.11AC router, captive portals on a WiFi Pineapple, and what to do when your school has terrible privacy practices.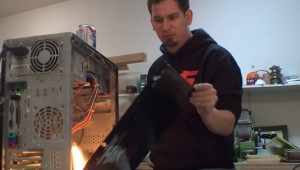 #19 - Ampache, Boxee and Wireless Virtual Machines
Season 8 - Episode 3
Darren checks out Ampache, a powerful open source streaming media solution perfect for your Linux home server. Jason answers your Boxee questions and Shannon joins the round table for a discussion on jailbreaking and USB wireless adapters for virtual machines.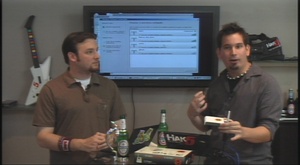 #20 - Reverse Engineering, Graphical Firewall Configuration, Inside the pineapple: Jasager demo, and Remember the BBS?
Season 4 - Episode 3
Reverse Engineering in practice. Configuring Cisco, IPTables and other firewalls with a sweet graphical utility. A little nostalgia with the Hak5 BBS and cracking open the Pineapple, a demo of Jasager.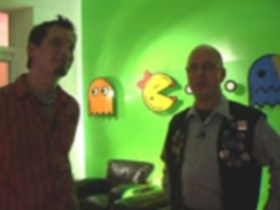 #21 - Episode 3 — 1984 Special
Season 3 - Episode 3
In this episode Darren flies solo and heads over to Springfield Missouri to uncover a diamond in the rough. The 1984 Arcade is home to over 50 restored classics and an atmosphere so retro you'll be tempted to break out the walkman and power-level through Defender.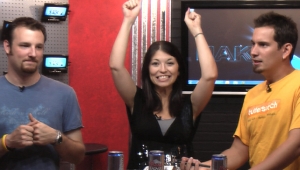 #22 - Network Planning, Kindle Tricks and a Linux Network Install Tool
Season 6 - Episode 3
This week Matt continues his series on IT Infrastructure planning. Shannon has a bundle of Kindle tricks, and Darren's amped about a USB boot key that network insalls popular Linux distros.
#23 - The Internet in a Box, a Yubikey You Could Swallow, and Phone Phreaking from RSA 2012
Season 11 - Episode 3
This time on the show, the internet in a box! Darren talks to Kyle Flaherty from Breaking Point about a million dollar rack, Stina Ehrensvärd of Yubico demos an NFC enabled Yubikey prototype and a one-time password key so small you could accidentally swallow it, and more!
#24 - Visiting Amsterdam Technologia Incognita, Protecting Yourself While Mobile, and New Things From RSA
Season 14 - Episode 3
Today on the show, quick and easy VPN setups for all your traffic tunneling needs, a visit to the RSA Conference, and Ubuntu Folder Encryption, all that and more this time on Hak5!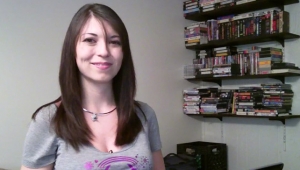 #25 - Free Application Sandbox Challenge and Top
Season 7 - Episode 3
Back from Britain and bouncing off the walls Darren pits three ancient Internet Explorers against each other to see which free application sandbox can save you from yourself. Shannon joins us from Missouri for her take on the top "ultra" Windows software, and Paul... Well, Paul's tearing down the set.