Death in Paradise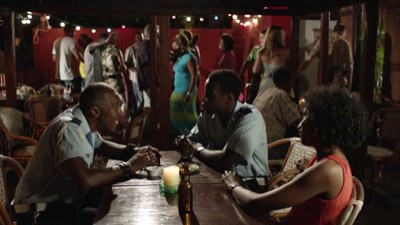 #1 - Episode 8 8.19
Season 1 - Episode 8
A woman is found murdered in her bed with thirty coins in her mouth, and Dwayne's police shield under the bed initially makes him a suspect. On investigation, the woman was found to be living under a false name and under protection, as an informant, of London's Serious Organised Crime Agency, who have a man on the island. Poole believes the killer is still on the island looking for incriminating documents the woman had. Events and people conspire to prevent Poole returning to his old job in London.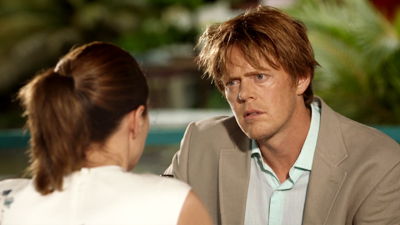 #2 - Episode 8 8.07
Season 3 - Episode 8
When an elderly resident at a retirement home appears to have committed suicide, the team are on a mission to prove it was murder. Humphrey is surprised when his wife pays an unexpected visit to the island and suggests they give their marriage a second chance.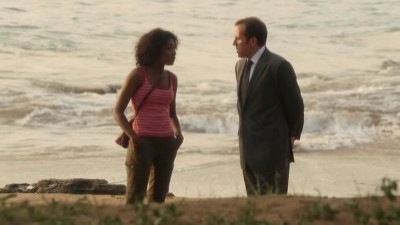 #3 - Episode 4 8.04
Season 1 - Episode 4
Holiday-maker Megan Talbot confesses to shooting dead her husband, but puzzlingly there isn't a body - and without a victim, Richard has little to go on, insisting nothing is definite without hard evidence. But then a local boat crew fish a corpse out of the sea, with two gunshot wounds to the head - just as Megan said.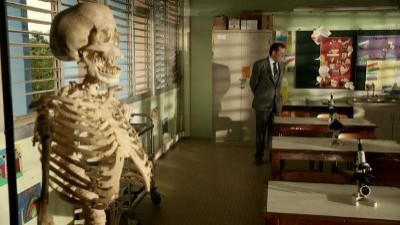 #4 - Episode 3 8.02
Season 1 - Episode 3
Dwayne thinks he has seen a ghost after the team goes to a local school to deal with the murder of Angelique Morel. The previous night Angelique had predicted her own murder by a scarred man. Angelique was a local voodoo priestess, but Richard finds it hard to understand his team's belief that her prediction must have become a reality. Richard believes that it has nothing to do with voodoo and that cyanide poisoning is responsible.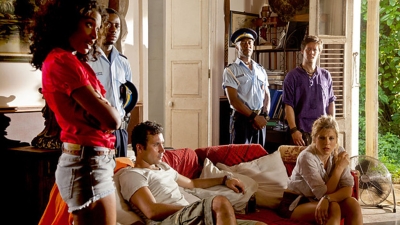 #5 - Episode 4 8.02
Season 2 - Episode 4
Camille attempts to persuade Richard to take an interest in the history and folklore of Saint Marie. Richard remains focused on work, but can an ancient legend help him and the team explain a mysterious double murder and a series of strange happenings in the tropical jungle?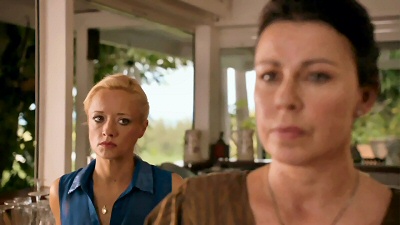 #6 - Episode 8 8.02
Season 2 - Episode 8
When a philanthropist is murdered in broad daylight at a charity fundraiser, DI Poole and his colleagues find themselves up against a daring and elusive opponent. Can the team catch the killer before the trail goes cold, or will this be the case that defeats Richard and sends him back to the UK?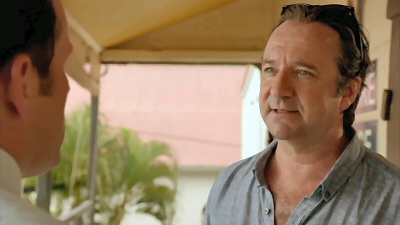 #7 - Episode 6 8.01
Season 2 - Episode 6
There is an unwelcome blast from the past for DI Richard Poole when a former colleague turns up in Saint Marie. Will an extra detective on the Caribbean island prove to be a help to Richard and the team as they try to explain a seemingly random killing, or a hindrance?
#8 - Episode 7 7.99
Season 2 - Episode 7
A storm is brewing as a hurricane heads for Saint Marie. Is the storm to blame for a death at the university, or is something more sinister afoot? DI Richard Poole learns that he cannot fight the weather but, with DS Bordey and the team, will he manage to stop a murderer in their tracks?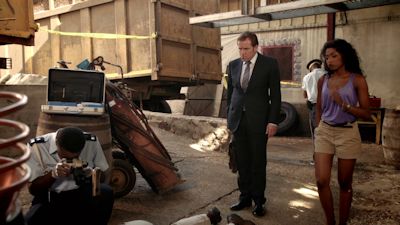 #9 - Episode 1 7.99
Season 2 - Episode 1
DI Richard Poole struggles to muster that loving feeling for the local voodoo festival celebrating romance and friendship. However, an understanding of the nature of love, friendship and the ties that bind, proves vital in solving a mysterious murder at a local sugar plantation.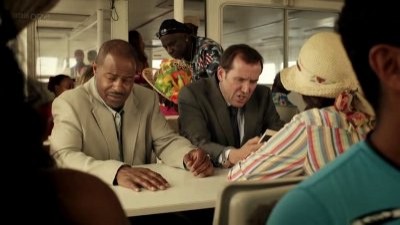 #10 - Episode 5 7.95
Season 1 - Episode 5
Escorting a convicted fraudster on the ferry back to Saint Marie goes disastrously wrong when the man is stabbed to death while handcuffed to DI Poole much to his embarrassment, the wrath of the commissioner and the amusement of his team and with a myriad of suspects an impossible case to solve despite unwanted help from an amateur sleuth.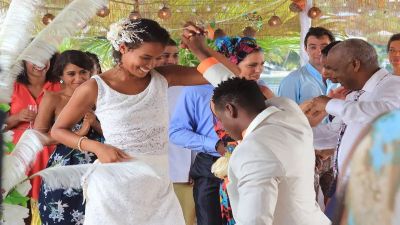 #11 - Flames of Love 7.94
Season 5 - Episode 8
Sian Evans is found shot dead in her backpackers hostel showers. With a gun in her hand and her body slumped against the door, it all points to suicide. All the hostel residents are on a boat tour except for her boyfriend, the manager, a woman missing from her home in Wales and Leo, a recent arrival. Humphrey and the team discover they all had a motive to kill Evans . The only clues are her toiletries laid out and her missing towel. JP marries Rosey Fabrice and Humphrey meets an old girlfriend.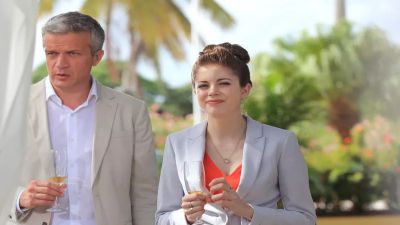 #12 - One for the Road 7.93
Season 5 - Episode 2
The team enter the shady world of island politics when the outgoing governor of Saint Marie is poisoned at her leaving party. Meanwhile, DI Goodman dives into the even murkier world of online dating.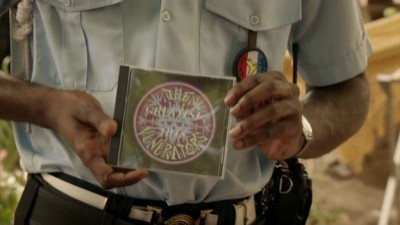 #13 - Episode 7 7.90
Season 1 - Episode 7
Richard sees the dark side of show business when a comeback concert ends in the most public of murders. If sun, sea and sand were not bad enough, he now has to conquer his fear of snakes to find the elusive killer.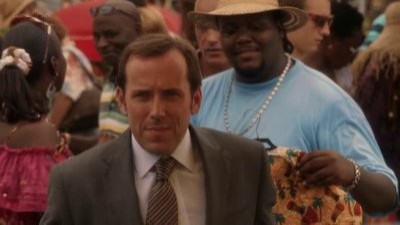 #14 - Episode 2 7.89
Season 1 - Episode 2
As DI Richard Poole desperately searches for a decent cup of tea, a bride is murdered on her wedding day. It is a tragedy DS Camille Bordey cannot help but notice, whilst Richard is more interested in housekeeping signs... But who would kill a bride on her wedding day? Could it really be one of her family?
#15 - A Personal Murder 7.86
Season 5 - Episode 4
Dwayne's old mentor, Cedrik, is found dead and as he is being cremated a text message saying "I was murdered" from his phone that Dwayne had placed in the coffin, is received by Dwayne. Evidence from a pillow indicates murder. The suspects are Cedrik's three friends and his girlfriend. Goodman is also confused as to why the victim gave Dwayne a lucky necklace and had ordered a cheap mail order watch two days before he died.
#16 - Episode 8 7.86
Season 4 - Episode 8
When a prisoner is killed in their custody, DI Goodman and the team are under pressure to solve the case quickly. Humphrey's father visits Saint Marie intent on meddling in his son's life.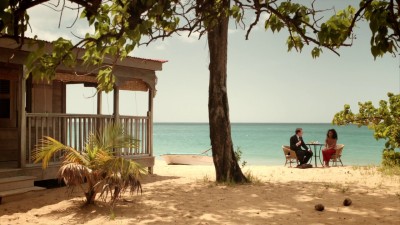 #17 - Episode 2 7.86
Season 2 - Episode 2
DI Richard Poole is perplexed by a fatal fire at the island convent. Will he and his team manage to unravel the many mysteries at the heart of this seemingly impossible murder? And will DS Bordey get to the root of the inspector's nun phobia?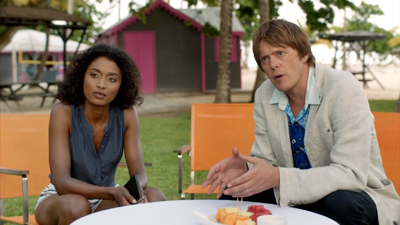 #18 - Episode 4 7.84
Season 3 - Episode 4
DI Goodman and his team are introduced to the jet-setting world of airline pilots and cabin crew when an air stewardess is discovered poisoned in her hotel bedroom. Will Humphrey and his team manage to unravel the mysteries at the heart of this seemingly impossible murder?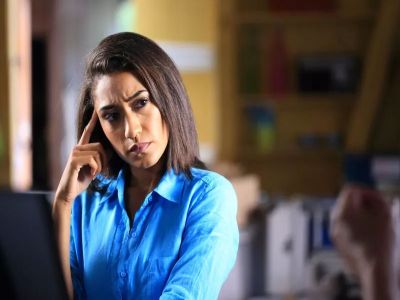 #19 - The Complex Murder 7.83
Season 5 - Episode 1
DI Goodman and his team are tested when a millionaire philanthropist is murdered on his boat, and the only suspects were all underwater at the time. Meanwhile, DI Goodman's new hobby raises a few eyebrows...
#20 - Episode 6 7.83
Season 1 - Episode 6
When DI Poole is bedridden with a tropical fever and Camille is on a course in Paris, Dwayne and Fidel have to solve the murder of a local diver. The commissioner puts in charge Det Sgt Angela Young, who is holidaying on the island, and whose eccentric behaviour is more annoying than Poole's. Dwayne and Fidel go behind her back supplying case details to DI Poole who is being looked after by Camile's mother and her chicken soup - but can an ill DI Poole solve the case?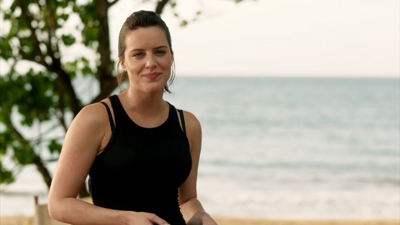 #21 - Episode 2 7.82
Season 3 - Episode 2
When DI Humphrey Goodman and his team are called to investigate a murder on a film set, they are left baffled when they realise the wrong person has been killed. The team have to work fast to solve the case before the murderer strikes again.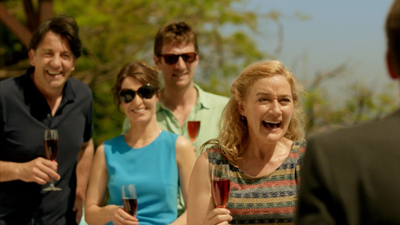 #22 - Episode 1 7.81
Season 3 - Episode 1
A university reunion party that DI Richard Poole is attending is brought to an abrupt halt when one of the group is murdered with an ice pick. With the case proving particularly sensitive, a new British detective, DI Humphrey Goodman, arrives on the island to help the team get to the bottom of the mysterious case. As the station's newest recruit with his own set of methods, will Humphrey be able to adjust to his new team and surroundings?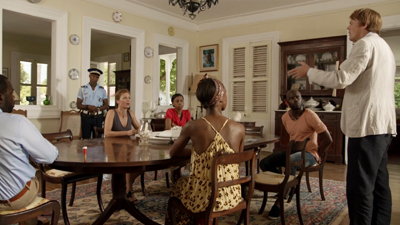 #23 - Episode 7 7.81
Season 3 - Episode 7
A murder on a privately-owned island means DI Goodman and the team are cut off from the mainland when a storm comes in. As night descends and the team find themselves locked in a house with a killer, can they solve the mystery before the murderer strikes again?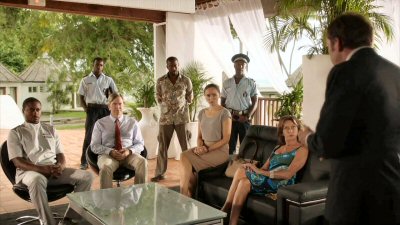 #24 - Episode 3 7.80
Season 2 - Episode 3
DI Richard Poole and his colleagues are baffled by an apparent suicide at an exclusive plastic surgery clinic. Richard is determined to prove that Valerie Dupree was murdered, but with a lack of evidence, and motive, will he and his team be able to find the culprit before they're out of time?
#25 - Episode 1 7.79
Season 1 - Episode 1
When a British policeman is found murdered in a locked room on the tiny paradise island of Sainte-Marie, Detective Inspector Richard Poole is sent to investigate. He's the perfect man to solve the case. Unfortunately for Richard, he hates sun, sea and sand...