The Best Episodes of Tour of Duty
Last Updated: May 25, 2019
As the first television drama series about the Vietnam War, Tour of Duty focuses on a single platoon of young U.S. soldiers through their one-year tour of combat duty in Vietnam during the late 1960's. While their own country is rocked by a massive anti-war movement, these young men find themselves thrown into combat in Southeast Asia, where they face enemy troops they can not see and sometimes can not kill. They also face their own fears, as they struggle in a hostile environment just to keep themselves and their fellow soldiers alive. Terence Knox, Kevin Conroy, Stephen Caffrey, Joshua Maurer, Steve Akahoshi, Tony Becker, Eric Bruskotter, Stan Foster, Ramon Franco and Miguel A. Nunez, Jr. star as the infantrymen who represent diverse racial, cultural and philosophical backgrounds but must ultimately depend on one another to get through the war alive.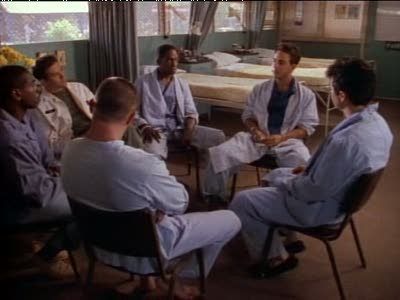 #1 - Thanks for the Memories
Season 3 - Episode 8
The men of Team Viking are receiving medals in a ceremony in recognition of their heroism. In the midst of the ceremony, General Higgins arrives and reads out Brewster. Higgins thinks Brewster should have kept his mouth closed about Phu An. Higgins leaves with the threat that he will destroy Brewster if the colonel keeps ""forcing the issue"". Anderson talks with Percell who is off drugs, finally, and is now spending time at the Psych Ward. Doc calls home and finds out that his girl friend is sleeping with someone else. Brewster takes the story of Phu An to the press and is relieved of duty.
38 votes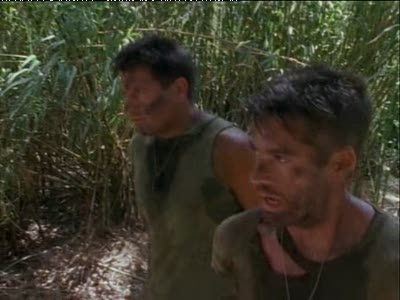 #2 - The Luck
Season 3 - Episode 1
News that Goldman and Anderson are missing and believed dead devastates the platoon and Alex.
44 votes
Writers: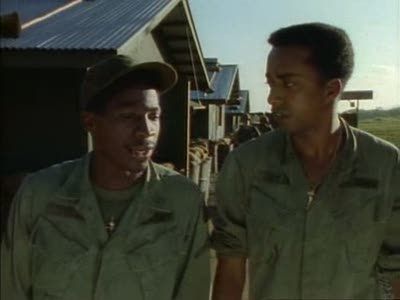 #3 - The Short Timer
Season 1 - Episode 18
Bravo company is on another S&D mission. A new man is on point, and he stops the patrol when he sees some blood, which he follows to a Vietnam booby trap. He's killed. Taylor takes over point, even though he is a short timer. Later, he manages to survive an encounter with an NVA machine gun nest after he destroys it. Taylor must address his mixed emotions about his near return to home. His fear and distaste for Vietnam is equaled only by the darkness of the life waiting for him at home. Taylor, after a ""Dear John"" phone call from home, signs up for another tour.
42 votes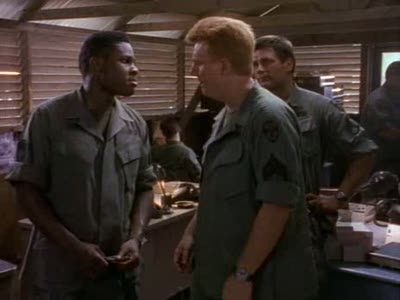 #4 - The Volunteer
Season 2 - Episode 16
A young desk clerk seeking to prove himself is assigned to Anderson's platoon.
37 votes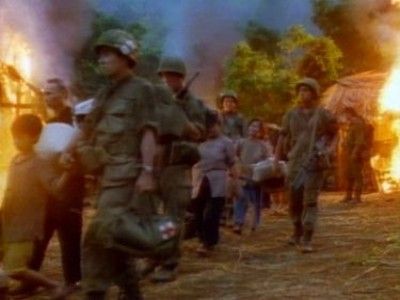 #5 - Dislocations
Season 1 - Episode 3
B Company is ordered to escort a group of villagers from their present village to a new location, which is to be an example of U.S. technology aiding the Vietnamese. Among the villagers is Lang, a beautiful woman to whom Goldman becomes very attached. They are attacked again on the trail and Goldman's life is saved and then spared by a VC who turns out to be Lang's husband.
85 votes
Writers:
Steven Phillip Smith
Buy on iTunes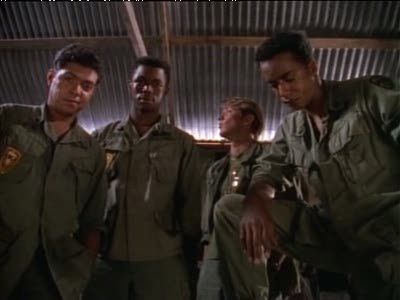 #6 - Cloud Nine
Season 3 - Episode 7
Taylor, Ruiz and Johnson go in search of Purcell after he goes AWOL. They look for 3 days, finally being taken to a heroin parlor by three drug dealers. Danny refuses to leave and the 3 thugs won't let the soldiers force Danny out. Later, Anderson and Team Viking are trying to find a road that is part of the Ho Chi Minh trail. When they find the road they return to the base where everyone knows about Danny. Brewster tells Goldman to solve the problem and Goldman insists upon talking about the massacre. Brewster puts his own career in jeopardy as he tries to get the army to deal with Phu An massacre. Anderson (under pressure from Goldman) organizes a commando raid and goes into Cholon to spring Purcell -- who then is forced to go through cold-turkey withdrawal. Brewster is ordered to shut up about the Phu An massacre.
39 votes
Writers: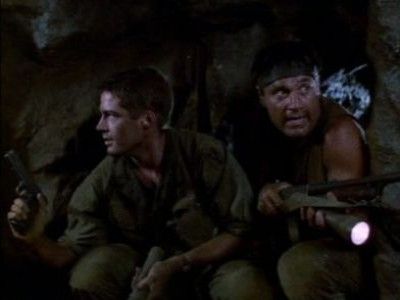 #7 - Notes from the Underground
Season 1 - Episode 2
Taylor is captured and held in the secret underground tunnels of the North Vietnam Army. Anderson and Goldman, trying to earn the men's respect, go into the tunnel after the NVA. In the end Anderson and Goldman escape the tunnel after a cave-in, as does Taylor when his Doctor is unable to follow orders and shoot him.
106 votes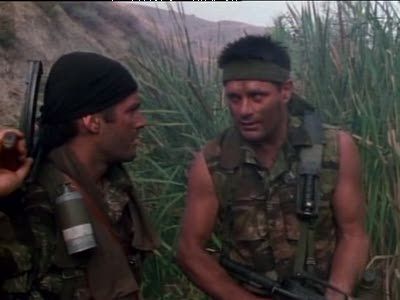 #8 - World in Changes
Season 3 - Episode 10
McKay decides he is personally going to get the sniper who has been taking out helicopters... but with Anderson and Goldman on the ground and him in the air, HE ends up the next target, crashing and killing his co-pilot. Johnson, with only 72 hours left, gets a bad case of ""short timer's nerves"". Meanwhile a crazy CIA operative -- Duke Fontaine -- takes several VC suspects up in a helicopter and starts throwing them out until one of them will talk. Anderson and the team are going to go out after a VC-recruiter and get permission for Johnson not to go but because Johnson has decided that he ""must stick to the routine"" he ends up going. Taylor and Johnson are captured by the VC and tortured by a sadistic Vietnamese man.
37 votes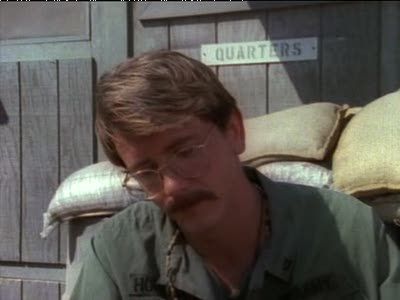 #9 - Doc Hock
Season 3 - Episode 2
Goldman reveals to Zeke that it may be time for him to move to a desk job. Alex is glad to see Myron back but tells him that she is going to take the Paris job. Elsewhere, Taylor, Percell and Ruiz tease a new recruit who is a pacificist. Taylor knocks the new medic, Hockenberry on his butt. Zeke is just as horrified as the rest when he is told by Doc Hock that he won't carry a weapon. Afterwards, Anderson meets Goldman's replace, a no-nonsense but wet-behind-the-ears new LT who thinks he already knows everything there is to know. Zeke also learns that he has received a promotion. Alex arranges a final going-away party for her and Myron. Alex ends up missing her plane to Paris but not because of the party but because she has a chance to do an exclusive and dangerous interview with a VC officer. After getting out of the interview, Alex meets Myron in Saigon, for there last dinner, before going to Paris. As Alex waits for Myron in front of the restaurant, a bomb explodes, killing her with
43 votes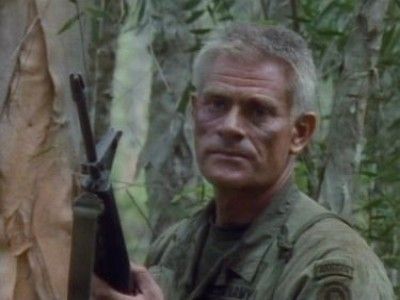 #10 - The Good, the Bad and the Dead
Season 1 - Episode 8
A drunken GI steals a chaplain's jeep and goes on a joy ride with a Vietnamese hooker. They nearly collide with a jeep-load of MPs who chase him down. His arrest is witnessed by Zeke, who recognizes him as Decker, his former drill sergeant and role model. Anderson rescues Decker from a certain court-martial (his second) and drafts him into the squad without checking with Goldman first. Decker is popular with the guys but he almost immediately starts to disobey orders. Decker mans a listening post with Horn to watch for enemy troops movements, but he gets drunk and falls asleep. As a result, Horn is nearly killed.
51 votes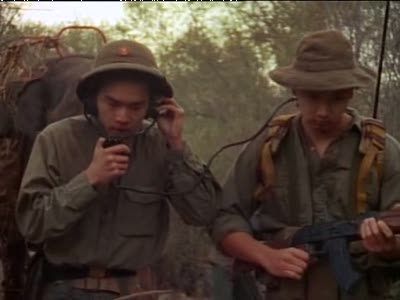 #11 - And Make Death Proud to Take Us
Season 3 - Episode 13
Newbie replacements arrive, including a young man that gains Anderson's attention as he and Team Viking return from the field, as the boy proves to be 15 years old. FNGs are moving in all over Team Viking. Goldman (suffering from the same shortage of room) finds himself bunked up with McKay. Team Viking gets assigned a recon mission based on Fontaine's information. Anderson and Goldman spend as much time as possible breaking in the new guys. Zeke and Myron head out with 18 FNG's. Anderson's unit stops to dig in a defensive position to work from, but before completing the bunkers they are attacked by the enemy, and due to outstanding bravery and courage, a few actually survive.
36 votes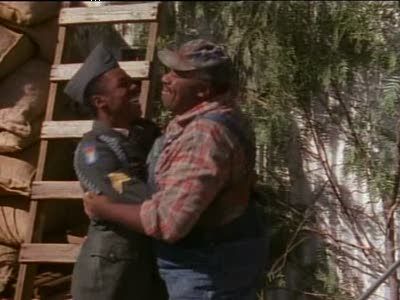 #12 - Green Christmas
Season 3 - Episode 11
Christmas finds Team Viking the bush trying to capture prisoners in Cambodia. Doc tries to show compassion to one of the captured men... who turns out to be able to speak English. Anderson and Goldman exchange Christmas gifts, back at camp. Ruiz takes flowers to Susanna. Taylor finds that he misses Johnson. Team Viking prepares for a Christmas party at the orphanage. Meanwhile, Sgt. Marvin Johnson returns home and finds out that bigotry is alive and well there.
37 votes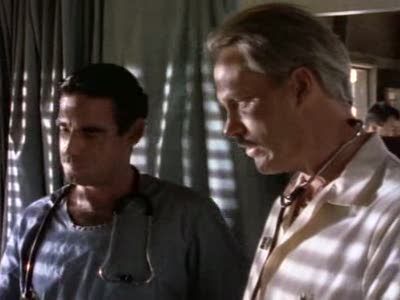 #13 - Non-Essential Personnel
Season 2 - Episode 5
Alex sets out to expose a major whose questionable judgement has caused casualties.
37 votes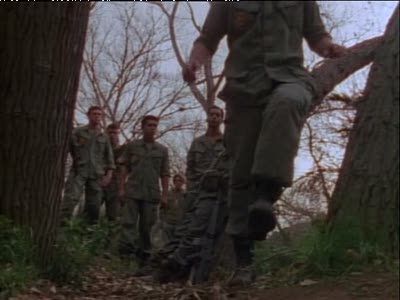 #14 - Dead Man Tales
Season 3 - Episode 14
Team Viking earns a 3-day pass and then promptly gets itself in trouble because of their brawling. While the major is reading every one out about this, a shot from the jungle kills him. Anderson assigns Bell and Doc to work at the orphanage and takes the rest of them out. Goldman is sent out to find the sniper ""or else"". McKay's new gunner opens fire on the Americans below him -- by mistake -- killing a large number of them. The Team gets thoroughly drunk and Bell climbs up on the top of a building and ends up falling to his death. When the others realize what has happened they decide to get him listed as KIA. McKay, meanwhile, goes after the sniper himself!
31 votes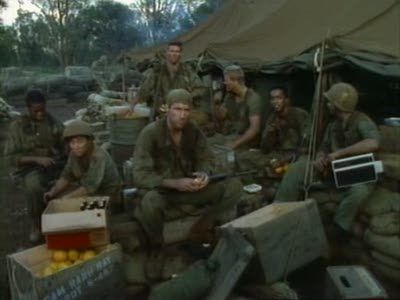 #15 - Under Siege
Season 1 - Episode 14
The men of Bravo are certain that Westmoreland has not yet informed the enemy that they are losing, as Firebase Ladybrid continues to come under daily long-range artillery fire. Suddenly a helicopter approaches and lands despite the fact that the base is taking fire. It is the new company commander -- Captain Larry Heath -- a man who initially wins over the favor of his troops with gifts, but he proves to be a complete fanatic. Heath wants to attack despite the fact that it appears that the base is about to be attacked. Zeke and Goldman set them men to putting up a defense and get in trouble because of it. A large attack proves that Anderson was right when the firebase is over-run and Doc Matsuda, with only 15 days left of his tour of duty, is killed when he refuses to abandon his patient.
52 votes
Writers:
Steve Bello

,
Robert Burns Clark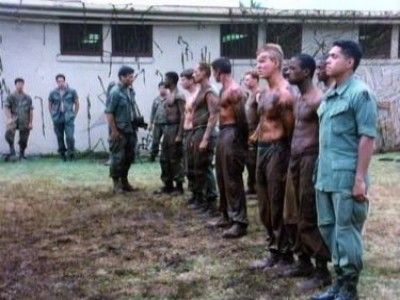 #16 - Pilot
Season 1 - Episode 1
Sgt. Anderson is sent to division HQ to report on a battle in which his Bravo Company suffered losses and to meet the platoon's new leader, Lt Goldman. He also uses the trip to recruit some new "Grunts" calling upon his own criteria to call the best from a group of green recruits. Goldman, just arrived from the States, immediately clashes with Anderson over military procedure.
164 votes
Writers:
L. Travis Clark

,
Steve Duncan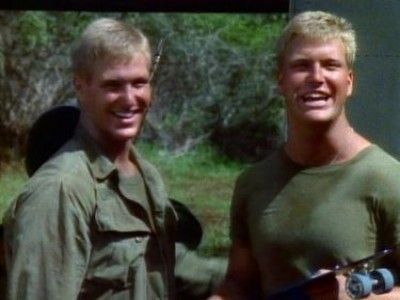 #17 - Battling Baker Brothers
Season 1 - Episode 9
Baker insists his fellow squad members follow him to an incoming helicopter. The incoming ""VIP"" turns out to be Baker's twin brother, who brings along a skate board that the whole squad uses for fun. Carl Baker turns out to be nothing like his brother: he is hard-drinking, womanizing, party-goer. The two brothers end up in a fight, nearly destroying the base in the process. Carl celebrates their birthdays by bringing in a truck-load full of Vietnamese hookers. They all party down and, in the end, Baker ends up doubly-mad as his brother ""steals"" his girl. Carl leaves the next morning with neither brother on speaking terms and everyone in trouble. Carl's helicopter goes down and Baker goes in after him, managing to get caught by the same VC who have his brother. They are both tortured by the VC and Anderson and Goldman must go in to rescue the two.
50 votes
Writers:
Bill L. Norton

,
J. David Wyles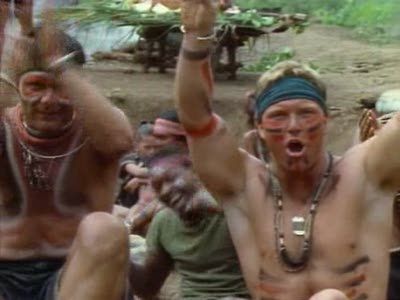 #18 - Paradise Lost
Season 1 - Episode 19
The men from Bravo company are patrolling in the jungle when they find a fresh trail, one that leads to a trap by a group of VC soldiers. The Americans are out-numbered and in a very bad position. Suddenly they are rescued by Montagnards. Anderson trusts them, and has the squad follow them back to their village where they meet the translator -- an ex-GI (Kithem). The American is obviously hostile to the presence of Goldman and the rest of the Americans. Against Kithem and Anderson's better judgement, Goldman follows orders to help fortify the native ""compound"" against the VC. Kithem warns that all the American attention will only bring down the ARVN and NVA forces. Which is exactly what happens.
42 votes
Writers:
Robert Burns Clark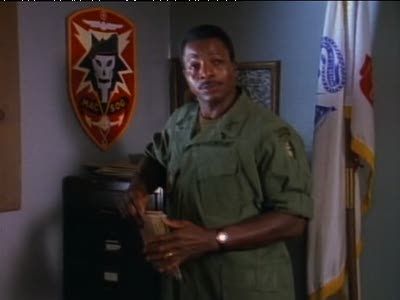 #19 - The Ties That Bind
Season 3 - Episode 3
Col. Carl Brewster enters the local Vietnamese town to make the ""boom-boom"" parlor off-limits because of men catching the clap. Goldman and McKay attended the funeral for Alex who was killed in the bomb explosion. Anderson and the squad have been transferred to MACV-SOG, under the command of Col. Brewster. Brewster lets Hockenberry ""volunteer"" for a special assignment ,cleaning up the whore houses. Goldman has trouble dealing with his feelings about Alex's death. Anderson is thinking about using some of his leave to go visit his daughter, but he is concerned about Goldman. Goldman returns to the unit, both he and Anderson meets up with Brewster for the first time. Goldman breaks up a party when the unit meets up with Baker again -- by telling Johnson that he is in charge of the squad while Anderson goes home for some leave. Zeke visits his ex-wife, Carol, and their daughter, Katie. Johnson finds he has a hard time filling Zeke's shoes and dealing with Percell who is on a dangerous downward spiral.
43 votes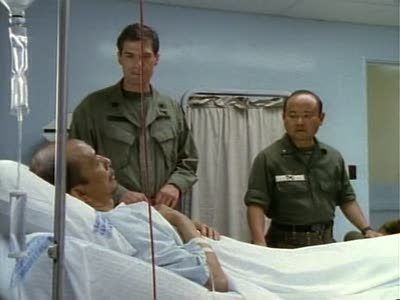 #20 - Angel of Mercy
Season 1 - Episode 20
In a small South Vietnamese hamlet, an NVA officer arrives to brief his men that they will soon begin infiltrating towns and villages through-out the country in preparation for the Tet Offensive. Meanwhile, Bravo is in the bush, while Baker is losing a battle with his dysentery. As he ""answers the call of nature"" he sights VC closing on the unit and then, pulling his pants up, gets a frog down them, and starts screaming. As the American's come running, a fire fight starts, ending with the capture of an NVA Colonel Trang. Goldman catches a bullet in the helmet and in his jacket as they try to retreat. Though saved by his clothing, he still does need to go to the hospital along with Anderson, who is hit with shrapnel. While Goldman and Anderson recover, Trang dies under mysterious circumstances during interrogation.
48 votes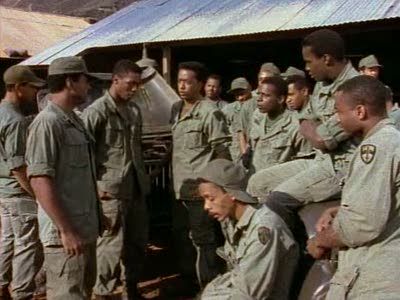 #21 - Promised Land
Season 2 - Episode 11
Word of Martin Luther King Jr.'s assassination lowers black soldiers' morale,
38 votes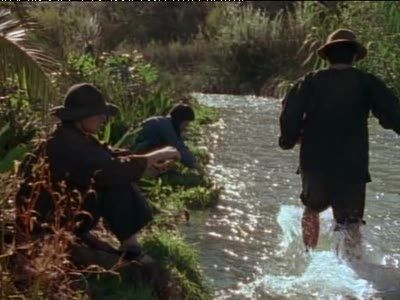 #22 - Odd Man Out
Season 3 - Episode 12
Taylor is expecting to be promoted at any moment, and opens his mail to find a letter from Johnson talking about how great things are back in the World. Anderson is forced to tell Taylor that he has been passed over for promotion. Taylor starts to deal with the black/white issue -- badly. Percell goes to a black ""bar"" to get Taylor when it becomes obvious that Taylor isn't coming home unless someone goes to get him. Goldman is told that Team Viking is going to go on a mission being dictated by a local Vietnamese Province Chief. The man is going to trade permission to use his village as a base for artillery (which will save many American lives) for the team's going to get his wife). Only after the team agrees do they discover that the woman is pregnant (with another man's child), sick and running from her husband.
35 votes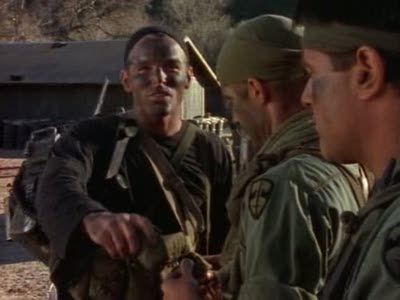 #23 - Sealed with a Kiss
Season 2 - Episode 14
Zeke considers a job offer as a mercenary for the CIA; Zeke and Goldman go on a dangerous mission with a Navy SEAL.
40 votes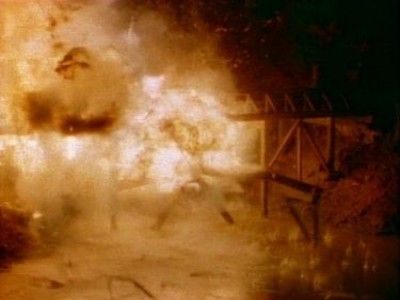 #24 - War Lover
Season 1 - Episode 4
Anderson, Goldman, Percell and Horn go on a special mission with combat veteran and "war lover" Earl Ray Michaels. Anderson's past experience with Michaels as well as Michaels' current, wild behavior lead to numerous conflicts. They complete their mission, but Michaels' two men are killed and he feels responsible.
86 votes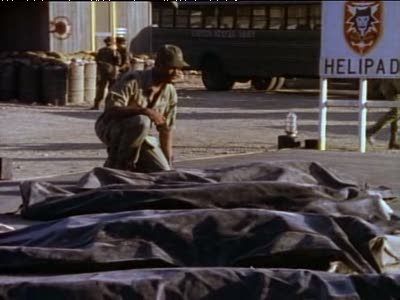 #25 - Lonely at the Top
Season 3 - Episode 4
While Zeke is back in the States, Brewster sends the men out to locate a missing SOG team. Once in the bush, Team Viking locates the missing soldiers, who all appear to be dead. It is an NVA trap; the enemy opens up just as the American reach the bodies but retreat quickly when Johnson leads a counter-strike against them. Johnson faces a crisis of confidence because men under his command were killed. Ruiz is struggling with Doc Hock's pacifist attitudes, Johnson is getting worse and Taylor is losing faith in everyone. Anderson arrives back in Texas and spends time with Dr. Seymour. They spend the weekend together and discuss the days ahead, Zeke has trouble seeing any future that involves him returning to the World.
45 votes